Disinformation, Misinformation, and Malinformation
Please find below a reading list as well as some resources that can help you to combat the challenge of disinformation, misinformation, and malinformation, to gain greater awareness of the media ecosystem, and to become a savvy information media consumer.
Disinformation Fabricated or deliberately manipulated audio/visual content.  Intentionally created conspiracy theories or rumors. It is motivated by three distinct factors: to make money; to have political influence, either foreign or domestic; or to cause trouble for the sake of it. When disinformation is shared it often turns into misinformation.
Misinformation Unintentional mistakes such as inaccurate photo captions, dates, statistics, translations, or when satire is taken seriously. The person sharing doesn't realize that it is false or misleading. Often a piece of disinformation is picked up by someone who doesn't realise it's false, and shares it with their networks, believing that they are helping. The sharing of misinformation is driven by socio- psychological factors. Online, people perform their identities. They want to feel connected to their "tribe", whether that means members of the same political party, parents that don't vaccinate their children, activists who are concerned about climate change, or those who belong to a certain religion, race or ethnic group.
Malinformation Deliberate publication of private information for personal or corporate rather than public interest, such as revenge porn.  Deliberate change of context, date or time of genuine content with an intent to cause harm.
READING LIST
Network Propaganda: Manipulation, Disinformation, and Radicalization in American Politics
By Yochai Benkler, Robert Faris and Hal Roberts 
The Reality Game
By Samuel Woolley 
Information Wars: How We Lost the Global Battle Against Disinformation and What We Can Do About It
By Richard Stengel 
This Is Not Propaganda: Adventures in the War Against Reality
By Peter Pomerantsev
I Am a Troll: Inside the Secret World of the BJP's Digital Army
By Swati Chaturvedi
Lie Machines: How to Save Democracy from Troll Armies, Deceitful Robots, Junk News Operations and Political Operatives
By Philip N Howard 
Active Measures: The Secret History of Disinformation and Political Warfare
By Thomas Rid
Disinformation, Misinformation and Fake News in Social Media: Emerging Research Challenges and Opportunities
By Kai Shu, Suhang Wang, Dongwon Lee, and Huan Liu
Verification Handbook for Disinformation and Media Manipulation
Various contributors. Available for free.
LikeWar: The Weaponisation of Social Media
By PW Singer and Emerson T Brooking
Striking Back: Overt and Covert Options to Combat Russian Disinformation
By Thomas Kent 
*******
An interesting article, about a state-sponsored, Covid-19-related influence campaign in Canada, directed by the Russian government to increase sales of Russian vaccines, was published in The Strand on January 19, 2022. The Strand has been the newspaper of record for Victoria University since 1953. It is published 12 times a year with a circulation of 1200 and is distributed in Victoria University buildings and across the University of Toronto's St. George campus. The Strand flagrantly enjoys its editorial autonomy and is committed to acting as an agent of constructive social change.
*******
RESOURCES
RAND The rise of the internet and the advent of social media have fundamentally changed the information ecosystem, giving the public direct access to more information than ever before. But it's often nearly impossible to distinguish accurate information from low-quality or false content. This means that disinformation—false or intentionally misleading information that aims to achieve an economic or political goal—can become rampant, spreading further and faster online than it ever could in another format.
As part of its Countering Truth Decay Initiative, and with support from the Hewlett Foundation, RAND is responding to this urgent problem. Their researchers identified and characterized the universe of online tools developed by nonprofits and civil society organizations to target online disinformation. These tools were created to help information consumers, researchers, and journalists navigate today's challenging information environment.
Fueled in part by the spread of disinformation, Truth Decay is the term RAND is using to refer to the diminishing role of facts, data, and analysis in political and civil discourse and the policymaking process. Truth Decay is characterized by four trends: increasing disagreement about facts and data, blurring of the line between opinion and fact, increasing relative volume of opinion compared to fact, and declining trust in institutions that used to be looked to as authoritative sources of factual information. Truth Decay poses a threat to democracy, to policymaking, and to the very notion of civic discourse.
EAVI The European Association for Viewers Interests is an  international non-profit organization registered in Brussels which advocates media literacy and full citizenship. EAVI supports the adoption of initiatives that enable citizens read, write and participate in public life through the media. They work in Europe (and beyond) to empower individuals to be active, engaged citizens in today's increasingly challenging media environment. At EAVI they have been collecting resources for teaching and learning, including films and videos, lesson plans, academic studies, articles, infographic, statistics and lists. Their "Our Beyond Fake News" infographic identifies the 10 types of potentially misleading news: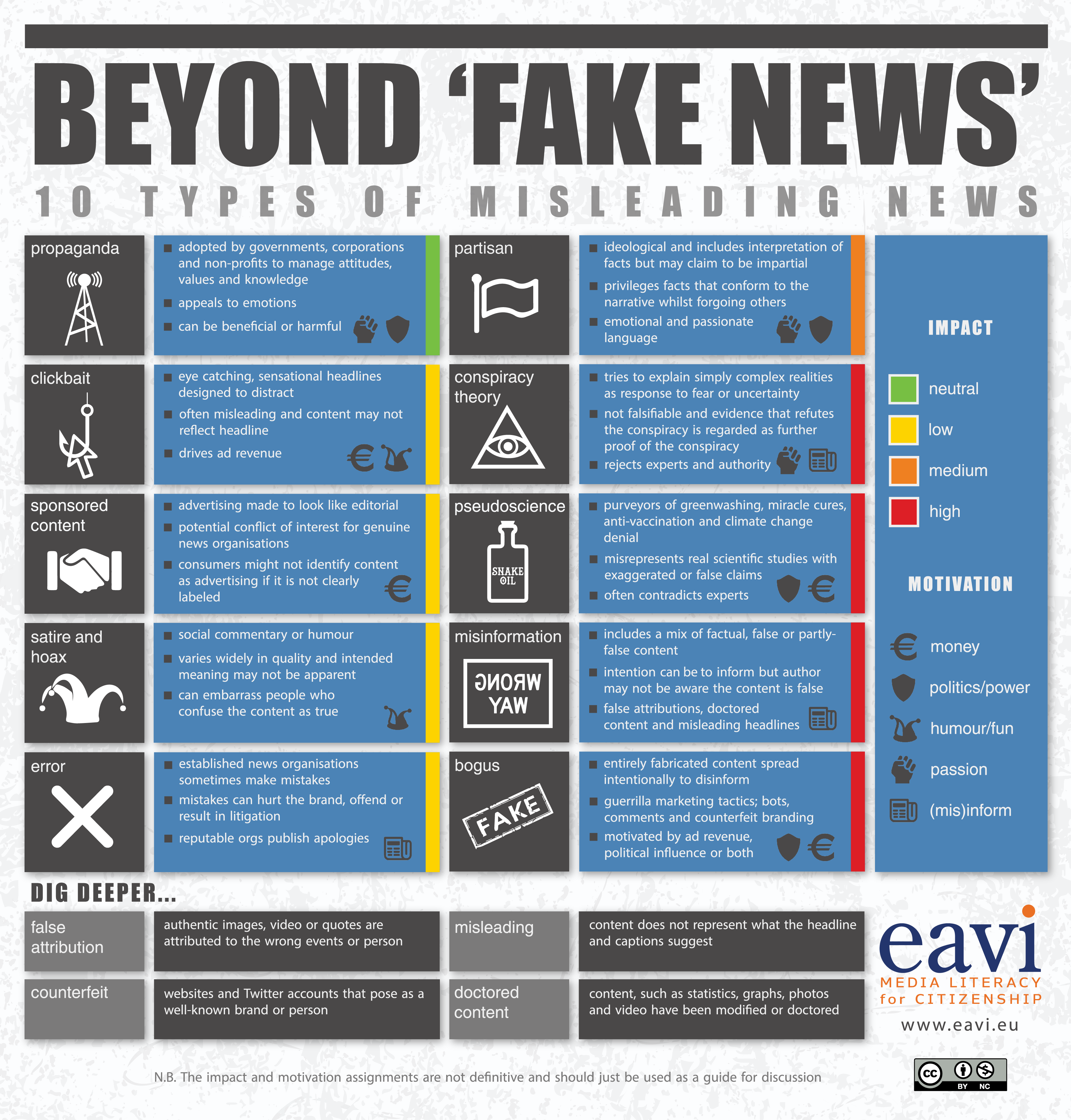 Media Bias/Fact Check MBFC, founded in 2015, is an independent online media outlet. MBFC is dedicated to educating the public on media bias and deceptive news practices and their aim is to inspire action and a rejection of overtly biased media. They want to return to an era of straightforward news reporting and follow a strict methodology for determining the biases of sources. MBFC also provides occasional fact checks, original articles on media bias, and breaking/important news stories, especially as it relates to USA politics.
A questionable source exhibits one or more of the following: extreme bias, consistent promotion of propaganda/conspiracies, poor or no sourcing to credible information, a complete lack of transparency and/or is fake news. Fake News is the deliberate attempt to publish hoaxes and/or disinformation for the purpose of profit or influence. Sources listed in the Questionable Category may be very untrustworthy and should be fact checked on a per article basis. Please note, sources on this list are not considered fake news unless specifically written in the reasoning section for that source.
Cambridge Strategic Interest Group A new Strategic Interest Group has been formed as part of the Trust & Technology Initiative. The Disinformation and Media Literacy research is being carried out by scholars and practitioners committed to exploring and advancing proactive and creative interventions against disinformation and 'fake news'. The Disinformation and Media Literary cluster has emerged out of work and outreach conducted by the Cambridge Ukrainian Studies Centre, founded by Dr Finnin, and the Cambridge Social Decision-Making Lab, directed by Dr van der Linden. Drawing together experts across a range of disciplines, it seeks to bring cutting-edge research to bear on contemporary policy discussions and to foster closer collaboration in the sphere of information literacy between scholars, policymakers and stakeholders in journalism, education, business and diplomacy.
An example of the interdisciplinary collaboration has been the work of the Dutch media collective DROG and Jon Roozenbeek in the development of a popular online 'fake News' game ('Bad News'), which seeks to 'inoculate' players against online disinformation. The cluster is keen to grow an active network of researchers from across social science, humanities, and technical disciplines.
The United States Agency for Global Media The United States Agency for Global Media (USAGM) is an independent federal agency, overseeing public service media networks that provide unbiased news and information in countries where the press is restricted. USAGM entities include the Voice of America, Radio Free Europe/Radio Liberty, the Office of Cuba Broadcasting (Radio and TV Marti), Radio Free Asia, the Middle East Broadcasting Networks (Alhurra TV and Radio Sawa) and Open Technology Fund. USAGM programming has a measured audience of 354 million in more than 100 countries and in 62 languages. USAGM continued to reach large audiences in countries of importance to U.S. national security and foreign affairs interests, including Russia (7.9 million), China (65.4 million), and Iran (12.2 million). Audience growth also occurred in several key markets – including Turkey (up 287 percent since the agency's last survey there), Burma (up 132 percent since the last survey), and Vietnam (up 241 percent since the last survey) – as well as from previously unsurveyed markets, including India (29.4 million) and the Philippines (5.0 million).
USAGM's networks are the Voice of America, Radio Free Europe/Radio Liberty, the Office of Cuba Broadcasting, Radio Free Asia, and the Middle East Broadcasting Networks.
The measured weekly audience for USAGM programming grew by 11 percent to reach an unprecedented 394 million people in fiscal year 2021, according to the agency's Performance and Accountability Report recently submitted to Congress.
Reboot Foundation Fake news is a problem that threatens the very roots of modern democracy. Yet there's no easy or simple solution, according to Reboot Foundation, an organization promoting critical thinking skills in young people and parents. There are far too many incentives to spread false information. Nations often promote fake news as part of disinformation campaigns to further political agendas. Profiteers generate fake news material and distribute it widely for advertising revenues. The design of online social media platforms enables — and often encourages — the widespread distribution of fake news. The result is significant amounts of disinformation cutting across the world's media landscape. Research on the impact of fake news is sparse. Although research on propaganda goes back decades, modern fake news is typically spread through online social networks and comes more clearly under the guise of "news," making it different from state propaganda. More about fighting fake news can be found here.
Newsguard NewsGuard's white paper, "Fighting Misinformation with Journalism, not Algorithms," outlines independent research on the effect of using human-curated news reliability ratings to mitigate false news, some of which has been conducted by leading academic institutions and other top scholars using NewsGuard's Reliability Ratings dataset. As researchers, media experts, and policy analysts redouble their efforts to assess the impact of misinformation and test effective ways to counter the spread of misinformation online, NewsGuard's human-powered ratings of all the news and information sources that account for 95% of engagement online has become an essential benchmark. Since NewsGuard's founding in 2018, researchers at 25 academic, nonprofit, and corporate institutions have licensed NewsGuard's data for their work. To read the results of their work and those of others, click here.
NewsGuard is a tool that shows you trust ratings for more than 7,000 news and information websites as you browse the internet. It is installed as a browser extension that works within your internet browser as you search for news and information online. NewsGuard ratings are also available as an app on mobile devices and are integrated directly into products such as the Microsoft Edge mobile app through licensing partnerships. For businesses, NewsGuard offer the BrandGuard tool to help advertisers avoid having their advertisements appear on misinformation and hoax sites and the Misinformation Fingerprints to enable artificial intelligence tools to find all examples of a hoax anywhere on the internet. NewsGuard was created by a team of journalists who assess the credibility and transparency of news and information websites based on nine journalistic criteria, such as whether the site repeatedly publishes false content, whether it discloses who owns and finances it, and whether it corrects factual errors when they occur. Based on the nine basic, apolitical criteria, each site gets an overall rating of green (generally trustworthy) or red (generally not trustworthy), a trust score of 0-100 points, and a detailed "Nutrition Label" explaining who is behind the site, why it received its rating and score, and specific examples of any trust issues our team found.
First Draft At First Draft, their mission is to protect communities from harmful misinformation. They work to empower society with the knowledge (thinking), understanding (training), and tools (tackling and tracking) needed to outsmart false and misleading information.
GTAC comment: Confirmation bias is the tendency for people to selectively search for and consider information that confirms already held beliefs. People also tend to reject evidence that contradicts their opinions. We always try to avoid falling into the fake news trap and can confirm that most, if not all of the sources we are using (such as the Atlantic Council, the Belfer Center for Science and International Affairs, the Brookings Institution, the Bureau of Investigative Journalism, the Carnegie Endowment for International Peace (CEIP), the Cato Institute, the Center for a New American Security (CNAS), the Center for Strategic and International Studies (CSIS), the China Africa Project (CAP), the Council on Foreign Relations (CFR), the Diplomat, Eurasia Review, the European Council on Foreign Relations (ECFR), the Foreign Policy Research Institute (FPRI), the Hudson Institute, Human Rights Watch, Jamestown Foundation, the Moscow Times, Nikkei Asia Review, Project Syndicate, RAND Corporation, R Street Institute, Third Way, the Spectator, Wired Magazine and the Woodrow Wilson International Center for Scholars, or Wilson Center) are rated "high" for factual reporting.