Latin America
Introduction
The United States, the European Union, Japan and Canada, as well as Latin America's other Export and Import partners, have fundamental interests at stake in the region, such as its commitment to democratic governance and expanding trade relations, as well as the unique responsibility and capacity to prevent continued deterioration in criminal violence. But the U.S. government cannot solve the problem alone (…).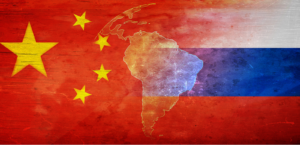 Threats emanating from the region are mainly tied to narcotics and other illicit trafficking. According to the most recent ranking of the world's 50 most violent cities, compiled by Mexico's Citizens' Council for Public Safety and Criminal Justice (CCSPJP), the vast majority of  the 50 most violent cities in the world are in the Western Hemisphere. Except for Cape Town, Durban, and Johannesburg in South Africa, they are all in the Americas. The 2022 list is headed by Mexico, with 9 of the 10 most violent cities. Brazil contributes 10 cities to the list, and Colombia has 6 cities on the list. Jamaica with Kingston, Haiti with Port-au-Prince, Ecuador with Guayaquil, Puerto Rico with San Juan, and Honduras with San Pedro Sula and the Central District close the list.
However, there are also increased activities and investments made in the region by our adversaries in the context of great-power competition. While Russia and, to a lesser extent, Iran are highly dependent on anti-U.S. governments assuming power in various Latin American countries, as well as on unlawful networks, China, Latin America's second-largest trading partner after the United States (Collectively, the EU is Latin America's third-largest trading partner), is implementing large-scale global plans that include Latin America as an increasingly important component. In 2017, China extended their Belt and Road Initiative to Latin America, describing it as a "natural extension of the 21st Century Maritime Silk Road", and since then their steady diplomacy in Latin America has created new avenues for influence in the region. Beijing now has a larger footprint, stronger diplomatic ties, and greater economic leverage in Latin America than at any time in the past, and what China's global security initiative tells us about its strategic engagement with Latin America, can be found in an analysis of the "Global Security Initiative Concept Paper", published in The Diplomat. Jamestown's Eurasia Daily Monitor describes how the Kremlin pushes its agenda throughout Latin America.
"Triads, Snakeheads, and Flying Money: The Underworld of Chinese Criminal Networks in Latin America and the Caribbean" is a Florida International University (FIU) paper, published in August 2023, providing a comprehensive analysis of the Chinese individuals, gangs, and companies engaging in illicit activities in Latin America and the Caribbean. Their methodology was to research academic literature, news articles, press releases, official statements, and podcasts in Spanish, Portuguese, Mandarin and English, as well as conduct off-the-record interviews with U.S. and LAC intelligence and law enforcement officials to ascertain growing trends in Chinese criminal behavior in the region.
Regarding Russia, we are sharing the below links to State Department Reporting that may be of interest. The Russian government is currently financing an on-going, well-funded disinformation campaign across Latin America. The Kremlin's campaign plans to leverage developed media contacts in Argentina, Bolivia, Chile, Colombia, Cuba, Mexico, Venezuela, Brazil, Ecuador, Panama, Paraguay, Peru, and Uruguay, among other countries in Latin America, in order to carry out an information manipulation campaign designed to surreptitiously exploit the openness of Latin America's media and information environment. The Kremlin's ultimate goal appears to be to launder its propaganda and disinformation through local media in a way that feels organic to Latin American audiences to undermine support for Ukraine and propagate anti-U.S. and anti-NATO sentiment.
Exporting Pro-Kremlin Disinformation: The Case of Nova Resistência in Brazil – United States Department of State (October 19, 2023), and
The Kremlin's Efforts to Covertly Spread Disinformation in Latin America – United States Department of State (November 7, 2023).
Services
When requiring immediate assistance for acts or threats of violence or political instability, or when the need for intelligence gathering arises, we will immediately assist with the necessary resources. We cover Latin America's largest cities and many other destinations in South America, Central America, Mexico, or the islands of the Caribbean (see below*).
Our carefully selected professionals provide various levels of high or low-profile protection and we also carry out audits/assessments, covert surveillance operations, investigations (e.g. corruption**, illicit trade and asset tracing, but also enhanced due diligence regarding M&A and foreign direct investments – FDI), as well as various other services. Our U.S. based operations personnel come from law enforcement (DEA, mostly), and have special operations backgrounds, all with in-depth, local experience and expertise, and are well equipped to handle even the most difficult assignments.
For more details, please use this form to contact our Senior Consultant Intelligence & Operations, or our CEO.
**********
*List of Countries in Latin America (in alphabetical order):
1) Antigua and Barbuda (Saint John's/Caribbean)  2) Argentina (Buenos Aires/South America) 3) Bahamas (Nassau/Caribbean) 4) Barbados (Bridgetown/Caribbean) 5) Bolivia (La Paz, Sucre/South America) 6) Brazil (Brasilia/South America) 7) Chile (Santiago/South America) 8) Colombia (Bogotá/South America) 9) Costa Rica (San José/Central America) 10) Cuba (Havana/Caribbean) 11) Dominica (Roseau/Caribbean) 12) Dominican Republic (Santo Domingo/Caribbean) 13) El Salvador (San Salvador/Central America) 14) Ecuador (Quito/South America) 15) Grenada (Saint George's/Caribbean) 16) Guatemala (Guatemala City/Central America) 17) Haiti (Port-au-Prince/Caribbean) 18) Honduras (Tegucigalpa/Central America) 19) Jamaica (Kingston/Caribbean) 20) Mexico (Mexico City/North America) 21) Nicaragua (Managua/Central America) 22) Panama (Panama City/Central America) 23) Paraguay (Asunción/South America) 24) Peru (Lima/South America) 25) St. Kitts and Nevis (Basseterre/Caribbean) 26) St. Lucia (Castries/Caribbean) 27) St. Vincent and The Grenadines (Kingstown/Caribbean) 28) Trinidad and Tobago (Port of Spain/Caribbean) 29) Uruguay (Montevideo/South America) 30) Venezuela (Caracas/South America)
** Corruption: dishonest behavior by those in positions of power
The effects of corruption are far-reaching: it can undermine political, social and economic stability, and ultimately threaten the safety and security of society as a whole; it creates a fertile ground for organized criminal activities as criminals are aided in their illegal activities by the complicity of corrupt public officials. But there's also the FCPA….
The risk to Latin American companies is that the Foreign Corrupt Practices Act (FCPA) is applicable to 1) U.S. citizens and companies, to 2) foreign persons residing in the U.S., to 3) foreign companies listed on U.S. exchanges, and to 4) foreign firms and persons who have substantial contacts in the U.S.
In the U.S., enforcement of the FCPA falls primarily to the Department of Justice (DOJ) and the Securities and Exchange Commission (SEC).
In recent years, the DOJ has increased its criminal enforcement actions on entities operating in Latin American jurisdictions. According to Law.com, nearly 60% of Justice's FCPA enforcement actions and more than two-thirds of FCPA-related prosecutions of individuals during 2022 had connections to Latin America.
The increase in enforcement of the FCPA makes companies with ties to Latin America more vulnerable, which means that companies with ties to Latin America need to put measures into place to ensure compliance.
For more information about our FCPA-related services, please click here.
**********
Additional Information:
2020 | Chinese Security Engagement in Latin America (CSIS)
2021 | Latin America Is Slipping Back into Strongman Rule (AEI)
2022 | Revisiting Counter-Narcotics Policy in the Western Hemisphere (CSIS)
2022 | China and Russia's Lies Are Winning Over the Global South (AEI)
2022 | Mexico's Long War: Drugs, Crime, and the Cartels (CFR)
2022 | Recession Has Businesses Looking At Latin America (Forbes)
2022 | How Mexico's Cartel Jalisco Nueva Generación rules (Brookings)
2022 | US needs to rebuild Latin American alliances as Russia grows global pro-war power base (The Conversation)
2022 | China's Latin America Move (Forbes)
2022 | Countering Criminal Violence in Central America (CFR)
2023 | A Hesitant Hemisphere: How Latin America Has Been Shaped by the War in Ukraine (CSIS)
2023 | The US Must Defeat Mexico's Drug Cartels (Hudson)
2023 | Latin America and the Caribbean: Top Three Risks for 2023 (CSIS)
2023 | Journalism in Latin America is Under Attack by Spyware (Wilson Center)
2023 | The House Judiciary Subcommittee on Crime and Federal Government Surveillance: The Fentanyl Crisis in America: Inaction is No Longer an Option (video)
2023 | Briefing on the Senate Foreign Relations Committee Countering Illicit Fentanyl Trafficking Hearing (Wilson Center / video)
2023 | The American Dream, Reimagined: Why LatAm Is Primed To Be The Next Silicon Valley (Forbes)
2023 | Years of global supply chain chaos could mean a nearshoring jackpot for the Americas in 2023 (Fortune, subscription needed)
2023 | What China's Global Security Initiative Tells Us About Its Strategic Engagement with Latin America (The Diplomat)
2023 | Latin America (Financial Times, subscription needed)
2023 | Triads, Snakeheads, and Flying Money: The Underworld of Chinese Criminal Networks in Latin America and the Caribbean (Florida International University)
2023 | Gang violence is spreading across Latin America (The Economist)
2023 | Dollarization – Argentina's Last Chance for Economic Stability (AEI)
2023 | Russian Influence Campaigns in Latin America (USIP)
**********
Sanctions (Q4, 2023)
October 3, 2023: Treasury Targets Large Chinese Network of Illicit Drug Producers (working together with Mexico-based criminal organizations such as the Sinaloa Cartel and the Jalisco New Generation Cartel (CJNG)
The U.S. Department of the Treasury's Office of Foreign Assets Control (OFAC) designated 28 individuals and entities involved with the international proliferation of illicit drugs, including a China-based network responsible for the manufacturing and distribution of ton quantities of fentanyl, methamphetamine, and MDMA precursors. Those designated by OFAC today are also involved in the global trafficking of xylazine and "nitazenes," which are highly potent and often mixed with illicit fentanyl or other drugs.
November 7, 2023: Treasury Sanctions Sinaloa Cartel Network Flush with Illicit Fentanyl on Southwest Border
The U.S. Department of the Treasury's Office of Foreign Assets Control (OFAC) sanctioned 13 Sinaloa Cartel members—several of whom are fugitives—and four Sonora, Mexico-based entities. Responsible for a significant portion of the illicit fentanyl and other deadly drugs trafficked into the United States, the Sinaloa Cartel is one of the most powerful and pervasive drug trafficking organizations in the world. This action was coordinated closely with the Government of Mexico, including La Unidad de Inteligencia Financiera (UIF), Mexico's Financial Intelligence Unit.
November 15, 2023: Treasury and Costa Rican Government Cooperate on Sanction Against Notorious Narcotics Trafficker
In support of President Biden's National Drug Control Strategy and in cooperation with the government of Costa Rica, the U.S. Department of the Treasury's Office of Foreign Assets Control (OFAC) designated Gilbert Hernan de Los Angeles Bell Fernandez (Bell), a Costa Rican narcotics trafficker, known not only for the volume of drugs he moves but the violence with which he operates, who has played a significant role in Costa Rica's recent transformation into a major narcotics transit hub.