China Desk
Introduction
Organizations face needs and constraints when conducting business in or with China. Protectionism, industrial espionage, and IPR infringement are the most common concerns, and their impact on an organization's international business operations can be substantial. Whether engaged in joint ventures, wholly foreign-owned enterprises, manufacturing or distribution agreements, the loss of business, revenue, reputation and competitive advantage caused by these issues affects businesses both at home and in their core export markets. In addition, the inadequate protection of intellectual property can cause irreparable commercial harm. 
Underpinning the commercial landscape for organizations operating in China is the country's attempts to attain a dominant position in international markets through a combination of industrial, research and innovation, trade and foreign direct investment policies. China is set to release an ambitious plan to write global standards for the next generation of technology, a move that could have enormous implications for tech industries worldwide. The "China Standards 2035" plan will lay out a blueprint for China's government and leading technology companies to set global standards for emerging technologies like 5G internet, the Internet of Things (IoT), and artificial intelligence, among other areas. It will work in concert with China's other industrial policies – namely the controversial "Made in China 2025" strategy.
China's "Made in China 2025" strategy is intended to enable the country to become a world leader in 10 key industrial sectors. To achieve this end, China has and will continue to seek ways to facilitate strengthened domestic innovation capacity in order to reduce its reliance on foreign technologies. China has developed an advantageous combination of productivity-enhancing investments and technology transfer from foreign sources while exploiting sheltering framework conditions.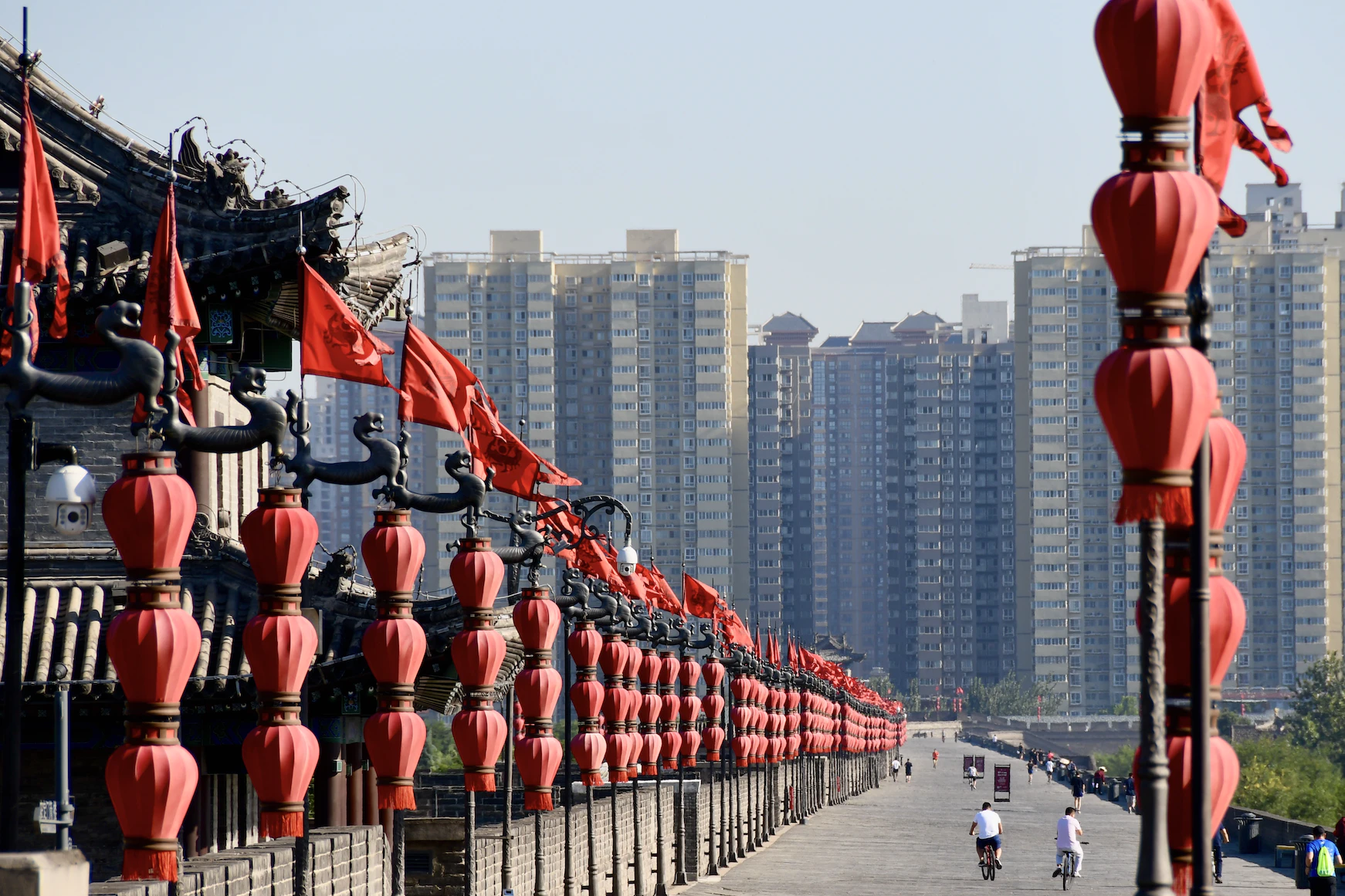 "China's Dream", a slogan coined by Xi Jinping since his election as CCP Secretary General and Chair of the Central Military Commission at the 18th Party Congress in November 2012, achieved instant currency, both domestically and abroad. As generally understood, China's dream is a vision of the future that has a realistic chance of achievement. The 100th Anniversary of the People's Republic of China will be in October 2049, whether or not the PRC then still exists in its present form. Immediately after becoming China's leader, Xi specified deadlines for meeting his " Centennial Goals", including: "China will become a fully developed, rich, and powerful nation by the 100th anniversary of the People's Republic in 2049" (meaning, China be the world's next superpower, the new "number 1" in 2049).
It's not clear how China will get there by the middle of this century. In Chinese eyes, 1949 marked a new dawn, the end of the "era of humiliation." In the words of Mao Zedong's inaugural speech, "the Chinese people have stood up; never will China be humiliated again", but China now faces tremendous challenges such as fostering innovation, dealing with ageing problem and coping with a less accommodative global environment. Also, how should the financial system be transformed in order to continuously support economic growth and keep financial risks under control? What fiscal reforms are required in order to balance between economic efficiency and social harmony? What roles should the state-owned enterprises play in the future Chinese economy? In addition, how will technological competition between the United States and China affect each country's development? What will be China's role in the international economic institutions? And will the United States and other established powers accept a growing role for China and the rest of the developing world in the governance of global institutions such as the World Trade Organization and the International Monetary Fund, or will the world devolve into competing blocs? 
China's 14th Five-Year Plan (translated by CSET), which was passed by the National People's Congress in March, 2021, covers the years 2021-2025. Although the Five-Year Plan contains relatively few quantitative targets, it details a vast array of near-term PRC economic, trade, S&T, defense, political, social, cultural, environmental, and other policy priorities. The 14th Five-Year Plan differs from past plans in that it also includes a short section on "long-range objectives" for 2035. Note that although the document is an "outline," the PRC government has labeled the longest and most authoritative full versions of previous five-year plans it released as "outlines" as well. The Chinese source text is available online (warning: you can access the site only after disconnecting from your VPN; all of your internet traffic becomes visible to your ISP, and the website(s) you visit also see your real IP address, which is tied to your physical location).
An archived version of the Chinese source text is available here. A policy research organization within Georgetown University's Walsh School of Foreign Service, the Center for Security and Emerging Technology (CSET) produces data-driven research at the intersection of security and technology, providing nonpartisan analysis to the policy community.
Map below: BRI (2018) (Source: MERICS, the Mercator Institute for China Studies, based in Berlin, Germany)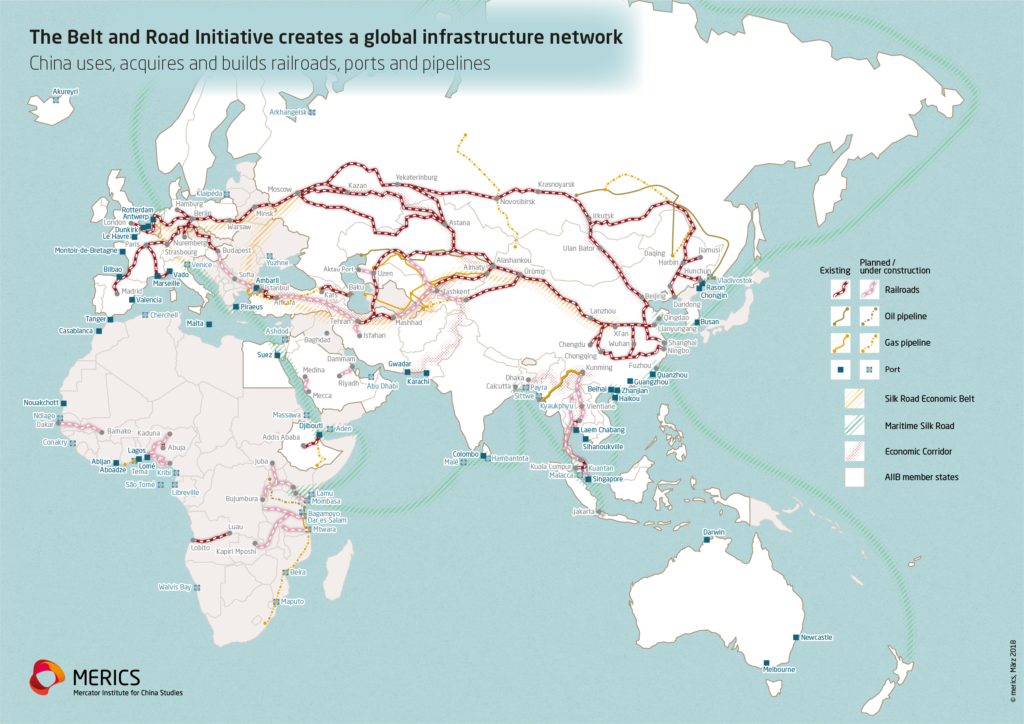 The Belt and Road Initiative (BRI) poses a significant challenge to U.S. economic, political, climate change, security, and global health interests. Since BRI's launch in 2013, Chinese banks and companies have financed and built everything from power plants, railways, highways, and ports to telecommunications infrastructure, fiber-optic cables, and smart cities around the world. If implemented sustainably and responsibly, BRI has the potential to meet long-standing developing country needs and spur global economic growth. To date, however, the risks for both the United States and recipient countries raised by BRI's implementation considerably outweigh its benefits.
BRI was initially designed to connect China's modern coastal cities to its underdeveloped interior and to its Southeast, Central, and South Asian neighbors, cementing China's position at the center of a more connected world. The initiative has since outgrown its original regional corridors, expanding to all corners of the globe. Its scope now includes a Digital Silk Road intended to improve recipients' telecommunications networks, artificial intelligence capabilities, cloud computing, e-commerce and mobile payment systems, surveillance technology, and other high-tech areas, along with a Health Silk Road designed to operationalize China's vision of global health governance. Hundreds of projects around the world now fall under the BRI umbrella. (CFR's Independent Task Force Report No. 79 "China's Belt and Road: Implications for the United States").

BRI 2023 Updates:
The Economist: The path ahead for China's Belt and Road Initiative / Council on Foreign Relations: Why Is Italy Withdrawing From China's Belt and Road Initiative? / European Parliament: The Global Gateway: Taking stock after its first year / Fortune: The Ukraine war has exposed Europe's reliance on Russia's railways for trade with China—including for the defense industry / Wall Street Journal: China's Belt and Road Plan Is Down, Not Out / Belfer Center for Science and International Affairs:  The Belt and Road Initiative in Europe: Opportunities for a Transatlantic Response Amid the Russian Invasion of Ukraine
Services
Risks associated with BRI projects include political and environmental concerns, but there are also risks of increased illicit trade, corruption, and crime (….).
Next to assisting law firms dealing with BRI issues/disputes, GTAC provides services such as the following to help organizations navigate this challenging environment:
For more details, please use this form to contact our Senior Consultant Export Controls or our Chief Executive Officer
Additional Information:
China Webinar
The GTAC "China Webinar" is a periodical gathering of attorneys, security experts, export control specialists and intelligence professionals.
The date of our next (private) webinar will not be published on this website, but we will send out invitations. You must register or subscribe for the webinar. You can do this by clicking a link that takes you to the webinar-landing page, where you will find a form that you can use to register. After filling in the form and submitting your details, you should get a confirmation email thanking you for registering for the webinar.
Alternatively, you can register by sending an email to us and requesting to be part of the webinar. For further information, or if you'd like to register already, please contact us.
Our webinar will provide a means for attendees to interact and participate during the event. We allocate time for Question and Answer sessions, and we have live chats for enhanced interaction between attendees and speakers, as well as between attendees and their fellow attendees.
Please note: our Private webinars can only be attended by people who are given access to them. 
Knowledge Repository
Clients and prospective clients, please contact us if you wish to receive up-to-date information regarding: 
China's Repression of Uyghurs in Xinjiang
China's Expanding Surveillance State
China's Intelligence Services and Espionage Operations, and
Other Articles, Reports and Official Statements (years 2023, 2022, 2021 and 2020).
Recommended books for understanding China are listed here.
Recommended China Centers at Think Tanks and Universities: MERICS – ASPI – CSIS – CSIS – Stimson – Brookings – Stanford – FPRI – CNAS – COG – CRG
Regarding the country's Big Data Plan, this January 23, 2023 document, translated by CSET describes, in broad strokes, the Chinese Communist Party's guidelines for how "big data" can be used to spur economic development. It emphasizes data sharing, but also calls for restrictions on the sharing of classified and personally identifiable information. The document also urges the breaking up of "data monopolies" and warns that China will reciprocate if subjected to data export controls by foreign countries.
The new issue of the Human Freedom Index 2022 (co​published by the Cato Institute and the Fraser Institute) shows that global human freedom deteriorated severely in the wake of the coronavirus pandemic. Most areas of freedom fell, including significant declines in the rule of law; freedom of movement, expression, association and assembly; and freedom to trade. The HFI covers 165 jurisdictions, China's Freedom Rank: 152. Explore the report here.