EXPORT CONTROLS / INTERNATIONAL TRADE 2022
Commerce Eases Export Controls on Standards-Setting Activities The Commerce Department's Bureau of Industry and Security (BIS), in coordination with the National Institute of Standards and Technology (NIST), released an interim final rule on September 9 clarifying that U.S. companies no longer require an export license to release certain cryptographic technologies and software in the context of legitimate "standards-related" activities to entities on the BIS Entity List. 
The rule change was promulgated in response to industry concerns that U.S. firms could unintentionally violate U.S. export controls in the course of normal standards-setting activities, especially if Huawei representatives or those from other organizations on the Entity List were present, causing these U.S. firms to limit or forgo participation in standards-setting out of an abundance of caution.
Answers to questions like: "What prompted this rule change"?, "What did the September rule change"? and "Why is the rule change important"? are answered in this September 21, 2022, article by an associate fellow with the Economics Program at the Center for Strategic and International Studies in Washington, D.C.
Most multinationals remain in Russia and fund Putin's invasion of Ukraine In January 1990, McDonald's opened its first restaurant in Moscow's Pushkin Square after spending years overcoming Soviet bureaucracy and the country's business, agricultural, and marketing shortcomings. The McDonald's presence in Russia eventually grew into a chain of 847 outlets and a workforce of 62,000 before this year's brutal invasion of Ukraine changed everything.
Following the invasion, McDonald's declared it would shutter all its locations in Russia and put the business up for sale. The company's bombshell announcement explained that "the humanitarian crisis caused by the war in Ukraine, and the precipitating unpredictable operating environment, have led McDonald's to conclude that continued ownership of the business in Russia is no longer tenable, nor is it consistent with McDonald's values."
The decision taken by McDonald's was a rare instance of a principled and costly stance by a highly profitable global brand. A further 1,000 multinational corporations soon voluntarily announced that they would be following suit and leaving Russia. Many received considerable plaudits for their position. But the unfortunate reality is that, McDonald's aside, three-quarters of the most profitable foreign multinationals remain in Russia according to research conducted by activist group B4Ukraine, a coalition of Ukrainian and international civil society organizations.
"To date, only 106 companies have exited the Russian market completely, while over 1,149 internationals remain," claimed WeAreUkraine.info founder Nataliia Popovych via email. "The public is under the impression that most of the major international brands have already left Russia. In reality, most of the companies that downscale and suspend operations do it loudly while eight in ten companies doing business at some scale in Russia have kept silent about it." The September 18, 2022, article in Atlantic Council's UkraineAlert, is here.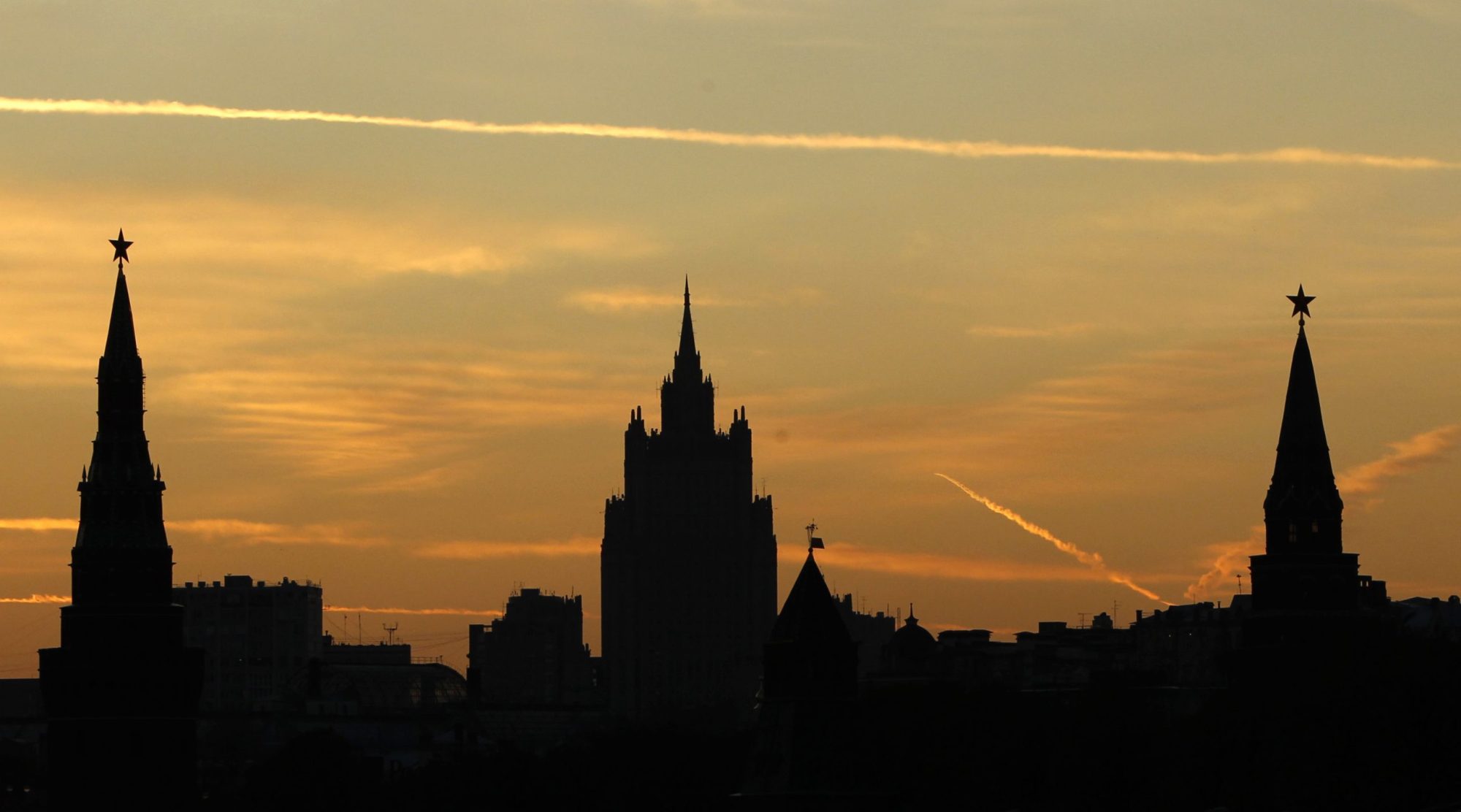 Moscow city skyline is seen against an autumnal sunset, October 18, 2011. REUTERS/Anton Golubev
LOGINK: Risks from China's Promotion of a Global Logistics Management Platform The U.S.-China Commission released a new issue brief on September 20, 2022, entitled "LOGINK: Risks from China's Promotion of a Global Logistics Management Platform." This staff issue brief reviews how widespread adoption of a Chinese platform for sharing logistics information could create economic and strategic risks for the United States and other countries:
Now cooperating with over 20 global ports, the National Transportation and Logistics Public Information Platform, branded as LOGINK, provides users with a one stop shop for logistics data management, shipment tracking, and information exchange needs between enterprises as well as from business to government.

State control of the LOGINK platform potentially provides the Chinese Communist Party access to data collected and stored on the platform and could enable the Chinese government to gain insights into shipping information, cargo valuations via customs clearance forms, and destination and routing information.
The issue brief concludes with considerations for Congress. Read the full report here.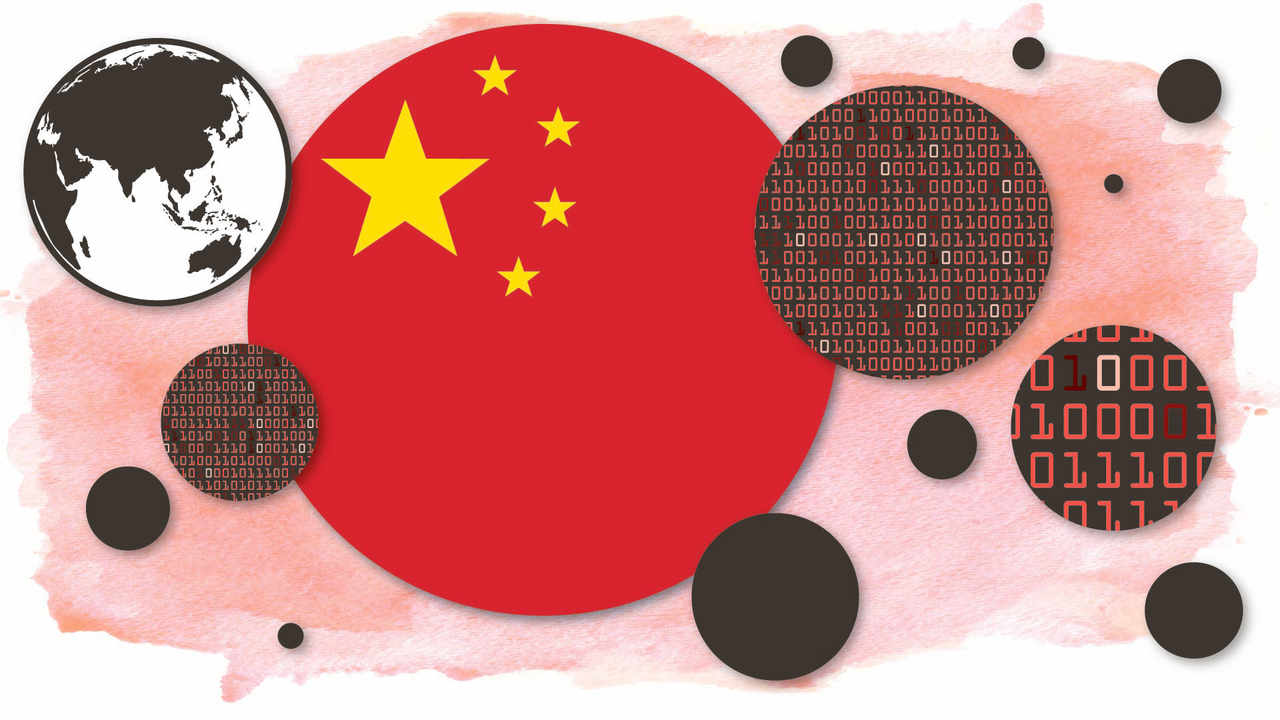 Illustration: DVZ (Deutsche Verkehrs-Zeitung)
"Rewire: Semiconductors and U.S. Industrial Policy" The Center for a New American Security (CNAS) released a new report, "Rewire: Semiconductors and U.S. Industrial Policy," on September 19, 2022. The report explores current trends in the chip industry, and the history of industrial policy in the United States and abroad, to develop recommendations for policymakers about how to strategically implement industrial policy in the semiconductor sector.
The author argues that the U.S. government should focus policy toward the semiconductor industry around four main objectives: 1) promoting technological advances; 2) guaranteeing resilience and integrity of supply; 3) retaining control of choke point technologies; and 4) working with allies to retain U.S. technological advantage versus China.
"The history of industrial policy suggests that government can play a productive role in supporting workforce development and in funding research and development and prototyping," the author argues. "Moreover, the government has a clear role to play in addressing the security challenges posed by the excessive concentration of the industry's fabrication and assembly capability in and around China, which presents an acute risk of disruption in case of geopolitical crisis. To start, however, the U.S. government must deepen its expertise in the industry to ensure policymakers understand the complex supply chains that undergird the semiconductor industry and produce the computing power that U.S. prosperity and security depends on."
President Biden Signs Executive Order to Ensure Robust Reviews of Evolving National Security Risks by the Committee on Foreign Investment in the United States President Joe Biden signed an executive order on Thursday directing the Committee on Foreign Investment in the United States to consider five additional factors as part of its national security reviews to keep up with evolving risks:
1) A given transaction's effect on the resilience of critical U.S. supply chains that may have national security implications, including those outside of the defense industrial base.
2) A given transaction's effect on U.S. technological leadership in areas affecting U.S. national security, including but not limited to microelectronics, artificial intelligence, biotechnology and biomanufacturing, quantum computing, advanced clean energy, and climate adaptation technologies.
3) Industry investment trends that may have consequences for a given transaction's impact on U.S. national security.
4) Cybersecurity risks that threaten to impair national security.
5) Risks to U.S. persons' sensitive data.
EU aims to ban products, imports made with forced labour The European Union is considering draft rules that will ban products that are made with forced labor, whether they originate within union or are imported to any of the 27 union nations, reports Reuters. The proposal is a reaction to human rights violations in Xinjiang, China, where over hundreds of thousands of Uyghurs are suspected to be working in forced conditions. 
Russia will not resume gas supplies to Europe until sanctions lifted, says Moscow Russia-linked accounts relayed the Kremlin's statement that it would not fully resume gas supplies to Europe until Western sanctions against Moscow were lifted, and those accounts warned that energy shortages would cause social unrest, death, and discomfort throughout Europe this winter.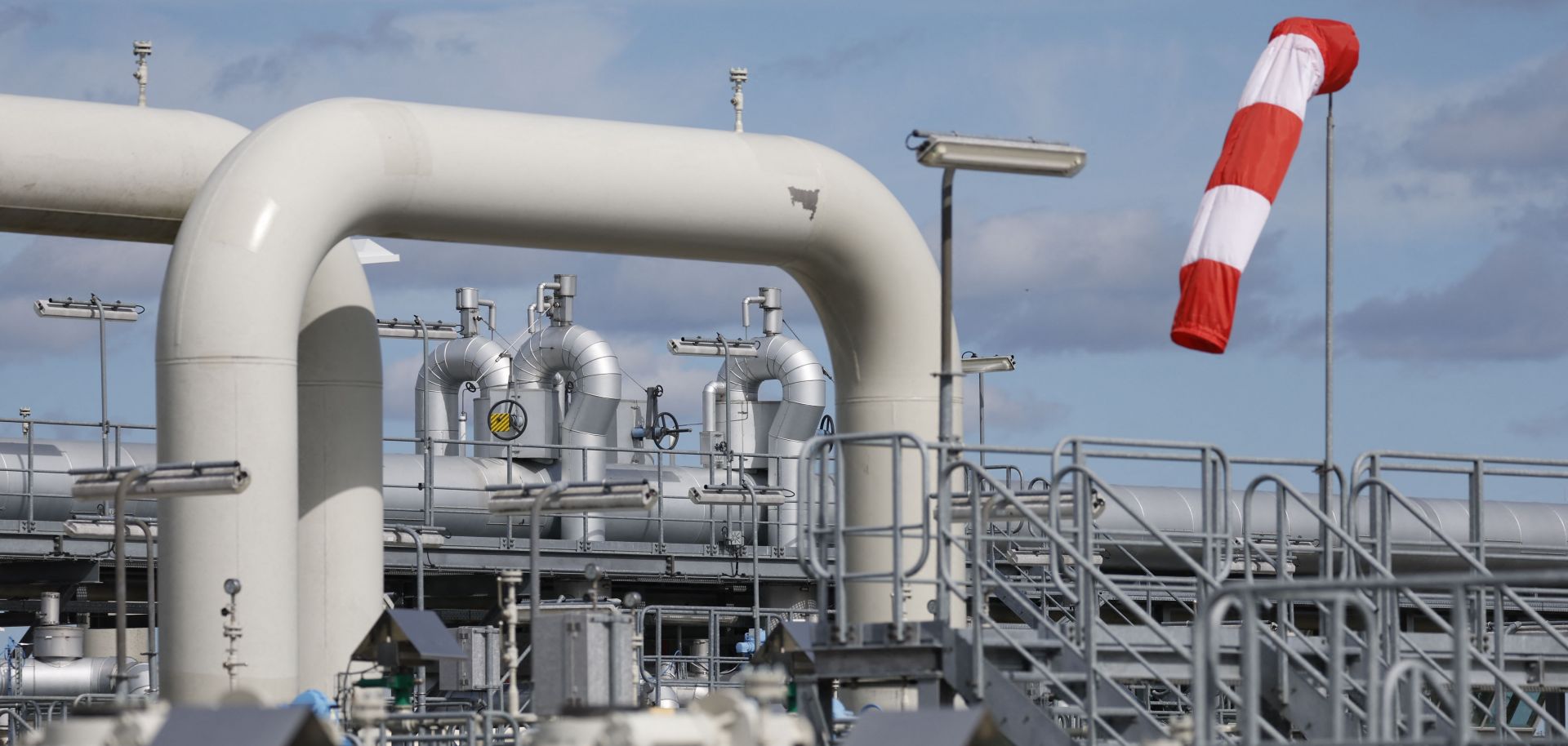 Facilities to receive and distribute natural gas are seen at a section of the Nord Stream 1 pipeline in Lubmin, northeastern Germany, on Aug. 30, 2022 (Odd Andersen/AFP via Getty Images)
Request for Comments on Artificial Intelligence Export Competitiveness The Department of Commerce (DOC) has made it a top priority to drive U.S. innovation and global competitiveness in critical and emerging technologies such as artificial intelligence (AI). Recognizing the growing importance of AI and the impact it can have for transforming our economy, industries, and society, the International Trade Administration (ITA) is requesting public comments to gain insight on the current global AI market and stakeholder concerns regarding international AI policies, regulations, and other measures which may impact U.S. exports of AI technologies. This stakeholder input will provide the DOC with a stronger understanding of the AI landscape as AI impacts existing economic sectors and industries, creates new areas for innovations, and makes its way into global trade discussions. See also "Democracies Aren't Ready for AI's Impact" (WPR, July 7, 2022).
DFARS Case 2022-D010 (Employment Transparency Regarding Individuals Who Perform Work in the People's Republic of China) and DFARS Case 2020-D007 (Restriction on Acquisition of Tantalum) Effective August 25, 2022 the U.S. Department of Defense (DOD) issued to the Defense Federal Acquisition Regulation Supplement (DFARS) two interim rule changes designed to track ties with China. First, contractors are required to disclose to DOD if they intend to use workers or facilities in China as part of any defense contract or subcontract worth more than $5 million. In the second DFARS change, contractors are banned from acquiring tantalum, a metal used in the production of semiconductors and jet engine coatings, from North Korea, China, Russia, or Iran.
China's Quest for Self-Reliance: How Beijing Plans to Decouple from the Dollar-Based Global Trading and Financial System Beijing is challenging the privileged status of the Almighty Dollar, as it tries to carve out its own sphere of influence free of Uncle Sam. This new and comprehensive report explores China's plans to reconfigure the global financial order, analyzing whether it can decouple from the dollar and create a parallel system based on the yuan. Clear and indispensable, the report lays out China's strategy, assesses its chances of success, and proposes steps US policymakers should take to safeguard America's financial system. Wilson center's report is here. The Wilson Center brings fresh thinking and deep expertise to the most pressing policy challenges we face today. It convenes scholars to create a global dialogue of ideas that Congress, the administration, and the international policy community can act on. In 2019, the Wilson Center was named the #1 regional studies think tank in the world.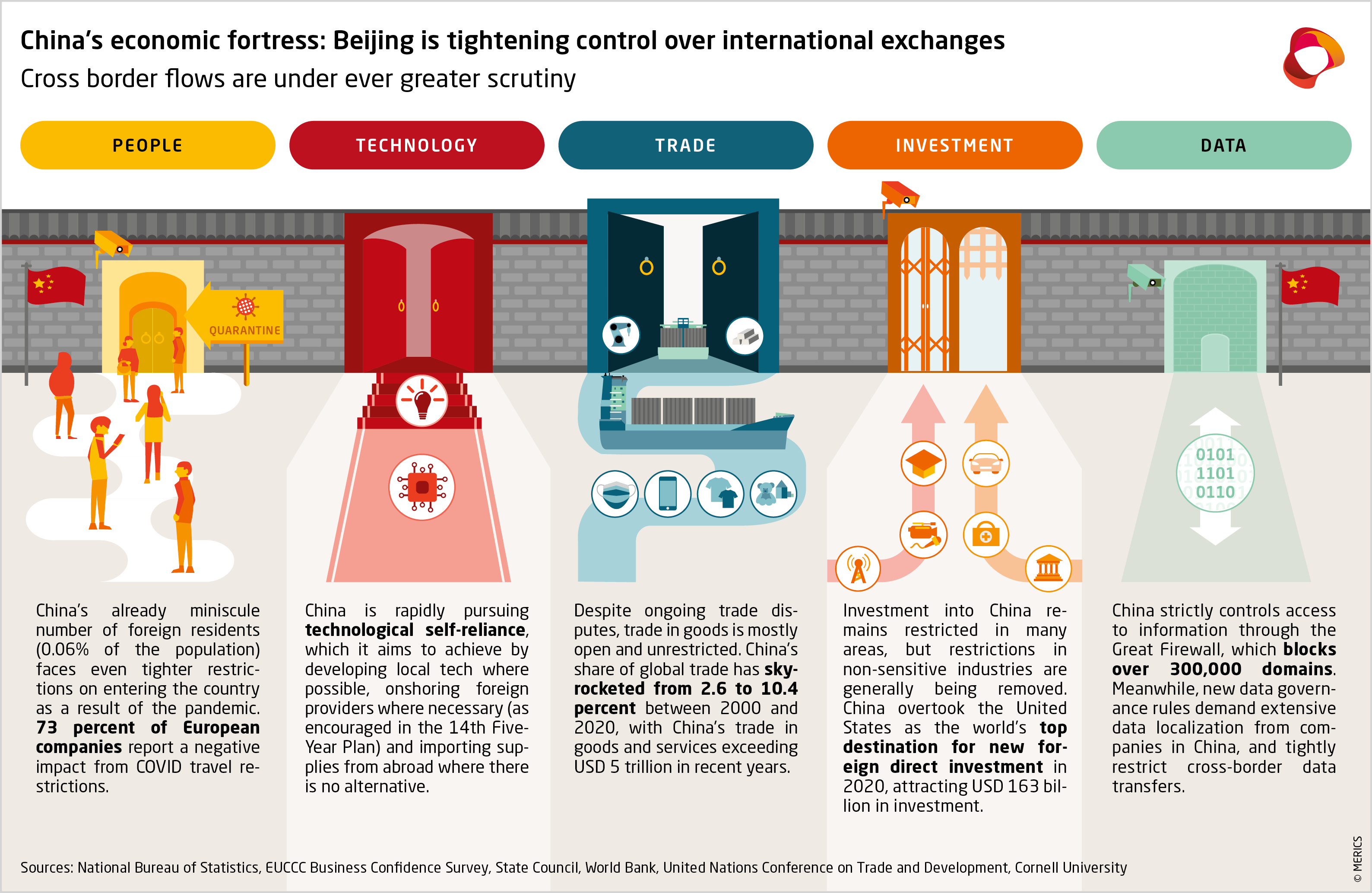 Source: MERICS China Monitor, October 19, 2021
This overlooked cybersecurity risk could create an ocean of trouble for us all One of the key components of global trade is also one of the most vulnerable to cybersecurity threats – and if such an attack was successful, it would cause huge disruption with knock-on effects for people around the world. According to the United Nations Conference on Trade and Development (UNCTAD), over 80% of the volume of international trade in goods is carried by sea and that percentage is even higher for developing countries. The whole industry is reliant on a series of complex, 'just in time' supply chains. if just one element is disrupted, it can have massive repercussions.
One example: the disruption to supply chains around the globe in 2021 when Ever Given, one of the largest container ships in existence, was grounded in the Suez Canal, blocking one of the world's busiest shipping channels and forcing many other ships to take much longer journeys around the Cape of Good Hope, severely delaying shipments of electronics, machinery, furniture, household goods, and more.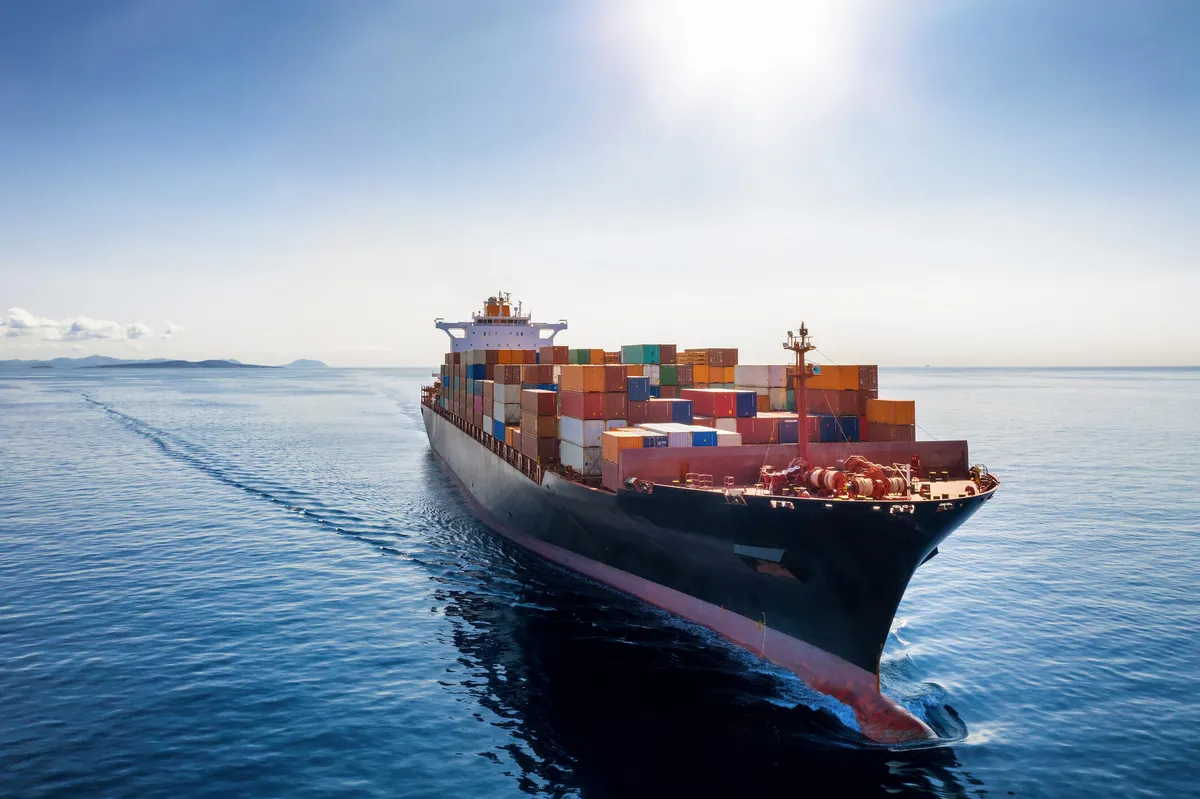 Ports and shipping are becoming increasingly connected to the internet and that's making them a tempting target for hackers, especially when much of the sector is simultaneously reliant on legacy technology that can be decades old. And the prospect of disruptive cyberattacks against shipping and ports isn't just theoretical – they're already happening. ZDNet, September 6, 2022.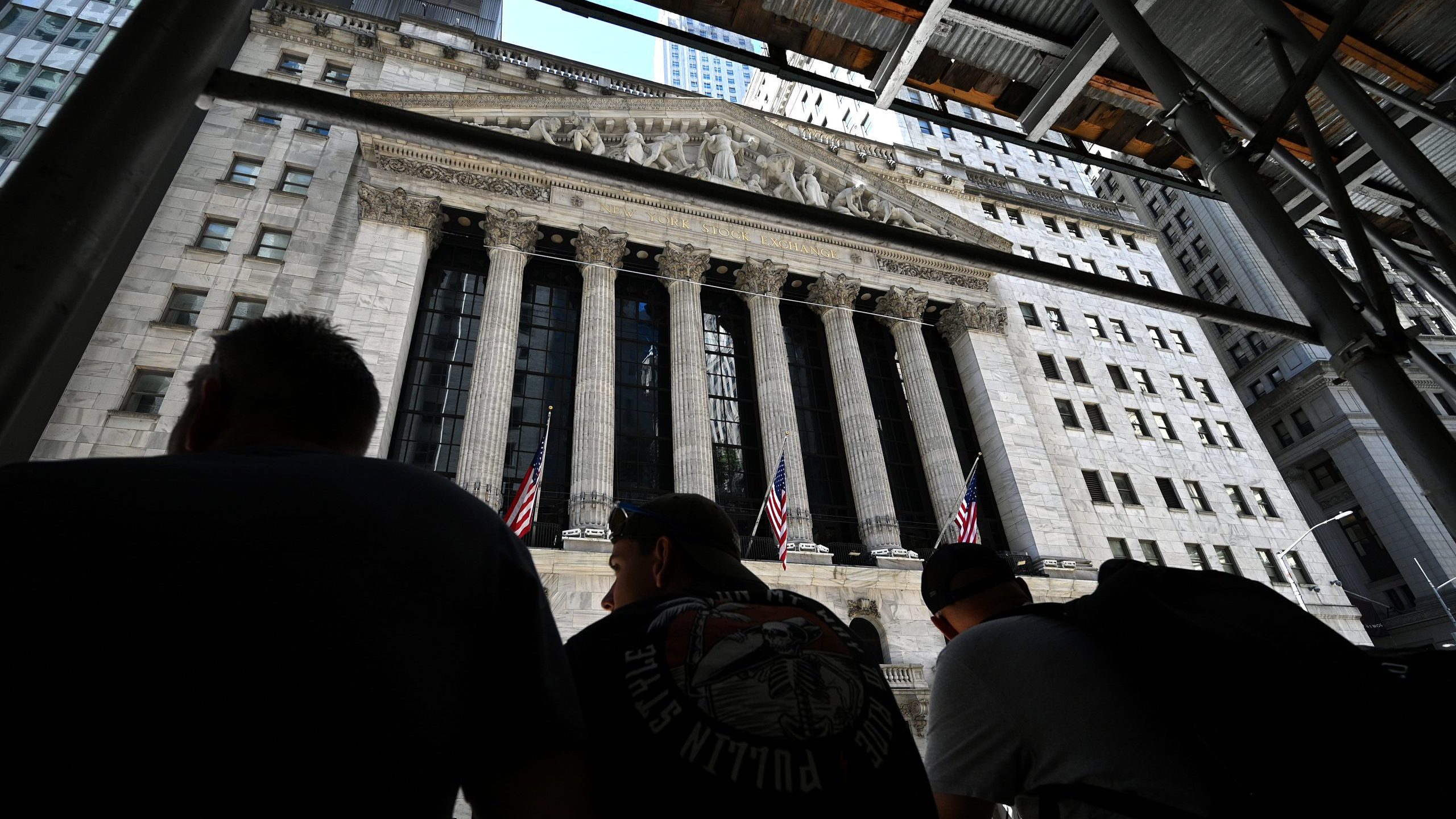 French tourists sit in front of the New York Stock Exchange on August 12, 2022. Photo by Anthony Behar/Sipa USA/REUTERS
U.S. tightens chip export rules to China, hitting Nvidia and AMD California-based companies Nvidia and Advanced Micro Devices told Nikkei that U.S. authorities introduced new bans on selling some of their chips to China. Beijing said it is "firmly opposed" to new export controls.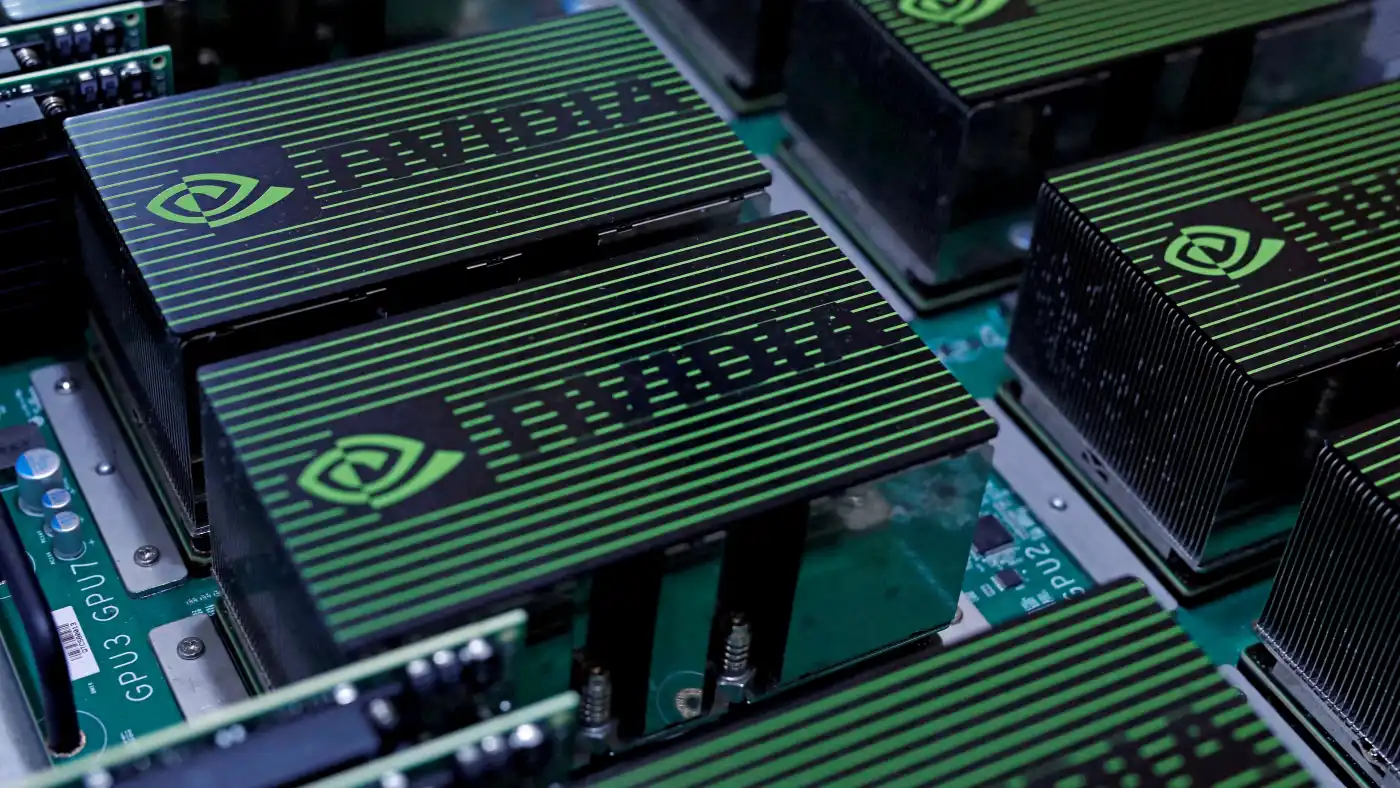 Nvidia and compatriot AMD say that have been affected by tighter U.S. export controls regarding shipments of advanced chips to China. / Reuters
Why the New Climate Bill Is Also about Competition with China Legislative action to compete with China seems to have defined the summer in Washington this year. The CHIPS and Science Act aims to revive semiconductor manufacturing in the United States to address the risks that come from having so much manufacturing capacity concentrated in Taiwan and the gradual rise of China's own chip production abilities. And last week, after many twists and turns, Democrats in Congress finally succeeded in passing a bill tackling climate change. The Inflation Reduction Act (IRA) contains many provisions, including on healthcare and corporate taxes, but its measures to foster decarbonization and support clean energy technologies make it the most ambitious climate bill ever to be passed in the United States. Some models estimate it could cause greenhouse gas emissions in the United States to fall by over 40 percent by 2030.
This is a real win for U.S. climate advocates, but much of the bill is also aimed squarely at enhancing competition with China. China has long been perceived as the largest commercial beneficiary of the clean energy transition thanks to its centrality in clean energy technology supply chains. To address the concern that decarbonization efforts in the United States may create business opportunities and jobs in China rather than domestically, the $369 billion allocated for climate also includes some clear industrial policy provisions that could improve the odds for U.S. manufacturing of clean energy technologies. More in this CSIS Commentary of August 25, 2022.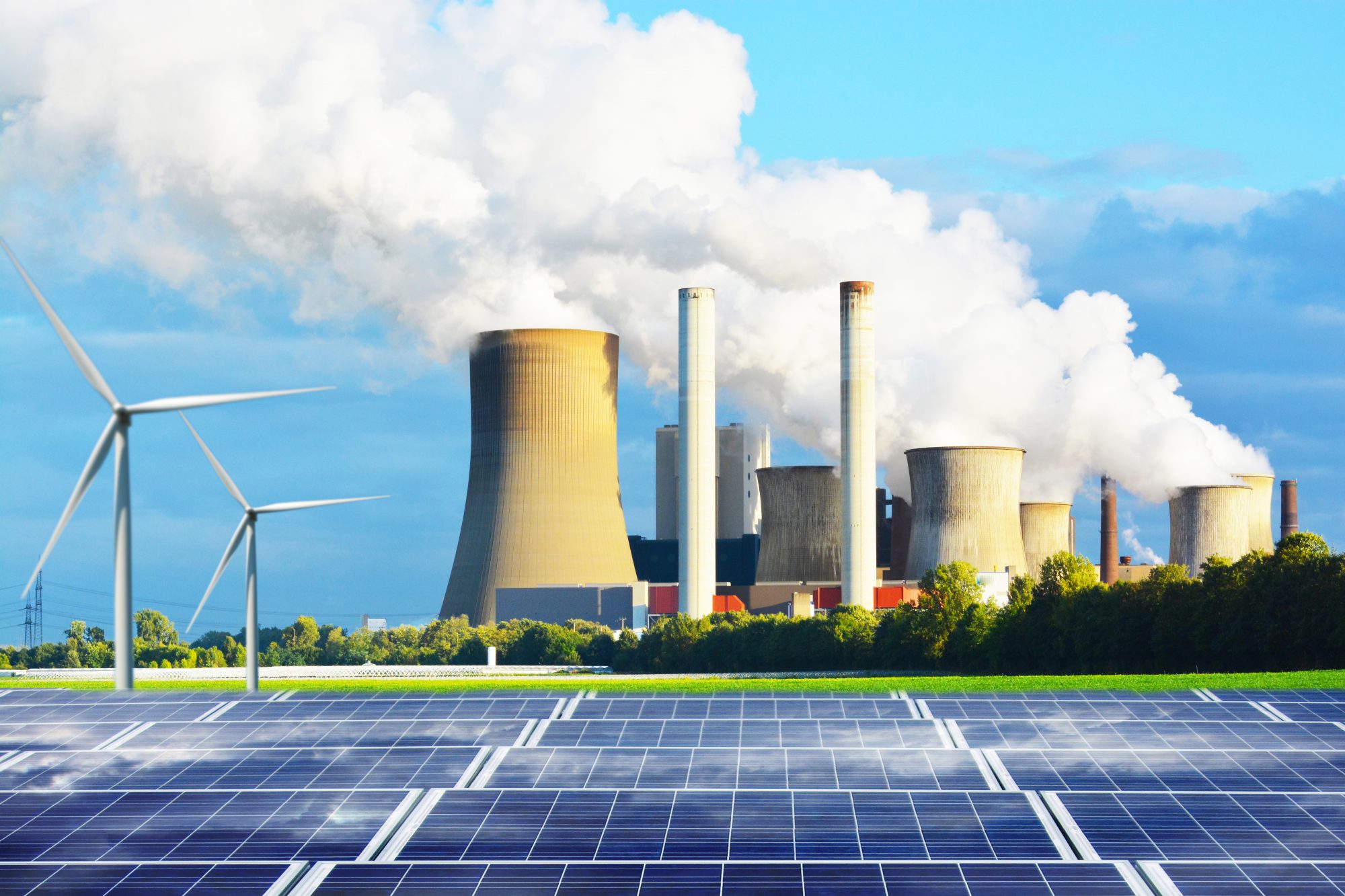 © Adrian825
India-China Competition: Perspectives from the Neighbourhood This special ORF report, written by a Research Fellow at the Institute of South Asian Studies, National University of Singapore, a former diplomat and Director-General of Trade of Bhutan, a former Foreign Affairs Adviser to the prime minister of Nepal, a Research Associate with the South Asia Program at the Stimson Center, a Professor of International Relations at the University of Dhaka, an independent researcher on Maldivian affairs, and a Junior Fellow at ORF's Strategic Studies Programme, attempts to provide South Asian regional perspectives on the India-China rivalry.
What To Expect From the U.S.-Taiwan 21st Century Trade Initiative The U.S. and Taiwan announced some details regarding their upcoming trade negotiations, to be held in the fall, where they will discuss removing trade barriers and, according to the United States Trade Representative, "advance mutual trade based on shared values." ASPI Senior Fellow for Trade, Investment, and Innovation explains what to expect here.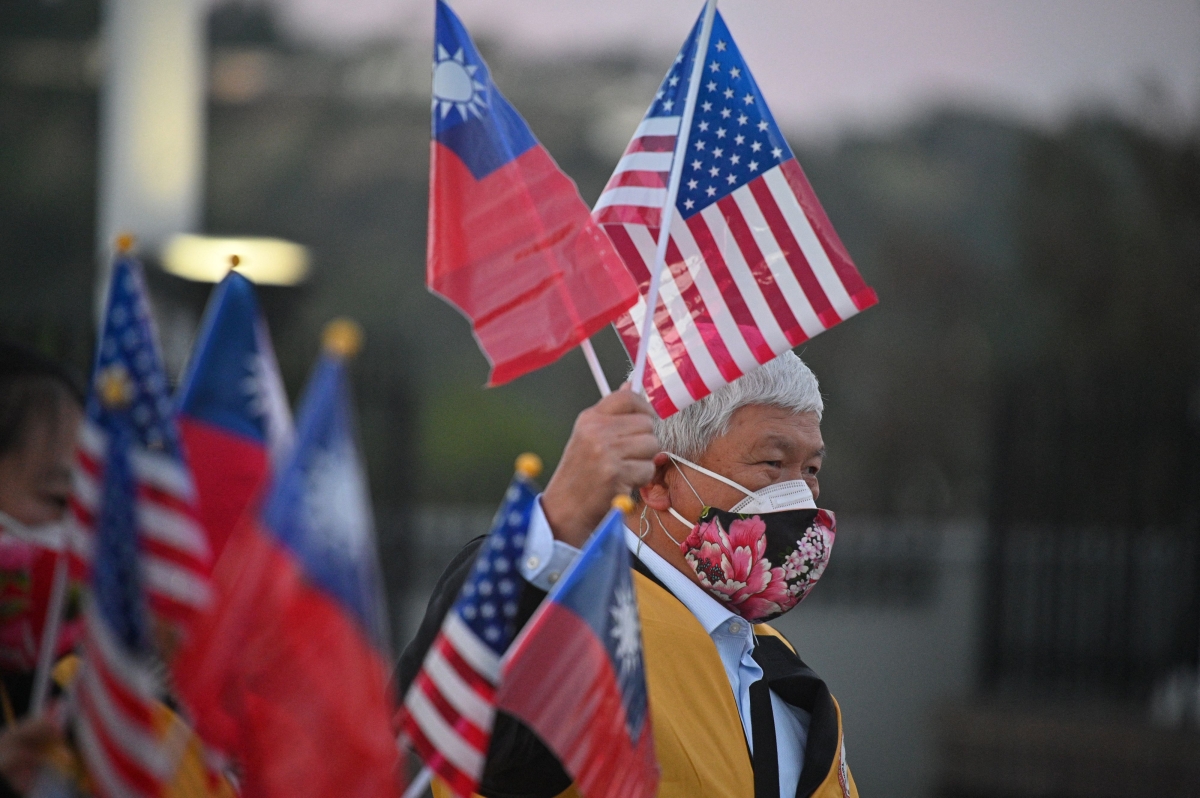 Photo by Robyn Beck/AFP via Getty Images
Estonia, Latvia withdraw from China's "16+1" group Estonia and Latvia followed in Lithuania's footsteps and withdrew from the China-led "16+1" trade group that aims to bolster Beijing's ties with Central and Eastern European countries, amid strengthening Sino-Russian relations and escalating Chinese military pressure in Taiwan. Estonia and Latvia's latest move suggests that the  16+1 format is in its death throes.
Measuring U.S-China Technological Decoupling, and What it Means for the Future During the first two decades of the twenty-first century, China has risen to world prominence as an international economic power. Building on the miraculous growth driven by investment and production that stemmed from its "open-door" reforms starting in 1978, China completely transformed its economy and has increasingly challenged the United States' global economic dominance. In 2010, China became the world's top manufacturing nation, ending a 110-year U.S. lead. In 2014, China replaced the U.S. as the world's largest economy by purchasing power parity. And in 2019, China demonstrated its immense research and development gains by becoming the nation to file the largest number of international patent applications at the World Intellectual Property Organization.
However, China's rise to economic stardom could not have been achieved without its heavy integration with the technologically developed world, particularly the United States. When it comes to international trade, science and technology can cross national borders much easier than goods or people. International cooperation can play a large role in propelling technological advancement forward. Within the last three decades, internet protocols, hardware design and manufacturing, software development, and IT standards have evolved within a global system, with countries relying on each other for shared knowledge and techniques. As such, both China and the United States' technological development fields have benefited greatly from global interdependence.
However, in recent years, the possibility of the United States and China's economic "decoupling" has become a hotly debated topic among scholars and the media. Their decoupling refers to the "deliberate dismantling—and eventual re-creation elsewhere—of some of the sprawling cross-border supply chains that have defined globalization and especially the U.S.-China relationship in recent decades." While decoupling is becoming an increasingly popular path, political desires to decouple must not lead to rash decision-making. After years of interdependence, decoupling the two most powerful nations has serious implications, not only for the future of technological development, but for the broader objectives of global cooperation. More in this July 22, 2022 article in Columbia Political Review (Columbia University).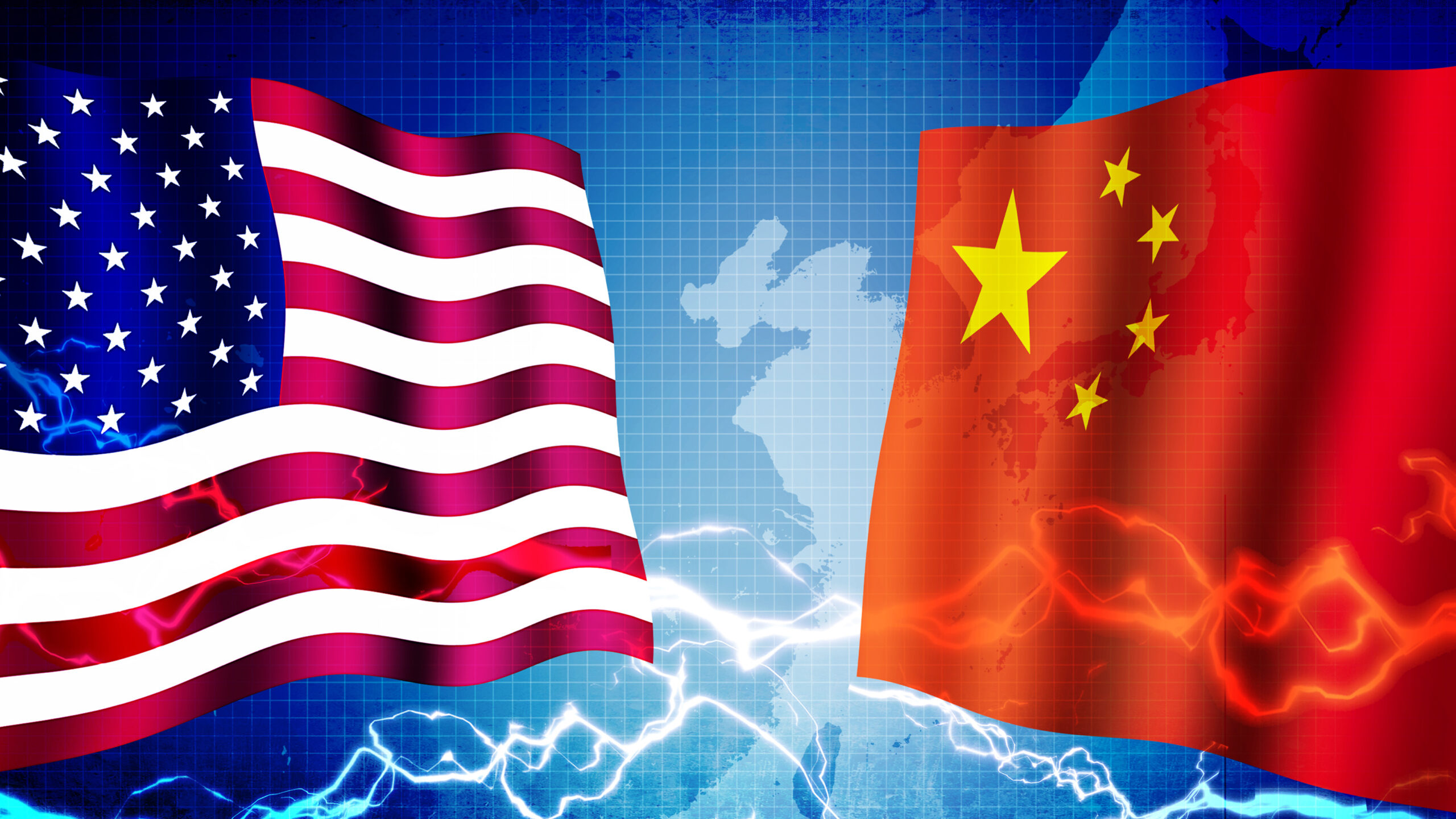 Source: CSIS / Photo: barks/Adobe Stock
Taiwan shows a tango of engagement and deterrence against isolation and coercion Like his strategic partner Vladimir Putin in his horrific war in Ukraine, Xi Jinping's violently aggressive actions in the past few days against Taiwan—and Japan—have revealed how he wants to act in the world. These acts are what diplomats and governments have called 'disproportionate and destabilising'. Despite the strident efforts of China's wolf-warrior diplomats, it's plain hard for Beijing to portray itself as the victim here. Victims are usually not the ones launching ballistic missiles when others aren't.
The military violence is far from a reasonable response to the visit to Taiwan of an 82-year-old American politician called  Nancy Pelosi. China's ambassador to Canberra, Xiao Qian, did his best to follow the instructions from Xi, repeating foreign ministry lines. 'The actions taken by Chinese government to safeguard state sovereignty and territorial integrity and curb the separatist activities are legitimate and justified. Instead of expressing sympathy and support to the victim, the Australian side has condemned the victim along with the perpetrators.' But in the real world, Chinese military aggression shows us that Beijing is intent on changing the peaceful status quo across the Taiwan Strait—something that is a flat contradiction to China's stated policy of wanting peace.
Chinese military planes and ships closing large areas of the air and maritime space around Taiwan and the People's Liberation Army firing ballistic missiles over the heads of 23 million Taiwanese people and into Japan's exclusive economic zone are a physical demonstration of China's intent. These actions make its words about peace and stability empty. It's surprising that no one in Beijing or in the PLA higher command seemed to consider the effect on Japanese policy and public opinion that's flowing from the disastrous decision to launch ballistic missiles into Japan's EEZ. If China had wanted to really energise Tokyo's efforts to strengthen Japan's military power and to think through the close connection between Taiwan's security and its own, these missile launches would have been the best way of achieving that.
Xi went beyond even the military violence, adding other overreactions like ending climate talks and military contact with the US, cancelling a meeting between the Chinese and  Japanese foreign ministers and threatening the EU if members of the European parliament visit Taiwan. This lack of control from the Chinese also shows us something important about what happens next in nations' relationships with Taiwan. More in The Strategist of August 9, 2022. The Strategist is the commentary and analysis site of the Australian Strategic Policy Institute, an independent, non-partisan think tank based in Canberra. ASPI is one of the most authoritative and widely quoted contributors to public discussion of strategic policy issues in Australia and a recognised and authoritative Australian voice in international discussion of strategic issues, especially in the Asia–Pacific. The Strategist aims to provide fresh ideas on Australia's critical defence and strategic policy choices as well as encourage and facilitate discussion and debate among the strategy community and Australian public.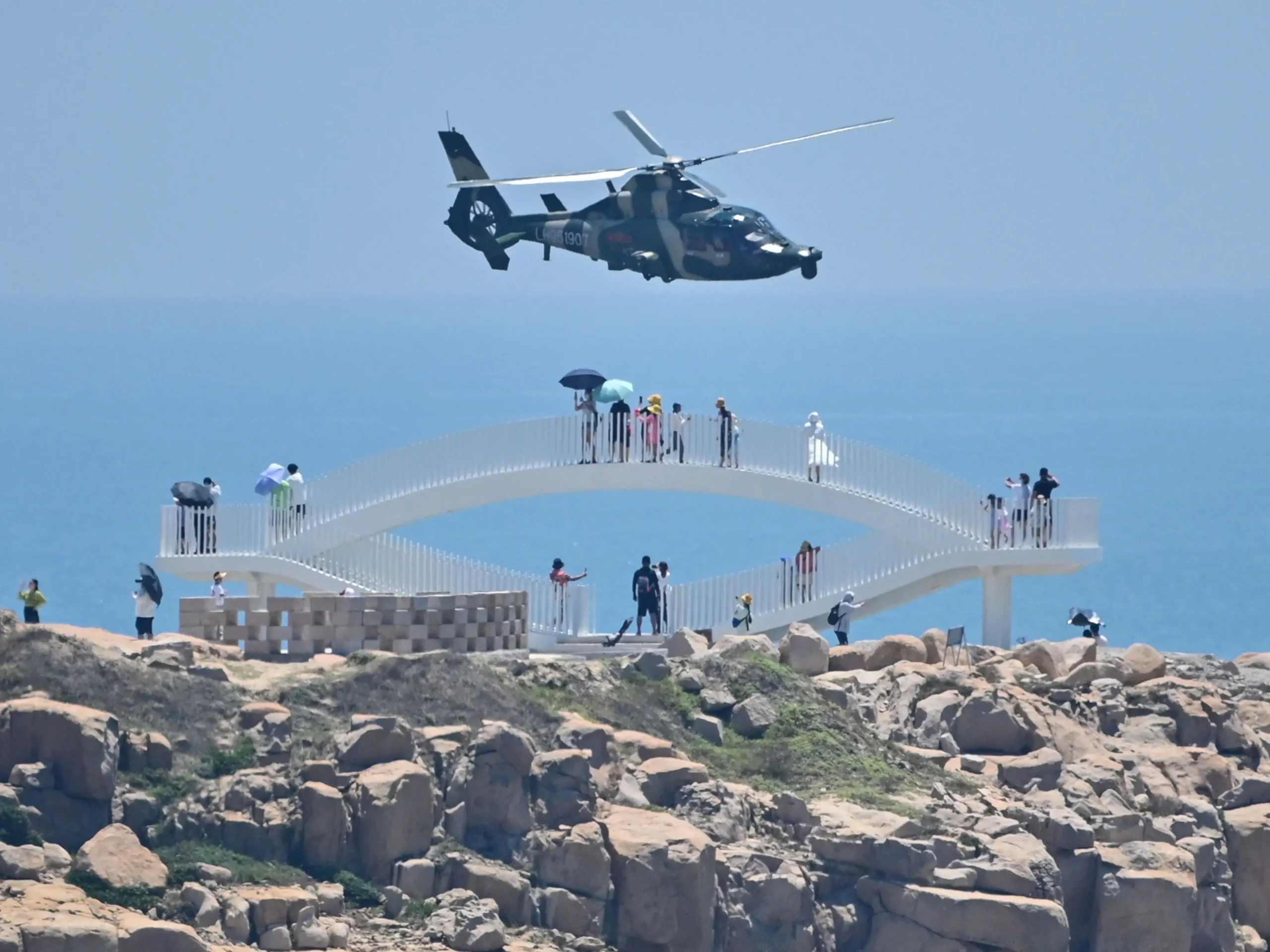 Tourists look on as a Chinese military helicopter flies past Pingtan Island, China, on August 4, 2022. Image: Hector Retamal/AFP/Getty Images
U.S. Tightens Grip on Exports of Chipmaking Gear to China Over the past few weeks, U.S. manufacturers of chip making equipment have received letters from the Department of Commerce instructing them not to sell equipment for making chips at 14 nanometers or below to Chinese buyers. The Department had banned the sale of gear for fabricating 10 nanometer chips or below to China's chip leader, Semiconductor Manufacturing International Corp., but expanded that prohibition to all chipmakers in China and to equipment that can make anything below 14 nm. In chip manufacturing, the lower number of nanometers, the more advanced the product; meaning the new rules cover a broader range of semiconductor making equipment. "The Biden Administration is focused on impairing PRC efforts to manufacture advanced semiconductors to address significant national security risks to the U.S.," the Department said in a statement. More in Bloomberg's June 29, 2022 article: "US Quietly Tightens Grip on Exports of Chipmaking Gear to China".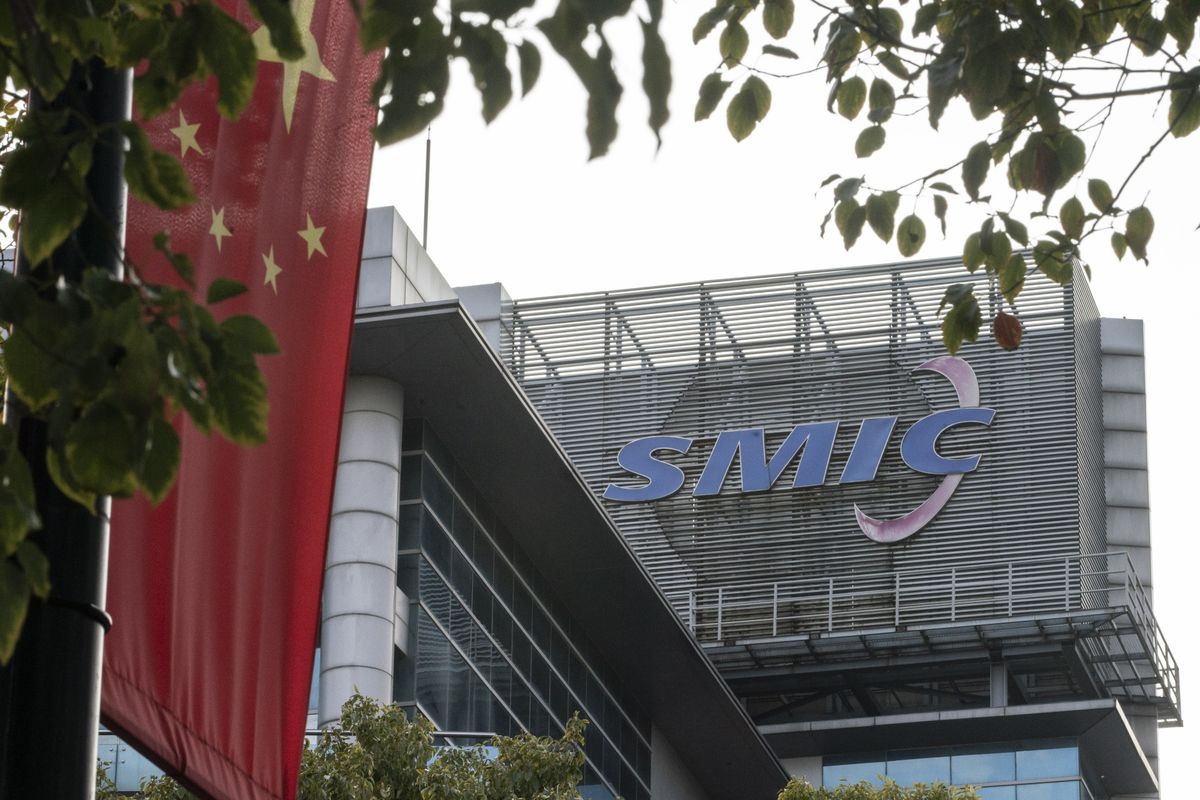 Semiconductor Manufacturing International Corp. headquarters in Shanghai. Photographer: Qilai Shen/Bloomberg
CFIUS Annual Report to Congres – Report Period CY 2021 The Committee on Foreign Investment in the United States (CFIUS) reviewed more transactions in 2021 than it has any year in the past decade, according to its annual report to Congress released on August the 2nd, 2022, signaling CFIUS' reinvigoration following statutory updates. In circumstances where foreign persons – including all types of business associations – are contemplating buying or making an investment in a US business, it is prudent to consider whether the contemplated transaction will be subject to the purview of CFIUS, an inter-agency committee of the US government comprised of nine cabinet-level Executive Branch agencies and offices, and various other non-voting offices with national security responsibilities. CFIUS reviews certain foreign investment transactions within its jurisdiction (i.e., "covered transactions") and advises the President on matters of national security arising from foreign investments.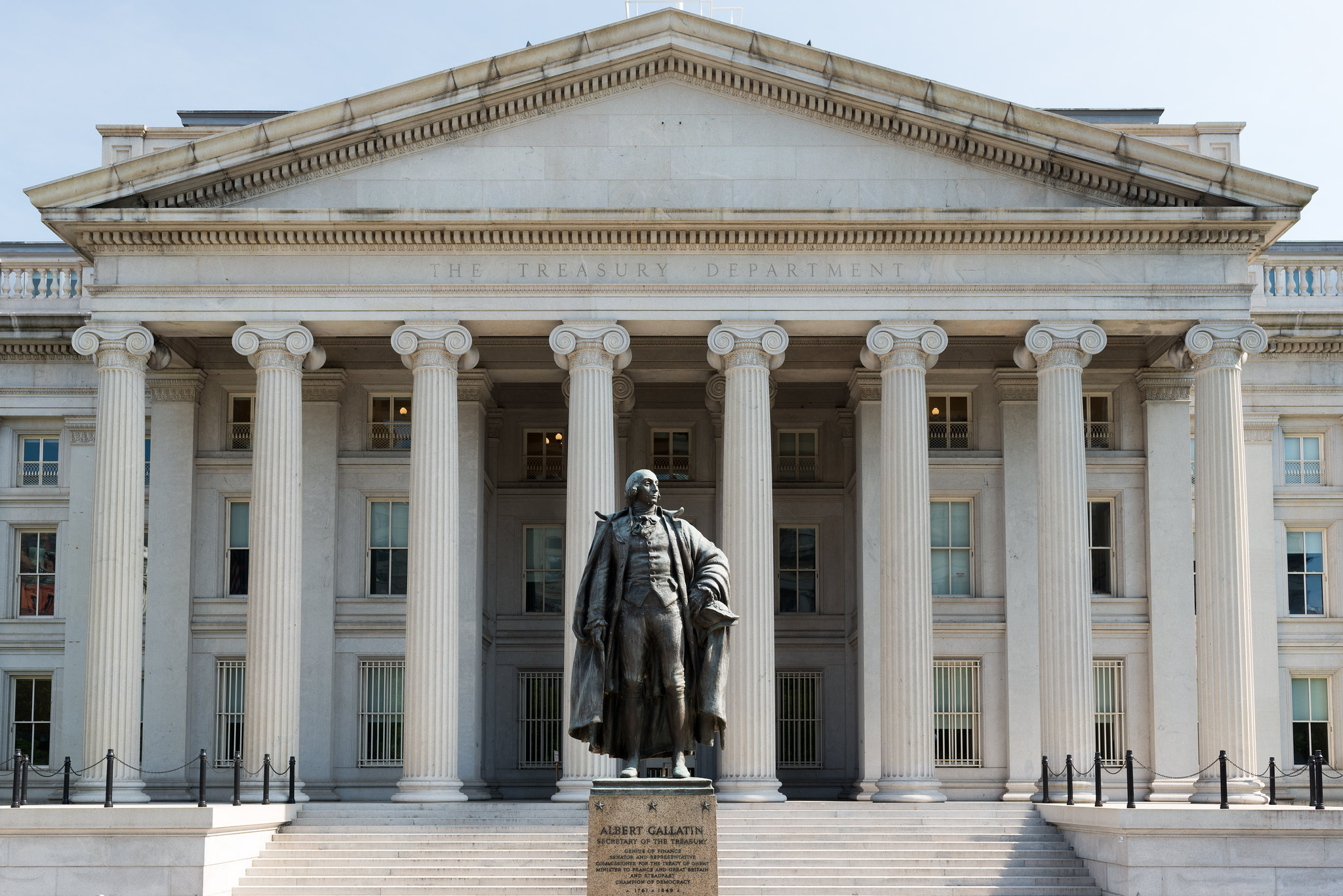 The U.S. Treasury Department building in Washington, D.C. (Robert Lyle Bolton, https://flic.kr/p/o8X28A; CC BY 2.0; https://creativecommons.org/licenses/by/2.0/)
Business Retreats and Sanctions Are Crippling the Russian Economy As the Russian invasion of Ukraine enters into its fifth month, a common narrative has emerged that the unity of the world in standing up to Russia has somehow devolved into a "war of economic attrition which is taking its toll on the west", given the supposed "resilience" and even "prosperity" of the Russian economy. This is simply untrue – and a reflection of widely held but factually incorrect misunderstandings over how the Russian economy is actually holding up amidst the exodus of over 1,000 global companies and international sanctions. That these misunderstandings persist is not surprising. Since the invasion, the Kremlin's economic releases have become increasingly cherry-picked, selectively tossing out unfavorable metrics while releasing only those that are more favorable. These Putin-selected statistics are then carelessly trumpeted across media and used by reams of well-meaning but careless experts in building out forecasts which are excessively, unrealistically favorable to the Kremlin.
Yale's team of experts, using private Russian language and unconventional data sources including high frequency consumer data, cross-channel checks, releases from Russia's international trade partners, and data mining of complex shipping data, have released one of the first comprehensive economic analyses measuring Russian current economic activity five months into the invasion, and assessing Russia's economic outlook.
From their analysis, it becomes clear: business retreats and sanctions are catastrophically crippling the Russian economy. They tackle a wide range of common misperceptions – and shed light on what is actually going on inside Russia, including:
Russia's strategic positioning as a commodities exporter has irrevocably deteriorated, as it now deals from a position of weakness with the loss of its erstwhile main markets, and faces steep challenges executing a "pivot to Asia" with non-fungible exports such as piped gas;

Despite some lingering leakiness, Russian imports have largely collapsed, and the country faces stark challenges securing crucial inputs, parts, and technology from hesitant trade partners, leading to widespread supply shortages within its domestic economy;

Despite Putin's delusions of self-sufficiency and import substitution, Russian domestic production has come to a complete standstill with no capacity to replace lost businesses, products and talent; the hollowing out of Russia's domestic innovation and production base has led to soaring prices and consumer angst;

As a result of the business retreat, Russia has lost companies representing ~40% of its GDP, reversing nearly all of three decades' worth of foreign investment and buttressing unprecedented simultaneous capital and population flight in a mass exodus of Russia's economic base;

Putin is resorting to patently unsustainable, dramatic fiscal and monetary intervention to smooth over these structural economic weaknesses, which has already sent his government budget into deficit for the first time in years and drained his foreign reserves even with high energy prices – and Kremlin finances are in much, much more dire straits than conventionally understood;

Russian domestic financial markets, as an indicator of both present conditions and future outlook, are the worst performing markets in the entire world this year despite strict capital controls, and have priced in sustained, persistent weakness within the economy with liquidity and credit contracting – in addition to Russia being substantively cut off from international financial markets, limiting its ability to tap into pools of capital needed for the revitalization of its crippled economy.
Looking ahead, there is no path out of economic oblivion for Russia as long as the allied countries remain unified in maintaining and increasing sanctions pressure against Russia, and The Kyiv School of Economics and McFaul-Yermak Working Group have led the way in proposing additional sanctions measures. Defeatist headlines arguing that Russia's economy has bounced back are simply not factual, the facts are that, by any metric and on any level, the Russian economy is reeling, and now is not the time to step on the brakes. Download the visual slide deck accompanying this research monograph here.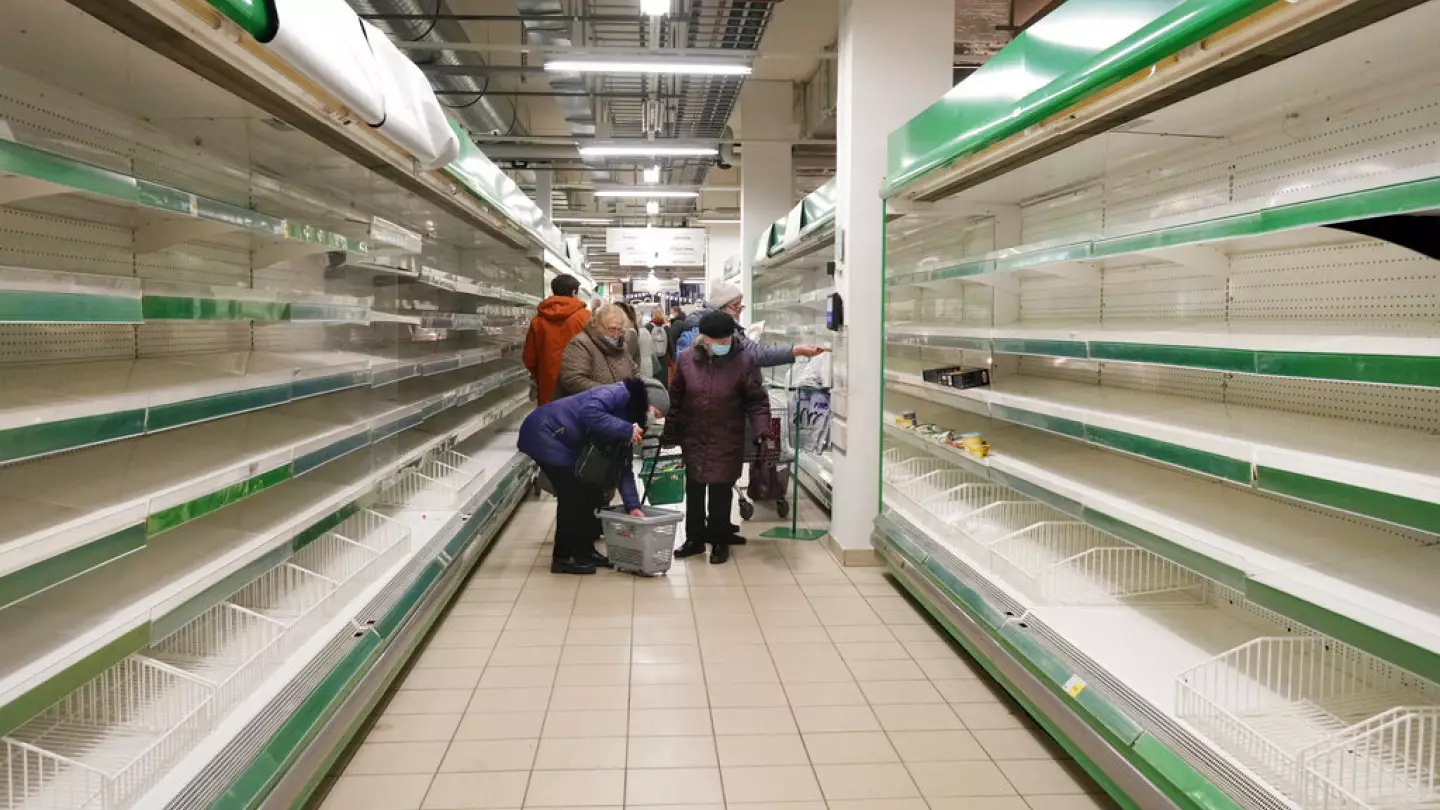 People buy the last remaining groceries at a Finnish PRISMA store as they know the store will close soon, in St. Petersburg, Russia, Tuesday, March 15, 2022 / Copyright  AP/Copyright 2022 The Associated Press. All rights reserved.
Deficit Trap? Trade Balances and China's Belt and Road Initiative(Conference Report) "Senseless and baseless." That was how a top Chinese official described claims that China's Belt and Road Initiative (BRI), which officially launched in 2013, had caused economic hardship in developing countries. Indeed, much has been written about the potential for such countries, which had borrowed under the auspices of the BRI to construct trade and transportation infrastructure, to fall into so-called "debt traps." Two commonly cited examples of that peril have been Pakistan and Sri Lanka. Both were caught in a spiral of ever-higher loan interest and principal payments when their newly built infrastructure failed to generate enough revenues to service their debts.
Less appreciated, however, has been the BRI's potential to create the conditions for another sort of peril: a "trade deficit trap." In contrast to a debt trap, a trade deficit trap is a situation where a country experiences an ever-widening trade deficit after its newly built infrastructure projects are completed. While many factors may affect the direction of trade balances, including a strong currency or weak productivity, this study focuses on the impact that BRI infrastructure projects might have had on national trade balances, particularly with China. Based on the FPRI study, there appears to be some correlation between a country's participation in the BRI and a deterioration in its trade balance with China. Though economists still debate the exact consequences of a persistent trade deficit, if left unchecked, one could weaken a country's economy.
Below: Sri Lanka, Colombo – August 2015: Freight container cranes at the Colombo dock yards. Source: FPRI (The Foreign Policy Research Institute)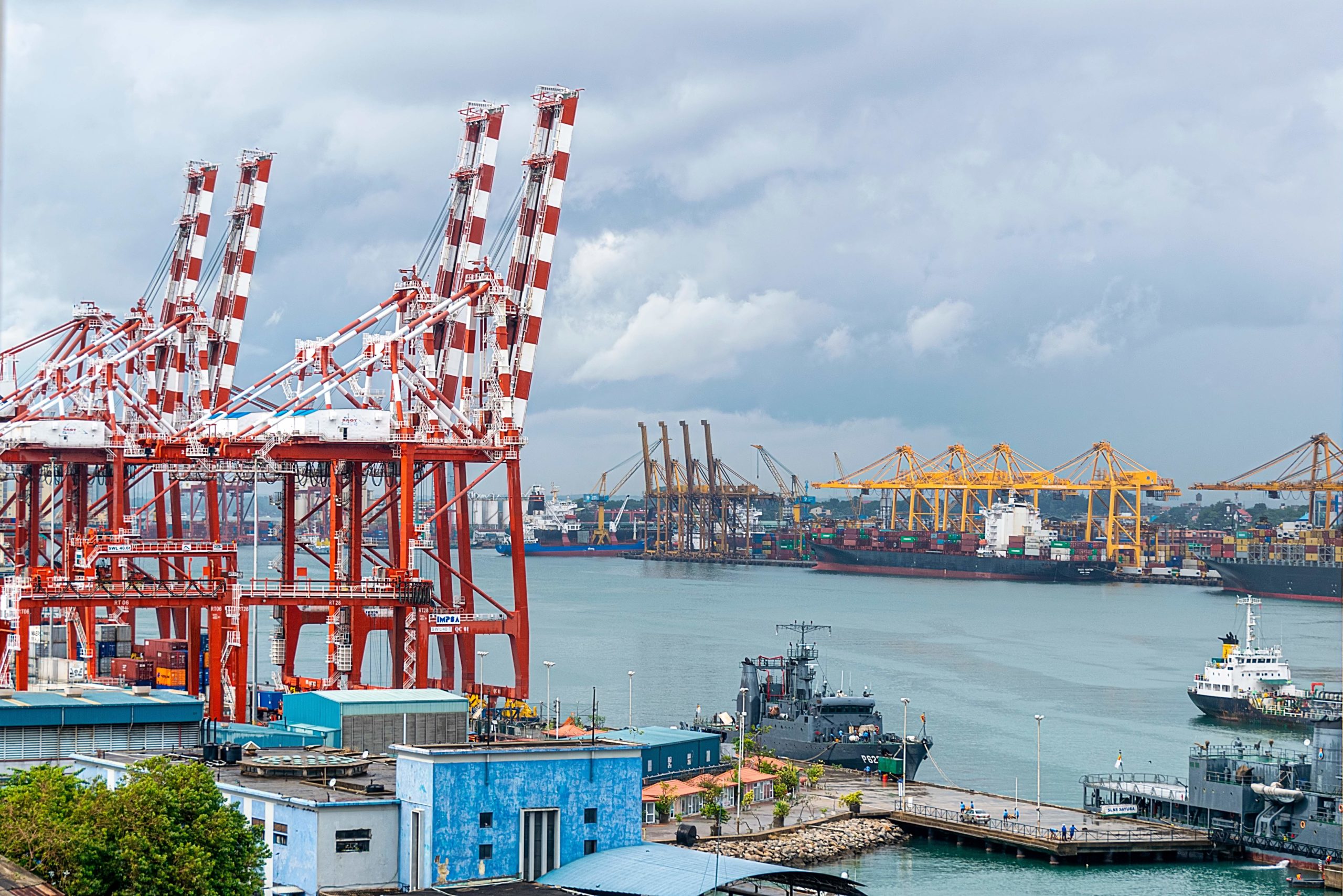 Energy Transformation after the Second Russo-Ukrainian War (Conference Report) On Wednesday, June 22, 2022, the Foreign Policy Research Institute organized a panel discussion with leading experts to discuss the transformation of international energy relations during and after the second Russo-Ukraine War. Co-hosted by Rice University's Baker Institute for Public Policy and Penn State's Department of Russian and East European Studies, the event explored several fundamental questions surrounding sanctions, the Russian energy industry, and the energy relationship between Russia and Europe. The event was broken into two sections, each with a different set of four panelists. The first series of panelists explored the notion of energy transformation in Russia after the war in Ukraine, while the second sought to explore the same in Europe. Both reached a similar conclusion: Russia's current energy strategy with Europe is predicated on testing Europe's resolve and its ability to withstand an energy crisis this winter. Conversely, if Europe is able to maintain solidarity and effectively coordinate this winter, it will be in a stronger long-term position with respect to Russia.
The FPRI event was held under Chatham House Rules, meaning participants remained anonymous in this piece with the hope of being able to share opinions, facts, and findings more freely. What follows in this report is a summary of these main ideas, as well as broader implications for the war in Ukraine. The Foreign Policy Research Institute (FPRI), a nonpartisan Philadelphia-based think tank dedicated to strengthening U.S. national security and improving American foreign policy, is dedicated to producing the highest quality scholarship and nonpartisan policy analysis focused on crucial foreign policy and national security challenges facing the United States.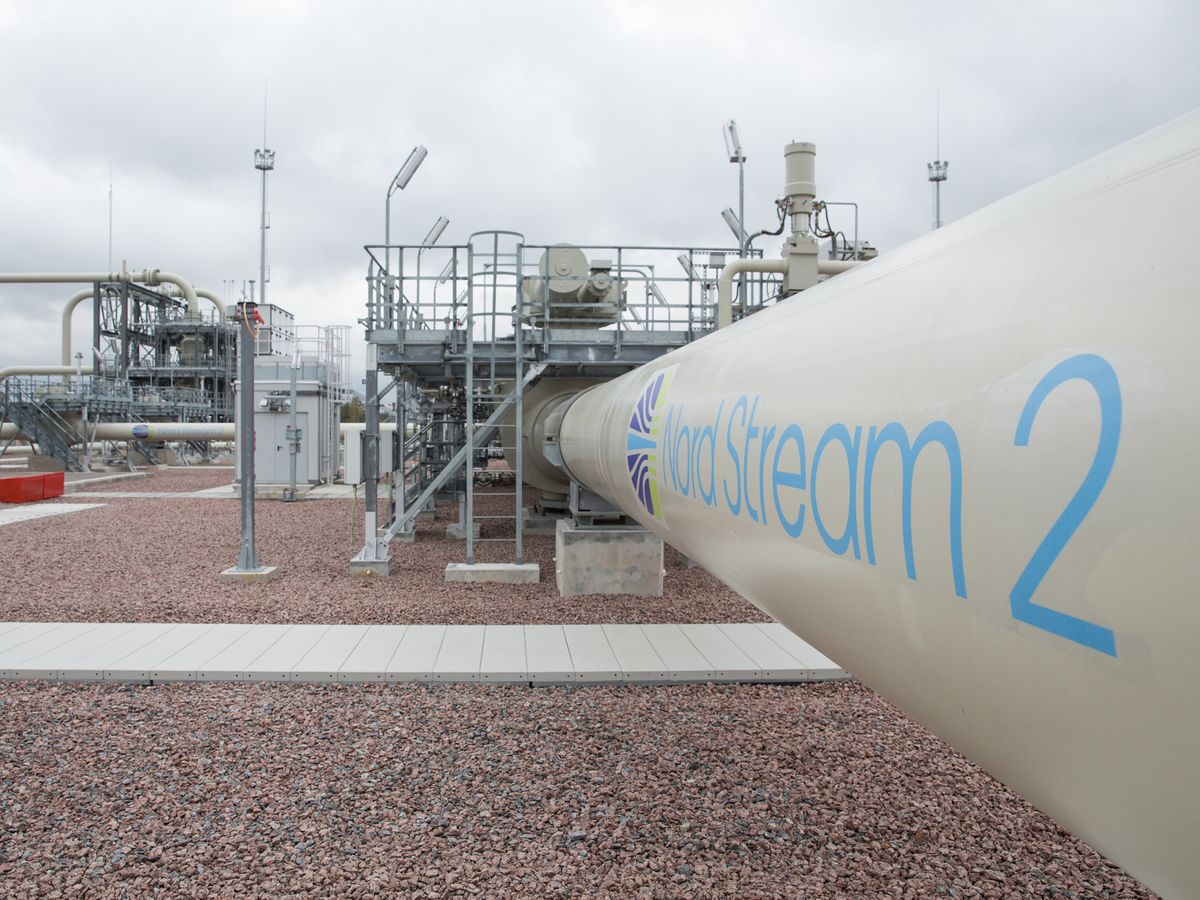 The Nord Stream 2 landfall facilities in Russia. Source: Nord Stream 2
Decoupling in Strategic Technologies – From Satellites to Artificial Intelligence Geopolitical tensions between the United States and China have sparked an ongoing dialogue in Washington about the phenomenon of "decoupling," the use of public policy tools to separate the multifaceted economic ties that connect the two powers. This process has already begun, with a range of steps taken in recent years on both sides of the Pacific to reshape the bilateral economic relationship. Decoupling encompasses a wide range of tactics and policy objectives. Some have advocated for decoupling as a means of protecting the economic health of certain U.S. industries. Others have argued for decoupling as a tool to reduce the dependence of the United States on China for strategically important products and supplies. Still others see decoupling as a means of limiting the channels through which China might compromise U.S. national security, as in the ongoing debates around 5G and network infrastructure.
This issue brief studies the efficacy of one specific aspect of this broader decoupling phenomenon. Specifically, it examines the use of export controls and related trade policies to prevent a rival from acquiring the equipment and know-how to catch up to the United States in cutting-edge, strategically important technologies. This objective has already motivated some of the most widely discussed events of the "decoupling era" in U.S.-China relations. The Committee on Foreign Investment in the United States, for example, has been active in blocking Chinese firms from accessing specific types of leading-edge semiconductor designs.
To study the efficacy of these tactics, this CSET issue brief examines past efforts by the United States to decouple supply chains in satellite technology. For decades, an array of export controls and other regulations have worked to prevent rivals from accessing key technologies for satellites designed and manufactured in the United States. The satellite domain affords the opportunity to examine the effectiveness of decoupling policies in the context of a suite of emerging technologies considered strategically important. These lessons have contemporary relevance as U.S. policymakers consider establishing similar regimes in the current generation of strategic emerging technologies like artificial intelligence (AI).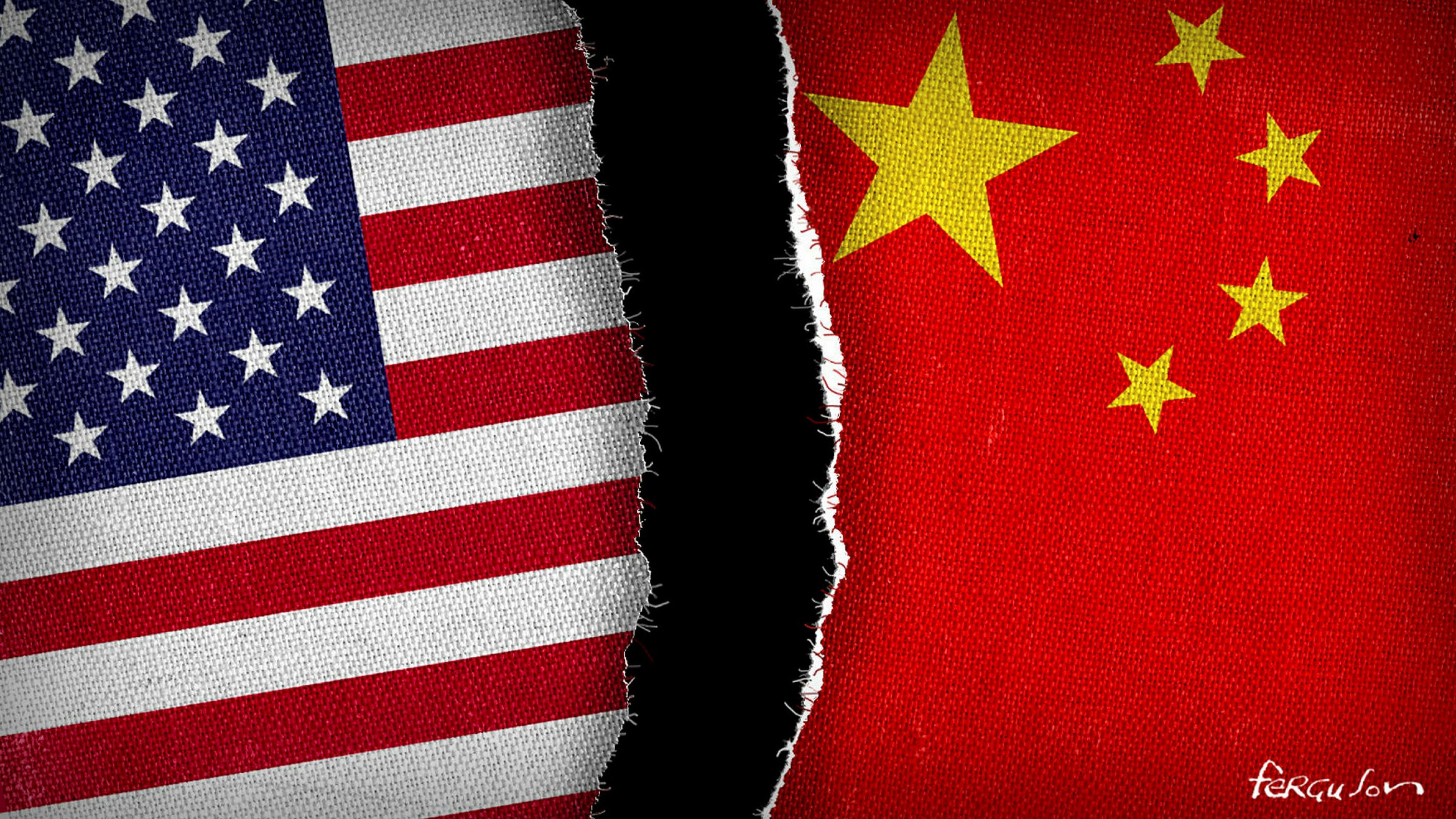 Image: James Ferguson (as published in the August 17, 2020 article in the Financial Times: "The decoupling of US and China has only just begun"
Getting Ready for a Long War with China: Dynamics of Protracted Conflict in the Western Pacific The United States may be preparing for the wrong kind of war with China. Much of America's planning for a potential war with China appears to hinge on an assumption that the war would be short and localized. Yet most modern great-power clashes have been long wars, lasting months or years rather than days or weeks. And as great-power wars go long, they frequently get bigger, messier, and harder to untangle. A Sino-American war that occurs in the coming years would most likely fit this pattern. Such a conflict is likely to be long, rather than short; it would probably sprawl geographically rather than remaining confined to the Taiwan Strait. It would feature far higher risks of nuclear escalation than many observers recognize and present the United States with severe challenges of warfighting and war termination.
History has often punished countries that expect to fight short, decisive wars but end up in long, sprawling ones. So the United States needs to get ready for a protracted war with China. AEI's July 2022 report is here, and key words include: cyberattacks, disinformation, trade, aggressive subversion.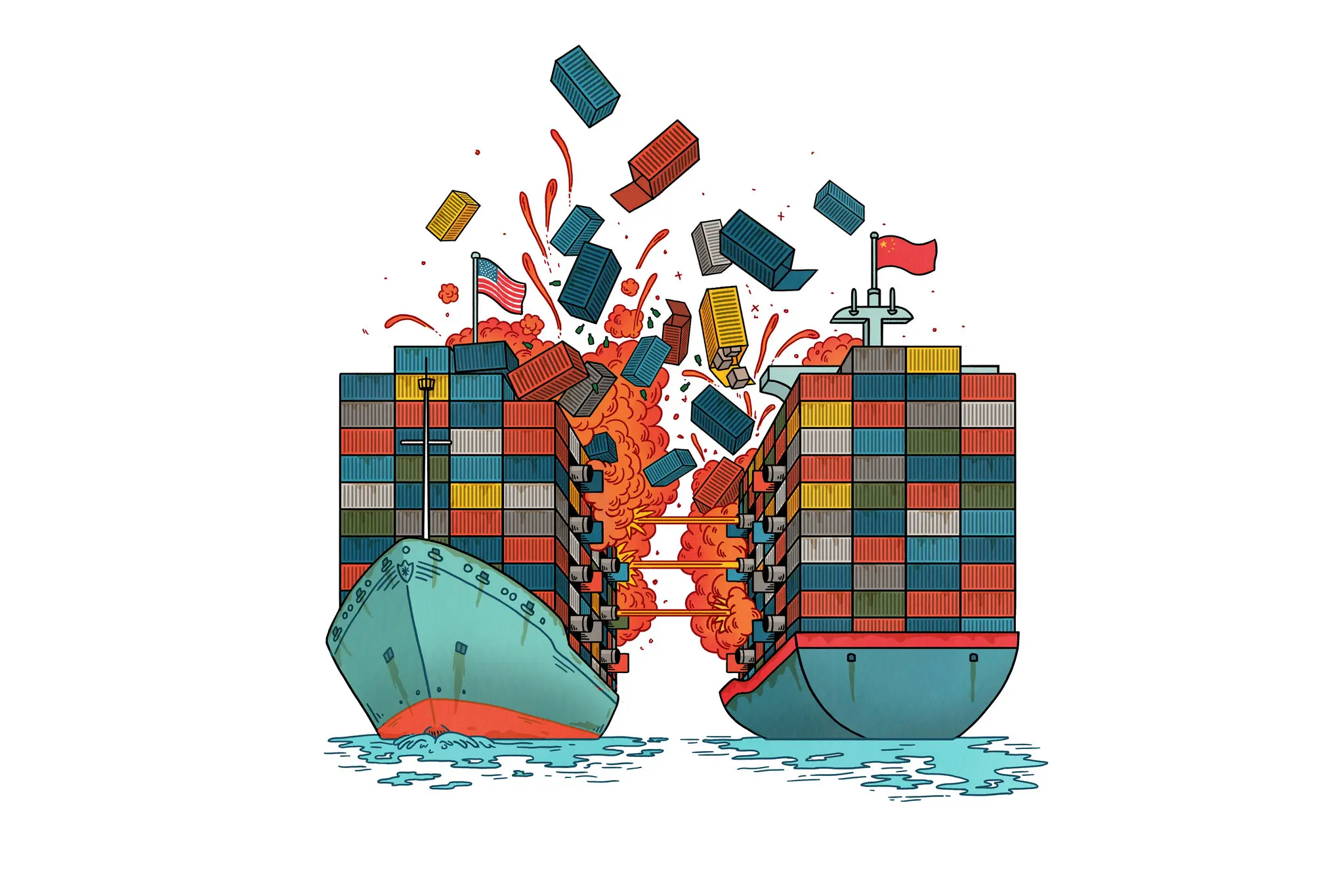 From the August 7, 2018 article "When It Comes to a Trade War, China Takes the Long View" in NYT Magazine. Illustration by Andrew Rae
CSET Government Update: Cutting Off Chinese Chipmaking Supplies — U.S. Officials Lobby the Dutch U.S. officials have asked the Dutch government to restrict exports to China of an important type of semiconductor manufacturing equipment, Bloomberg reported last week. Netherlands-based ASML Holding is the world's largest manufacturer of photolithographic machines, a critical tool in modern semiconductor manufacturing. A push by U.S. officials during the Trump administration helped convince Dutch authorities to block exports to China of ASML's crown jewel: its extreme ultraviolet lithography machines. EUV machines — which only ASML can make — are used in manufacturing the current generations of cutting-edge chips, and without them, Chinese chipmakers have to rely on an older type of "deep ultraviolet" lithography machine. But those older DUV machines can still produce chips as advanced as the 7nm node — more than capable of running advanced AI applications. In its final report last year, the National Security Commission on Artificial Intelligence recommended export controls on both EUV and DUV machines, but that would require the Dutch and Japanese governments to get on board. Bloomberg noted that a similar lobbying effort is underway with Tokyo, as Japan's Nikon is another vital supplier of DUV machines. But the push could face an uphill battle — in a recent interview, the Dutch prime minister pushed back on efforts to "close off" his country's trade relationship with China.
Export controls against Russia are working—with the help of China The economic sanctions targeting Russia after its invasion of Ukraine have been described as an effort to permanently weaken its ability to make war. Russia is vulnerable to export restrictions on military-related components, many of which come from abroad. At the same time, most countries have refused to join the US-led coalition in applying sanctions and export controls, leaving a large potential loophole Russia could turn to for parts, technology, and currency. The situation is complex and dynamic, but the evidence suggests that export restrictions and sanctions are biting Russia's economy and military. Russia's imports have fallen significantly, not only from countries in the sanctioning coalition but, surprisingly, also from countries that have refused to adopt the sanctions, most notably China. After the European Union, China is the second-largest contributor to Russia's import decline since the invasion, despite President Xi Jinping's promise of "no limits" cooperation; the pro-Russia slant of Chinese media; and the display of solidarity represented by the sending of bombers, along with Russia, near Japan during President Joseph R. Biden Jr.'s visit to Tokyo in May.
Russian imports still remain significant, however. Strong action, such as secondary sanctions, could prove necessary to ensure that US technology and goods are not diverted to benefit the Russian military effort. More in this June 27, 2022 RealTime Economic Issues Watch (PIIE – The Peterson Institute for International Economics is an independent nonprofit, nonpartisan research organization dedicated to strengthening prosperity and human welfare in the global economy through expert analysis and practical policy solutions).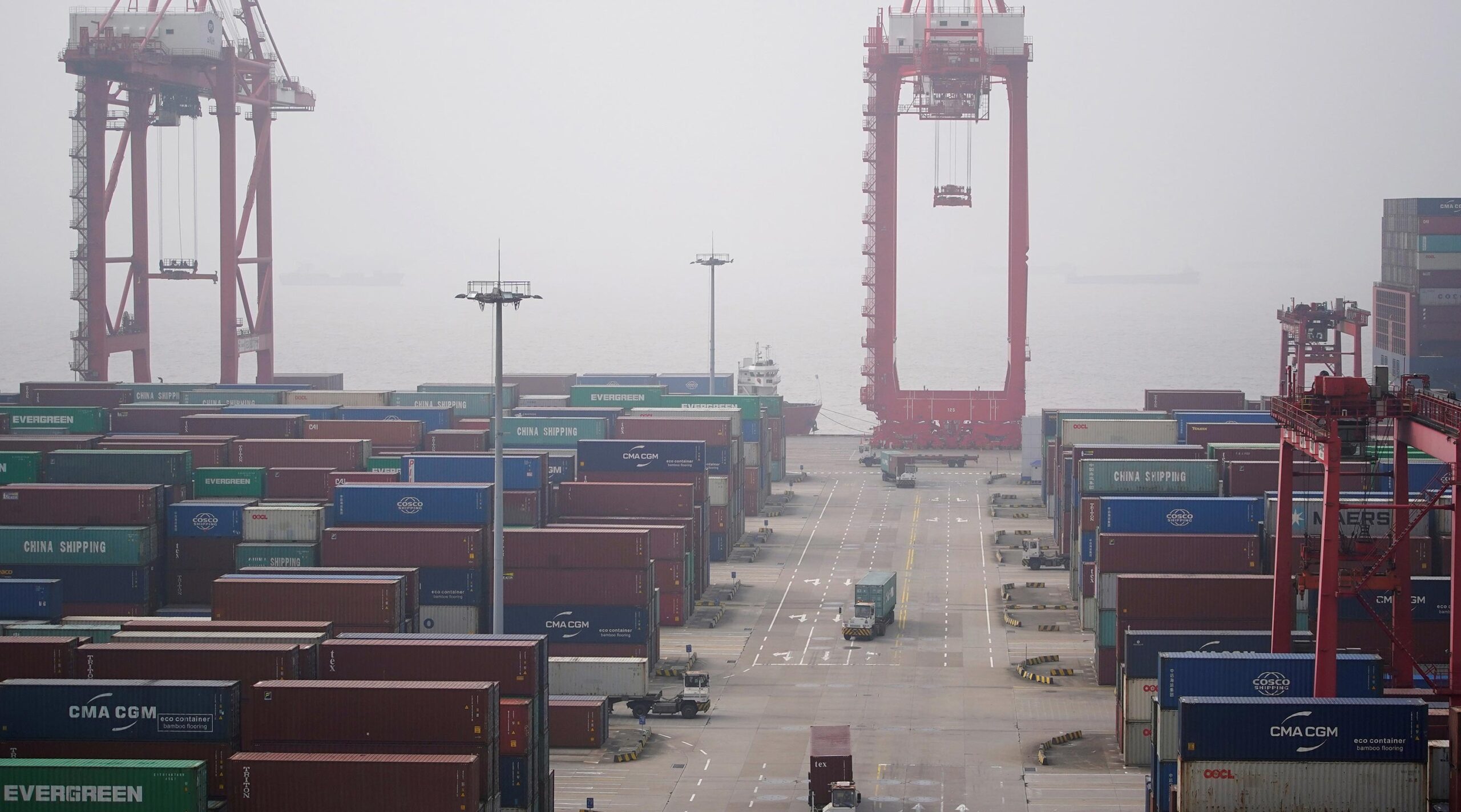 Image credit: REUTERS/Aly Song
China's relentless export machine China's trade surplus hit an extraordinary US$292 billion in the first five months of the year—more than double its pre-pandemic level—and its aggressive pursuit of export markets is likely to become a flashpoint in a slowing world economy. The Chinese export surge includes Australia, despite Beijing's continuing campaign of illegal trade sanctions against Australian exports. China's exports to Australia over the last reported five months were up 44% from a year ago, while Australia's shipments in the other direction were down 5%, despite soaring commodity prices. There is no hint of a concerted Western response to China's mercantilist strategy, which treats trade surpluses as a manifestation of national power. The World Trade Organization's rules place no restriction on either the preponderance of state-owned enterprises in the Chinese economy or the subsidies China extends to its private sector, which are fuelling its export boom.
Donald Trump's administration concluded that the WTO was the problem, not the solution, and sabotaged its ability to adjudicate trade disputes. It unilaterally embarked on a trade war with China, successfully forcing China to sign an agreement in 2020 committing to lift purchases of US goods. Joe Biden's administration has been unable to articulate a coherent strategy for managing the Trump legacy in its dealings with China. Although China has increased some US imports, it has fallen far short of its commitments, while China's exports to the US have surged. US exports to China in the first four months of this year were US$16 billion higher than they were two years ago as the Trump deal took effect, while China's exports to the US were US$73 billion higher. More in this June 21, 2022 article in The Strategist.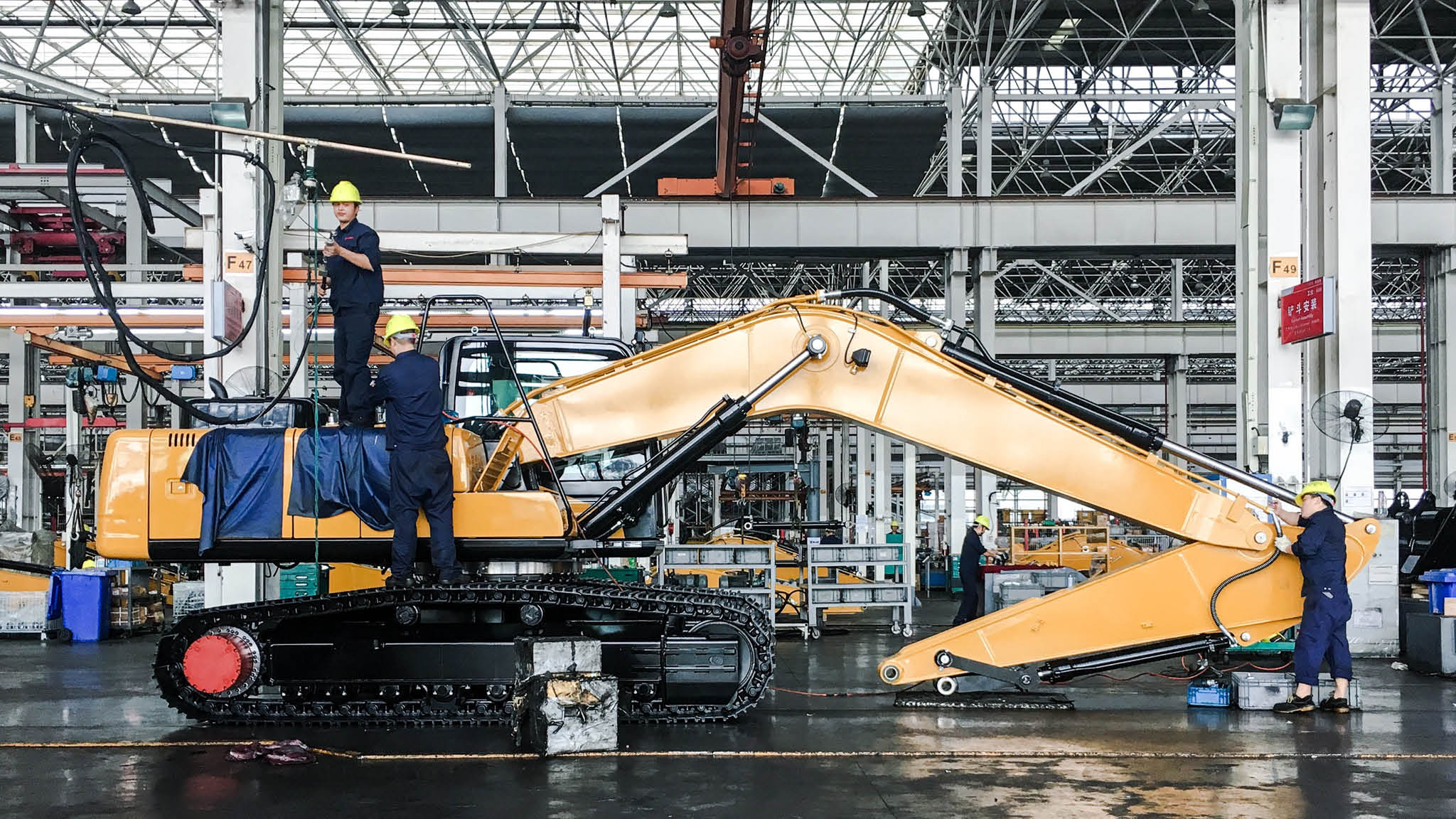 Source: FT / cdWang Xueqiao
Red Ink Estimating Chinese Industrial Policy Spending in Comparative Perspective This new study by the Center for Strategic and International Studies highlights the massive dimensions of the industrial subsidies that are supporting China's export machine. It estimates that the Chinese government is spending 1.7% of GDP on industry support, mainly through cheap credit to state enterprises and more general direct subsidies. That is more than it spends on defence and is equivalent to over US$400 billion at purchasing power exchange rates. It is more than twice as much in dollar terms as the US devotes to industry support and more than twice as much as a share of GDP as the next most aggressive industrial nation, South Korea.
The photo below, taken on March 23, 2020, shows employees wearing face masks working on an assembly line at an auto plant of Dongfeng Honda in Wuhan in China's central Hubei province. Photo by STR/AFP via Getty Images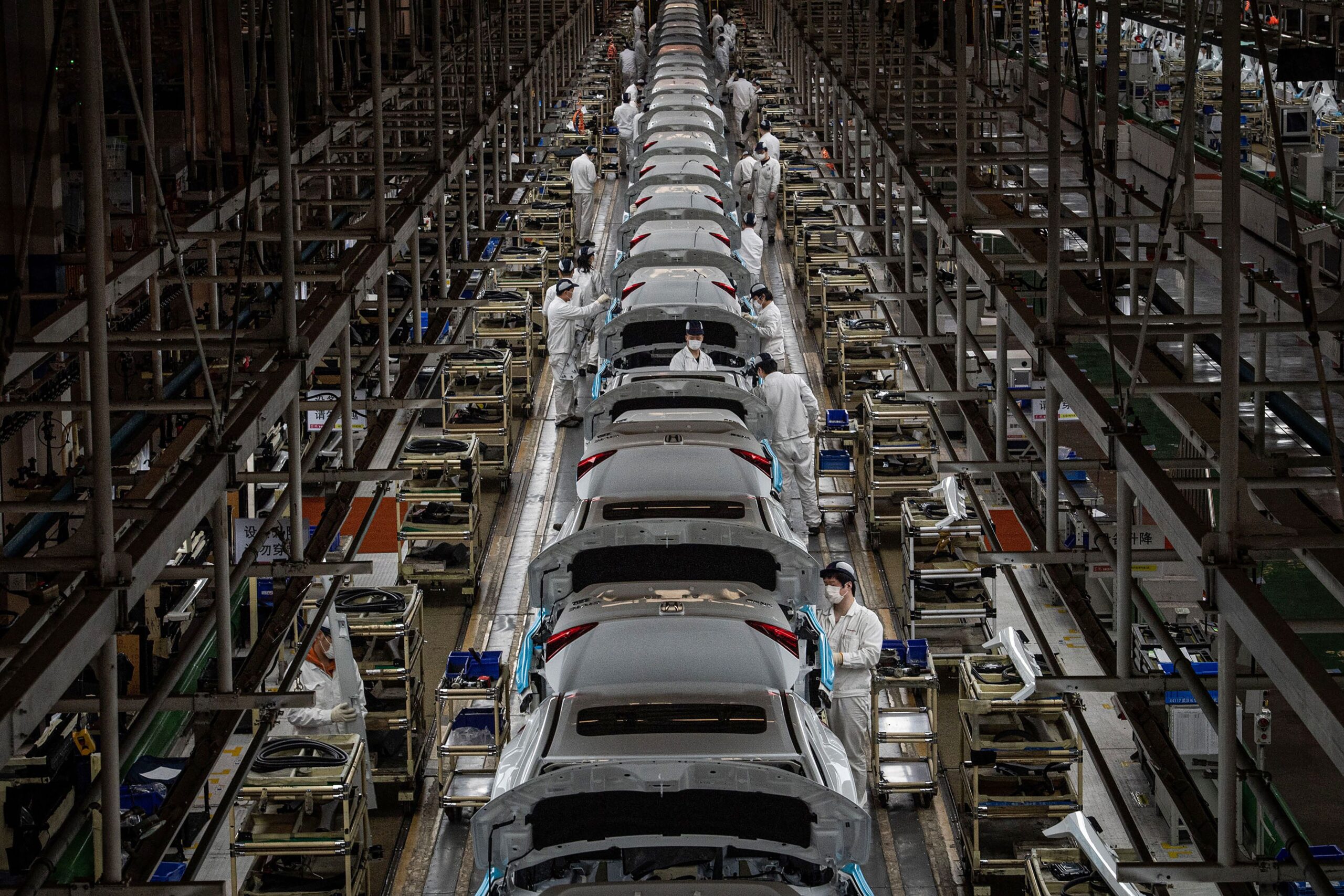 Unfair Trade or Unfair Protection? The Evolution and Abuse of Section 301 Section 301 of the Trade Act of 1974 gives the U.S. trade representative (USTR) broad authority to investigate "unfair" foreign trade policies allegedly harming American companies and to impose tariffs or other trade restrictions to achieve the removal of those policies. The statute was a common tool of U.S. trade policy from the 1980s to the 1990s, authorizing the USTR to conduct almost 100 different investigations during that period. Since the World Trade Organization (WTO) was established in 1995, however, the USTR has used Section 301 infrequently and almost exclusively to initiate or implement WTO dispute settlement actions—actions that, per WTO rules, were supposed to supplant the kinds of unilateral trade actions once applied under the law. The Trump administration departed from this long‐​standing U.S. practice and took advantage of Section 301's flaws to circumvent the WTO and enact unilateral tariffs against multiple U.S. trading partners, imposing significant economic and geopolitical costs along the way. This paper from the CATO Institute examines the Trump administration's actions in historical context, evaluates how the law was stretched beyond its intended purpose in direct contravention of the United States' WTO obligations, and offers practical reforms to prevent future abuse.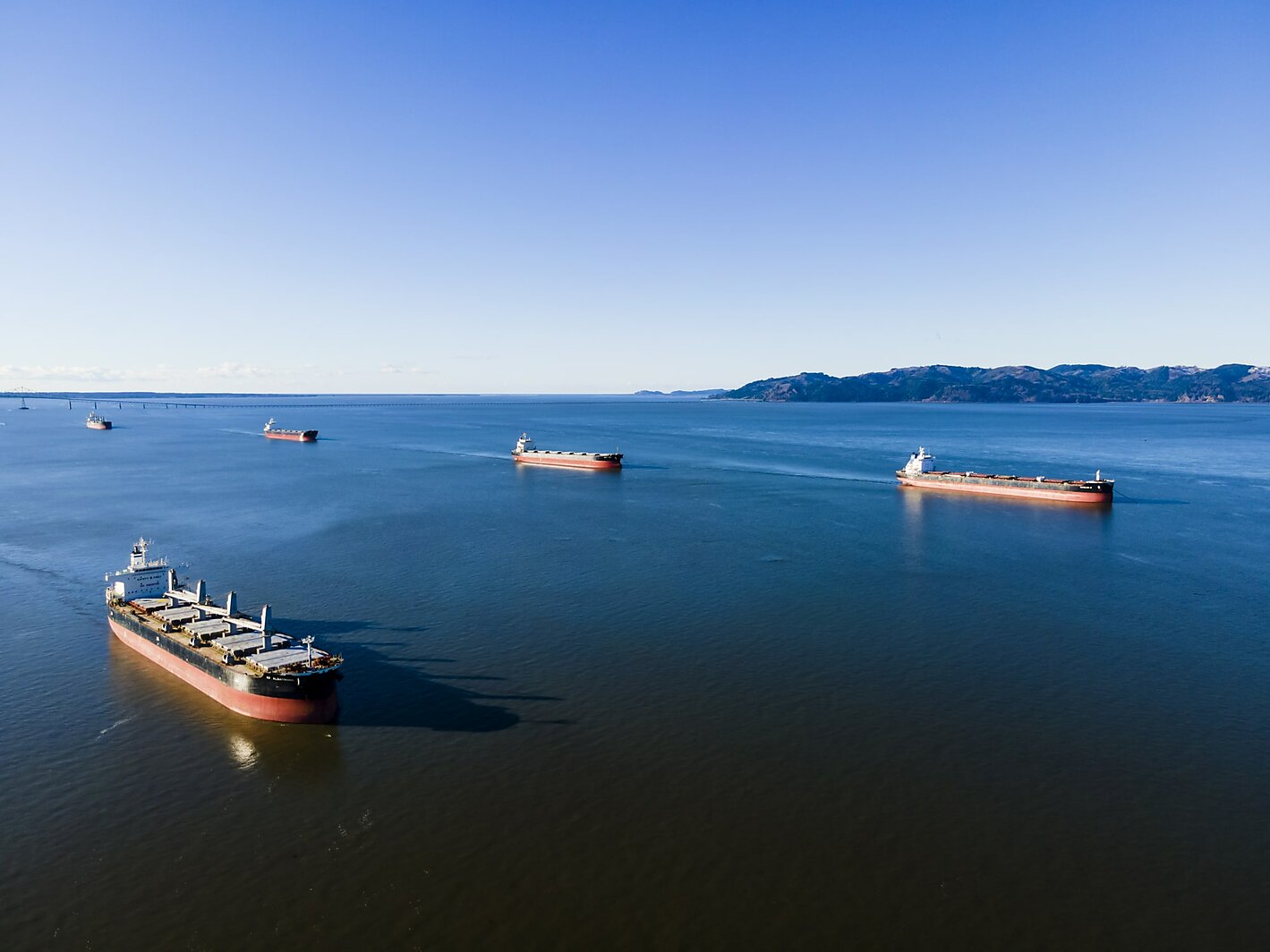 Source: CATO Institute
Study: Technology is an integral part of Russia's great power ambitions A new study argues that Russia has geared its scientific and technological knowhow towards the unfolding great power competition. During the last decade Russia has sought to restore its scientific and technological prowess through various new strategies, programs and plans in order to regain its sovereign status as a great power. According to the report, Russia perceives itself as a part of an ongoing international struggle for technological supremacy. Russia's science, technology and innovation strategy relies on pooling its limited resources towards its traditional strengths, such as nuclear technology, in addition to selected emerging technologies with national security relevance, such as quantum computing and artificial intelligence.
Russia has sought to increase its technological sovereignty by controlling strategic sectors and advancing import substitution policies that aim to limit the degree of dependence on foreign technology. From a Russian point of view, its state-led approach to technology development provides a relative advantage in contrast to Western liberal democracies. However, despite the bombastic rhetoric about its technological capabilities, Russia has not been able to solve the systemic and structural problems embedded within its National Innovation System. Russia's technological ambitions are limited by its economic resources, corruption arising from weak rule of law, as well as by its dependency on foreign technology. In comparison to its great power rivals, Russian science and technology is threatened by stagnation and parochialism. The study is a part of a joint research project "Russia's technological policy and knowhow in a competitive global context" conducted by VTT Technical Research Centre of Finland Ltd. together with Finnish Institute of International Affairs and Aleksanteri Institute (University of Helsinki).
See also CSIS' September 14, 2021 report ("Russia and the Technological Race in an Era of Great Power Competition").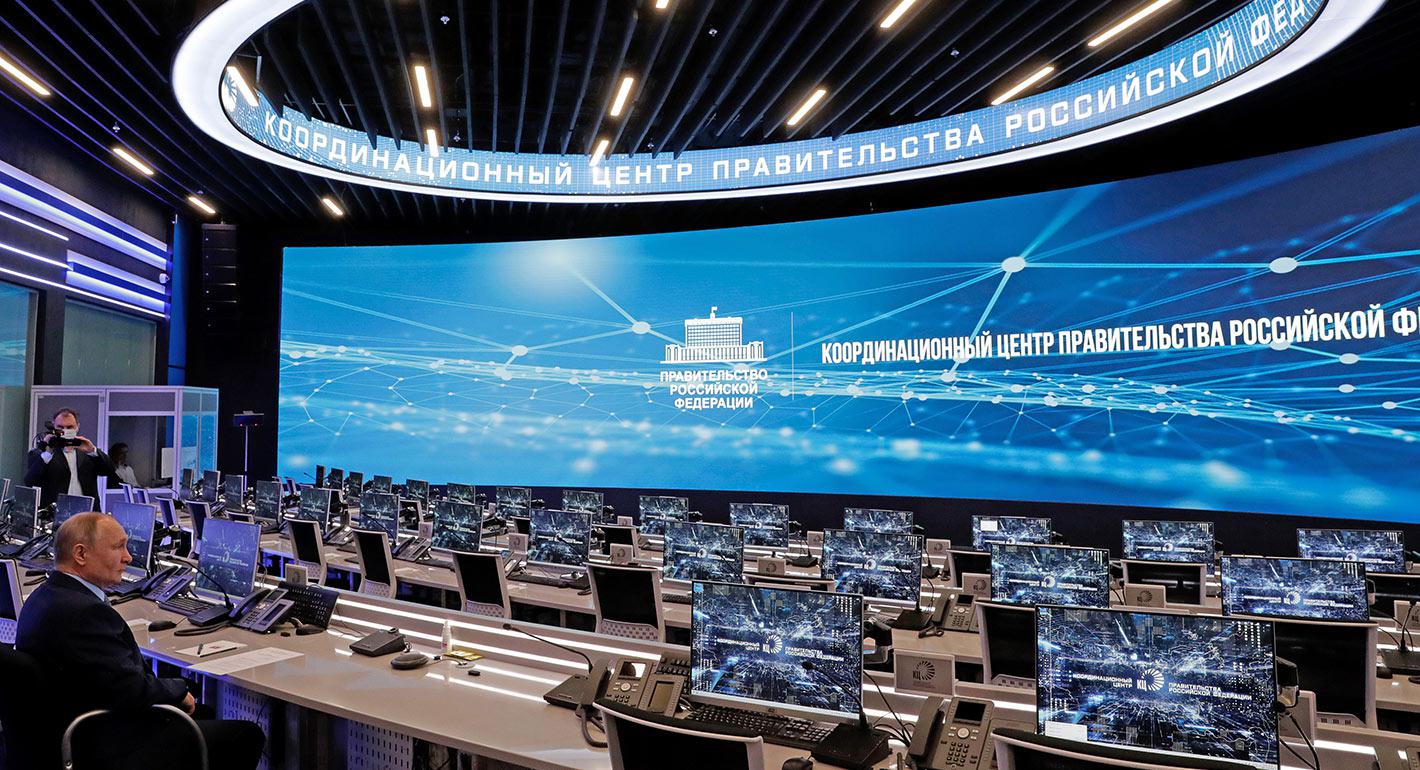 Source: Getty
Reboot: Framework for a New American Industrial Policy The Center for a New American Security (CNAS) released a new report, "Reboot: Framework for a New American Industrial Policy,". This report lays out what an American industrial policy is and what it is not, focuses on why the nation needs an industrial policy strategy, and offers a schema for how the United States should craft such a strategy. The report also examines the history of U.S. industrial policy. In the report, the authors assert that policymakers need a new response to the geopolitical and geoeconomic reality that America faces today.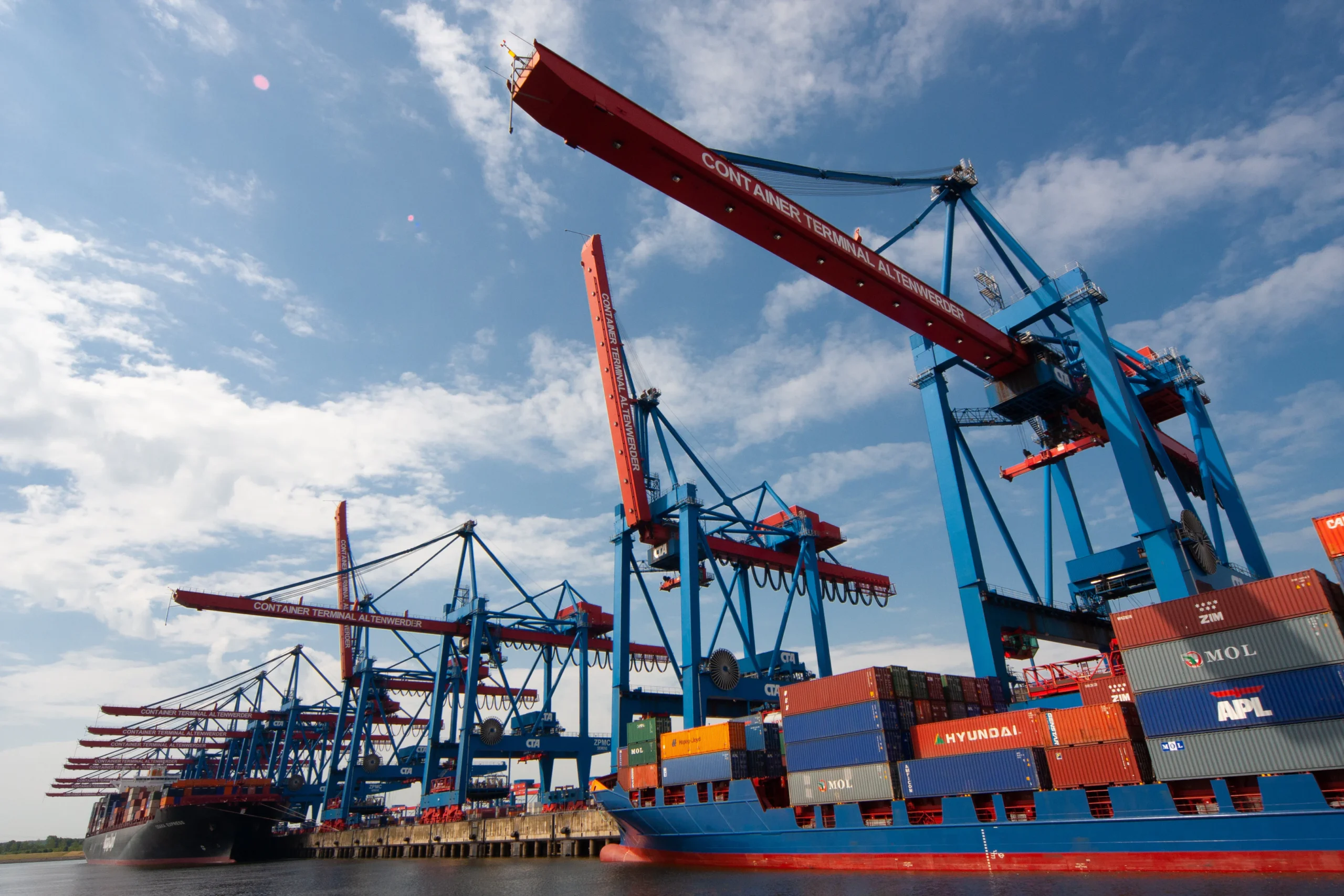 Putin's Eurasian dream may soon become a nightmare The Eurasian Economic Union (EAEU) – consisting of Russia with Armenia, Belarus, Kazakhstan, and Kyrgyzstan – represents the culmination of Russia's pursuit of regional integration with its post-Soviet neighbors. Officially, the Union has an ambitious economic goal – the creation of a market based on common rules for its five member states and their 180 million citizens – and Russia likes to portray the EAEU as an Eurasian replica of the European Union (EU).
But although a common market was placed at the heart of the EAEU as a way to appeal to member states, it is of marginal importance for the Russian economy. For Moscow, the EAEU is primarily a geopolitical tool to help re-assert its regional and global role. Read the Chatham House Expert Comment here.
China's recent trade moves create outsize problems for everyone else China's recent reflexive responses to taming domestic prices have passed costs to its trading partners, disrupted trade flows, and aggravated global price pressures. These are actions befitting a small country, not the dominant global producer, consumer, and trader that China has become. The Peterson Institute for International Economics' Realtime Economic Issues Watch of April 25, 2022, is here. Key takeaways:
In 2021, China restricted fertilizer and steel exports to curb rising domestic prices, sending global prices soaring and increasing inflation pressures as well as food security woes elsewhere.

Beijing has used tariffs in a related way; it lowered tariffs on pork in 2020 in response to an African Swine Fever outbreak, then raised them once the problem was resolved and domestic production had recovered.

China may not be explicitly breaking global trading rules. There are few WTO constraints on export restrictions—a loophole that needs to be fixed by reengaging with China on trade.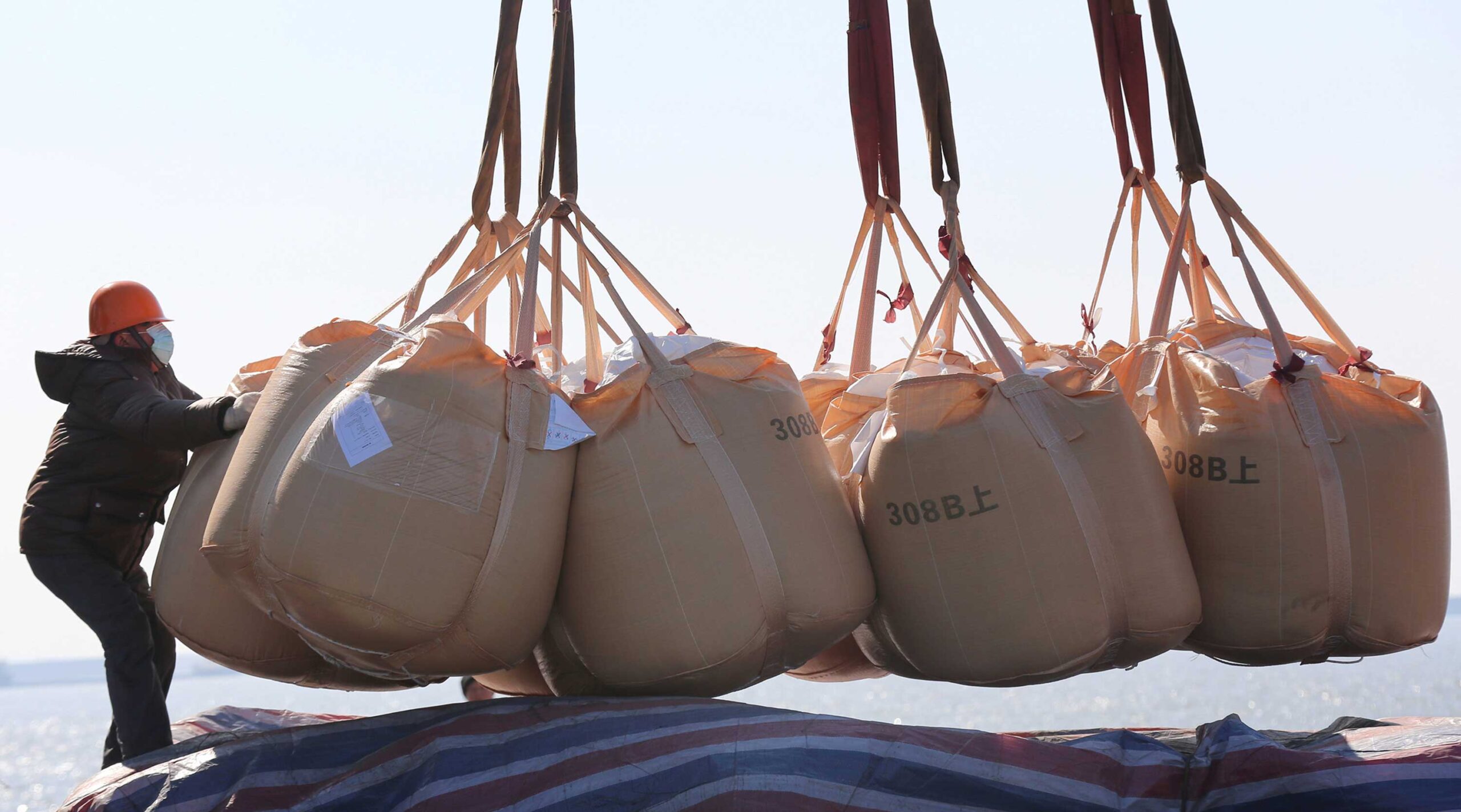 Source: PIIE
Export Control Regulations for Dual-Use Items (Draft for Feedback) The document, translated by the Center for Security and Emerging Technology (CSET) is China's draft regulation on export controls on dual-use items. When finalized, it will replace existing, separate regulations governing export controls on missile-related dual-use items and on nuclear, biological, and chemical weapons-related dual-use items. The PRC Ministry of Commerce is soliciting public feedback on this draft regulation through May 22, 2022.
Strategic Competition in the Financial Gray Zone Over the past 10 years, the U.S. government has slowly reoriented its foreign and security policy from the fight against global terrorism toward strategic competition with Russia and China. This reorientation has been accompanied by a new examination of how strategic competition will impact the integrity and future stability of the U.S. economy and financial system. One of the most important elements of strategic competition is sub-threshold warfare (also called asymmetric, hybrid, or gray zone warfare), wherein strategic competitors seek to shape the geostrategic environment in their favor, from information operations to economic warfare—which includes such tools as illicit finance and strategic corruption. Strategic competitors present a clear economic and financial threat to the United States when they operate in the emerging financial gray zone, in which malign actors can take advantage of the U.S. financial system to further their aims and disarm the country internally. The U.S. government, along with its allies, has only begun to acknowledge the sweeping nature of the financial gray zone and to reposition itself to compete within it. Because adversaries exploit the seams between the internal and external policies and authorities, Washington must have greater insights into a complex operating system and better integrate data across the many relevant agencies—in a way, connecting the financial dots. As it develops this comprehensive picture, the U.S. government should develop stronger defensive and offensive policy tools to counter this emerging threat. You'll find the new CSIS report here.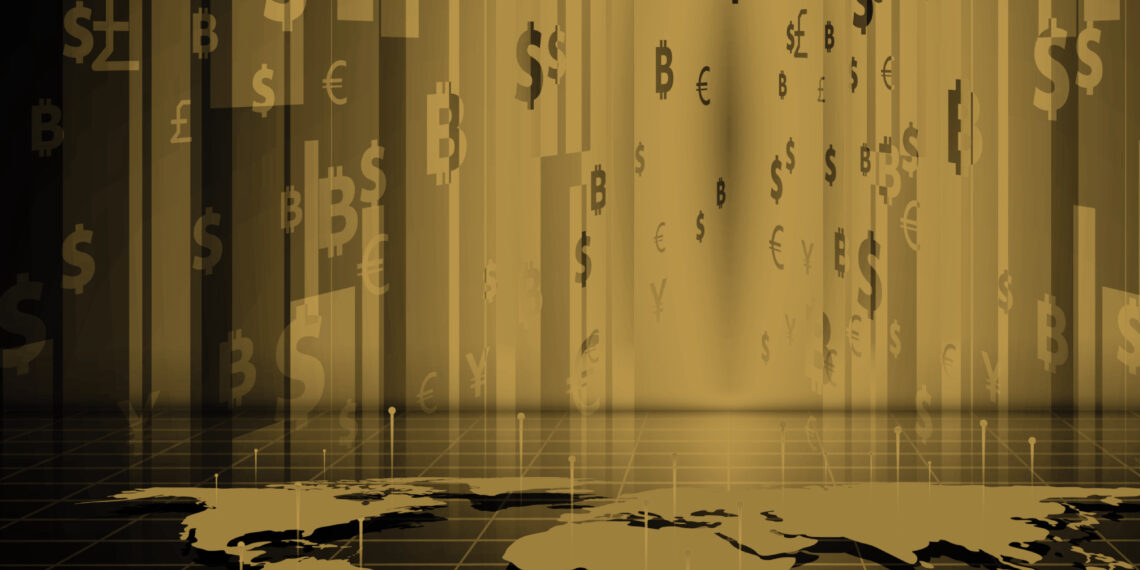 Source: CSIS
Australia in good position to weather global sanctions on Russia Australia is Russia's closest competitor in global markets and is the obvious winner as Russia loses sales under the impact of international sanctions. Since the beginning of the year, the average price of Australia's biggest exports has soared by more than 50% as major manufacturing centres, led by China and Europe, scramble to secure supplies of mineral and energy resources. Despite vast demographic and geographic differences, the trade profiles of Australia and Russia are remarkably similar. Both export a diverse range of mineral and energy resources and are also major exporters of agricultural produce. Both have relatively underdeveloped advanced manufacturing with a heavy reliance on imports, particularly from China. Russia has a much larger basic manufacturing sector and exports steel and other processed metals as well as chemical products including fertilisers. Australia sells more unprocessed mineral ores.
Russia is the world's largest exporter of gas, while Australia is the second largest. In coal, Australia ranks first and Russia third. Australia is the dominant exporter of iron ore, but Russia is also a significant producer. Russia is a much larger exporter of oil than Australia, and both countries are important sources of nickel, aluminium, copper, lead, zinc and gold. In agriculture, the two nations compete in the wheat and barley markets. Russia (and Ukraine) are bigger in oilseeds, while Australia is much larger in beef, wool, dairy products and wine.
Because they are so similar, Russia and Australia do little trade with each other.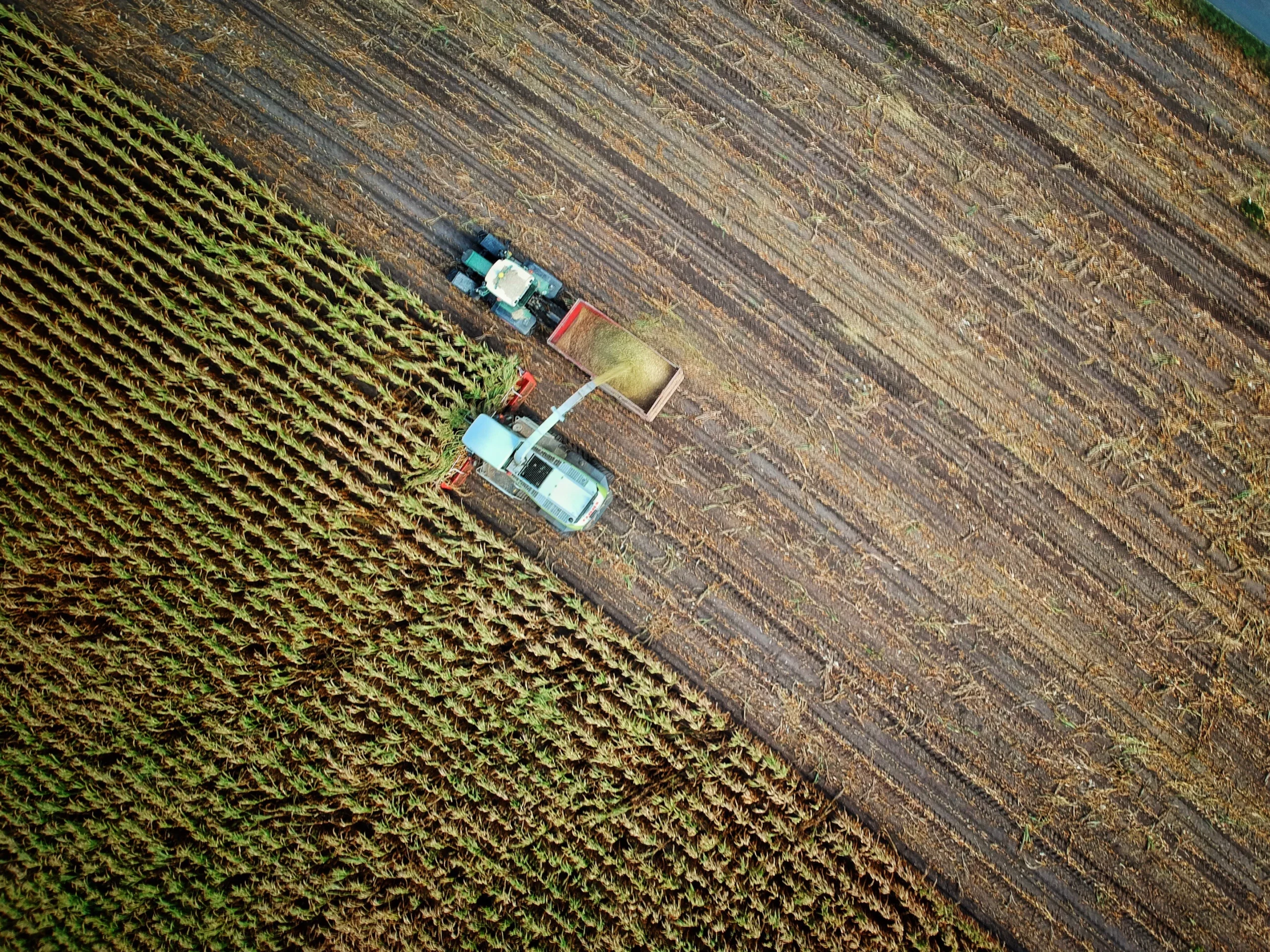 Russia (and Ukraine) are bigger in oilseeds, while Australia is much larger in beef, wool, dairy products and wine. Because they are so similar, Russia and Australia do little trade with each other. Commodity prices were already rising by February when Russia invaded Ukraine. The years of ultra-low interest rates helped a speedy economic recovery from the pandemic in much of the advanced world, with rising demand pushing up commodity market price-setters like oil and copper. China's economy softened through 2021, but both government-funded infrastructure spending and the boom in Chinese export industries caused by the Western recovery meant China's demand for resources remained strong. The sanctions imposed by the US and Europe and followed by many other countries including Japan and Australia initially sought to exempt Russia's energy and agricultural exports. They did include iron, steel and other processed metals.
However, the extreme financial sanctions have made buyers of all Russia's exports wary of transacting. The Russian banks they would make payments to have been banned from the SWIFT global financial network and Western banks don't want to intermediate Russian sales. Russian oil is selling at a 30% discount to the general market, including China, and Russian wheat sales are at discounts of at least 10%. More in this April 22, 2022 article in ASPI's The Strategist.
Chinese FDI in Europe: 2021 Update This report, from Rhodium Group and the Mercator Institute for China Studies (MERICS), summarizes China's investment footprint in the EU-27 and the United Kingdom (UK) in 2021, analyzing the impact of the pandemic as well as policy developments in Europe and China. It finds that the nature of Chinese investment in Europe is changing. After years of being dominated by M&A, Chinese investment in Europe has become more focused on greenfield projects. In 2021, greenfield investment reached EUR 3.3 billion, the highest ever recorded value, making up almost a third of all Chinese FDI. In addition, it shows that Chinese venture capital (VC) investment is pouring into European tech start-ups. In 2021, Chinese VC investment in Europe more than doubled to the record level of EUR 1.2 billion. This investment was concentrated in the UK and Germany, and focused on a handful sectors including e-commerce, fintech, gaming, AI and robotics. Click here to read the full report.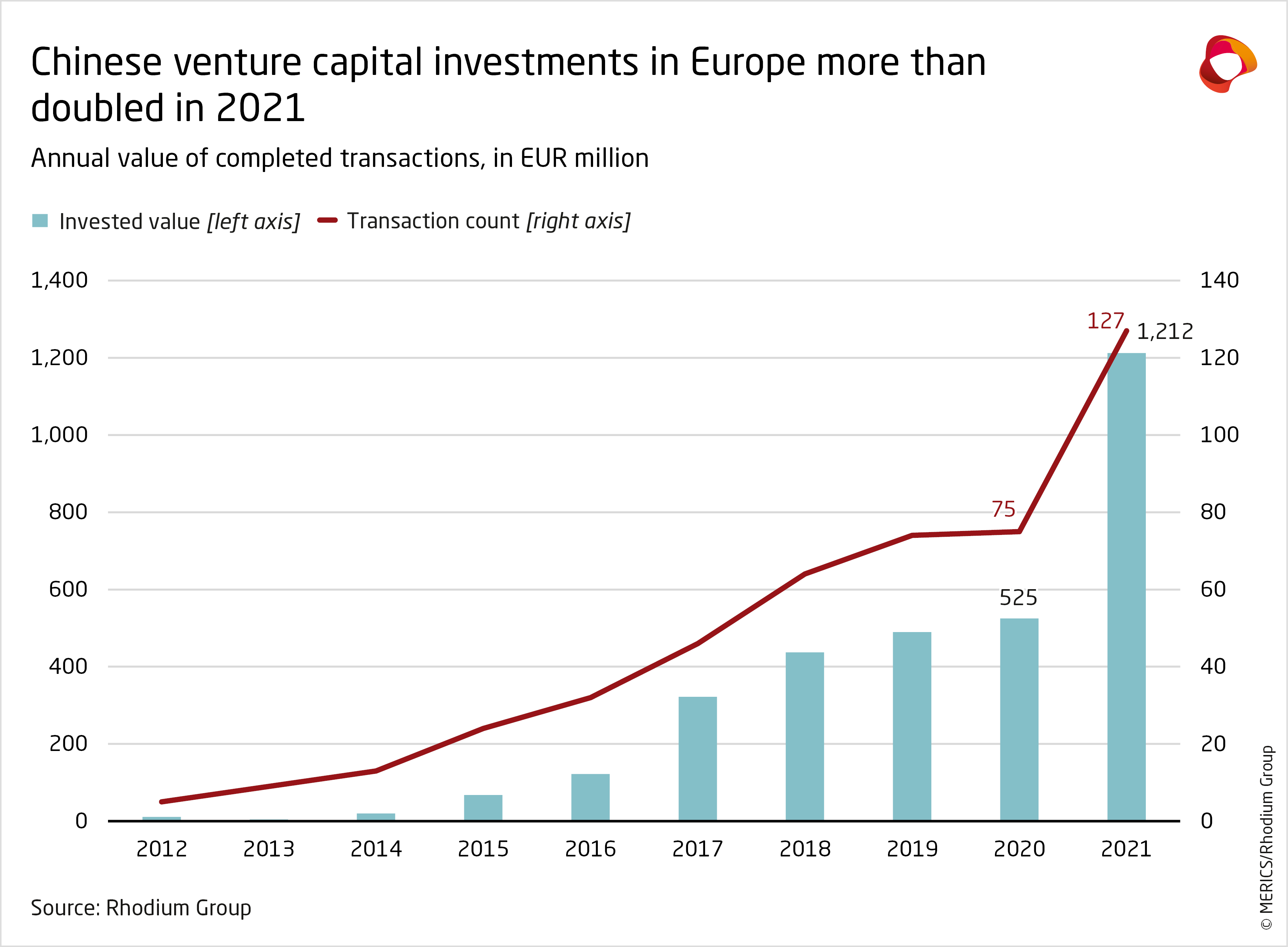 Largarde calls for Europe to adopt "open strategic autonomy" on trade In a pathbreaking speech on April 22, 2022 at PIIE's Macro Week, President of the European Central Bank Christine Lagarde argued that at this critical juncture for globalization, trade policies must adjust to a "new global map" in which supply chains are becoming increasingly diverse, regionalized, and reflective of security concerns. Key takeaways:
The twin shocks of the pandemic and war in Ukraine exposed vulnerabilities in Europe's supply chains; the European Union needs to make trade safer but not at the cost of open trade.

Europe's embrace of "open strategic autonomy" resembles the "friendshoring" on trade enunciated by US officials, devised to avoid protectionism but mitigate risks.

The European Union is well-positioned to adapt to the new trading environment, with deep regional ties, common institutions, and some pooled resources. More integration may be needed, however.
Global Island: Sustaining Taiwan's International Participation Amid Mounting Pressure from China China under Chinese Communist Party General Secretary Xi Jinping has ramped up political, economic, and military pressure on Taiwan. The roots of Beijing's pressure campaign, including Xi's personal interactions with Taiwan policy, go back decades. But recent events have deepened and intensified China's efforts, which include seeking to block Taiwan from engaging the rest of the world as part of a comprehensive strategy to force Taipei to move toward unification with the mainland on Beijing's terms. A new CNAS report explores trends related to Taiwan's international participation and offers a framework for how Washington, Taipei, and interested allies and partners can respond to growing pressure from Beijing.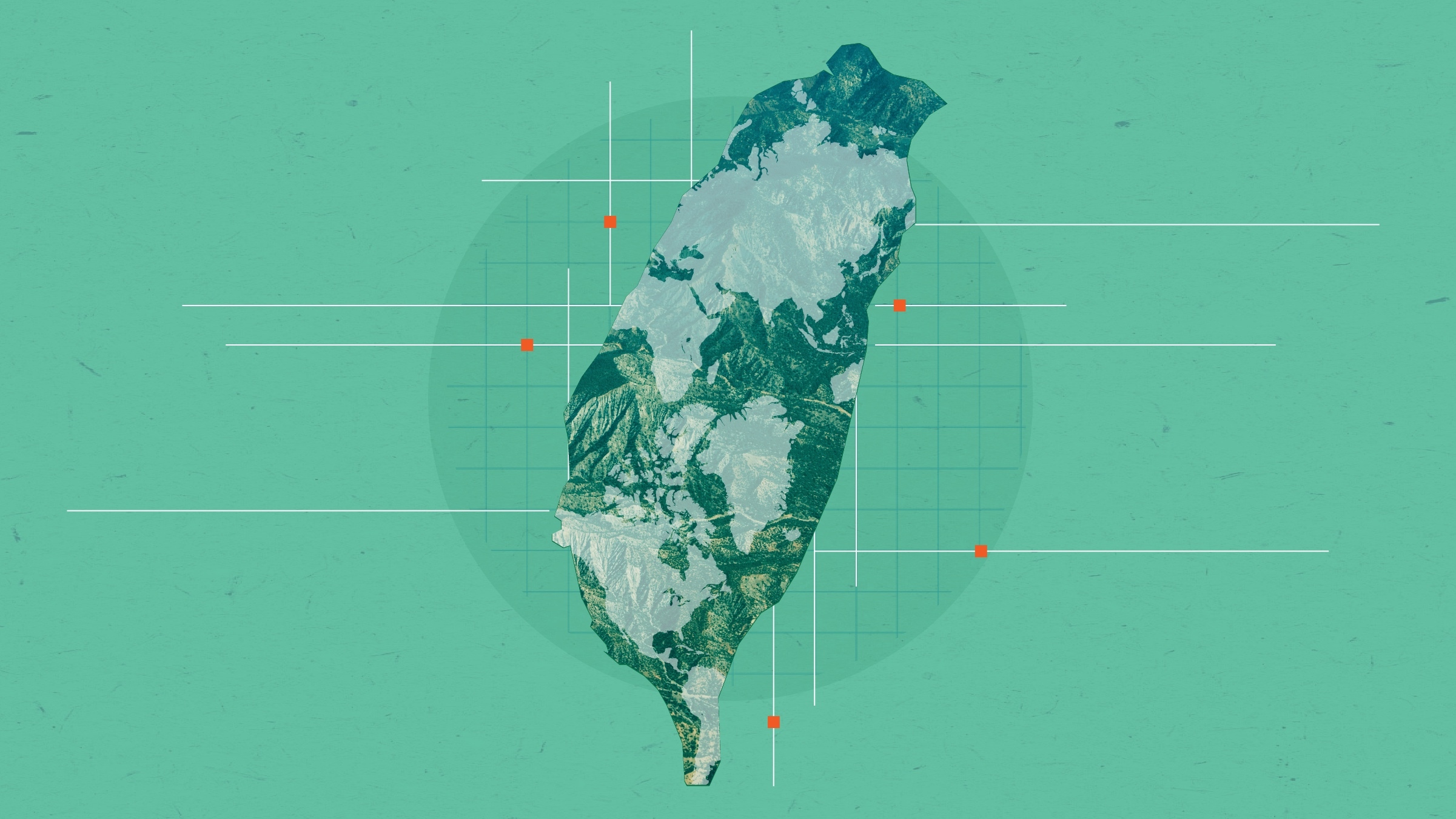 Kremlin Orders Russian Companies To Delist Foreign Shares Moscow has brought in a new law forcing all Russian companies to remove their shares from foreign stock exchanges, as the country continues to build a wall between itself and Western financial markets after the invasion of Ukraine. President Vladimir Putin signed a series of legal amendments on Saturday requiring depositary receipts of Russian companies to be withdrawn by April 26, although companies may be able to request extensions. The receipts are tradable security certificates issued by a domestic depositary bank representing shares in a foreign company, allowing stock in that business to be traded on a local stock exchange. Putin's bill also prohibits Russian companies from registering depositary receipts on foreign exchanges, according to the act posted on the government's legislation website.
Russian companies were given five working days to end agreements with the foreign bourses where their depositary receipts are traded. They will also be required to tell the Russian central bank about the termination of these agreements and supply supporting documents. Holders of the receipts will have an opportunity to convert the receipts into shares to trade on Russian exchanges once repatriated from foreign listings. More in the April 20, 2022 article in Law360.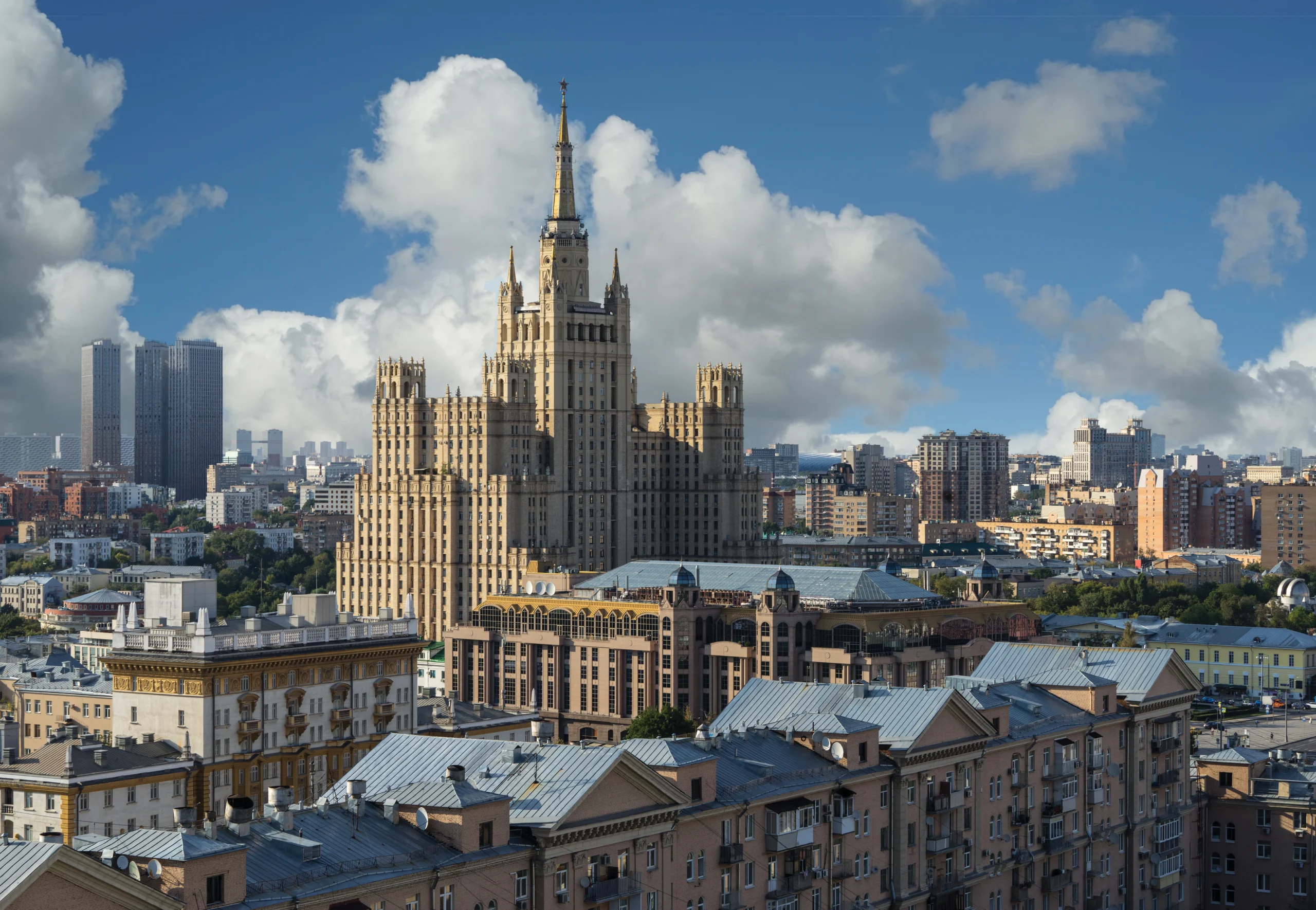 Moscow
Russian aggression may cause global starvation The war in Ukraine is a catastrophic crime of aggression. Support for Kyiv's fight for national survival has, rightly, been the focus for democratic states. But the effects of the Kremlin's invasion are spreading. Russia, Belarus and Ukraine are critical to the world supply of food. Shortages, already a problem, are likely to worsen. According to the UN, food prices in March were already up by 34 per cent on the same month last year. Cereals were up by 37 per cent and vegetable oils by 56 per cent. The UN notes that what it calls the "Black Sea region" contributes significantly to both. Countries that have sought to raise their own production have also run into high energy and fertilizer costs. Both have been inflated by the war: Russia is a big energy exporter while its ally Belarus is a power in potash, a key part of the fertiliser supply. This is already causing a painful squeeze for households across the world, and has the capacity to cause a disaster in the poorest nations. The price shock's first political effects are with us, too. More in this War in Ukraine: Free to read article in the Financial Times.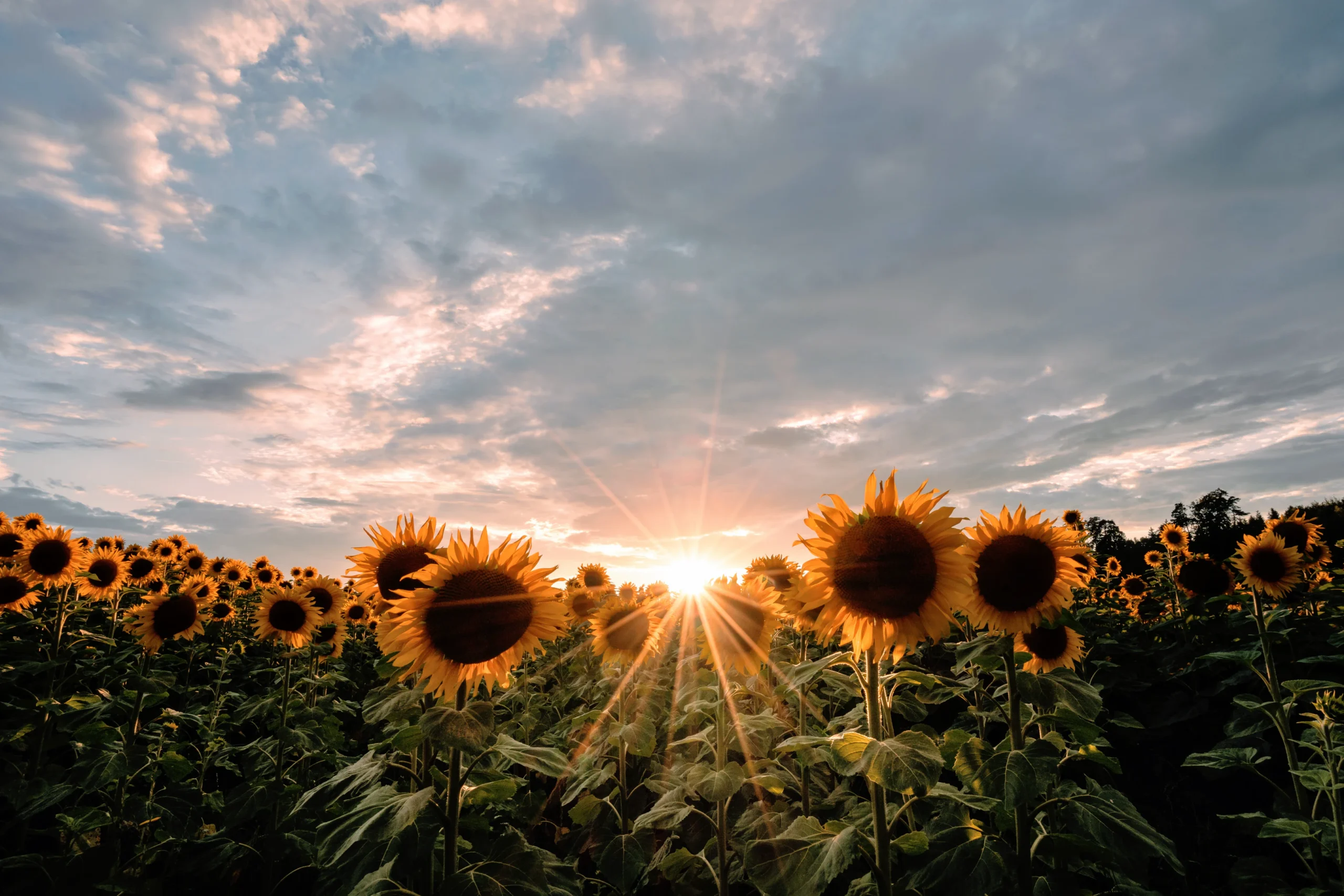 Sunflowers grow in Ukraine. The ability to hold the line with sanctions against Russia and Belarus is mission critical.
China will be deglobalisation's biggest loser Russia's unprovoked war against Ukraine has accelerated the division of the world into two blocs, one comprising the world's democracies and the other its autocracies. This, in turn, has exposed the risks inherent in economic interdependence among countries with clashing ideologies and security interests. And although the coming deglobalisation process will leave everyone worse off, China stands to lose the most. Of course, China was headed towards at least a partial decoupling with the United States well before Russia invaded Ukraine. And it has been seeking to ensure that this process happens on its terms, by reducing its dependence on US markets and technology. To that end, in 2020 China unveiled its so-called dual-circulation strategy, which aims to foster domestic demand and technological self-sufficiency.
And yet, last year, China was still the world's largest exporter, shipping US$3.3 trillion in goods to the rest of the world, with the US its leading export market. In fact, overall trade with the US grew by more than 20% in 2021, as total Chinese trade reached a new high. Trade with the European Union also grew, reaching US$828 billion, even as disagreements over human rights torpedoed a controversial EU–China investment agreement. That agreement had been born of the belief that Europe would maintain strategic neutrality in the Sino-American cold war, in order to reap the economic benefits of engagement with China. But if human-rights concerns were enough to convince the European Parliament not to ratify the deal, Russia's war against Ukraine—which China has tacitly supported, and which has pushed the US and the EU closer together—seems likely to drive the EU towards a broader economic decoupling from China.
One cannot blame Western democracies or their autocratic adversaries for prioritising security over economic welfare. But they must brace for the economic consequences. And a middle-income autocracy like China will bear a far larger cost than rich democracies like the US and its European allies. More in this article in The Strategist.
Driverless vehicles move shipping containers at a port in Qingdao in eastern China's Shandong Province, Thursday, Jan. 6, 2022. China's politically volatile global trade surplus surged to $676.4 billion in 2021, likely the highest ever recorded by any country, as exports jumped nearly 30% over a year earlier despite semiconductor shortages that disrupted manufacturing. (Chinatopix via AP / The Associated Press)
Cyberspace Strategic Outlook 2030 Horizon Scanning and Analysis International stability has been challenged in recent days. Peace on the European continent has been fundamentally shattered. The Alliance's foundational commitment to the principles of individual liberty, democracy, human rights, and the rule of law also fully applies in the realm of emerging technological challenges. These evolving threats include those within the cyber domain, which increasingly challenge the NATO Alliance as part of the growing strategic competition in international security. This volume of edited papers is intended to help inform decision-makers so they better understand the critical features of, and differences among, the various cyber threats we face. Threat actors are increasingly seeking to destabilize the Alliance through the cyber domain by employing malicious cyber activities and campaigns below the threshold of an armed attack. The report, published by CCDCOE (the NATO Cooperative Cyber Defence Centre of Excellence), is here.
Global supply chain risk and resilience Supply disruptions caused by systemic shocks such as Brexit, Covid, and Russia-Ukraine tensions have catapulted the issue of risk in global supply chains to the top of policy agendas. In some sectors, however, there is a wedge between private and social risk appetite, or increased risks due to lack of supply chain visibility. This column discusses the types of risks to and from supply chains, and how supply chains have recovered from past shocks. It then proposes a risk-reward framework for thinking about when policy interventions are necessary.
The past couple of years have been rife with upheaval – whether we are speaking of people's day-to-day lives, disruptions to business-as-usual, or international trade flows. The Brexit shock in Britain sparked initial concerns about the impact on global supply chains (GSCs). This was followed by the much larger and wider shock from the Covid-19 pandemic. The current political situation between Russia and Ukraine, including many countries' sanctions and bans on the import of Russian products, is likely to perpetuate the spectre of broad and long-lasting shocks to multiple economies.
What should be done about this? Noting many challenges to GSC resilience, Seric et al. (2021) examine how firms involved in GSCs can help mitigate the effects of supply disruptions. Further, recent research on GSC risks has shown that inventory management helps firms mitigate GSC shocks (Lafrogne-Joussier et al. 2022).
This column, based on Baldwin and Freeman (2021), (1) examines how the literature has thought about sources of shocks, risk and resilience in the context of GSCs, including whether a shift in the thinking around risk is called for; and (2) offers a brief discussion on how to apply our proposed framework to policy discussions and future work on the topic.
GSCs are composed of firms and firms face risks. Some of these risks are exogenous supply and demand shocks, other shocks emanate from other firms or transportation disruptions. 
Supply shocks include 'classic' disruptions such as natural disasters, labour union strikes, suppliers going bankrupt, industrial accidents, and so on (Miroudot 2020), as well as disruptions from broader sources like trade and industrial policy changes, and political instability. They can be concentrated (e.g. the 2011 Japan earthquake) or broad (e.g. the Covid-19 pandemic).

Transportation is part of the services sector, and thus potentially subject to different shocks than goods.

Demand shocks confront firms with risks stemming from damage to product and company reputation, customer bankruptcy, entry of new competitors, policies restricting market access, macroeconomic crises, and exchange rate volatility. 
Another important dimension of risk concerns the idiosyncratic-versus-systematic nature of shocks. Most firms involved in GSCs are aware of idiosyncratic shocks – those which affect single sectors or factories in single nations. These are frequent. Systemic shocks are a different matter.  From the 1990s until recently, shocks rarely involved many sectors/nations simultaneously. This is really what was new about the Covid-19 shocks to GSCs, which were pervasive, persistent, and affected multiple sectors at once. And while many firms do have contingency strategies in place, few firms engaged in GSCs – not even the most sophisticated multinationals – had prepared for systemic shocks. This is a real change.
The Business Continuity Institute Supply Chain Resilience Report 2021, which surveyed 173 firms in 62 countries, found that over a quarter of firms experienced ten or more disruptions in 2020, while the figure was under 5% in 2019. Firms cited Covid-19 for most of the rise in disruptions, although Europe-based firms also pointed to Brexit as an important source of shocks. There are two other likely sources of systemic shocks: climate change and geostrategic tensions. In short, systemic shocks may become the norm and thus require changes to business models worldwide. Even though the pandemic waxed and waned regionally, it has been global in nature. Because of this, the impact was felt in almost all goods producing sectors. We cannot know how frequently future pandemics or disruptive global events will occur, but it is likely that Covid-19 will continue to be disruptive for many months or years.
The literature has focused on three aspects of GSC risks: 
The propagation of micro into macro shocks  

Whether GSCs amplify the trade impact of macro shocks

The costs and effects of delinking/decoupling from GSCs (e.g. through reshoring).
Our paper reviews these three literatures, but for the sake of space, we concentrate on policy issues here. Before doing so, we touch upon the critical distinction between resilience (ability to bounce back quickly after a shock) and robustness (ability to continue production during the shock). To ensure resilience, much of the focus is on designing the supply chain with an eye to the riskiness of locations overall. In contrast, robustness strategies focus more on ensuring redundancy of external suppliers or having multiple production sites for internally produced inputs (Martins de Sa et al. 2019, Brandon-Jones et al. 2014). More in VoxEU's April 6, 2022 article. VoxEU.org  – CEPR's policy portal – was set up in June 2007 to promote "research-based policy analysis and commentary by leading economists". Vox's audience consists of economists working in the public sector, private sector, academia and media – as well as students of economics in the broad sense. Vox columns cover all fields of economics broadly defined and is widely read (the site receives about a half million page views per month). 
Implications for Cybersecurity in Western-Chinese Technology Decoupling Admiral Dennis Blair and Arthur Coviello discuss the recent report from the Multilateral Cyber Action Committee (MCAC) that addresses the cybersecurity implications of a technology decoupling.
The New Art of Economic Warfare The use of economic weapons during war has a long history. But the rise of globalization and cross-border supply chains has given these nonviolent munitions unprecedented power. While economic and financial sanctions may not strike with the immediacy of an artillery shell, their impact can nonetheless be devastating. Economic warfare in a globalized world is so novel that we do not yet fully understand it, and few rules regulate it. There is no well-defined list of punitive instruments, much less credible estimates of the direct and collateral damage each is likely to cause. So, when Russian President Vladimir Putin invaded Ukraine, Western policymakers were suddenly confronted with quandaries for which they were not prepared. US President Joe Biden's administration and America's NATO allies rightly decided to contain Putin and prevent the war from escalating into a nuclear conflict, by using sanctions instead of troops.
But now Western governments face the enormous task of using all the new data and information available to analyze the efficacy of these tools. And the world needs to introduce some rules to govern economic warfare before the next great-power conflict erupts. The immediate concern is how to use economic sanctions more effectively to defeat Putin. Cutting off Russia from trade and financial interactions with the United States, Europe, and other advanced economies has hurt the Russian economy, but not as much as one might have initially thought. For example, the US embargo on Russian oil caused the price of Brent crude to shoot above $100 per barrel, accompanied by a sharp depreciation of the ruble against the US dollar. But the ruble did not fall as much as many may have expected and has recently recovered somewhat. It is easy to see why this happened. Consider a market with several buyers and sellers, in which a major buyer, U, says it will no longer purchase oil from a major seller, R. There will be an initial shock as U seeks to buy from other sellers, causing prices to rise. But, over time, this effect will dissipate because R can sell to someone else, say, X, and suppliers that previously sold to X can now divert some of their oil to U. Project Syndicate, March 29, 2022. See also EURACTIVE's April 13, 2022 article "Despite sanctions, Russian economy posts record current account surplus in Q1"
Investor Redemptions from China Funds Hit Pandemic High Global investors' confidence in China is at the lowest since the start of 2021. The bearish mood can be clearly seen in the data about redemptions from Chinese stock and bond funds. In the third week of March, global investors pulled out more than $3 billion from Chinese equities, the highest since the first week of 2021, according to the latest report from Emerging Portfolio Fund Research, which is owned by Informa and tracks fund flows and allocations. China bond funds saw a weekly outflow of more than $1 billion for the first time, EPFR data showed. The sizable capital outflow is in sharp contrast to the bullish consensus assessment of Chinese securities not long ago. From September to the first week of March, over $50 billion was pumped into EPFR-tracked China equity funds and $11 billion into Greater China fund groups, the report said.
One of the most important factors driving investors out of the Chinese market is "China's refusal to condemn Russia's invasion of Ukraine," according to EPFR. China is one of the few major economies that declined to take a clear stance against Russia, which makes it a target for sanctions from the West. If imposed, such sanctions could add to the suffering of Chinese companies listed in the U.S., which already face the risk of delisting after failing to meet audit requirements in early March. More in this March 28, 2022 article in Institutional Investor.
The threat from foreign state intelligence activities targeting Denmark In its role as national intelligence and security authority, the Danish Security and Intelligence Service ("Politiets Efterretningstjeneste", or PET) is responsible for identifying, preventing, investigating and countering threats to freedom, democracy and security in Danish society. This applies to threats in Denmark as well as threats directed at Danish nationals and Danish interests abroad. Their Assessment of the Espionage Threat to Denmark can be found here.
Want The US Win Against Russia And China? Fill The Top National Security Job You've Never Heard Of In response to Russia's deadly invasion of Ukraine, the US and allies have applied "unprecedented" sanctions and export controls against Russia. Those include a ban on semiconductors developed with US technology and the addition of 51 Russian military end users to the Department of Commerce's Bureau of Industry and Security (BIS) Entity List. "We are choking Russia's access to technology that will sap its economic strength and weaken its military for years to come," President Biden said during his State of the Union address. These trade restrictions are an important tool to degrade Russia's cyber capabilities, just as they can be used to prevent other adversaries, namely China, from stealing and exploiting US tech. But can the US develop and apply these restrictions with the key post overseeing this bureau still sitting vacant? Probably not.
For an example of the latest national security fallout, consider a recent report from leading analysts for semiconductors, Credit Suisse, suggesting that Apple is considering chips from Chinese military fab YMTC for its iPhone 14. Given that Apple prides itself on security built into its silicon, it's hard to imagine why the world's most valuable company would risk compromising its value proposition—if only to put price pressure on other chip vendors like Samsung and Kioxia. Iain Morris at Light Reading reckons that the People's Republic of China may be nudging Apple to use chips from its national champion. Given that Apple reported about $68 billion in sales from the PRC last year and 70% growth, it may be an offer that Apple can't refuse. "YMTC's presence in the best-selling smartphone would look about as welcome as a Gazprom pipeline through Germany does to opponents of Russia," notes Morris. Any partnership with YMTC should have been off the table years ago. An effective BIS leader would have designated YMTC for the Military End User list, if not the Entity List, as dozens of national security experts, the White House, Congress and others have recommended. Not having a boss at the helm gives BIS cover not to make these critical decisions.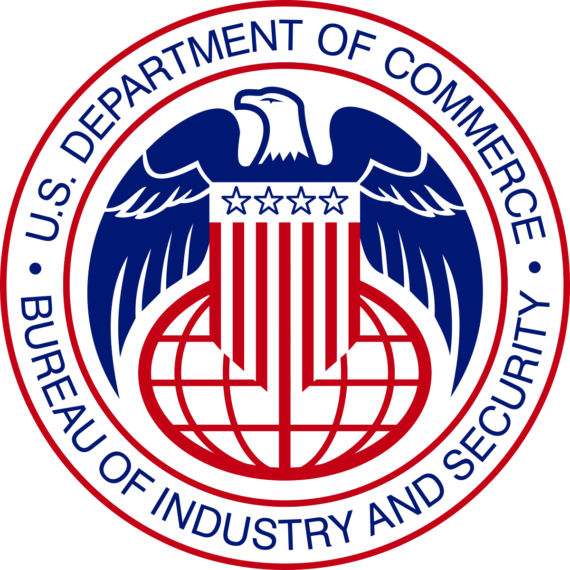 BIS is probably the most important agency Americans have never heard of. Responsible for developing and implementing export controls, the BIS is a frontline defense to prevent adversaries from acquiring sensitive technologies and weaponizing them against the United States. More than seven months ago, President Biden nominated Alan Estevez as Undersecretary for Industry and Security. But the post still remains vacant as Mr. Estevez awaits a confirmation vote in Congress. This delay comes on top of the already five years that have passed since there has been a confirmed BIS Under Secretary.  The BIS has become more prominent amid the United States' escalating competition with China, which seeks to dominate the global semiconductor industry. MIT's Technology Review reported this month that China's "decade-long quest to become a cyber superpower is paying off," which is "driven right from the very top" of the Chinese Communist Party.
Similarly, a Pentagon supply chain security report released this month cautions: "The migration of semiconductor manufacturing to the Asia-Pacific region, and the subsequent decline in domestic manufacturing, represents a substantive security and economic threat for the United States and many allied nations." The principal threat, specifically, is a Chinese conquest of Taiwan, responsible for an estimated 92% of the world's most advanced semiconductor manufacturing.  Stopping China's ambitions to dominate the semiconductor market is also critical to diminishing Russia's military strength. Russia purchases about 70 percent of its chips from China.  With growing resolve, lawmakers from both sides of the aisle both acknowledge the need for competitive advantage over war-making adversaries like Russia and China. "If there's any subject that unifies the most conservative Republican and the most liberal Democrat, it's a deep skepticism of China and a motivation to ensure U.S. economic competitiveness," CNBC reported last month.
Yet, despite this bipartisan consensus, Congress has yet to hold a vote to fill this post, undermining an effective export control regime. This delay begs the question: How can lawmakers stress the need to address Russia's and China's aggression on the one hand, and simultaneously hold up one of our nation's key appointees on the other? By all accounts, Mr. Estevez is an ideal choice to head the BIS. More in this March 29, 2022 article in Forbes.
The Supply Chain Crisis Is About to Get a Lot Worse THE SUPPLY CHAIN is in chaos—and it's getting worse. Air freight warehouses at Shanghai Pudong Airport are log-jammed as a result of strict Covid testing protocols imposed on China's biggest city following a local outbreak. At the city's port, Shanghai-Ningbo, more than 120 container vessels are stuck on hold. In Shenzhen, a major manufacturing hub in the country's south, trucking costs have shot up 300 percent due to a backlog of orders and a shortage of drivers following the introduction of similar Covid restrictions. Major ports the world over, which used to operate like clockwork, are now beset by delays, with container ships queuing for days in some of the worst congestion ever recorded. The list goes on.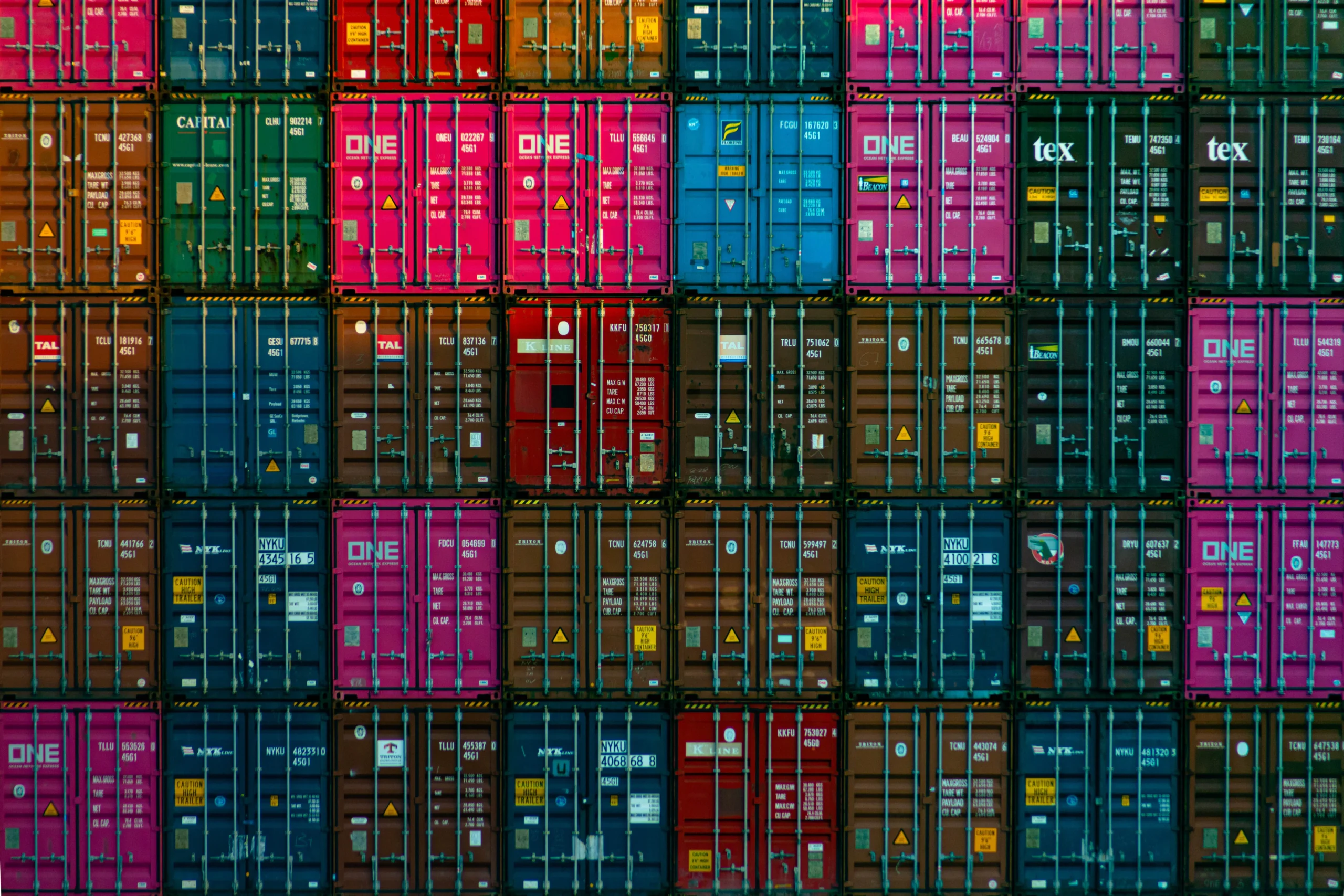 More than a million containers due to travel to Europe from China by train—on a route that goes through Russia—must now make their journey by sea as sanctions bite. Russia's invasion of Ukraine has also severed key supply lines for nickel, aluminum, wheat, and sunflower oil, causing commodity prices to skyrocket. Countries in the Middle East and Africa that rely on produce from Ukraine are likely to experience serious food shortages in the coming weeks and months. Some European automotive production lines have cut their output due to a shortage of wiring normally sourced from factories in Ukraine. If the pandemic, which triggered a surge in purchasing of goods, caused the global supply chain to buckle, Russia's invasion of Ukraine and China's continuing zero-Covid policy risk breaking it completely.
The supply chain is too complex, interconnected, and fragile to be made completely immune to shocks, especially ones as seismic as a global pandemic or a major war. But a new reality is forcing companies to adopt new strategies to keep goods moving. In this reality, backlogs and breakdowns are the new normal, which makes getting ahead of disruptions as early as possible more important than ever.
"We used to occasionally have black swan events," says Richard Wilding, professor of supply chain strategy at Cranfield University in the UK, referring to rare and hard-to-predict occurrences that have major impacts. ​"The problem at the moment is we have a whole flock of black swans coming at us." Wilding says managing a supply chain used to involve 80 percent dealing with predictability and 20 percent coping with surprises, numbers that have now flipped. And he says a growing number of companies are now using tools that provide greater visibility into the flow of goods, and which can sometimes predict potential choke points. "You effectively need to have continual monitoring," he says. In an age when everything is connected, the global supply chain—a mess of transportation routes connecting commodities to manufacturers to buyers—has until recently remained alarmingly analog. That was manageable in the before-times, but the age of constant supply chain disruption is sending companies scrambling for more data.
The war in Ukraine, meanwhile, is already delaying or cutting off supplies of materials and products needed by companies that make cables, seat covers, and other automotive parts in nearby countries, including Moldova and Belarus. A November 2021 study published by the consulting firm McKinsey found that 93 percent of companies surveyed have plans to make their supply of materials and products more resilient and agile, with many looking to diversify by "on-shoring" or "multi-shoring" production. In simple terms, this means using several supplies distributed geographically and across the supply chain to spread the risk of disruption. But the same report found that just 2 percent of these firms were aware of the risks faced by companies further up the supply chain. An automaker, for example, might understand the risks facing the companies that supply it with components, but be unaware of the challenges facing the companies that manufacture the electronic chips used in those products. That's a problem when new issues are likely to pop up in the weeks and months ahead, as more contagious strains of Covid test China's zero-tolerance policy and the crisis in Ukraine continues.
Willy Shih, a professor at Harvard Business School, who researches manufacturing and supply chains, expects China to be hit by further shutdowns and restrictions that strain production and shipping lines as new outbreaks flare up across the country. "I think it's just the tip of the iceberg," Shih says in reference to the recent lockdown of Shenzhen. "It's going to depend on where new infections pop up, but it's clear that it is in a lot of places now. And they do not have an exit strategy."
In a notable shift, Chinese president Xi Jinping told a meeting of the Politburo last week that China must "minimize the impact of the epidemic on economic and social development," according to an official transcript. This is already translating into a less all-or-nothing approach to containing the virus, with Shanghai, for example, so far avoiding a full lockdown in favor of localized restrictions. Shih says the key challenge in trying to manage supply chain risk by mining data is that there are inevitable blindspots. "There are so many different players in the chain," he says. This complexity, he adds, makes it hard to gather and synthesize all the data needed to build a complete picture.
Many of the global economic ripple effects of Russia's invasion of Ukraine won't be felt for weeks or even months. Russia is, for instance, one of the world's largest exporters of fertilizer, accounting for about 14 percent of the global supply. Fertilizer prices, which were already trending upward, are now 40 percent higher than they were prior to the Ukraine invasion, and will likely rise further as the global supply chain struggles to adjust to yet more disruption—which in turn will place further pressure on food production across the world.
And some of those knock-on effects may seem far removed from their cause. Wilding at Cranfield University says the price of tomatoes may spike in the coming weeks because some agricultural producers have switched to producing grain, which requires less fertilizer. "This interconnectivity and these parallel interactions will start going across the network," he says.

Companies may try to make their supply lines more resilient, but according to William Reinsch, an expert on foreign trade at the Center for Strategic and International Studies, a think tank in Washington, DC, ideas about disentangling supply chains entirely, by moving US manufacturing out of China, for instance, are fanciful. "The connections are too deep and too great. They aren't going to vanish entirely," he says. Part of the problem is that the supply chain was already being stretched by trade and geopolitical tensions. "It's the perfect storm, between Covid, the war, trade turmoil, and the growing antagonism between the US and China on economic issues," says Reinsch. More in this March 28, 2022 article in Wired.
Responding to Russian aggression: Military resolve, geoeconomics, and technological containment Western governments have developed policy responses to Russia's war of aggression against Ukraine at a fast pace. The sanctions and the military posture decisions taken so far represent levels of containment and deterrence towards Russia not seen since the Cold War. In the latest FIIA Comment, the author from the Institute's Global Security research program proposes three key considerations to support the emergence of a more structured strategy for the West: military resolve, geoeconomics, and technological containment. In his view, the recent developments should be seen as an emerging Western deterrence and containment strategy against major nuclear-armed state adversaries. "This is only the beginning of a challenging but necessary journey for a revived Western world," the author notes.
The Energy Weapon—Revisited The term "energy weapon" is easily misused and often abused. U.S. policymakers have often accused Russia of weaponizing energy. Successive U.S. administrations have worried that Europe would not mount an effective response to aggression because of its reliance on Russia for energy. And as U.S. oil and gas production started to increase, so did hopes that the United States could counter Russia's energy weapon with its own—a belief most clearly articulated during the Donald Trump presidency under the banner of "energy dominance." A few weeks into the conflict, what can we say about the energy weapon?
The first observation to make is that Russia has not cut off natural gas to Europe—not during the initial invasion, nor in response to Western sanctions. Russia could cut off Europe's gas; the conflict is not over, and Russian leaders have threatened to suspend deliveries through the Nord Stream pipeline. The risk that Russia might cut off gas has gone up. Even so, gas exports from Russia have risen since the conflict started. What is the best way to explain this paradox?
Maybe Russia is desperate for money. But if true, under what conditions might Russia cut off gas supplies (something so many strategists have been worried about for years)? Is such an act anything other than an act of desperation? Or maybe Russia believes that continuing to export gas gives it leverage to use later. Yet that syllogism contradicts the view that Russia weaponized energy by not sending enough gas to Europe in 2021. If Russia reduced exports to trigger a crisis and mute Europe's response to an invasion, why send more gas now? Why not force an even bigger crisis?
What the evidence shows so far is that the flow of gas is more durable than many people assumed. Russia can cut off supplies at any time. But such an act would be seen as an act of war by Europe. It will rally Europeans further and bring them closer to Ukraine. It is a blunt instrument that could backfire. In war, miscalculations are rife and nothing can be ruled out. But the willingness, among governments at least, to continue trading despite the war is one takeaway from the crisis.
The fear that Europe's dependence on Russian energy would dilute its response to Russian aggression proved similarly unfounded. This has been a concern of U.S. administrations since the 1950s. Europe has mounted an effective and bold response. In fairness, the robustness of the response has been a surprise. Europe has never acted so decisively in response to an external threat. But there is a threshold above which the fear of losing Russian energy is no longer a deterrent. Europe has crossed that threshold.
One unexpected development has been the response of private actors. Companies have severed their ties with Russia, announcing plans to leave the country and refusing to buy Russian energy. Usually governments restrict trade; in this conflict, companies have gone beyond what governments have called for. This "self-sanctioning" is an unforeseen dimension to the weaponization of energy. It is driven by public opinion and other stakeholders—not governments.
This public pressure complicates government policy. Western governments have tried to insulate energy from sanctions. The Biden administration had to succumb to public outrage and ban imports of Russian oil, gas, and coal. Calls for a quick break from Russia are putting pressure on European governments. Who could have imagined that Europe, rather than Russia, might be the one to turn off the taps? This is uncharted territory—it is one thing to import energy from an adversary, another to buy it from an enemy.
Placing the idea of the energy weapon in the context of a conflict is also difficult. More in CSIS' Commentary of March 18, 2022.
The China Factor in Tech Export Controls Against Russia Technology export controls have taken a prominent place in the response of the United States and its allies to Russia's invasion of Ukraine. By applying the so-called Foreign Direct Product Rule (FDPR) to Russia, the U.S. cuts off Russian customers not only from U.S. technology but also from foreign-produced items that contain or were developed with controlled U.S.-origin technology or software. The Biden administration imposed one FDPR on Russian military end users and one Russia-wide FDPR (the latter excludes some low-technology consumer goods). U.S. allies and partners that are also major tech producers, including the EU, Japan, South Korea, and Taiwan, have backed the United States' measures and supplemented them with their own restrictions. In addition, by pulling out of the Russian market, powerful tech firms like Apple contribute to Russia's increasing technological isolation.
The sweeping tech controls will likely impose severe costs on the Russian military and economy. For some time, Russia has intensified its efforts to develop a domestic high-tech industry. With this push, the government aimed to diversify the Russian economy away from natural resources, while also making the country technologically more self-sufficient. But Russia's tech economy bid has produced mixed results. Russian companies have successfully developed some homegrown solutions, including messenger services, social networks, and search engines. Russia has also made some progress in developing its own mobile operating systems and cloud services. However, in other areas, like semiconductors and telecommunications equipment, the country remains highly dependent on imports. The United States and its allies now target these dependencies.
While the breadth and reach of the U.S. technology controls against Russia are unprecedented, their design was visibly inspired by previous measures imposed on China's tech giant Huawei. The telecom equipment manufacturer has come into the U.S. government's crosshairs due to security concerns regarding its 5G technology, the evasion of sanctions against Iran, and allegations of intellectual property theft. In 2020, the Trump administration used the FDPR to cut Huawei off from semiconductors, after the company had successfully circumvented some less restrictive measures. Reportedly, the FDPR significantly curtailed Huawei's business operations and profits. More in the March 8, 2022 issue of The Diplomat.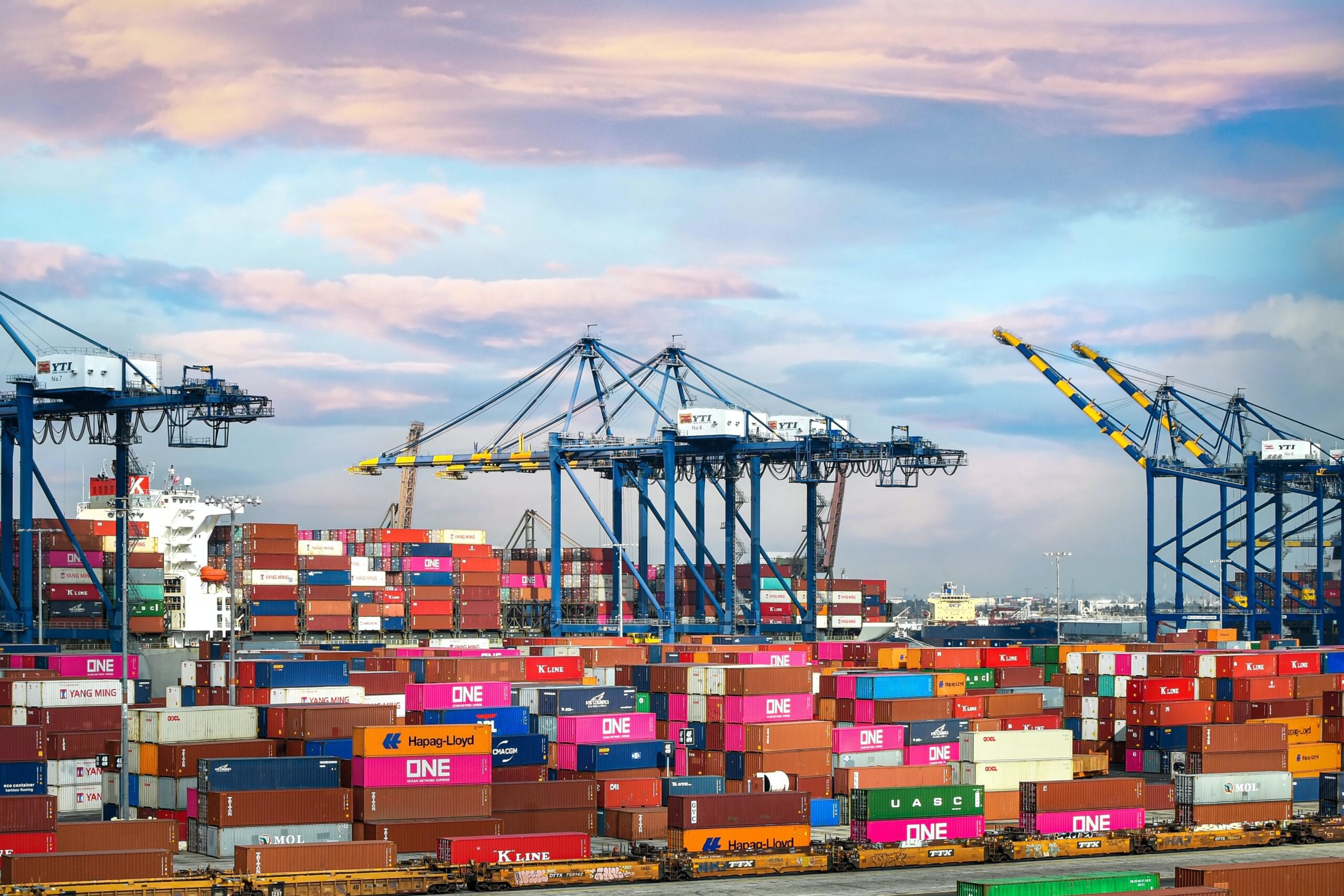 House Passes Bill Suspending Normal Trade Relations with Russia On March 17, 2022, the U.S. House of Representatives overwhelming passed the Suspending Normal Trade relations with Russia and Belarus Act, which now heads to the U.S. Senate. Once enacted, the legislation would strip Russia of its permanent normal trade relationship (PNTR), a key benefit of World Trade Organization (WTO) membership, in response to Russia's ongoing invasion of Ukraine.
Russia Moves Towards Nationalizing Assets of Firms That Leave Russia's ruling party, United Russia, said on Wednesday that a government commission had approved the first step towards nationalizing assets of foreign firms that leave the country in the wake of economic sanctions over Ukraine. United Russia added in a statement on the Telegram messaging app that the commission on lawmaking activity had supported a bill allowing for firms more than 25% owned by foreigners from "unfriendly states" to be put into external administration.
"This will prevent bankruptcy and save jobs," it said. Corporate actions to censure Russia over its invasion of Ukraine vary widely, with some firms like U.S. carmaker Ford temporarily shutting down factories but others like British energy company BP promising to exit the country. More in the March 9, 2022  article  in  US News.
The Tangled Web We Wove: Rebalancing America's Supply Chains The pendulum of globalization has swung too far. What the fallout of the ongoing pandemic makes clear is that decades of offshoring and cost-cutting in the pursuit of efficiency and a better bottom line have left the supply chains of the United States and its allies and partners unacceptably brittle. Restoring balance to the system—with greater resilience through reducing dependence on potential adversaries, greater geographic diversity, and a pragmatic approach to building a mix of domestic capabilities and sourcing from reliable partners—will be a complex, expensive, and far-reaching undertaking.Today the Center for a New American Security (CNAS) released a new report, offering actionable recommendations for policymakers to develop a comprehensive, proactive, and achievable U.S. supply chain strategy. Key recommendations include:
Crafting a supply chain strategy. The United Stated needs a blueprint for how to think about, and prioritize, the security and resilience of its critical supply chains.
Promote efforts to improve software supply chain security. Existing governmental efforts to strengthen the resilience of supply chains should acknowledge and address software supply chain security.
Establish a network of like-minded countries to collaborate on technology policy. The United States should create a multilateral technology alliance with a core group of like-minded countries to collaborate on supply chain diversification.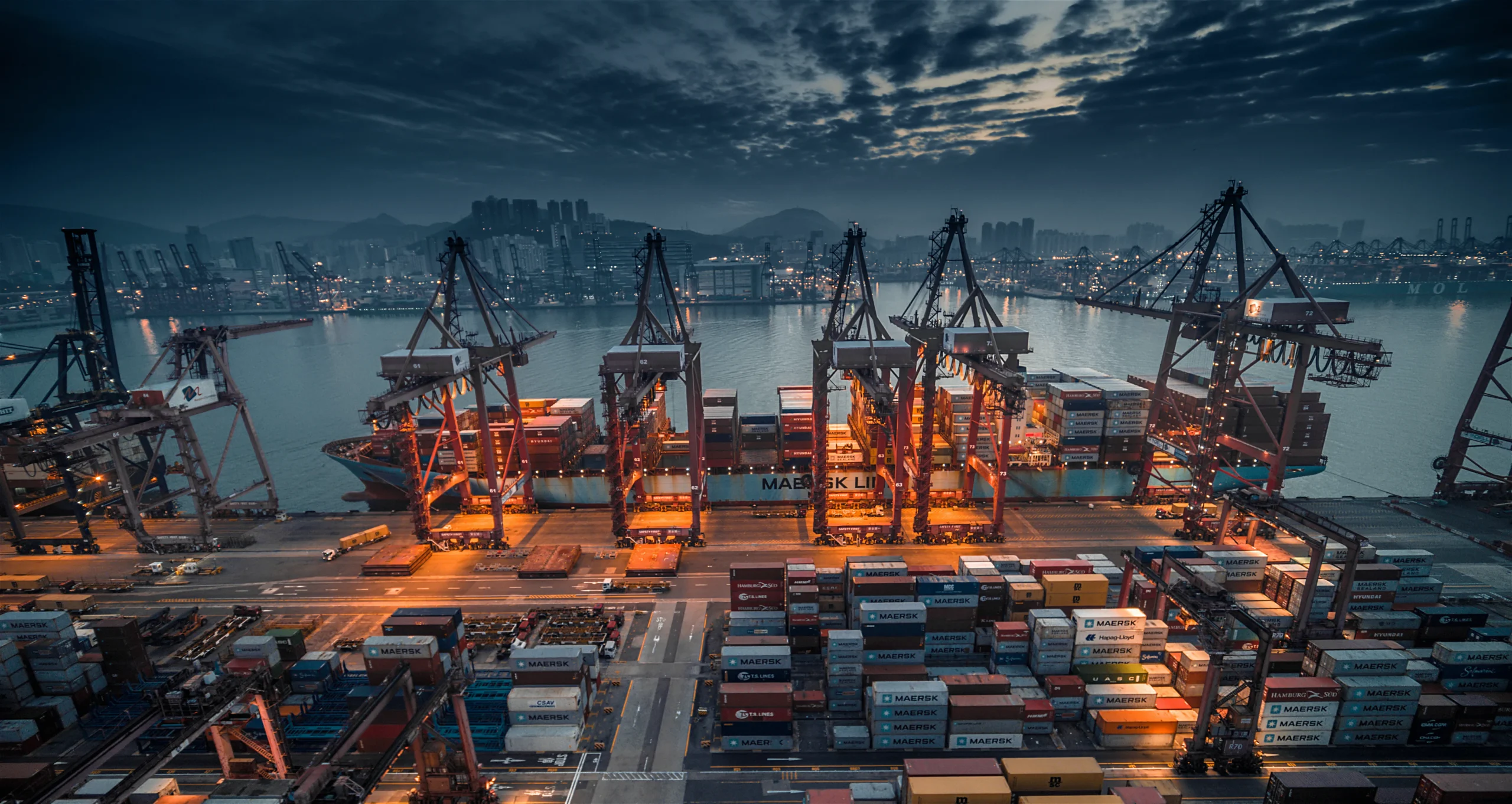 The breadth of the supply chain challenge is vast, and it will get only more complicated as time goes on. The United States must do what it can now, in conjunction with collaborative efforts with its allies and partners, to ensure its supply chains are resilient enough to withstand upheaval, geopolitical conflict, and natural disaster. 
FACT SHEET: Securing a Made in America Supply Chain for Critical Minerals Critical minerals provide the building blocks for many modern technologies and are essential to our national security and economic prosperity. These minerals—such as rare earth elements, lithium, and cobalt—can be found in products from computers to household appliances. They are also key inputs in clean energy technologies like batteries, electric vehicles, wind turbines, and solar panels. As the world transitions to a clean energy economy, global demand for these critical minerals is set to skyrocket by 400-600 percent over the next several decades, and, for minerals such as lithium and graphite used in electric vehicle (EV) batteries, demand will increase by even more—as much as 4,000 percent. The U.S. is increasingly dependent on foreign sources for many of the processed versions of these minerals. Globally, China controls most of the market for processing and refining for cobalt, lithium, rare earths and other critical minerals.
The February 22, 2022 FACT SHEET is here.  
Cabinet Agencies Publish U.S. Critical Supply Chain Reports On February 24, 2022, seven cabinet agencies published reports in response to President Biden's Executive Order (EO) 14017 with assessments of and recommendations for strengthening certain critical U.S. supply chains. The White House published a capstone report providing an overview of the agency reports and also reviewing the actions the Biden Administration has taken over the past year to reduce the vulnerability of U.S. supply chains across various sectors.
The EU´s quest for geoeconomics power: Pursuing open strategic autonomy The EU's outlook on economic globalization has traditionally emphasized the importance of states opening their economies and abandoning power politics in favour of economic efficiency and liberal rules-based order. While the EU has benefitted from this view in the post-Cold War era, the rise of geoeconomic rivalry has posed new challenges. In response to great powers using trade and investments to achieve strategic goals, the EU is currently modifying its open strategic autonomy to promote the Union's norms and interests while maintaining the liberal and multilateral character of its economy. The latest FIIA Briefing Paper analyses the EU's attempt to adapt to the rise of geoeconomics through the introduction of new economic policy instruments. The paper examines how the EU is utilizing defensive and strategic measures to protect itself from unfair trade practices and economic coercion.  According to the authors, the EU's unprecedented sanctions against Russia demonstrate the Union's coercive capabilities in the economic domain, and its potential as a geoeconomic power. However, the authors note that faced with the risk of an unraveling of globalization, the EU needs to gear up its own resilience without resorting to undue protectionism that would further damage the rules-based trading system on which the EU has thrived. "The new geoeconomic reality is changing the European Commission's mindset, as shown by its stronger willingness to throw the EU's economic and regulatory weight behind its actions in global politics", the authors write. You can read the publication here.
China business could become a problem for German companies A recent report from the Kiel Institute for the World Economy highlighted the risks of these ever-growing ties. "German companies, especially in the automotive industry, have made profits in China for many years, and now their dependence on the Chinese market may become a problem," Rolf Langhammer, the author of the report, wrote. "They have provided Chinese companies with the necessary know-how to be replaced by them in the future, thus helping China to gain a more powerful negotiating position in the geopolitical competition." In formulating its China strategy, I am told, Germany's government could look for ways to address these risks through a combination of carrots and sticks: targeted government incentives for companies to invest in other markets and tighter restrictions on technology transfers, including through export controls and heightened scrutiny of research and development collaboration. There does not seem to be much appetite in Europe for an outbound investment-screening mechanism, like the one currently being debated in the US Congress. But this debate, too, may make its way across the Atlantic. More in this GMF article and in this IFW article.
Following the Crypto: Using Blockchain Analysis to Assess the Strengths and Vulnerabilities of North Korean Hackers Since 2014, the Pyongyang-led cybercrime organization known as the Lazarus Group has transformed from a rogue team of hackers to a masterful army of cybercriminals and foreign affiliates that can compromise major national financial networks and steal hundreds of millions of dollars' worth of virtual assets. Through analyzing three case studies of major North Korean hacks, a new CNAS report outlines key strengths and vulnerabilities in the Lazarus Group's campaigns to infiltrate cryptocurrency exchanges and steal, launder, and liquidate funds. The study also offers a prospective look into the future of North Korea–led crypto hacks and provides a series of policy recommendations to strengthen cyber resilience against these efforts.
Source: AMBCRYPTO
Putin has seriously wounded Ukraine's economy without firing a single shot Even without launching his threatened full-scale invasion of Ukraine, Vladimir Putin is already causing the country great economic losses. The West cannot stand by and watch this happen. Indeed, the economic front in the ongoing Russo-Ukrainian War is just as decisive as the military front and demands equal international attention. As the costs of the current crisis continue to mount, Western leaders must step up and provide substantial financial support to Ukraine, much as they did in 2014-2015. At the same time, the Ukrainian government needs to urgently return to a comprehensive reform agenda that will put the country's economy on a far more stable long-term footing. Since November 2021, Russia has been increasingly encircling Ukraine from the north, east, and south with a potential invasion force numbering more than 130,000 troops. This military build-up has been described as the biggest in Europe for three decades and has sparked fears of the continent's largest conflict since World War II. Unsurprisingly, Putin's saber-rattling has managed to scare the international business community in a number of ways. By mid-January, annual yields on Ukraine's Eurobonds had risen to above 10 percent, effectively depriving the country of access to international financial markets. Neither the Ukrainian government nor large Ukrainian companies can issue international bonds any longer. Another blow has been the depreciation of Ukraine's hryvnia currency, which has fallen to a yearly low against the dollar. Meanwhile, nearly all private domestic and foreign investment has ceased. Due to the uncertainty of the situation, businesses have grown increasingly reluctant to make financial commitments and some multinationals have obliged international employees to leave the country. Insurance has become a major headache for the Ukrainian economy, with insurers covering merchant shipping and commercial flights raising red flags over the perceived dangers of traveling to Ukraine. Needless to say, the tourism and business travel industries have ground to a virtual halt. While no exact figures are available, it would be reasonable to assume that the threat of a full-scale Russian invasion has already cost Ukraine billions of dollars it can ill afford. The opportunity costs in terms of lost future economic potential are harder to quantify but likely to be considerably higher. Put simply, Putin's intimidation tactics are a great way of keeping Ukraine locked in the economic doldrums and vulnerable to Kremlin pressure.
Fortunately, Ukraine's financial starting point at the beginning of this crisis was quite good. The country's public debt had fallen below 50 percent of GDP, while the economy had greatly benefited from the high agricultural commodity and iron ore prices of the last two years. At the end of 2021, Ukraine's international currency reserves reached USD 31 billion, the highest level for a decade.At the same time, Ukraine also has significant external debt obligations to meet. Dragon Capital assesses its external funding needs this year at USD 8.5 billion, of which USD 5 billion would finance the budget deficit and USD 2.5 billion is required for external debt.
Ukraine's Western partners are already offering financing. More in Atlantic Council's UkraineAlert of February 16, 2022.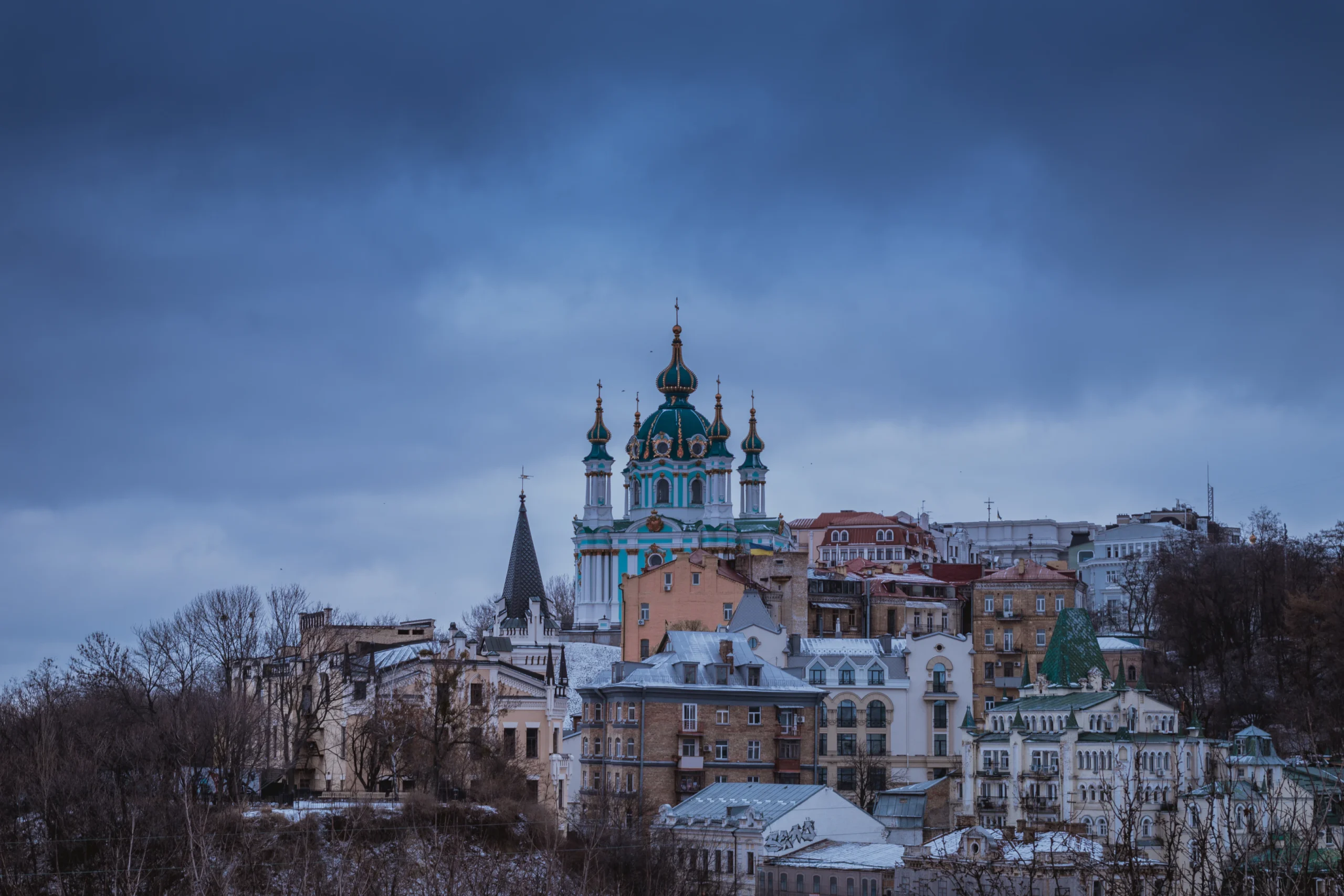 Technology's Role in Driving U.S. Competitiveness: ITI's Action Plan for 2022 The Information Technology Industry Council (ITI) promotes public policies and industry standards that advance competition and innovation worldwide.) puts forward several policy priorities where the United States can make significant progress in 2022 for the benefit of businesses, workers, and consumers across virtually every sector of the U.S. economy. Accomplishing these objectives will ensure that the United States remains a global leader in innovation and technology. It will also ensure that technology continues to play a critical role in achieving the policy agenda of the Biden-Harris Administration and the 117th Congress. Included as part of Technology's Role in Driving U.S. Competitiveness: ITI's Action Plan for 2022, ITI highlights five actions that the Administration and U.S. Congress, with the support of the tech industry, should take as soon as possible to promote U.S. competitiveness and benefit the U.S. economy now and in the future:
Enable the free flow of data between the U.S. and EU:

 

We encourage the Administration to quickly

 

reach an agreement with the European Commission that preserves the flow of data between the

 

United States and Europe.

Invest in domestic technology research and development and manufacturing:

 

Semiconductors power much of today's digital economy and are a critical component in making the goods and delivering the services Americans rely on daily. U.S. Congress should fully fund the CHIPS For America Act and enact the United States Innovation and Competition Act/America COMPETES Act of 2022 to incentivize research and development and manufacturing of semiconductors and other advanced technology in the United States.

I

mplement digital trade agreements that ensure American companies can operate freely in markets outside the U.S.:

 

The Administration should negotiate, and U.S. Congress should support, enforceable

 

digital trade rules with countries in the Indo-Pacific region to drive inclusive growth and innovation, to

 

protect a free and open internet, and enable market opportunities for U.S. businesses around the globe.

Solidify U.S. leadership in technical standards development:

 

Existing export control rules
have caused U.S. companies to cede ground, influence, and leadership to foreign competitors in

 

international technology standards development. The U.S. Department of Commerce should publish a pending export control rule to enable companies to participate fully in this routine activity.

Leverage technology in infrastructure rollout:

 

Essential information and communications equipment

 

will be necessary for the U.S. economy and the American people to realize the full benefits of the

 

recently passed Infrastructure Investment and Jobs Act. The Administration should remove burdens that will prohibit U.S. companies from acquiring necessary commercial technologies from the global

 

market in a timely and cost-effective manner.
US publishes updated ITAR agreement guidance The US State Department's Directorate of Defense Trade Controls (DDTC) has published updated Guidance for Preparing Agreements under the International Traffic in Arms Regulations (ITAR). The Guidance is the first updated version published since 2016.
Scrutinizing the Jones Act's National Security Rationale When confronted with the Jones Act's costs and inefficiencies, supporters of the law typically counter that the law is essential to U.S. national security. Scrutinizing such assertions in a 2019 Policy Analysis "Rust Buckets: How the Jones Act Undermines U.S. Shipbuilding and National Security," the Cato Institute's Colin Grabow highlighted various ways in which the law actually undermines national security. Protected from foreign competition, Grabow notes that U.S. commercial shipbuilding has deteriorated into a state of gross uncompetitiveness. Forcing U.S. ship operators to purchase their vessels from these shipyards at vastly inflated prices, in turn, has led to a shrunken and aged domestic fleet with a greatly diminished capacity to meet national security needs.
Washington state Rep. Cyndy Jacobsen spoke in opposition to the Jones Act at a January committee hearing. Drawing from the Cato Institute's 2018 Policy Analysis "The Jones Act: A Burden America Can No Longer Bear" Jacobsen pointed out, for example, that New Zealand saw lowered freight rates after liberalizing its own cabotage laws. Since 1977, the Cato Institute has been one of the most effective voices in Washington, DC, advocating individual liberty. From media appearances in major outlets, conferences, and book publishing to top‐quality research and engagement on Capitol Hill and with key agencies, Cato has successfully injected the libertarian perspective into mainstream policy debates in Washington, DC, and across the country.
The EU's Global Gateway: Building connectivity as a policy In December 2021, the European Union introduced the Global Gateway, a new development and funding scheme aimed at building sustainable, high-standard and secure digital, energy and transport infrastructure across the globe. With both global tensions and international interest in connectivity increasing, the Global Gateway is not only a European countermove to China's Belt and Road Initiative but also an addition to the EU's attempt to strengthen its strategic autonomy.
In the latest FIIA Working Paper, the author analyses the Global Gateway in the framework of the EU's external relations and international competition. The author addresses the EU's normative agenda embedded in the policy program and estimates what challenges the implementation of the strategy is expected to face. The author notes that despite the Global Gateway being a viable attempt by the EU to bring scattered European funding and development projects under a marketable brand and a strategic vision, several questions remain open. According to the author, a key question is, whether the EU's value-based approach, namely the Gateway's commitment to democratic values and good governance among others, can compete with China's non-regulated approach overseas. This FIIA Working Paper is part of the institute's research project 'Superregionalism and Contentious Connectivity in Asia' examining connectivity as a key area of global power competition. The project explores linkages with security, economy and (sustainable) development, and compares connectivity strategies of key actors, such as China, Russia, Japan, the US, and the EU. The publication is also part of the FIIA Geoeconomics series.
Lithuania's Cabinet Crisis: The Šimonytė Government's Security Lesson for the West In a time of democratic rollback and continued populist upswings, the European Union and United States increasingly advocate for coordination among members of the self-styled "international rules-based order." This unity faces serious institutional challenges, especially visible at Europe's edge in Lithuania. Taking assertive diplomatic stances in regional crises, Lithuania faced backlash for critiquing Belarus, necessitating sanctions as a countermeasure. Lithuania's sanctions response initially struggled to take off because of miscommunication and differing priorities within the government. Vilnius' experience provides a useful lesson to the democratic world in the importance of a common voice and way to action.
Belarus Bellyache
The standoff between Lithuania and Belarus started in August 2020 when Belarusian citizens began protesting the reelection of authoritarian leader Alyaksandr Lukashenka in a vote that was widely acknowledged as fraudulent. These protests were fed by overall dissatisfaction with the country's current state. Facing repression, many protest leaders, including opposition presidential candidate Sviatlana Tsihanouskaya, fled to Lithuania. This led to a diplomatic crisis between the two nations, as incumbent president Lukashenka felt the EU had ignored its earlier economic and security cooperation with Belarus, and that Lithuania was a driving force in effecting this change.
In September 2021, migrants (mostly from Syria, Iraq and Afghanistan) passed through Belarus on their way West, lured by a sudden increase in flights to Minsk. The EU deemed the resultant crisis on Lithuania, Latvia and Poland's borders an act of "hybrid warfare" by the Lukashenka regime. The Lithuanian government set up a processing camp and requested EU aid, citing the continued economic pain from the pandemic and possible EU-wide consequences of a new wave of refugees. It also called for an increase to EU and US sanctions already imposed on Belarus, given that the facilitated transit of migrants by Minsk was viewed as retaliation for Vilnius' support for the Belarusian opposition.
Potash Ties That Bind
Continued economic links between Lithuania and Belarus complicated the EU member state's planned sanctions in coordination with the US. Belaruskali, a major Belarusian state-owned company, was using Lithuanian ports to ship potash to foreign customers. The relationship is a profitable one for Lithuania: Belaruskali fertilizer shipments comprise approximately a quarter of the state railway company's cargo traffic and make up around 80 percent of all rail freight in Lithuania. Some 95 percent of Belaruskali fertilizer transits through Lithuania, making Vilnius' consent for transportation key to the Belarusian government's economic stability. Lithuania initially decided to bypass Belarusian potash in its sanctions plan. Fertilizer was absent from the list of prohibited Belarusian items, and the Port of Klaipeda's CEO Algis Latakas (where the fertilizer is shipped) noted that the flow of Belaruskali fertilizer rose 4 percent despite the port's overall 11 percent shipping decrease due to sanctions against Belarus. In the summer of 2021, as the crisis continued, the Lithuanian president's office worked to exempt Belarusian potash from sanctions, claiming, "We are not trying to block all sectoral sanctions; we just want fertilizers out, the ANPP (Astravyets nuclear power plant) in." In these hitherto anonymous advisors' opinions, potash shipments were important to Lithuanian economic well-being.
However, the United States Office of Foreign Asset Control declared on August 9, 2021, that any business relations with Belaruskali and its affiliates had to be ended by December 9. On August 12, Lithuanian Transport Minister Marius Skuodis announced that the government would halt transports altogether in December. This meant that the Port of Klaipeda's relationship with Belaruskali had to be reevaluated to ensure Lithuanian companies could continue trading in the United States and using US-hosted financial platforms. Klaipeda Port CEO Latakas also announced in November 2021 that Belaruskali did not feature in the port's 2022 plan.
More in FPRI's Baltic Bulletin of February 7, 2022. The Foreign Policy Research Institute is dedicated to producing the highest quality scholarship and nonpartisan policy analysis focused on crucial foreign policy and national security challenges facing the United States. The FPRI educates those who make and influence policy, as well as the public at large, through the lens of history, geography, and culture.
USTR Releases Annual Report on China's WTO Compliance The Office of the United States Trade Representative released its annual "2021 Report to Congress on China's WTO Compliance," laying out the Biden Administration's assessment of China's membership in the World Trade Organization.
"China has not moved to embrace the market-oriented principles on which the WTO and its rules are based, despite the representations that it made when it joined 20 years ago," said Ambassador Katherine Tai. "China has instead retained and expanded its state-led, non-market approach to the economy and trade. It is clear that in pursuing that approach, China's policies and practices challenge the premise of the WTO's rules and cause serious harm to workers and businesses around the world, particularly in industries targeted by China's industrial plans."
The Biden Administration is pursuing a multi-faceted approach to address the harm caused by China's trade and economic policies through both bilateral engagement with China and the use of trade tools to protect American workers and businesses.  The Administration's strategy also includes enhanced engagement with allies and partners in order to build broad support for solutions to the many unique problems posed by China and defending our shared interests.
This report was prepared pursuant to section 421 of the U.S.-China Relations Act of 2000 (P.L. 106-286), 22 U.S.C. § 6951 (the Act), which requires the United States Trade Representative (USTR) to report annually to Congress on compliance by the People's Republic of China (China) with commitments made in connection with its accession to the World Trade Organization (WTO), including both multilateral commitments and any bilateral commitments made to the United States.  The report covers calendar year 2021.  It also incorporates the findings of the Overseas Compliance Program, as required by section 413(b)(2) of the Act, 22 U.S.C. § 6943(b)(2). 
Russia Invades Ukraine Russian forces have launched a major military attack on Ukraine, with reports of troops crossing the border from multiple directions, missile strikes and explosions in multiple cities, including the capital Kyiv. The assault began on Thursday February 24, 2022, at about 5:00 a.m. Ukrainian time, shortly after Russian President Vladimir Putin declared on state television that Russia was starting a military operation for the "demilitarization and denazification" of eastern Ukraine.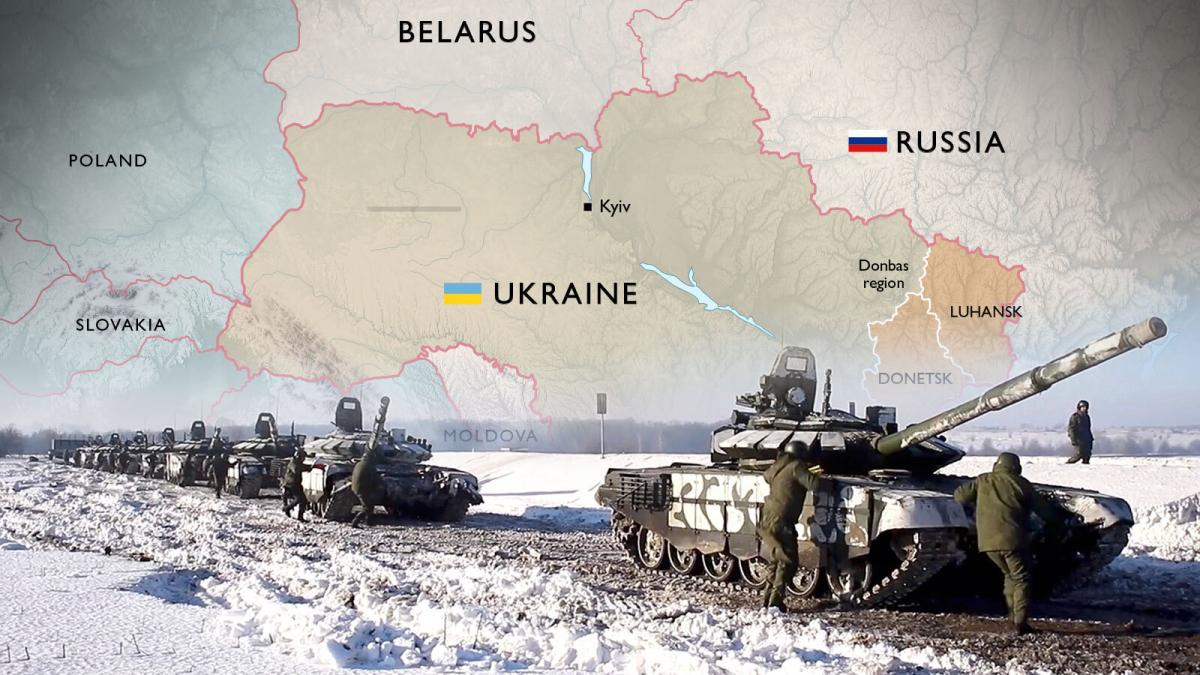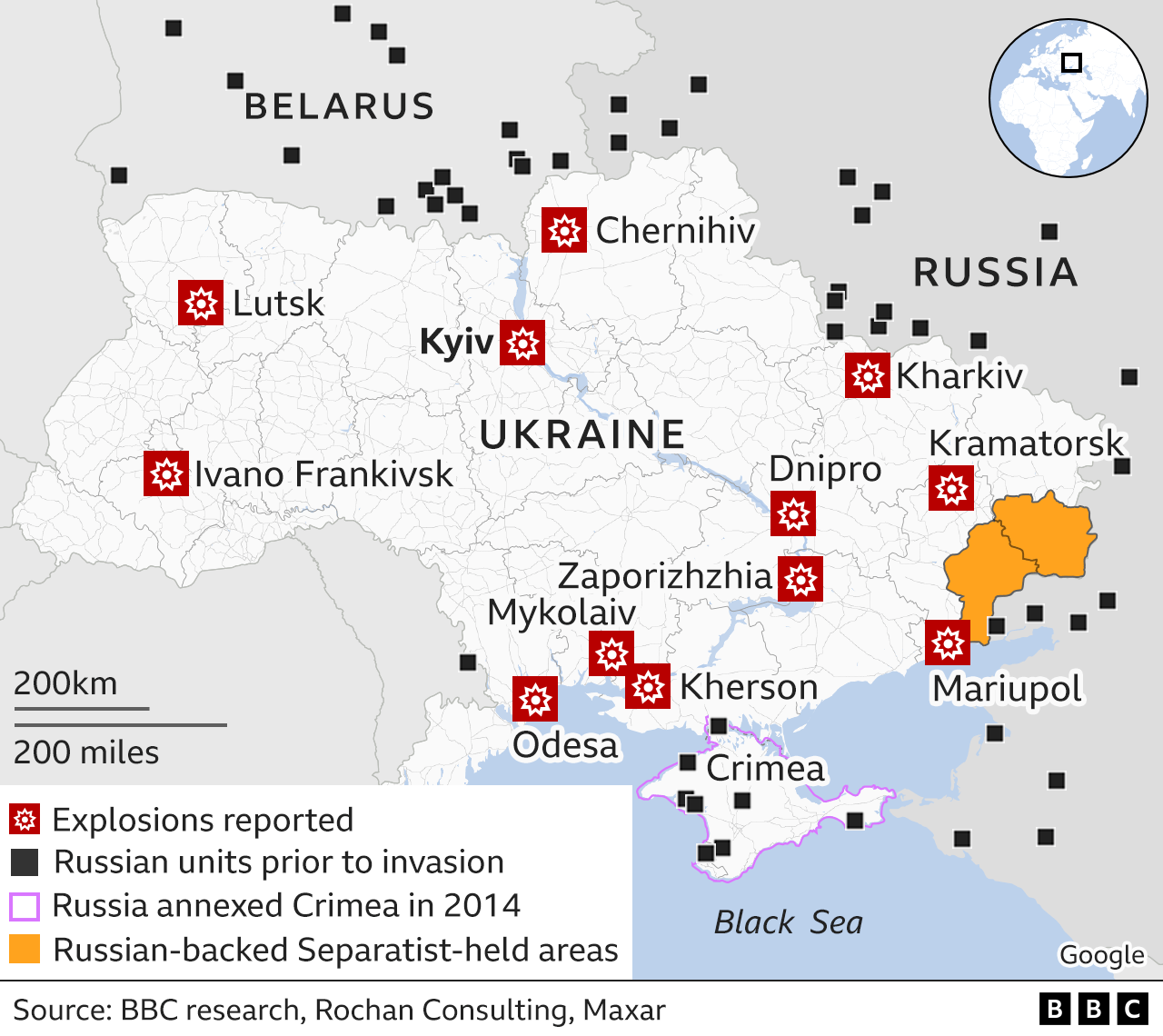 Experts React: Russia has launched a war against Ukraine. How can the West fight back? With Russia launching a full-scale assault on Ukraine on Thursday, a major war has begun in Europe with sweeping global implications. Atlantic Council experts are weighing in with their insights about where this conflict is headed next and how the West can respond. We will update this post as they react to the latest developments in this crisis.
Jump to an expert reaction:
The European Union and the U.S. need to work together to confront global trade challenges A series of readouts from U.S. Trade Representative Katherine Tai after Feb. 23 meetings with German officials emphasized how the European Union and the U.S. need to work together to confront "global trade challenges, including those presented by non-market economies." Tai met with Germany's federal minister for economic affairs and climate action, Germany's state secretary for international and EU affairs and the state secretary of the federal foreign office. She said she also spoke about the need to develop resilient supply chains.
Russia and Ukraine Edge Closer to War On February 21, 2022, President Putin recognized the independence of two territories in eastern Ukraine, Luhansk and Donetsk, that are largely controlled by Russian-backed separatists. Shortly after, Russian troops were ordered into the area, a move that threatens to sharply escalate the conflict with Ukraine and could be a prelude to a broader invasion.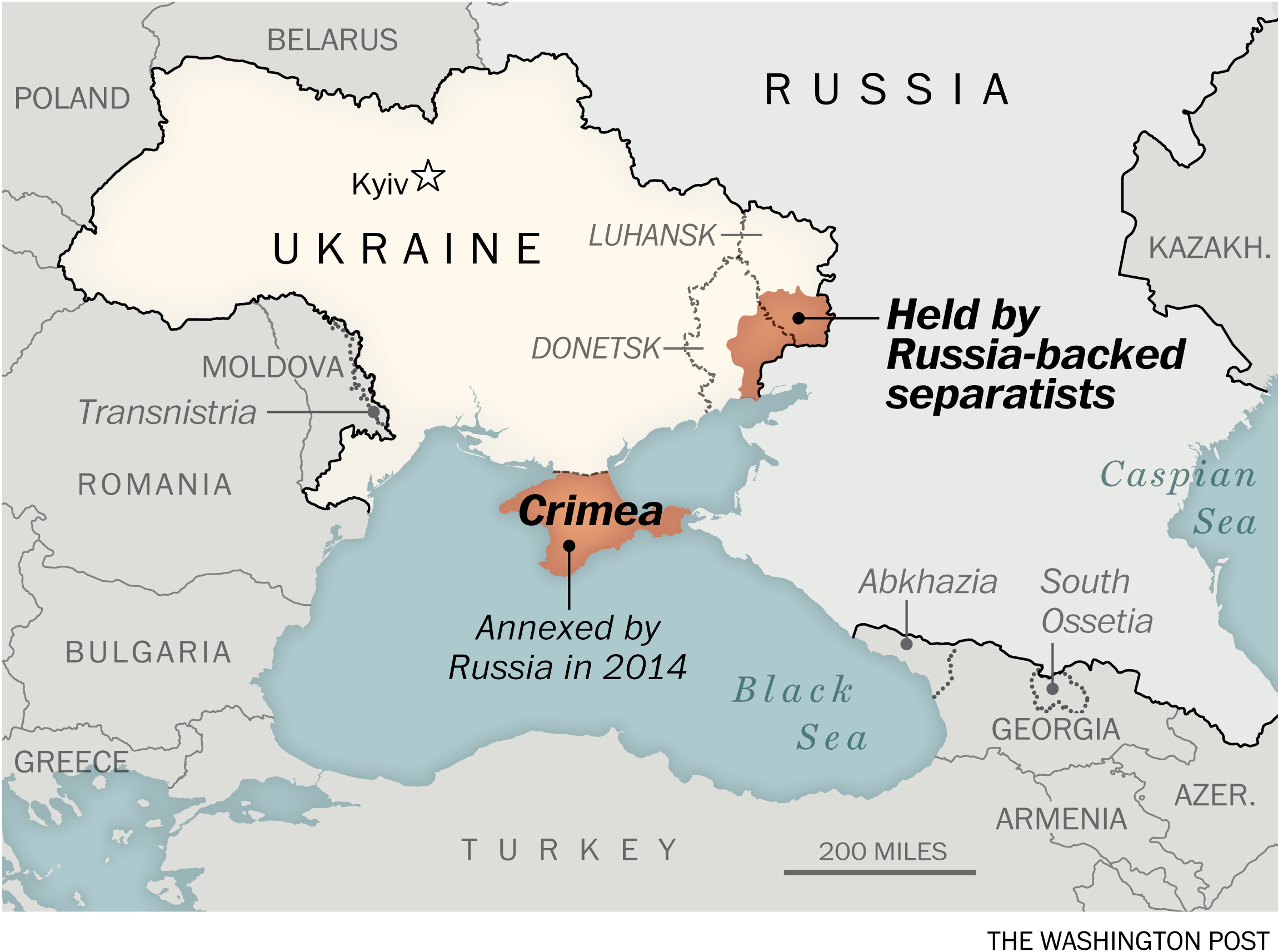 On February 21, 2022, President Biden signed a new:
Executive Order Blocking Property Of Certain Persons And Prohibiting Certain Transactions With Respect To Continued Russian Efforts To Undermine The Sovereignty And Territorial Integrity Of Ukraine.
On February 21, 2022, OFAC has issued:
Ukraine General License Number 17, Ukraine General License Number 18, Ukraine General License Number 19,  Ukraine General License Number 20, Ukraine General License Number 21, and Ukraine General License Number 22.
In Europe, Germany made the first big move, taking steps to halt certification of the Nord Stream 2 (call it Nein Stream 2) gas pipeline from Russia, a massive, lucrative project long sought by Moscow but criticized by the U.S. for increasing Europe's reliance on Russian energy supplies.
Some of the other responses to Russia's actions that have been announced are:
European Union: EU imposed sanctions that would affect members of Russia's duma who voted against the territorial integrity and sovereignty of Ukraine as well as another 27 people and "entities" which are often companies, banks or agencies, and ban EU investors from trading in Russian state bonds, and target imports and exports with separatist entities. 

However, EU foreign ministers chose not to sanction Russian President Vladimir Putin, the EU's foreign policy chief Josep Borrell said following a meeting in Paris on Tuesday February 22, 2022.

Hungary: The Hungarian defense ministry announced that it would be sending troops close to the Hungarian-Ukrainian border, which is situated in the northeastern region of Hungary. The defense ministry did not quantify the number of troops that would be moving toward its border with Ukraine but noted that they were being deployed for humanitarian and security purposes.
Measures adopted by EU Member States on dual-use export control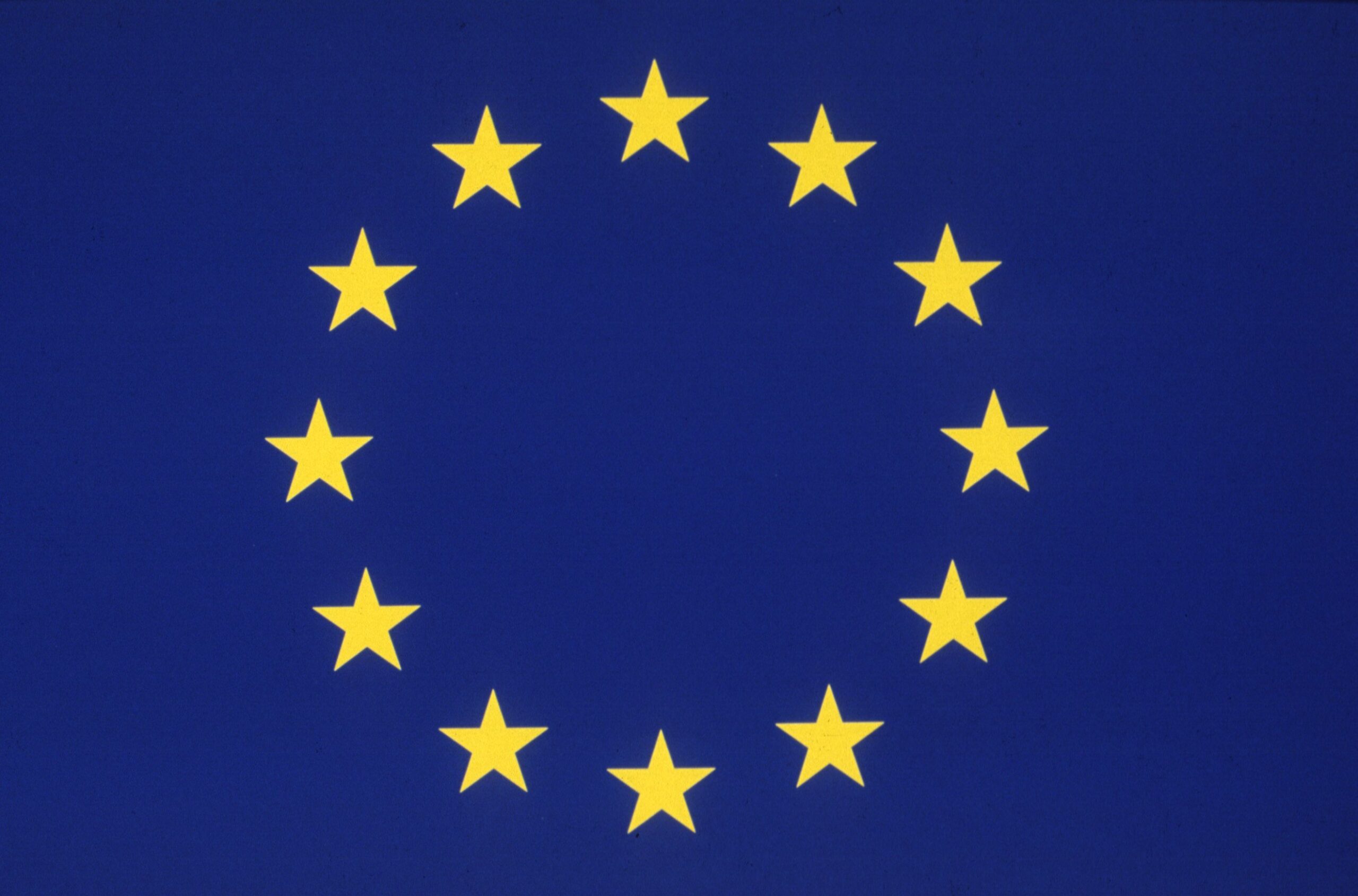 The European Commission has published an Information Note summarizing the measures EU Member States have adopted in conformity with the EU's new dual-use export control regime in Regulation (EU) 2021/821. 
Prosecution of Sanctions (Restrictive Measures) Violations in National Jurisdictions: a Comparative Analysis The EU Genocide Network published its Expert Report, 'Prosecution of sanctions (restrictive measures) violations in national jurisdictions: a comparative analysis' in November 2021. Sanctions, embargo, or restrictive measures, are political trade restrictions imposed by the United Nations or the European Union. They target governments, organised military or paramilitary groups, commercial entities and individuals whose behaviour contravenes international law and present specific threats, such as cyberattacks, proliferation of chemical weapons, terrorism, human rights violations and abuses. Investigating and prosecuting such violations could prove critical in the overall fight against impunity for core international crimes, including genocide, crimes against humanity and war crimes, in particular where corporate actors are involved. Legislation of all EU Member States include administrative or criminal penalties. Yet, very few individuals or legal persons are effectively held accountable for these offenses.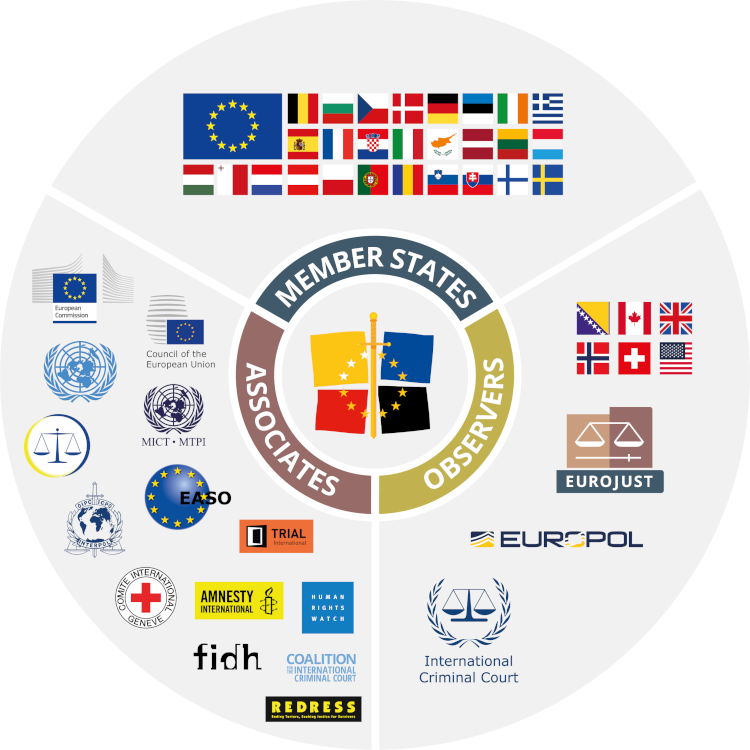 This report demonstrates that sanctions violations may provide an alternative or additional path towards accountability for core international crimes. Pursuing violations of sanctions can assist in establishing a link or nexus needed in some countries for core international crimes proceedings to be initiated under the universal or extraterritorial jurisdiction principle. Furthermore, looking into sanctions violations may provide preliminary evidence for wider investigations leading to other forms of interlinked criminality such as terrorism or illegal trade. Therefore, sanctions monitoring and the adequate penalization of sanctions violations should be fully integrated into EU Member States and practitioners' overall strategies to fight against impunity.
European Commission publishes a toolkit to help mitigate foreign interference in research and innovation The Commission has published a toolkit on how to mitigate foreign interference in research and innovation. The publication outlines best practices to support EU Higher Education Institutions and Research Performing Organisations in safeguarding their fundamental values, including academic freedom, integrity and institutional autonomy, as well as to protect their staff, students, research findings and assets. International networks of academic and technological cooperation play an essential role in finding solutions to our global challenges. At the same time, the expansion of activities involves a number of risks and challenges that research and innovation actors must take into account. Today's publication provides a toolkit that can help EU Higher Education Institutions and Research Performing Organisations to develop a comprehensive strategy for tackling risks and challenges from abroad that covers key areas of attention grouped into four categories: values, governance, partnerships and cybersecurity. The non-exhaustive list of possible mitigation measures can help R&I actors develop a comprehensive approach to tackling foreign interference that can comprise four phases: awareness-raising, prevention, response and recovery, ensuring a balance between risk reduction and resilience enhancement while ensuring effective response and recovery capabilities.
The publication is co-created with Member States and research and innovation stakeholders and contributes to the European Area Policy Agenda action on academic freedom. As set out in the Communication 'The Global Approach to R&I', the EU pursues a positive agenda of partnership dealing with differences in a constructive way.
Foreign interference occurs when activities are carried out by, or on behalf of, a foreign state-level actor, which are coercive, covert, deceptive, or corrupting and are contrary to the sovereignty, values, and interests of the European Union. Scientific research is a collaborative process by nature in which researchers and organisations typically build upon existing research and collaborate to further scientific development. Higher Education Institutions and Research Performing Organizations are of particular interest to foreign actors due to their prominent role in society, their co-operation with the public, private, and third sectors, and their creation of knowledge and innovative new technologies that are crucial for tackling societal challenges and ensuring prosperity and are often relevant for dual civil and military usages. This document has been co-created with Member States and stakeholders and is meant as an inventory of best practices and collection of evidence, which is neither exhaustive nor binding.
Foreign Direct Product Rule: Is Russia the next Huawei? Evolving events in Russia have gripped international audiences – in part because proactive or responsive action by the US Government could impact global markets.  Experts are anticipating the possibility of new economic sanctions taking aim at Russian military and government officials, banks and financial institutions, and extractive industries, among other targets. New sanctions could include additional designations to the Office of Foreign Assets Control's Specially Designated Nationals (SDN) and Blocked Persons List. US persons are prohibited from engaging in dealings with SDNs, as well as with entities majority-owned, individually or collectively, by one or more SDNs. Given the prevalence of the US Dollar and other US touchpoints, many global financial transactions are subject to US sanctions prohibitions; accordingly, SDN designations can be severely damaging to those parties' operations and activities, and can present various challenges for those required to comply with the prohibitions.
In readying a compliance response, domestic and global companies alike should also be mindful of another powerful US tool. The US Department of Commerce (Commerce) is speculated to be considering deploying a Russia-focused Foreign Direct Product Rule (FDPR). In addition to more traditional export controls, such as country-based licensing requirements and list-based restrictions, the FDPR can cripple its targets' ability to source critical items produced from US-origin technology.
The FDPR expands the jurisdictional reach of the US Export Administration Regulations (EAR). The EAR is the principal commercial and dual-use regime regulating exports, reexports, and transfers of US-origin items, items in the United States (regardless of origin), and foreign-produced items comprising threshold amounts of controlled US-origin content.  The FDPR enables regulation of a broader range of items – specifically, items produced outside the United States that are: (1) the direct product of National Security (NS)-controlled US-regulated technology and software; or (2) are produced from plants, or major components of plants, that are the direct product of US-regulated NS-controlled technology and software.  In simple terms, foreign-produced items can fall within the scope of US regulation even if they do not actually incorporate US-origin content, as long as they are produced from covered US-regulated technology or software.
Commerce expanded the FDPR in 2020 in response to rising concerns about Chinese telecommunications giant Huawei's threats to US national security, economic integrity, and supply chain security (Huawei FDPR). At the time, Huawei was already in Commerce's cross hairs after many of its international affiliates were added to the agency's Entity List. Those designations precluded the listed parties from receiving any item subject to the EAR (including, as noted, certain foreign-produced items incorporating US-origin content) without a regulatory license.  The Huawei FDPR effectively broadened the scope of foreign-produced items that can be regulated under the EAR – and therefore licensable.   In short, the Huawei FDPR enlarged the range of US technology and software whose use outside the United States would subject foreign-produced items to US regulatory control, and required licensing for the provision of such items to Huawei, or for transactions involving such items to which Huawei is a party.
When first issued, the Huawei FDPR intended to limit Huawei's ability to procure chips, which are critical components in telecom systems and devices. As many chips are produced from US-indigenous technology, the Huawei FDPR restrictions even impact standard off-the-shelf chips used in common everyday products, such as smartphones and tablets. Accordingly, the Huawei FDPR restrictions can apply to chip manufacturers outside the United States who supply Huawei.  By some accounts, Huawei suffered a 30% revenue loss in 2021, ostensibly because of this rule. The February 3, 2022, article in Atlantic Council's Econographics is here. 
US Publishes Country Reports on Terrorism The Department of State has issued the 2020 Country Reports on Terrorism (CRT), which provides a detailed look at the counterterrorism environment last year, fulfilling an important Congressional mandate.  Each year, the CRT provides insight on important issues in the fight against terrorism and helps the United States make informed decisions about policies, programs, and resource allocations as we seek to build counterterrorism capacity and resilience around the globe. Amid a constantly changing threat landscape, the CRT provides an overview of how we are marshalling international efforts to counter terrorism.  Among the many accomplishments highlighted in the 2020 report are our efforts to expand the focus of the Global Coalition to Defeat ISIS to address new regions of concern, the first terrorist designation of a Racially or Ethnically Motivated Violent Extremist (REMVE) group, and the growing number of countries that have recognized the whole of Hizballah as a terrorist organization. The CRT also offers a frank assessment of the challenges we face.  The report's Annex of Statistical Information shows that both the number of terrorist attacks and the overall number of fatalities resulting from those attacks increased by more than 10 percent in 2020 compared with 2019.  These figures reflect, in part, the spread of ISIS branches and networks and al-Qa'ida affiliates, particularly in Africa.  The rising threat from REMVE groups, including those promoting the superiority of the white race, is addressed in a new section of the report for the first time. As the United States adapts its counterterrorism approach to keep pace with evolving threats, the CRT continues to serve as a valuable resource in assessing the global terrorism landscape. The 2020 Country Reports on Terrorism are available here.
Slovenia considers closer ties with Taiwan Slovenia and Taiwan are working on "exchanging representatives," Prime Minister Janez Janša has announced, criticising China's response to Taiwan's decision to open a diplomatic representative office in Vilnius. The comments come as the EU is still struggling to find a unified message on China's coercive trade measures against Lithuania, which faces mounting direct and indirect pressure in terms of trade. The exchange of representatives would not occur at the level of embassies but "at the same level that many EU countries already have," Janša told Indian broadcaster Doordarshan in a recent interview. Janša said Slovenia would support any sovereign decision of the Taiwanese people: "If they want to join China … without any pressure, military intervention, blackmailing or strategic cheating as it is happening in Hong Kong currently, we will support it." "But if the Taiwanese people want to live independently, we also have to support this position," he added. Slovenia's prime minister also criticised China for its response on the Taiwanese representative office matter.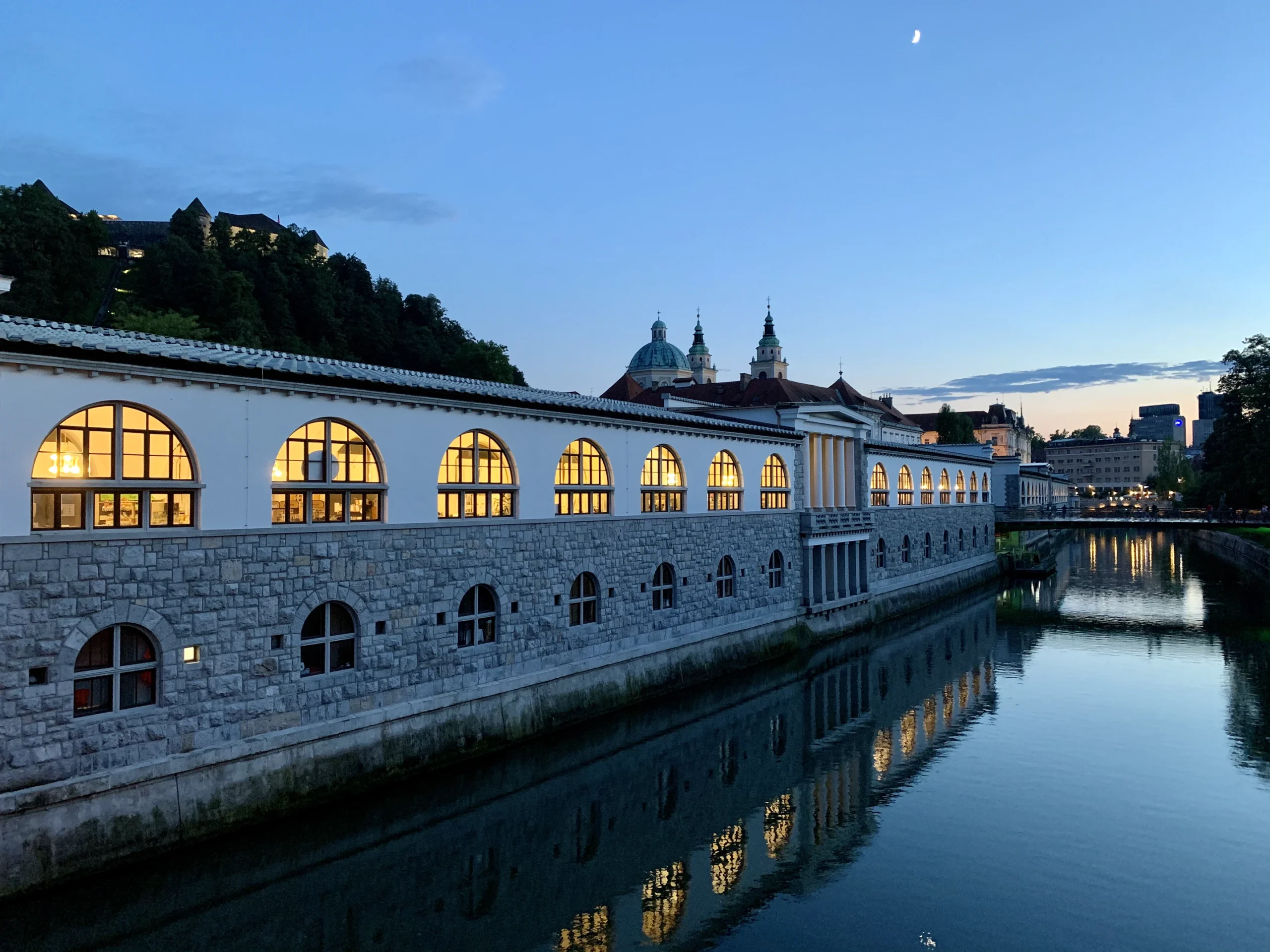 Ljubljana, Slovenia
EU updates dual-use list The EU has updated its list of dual-use items that are subject to export controls in line with amendments to international non-proliferation regimes and export control arrangements.
First UK Annual Sanctions Report shows how UK independent sanctions underpin Global Britain's role on the world stage The UK has published its Annual Sanctions Report for 2021 – detailing for the first time the full extent of its new autonomous sanctions since exiting the European Union. It comes after the UK established 2 new autonomous regimes, which allow it to show greater global leadership on sanctions, while acting more in the national interest. On 6 July 2020, the UK launched the Global Human Rights sanctions regime, powerful new tool to hold to account those involved in serious human rights violations or abuses. On 26 April 2021 this was followed by the launch of the Global Anti-Corruption sanctions regime, enabling the UK to combat serious corruption around the world and prevent funds from being used to fund conflict, terrorism or organized crime. The report shows that in 2021 the UK designated 160 individuals and entities across 13 regimes, launched the Global Anti-Corruption Sanctions regime and imposed a significant package of economic sanctions on Belarus. Sanctions imposed in 2021 include designations of:
108 individuals and 10 entities under the Belarus sanctions regime, as well as a significant package of economic sanctions

24 individuals and 9 entities under the Myanmar sanctions regime

5 individuals and 3 entities from China, Myanmar and Pakistan under the Global Human Rights sanctions regime

27 individuals across the world involved in serious corruption. This included misappropriation of public funds spent on memorabilia including a $275,000 Michael Jackson glove; and ruthless exploitation of public food programmes in Venezuela
Turkey's Response to the Russia-Ukraine Crisis On October 26, 2021, Ukraine's Ministry of Defense released video of a TB2 unmanned combat aerial vehicle (UCAV) striking a separatist D-30 howitzer in Russian-occupied Donbas. The strike was Ukraine's first confirmed use of the now ubiquitous TB2, the Bayraktar-manufactured drone that the Turkish military has used to great tactical effect in Syria, Libya, and Nagorno-Karabakh. The Turkish-Ukrainian defense relationship is understudied, but it could become an important factor in how Russian elites view North Atlantic Treaty Organization (NATO) support for non-member Ukraine, and be used to justify an invasion to assuage Moscow's concerns about a US-allied military presence along its borders. The Turkish support for Ukraine is not the main driver of Russian discomfort about the future of Ukraine. The TB2 is also not a decisive game changer, and the use of UCAVs is almost certain to have little impact on how Russian leadership weighs risk during debates about the efficacy of armed conflict in a neighboring state. Nevertheless, Turkish-Ukrainian defense ties are worthy of deeper study, precisely because Ankara's relationships with Kyiv and Moscow have a secondary impact on American interests in Eastern Europe.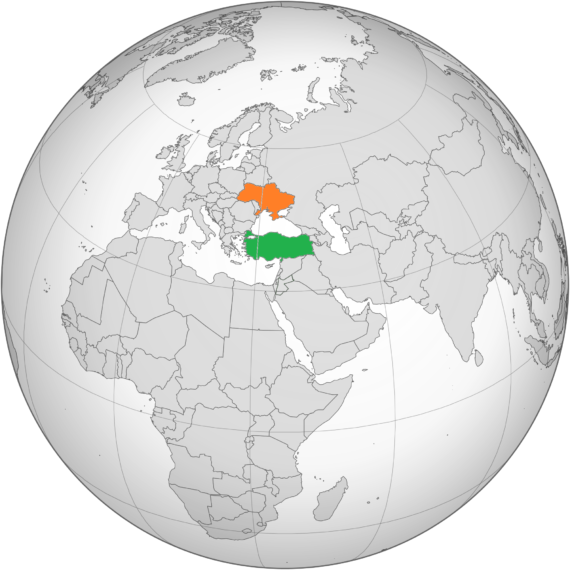 Turkey and Ukraine
The Turkish-Russian relationship is marred by bureaucratic distrust, which is papered over by a very functional leader-to-leader dynamic that enables the two Black Sea neighbors to cooperate and manage numerous regional conflicts. The Turkish-Ukrainian dynamic, in turn, is part of a broader Turkish effort to establish itself as an independent actor, committed to pursuing a foreign policy that often clashes with much of the NATO alliance. This FPRI paper will explore Turkish-Russian and Turkish-Ukrainian relations; the reasons for Turkey's efforts to "fence sit" and establish itself as a neutral political actor in the Black Sea; and what these efforts portend for US interests in the region."
Lithuania secures extra $1B pledge from Taiwan amid China blockade Taiwan substantially stepped up its financial pledges to Lithuania with a $1 billion credit fund to bolster the Baltic nation in its showdown with China, according to a January 11, 2022, article in POLITICO. The initiative came just days after Taipei  announced a $200 million fund to invest in strategic sectors in Lithuania, which is facing a full trade embargo from Beijing. Reacting furiously to warming ties between Vilnius and Taipei, China is not only blocking Lithuanian goods but also products from other EU states that use Lithuanian-made components. Taiwan's companies are the largest players in the global supply chain of microchips, a sector where the EU has proved a laggard. "Of course, the Lithuanian companies do have very concrete business plans when it comes to chip production here in Lithuania," Lithuanian Economy Minister Aušrinė Armonaitė said at a press conference. "We want Lithuania to participate in these very important value chains regarding chip manufacturing, that will be in huge, big demand in years to come." In the same press conference, Taiwan's Minister for National Development Kung Ming-hsin said more money could flow Vilnius' way. "If the investment fund and the credit fund are not enough, actually, they can be stepped up further, because that will be in the interests of both sides," Kung said. The credit fund, according to Kung, will focus on six areas: Semiconductor talent, semiconductor development, biotechnology, satellites, finance, and scientific research. The two ministers added that a new Lithuanian trade office will be set up in Taipei in the spring. The latest twist has added further uncertainties to EU-China relations, with Beijing warning the EU not to breach the "one China principle."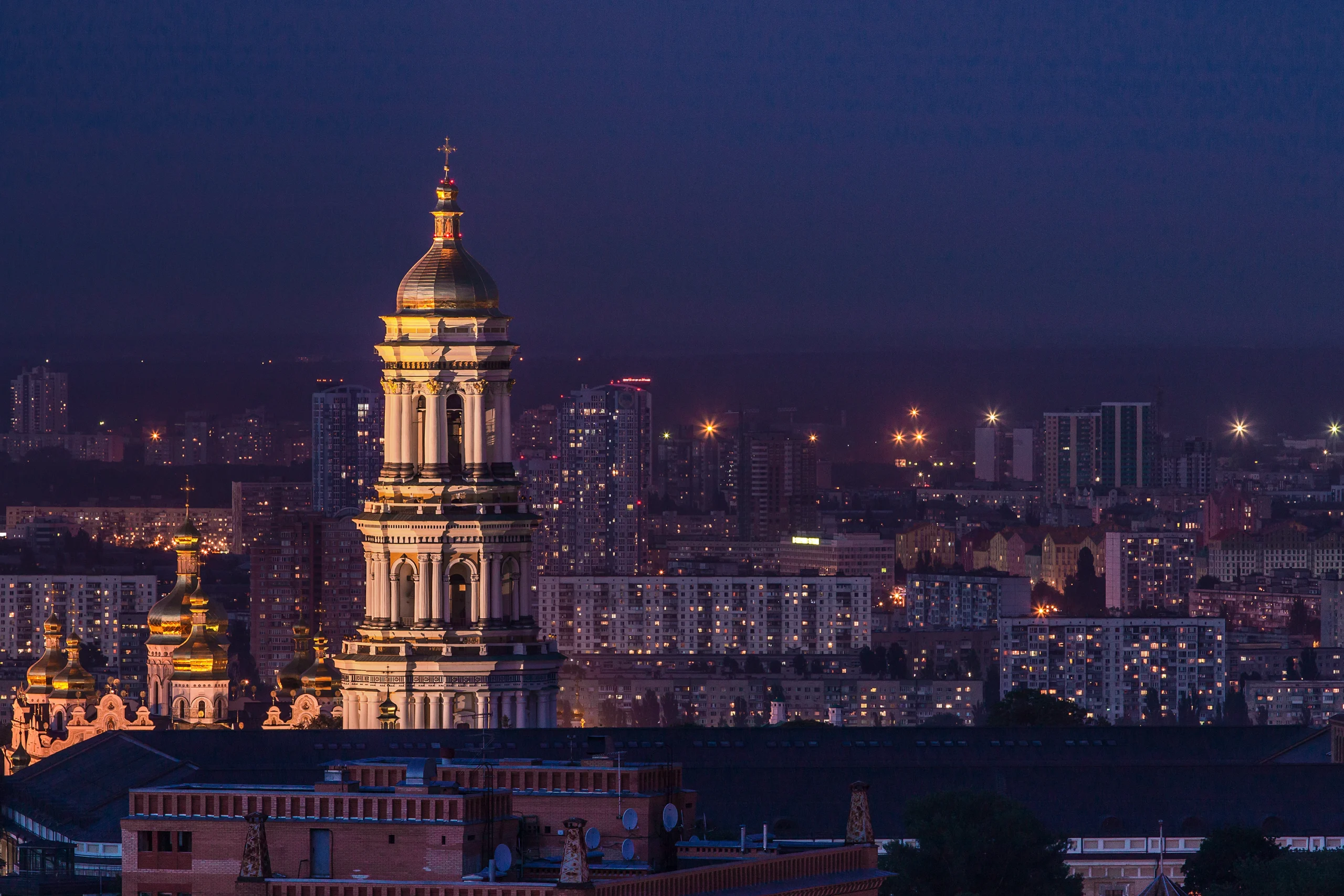 Kiev, Ukraine
Semiconductor manufacturing: What China really wants This summer, Her Majesty's (HM) Government launched a national security review of the People's Republic of China's (PRC) purchase of the Newport Wafer Fab (NWF), a semiconductor factory in South Wales. A final decision on the acquisition by state-backed electronics company Wingtech through its Dutch subsidiary Nexperia is expected in January 2022. At almost the same time as HM Government announced that Sir Stephen Lovegrove, the National Security Adviser, would review the purchase, a report rom the White House called the circuits that firms like NWF manufacture the 'DNA' of the high-tech economy, which underpin 'state-of-the-art military systems'. Gina Raimondo, President Biden's Commerce Secretary, has asked allies to help slow the PRC's innovation rate in the sector.Chinese strategy is quite simple: rapidly increasing its control of semiconductor supply chains. This has deep national security implications. Yet, claims that democratic countries' positions in the industry have been 'stolen' by East Asian competitors are often based on a misunderstanding of a vast sector that includes many different activities. The industry is extremely complex, but firms broadly fit into particular niches: first, the big intellectual property-holders are the design firms; next, foundries (or 'fabs') produce integrated circuits (ICs), usually manufacturing for the design firms; packaging and assembly companies generally package these circuits in simpler cases, as components for products like smartphones. Separately, manufacturing-equipment companies make the kit that all these firms use for manufacture and design. The trend is strongly towards specialisation, with a few integrated device manufacturers (IDMs) like Intel and Samsung that design, make and package. But the biggest value-add is in the design firms: packaging trails a distant third.
Settlement Agreement between the U.S. Department of the Treasury's Office of Foreign Assets Control and Sojitz (Hong Kong) Limited The U.S. Department of the Treasury's Office of Foreign Assets Control (OFAC) announced a settlement on January 11, 2022, with Sojitz (Hong Kong) Limited ("Sojitz HK"), a Hong Kong, China-based company that engages in offshore trading and cross-border trade financing.  Sojitz HK agreed to remit $5,228,298 to settle its potential civil liability for apparent violations of the Iranian Transactions and Sanctions Regulations (ITSR).  The apparent violations occurred when Sojitz HK made U.S. dollar payments through U.S. financial institutions for Iranian-origin high density polyethylene resin (HDPE) from its bank in Hong Kong to the HDPE supplier's banks in Thailand.  In doing so, Sojitz HK caused the U.S. financial institutions that processed the funds to engage in and facilitate prohibited financial transactions related to goods of Iranian origin.  The settlement amount reflects OFAC's determination that Sojitz HK's apparent violations were non-egregious and voluntarily self-disclosed, and accounts for Sojitz HK's remedial response and cooperation with OFAC. For more information, please visit this web notice. 
Owner of Maryland Export Business Pleads Guilty to Federal Charges of Attempting to Smuggle Items Out of the U.S. Without the Required Export License Jorge Orencel, age 65, of Silver Spring, Maryland, pleaded guilty on the 17th of December 2021, to federal charges of attempting to smuggle goods out of the United States without the required export license. Orencel owned and operated Sumtech, an export business located in Fulton, Maryland. The guilty plea was announced by United States Attorney for the District of Maryland Erek L. Barron; Special Agents in Charge Jonathan Carson and Nasir Khan of the U.S. Department of Commerce, Bureau of Industry Security, Office of Export Enforcement, New York and Washington Field Offices, respectively. According to his guilty plea, Orencel owned and operated Sumtech, which advertised itself on the Internet as specializing in the distribution of American merchandise, including "high technology laboratory devices," to South America, Asia, and the Middle East. As detailed in the plea agreement, in October 2016, Orencel began communicating with Co-conspirator 1, an individual representing herself as an employee of a company in Hong Kong, regarding Co-conspirator 1's desire to purchase five ionization chambers and one fission chamber from Company A, which manufactured gas-filled nuclear radiation detectors. Co-conspirator 1 advised that Company A, located in New York, required an end user statement and export license if they knew the goods were to be shipped to other countries, and suggested to Orencel that he not mention that the goods would be shipped to Hong Kong.  Orencel agreed and got a quote from Company A for prices on the items requested by Co-conspirator 1, falsely telling officials from Company A that the request was from a customer in Argentina, South America.
After communicating with Co-conspirator 1, on October 26, 2016, Orencel sent a Sumtech purchase order to Company A for the ionization chambers and the fission chamber, along with an End User Statement on Sumtech letterhead and a Statement by Ultimate Consignee and Purchaser, which falsely indicated that the end user and ultimate destination was a company in Argentina.  On February 7, 2017, Orencel emailed Co-conspirator 1 that he had received the ionization chambers but not the fission chamber.  Orencel stated that although Company A had indicated that the fission chamber was regulated because it contained nuclear material, Orencel had obtained a ruling from the Nuclear Regulatory Commission that the item was not barred from export due to the small amount of nuclear material contained within the chamber.  The following day, Orencel sent an email to Co-conspirator 1 advising that Company A had not built the fission chamber and would not do so until Orencel agreed that the fission chamber would be transported via UPS SCS, a shipping service provided by the United Parcel Service (UPS) which would pick an item up directly from the seller, such as Company A, and ship it directly to the user. Orencel stated to Co-conspirator 1, "This is a very difficult vendor…seems like they are a little suspicious and of course we have not said that the unit is for Hong Kong." As detailed in the plea agreement, on February 24, 2017, law enforcement agents from the Department of Commerce, Bureau of Industry Security, Office of Export Enforcement visited Orencel at Sumtech.  The agents provided Orencel copies of reference materials regarding export rules and regulations and reviewed the materials with Orencel.  Orencel told the agents that he was very familiar with U.S. export laws and his company always obtained export licenses when required.
Shortly after that visit, on March 3, 2017, Orencel shipped the ionization chambers to an address in Hong Kong, despite his statements to Company A that the items were destined for Argentina and would not be re-exported.  On August 22, 2017, shortly after Company A advised Orencel that the fission chamber was completed and ready for pickup by UPS for shipment to the end user, Orencel executed a Shipper's Letter of Instruction falsely certifying that the fission chamber was detection equipment with a value of $930 and the ultimate consignee and destination was in Argentina.  In fact, Orencel knew that the fission chamber was valued at $9,300 and that he planned to export the item to Hong Kong.  If Orencel had correctly stated the value of the item, which was more than $2,500, he would have been required to file a Shipper's Export Declaration, which, in turn, would have alerted the Department of Commerce and other authorities to the existence of the shipment and allowed them to track the export and confirm compliance with licensing and other export requirements.
On August 25, 2017, Orencel emailed Co-conspirator 1 that UPS had picked up the fission chamber from Company A and discussed how to get the item shipped to Hong Kong, since the paperwork was issued with the name of a fake end-user.  Co-conspirator 1 suggested contacting a freight forwarder in California, that had previously assisted in a similar situation.  Orencel advised that he was trying to convince the shipper in New York to move the package to Maryland so he could pick it up and export it to Co-conspirator 1.  Law enforcement authorities detained the package at the UPS facility in New York before it could be shipped any further. Orencel admitted to law enforcement in a voluntary interview on October 30, 2017, that he never intended to ship the fission chamber to Argentina and had only listed Argentina as the final destination to convince Company A to release the fission chamber for shipment.  Further, Orencel stated that he planned to contact UPS after it had picked up the fission chamber from Company A and direct UPS to change the shipping address to Hong Kong.  Orencel admitted that he also knew he was required to file a Shipper's Export Declaration and export information in the Automated Export System, since the value of the fission chamber was more than $2,500. Orencel faces a maximum sentence of 10 years in prison for attempted smuggling of goods.   U.S. District Judge George L. Russell, III has scheduled sentencing for February 22, 2022 at 9:30 a.m. United States Attorney Erek L. Barron commended U.S. Department of Commerce, Bureau of Industry Security, Office of Export Enforcement for its work in the investigation.  Mr. Barron thanked Assistant U.S. Attorneys Kathleen O. Gavin and Abigail Ticse, who are prosecuting the case.
What Role Should Criminal Justice Play in Foreign Relations? What is the function of criminal justice in foreign relations? Consider the federal criminal case against Venezuelan President Nicolás Maduro. In March 2020, the U.S. Department of Justice publicly unveiled federal international drug trafficking charges against Maduro, just a month after President Trump had met with Juan Guaidó, the head of the Venezuelan National Assembly. The case played an ambiguous role in broader U.S.-Venezuela foreign policy. Some commentators believed that indictments were an integral part of the Trump administration's "maximum pressure" campaign to cabin Maduro, a campaign that included sanctions and political recognition of Guaidó as Venezuelan president. At the same time, the criminal investigation clearly began during the Obama administration and thus potentially represented the natural culmination of years of prosecutorial efforts. How much control did the White House have over the case? How much should it have had?
CSET at Three When CSET was officially founded in January 2019, they were a small team with a handful of ambitious goals: 1) to use evidence-driven analysis to answer pivotal questions about emerging technologies and their security implications, 2) to produce relevant and timely work that influences policy outcomes, and 3) to prepare the members of their team for policymaking careers of their own. They've come a long way since then. Their research has made its way to the White House, the Pentagon, multiple congressional offices and committees, and many other policymaking bodies. They've expanded to a full-time staff of more than 50 people and seen many CSET alumni move into important policy positions at all levels of government. To mark their third birthday, this January 2022 progress report provides a detailed overview of CSET's major accomplishments — their research, their impact, and their distinguished alumni — and highlights the areas where CSET researchers are conducting groundbreaking, data-driven analysis. On page 21 you'll find that a CSET Research Analyst spoke with The Washington Post last December about U.S. investments in Chinese companies with military ties, based on the report "Harnessed Lightning" that he wrote with a CSET Senior Software Engineer and a CSET Translation Manager. "It's clear there are large gaps in the U.S. export control system that allow the Chinese military to access equipment, information and capital originating in the United States," the Research Analyst said. "But plugging these gaps is easier said than done."
Potato Chips, Computer Chips: Yes, There Is a Difference With the rise of China, the United States needs more than a competitiveness strategy; it needs a policy specifically tailored to boost production and innovation capacity in strategically important industries—especially technologically sophisticated ones with dual-use capabilities. The founder and president of the Information Technology and Innovation Foundation (ITIF), and author of the report, writes that some industries, such as semiconductor microprocessors (computer chips) can experience very rapid growth and reductions in cost, spark the development of related industries, and increase the productivity of other sectors of the economy. In essence, spillover effects from computer chips make potato chip manufacturers more efficient. ITIF, founded in 2006, is an independent, nonprofit, nonpartisan research think tank.
Key Takeaways:

In a fiercely competitive global economy, it is no longer assured that the United States will have needed domestic production and innovation capabilities, nor will it necessarily be able to securely buy them at will from other nations. 

U.S. economic and national security now depend on bolstering capacity in strategically important industries and technologies. A generic competitiveness policy will not suffice. 

Policymakers cannot ensure the "right boats" are lifted without a strategic-industry policy that identifies key industries and technologies, continually monitors U.S. and foreign capabilities, and implements policies to bolster targeted sectors.

Strategic-industry policy should not entail favoring U.S. firms over allied nations' firms that produce or do research in America. Nor does it mean picking industries in which the U.S. lacks capabilities or picking specific firms as "winners."

It does entail identifying industries in which the U.S. must have adequate capabilities to be secure. It means analyzing the strengths and weaknesses of each industry and implementing the correct policy interventions to spur competitive advantage.

It is time to end the stale argument about free markets versus industrial policy. We need both: market-based policy for most of the economy, and strategic industrial policy for select sectors.
Former U.S. Navy Sailor Sentenced to 2.5 Years for Selling Export-Controlled Military Equipment to China According to a DOJ News Release Summary, published on December 21, 2021, Ye Sang "Ivy" Wang, a former U.S. Navy sailor who was a Logistics Specialist First Class assigned to the Naval Special Warfare Command, was sentenced to 30 months in custody and ordered to pay a $20,000 fine for conspiring with her husband and co-defendant, Shaohua "Eric" Wang, to illegally export sensitive military equipment to China for profit.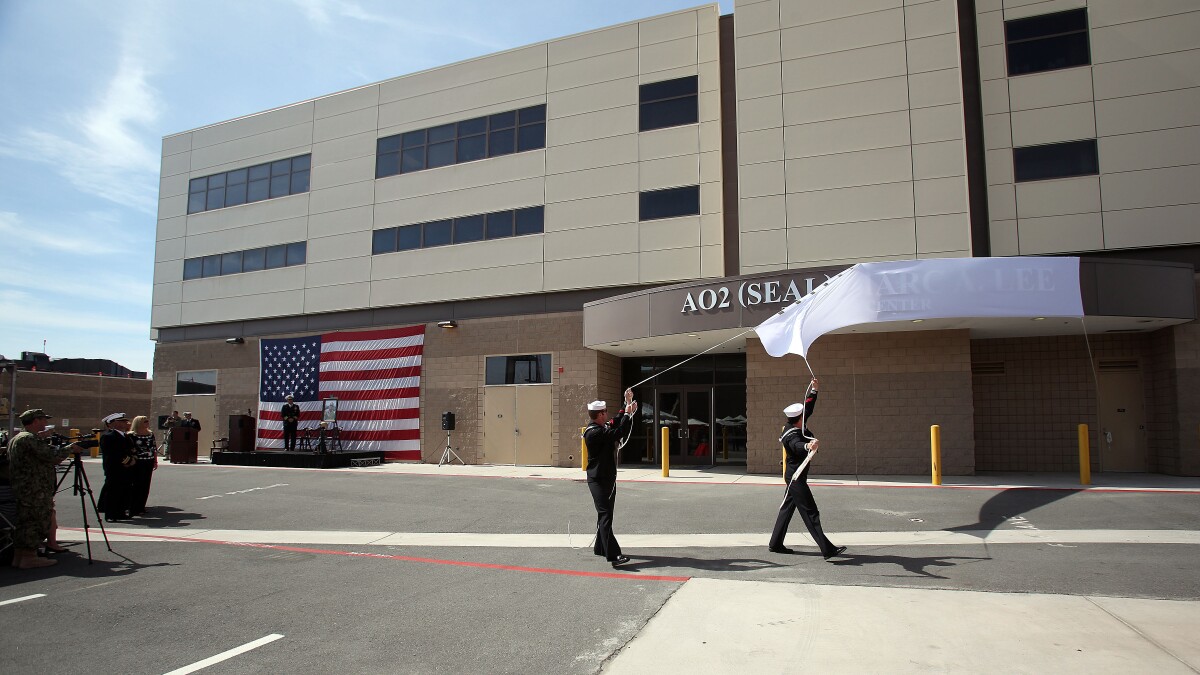 Naval Special Warfare Group 1 Training Detachment Building at Naval Amphibious Base Coronado. John Gastaldo/U-T San Diego/Zuma Press
Eric Wang pleaded guilty on September 26, 2019, admitting that he illegally sold export-controlled U.S. military equipment to China through his on-line business and that he enlisted his wife to use her Navy position to purchase the equipment for resale. Eric Wang also admitted that he maintained a warehouse in China to house the military equipment, travelled back and forth frequently, and had connections to buyers in China. On February 3, 2020, U.S. District Court Judge Cynthia Bashant sentenced Eric Wang to 46 months for his role in this scheme. According to Ivy Wang's plea agreement and the government's sentencing memorandum, she purchased military equipment for Naval Special Warfare units as part of her duties as a logistics specialist from 2015 to 2019. In March 2018, she used her military email and mailing address to order a device for identifying United States military personnel in the field. This item was subject to U.S. Department of Commerce export controls, and not advertised for sale to civilians. She was deployed in Iraq at the time the device arrived on base in San Diego. She advised her command that the package containing this device was something she had obtained for her husband for a camping trip. In reality, she bought the device on behalf of her husband for him to resell it to China for profit.
Months later, in October 2018, upon returning from deployment to Iraq, Ivy Wang told the interviewing agents that she knew her husband was shipping military equipment to China illegally. Despite being interviewed by law enforcement agents, Ivy Wang took the device from her Navy command, brought it home and gave it to her husband. The device had been secretly disabled by law enforcement. Upon receipt, Eric Wang messaged a customer that he was in receipt of the item, but advised he could not ship the item to China, because "they are still investigating me… My friend is a SEAL who also got involved. They are investigating him as well." Ivy Wang told NCIS and HSI agents during her October 2018 interview that her husband sent her an Excel spreadsheet of military equipment items for her to purchase and that she knew those items were going to buyers in China. Eric Wang told her that he could not buy export-controlled military equipment using his personal email address, so he asked her to do it for him, using her position in the U.S. Navy and her military email address. She grew so annoyed at his repeated requests that, after purchasing equipment for him through March 2018, she gave him her password to her military email address and told him to buy the export-controlled military equipment posing as her after she deployed. "This defendant used her position of trust to put the Navy and the nation at risk, and the sentence imposed today holds her accountable for her actions," said Acting U.S. Attorney Randy Grossman, who praised the prosecution team, NCIS, HSI and Department of Commerce for their excellent work on this case. "Ms. Wang betrayed her oath to the U.S. Navy and ultimately threatened the operational readiness and safety of our nation's military by attempting to acquire and illegally export sensitive military equipment to China," said Special Agent in Charge Joshua Flowers of the NCIS Southwest Field Office. "NCIS and our partners remain committed to protecting our nation's critical technologies and infrastructure." "This individual abused her position of trust to obtain military-grade equipment, which foreign adversaries could have used against American service members and allies," said Chad Plantz, Special Agent in Charge of U.S. Immigration and Customs Enforcement (ICE) Homeland Security Investigations (HSI) San Diego. "Fortunately, HSI and our partners were able to prevent this equipment from falling into the wrong hands, but this case serves as a stark reminder of why it's important for organizations – particularly those involved in national defense – to educate their workforces on how to properly identify and report insider threats." More details are here.
Notice to exporters 2022/01: UK Exporters Fined for Unlicensed Strategic Exports  Between March and November 2021, HM Revenue & Customs (HMRC) issued compound penalties between £1,000 and £54,000 to 10 UK exporters. The 10 settlements, related to unlicensed exports of dual use goods, military goods and related activity controlled by The Export Control Order 2008 were:
In March 2021 £31,355.28 was paid for offenses in relation to the export of dual-use goods without the appropriate license and £8,000.00 was paid for offenses in relation to the export of military rated goods without the appropriate license.
In May 2021 £16,062.50 was paid for offenses in relation to the export of military rated goods without the appropriate license.
In July 2021 £54,000.00 was paid for offenses in relation to the export of military rated goods without the appropriate license, £25,000.00 was paid for offenses in relation to the export of military rated goods without the appropriate license, and £13,274.56 was paid for offenses in relation to the export of military rated goods without the appropriate license.
In August 2021 £1,000.00 was paid for a breach of license conditions in relation to the export of military rated goods.
In September 2021 £7,000.00 was paid for a breach of license conditions in relation to the export of military rated goods.
In November 2021 £9,000.00 was paid for offenses in relation to the export of dual-use goods without the appropriate license and £34,499.88 was paid for offenses in relation to the export of dual-use goods without the appropriate license.
HMRC has policy responsibility for enforcing export controls on strategic goods and sanctions and investigating breaches of those controls. Where appropriate, HMRC can use their powers to offer a compound penalty in lieu of a file being prepared and sent to the Crown Prosecution Service. They take this role very seriously, but they don't discuss details, so it's unclear which countries are involved, and:
HMRC cannot comment on identifiable individuals or businesses.

HMRC have policy responsibility for enforcing export controls on strategic goods and sanctions, and investigating breaches of those controls.

HMRC assesses all breaches of arms export controls and sanctions.  Where serious and/or deliberate breaches of export controls are identified, or where there are aggravating features, cases will be adopted with a view to prosecution.

Any decision by HMRC to conduct a criminal investigation will depend on a number of factors.  These include: the seriousness of the offense, the likely impact and outcome of a criminal investigation compared to other forms of enforcement action, and the need to prioritize investigations in line with wider Government policies and strategies.
Xi's Way Or The Highway: How and Why China Brings Global Businesses To Heel The sight of one of the most powerful and influential men in global finance issuing a groveling apology to the Chinese Communist Party (CCP) must surely rank as one of the most excruciating acts of the year. In November, Jamie Dimon, the Chief Executive Officer of JP Morgan, one of the largest investment banks in the world, humorously remarked that JP Morgan is likely to outlive the CCP. This off the cuff comment provoked fury from Beijing, pressuring Dimon to retract his statement. This particular incident reflects a much wider and sometimes sinister pattern of questionable business practices in China. China's ruler, Xi Jingping, has made no secret of his plans to take China into the geopolitical stratosphere. Schemes such as the Belt and Road Initiative, a global infrastructure investment scheme into which China has poured $200 billion, are part of China's effort to develop its economic hegemony. Central to this vision is Xi's core economic ideal: 'socialism with Chinese characteristics'. This deceivingly vague message has had significant implications for how China behaves as a player in the global economy. The phrase has been used by the CCP since China emerged from the period of extreme turbulence and isolation under Chairman Mao. However, under Xi, it has come to represent a distinct brand of political-economic ideology. At its core, the ideology stresses that although private enterprise has a key place within China's economy, essentially no one is above the rule of the CCP, meaning total compliance with their authority is essential for permission to participate in commercial activity. It is within  this context that Dimon's rapid apology should be seen. Compliance with the CCP's authority does not just mean abiding  by the rules. Compliance in this case means not doing anything that undermines the legitimacy of the CCP and its decisions. Dimon's retraction is only the latest in a series of efforts by the CCP to browbeat global businesses operating in China into conformity. The most striking example of this relates to the supply of cotton from the Xinjiang region in China to many of the world's premier retailers such as Nike and H&M.
Many fashion retailers use vast quantities of cotton produced from Xinjiang to make its products. However, this region has recently become the focus of intense international scrutiny. Home to the ethnic Uighur Muslim minority, the region which produces 80% of China's raw cotton has witnessed some of the most terrifying state-sponsored repression of the century. The Muslim minority have been  subjected to appalling measures such as mass sterilisations and- crucially for businesses- forced labour in the cotton fields. Many fashion retailers, including Nike and H&M, are members of the international non-profit Better Cotton Initiative (BCI), which seeks to promote sustainable and ethical supply chains in the industry. The BCI has been vocal in drawing attention to Xinjiang and retailers have subsequently raised question marks about their supply. In spite of their good intentions, these protests are hastily silenced by the CCP, which has equated such remarks with attacks on China itself. It is therefore  hardly surprising that a consumer boycott was rapidly organised across Chinese social media platforms, against retailers like H&M. This neatly sums up the risks that global businesses face in operating in China. The political conditions on the ground in China make it impossible for companies to continue to operate in the same style as they do in the West. Many firms' dependence on Chinese exports and the spending power of Chinese consumers means that to operate in China profitably, principle must be put aside. The first article in a new series dedicated to business in China, published in Nouse (University of York) is here. Founded in 1964, Nouse is the oldest society on campus.
Taiwan to Set Up $200 Million Fund to Invest in Lithuania Amid Dispute With China Taiwan said on Wednesday January 5, 2022, it would create a $200 million fund to invest in Lithuanian industries and boost bilateral trade as it tries to fend off diplomatic pressure on the Baltic state from China. The Lithuanian government, meanwhile, ordered the state-owned railway company not to sign a contract with a China-owned Spanish bridge builder, citing "national security interests," the prime minister's spokesperson told the Baltic News Service.
Lithuania is under pressure from China, which claims democratically ruled Taiwan as its own territory, to reverse a decision last year to allow the island to open a de facto embassy in Vilnius under its own name. Taiwanese representations in other countries, except the unrecognized Somaliland, are named after Taiwan's capital, Taipei. China has recalled its ambassador to Lithuania and downgraded diplomatic ties and is pressuring companies like German car parts giant Continental to stop using Lithuanian-made components. It has also blocked Lithuanian cargos from entering China. U.S. Secretary of State Antony Blinken referred to China's pressure on Vilnius in a joint news conference with German Foreign Minister Annalena Baerbock after a meeting in Washington and vowed to work with Berlin and others against such "intimidation." Blinken said Germany and the United States agree on the importance of trans-Atlantic coordination on China "because it poses a significant challenge to our shared values, to the laws, rules and agreements that foster stability, prosperity and freedom worldwide." "We have immediate concern about the government of China's attempts to bully Lithuania … China is pushing European and American companies to stop building products with components made in Lithuania, or risk losing access to the Chinese market, all because Lithuania chose to expand their cooperation with Taiwan."
Lithuania's export-based economy is home to hundreds of companies that make products such as furniture, lasers, food and clothing for multinationals that sell to China. More in this article in Voice of America (VOA). Voice of America (VOA) is the largest U.S. international broadcaster, providing news and information in more than 40 languages to an estimated weekly audience of more than 311 million people. Since its creation in 1942, Voice of America has been committed to providing comprehensive coverage of the news and telling audiences the truth. Through World War II, the Cold War, the fight against global terrorism, and the struggle for freedom around the globe today, VOA exemplifies the principles of a free press. VOA is part of the U.S. Agency for Global Media (USAGM), the government agency that oversees all non-military, U.S. international broadcasting, and the MBFC rates Voice of America Least Biased based on balanced story selection and minimal use of loaded words. They also rate them High for factual reporting due to proper sourcing and a clean fact check record.
Data Monitor's Top 10 Trade Trends Going Into 2022 Data Monitor's Top 10 Trade Trends Going Into 2022[/vision_highlight] Amid U.S.-China tensions, Brexit, and other political threats to the world economy, global trade looks as resilient as ever heading into 2022. Just look at the supply chain crisis of 2021. When crippling gridlock seemed possible, what the world got instead was a lesson in the staying power of ports, trucking companies, and shipping lines across the world. The $8.6 trillion global logistics industry, it turns out, remains robust enough to get goods from any producer to almost any buyer or consumer on earth. The World Trade Organization now expects global trade to increase 4.7% in 2022, after rising 10.8% in 2021. Total trade in goods and services is expected to reach $28 trillion for 2021 according to UNCTAD. Even demand-side news has been good. The world's richest economy, the U.S., is still riding the benefits of trillion-dollar stimulus packages. U.S. gross domestic product is believed to have grown 7% in the last quarter of 2021, up from 2% in the preceding quarter. And when American consumers are buying, the whole world benefits. Here are Trade Data Monitor's top 10 ongoing trade trends at the start of 2022. The full article, "TDM Insight: Top Ten Trade Trends of 2021-2022″, is here.
China Close to Passing U.S. as World's Top Importer
Asian Manufacturing Diversifies
Commodity Prices Boom Amid Scramble for Resources
U.S. Hikes Energy Exports
High-Tech Trade Booms
Cars Go Electric
Batteries Needed
U.S. Consumers Lead Recovery from Covid

Fears of Supply Chain Meltdown Overblown
Coal is… Back