EXPORT CONTROLS / INTERNATIONAL TRADE 2021
Piracy 2021 This ICC live map shows all piracy and armed robbery incidents reported to IMB Piracy Reporting Centre during 2021.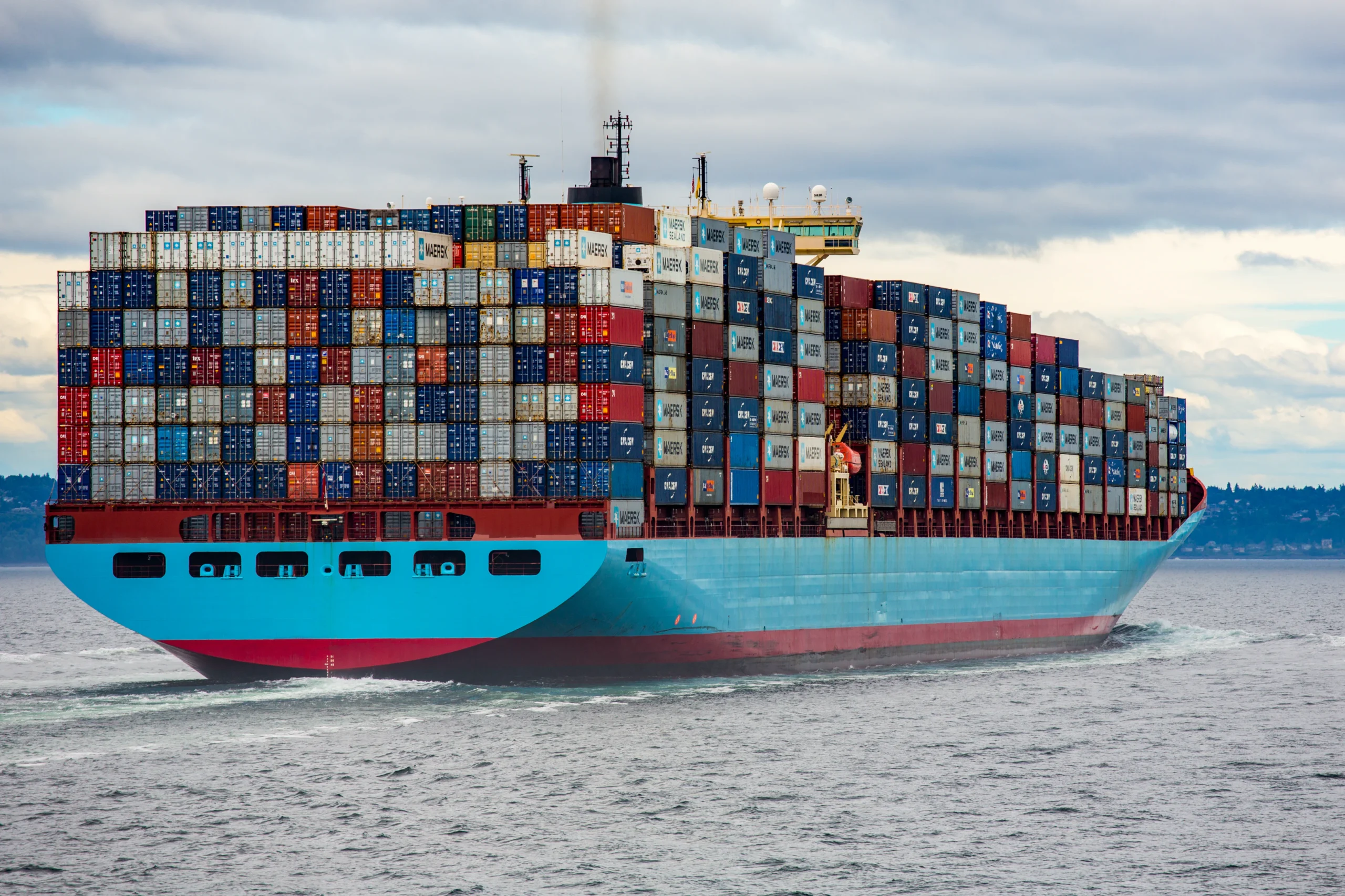 BIS 15 CFR Part 744: Addition of Certain Entities to the Entity List and Revision of an Entry on the Entity List This final rule from the Bureau of Industry and Security amends the Export Administration Regulations (EAR) by adding thirty-seven entities under forty entries to the Entity List. These thirty-seven entities have been determined by the U.S. Government to be acting contrary to the foreign policy or national security interests of the United States and will be listed on the Entity List under the destinations of the People's Republic of China (China), Georgia, Malaysia, and Turkey. This final rule also modifies one existing entry on the Entity List under the destination of China.
How pandemic-related disruptions threw a wrench into global supply chains this year, causing shortages of goods Like global supply chains themselves, the story of their disruptions in 2021 is complex. As COVID-19 vaccines became widely available in the United States and the economy reopened, consumer demand recovered strongly. Significantly, the pandemic-induced increase in demand for goods persisted even as demand for services (such as dining out, entertainment, and travel) largely returned to pre-pandemic levels. Companies—which for decades had been disciplined by the market into creating "just-in-time" supply chains and holding little inventory—scrambled to keep up.
At the same time, companies in critical sectors such as warehousing struggled to attract and retain workers. These factors, combined with years of underinvestment in U.S. infrastructure, saw goods-laden containers piling up at major ports and ships waiting for weeks to dock. As a result, shoppers around the country saw sparse shelves and higher prices. At year's end, there are signs that some of these strains are easing.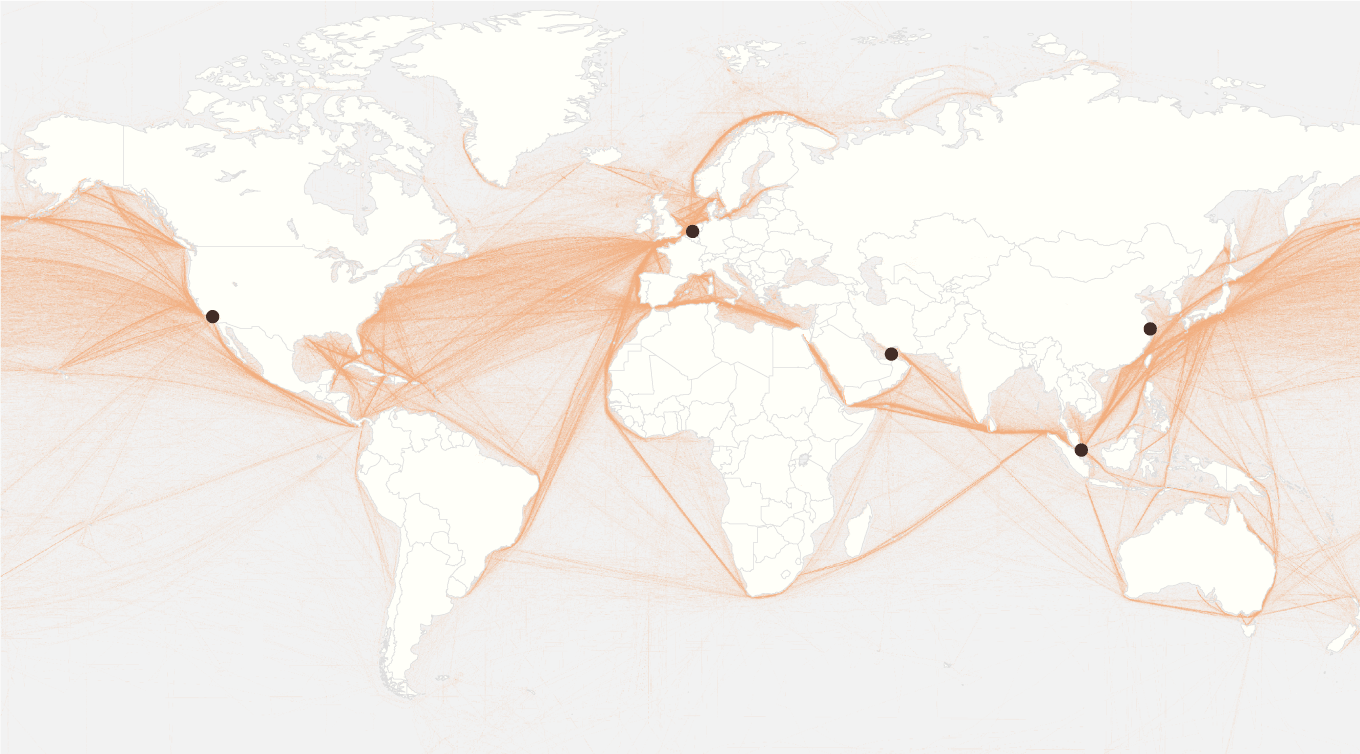 Global Shipping Routes / Marine traffic and major regional ports
The explosion of international trade in the wake of World War II fueled the rise of global supply chains: the intricate, international sequence of steps to make and sell products. This trend was accelerated in the 1980s by the proliferation of global trade agreements, which were designed to smooth cross-border trade. Today, it's not unusual for a product to cross dozens of borders before reaching a consumer, with each link in the chain highly specialized in a specific production step. This has allowed companies to source production where it is cheapest and deliver a wider range of goods at lower costs to consumers. But it can also create problems (according to the author of the CFR article 'What Happened to Supply Chains in 2021?').
U.S.-EU Trade & Technology Council (TTC) Export Control Working Group The European Commission (DG Trade) hosted a US-EU Trade and Technology Council stakeholder event in October to discuss the priorities of the US EU Export Control Working Group. The US Department of Commerce's Bureau of Industry and Security published a summary.
House Republicans Probe Raimondo's Financial Ties to China House Republicans are asking for a briefing from Secretary of Commerce Gina Raimondo on her family's financial ties to China after a Washington Free Beacon report on her husband's work for a tech company funded by the Chinese Communist Party. In a letter (December 17, 2021) Republican members said they had "significant concerns" about Chinese investment in PathAI, an artificial intelligence company that employs Raimondo's husband in a senior role. The company is funded by Danhua Capital, a Beijing-backed firm that invests in tech companies as part of the Chinese government's attempted "penetration of Silicon Valley". "As the secretary of commerce, an agency central to America's competition with China, particularly when it comes to artificial intelligence, this revelation is deeply concerning and raises significant questions about obvious conflicts of interest and our strategic interests to lead on AI," the letter from Reps. Cathy McMorris Rodgers (R., Wash.), Morgan Griffith (R., Va.), and Gus Bilirakis (R., Fla.) states. The members ask Raimondo in the letter to answer several questions on PathAI, including whether she was aware of Chinese investment in PathAI and if she disclosed that knowledge to the Biden administration during the confirmation process. They additionally call on Raimondo to lay out whether her financial interest in PathAI has played a role in decisions regarding China, including how her agency has pushed back on efforts by others in the agency to block Chinese tech companies from partnering with American companies. The Commerce Department has argued that taking a tough-on-China approach would hurt U.S. companies, according to the Wall Street Journal. "Notably, and of particular concern given the revelation of your husband's employer's apparent ties to the Chinese Communist Party, the Commerce Department has reportedly been stalling efforts to blacklist certain Chinese technology companies and investments," the letter states. Raimondo's ethics agreement to serve in the Biden administration bars her from participating in any matter that could have a "direct and predictable effect on the financial interests of PathAI." Raimondo's financial disclosure forms show she would greatly benefit from the company's success. In addition to an annual salary, Moffit (according to PathAI's website, Andy Moffit is the Chief People Officer at PathAI, where he's responsible for all people operations (talent acquisition, leadership development, professional development and performance management), employee experience, diversity, equity and inclusion and culture) was given a significant number of ownership shares in the company as well as stock options. The value of the nearly 200,000 shares is not ascertainable, according to the disclosure form.
According to the Washington Free Beacon Raimondo is not the only Biden administration official with family ties to the Chinese Communist Party, which complicates a planned diplomatic boycott of the upcoming Winter Olympics hosted by China. Republican senators recently called for climate czar John Kerry to resign or be fired by Biden after the Washington Free Beacon reported that Kerry and his wealthy heiress wife have at least a $1 million stake in a Chinese firm that funds China's artificial intelligence sector—including a company blacklisted in America because it aids China in its human rights abuses against the Uyghurs. Please note, the MBFC (Media Bias/Fact Check) rates the Washington Free Beacon Right Biased based on story selection that favors the right and Mixed for factual reporting due to misleading and false claims.
Team Telecom Recommends FCC Grant Google and Meta Licenses for Undersea Cable The Department of Justice announced that Team Telecom entered into National Security Agreements with Google LLC and its subsidiary GU Holdings Inc., and Meta Platforms Inc. (formerly known as Facebook Inc.) and its subsidiary Edge Cable Holdings USA LLC to protect data on the Pacific Light Cable Network (PLCN) system, an undersea fiber optic cable system that will connect the United States, Taiwan and the Philippines.
The agreements were made with the Departments of Justice (DOJ), Defense (DOD), and Homeland Security (DHS) in their roles as members of the committee for the Assessment of Foreign Participation in the U.S. Telecommunications and Services Sector (known informally as Team Telecom), and were coordinated with committee advisors listed in section 3(d) of Executive Order 13913 (2020). The Executive Branch has recommended that the Federal Communications Commission (FCC) condition any license to operate the PLCN system on compliance with the National Security Agreements.
"These agreements enable Google and Meta to take advantage of critical, additional cable capacity while protecting U.S. persons' privacy and security through terms that reflect the current threat environment," said Assistant Attorney General Matthew G. Olsen of the Justice Department's National Security Division, who leads Team Telecom's work for the Justice Department. "This resolution also demonstrates Team Telecom's ability to resolve complex cases involving critical infrastructure in a timely matter, thanks to recent reforms of our structure and process."
Under the National Security Agreements, Google and Meta (and their subsidiaries) have agreed to (among other terms):
Conduct annual assessments of risk to sensitive data that transits the PLCN cable system, including when the data exits the cable;

Pursue diversification of interconnection points in Asia, including but not limited to Indonesia, Philippines, Thailand, Singapore and Vietnam; and

Restrict access to information and infrastructure by Pacific Light Data Communications Co. Ltd (PLDC), the Hong Kong-based owner of PLCN that withdrew its application for an FCC license.
In June 2020, the committee publicly recommended that the FCC partially deny a previous application for PLCN with respect to PLCN's proposed connections to Hong Kong and to the portions of the PLCN owned by PLDC. Shortly after that recommendation, the applicants withdrew the original PLCN application. Google's and Meta's subsidiaries then filed a new FCC application removing Hong Kong and seeking to operate only the United States, Taiwan and Philippines portions of PLCN.
The National Security Agreements are justified by the current national security environment, including:
the PRC government's sustained efforts to acquire the sensitive personal data of millions of U.S. persons;

the PRC government's access to other countries' data through both digital infrastructure investments and recent PRC intelligence and cybersecurity laws; and

changes in the market that have transformed subsea cable infrastructure into increasingly data-rich environments that are vulnerable to exploitation.
Through appropriate mitigation agreements like these, the committee seeks to protect the national security interests of the United States while preserving global access to U.S. information and communications technology systems. The Committee was established pursuant to Executive Order 13913, and the Attorney General's role as Chair of the Committee is carried out by the Department of Justice's National Security Division, Foreign Investment Review Section. The Department of Homeland Security and the Department of Defense are fellow members of the Committee.
US and Allies Fail to Pull Moscow Away From Beijing During a video-conference on December 15, Presidents Vladimir Putin of Russia and Xi Jinping of China hailed close political, military and economic ties, as well as promoted their mutual personal friendship. The two leaders demonstrated their defiance to Western pressure and threats of escalating sanctions from the United States and Europe. According to Putin's foreign policy aide Yuri Ushakov, during the 1.5-hour-long discussion Xi insisted that although Russia and China are not treaty allies, their relationship "even exceeds an alliance.
Putin reportedly briefed Xi about his recent video-conference call with US President Joseph Biden on December 7. Moreover, Putin and Xi jointly condemned Washington's "disruptive" policies. Xi supported the Russian demand of talks with the West on a comprehensive security arrangement in Europe and of legally banning any further eastward enlargement of the North Atlantic Treaty Organization (NATO) or the deployment of any Alliance weaponry close to Russia's borders. The two heads of state also discussed enhancing mutual trade and technological and economic cooperation. Xi specifically thanked Putin for "solidly supporting Chinese efforts to defend its key national interests and adamantly resisting attempts [by third parties] to drive a wedge to separate our countries". More in Jamestown's Eurasia Monitor Volume 18, Issue 188. The author of the article is a Moscow-based defense analyst and columnist for Novaya Gazeta. He served as senior research officer in the Soviet Academy of Sciences, from where he received his Ph.D.
Russia's quest for digital competitiveness: The role of private businesses in securing state interests Russia aims to strengthen its international standing as well as its economic and technological success by prioritizing the development of digital technology. As Russian authorities have increased their involvement in the ICT sector over the recent years, this has led to the hybridization of business and state logic action. In the latest FIIA Briefing Paper, the author from the University of Helsinki analyses the role of private businesses and their partnering with the Russian state within the field of digital technology. The author states that private digital economy actors are essential in the realization of Russia's goals and presents that a wider perspective on the topic is useful to broaden the often-presented view of Russia's ambitions within the ICT sector focused merely on defense capacity. By examining Russia's geoeconomics outlook on digital technology, the country's international potential is emphasized. "For private businesses, the Russian state's proximity is a mixed blessing that creates business development opportunities but also major risks. These risks limit Russia's capacity to make digital technology the driver of modernization of its economy", the author says. FIIA, the Finnish Institute of International Affairs is a research institute whose mission is to produce high quality, topical information on international relations and the EU.
U.S. and allies team up on emerging technologies The United States will collaborate with seven allies under the Export Controls and Human Rights Initiative to regulate exports of sensitive technologies that authoritarian governments have used to violate human rights. According to the "Fact Sheet: Export Controls and Human Rights Initiative Launched at the Summit for Democracy", the Export Controls and Human Rights Initiative will seek to address this challenge by:
Working to develop a voluntary written code of conduct intended to guide the application of human rights criteria to export licensing policy and practice.

Building policy alignment with likeminded partners that leads to common action, and concrete and practical outcomes.

Bringing together policy makers, technical experts, and export control and human rights practitioners to ensure that critical and emerging technologies work for, and not against, democratic societies.

During the Summit for Democracy's Year of Action, we will shape this Initiative collaboratively with our partners and explore how best to strengthen domestic legal frameworks; share information on threats and risks; share, develop and implement best practices; and improve others' capacity to do the same. Over the coming year, we will also engage in further coordination with other governments, as well as consult with industry and academia.
As part of its commitment to put human rights at the center of U.S. foreign policy, the Biden-Harris Administration has taken meaningful action to curb the proliferation of technology that has been misused by governments for repression. On December 10, 2021, at the Summit for Democracy, the United States, Australia, Denmark and Norway announced the Export Controls and Human Rights Initiative to help stem the tide of authoritarian government misuse of technology and promote a positive vision for technologies anchored by democratic values. The United States, Australia, Denmark and Norway were joined in support by Canada, France, the Netherlands, and the United Kingdom.
According to an article published by CNN, Chinese and Russian state media are working in overdrive to denigrate the Biden administration's Summit for Democracy taking place this week, calling the project hypocritical. A flurry of tweets from Chinese diplomats refer to the event as a "so-called" democracy summit, while a Russian political commentator writing in a state-run Chinese newspaper compared the US initiative to "a mistress of a brothel teaching morale [sic] to schoolgirls." That the media blitz is coming from official mouthpieces — and not shadowy bots and trolls —reflects anxiety over US efforts to rally support fro democratic norms and potentially isolate Beijing and Moscow in the process, experts on authoritarian propaganda tell CNN ("China and Russia see this as an opportunity to exacerbate cynicism in the political West and undermine any headlines that come out of this summit," said the policy director for the Artificial Intelligence and Emerging Technology Initiative at the Brookings Institution).
Too many loopholes left in Belarus sanctions regime, says Tsikhanouskaya Western sanctions on Alexander Lukashenko's regime need to be better coordinated to fill the currently existing loopholes, Belarus opposition leader Svetlana Tsikhanouskaya told EURACTIV ahead of a crucial Eastern Partnership summit this week. "Too many loopholes have been left and Lukashenko and his thugs are using these loopholes, misusing international laws, and they know how to circumvent the sanctions," Tsikhanouskaya said in an interview in Brussels.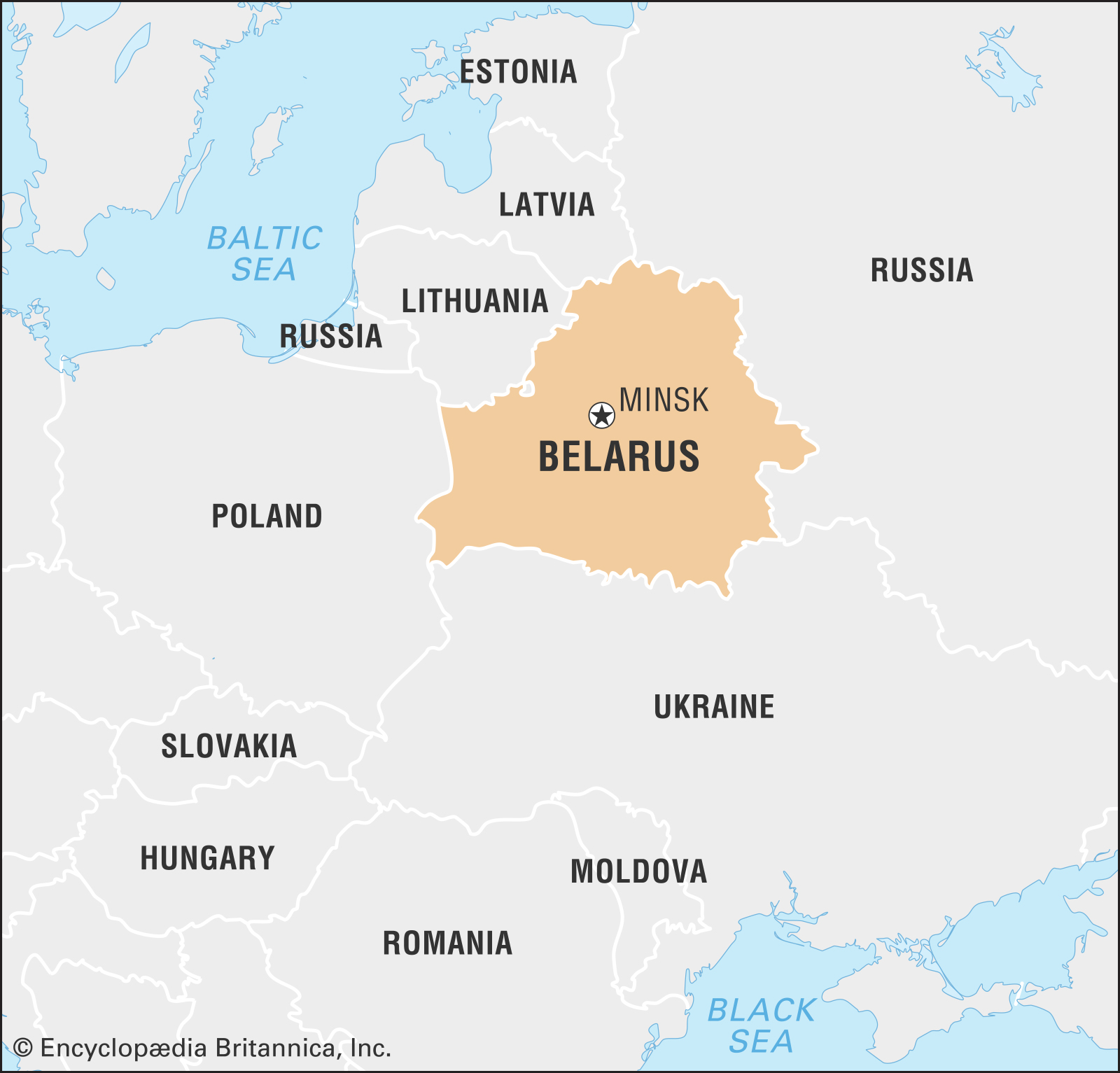 Image: Encyclopædia Britannica, Inc.
One such loophole is the trade with potash, one of Belarus's key exports and therefore one of the most important sources of income for the Lukashenko regime, she stressed. In June, the EU imposed sanctions on potash from the country with potassium content of less than 40%, or more than 62% in the dry product, with everything above remaining outside the EU's list of sanctioned items. "The EU imposed sanctions on Belaruskali, American sanctions were imposed on the Belarusian Potash Company – so it's also different structures," she said. "Effectively, the sanctions almost don't work and trade with potash actually increased in value since last year due to the rising price of potash, which makes the regime get extra €5 million for trading it," she added. The most evident problem with pressure on the regime is not well-coordinated sanctions, Tsikhanouskaya said, adding that there is nobody to investigate whether the imposed sanctions are fulfilled or not. "Sanctions should be more coordinated, more united, because half-measures only harm our situation, and it only prolongs Lukashenko's stay in power," Tsikhanouskaya said, adding one point of discussion in her meeting with EU foreign ministers on Sunday (12 December) was how to make sanctions tougher. The Belarus opposition leader also criticised lengthy processes between different rounds of past EU sanctions, which she said made it more possible to circumvent sanctions already in place. "There is too huge a gap between one round of sanctions and the others, and Lukashenko's regime can use this period to open new organizations that are not under sanctions," Tsikhanouskaya said. More in the exclusive interview with EURACTIV. EURACTIV, based in Brussels, Belgium and established in 1999, is an independent pan-European media network.
Strategy and Pitfalls of EU Economic Sanctions The pandemic has motivated states to move away from liberal trade policy and engage in advanced contracts or introduce legislation that prioritizes the domestic market. It also made companies realise that they do not have a full grasp of their production chain – leaving many in sudden supply shortages, when a seemingly irrelevant market introduced a lockdown affecting the industrial output. The recent acceleration in political involvement in economic practices and rising awareness of long value chains is, however, part of a broader trend – only inflated by the pandemic and populism. In this short op-ed for HCSS, the author, a post-doctoral researcher at the University of Warsaw, analyzes the Strategy and Pitfalls of the EU Economic Sanctions, ahead of the debate on the EU Anti-Coercion Instrument.
UK Notice, NTE 2021-15: updates on licensing to Turkey Having considered the factual position and the information available, the government is now satisfied that decisions on all license applications to Turkey can be taken following a careful assessment against the Strategic Export Licensing Criteria on a case-by-case basis, according to a new notice. All existing and new export and trade license applications for Turkey will now be assessed on a case-by-case basis against the Strategic Export Licensing Criteria. The Export Control Joint Unit (ECJU) is working with advisory government departments to clear through the backlog of existing applications as quickly as possible. We expect it will take around 8 weeks to clear the backlog of existing applications for Turkey. Exporters will be informed of the decision on their applications as soon as possible.
China's Military Rise and the Implications for European Security It is increasingly difficult to have a dispassionate understanding of Chinese military power. For many, China is already an ideologically incompatible and unstoppable juggernaut; for others, it is unlikely to ever entirely match Western military capabilities. Also, China's ability to project power within the South China Sea, East China Sea, and Taiwan Strait has been the focus of most analyses. As a result, we lack a comprehensive assessment of the overall development of China's military capabilities and what these will mean outside of the Western Pacific, especially for European states. By developing a typology based on historical examples of other rising powers, this report moves beyond the hype and the tendency to reflexively view China as either intrinsically benign or nefarious. This process yields a two-part framework, delineating motivations and manifestations, for assessing the extent of China's rise. This includes the current state of China's military power, an analysis of how it arrived at current capabilities, and the trajectory through 2035. The ultimate objective of this approach is the development of an evidence- based foundation for thinking about the potential consequences of China's military rise and European and Dutch policy options to address it. The main finding of this HCSS report is that China exhibits almost all of the factors that characteristically drive great power expansion outside of the region. It is following a typical rising great power trajectory in almost all respects, although it is still on an upward path, and is implementing a long-term strategy to be able to project power extra-regionally, which it is expected to be increasingly able to between now and 2035. The Hague Centre for Security Studies (HCSS) was established in 2007 as an independent think tank.
United States Strategy on Countering Corruption On December 6, 2021, the Biden-Harris administration released the first-ever "United States Strategy on Countering Corruption" (SCC). This strategy document is the result of the White House's national security staff actions and coordination across the U.S. government over the past six months, as directed by President Biden in his June 3, 2021 National Security Study Memorandum (NSSM) which designated corruption as a "core U.S. national security interest." When government officials abuse public power for private gain, they do more than simply appropriate illicit wealth. Corruption robs citizens of equal access to vital services, denying the right to quality healthcare, public safety, and education. It degrades the business environment, subverts economic opportunity, and exacerbates inequality. It often contributes to human rights violations and abuses, and can drive migration. As a fundamental threat to the rule of law, corruption hollows out institutions, corrodes public trust, and fuels popular cynicism toward effective, accountable governance.
Moreover, the impacts of corruption frequently reverberate far beyond the immediate environment in which the acts take place. In today's globalized world, corrupt actors bribe across borders, harness the international financial system to stash illicit wealth abroad, and abuse democratic institutions to advance anti-democratic aims. Emerging research and major journalistic exposés have documented the extent to which legal and regulatory deficiencies in the developed world offer corrupt actors the means to offshore and launder illicit wealth. This dynamic in turn strengthens the hand of those autocratic leaders whose rule is predicated on the ability to co-opt and reward elites.
On June 3, 2021, President Biden established the fight against corruption as a core national security interest of the United States. As he wrote in National Security Study Memorandum-1 (NSSM-1), "corruption threatens United States national security, economic equity, global anti- poverty and development efforts, and democracy itself….[B]y effectively preventing and countering corruption and demonstrating the advantages of transparent and accountable governance, we can secure a critical advantage for the United States and other democracies." Pursuant to NSSM-1, Federal departments and agencies have conducted an interagency review to take stock of existing U.S. Government anti-corruption efforts and to identify and seek to rectify persistent gaps in the fight against corruption. In parallel with this review, departments and agencies have begun to accelerate and amplify their efforts to prevent and combat corruption at home and abroad; bring transparency to the United States' and international financial systems; and make it increasingly difficult for corrupt actors to shield their activities. This first United States Strategy on Countering Corruption builds on the findings of the review and lays out a comprehensive approach for how the United States will work domestically and internationally, with governmental and non-governmental partners, to prevent, limit, and respond to corruption and related crimes. The Strategy places special emphasis on the transnational dimensions of the challenges posed by corruption, including by recognizing the ways in which corrupt actors have used the U.S. financial system and other rule-of-law based systems to launder their ill-gotten gains.
To curb corruption and its deleterious effects, the U.S. Government will organize its efforts around five mutually reinforcing pillars of work: 10 Modernizing, coordinating, and resourcing U.S. Government efforts to fight corruption; 2) Curbing illicit finance; 3) Holding corrupt actors accountable; 4) Preserving and strengthening the multilateral anti-corruption architecture; and 5) Improving diplomatic engagement and leveraging foreign assistance resources to advance policy goals. By pursuing concrete lines of effort that advance strategic objectives under each of these pillars, and integrating anti-corruption efforts into relevant policy-making processes, the United States intends to lead in promoting prosperity and security for the American people and people around the world.
Investigation finds World Bank leaders pushed staffers to boost rankings for China and Saudi Arabia in high-profile reports The World Bank says it will stop publishing its annual Doing Business economic report after an independent investigation found bank leaders placed "undue pressure" on staffers to alter data to inflate the rankings for China and Saudi Arabia in 2018 and 2020 editions of the report, according to CNNBusiness. The bank commissioned the law firm WilmerHale to conduct the probe. Investigators found then-CEO Kristalina Georgia pressured the Doing Business team in 2017 to "change the report's methodology" or "make specific changes" to data points to boost China's ranking in the 2018 edition. This came after Chinese government officials repeatedly expressed concerns to her and then-World Bank President Jim Yong Kim over the country's ranking, according to the 16-page investigation released by WilmerHale.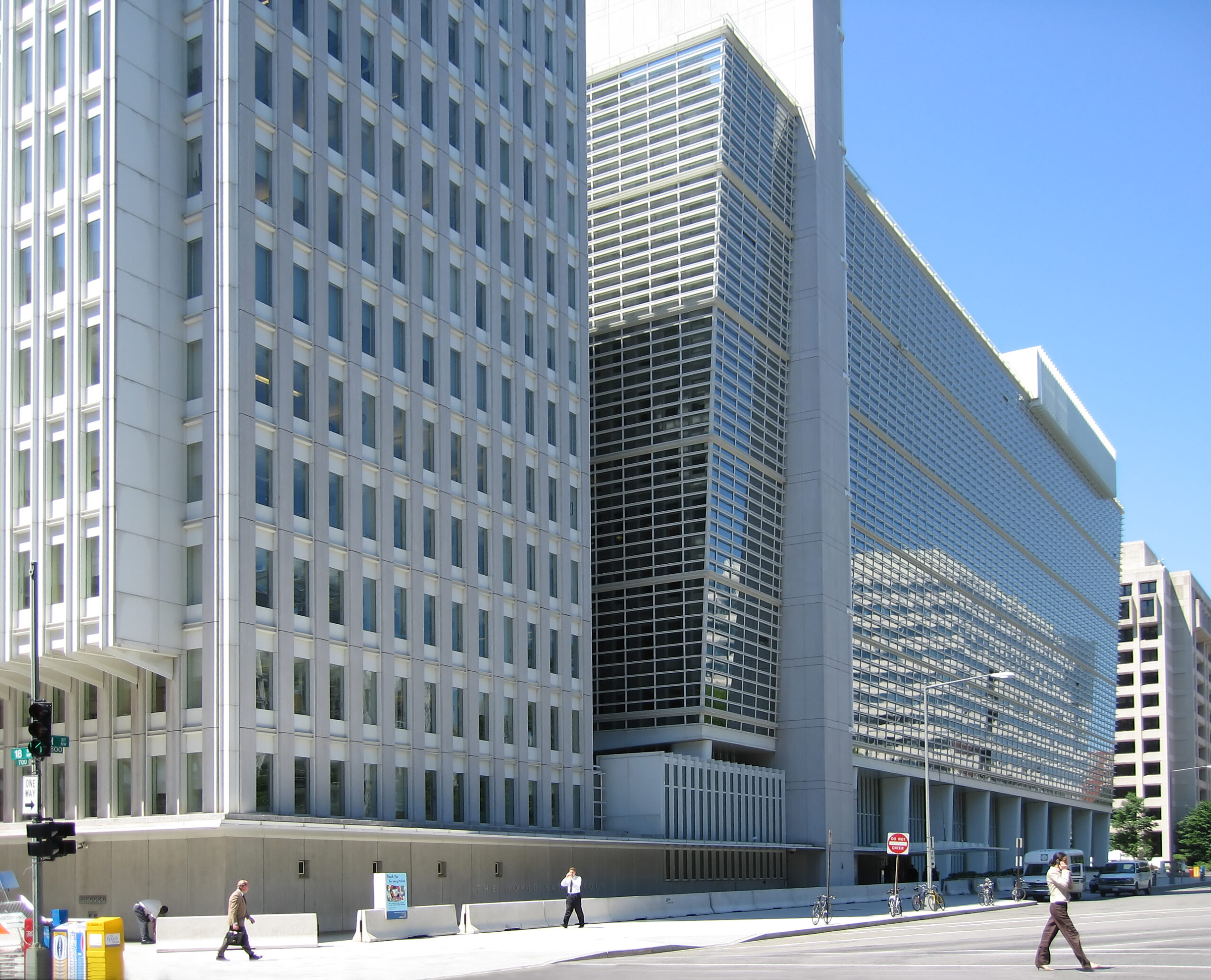 The World Bank (Washington, DC) / Source: Wikipedia
At the time, Georgieva was in the middle of negotiations over a capital increase campaign in which China "was expected to play a key role," the investigation found. Georgieva was "directly involved" in improving China's ranking, according to the independent investigation, which said that during one meeting, the then-CEO "chastised the Bank's then-Country Director for mismanaging the Bank's relationship with China and failing to appreciate the importance of the Doing Business report to the country."
In October 2017, the investigation found that aides to Kim also directed the survey team to simulate how China's final score might change if data from Taiwan and Hong Kong were incorporated into the country's existing data. The WilmerHale report says that the Doing Business team leaders "believed that the concern was coming from President Kim directly." Georgieva, who is now the managing director of the International Monetary Fund (IMF), said in a statement that she disagrees "fundamentally with the findings and interpretations of the Investigation of Data Irregularities as it relates to my role in the World Bank's Doing Business report of 2018," and that she has briefed the IMF's Executive Board on this matter. Kim has not yet responded to a CNN email seeking comment.
During a press briefing Friday, the Chinese Foreign Ministry Spokesperson Zhao Lijian said, "Ms. Georgieva has issued a statement on the IMF's official website. I would refer you to relevant authorities for further information. We have also noted that the World Bank recently issued a statement on suspending the Doing Business report. The Chinese government attaches great importance to the efforts of Doing Business of improving the business environment, which is evident to all. We hope that the World Bank will take facts as the basis, rules as the criterion, follow the professional, objective, fair and transparent principles, to conduct a thorough investigation into relevant issues in strict accordance with the internal review procedures, so as to better safeguard the professionalism and credibility of the Doing Business report and the credibility of the World Bank itself and its member countries' reputations." More in this CNNBusiness article.
Containing Crisis: Strategic Concepts for Coercive Economic Statecraft on China The United States and its allies are increasingly forced to respond to coercive economic statecraft —i.e., restrictions on trade, investment, and financial transactions intended to impose economic costs on a target in pursuit of strategic objectives—employed by China. At the same time, the United States lacks a broader strategy for the effective use of economic tools to manage and respond to scenarios of geopolitical tension. A new CNAS report sets a new strategic framework for U.S. coercive economic statecraft toward Beijing. To gain new insights into U.S.-China economic escalation dynamics, CNAS conducted two unique tabletop exercises. The first scenario presented a crisis involving significant aggression from China against Taiwan, while the second presented a crisis surrounding a potential Chinese acquisition of dual-use technology from a fictitious European company. Insights from the scenario exercises include:
China may be willing to deploy the widest range of coercive economic tools in response to a geopolitical conflict.

While both China and the United States may be willing to accept negative economic impacts to pursue geopolitical objectives, both also demonstrate a preference to broadly retain access to the other's market, which may constrain the use of the most extreme forms of economic coercion.

Countries other than the United States may be more reticent to take coercive economic actions against China due to fears of possible negative economic and political consequences.

The United States may be advantaged by its alliances.

Persuasive rather than coercive tactics may best improve the United States' negotiating position when it seeks to use economic statecraft to manage geopolitical tensions
Based on these insights, the authors propose a new framework of using coercive economic measures based on the strategies of joint pressure and bound engagement. United States use the strategy of joint pressure — coordinating its responses with partner countries — to maximize pressure on China, strengthen the ability of the United States to impose costs, and minimize China's ability to retaliate. The authors also recommend a strategy of bound engagement, by which it engages in economic escalation in a manner bound by constraints embodied in domestic and international rules and norms.
Huawei, 5G and Security: Technological Limitations and Political Responses How did Chinese 5G providers, such as Huawei, become a security concern in the USA and Europe? Were the security concerns related to 5G and Chinese suppliers based upon technological features of the systems, or were they a product of geopolitical rivalry? How did European approaches to 5G distinguish themselves from those of the USA? This NUPI article, the authors address these questions using an interdisciplinary approach via the framework of securitization theory. The authors argue that the technological features of 5G made securitization more likely compared to 4G, and that screening and control of software was unlikely to defuse securitization concerns. They also show how Europe chose its own path for the securitization of 5G. In short, the October 2021 academic article argues that the American macrosecuritization of China largely failed in Europe, whereas the niche securitization of 5G was more successful. The Norwegian Institute of International Affairs [NUPI] is a leading centre for research on international issues in areas of particular relevance to Norwegian foreign policy.
Request for Public Comments Regarding Areas and Priorities for U.S. and EU Export Control Cooperation Under the Trade and Technology Council The US Department of Commerce's Bureau of Industry and Security (BIS) has issued a request for comments regarding areas/priorities for US-EU export control cooperation. The submissions will help to inform the work of the US-EU Trade and Technology Council (TTC) Export Control Working Group.
Notice to exporters 2021/14: updates to the UK export control regime On 8 December 2021 the Secretary of State for International Trade informed Parliament in a written statement about a package of measures to update the export control regime. This notice sets out changes to the Strategic Export Licensing Criteria and forthcoming changes to military end-use controls.
Excerpts from her Statement: HM Government is committed to a robust and transparent export control regime for military, dual-use and other sensitive goods and technologies. The purpose of these controls is to promote global security and facilitate responsible exports. They help ensure that goods exported from the United Kingdom do not contribute to the proliferation of weapons of mass destruction (WMD) or a destabilising accumulation of conventional weapons. They protect the United Kingdom's security and our expertise by restricting who has access to sensitive technologies and capabilities. Export controls also help ensure that controlled items are not used for internal repression or in the commission of serious violations of international humanitarian law. They are one of the means by which we implement a range of international legal commitments including the Arms Trade Treaty. The controls also support the UK's defence and security industry. The legitimate international trade in military equipment and technology, as well as in dual-use items, enables governments to protect ordinary citizens, to preserve law and order against terrorists and criminals, and to defend against external threats. The Government therefore remains committed to supporting the UK's defence and security industry and to promoting the legitimate trade in items controlled for strategic reasons.
We keep our controls under regular review to ensure that they continue to properly address the threats we face, keep pace with new technologies, and adapt to changing circumstances such as our exit from the EU, while providing an efficient service which does not impose an unworkable administrative burden on the defense and security industry. That is why today I am announcing a package of measures to update the export control regime.
First, I am laying before Parliament a revised version of the licensing criteria for strategic export controls, to be known as the Strategic Export Licensing Criteria, as set out at the end of this statement. These Criteria will be applied with immediate effect to all licence decisions (including decisions on appeals) for export, transfer, trade (brokering) and transit/transshipment of goods, software and technology subject to control for strategic reasons (referred to collectively as "items"); and to the extent that the following activities are subject to control, the provision of technical assistance or other services related to those items. Certain of the Criteria may also be applied to MOD Form 680 applications alongside other considerations and assessment of proposals to gift controlled equipment to other nations' governments. As before, they will not be applied mechanistically but on a case-by-case basis taking into account all relevant information available at the time the licence application is assessed. While the Government recognises that there are situations where transfers must not take place, as set out in the following Criteria, we will not refuse a licence on the grounds of a purely theoretical risk of a breach of one or more of those Criteria. In making licensing decisions I will continue to take into account advice received from FCDO, MOD, and other government departments and agencies as appropriate. The application of these Criteria will be without prejudice to the application to specific cases of specific measures as may be announced to Parliament from time to time. This statement does not impact upon existing specific measures which remain extant until revoked.
Second, the Government will be taking steps to enhance the Military End-Use Control. Currently, the control can only be applied to the export of otherwise non-controlled items which are intended for use as components in, or production equipment for, military equipment in an embargoed destination. This does not allow us to fully address threats to national security, international peace and security, and human rights arising from the use of non-listed items by the military, police or security forces, or entities acting on their behalf, in an embargoed destination. We will therefore be amending the definition of "military end-use" to remove this limitation. The control would only be applied where the Government informs the exporter that the proposed export is or may be intended for a military end-use in an embargoed destination. To minimise the impact on legitimate trade, there will be exemptions for medical supplies and equipment, food, clothing and other consumer goods.
The review also concluded that there were anomalies and inconsistencies within the UK's export control regime. As a result of this review, China will be added to the list of those destinations subject to military end-use controls. Taken together, these changes will also strengthen our ability to prevent exports that might be used directly or indirectly to facilitate human rights violations in all destinations subject to military end-use controls. It also completes the export control review announced to Parliament on 12 January 2021 by the then Foreign Secretary. Both of these changes concerning military end-use controls require amendments to the Export Control Order 2008. We intend to lay the secondary legislation to implement these changes in the Spring of 2022.
The Iranian-Turkish Cooperation Roadmap: A Solution to Resolving Bilateral Problems and Tensions? In recent months, Turkey and Iran seized an opportunity to try to reduce their long-running multifaceted tensions. Despite geopolitical and security-related frictions, the bilateral relationship is rosier when it comes to business and people-to-people ties. Iran is among the highest sources of tourists to Turkey every year. And the Turkish Statistics Center reported in October that 7,189 houses were purchased in Turkey by Iranians in 2020—a 25 percent increase over 2019. Moreover, over the past two months, Iranians buying houses and apartments in Turkey broke new records: while citizens of the Islamic Republic have always tended to be among top buyers of real estate in Turkey, they now collectively top the list of foreign investors in the Turkish housing market.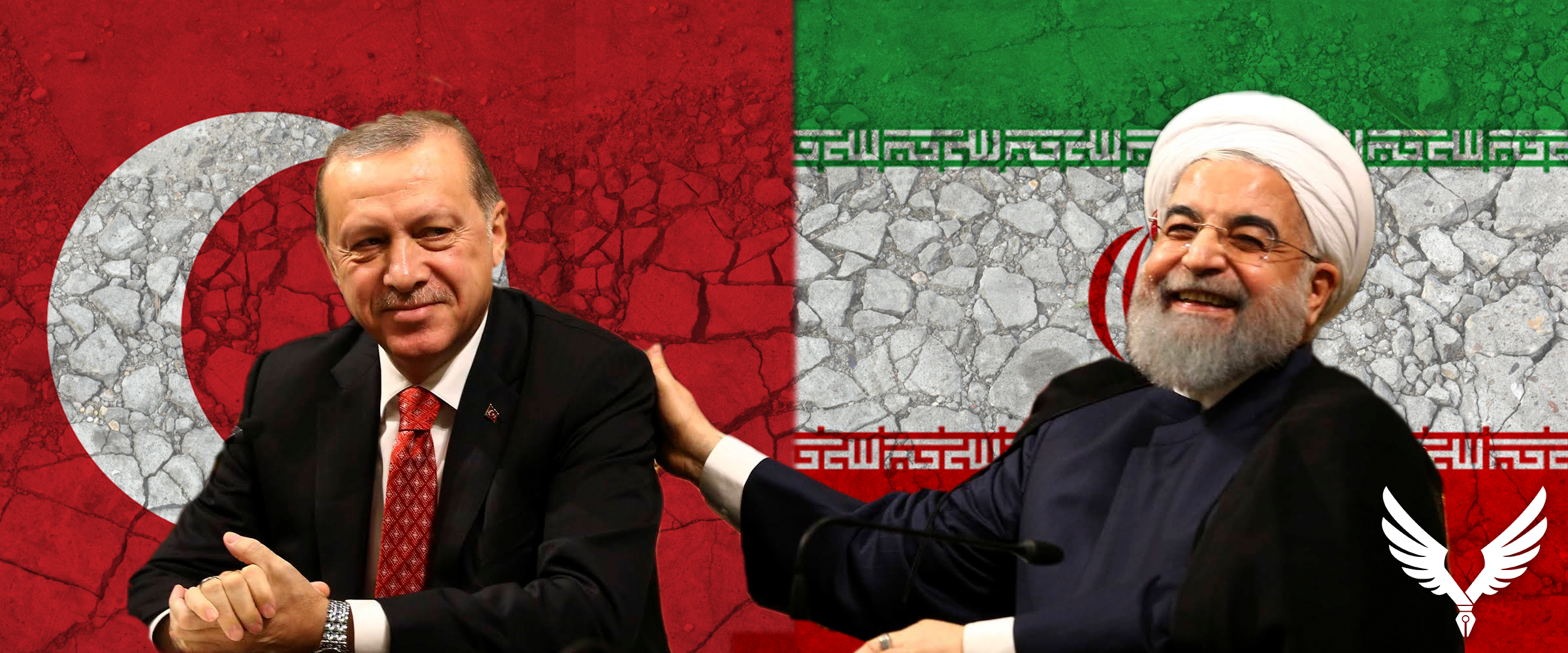 Source: Gulf International Forum
Due to the high economic potential between the two countries, Iran and Turkey had pledged to reach a trade turnover of $30 billion by 2015; but that level was never achieved. Last year, mutual trade amounted to only $6 billion, although that low number was caused partially by sanctions on Iran, the COVID-19 pandemic, as well as customs difficulties. Some rebound is expected this year, with estimates that Iranian-Turkish trade could amount to $10 billion by the end of 2021.
Meanwhile, about four years remain before the expiration of the 25-year contract for the export of Iranian natural gas to Turkey. Under these circumstances, Baku and Ankara recently signed a new gas contract, according to which the Republic of Azerbaijan will deliver a total of around 11 billion cubic meters more of gas to Turkey by 2024. Of course, Iran's predicament in this sphere is not limited to the growth of foreign competitors. Iran itself faces a daily deficit of 200 million cubic meters of gas this winter. And according to the Iranian Ministry of Oil, the South Pars gas field—which accounts for 75 percent of the country's gas extraction—will reach peak production in 2023, at which point, production will drop by 10 billion cubic meters every subsequent year. Ankara is not waiting around for Tehran to resolve its looming export troubles. More in the December 6, 2021 issue of Jamestown's Eurasia Daily Monitor (volume 18, issue 181).
Microchips: Small and Demanded The interplay of a pandemic, extreme weather events and geopolitical power dynamics have exposed the fragile networks underpinning the semiconductor industry. Because microchips are almost indispensable in daily life, the current shortage situation raises questions about supply chain security. The December 2021 article, written by a researcher in the Swiss and Euro-Atlantic Security Team at the Center for Security Studies (CSS) at ETH Zürich, is number 295 in the series "CSS Analyses in Security Policy". The Center for Security Studies at ETH Zurich is a center of competence for Swiss and international security policy. It offers security policy expertise in research, teaching and consultancy.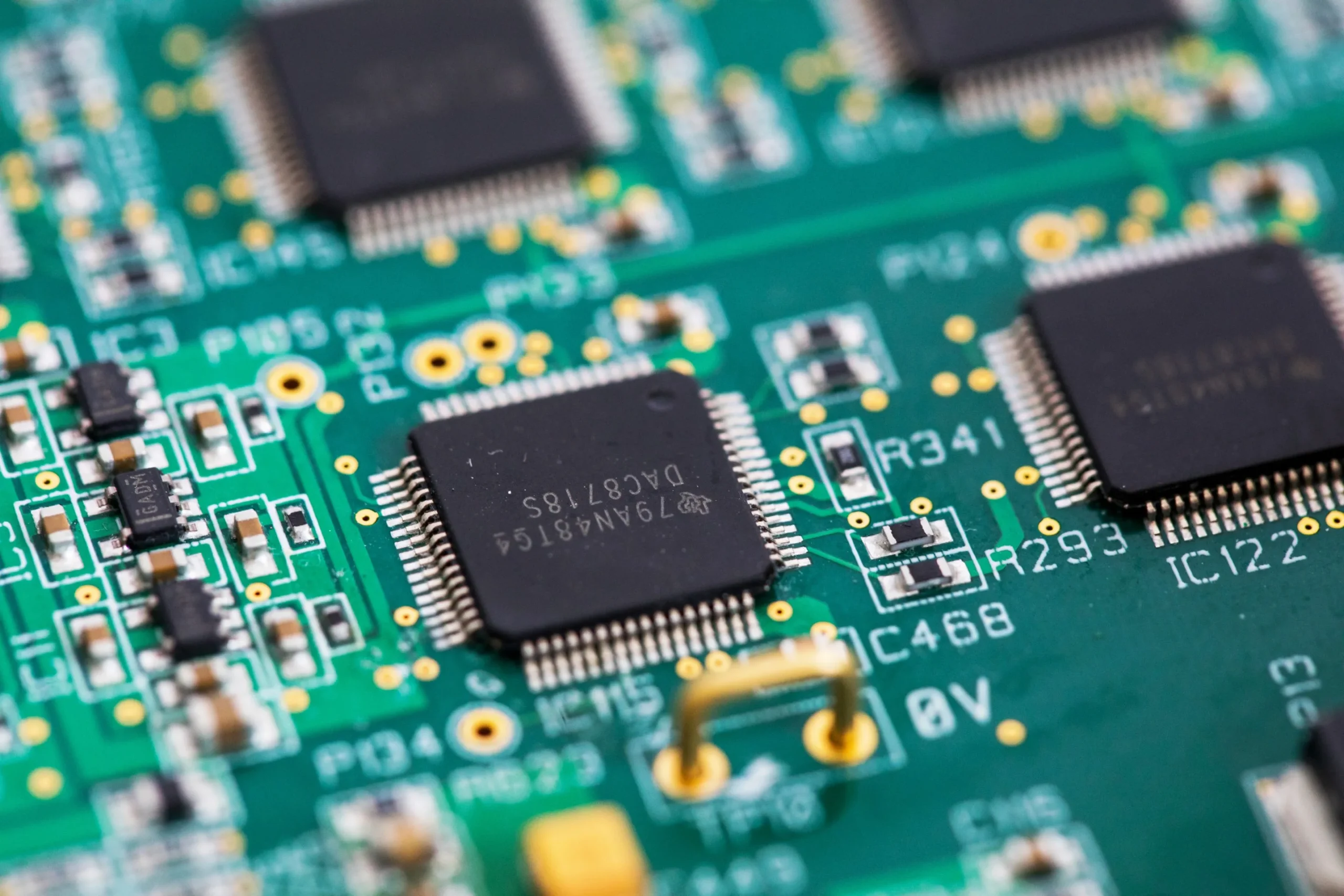 Supply Chain Weaknesses Are a Threat to National Security Those of us in the United States are learning how closely national security relies on supply chains that run through Asia––China in particular—as the pandemic continues to expose weaknesses in global supply lines. Factory shutdowns and shipping disruptions far away and at home can seriously impact important American industries like the defense, technology, energy, transportation, public health, and biological sectors. A panel of congresspeople and business executives recently gathered at the 2021 Aspen Security Forum to explore the global supply chain and its recent issues. The conversation led to several key insights about the global supply chain challenge as panelists discussed why supply chain disruptions can have longer-term national security implications. They also debated whether the United States could build a more resilient supply chain by onshoring key industries and revising its export-control policy framework to improve funding streams and American market competitiveness. Watch the full recording of "Building a More Resilient Global Supply Chain" here.
Digitizing Export Controls: A Trade Compliance Technology Stack? The United States' export control structure began as an instrument of the Cold War in 1949. When the Export Control Act became law that year, its three main purposes were to protect the domestic economy, advance U.S. foreign policy interests, and control sensitive exports to enhance national security. The initial concept was simple: the United States and its NATO allies wanted to prevent the Soviet Union from acquiring critical dual-use technology that would benefit their military. To do so, they set up an export licensing system that required allied permission to export sensitive items. There was broad agreement on the goal and, in the early years, a surprising degree of operational consensus among the participating countries. Enforcement was straightforward. The items subject to control were, for the most part, physical—if not manufactured products, then intellectual property embodied in blueprints or schematics—and, if necessary, could be stopped and inspected at the port of departure.
Over the past 25 years, following the collapse of the Soviet Union and the end of the Cold War, the United States has transitioned to a system based on end user analysis rather than the broader approach used with the Soviet Union, though the latter has not disappeared entirely. To supplement an approach based primarily on determining the bona fides of end users, the Bureau of Industry and Security (BIS) issues export licenses that include conditions that might, for example, only allow specified users engaging in specified activity to use the exported item. According to current and former government officials interviewed for this project, when BIS began licensing machine tools, for example, some licenses stipulated that the tools could only work under certain circumstances. In other cases, not only were machines restricted for what they could make, but also the end user was required to print out specifics on what the machine was doing while it was operating, representing a paper trail receipt and analog information flow. Those reports would be sent to BIS, where they would await review and possible enforcement action. Critical technology is increasingly exported via digital media, creating complex enforcement problems. Today, the United States faces new challenges with respect to both licensing policy and enforcement. It must now contend with multiple adversaries, including China, and is being challenged in both the security and economic realms.
The current U.S. government approach to export regulation is largely analog. The government engages in constant outreach, both domestically and abroad, to update industry on the status of regulations and to advise companies on developing proper compliance programs. BIS sometimes makes pre-license checks to make sure the end user is legitimate, and post-export, the agency performs end-use checks and onsite reviews to make sure use of the exported technology is consistent with the license's conditions. This export control compliance typically involves using tips from industry and public and classified information that suggest a lack of regulatory compliance. However, the government also relies on paper audits to look at records and then conduct investigations. Overall, outside of China, the U.S. government has a relatively robust ability to monitor equipment, which may or may not involve in-person investigations. One of the Department of Commerce's most effective enforcement tools is to send an IT team into a facility overseas to ensure that an export is being used in accordance with the conditions of its export license. The department wields additional enforcement leverage with foreign companies, including denying licenses and adding foreign firms to the Entity List. While many of the Department of Commerce's tools are non-digital, it possesses a robust set of pressure tools, as the recent Huawei case demonstrates.
The importance of exports to U.S. economic health, particularly in the information and communications technology (ICT) sector, has also complicated licensing policy. If controls are too loose, U.S. adversaries gain technology they can use against the United States; if they are too tight, the United States threatens to starve its high-tech companies of the revenue they need to develop next-generation products.
In 2018, Congress replaced the long-expired Export Administration Act (EAA) with the Export Control Reform Act of 2018 (ECRA). In contrast to the EAA, which assigned authority for export controls to the Department of Commerce, ECRA assigned it to the president, though there is no sign that will mean significant change in the process by which export licenses are considered. One new development, however, was that ECRA gives the president the responsibility of establishing new controls on "emerging" and "foundational" technologies, though ECRA did not define either of those categories. This requirement to designate technologies as emerging or foundational has led to significant uncertainty throughout the private sector. For example, it is relatively easy to understand how artificial intelligence, writ large, could be construed as both emerging and foundational. Recent testimony by the acting under secretary at BIS stated that the Department of Commerce has thus far identified 37 emerging technologies. However, it is also arguable that algorithms that run micro-targeting for advertisements are neither foundational nor emerging and probably should not be regulated by export controls. Similarly, if semiconductors are designated as a foundational technology—and they clearly are "foundational" in the traditional sense—the result could mean wide-ranging license requirements for standard chips used in everyday items.
Enforcement has also changed. More adversaries, more sanctions, and more trade mean a greater enforcement burden, but the biggest challenge has been the digitization of trade, meaning that critical technology exports are increasingly intangible rather than physical products subject to border inspection. Responding to this challenge, enforcement authorities have enhanced their own tactics but have also put a greater compliance burden on exporting companies to exercise greater due diligence in knowing their customers and monitoring the use of their exports. That enforcement challenge has been met through increased resources, outreach to exporters, and overseas presence performing both pre-license checks and post-license inspections.
A new approach to export controls, although it has antecedents, has been to utilize new software and hardware technology to better track the use of exported items and to restrict access to authorized users. This approach could potentially guarantee that access to certain exported advanced technology would be restricted to authorized end users, and it could give enforcement authorities the capability of knowing if items were being used consistent with the terms of the license authorizing their export. This CSIS paper examines this new technological approach and its potential to enhance compliance and enforcement.
New CNAS Report Urges Policymakers to Start Preparing for 6G Technology Now The next generation of wireless telecommunications technologies, 6G, promises to supercharge data transmissions—projected to be up to 100 times faster than the peak speed of 5G. With deployments of this new technology expected within the next decade, a new CNAS report argues that the United States and other tech-leading democracies must heed lessons from the tenuous 5G experience and begin preparing for what comes next in the growing strategic competition with China. The authors discuss the lessons learned from Washington's incoherent approach to 5G, the future of 6G technology and its implications—and why the United States must craft a robust 6G strategy sooner than later. How and by whom telecommunications infrastructure is deployed—and the resilience and security of that infrastructure—is, at its core, a matter of vital economic and national security. The report recommends actions the administration and Congress should take to secure future networks and promote American competitiveness in 6G, including:
Crafting a 6G strategy. The United States needs a strategic road map that lays out a vision for American leadership in 6G and the desired international and domestic telecommunications landscape of 2030 and beyond.

Establishing a U.S. 6G Spectrum Working Group. This group should include representatives from government entities including the Office of Science and Technology Policy, Federal Communications Commission, National Institute of Standards and Technology, and the Department of Defense, among others, along with stakeholders from private industry.

Designating the Department of Commerce as a U.S. intelligence community (IC) member. The Department of Commerce is a critical player in technology competition for both promoting and protecting innovation.

Leading the creation of a Multilateral Digital Development Bank. In partnership with export credit and export finance entities in allied countries, the United States should lead in establishing a new organization with the mission of promoting secure and fair digital infrastructure development around the world, with a special emphasis on closing the digital divide in less affluent countries.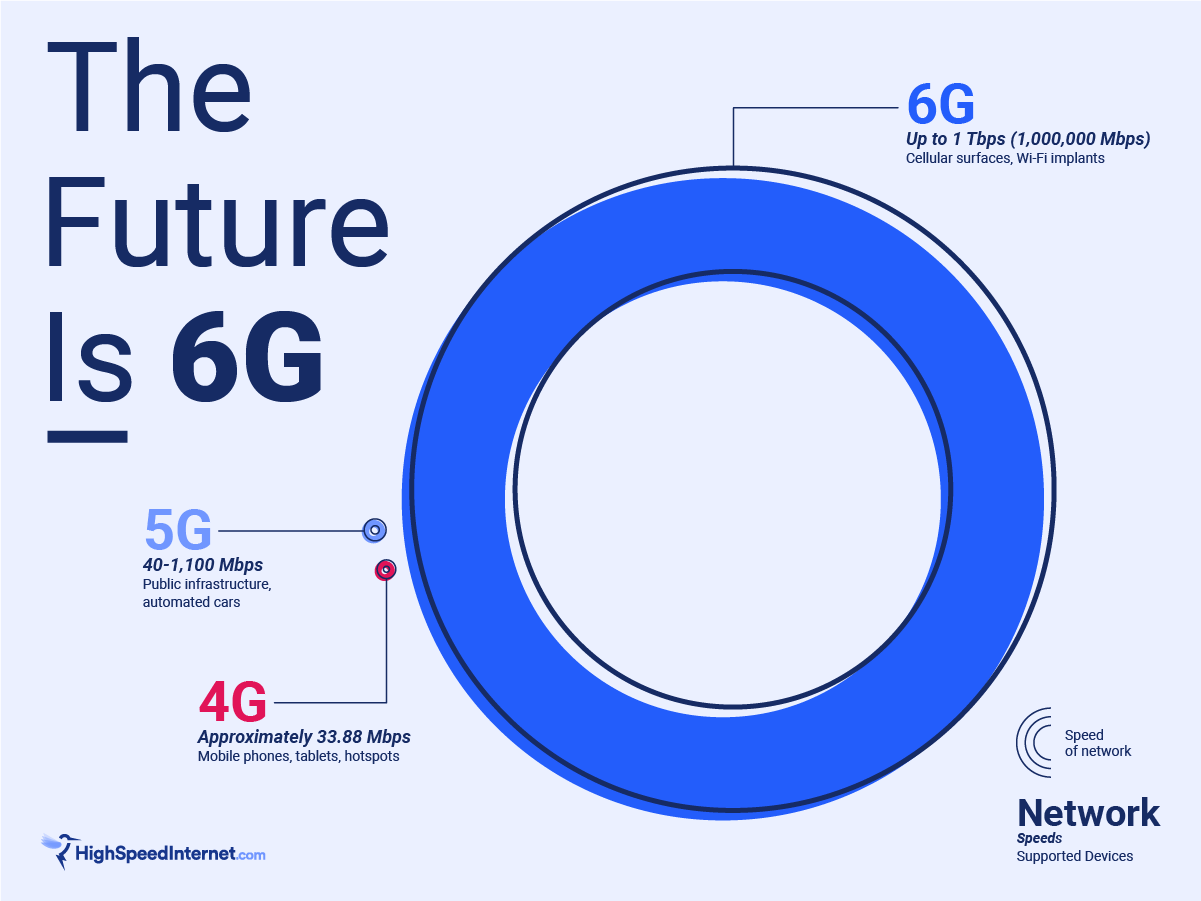 U.S.-China Tech Decoupling Accelerates With New Export Controls on Chinese Quantum Computing Companies Decoupling between the United States and China accelerated in late November as both countries adopted new trade restrictions against the other. On Nov. 24, the U.S. Commerce Department announced export controls on eight Chinese quantum computing companies. A week prior, Bloomberg reported on new import controls created by a quasi-governmental Chinese industry panel known as the "Xinchuang committee," which effectively blacklists technology companies that are more than 25 percent foreign-owned from supplying sensitive industries. In a press release, the Commerce Department stated that it added the eight Chinese quantum computing companies to the Entity List in an effort to "prevent U.S. emerging technologies from being used for the [Chinese military's] quantum computing efforts." American companies are barred from exporting certain products to companies on the Entity List without applying for a special license from the Commerce Department; such licenses are rarely approved. The list was created in the late 1990s to address weapons proliferation, but it has since evolved into a general tool to protect U.S. security and economic interests. As a policy tool, the Entity List is not without its drawbacks. Imposing export controls on Chinese companies can often produce adverse effects on American companies further downstream in the supply chain. After the Trump administration added Huawei to the Entity List in 2019, stock prices of American chipmakers Intel, Qualcomm, and Broadcom, and networking modules manufacturer NeoPhotonics, fell between five and 30 percent. Stock prices of IQE, a British semiconductor manufacturer that supplies suppliers to Huawei, fell by more than 40 percent.
The authors of this article (published by the Lawfare Institute in cooperation with Brookings), are J.D. Candidates at Yale Law School, Class of 2024.
Trump did not get a CIA briefing on Jan. 6 or for the rest of his presidency After a holiday break where he didn't receive a classified intelligence briefing, President Donald Trump was supposed to get one on Jan. 6, 2021—the day of the violent attack on the U.S. Capitol. It didn't happen. And then he didn't get one for the rest of his presidency—and hasn't received one since. That unusual stretch where the sitting president didn't receive a regular classified briefing is recounted in the latest version of a book published and regularly revised by the Central Intelligence Agency, which describes how spies update presidents on national security matters.
Cambodia Business Advisory on High-Risk Investments and Interactions The U.S. Department of State, U.S. Department of the Treasury, and U.S. Department of Commerce are issuing this advisory to caution U.S. businesses currently operating in or considering operating in Cambodia to be mindful of interactions with entities and sectors potentially involved in human rights abuses, criminal activities, and corrupt business practices.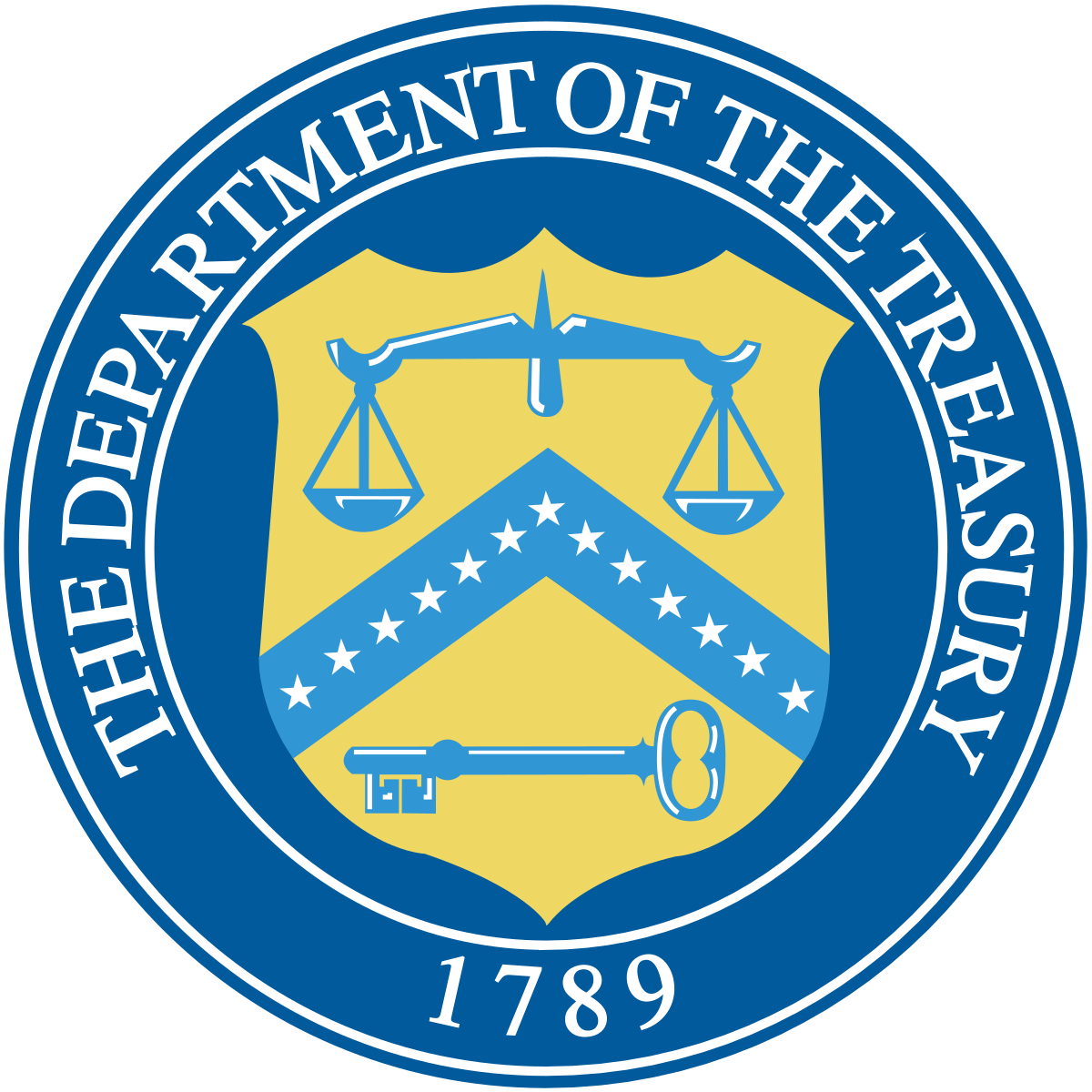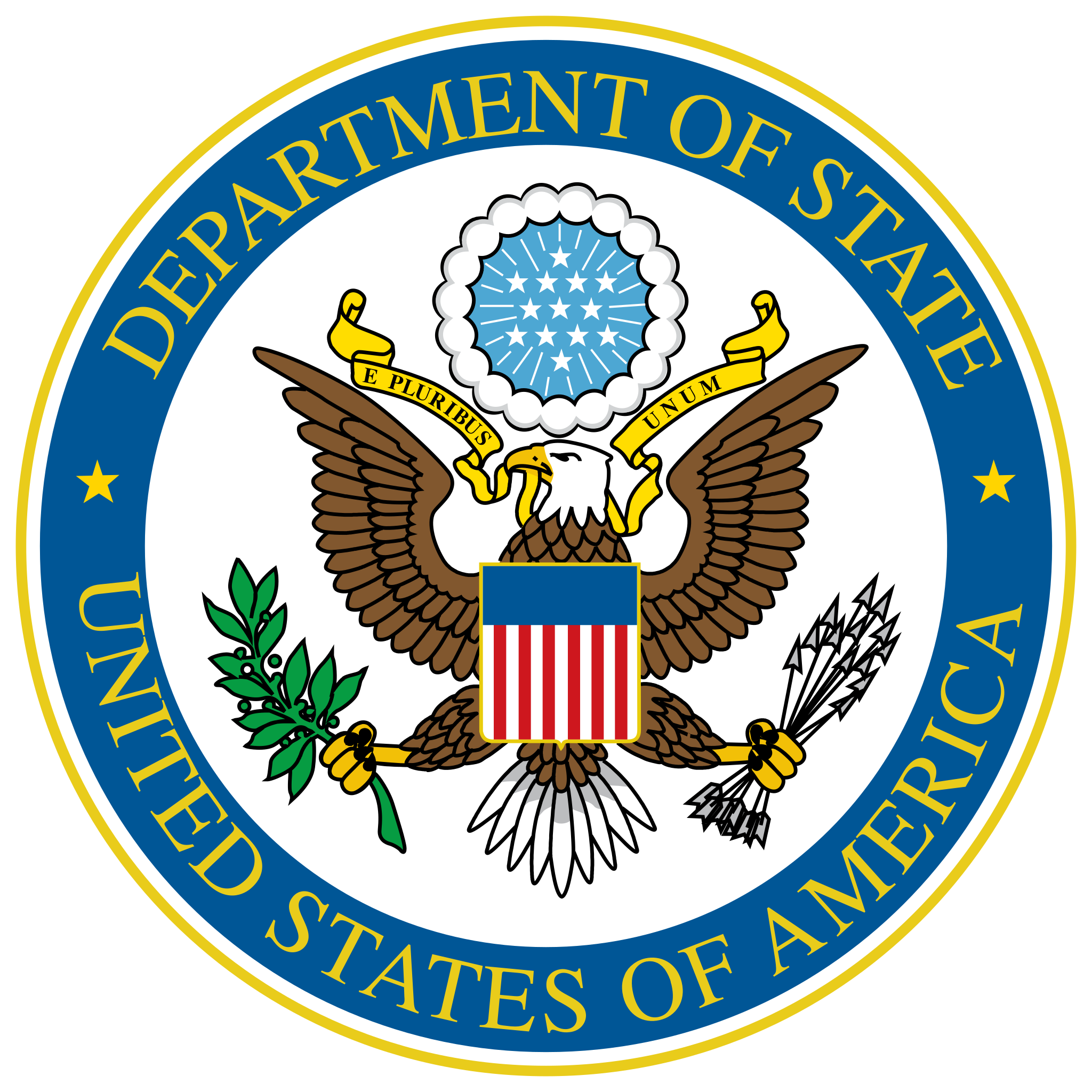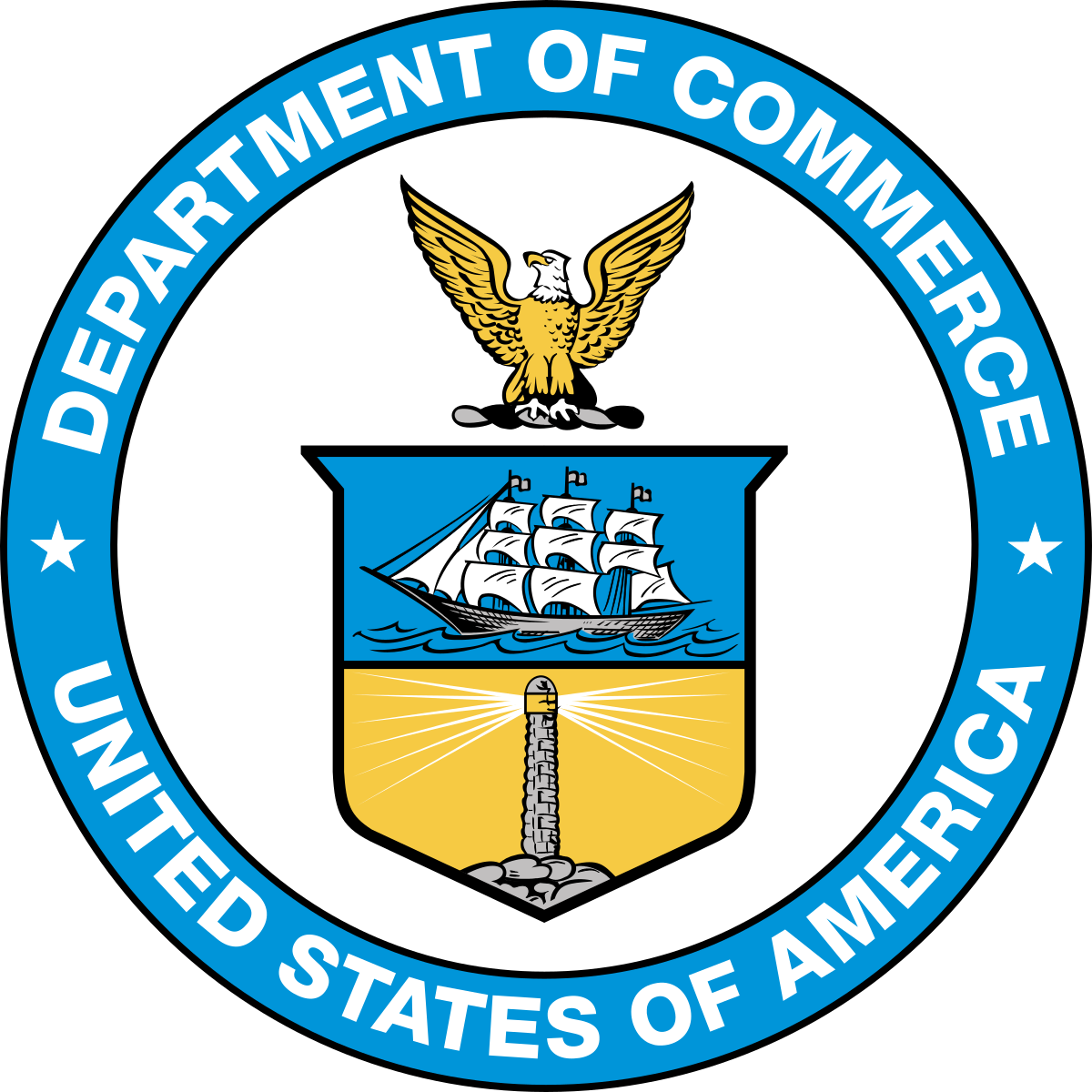 This advisory addresses two primary areas of risk exposure for U.S. companies:
Illicit finance activities in Cambodia and related risks for the financial, real estate, casino, and infrastructure sectors.

Involvement with Cambodian entities involved in trafficking in persons, wildlife, and narcotics trafficking in Cambodia and related risks for the manufacturing and timber sectors.
Businesses with potential exposure to entities in Cambodia that engage in human rights abuses, criminal activities, or corruption should be aware of the reputational, economic, and possible legal risks. To mitigate these risks, businesses should apply appropriate due diligence policies and procedures.
Israel restricts the list of countries to which local security firms are allowed to sell surveillance and offensive hacking tools by almost two-thirds According to a November 25, 2021 article in The Record, the Israeli government has restricted the list of countries to which local security firms are allowed to sell surveillance and offensive hacking tools by almost two-thirds, cutting the official cyber export list from 102 to 37 entries. The new list, obtained by Israeli business newspaper Calcalist, only includes countries with proven democracies, such as those from Europe and the Five Eyes coalition: Australia, Austria, Belgium, Bulgaria, Canada, Croatia, Cyprus, Czech Republic, Denmark, Estonia, Finland, France, Germany, Greece, Iceland, India, Ireland, Italy, Japan, Latvia, Liechtenstein, Lithuania, Luxembourg, Malta, New Zealand, Norway, Portugal, Romania, Slovakia, Slovenia, South Korea, Spain, Sweden, Switzerland, the Netherlands, the UK, and the US.
Security firms can freely sell exploits and hacking tools to entities in any of the countries above. For sales to entities in countries not on this list, vendors must apply for a special license with the Israeli government. The list noticeably removes autocratic regimes, to which Israeli companies have often supplied surveillance tools. Spyware developed by Israeli companies like Candiru and the NSO Group has been linked in recent years to human rights abuses in tens of countries, with the tools being used by the local governments to spy on reporters, activists, dissidents, and political rivals.
BIS adds 27 entities to the Entity List In this final rule, the Bureau of Industry and Security (BIS) amends the Export Administration Regulations (EAR) by adding twenty-seven entities to the Entity List. These twenty-seven entities have been determined by the U.S. Government to be acting contrary to the national security or foreign policy interests of the United States. These entities will be listed on the Entity List under the destinations of the People's Republic of China (China), Japan, Pakistan, and Singapore. This rule also revises one existing entry on the Entity List under the destination of China, adds addresses under the destination of Taiwan for a listed entity, and corrects an entry under the destination of China. In addition, this rule amends the EAR by adding one entity to the Military End-User (MEU) List under the destination of Russia.
EU launches its own Belt and Road: Global Gateway The European Commission and the High Representative for Foreign Affairs and Security Policy launched the Global Gateway, the new European Strategy to boost smart, clean and secure links in digital, energy and transport and strengthen health, education and research systems across the world on December 1, 2021. It stands for sustainable and trusted connections that work for people and the planet, to tackle the most pressing global challenges, from climate change and protecting the environment, to improving health security and boosting competitiveness and global supply chains. Global Gateway aims to mobilise up to €300 billion in investments between 2021 and 2027 to underpin a lasting global recovery, taking into account our partners needs and EU's own interests.
President of the European Commission, Ursula von der Leyen, said: "COVID-19 has shown how interconnected the world we live in is. As part of our global recovery, we want to redesign how we connect the world to build forward better. The European model is about investing in both hard and soft infrastructure, in sustainable investments in digital, climate and energy, transport, health, education and research, as well as in an enabling environment guaranteeing a level playing field. We will support smart investments in quality infrastructure, respecting the highest social and environmental standards, in line with the EU's democratic values and international norms and standards. The Global Gateway Strategy is a template for how Europe can build more resilient connections with the world."
High Representative/Vice-President, Josep Borrell, said: "Connections across key sectors help to build shared communities of interest and reinforce the resilience of our supply chains. A stronger Europe in the world means a resolute engagement with our partners, firmly grounded in our core principles. With the Global Gateway Strategy we are reaffirming our vision of boosting a network of connections, which must be based on internationally accepted standards, rules and regulations in order to provide a level-playing field."
The EU has a long track record as a trusted partner to deliver sustainable and high quality projects, taking into account the needs of our partner countries and ensure lasting benefits for local communities, as well as the strategic interests of the European Union. Global Gateway is about increasing investments promoting democratic values and high standards, good governance and transparency, equal partnerships, green and clean, secure infrastructures and that catalyse private sector investment.
Benchmarking critical technologies – Building an evidence base for an informed critical technologies strategy Technology policy formulation has recently gained a renewed importance for governments in the era of strategic competition, but contextual understanding and expertise in deciding where to focus efforts are lacking. As a result, decision-makers might not understand their own national strengths and weaknesses. It's difficult to judge whether a country's R&D outputs, no matter how advanced, and its development of production capacity, no matter how significant, align with the country's intended strategic objectives or can be used effectively to achieve them. The ability to measure the relative strengths and weaknesses of a country by weighing specific strategic objectives against technical achievements is of paramount importance for countries. This is especially true as nations seek to resolve supply-chain resilience problems underscored by the Covid-19 pandemic. China's rejection of the Quad's vision of a free and open Indo-Pacific, willingness to use economic coercion and the resulting strategic competition, call further attention to multiple technology sectors' heavy reliance on a single source. A solution must be found that can exploit synergy across multiple technology sectors among collaborating countries while ensuring supply-chain resilience.
What's the solution? Governments' ability to ensure that strategic objectives pertaining to critical technologies are both well articulated and achievable, and researchers' and industry's ability to collaborate in meeting those objectives, would be greatly enabled by the development of an objective and repeatable methodology for measuring technical achievements against clearly defined strategic goals for the critical technology sector. The most pressing challenge should be a relatively straightforward one to resolve: standardize metadata about national objectives and R&D efforts to enable business analysis. The Quad Critical and Emerging Technology Working Group is an important step towards building collaboration in the research, development and production of critical technologies among like-minded governments. While in nascent stages, the group is gathering momentum and working towards addressing the September 2021 objective to monitor trends in critical and emerging technologies for cooperation, with an initial focus on biotechnology. The authors of the ASPI report look to develop an objective and repeatable methodology for measuring technical achievements against clearly defined strategic goals for the critical technology sector, and recommend as follows:
Conduct detailed analysis to understand current and emerging gaps in critical and emerging technologies, starting with biotechnology, among like-minded countries.

Develop a partnership between like-minded countries with advanced technological capabilities to deliver a secure technology supply chain for critical tech. This should include a commitment to a set of core principles for technology development and delivery, including 'baking in' democratic principles to the technology and agreeing to share any civilian advances on market terms and refrain from coercion.

Establish a Quad or Quad Plus critical technologies fund to which participating states pledge investment funds that are then disbursed to address current and emerging critical technologies gaps.
Measures against transport operators that facilitate or engage in trafficking in persons or smuggling of migrants in relation to illegal entry into the territory of the European Union On 23 November 2021, the EU Commission published a proposal for a new framework to "blacklist" transport operators that facilitate or engage in the smuggling/trafficking of people into the EU. The proposal constitutes part of the EU's response to the "instrumentalisation" of people at the Belarus-EU border.
Trade and security: Commission highlights work to defend EU interests and values On November 23, 2021, the European Commission presented key findings related to defending EU interests when it comes to export controls and foreign investments in the EU. The Commission screened 400 foreign investments since the new Foreign Direct Investment (FDI) screening legislation entered into force. While only in place since a year, there has been an impressive take-up of this mechanism, meaning that EU interests will be better protected going forward. At the same time, over 30,000 requests for the export of goods with potential military use were reviewed by Member States under the EU Export Control regime, with 603 of these exports blocked. These are some of the highlights announced at the occasion of publication of the first reports on FDI screening and on export controls. Executive Vice-President and Commissioner for Trade Valdis Dombrovskis said: "The EU remains open to trade and foreign investment – this is a pillar of our job creation and economic growth. But our openness is not unconditional and it needs to be balanced by appropriate tools to safeguard our security and public order. Foreign investment screening and control of exports of dual use goods help keep the EU safe, while protecting human rights. They are key elements of our open, sustainable, and assertive trade policy. These two reports highlight how these tools can help the Commission and competent Member State authorities to act decisively when the situation demands, defending our interests while promoting our values."
FDI Screening. This report on FDI screening is the first to be published since the new EU FDI screening regulation came into force a year ago. Under this regulation, Member States and the Commission work closely together to ensure that any foreign direct investment which can pose a security risk to EU Member States or EU critical assets is effectively screened.
In terms of key findings, the report highlights:
The Commission screened 265 transactions notified by Member States under the report until end of June 2021 (now the teller is above 400);

80% of the transactions did not justify further investigation and were thus assessed by the Commission in just 15 days;

Most notifications for screening from Member States concerned the manufacturing sector, ICT, wholesale and retail.

The top five countries of origin of investors among notified FDI cases were companies located in: the United States, the United Kingdom, China, Canada and the United Arab Emirates;

The Commission issued an opinion in less than 3% out of 265 screened cases.
The report confirms that the EU remains open for foreign investment, while ensuring the protection of EU security and public order. The FDI screening cooperation mechanism works effectively and does not create unnecessary delays for transactions. A growing number of Member States have adopted their own screening mechanism – 18 now have a mechanism in place. The European Commission expects all Member States to adopt national screening mechanisms. This will further enhance the effectiveness of the screening system and ensure a comprehensive EU approach to tackle risks related to security or public order.
Export Controls. This is the last report on export controls before the entry into force of the upgraded Export Controls Regulation. The report shows that dual-use exports represent about 2.3% of total EU exports. Out of a total number of 30.292 applications for and notifications of exports under licences, 603 transactions (exports) were denied (in 2019) representing about 0.02% of total exports. This would put the value of dual-use trade at €119 billion in 2019.
The new Regulation that entered into force on 9 September this year strengthens export controls further by:
introducing a novel 'human security' dimension in order to capture emerging dual-use technologies – especially cyber-surveillance tools;

simplifying procedures and making the export control system more agile and able to evolve and adjust to circumstances;

developing an EU capacity-building and training programme for Member States' licensing and enforcement authorities;

coordinating and supporting robust enforcement of controls;

setting up dialogues with third countries so as to enhance global security and promoting a level playing field at global level.
NSO was about to sell hacking tools to France. Now it's in crisis In July, accusations emerged that spyware from NSO Group had targeted French president Emmanuel Macron, causing a major controversy. The company denied the claims—part of a string of allegations about use of the Israeli hacking group's Pegasus software. Israel's military officials, meanwhile, rushed to end a diplomatic crisis by meeting with their French counterparts and promising to investigate the charges. At the exact same time, MIT Technology Review has learned, French government officials were in the final stages of contract negotiations to purchase Pegasus hacking tools from NSO. The French were on the verge of buying the tool—in the type of deal that is typically worth millions of dollars—despite years of allegations that it was regularly being used to surveil and harass dissidents, journalists, and human rights activists worldwide. But sources familiar with the deal say that the process fell apart after the accusations that French politicians potentially were among those targeted, and negotiations were broken off just a few days before the sale was set to take place. (France's Ministry of Foreign Affairs did not respond to MIT Technology Review's request for comment.)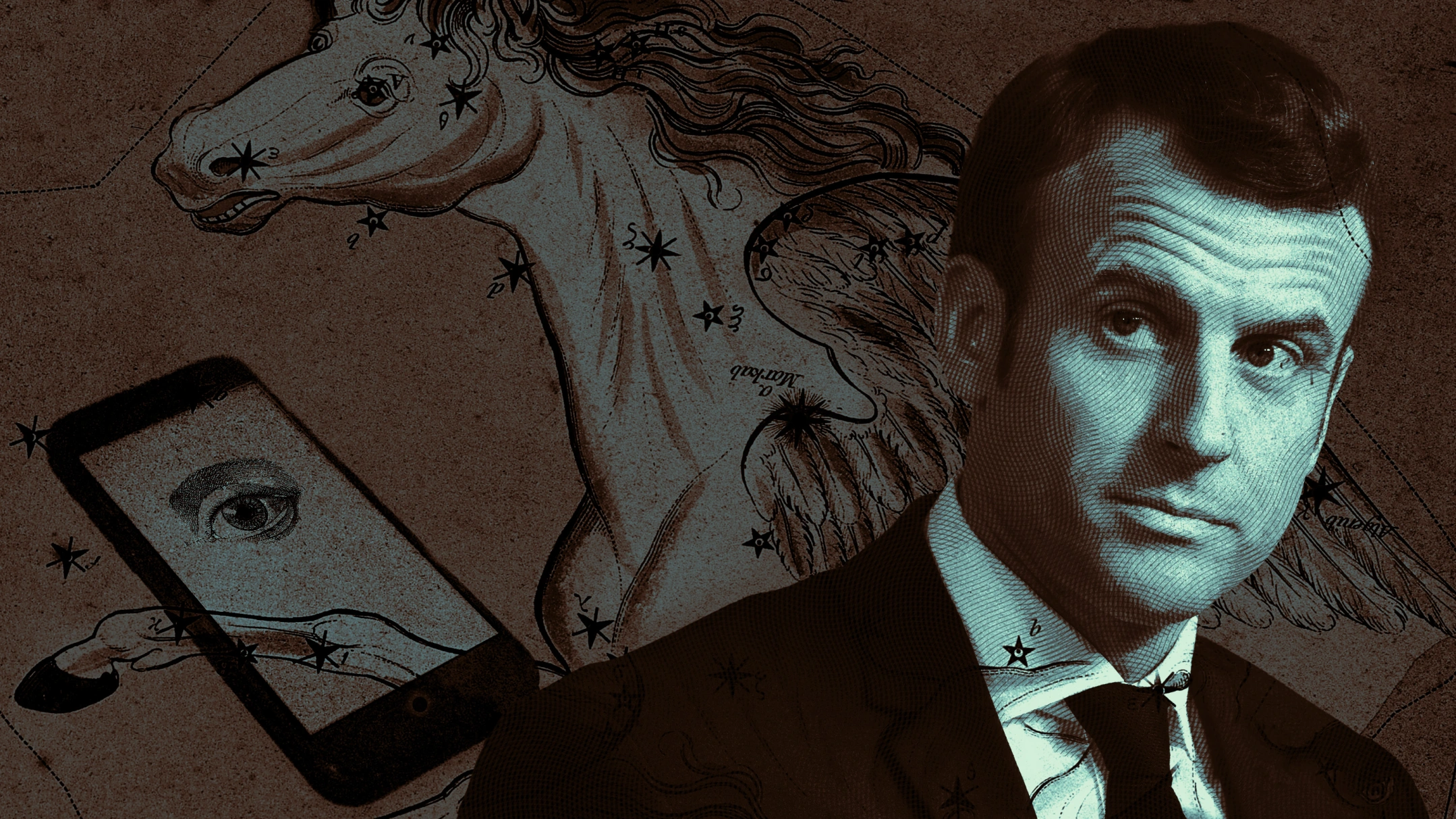 MS Tech / Getty. Wellcome Collection
Another important relationship fell apart earlier this month, when the United States sanctioned NSO Group by adding it to its entity list, thereby imposing rigorous rules and restrictions on Americans buying from or selling to the Israeli company. The US made the move because it said NSO was building and selling "spyware to foreign governments" that used it for malicious purposes.The action, the Commerce Department declared in its announcement, "is a part of the Biden-Harris Administration's efforts to put human rights at the center of US foreign policy, including by working to stem the proliferation of digital tools used for repression." While Israel has since managed to calm the situation with France, the attempts to mend relations with the US have been far more difficult. Despite repeated and lengthy attempts to communicate with Washington, the company has failed to make meaningful contact with US officials, according to people familiar with the effort. NSO is attempting to get the sanctions reversed, a process that involves filing a written appeal to the Commerce Department. The company's executives sent a letter to Israeli government officials pleading for help to change Washington's decision, but they were told that the US isn't talking about this with them, either. In Jerusalem and Tel Aviv, Israeli officials feel stuck guessing why they were left in the dark about the decision to sanction NSO until the last second. Israel's Ministry of Foreign Affairs did not respond to a request for comment, while the US Commerce Department explained the appeals process and timeline but declined to comment on the specifics of NSO's case.
Employees at the company, who spoke on the condition of anonymity, say the sanctions and scandals have left NSO facing an existential crisis. NSO had not yet responded to a request for comment by the time this story published. NSO Group's primary product is Pegasus, a spying tool that's been the subject of both global criticism and global demand for a decade. The program enables the owner to break into a target's phone to eavesdrop on the victim and gain access to everything on the device, including messages, contacts, and photos. Many democratic nations have purchased the product, including Germany, Spain, and Mexico: Officials in those countries say law enforcement and intelligence agencies need tools like Pegasus to surveil legitimate targets, such as members of organized criminal groups or terrorist networks. But critics say the tool gives carte blanche for spying without enough oversight and accountability—leading to regular abuse. NSO has also sold Pegasus to multiple authoritarian nations, particularly across the Middle East and North Africa, and there are dozens of well-documented allegations of abusive behavior by its customers. More in this article, published in MIT Technology Review on November 23, 2021, and in this article, published in MIT Technology Review on July 19, 2021. (MIT Technology Review offers three free stories, or for unlimited access a subscription is needed)
Outcomes of the Biden-Xi virtual summit An optimist would say that at least they met, a pessimist that at the most they met – and then only virtually, online. Little concrete came out of the meeting between Joe Biden, President of the United States, and Xi Jinping, General Secretary of the Chinese Communist Party (CCP). And neither side would have expected it. But after the years of President Donald Trump's unpredictability and the poor start of the Anchorage meeting in March 2021 when Anthony Blinken, US Secretary of State, and Yang Jiechi, the CCP's most senior foreign affairs official, traded diplomatic 'un-niceties', the tone, if not the content, of the meeting will have helped, as Xi called for, to pave the way for future exchanges 'at all levels and in all areas' between powers with increasingly divergent agendas.
Commentators like to make much of the importance of personal relations in diplomacy. As vice-presidents of their respective countries, Biden and Xi had long meetings and chats. While it is true that a personal dislike can hinder understanding – even leaders are human – it is wrong to think in the context of the CCP that friendship exists or influences talks. Biden and Xi are not Margaret Thatcher and Ronald Reagan, two politicians of very similar views. It is unwise for top CCP leaders to have foreign friends and open themselves to accusations of not following completely the interests of the People's Republic of China (PRC); moreover, the interposing of interpreters and decades between meetings dampens ardour. The American read-out of the meeting was short and factual. By contrast the Chinese was expansive. For the CCP, the meeting had two major aims. As usual for any negotiation at the start of a long-term relationship with a new opposite number, the CCP wanted to put down a set of principles. The aim is that if future US behaviour diverts from CCP desiderata, then the PRC can declare that the US is at fault for departing from agreed principles. The second aim was domestic: the CCP wishes to show its people that it is now the equal of the US, that its policies are correct, that the PRC is 'great again' (and therefore the party is to be cherished).
The Chinese press has made much of the 'three principles and four priorities' laid out by Xi at the meeting as 'the right way for China and the United States to get along in the new era'. More in this Council on Geostrategy's "long read".
Laundering Cotton: How Xinjiang Cotton is Obscured in International Supply Chains More than 100 global retail brands could be at risk of using cotton that is produced by Uyghur forced labour according to new research by Sheffield Hallam University's Helena Kennedy Centre for International Justice. By analysing supply chain connections identified through shipping records, the research suggest cotton from the Uyghur Region bypasses supply standards to end up around the world. The findings suggest dozens of well-known international brands are at risk of using cotton that is produced or processed by forced labour in the Xinjiang Province in China. The report found that more than 100 well-known retailers are at risk of using cotton produced through forced labour. 'It leaves many leading brands with nowhere to hide'. Researchers used publicly accessible customs data to investigate five leading textile companies to identify some of the routes by which Xinjiang cotton may be reaching international consumers.
The report identifies 53 contract garment suppliers—in Indonesia, Sri Lanka, Bangladesh, Vietnam, India, Pakistan, Kenya, Ethiopia, China, and Mexico—that reportedly purchase fabric and yarn from five leading Chinese manufacturers that, according to the authors, use Uyghur Region cotton. The suppliers use the fabric and yarn in the clothes they make for leading apparel brands, with no indication to consumers of the cotton's origin. The report concludes with recommendations that governments and corporations should put in place mandatory human rights and environmental due diligence legislation to ensure forced labour made goods do not reach consumers.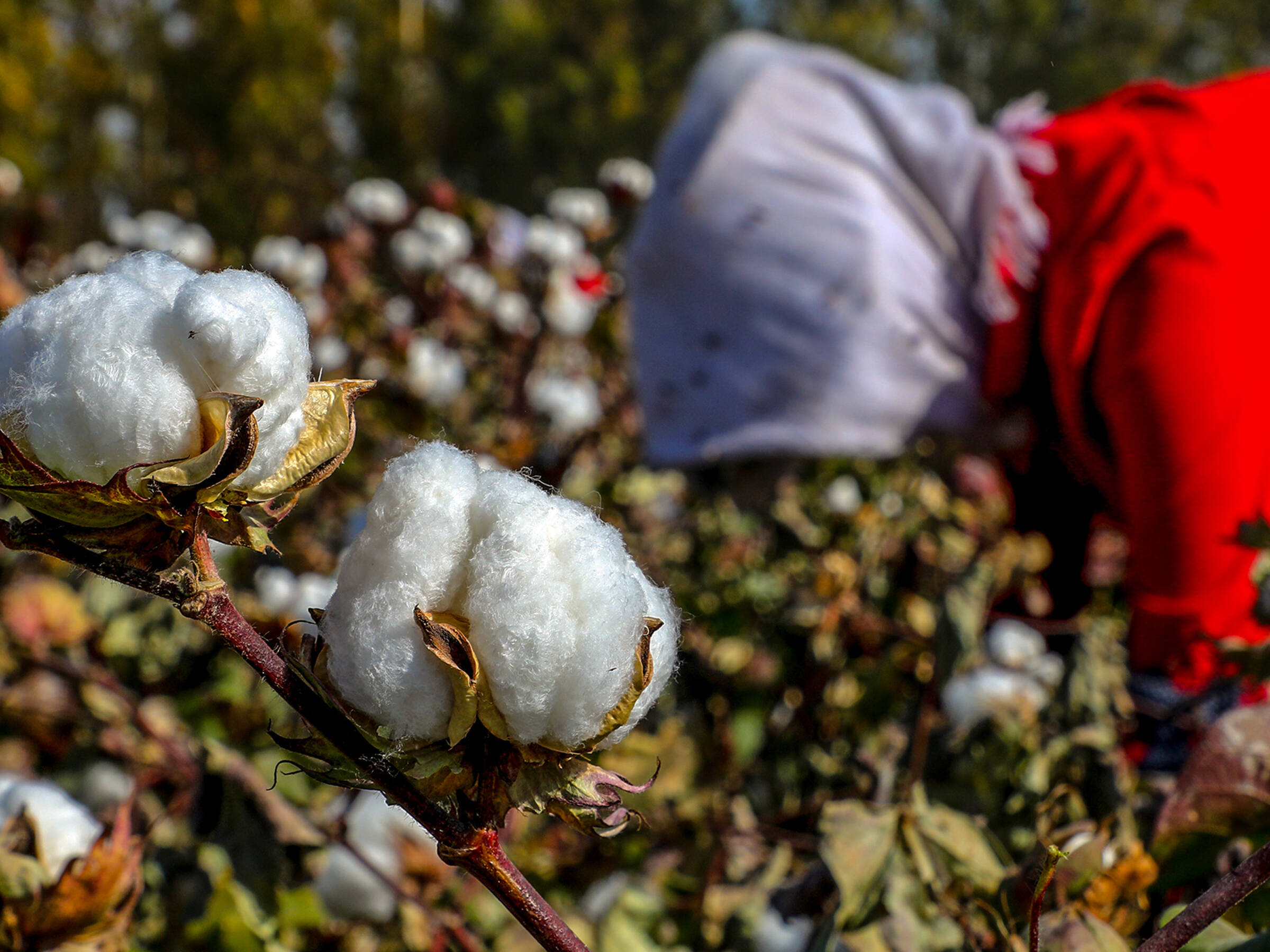 Photograph: AFP
The Growing Importance of Belarus on NATO's Eastern Flank The Jamestown Foundation's latest book explores the enduring trends and strategic dimensions of Belarus, a little-understood but critically important country on NATO's eastern border. The political crisis that gripped Belarus following the disputed August 2020 presidential election has, for now, derailed the cautious rapprochement that had been developing between Minsk and the West. Nevertheless, a number of crucial state interests and geopolitical realities remain unchanged and can be expected to outlast the current crisis. The following study delves into those political, economic, energy, military and strategic considerations to help explain where Belarus came from and where it is going in the coming years. Over the past several years, the unique and widely misunderstood country of Belarus has risen to the attention of policymakers in Europe and the United States. Though for centuries an important invasion corridor across the plains of North Central Europe, its strategic importance had been overlooked by post–Cold War Western military planners until Russia's invasion of neighboring Ukraine in 2014. Today, there is increasing awareness that preserving Belarus's independence and averting a permanent Russian military presence on its territory is critical to the security of allies on NATO's eastern flank. It was almost a miracle of history that the modern state of Belarus was created out of the collapse of the Soviet Union. Yet in the three decades of its existence, it has steadily gained a sense of national identity, despite continuing to live in the shadow of Russia. At the same time, multi-vectorism has been one of the few constants in Belarus's foreign policy precisely because it has allowed this country to navigate between stormy and calm periods in relations with Russia on the one hand and the West on the other. These dynamics can be expected to endure and outlast the political crisis that gripped Belarus following the falsified presidential election of August 2020.
Export Administration Regulations 'Cyber Rule' FAQs The Bureau of Industry and Security has issued a list of 29 frequently asked questions on 'cybersecurity items' for the purposes of the Export Administration Regulations (EAR). The FAQs relate to the October 2021 interim rule which outlined tighter export controls on certain surveillance tools and dual-use items related to "intrusion software".
Organized Crime and Illicit Trade in Greece: Country Report Organised crime in Greece has historically been presented as an external threat, and the country's vast coastline is indeed vulnerable to small-scale smuggling of various illicit goods from overseas, while its two major ports are frequently targeted by smugglers. As a result, Greece is widely cited as a key entry point for illicit goods into Europe, with the majority of illicit trade occurring in the regions where the two biggest cities and ports – Athens and Thessaloniki – are located.
Illicit trade is not seen as an isolated problem in Greece, but as part of a broader category of economic crimes. It is closely linked to tax evasion, corruption and fraud. However, specific information on the scale and the scope of illicit trade in Greece is limited and tends to be largely anecdotal, reflecting a lack of publicly available information on organised crime more broadly. Authorities suggest that the way in which criminals in Greece organise themselves has evolved from strict, hierarchical structures to a more flexible 'enterprise model' in which a network of smaller OCGs is established for a particular operation. Groups that smuggle goods tend to deal across multiple commodities, moving between products based on the profit that can be made at any one time, regardless of the risk. Some illicit markets seem to be growing: data show that legitimate tobacco and alcohol sales are both decreasing, but there has not been a similar reduction in consumer demand.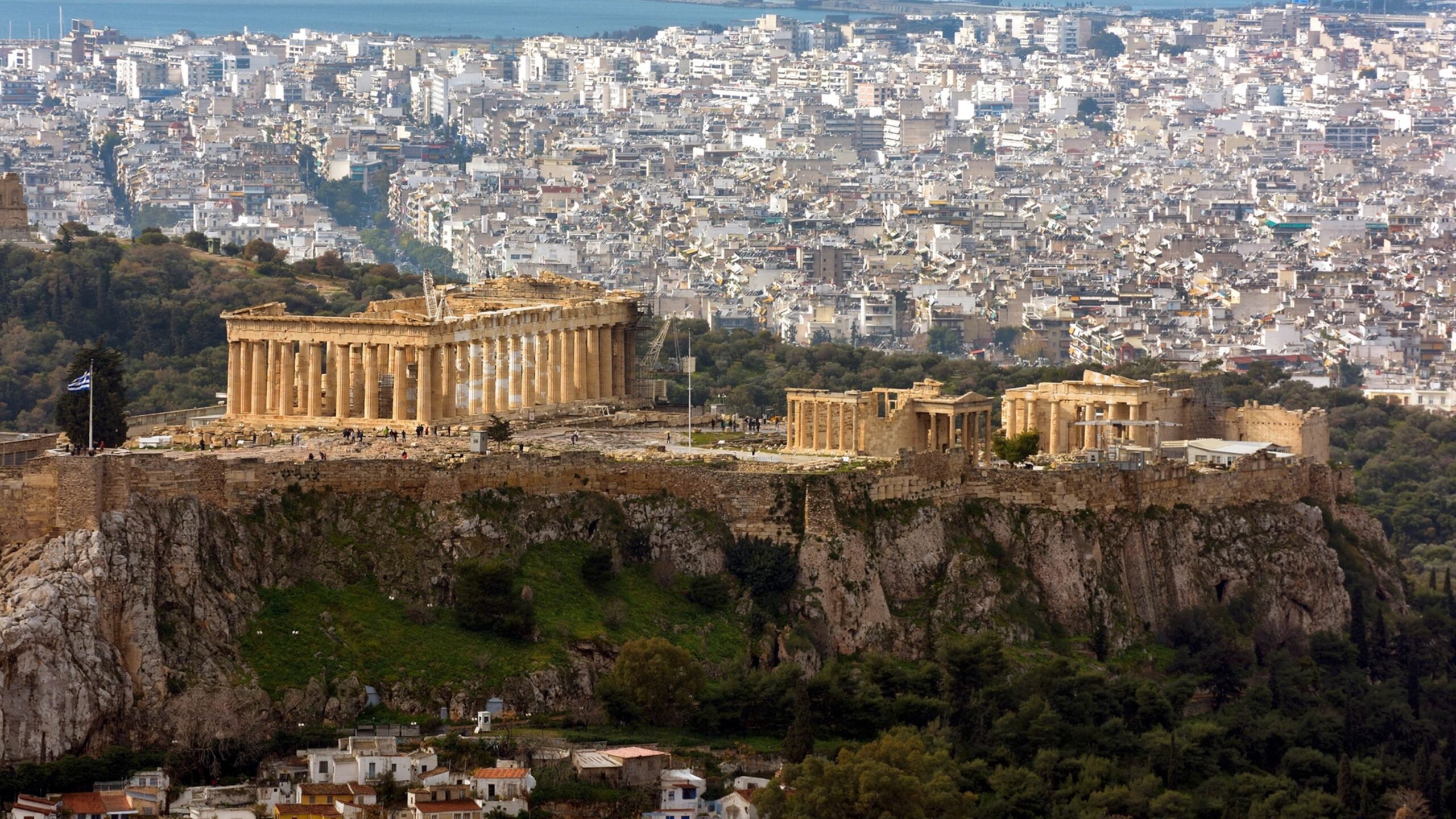 The Parthenon Temple / Photograph by Rainer Unkel / REA/REDUX
This RUSI paper makes various key findings. First, the debt crisis that has affected Greece since 2008 has undeniably had an impact on local illicit markets, making the black market more attractive to some consumers and affecting the resources available to law enforcement authorities. Second, during this period of economic uncertainty, authorities have focused on tackling crimes that they believe have the biggest impact on state revenues, such as tax evasion, excise evasion, fraud, and bribery and corruption. Third, Greece has become an attractive hub for smuggling activity for various reasons, including its combination of remote and porous land borders and its long coastline, the scale of operations at the port of Piraeus, which makes monitoring the content of incoming containers a challenge, and because the country is in the Schengen Area, which means that the circulation of goods into the rest of Europe is relatively straightforward. Fourth, there is only limited information available on the scale and scope of organised crime activity, and of illicit trade in particular. Finally, identifying 'little and often' smuggling operations, whether by sea or by land, requires an excellent intelligence picture, which Greece has struggled to achieve.
Global Trade Tracker The CFR "Global Trade Tracker", presents trends in international trade through time. Featuring trade data from 178 countries as reported to the International Monetary Fund, the tracker shows countries' exports, imports, total trade volume, balance of trade, and changes over time. It highlights, among other things, how trade plunges during recessions and climbs during recovery, as well as the effects of the COVID-19 pandemic on trade.
The Future of the Digital Order Nations that successfully harness the vast economic, political, and societal power of emerging information and communications technologies will shape the future of the global digital order. But this future is not set in stone. A closed, illiberal order is taking root in strategic regions around the world, as non-democratic governments exploit digital tools to grow both internal control and external influence. A comprehensive new CNAS report examines how China, Russia, and various Middle Eastern governments are cultivating this new digital order across three pillars: information control, surveillance, and technology governance. The report reveals four key trends with implications for the future:
Growing China-Russia alignment will generate dangerous digital synergies.

Countries around the world, particularly autocratic regimes and those flirting with illiberalism, will seek to regulate online communications platforms through social media, data localization laws, and instigating company self-censorship.

Illiberal regimes will seek out Chinese technology to help them control social movements and civil protests.

The practices of illiberal regimes will reduce the efficacy of U.S. mitigation practices. Russia and China's efforts to promote an illiberal digital order complement one another and could accelerate innovation between the two nations.
The Future of the Digital Order draws on expertise and research from across CNAS' Technology and National Security, Indo-Pacific Security, Middle Eastern Security, and Transatlantic Security programs. The U.S. must craft a policy response that considers these emerging patterns and incorporates more than its usual partners in Europe and the Indo-Pacific. Shoring up the existing coalition of democratic actors to counter these illiberal trends will likely not be sufficient. The authors offer recommendations that the United States can implement on three fronts: at home, while engaging with traditional U.S. democratic as well as nondemocratic partners, and when countering U.S. adversaries such as China, Russia, and Iran. "An open digital order is the only way to ensure the trust and integrity of technological ecosystems, inclusive growth and shared prosperity, and innovation imbued with universal rights," the report warns. "Authoritarian uses of technology threaten the strength and resilience of democratic values and institutions."
Major Power Rivalry and the Management of Global Threats In this new CFR report, a senior fellow at the Center for Security, Strategy, and Technology at the Brookings Institution, urges the United States to regard distrust—not cooperation—as the baseline condition for starting negotiations around shared global threats and challenges with other major powers, such as China and Russia.
Three decades of Russian policy in the European part of the post-Soviet space: Swimming against the current Since the collapse of the Soviet Union, Russian foreign policy has been characterized by the pursuit of a great-power status along with the wish to retain its domination in the post-Soviet states. Since Vladimir Putin's rise to power, the Kremlin has been making a consistent effort to strengthen Russia's regional position. This is also reflected in the competition between Russia and the West in the "common neighborhood" turning into an open stand-off after Russia's annexation of Crimea in 2014. In the latest FIIA Briefing Paper, the authors analyse three decades of Russian foreign policy in the European part of the post-Soviet space, since 2009 also referred to as EU's Eastern Partnership area. The authors work in the EU's Eastern Neighbourhood and Russia Research Programme of the Finnish Institute of International Affairs. The authors argue that Russia's influence in the region is diminishing largely due to structural changes in these states. The economic significance of Europe, China and Turkey is increasing while Russia's assertiveness causes concern.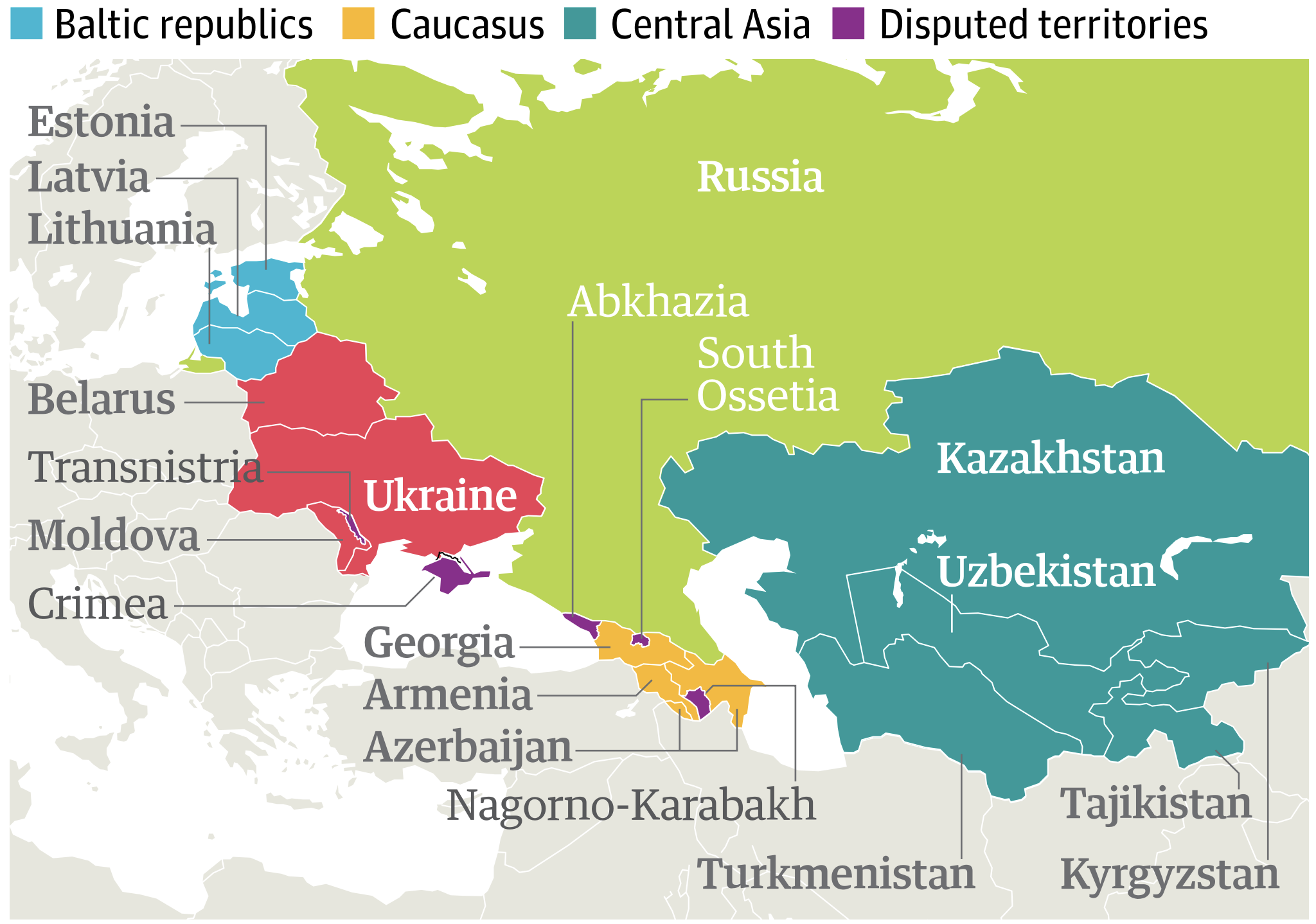 Map: The Guardian
Sliding-door moments: ANZUS and the Blue Pacific This new ASPI special report canvasses important lessons from the 70-year history of ANZUS in the Pacific Island region and how those lessons bear on Australia's Pacific Step-up, New Zealand's Pacific Reset and the United States' Pacific Pledge. While most of the moments examined in the report centered on decisions that seemed inconsequential at the time, the same can't be said of the current pivotal juncture in regional security. The risks of the current period of strategic flux are recognized as both high and escalating.
Senate Bill Would Impose Export Controls for 2018 Khashoggi Murder Sen. Bob Menendez, D-N.J., introduced a bill (a bill to impose sanctions with respect to individuals responsible for the death of Jamal Khashoggi, to protect human rights in the sale, export, and transfer of defense articles and defense services to Saudi Arabia, and for other purposes) on November 3, 2021 that would impose export controls and sanctions on those responsible for the murder of journalist Jamal Khashoggi in 2018. Sens. Patrick Leahy, D-Vt., and Ron Wyden, D-Ore., are co-sponsors. The Treasury Department in March sanctioned a senior Saudi official and a government agency for their involvement in Khashoggi's death.
Surveillance Technology at the Fair: Proliferation of Cyber Capabilities in International Arms Markets State cyber capabilities are increasingly abiding by the "pay-to-play" model—both US/NATO allies and adversaries can purchase interception and intrusion technologies from private firms for intelligence and surveillance purposes. NSO Group has repeatedly made headlines in 2021 for targeting government entities in cyberspace, but there are many more companies selling similar products that are just as detrimental. These vendors are increasingly looking to foreign governments to hawk their wares, and policymakers have yet to sufficiently recognize or respond to this emerging problem. Any cyber capabilities sold to foreign governments carry a risk: these capabilities could be used against individuals and organizations in allied countries, or even in one's home country.
Because much of this industry operates in the shadows, research into the industry in aggregate is rare.
This paper, from American think tank the Atlantic Council, analyzes active providers of interception/intrusion capabilities within the international surveillance market, cataloguing firms that have attended both ISSWorld (i.e., the Wiretapper's Ball) and international arms fairs over the last twenty years.This dataset mostly focuses on Western firms and includes little on Chinese firms, due to historical under-attendance of Chinese firms at ISSWorld. However, the overarching nature of this work will help policymakers better understand the market at large, as well as the primary arms fairs at which these players operate. This paper identifies companies explicitly marketing interception/intrusion technology at arms fairs, and answers a series of questions.
The resulting dataset shows that there are multiple firms headquartered in Europe and the Middle East that the authors assess, with high confidence, are marketing cyber interception/intrusion capabilities to US/NATO adversaries. They assume that companies offering interception/intrusion capabilities pose the greatest risk, both by bolstering oppressive regimes and by the proliferation of strategic capabilities. Many such firms congregate at Milipol France, Security & Policing UK, and other arms fairs in the UK, Germany, Singapore, Israel, and Qatar.
The authors found that 75 percent of companies likely selling interception/intrusion technologies have marketed these capabilities to governments outside their home continent. Five irresponsible proliferators (BTT, Cellebrite, Micro Systemation AB, Verint, and Vastech) have marketed their capabilities to US/NATO adversaries in the last ten years. This paper categorizes these companies as potentially irresponsible proliferators because of their willingness to market outside their continents to nonallied governments of the United States and NATO—specifically, Russia and China. By marketing to these parties, these firms signal that they are willing to accept or ignore the risk that their products will bolster the capabilities of client governments that might wish to threaten US/NATO national security or harm marginalized populations. This is especially the case when the client government is a direct US or NATO adversary.
This paper profiles these important trends for their practical security impacts, and to enable further research into this topic. The authors suggest that the United States and NATO:
create know-your-customer (KYC) policies with companies operating in this space;

work with arms fairs to limit irresponsible proliferators' attendance at these events;

tighten export-control loopholes; and

name and shame both irresponsible vendors and customers.
Rubio, Warnock Introduce Bill to Protect American's Sensitive Personal Data U.S. Senators Marco Rubio (R-FL) and Raphael Warnock (D-GA) introduced the Protecting Sensitive Personal Data Act, legislation to expand the U.S. Department of the Treasury's Committee on Foreign Investment (CFIUS)' oversight authority of transactions involving Americans' sensitive personal data. The legislation would protect important personal information, such as genetic test results, health conditions, insurance applications, financial hardship data, security clearance information, geolocation data, private emails, data for generating government identification, and credit report information. "Americans should be deeply concerned about foreign investments in U.S. companies that handle their personal information, which pose a risk of exposing personal data, like genetic testing results and private financial transactions, to harmful actors in China and elsewhere," Rubio said. "We need to strengthen CFIUS's oversight authority of these transactions to protect Americans and mitigate this serious national security threat." For more information please visit U.S. Senator Marco Rubio 's website.
Municipal "14th Five-Year" Plan for Building a Science and Technology Innovation Center with Global Influence This CSET document is an excerpted translation of Shanghai's five-year plan for S&T development. This is one of many detailed provincial-level economic development plans likely to follow in the wake of China's national 14th Five-Year Plan, which was released in March 2021. Shanghai's plan identifies a raft of emerging technologies that the city government aims to boost, and proposes a major expansion and refinement of the city's tech transfer apparatus. This lengthy translated excerpt covers the following sections of Shanghai's plan: part I (overview), part III (basic research and innovation), part IV (key and core technologies), part VI (talent), and part X (innovation environment).
Commerce Adds NSO Group and Candiru (Israel), Positive Technologies (Russia) and Computer Security Initiative Consultancy PTE. LTD. (Singapore) to Entity List for Malicious Cyber Activities The Commerce Department's Bureau of Industry and Security (BIS) has released a final rule adding four foreign companies to the Entity List for engaging in activities that are contrary to the national security or foreign policy interests of the United States. The four entities are located in Israel, Russia, and Singapore. NSO Group and Candiru (Israel) were added to the Entity List based on evidence that these entities developed and supplied spyware to foreign governments that used these tools to maliciously target government officials, journalists, businesspeople, activists, academics, and embassy workers. These tools have also enabled foreign governments to conduct transnational repression, which is the practice of authoritarian governments targeting dissidents, journalists and activists outside of their sovereign borders to silence dissent. Such practices threaten the rules-based international order.
Positive Technologies (Russia), and Computer Security Initiative Consultancy PTE. LTD. (Singapore) were added to the Entity List based on a determination that they traffic in cyber tools used to gain unauthorized access to information systems, threatening the privacy and security of individuals and organizations worldwide.
U.S. Secretary of Commerce Gina M. Raimondo released the following statement: "The United States is committed to aggressively using export controls to hold companies accountable that develop, traffic, or use technologies to conduct malicious activities that threaten the cybersecurity of members of civil society, dissidents, government officials, and organizations here and abroad." The End-User Review Committee (ERC) which is chaired by the Department of Commerce and includes the Departments of Defense, State, Energy, and where appropriate, Treasury, determined that the conduct of these four entities raises sufficient concerns to place them on the Entity List pursuant to § 744.11(b) of the Export Administration Regulations (EAR).
The Entity List is a tool utilized by BIS to restrict the export, reexport, and in-country transfer of items subject to the EAR to persons (individuals, organizations, companies) reasonably believed to be involved, have been involved, or pose a significant risk of being or becoming involved, in activities contrary to the national security or foreign policy interests of the United States. For the four entities added to the Entity List in this final rule, BIS imposes a license requirement that applies to all items subject to the EAR. In addition, no license exceptions are available for exports, reexports, or transfers (in-country) to the entities being added to the Entity List in this rule. BIS imposes a license review policy of a presumption of denial for these entities. Today's action is a part of the Biden-Harris Administration's efforts to put human rights at the center of U.S. foreign policy, including by working to stem the proliferation of digital tools used for repression. This effort is aimed at improving citizens' digital security, combatting cyber threats, and mitigating unlawful surveillance and follows a recent interim final rule released by the Commerce Department establishing controls on the export, reexport, or in-country transfer of certain items that can be used for malicious cyber activities. For more information, visit BIS.
OECD-EUIPO study: E-commerce is main channel for trade in counterfeits Online commerce has been growing rapidly in recent years. This trend has only sped up during the COVID-19 pandemic. At the same time, more than 50% of counterfeit goods seized at the EU borders stem from online commerce, a new joint OECD-EUIPO study finds. Next to perfumery and cosmetics, pharmaceutical products and sunglasses are the main counterfeited products sold online, mainly stemming from China. The study 'Misuse of e-commerce for trade in counterfeits' confirms that online commerce is fueling trade in fake goods and is becoming the main enabler for distribution of counterfeits products. It analyses data from custom seizures of goods at the external borders of the European Union (EU) and looks at how counterfeit goods end up in the hands of consumers. The main findings are:
E-commerce plays an increasingly important role in the modern economy. In 2019 the global value of e-commerce sales corresponded to 30% of GDP, with business to customer (B2C) online transactions growing more rapidly than business to business (B2B) sales. Whereas in OECD countries only 38% of individuals bought products online in 2010, almost 60% did so in 2018.

The trends towards online commerce accelerated as a result of the Covid pandemic. In 2020, while retail sales declined in most countries due to the pandemic and consequent restrictions on economic activity, online sales grew by more than 20% compared to 2019.

The Internet is a fertile ground for fraudsters who abuse the loopholes in e-commerce governance to profit from many sorts of illegal activities, including counterfeit. Analysis of various e-commerce indicators from the Eurostat, the World Bank and the United Nations Conference on Trade and Development (UNCTAD) shows that the level of e-commerce development in a country is related to the level of imports of counterfeit goods into this country.

Descriptive statistics based on 2017-2019 data on seizures of counterfeit goods imported into the EU show that over 50% of detentions are related to online transactions. However, in terms of value, detentions related to e-commerce represent only 14% of the value of seized goods.

In over 90% of cases, detentions related to e-commerce are shipped to the EU by mail/post.

The role of China as a provenance country is more pronounced in case of seizures related to e-commerce that in seizures in general. China was a provenance country in over 75% of cases of seizures of counterfeit goods imported into the EU with a link to e-commerce transactions.

Use of e-commerce solutions differs depending on the type of counterfeit products. The propensity for fakes in e-commerce transactions is the highest in case of perfumery and cosmetics, pharmaceutical products and optical products (glasses) where over 70% of seizure cases at the EU borders were related to Internet sale.
Four New Reports on National Security Risks Posed by Climate Change On Oct. 21, 2021, the Biden administration released four reports analyzing the threat climate change poses to national security and its role in driving migration. Together, the reports reflect concerns over the potential for climate change to exacerbate political instability and offer opportunities to rival states, such as China. The new Office of the Director of National Intelligence's National Intelligence Estimate on climate change found that the intelligence community sees three broad categories of risk: rising geopolitical tension as countries argue how to address climate change and how quickly; exacerbation of cross-border geopolitical flashpoints as states take steps to secure their interests; and intensifying physical effects of climate change increasing instability and internal conflict in developing countries. The report identified 11 countries and 2 regions at particular risk but said that no country would be spared from consequences related to climate change. The Department of Defense's Climate Risk Assessment focused on the military challenges brought on by climate change, the Department of Homeland Security gave a "strategic framework" guiding the department's policies to address climate change through five lines of effort, which includes plans for "empower individuals and communities to build climate resilience" and "build readiness to respond to increases in climate-driven emergencies", and the White House detailed how climate change is fueling migration, marking the first time the U.S. government has officially recognized this linkage.
OFSI publishes Annual Review: 2020 to 2021 Every year OFSI (the Office of Financial Sanctions Implementation) publishes its annual review which gives an overview of OFSI's operational work in the financial year, providing key statistics from the different areas of financial sanctions. OFSI is part of HM Treasury. This review includes sections on:
UK and EU financial sanctions regimes

frozen assets review

compliance and enforcement

licensing

guidance and engagement
The Treasury 2021 Sanctions Review The U.S. Department of the Treasury released the results of a broad review of the economic and financial sanctions that it administers and enforces, and issued recommendations to preserve and enhance their effectiveness in supporting national security and U.S. interests now and in the future. "Sanctions are a fundamentally important tool to advance our national security interests," said Deputy Secretary Adeyemo. "Treasury's sanctions review has shown that this powerful instrument continues to deliver results but also faces new challenges. We're committed to working with partners and allies to modernize and strengthen this critical tool." During Secretary of the Treasury Janet L. Yellen's confirmation hearing, she committed to a comprehensive review of sanctions, which Deputy Secretary of the Treasury Wally Adeyemo led. Treasury's review engaged hundreds of sanctions stakeholders, including former Treasury officials from both parties; key interagency partners including the Department of State, Department of Justice, and USAID; Members of Congress and their staffs; small and large commercial businesses and financial institutions; academics; non-governmental organizations; and the governments of our allies and partners abroad. Treasury's review found that while sanctions remain an essential and effective policy tool, they also face new challenges including rising risks from new payments systems, the growing use of digital assets, and cybercriminals, as well as situations where careful calibration can help limit the impact of sanctions on the flow of legitimate humanitarian aid to those in need. Read the Treasury 2021 Sanctions Review. Key recommendations to mitigate those challenges and bolster the effectiveness of Treasury's role in sanctions moving forward include:
Adoption of a structured policy framework that links sanctions to a clear policy objective. This framework asks whether a sanctions action: supports a clear policy objective within a broader strategy; has been assessed to be the right tool for the circumstances; incorporates economic and political implications for sanctions targets and others and has been calibrated to mitigate unintended impacts; includes a multilateral coordination and engagement strategy; and will be easily understood, enforceable, and, where possible, reversible. This policy framework is intended to cover key policy considerations in the sanctions implementation process and offer a standardized set of factors to be consistently used by sanctions professionals for both evaluating potential new actions and assessing the ongoing alignment of sanctions with evolving policy priorities.
This framework also incorporates several of the recommendations which emerged from the sanctions review:
Multilateral coordination wherever possible. Sanctions are most effective when coordinated as an Administration and where possible with allies and partners who can magnify the economic and political impact. This coordination also enhances the credibility of U.S. international leadership and shared policy goals of the United States and its allies.
Calibration of sanctions to mitigate unintended economic, political, and humanitarian impact. Treasury should continue to seek ways to tailor sanctions to mitigate unintended economic, humanitarian, and political impacts on U.S. workers and businesses, allies, and non-targeted populations abroad. This will protect key constituencies and help preserve support for U.S. sanctions policy.
Ensuring sanctions are easily understood, enforceable, and, where possible, reversible. Treasury can build on existing outreach and engagement capabilities through enhanced communication with industry, financial institutions, allies, civil society, and the media, as well as new constituencies.
Investment in modernizing Treasury's sanctions technology, workforce, and infrastructure. Treasury should invest in building its technological capabilities and deepening its institutional knowledge, especially in the evolving digital assets and services space, to support the full sanctions lifecycle of activities. Further investments in Treasury's sanctions workforce and operational capabilities will sustain Treasury's ability to execute a core tool of U.S. national security and foreign policy and protect the integrity of the U.S. financial system.
Supply Chains: A Shifting Indo-Pacific / Interactive Web Tool Asia Society Policy Institute (ASPI) released an interactive web tool, Supply Chains: A Shifting Indo-Pacific, that maps out the concrete policy measures 17 economies in the region are taking to improve their investment climates, incentivize the movement of supply chains, and, in some cases, encourage the reshoring of overseas businesses. *Since its founding in 1956, the Asia Society has sought to explain the diversity of Asia to the United States and the complexity of the United States to Asia. For more than 60 years, the Asia Society has built bridges and helped to solve problems within the region and between Asia and the wider world. With a solution-oriented mandate, ASPI (the Asia Society Policy Institute, a "think-and-do tank") expands this mission by tackling major policy challenges confronting the Asia-Pacific in security, prosperity, and sustainability, and by helping to develop common norms and values for the region.
Getting Smart About Smart Cities This CNAS policy brief examines some of the systemic vulnerabilities that facilitate misuse of smart city technology by governments and provides snapshots of cities across the Indo-Pacific that have managed these vulnerabilities to successfully implement smart technology within the precepts of a liberal digital order. It then offers guiding principles for policymakers in Washington to further facilitate the growth of responsible smart city development in the Indo-Pacific. More smart cities are coming, and those that are already here will continue to grow more technologically advanced. What that means for the state of Indo-Pacific digital governance in five, 10, and 50 years depends on the foundation laid by policymakers today while the concept of smart cities is still new.
China Pathfinder China Pathfinder is a new initiative from the Atlantic Council's GeoEconomics Center and Rhodium Group that seeks to measure China's system relative to advanced market economies. The goal is to shed light on whether China's economic system is converging with, or diverging from, leading open market economies. In their inaugural report they examine six elements of the market economy model: financial system development; market competition; modern innovation system; trade openness; direct investment openness; and portfolio investment openness. With the launch of this annual scorecard, and subsequent quarterly updates, China Pathfinder aims to put recent developments like the crackdown on private technology companies, Beijing's "dual circulation" strategy, and the debate over "common prosperity" into a broader framework to help policymakers and businesses assess China's economic trajectory.
Escalation in the Taiwan Strait: What to Expect from Europe? Over the last few years, tensions in the Taiwan Strait have led to great concerns over Chinese territorial claims in the region. The potential for an escalation is high – with significant implications for Europe. At the same time, the Biden administration is pursuing a tough stance on China and expects Europe to join a transatlantic approach. Against this backdrop, Körber-Stiftung, in cooperation with the Chatham House Asia-Pacific Programme, brought together a high-level group of senior experts, politicians, and officials from France, Germany, Italy and the UK to address a fictional scenario of a political security crisis in the Taiwan Strait. The recently published Körber Policy Game scenario report summarises the results of these discussions and offers policy recommendations. Körber-Stiftung's report is here.
CSET Legislation Tracker The CSET Legislation Tracker serves as a resource to identify and monitor federal legislation related to emerging technology and national security. In addition to widely covered bills, members of Congress have introduced proposals to secure the U.S. research enterprise, bolster domestic semiconductor production capacity, promote technology alliances with like-minded partners and improve STEM workforce development. This tracker catalogues legislation on topics within CSET's key areas of inquiry and relevant to U.S. science and technology leadership. Each piece of legislation is represented as a card. Each card includes the bill's title, sponsor, number of cosponsors and committee of jurisdiction. The panel on the right displays the CSET research topic within which the bill falls and the bill's current status. At the top of the tracker, users will find pinned cards highlighting specific bills that we deem significant based on widespread media coverage or notable movement through the legislative process.
Trade, Technology & Connectivity The TTC meeting in Pittsburgh offered glimmers of hope, with both sides committing to closer cooperation on export controls, investment screening, and standard setting. According to a Senior Visiting Fellow, Asia Program of the German Marshall Fund of the United States*: "I was told that officials in Washington have also begun discreet discussions with partners like the Netherlands and Japan in a bid to forge a consensus, outside of the Wassenaar Arrangement, on export controls related to semiconductors. A common approach from like-minded countries on this important issue would send a strong signal. There are also signs that Europe is preparing to move on other China related policies that have been stuck for years in a bureaucratic morass. It was encouraging to see European Commission President Ursula von der Leyen embrace a revamp of the EU's connectivity strategy—renamed Global Gateway—in her State of the Union speech in mid-September. Still, there are reasons to question whether the European Commission is serious about developing a real geopolitical alternative to China's Belt and Road Initiative (BRI), as big member states have been urging. At the same time as it is touting Global Gateway, I learned, EU institutions are also poised to double down on connectivity cooperation with China, with the launch of a major $2 million study (with funding split between Brussels and Beijing) of rail transport corridors between Europe and China. The study, to be carried out by the European Bank for Reconstruction and Development and the Asian Infrastructure Investment Bank, has raised eyebrows among some EU diplomats because it includes the possibility of rail corridors through countries like Iraq, Syria, India, Pakistan, Iran, and Afghanistan. Some see this as a use of EU taxpayer money to further Beijing's BRI ambitions in its zones of interest. The European Commission will have to explain how this project fits with Global Gateway, an initiative that Von der Leyen has made clear is aimed at countering Beijing's influence".
U.S.-EU Trade and Technology Council Inaugural Joint Statement The EU-US Trade and Technology Council (TTC) met for the first time in Pittsburgh on 29 September 2021. The Joint Statement says that, "As a demonstration of our shared commitment to make progress on the objectives of the TTC, the European Union and the United States have identified the following outcomes in specific areas, the details of which are further reflected in Annexes I-V." Below are three of the six outcomes:
We believe that our openness to foreign investment is essential for economic growth and innovation. We also face common challenges in addressing related risks. We intend to maintain investment screening in order to address risks to national security and, within the European Union, public order. We recognize that our investment screening regimes should be accompanied by the appropriate enforcement mechanisms. Furthermore, investment screening regimes should be guided by the principles of non-discrimination, transparency, predictability, proportionality, and accountability, as set forth in relevant OECD guidelines. We also intend to engage with partner countries and stakeholders on investment screening.
We recognize the importance of effective controls on trade in dual-use items. Such export controls are necessary to ensure compliance with our international obligations and commitments. We affirm that a multilateral approach to export controls is most effective for protecting international security and supporting a global level-playing field. We note that the potential applications of emerging technologies in the defense and security field raise important concerns, and recognize the need to address these risks. We have determined shared principles and areas for export control cooperation, including in export control capacity-building assistance to third countries, and recognize the importance, where appropriate and feasible, of prior consultations to ensure that the application of export controls is transparent and equitable for EU and US exporters.
With respect to global trade challenges, we intend to work closely together to address non-market, trade-distortive policies and practices, improve the effectiveness of our respective domestic measures that address those policies and practices, and explore ways to combat the negative effects of such policies and practices in third countries. We also intend to work together to maintain competitive, free, and fair transatlantic commerce in new and emerging technologies, by avoiding new and unnecessary barriers to trade in these technologies, while always respecting the European Union's and the United States' regulatory autonomy and promoting openness and transparency. In these and other efforts, we intend to maintain a particular focus on using and coordinating the use of our trade policy tools. We aim to protect workers and labor rights, and combat forced and child labor. We intend to address relevant trade, climate, and environmental issues.
Banking on the Belt and Road: Insights from a new global dataset of 13,427 Chinese development projects China has provided record amounts of international development finance and established itself as a financier of first resort for many low- and middle-income countries (LMICs) over the last two decades; however, its grant-giving and lending activities remain shrouded in secrecy. Thirty-five percent of infrastructure projects financed through China's Belt and Road Initiative (BRI) struggle with corruption, labor violations, environmental pollution, and public opposition, according to a Policy Report by AidData. The report introduces a uniquely comprehensive and granular dataset of international development finance from China. It captures 13,427 projects worth $843 billion across 165 countries in every major world region over an 18-year period. AidData is a research lab at William & Mary's Global Research Institute.
Saudi Arabia's new Committee to Examine Foreign Investments The Kingdom of Saudi Arabia's (KSA' s) Cabinet of Ministers launched a new Permanent Ministerial Committee for Examining Foreign Investments (CEFI) that would review foreign investments for potential national security threats. This development comes at an important time as Saudi Arabia opens its doors for foreign investments in pursuit of the Vision 2030 plan. The Ministry of Investment recently reported that foreign investment licenses in the KSA rose 108% in the first half of 2021 in comparison the preceding year. The committee is expected to function in a manner similar to the Committee on Foreign Investment in the United States (CFIUS), and the proposed UK National Security and Investment Bill, although its future role and implementation remain to be determined. According to the Saudi Gazette, established in 1978 and based in Jeddah, KSA: "The competent authorities have approved the formation of a permanent ministerial committee called the "Permanent Ministerial Committee for Examining Foreign Investments," Okaz/Saudi Gazette has learned from well-informed sources. The main task of the committee is to work out a list of individuals and companies that are banned from investing in the Kingdom and updating the list from time to time and that is in coordination with the concerned authorities. The committee will be concerned with identifying sensitive and strategic sectors that would have direct or indirect impact on national security or public order. It will constantly update these sectors, and will fix the upper limit of the percentages of direct and indirect ownership of foreign investors in shares of Saudi companies operating in sensitive and strategic sectors, as well as in securities, which are issued by these companies, and that are convertible into capital. The committee will work on fixing the necessary controls and penalties for violations with regard to foreign investors who own shares in Saudi companies operating in sensitive and strategic sectors. The committee will have the right to request any information, data, reports, statistics or visuals from all ministries and other government agencies required by it. It can also invite any government agencies and seek the assistance of specialists and consultants it deems fit to attend its meetings without having the right to vote. Minister of Investment will be the chairman of the committee, of which the members include Minister of Commerce, Minister of Economy and Planning, Minister of Communications and Information Technology, and the heads of the boards of many government agencies. The agencies will be represented by the Local Content and Government Procurement Authority, the Saudi Authority for Intellectual Property, the Capital Market Authority, the Saudi Data and Artificial Intelligence Authority as well as the governors of the General Authority for Foreign Trade, the General Authority for Competition".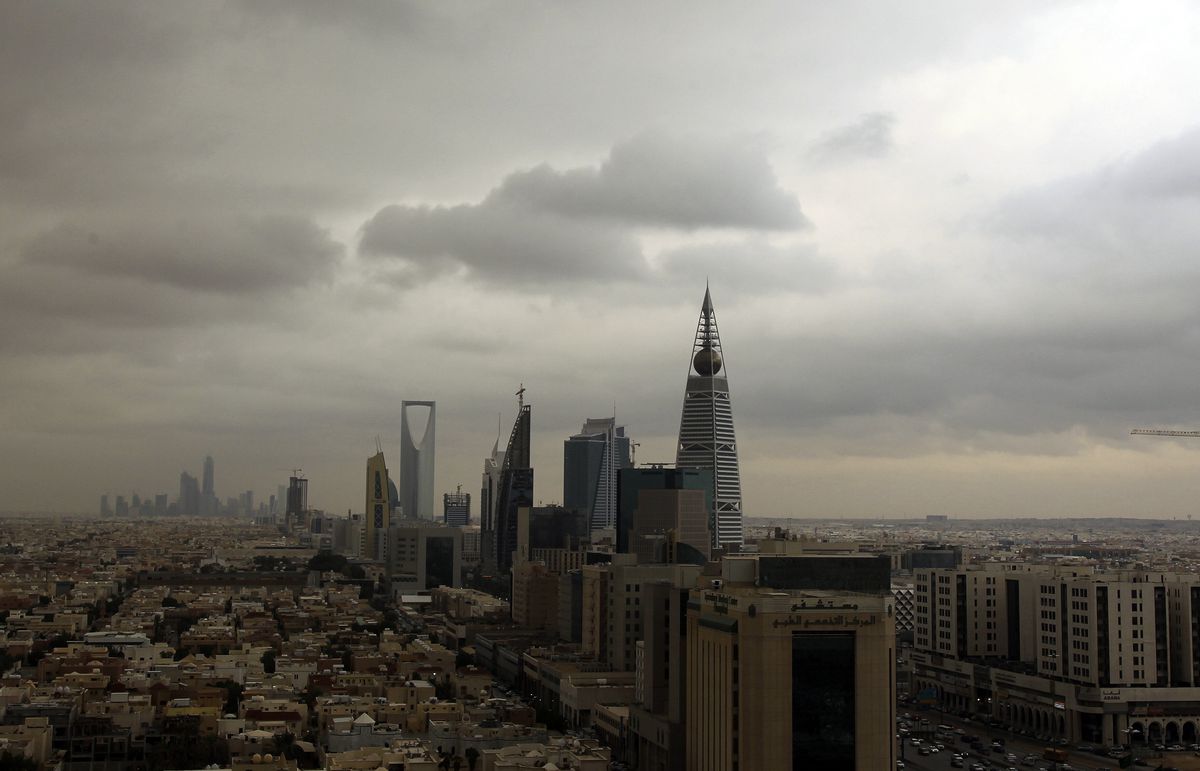 As the country's capital, Riyadh hosts numerous government ministries and public services headquarters, making the public sector the city's largest employer. Faisal Al Nasser / Reuters
CFIUS, Team Telecom and China In the past few years, two federal government interagency committees—the Committee on Foreign Investment in the United States (CFIUS) and Team Telecom—have begun to play an important role in the government's effort to counter potential threats from Chinese companies' involvement in the United States. Both committees review certain foreign companies' American investments. CFIUS has jurisdiction over a broad swathe of foreign investment in the U.S., and Team Telecom's jurisdiction covers certain licenses for foreign telecommunications companies to operate. Both committees have become more assertive—often retroactively ordering divestiture or revocation against Chinese companies, sometimes years after an investment was completed or a license granted. And notably, both committees seem to be broadly maintaining a similar posture under President Biden as under President Trump. This post reviews both committees' origins and activities.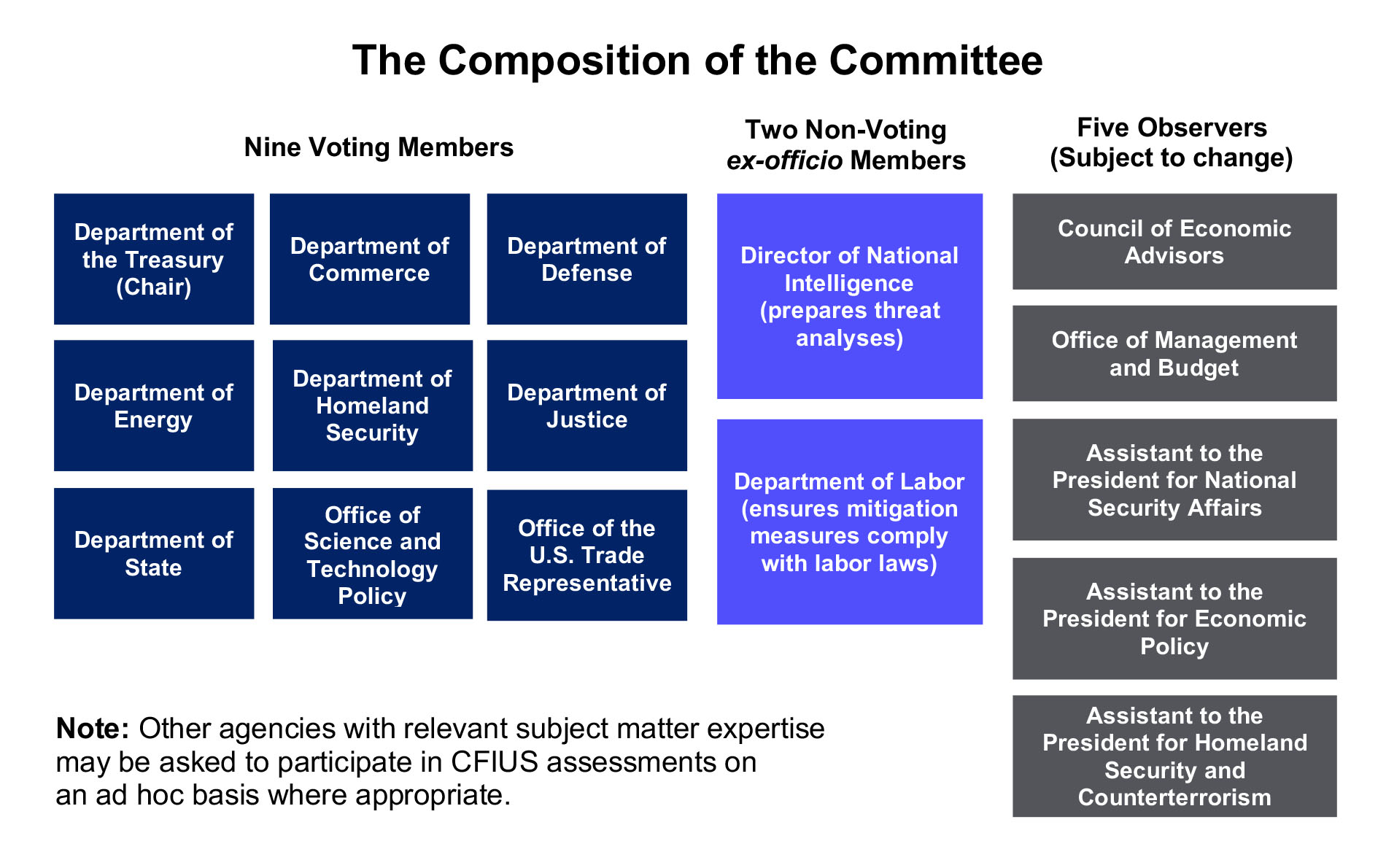 The Committee on Foreign Investment in the United States is an interagency committee, headed by the treasury secretary, tasked with reviewing foreign in-bound investments for national security risks. If CFIUS deems a foreign investment a national security threat, it can force the investor to pursue measures to mitigate the risks or recommend that the president prohibit the transaction or order divestiture of a past investment. CFIUS orders or presidential orders on CFIUS's recommendation are subject only to limited judicial review and the government does not have to produce extensive justifications for its national security recommendations or divestment orders. CFIUS never publicizes its reviews and publishes few details about its internal deliberations or reasoning for specific cases. CFIUS, historically, intervened rarely and focused primarily on investments critical to national security. CFIUS's few public actions, along with media reports on CFIUS activity over the past five years, yields several trends that are particular to CFIUS, beyond those trends shared with Team Telecom and enumerated above. CFIUS has been particularly aggressive toward in-bound Chinese investment in the semiconductor industry (a long-standing concern) and to investments giving Chinese firms access to Americans' personal data (a new concern). Moreover, while CFIUS under the Biden administration seems on track to continue Trump-era CFIUS's aggressive focus on China and technology, Biden's emerging effort to multilateralize foreign investment screening via intelligence sharing partnerships with allies and coordinated reviews suggests a potential break with Trump. More in this Lawfare article.
Overcoming the Tragedy of TPP In common parlance today, the word "tragedy" is used to describe any ill fortune that befalls a person or group: a destructive earthquake, a fatal shooting, the death of a family member from disease. But to the ancient Greeks, tragedy involved an element of human error ("hamartia'), not just external circumstance. On this measure, the saga of the United States and the Trans-Pacific Partnership (TPP) would have given Sophocles enough material for an epic to rival Oedipus Rex. From the start, TPP was marked by tragic irony—with China always in a supporting role. The George W. Bush administration notified Congress of its intent to negotiate a high-standard trade agreement with Asia-Pacific partners on September 22, 2008—one week into a global financial crisis that would severely undermine U.S. economic leadership and embolden Beijing. While quick to embrace TPP and successful in concluding an agreement among the parties, President Barack Obama fatally delayed pushing for trade promotion authority from Congress in 2014—choosing instead to name the chairman of the relevant Senate committee, Max Baucus, as his ambassador to China. And in one of his first, catastrophic acts as president, Donald Trump withdrew the United States from the unratified TPP—not understanding that it was one of the most powerful tools he had to compete with his nemesis, China. And now the People's Republic of China has applied to join TPP's successor agreement, the Comprehensive and Progressive Agreement for Trans-Pacific Partnership (CPTPP). Tragic irony, indeed. More in this CSIS Commentary.
Commission Recommendation (EU) 2021/1700 Commission Recommendation (EU) 2021/1700 of 15 September 2021 on internal compliance programs for controls of research involving dual-use items under Regulation (EU) 2021/821 of the European Parliament and of the Council setting up a Union regime for the control of exports, brokering, technical assistance, transit and transfer of dual-use items. Commission Recommendation (EU) 2021/1700 recommends that member states and exporters take account guidance for compliance programs in relation to the new EU dual-use export regulation. The guidance:
Outlines the basic dual-use export control regime and controls on software, technology and certain activities;

Identifies research areas and scenarios that could trigger dual-use export controls;

Clarifies who is considered "the exporter" for the purposes of research; and

Gives guidance for internal compliance programs.
Taiwan submits bid to join CPTPP trade pact Taiwan announced Thursday that it has submitted an application to join the Comprehensive and Progressive Agreement for Trans-Pacific Partnership (CPTPP), the cabinet said late Wednesday, in a move expected to trigger opposition from China. Taiwanese authorities have submitted the application to New Zealand, which acts as the depositary for the Pacific rim trade pact, and sought the support of all existing members. Details on the application will be announced Thursday. The move comes less than a week after China last Thursday applied for membership in the CPTPP, which sets rules for tariff-free trade and investment and data flows. The timing suggests a rush by Taipei in response to Beijing's bid. In order to join the CPTPP, Taiwan will need approval from all 11 of its existing members, which include Japan and Australia. The island already has bilateral free trade agreement with New Zealand and Singapore, another CPTPP member. Securing membership in the CPTPP has been a goal for Taiwanese President Tsai Ing-wen, who has not sought to join the Regional Comprehensive Economic Partnership, a China-led regional trade pact that also includes Southeast Asia, Japan, South Korea, Australia and New Zealand. Taiwan's bid is likely to be followed by diplomatic wrangling as Taipei and Beijing each seek to influence existing CPTPP members. More in this recent NikkeiAsia article.
National Artificial Intelligence Strategy (UK) The U.K. government on Wednesday released its 10-year plan to make the country a global "artificial intelligence superpower", seeking to rival the likes of the U.S. and China. The so-called "National Artificial Intelligence Strategy" is designed to boost the use of AI among the nation's businesses, attract international investment into British AI companies and develop the next generation of homegrown tech talent.
Notice of Request for Public Comments on Risks in the Information Communications Technology Supply Chain On September 20, 2021, the Bureau of Industry and Security (BIS) published a Notice of Request for Public (RFC) Comments on Risks in the Information Communications Technology Supply Chain. The RFC calls for comments on cybersecurity and supply chain challenges for the ICT sector and will inform a federal report on ICT supply chain resiliency. Comments are due on November 4, 2021.
'Just Get Me a Box': Inside the Brutal Realities of Supply Chain Hell It's mid-August, and her phone won't stop pinging. Her faucets, sinks, and toilets are waylaid near Shanghai, snagged in Vancouver, and buried under a pile of shipping containers in a rail yard outside Chicago. As U.S. transportation manager for Gerber Plumbing Fixtures LLC, a unit of Taiwan's Globe Union Industrial Corp., that's based in Woodridge, Ill., she is trying to overcome the biggest shock wave to unsettle global trade since the dawn of container shipping almost seven decades ago. The pandemic has thrown the vital but usually humdrum world of logistics into a tailspin, spurring shortages of everything: masks and vaccine vials, semiconductors, plastic polymers, bicycles, and even baseball bobbleheads. For the logistics manager it's complicated, the shipment of about 10,000 20-foot containers of bathroom equipment she brings into the U.S. each year from China and Mexico, but it has also revealed a bigger, structural challenge. The system underpinning globalization—production on one side of the planet, connected to consumers on the other by trucks, ships, planes, cranes, and forklifts—is too rigid to absorb today's rolling tremors from Covid-19, or to recover quickly from the jolts to consumer demand or the labor force. It's avoided a complete collapse only through a combination of human ingenuity, painfully long hours, and, as Thomas describes a recent success, strategy, mixed with a stroke of luck. More in the Bloomberg Businessweek article of September 16, 2021.
Advancing U.S. Goals in the U.S.-EU Trade and Technology Council As the Biden administration works with its EU counterparts through the new U.S.-EU Trade and Technology Council (TTC), it should hold firm in defending the superior U.S. innovation system. To that end, U.S. negotiators must first clarify their positions on at least four strategic questions, according to this ITIF new report (the Information Technology and Innovation Foundation is an independent, nonprofit, nonpartisan research and educational institute). Key takeaways:
The EU's precautionary approach to digital technologies is antithetical to U.S. economic and national security interests because it limits innovation and growth, which the United States urgently needs.

It is critical for U.S. negotiators to vigorously defend U.S. economic interests in the TTC. They should not gloss over real differences in privacy rules, AI regulation, antitrust regulation, digital taxation, content moderation, and others.

When it comes to areas of regulation that affect cross-border trade, the United States and EU should work together more closely to ensure their respective approaches are interoperable.

It would be ideal if the EU were to unequivocally join the United States to limit Chinese innovation mercantilism and digital authoritarianism, but if the EU takes even limited measures toward that goal, it would be a success.

Both sides need to commit to a successful relationship. But U.S. negotiators should not define success as emulating the EU or increasing cooperation for its own sake; they should increase cooperation while advancing key U.S. national interests.
Department of Commerce Establishes National Artificial Intelligence Advisory Committee U.S. Secretary of Commerce Gina Raimondo announced that the Commerce Department has established a high-level committee to advise the President and other federal agencies on a range of issues related to artificial intelligence. Working with the National AI Initiative Office in the White House Office of Science and Technology Policy, the Department is now seeking to recruit top-level candidates to serve on the committee.
The Rare Earth Myth China dominates the mining and refinement of rare earths, which are needed for almost all of the electronic devices that power our 21st-century lives. But contrary to popular perception, China neither can nor wants to weaponize the global supply, according to this article in SupChina.
The UK and China's security and trade relationship: A strategic void China is the world's second largest economy and most populous country. It is, in the words of our witnesses, "unignorable", and will be a prominent player on the global stage over the coming decades. In this inquiry, the International Relations and Defence Committee set out to understand the security and trade relationship between the UK and China and provide recommendations for the future approach to that relationship. The International Relations and Defence Committee is appointed by the House of Lords in each session "to investigate the United Kingdom's international relations and defence policy". This is their Report of Session 2021-2022.
United Kingdom Strategic Export Controls Annual Report 2020 The UK government has published its Strategic Export Controls Annual Report 2020. It covers the export licensing process and data, UK legislation post Brexit, the Court of Appeal judgment on military exports to Saudi Arabia, and compliance and enforcement.
In the driver's seat: China's electric vehicle makers target Europe China will become a major automotive export hub with localized supply chains – and Europe is the main market, finds a new MERICS report. The report's main findings and recommendations are:
China will become a major automotive export hub. Fueled by technological change, huge production capacity and government support China has the necessary requirements to export vehicles on a large scale.
Europe is the main market for Chinese electric vehicle (EV) exporters. Europe has the second highest demand for EVs after China. Buyers benefit from high subsidies and a comparatively well-developed charging network. China's automakers have government support to master European safety ratings.
China's government directs and pressures Chinese and China-based foreign carmakers to export. The government has relegated its ambition to primarily promote national champions in favor of absorbing global value chains. The government is also setting targets and providing information about overseas regulations to help Chinese EV makers overseas advance.
Chinese manufacturers are moving up the value chain. Chinese car makers have leapfrogged established carmakers and can now produce desirable, safe and technologically advanced EVs. A few Chinese brands have a shot to rank among the world's most successful carmakers.
Chinese companies' overseas investments and partnerships make them global competitors. Automotive competition is going to increase globally, and consequently Chinese battery manufacturers and carmakers are expanding their global footprint. Exports are only the tip of the iceberg as companies pursue different strategies to leverage international brands and access overseas markets.
Government subsidies for China-based manufacturers could distort global markets. That China has become the leading EV market is the result of substantial government support. But Chinese exports are also directly supported by central and local governments sponsorship of new production plants, R&D centers and overseas acquisitions.
New beginnings: Rethinking business and trade in an era of strategic clarity and rolling disruption The Australian Strategic Policy Institute is delighted to share the new report 'New beginnings: Rethinking business and trade in an era of strategic clarity and rolling disruption'. This report considers the relationship between our business and trade positioning in the context of the impacts of Covid-19, natural disasters and the actions of coercive trading partners. Global economic integration has enabled the spread of ideas, products, people and investment at never-before-seen speed. International free trade has been a goal of policy-makers and academics for generations, allowing and fostering innovation and growth. The mechanism shuddered in 2008 when the movement of money faltered; the disruption brought about by Covid-19 has seen a much more multi-dimensional failure of the systems which we share and move. The unstoppable conveyor belt of our global supply chain has ground to a halt. This time, what will we learn? The report examines the vulnerabilities in Australia's national security, resilience and sovereignty in relation to supply chains and the intersection of the corporate sector and government highlighting recent paradigm shifts in geopolitics, whereby economic and trade priorities are increasingly relevant to the national security discussion. A key insight from the research is that there are plenty of opportunities for Australia to expand its investment horizons. Growth industries that deserve attention include data and technology, biotechnology, renewable energy, clean steel, agritech, critical minerals and rare earths. In each of these industries, Australia can leverage a strategic advantage to establish and maintain reliable, high-value supply chains. The profound economic shock of the pandemic provides the perfect time to assess our relationships with our trading partners, our industries and internally, between our governments and the corporate world. Click here to read the report.
Vetting Biden's Export Control Nominee Up To Senate Committee On Banking, Housing, And Urban Affairs US export controls have a long history, dating to the American Revolution when the Continental Congress blocked trade with England. Since then, trade controls have been used to advance political, military, and economic objectives. Following the devastation of the 20th Century World Wars, restrictions were imposed on weapons to deter profiteering and the proliferation of nuclear arms, chemical/bio-hazardous materials, and "dual-use" technologies with civil and military applications. As technologies have evolved, export controls have become an increasingly important toolset to prevent adversaries from accessing items that could be weaponized against the US. In recent years, the US has entered into multilateral arrangements with like-minded nations to improve the effectiveness of strategic trade controls and reduce the abilities and incentives for bad actors to evade rules. A spokesperson for Sherrod Brown, Chairman of the Senate Committee on Banking, Housing and Urban Development, observed, "When used right, export controls are critical tools to protect our technologies from bad actors and strengthen our national security." The office for the Committee's Ranking Member Pat Toomey agreed. "Export controls are powerful tools, and the decision to impose unilateral controls must be taken extremely carefully." The Senate Committee on Banking, Housing and Urban Affairs has had jurisdiction over the modern US export control system since its formation after World War II. While most people likely associate this committee with monetary policy, its authority extends to the export control regime. Key to its jurisdiction is oversight of Bureau of Industry and Security (BIS) and the International Trade Administration, both housed at the Department of Commerce. The Senate Banking Committee confirms the President's nominees to these two agencies, while the Senate Commerce Committee confirms the cabinet-level position of Secretary of Commerce. Once a relatively obscure agency, the BIS has grown in prominence. It captured headlines in recent years for designating some 350 Chinese companies to the Entity List for activities that run counter to US national security and foreign policy interests—including telecom equipment giant Huawei. A US company must obtain a license from the BIS to do business with a counterpart on the Entity List. More in Forbes' recent article.
Long Shadows: How the Global Economy Supports Oppression in Xinjiang In Xinjiang, China, millions of Uyghurs and other ethnic minority peoples face mass detention, forced labor, and constant surveillance from the Chinese government. Thanks to witness testimony and widespread reporting, the world has not stayed silent. Countries such as the United States have placed sanctions, trade restrictions, and other measures on perpetrating entities in China, while the private sector has sought to prevent their supply chains from buying goods produced by forced labor. However, these measures are falling short. The author of this new report, a Senior Analyst at C4ADS, reveals how perpetrators of mass detention and forced labor in Xinjiang connect to and profit from global commerce through trade, foreign subsidiaries, and financial markets. As a test case, C4ADS examines the Xinjiang Production and Construction Corps (XPCC). A key perpetrator of forced labor and mass detention in Xinjiang, the XPCC is sanctioned by the United States and partially sanctioned by the European Union. Despite this, corporate, trade and financial data shows that it still maintains significant access to global trade and financial markets. In fact, XPCC goods at high risk of having been produced by forced labor, including cotton and tomatoes, still appear to be flowing from Xinjiang into the rest of the world and contaminating the supply chains of some of the world's biggest brands. While this unsettling analysis points out how the global regime against human rights violations in Xinjiang is falling short, the author provides recommendations for how public and private stakeholders can better fight against forced labor and its perpetrating networks.
Digest of United States Practice in International Law 2020 The Office of the Legal Adviser publishes the Annual Digest of United States Practice in International Law to provide the public with a historical record of the views and practice of the Government of the United States in public and private international law. The complete 2020 Digest is available at the bottom of this page. The 2020 Digest provides a historical record of key legal developments in 2020. Chapter 16 discusses selected developments during 2020 relating to sanctions, export controls, and certain other restrictions relating to travel or U.S. government assistance. It does not cover developments in many of the United States' longstanding financial sanctions regimes, which are discussed in detail. It also does not comprehensively cover developments relating to the export control programs administered by the Commerce Department or the defense trade control programs administered by the State Department. Details on the State Department's defense trade control programs are available here.
The Office of the Legal Adviser furnishes advice on all legal issues, domestic and international, arising in the course of the Department's work. This includes assisting Department principals and policy officers in formulating and implementing the foreign policies of the United States, and promoting the development of international law and its institutions as a fundamental element of those policies. The Office is organized to provide direct legal support to the Department of State's various bureaus, including both regional and geographic offices (those which focus on specific areas of the world) and functional offices (those which deal with specific subject matters such as economics and business, international environmental and scientific issues, or internal management).
Xinjiang Supply Chain Business Advisory On July 13, the U.S. Departments of State, Commerce, Homeland Security, Labor, and the Treasury, and the Office of the U.S. Trade Representative, issued an updated advisory on the risks for businesses with potential exposure in their supply chain to entities engaged in human rights abuses in the Xinjiang Uyghur Autonomous Region (Xinjiang). This advisory outlines risks that businesses and individuals should consider when assessing business partnerships with, investing in, sourcing from, or providing other support to companies operating in Xinjiang, linked to Xinjiang, or with laborers from Xinjiang.
The US and China are not destined for war Throughout history, when a rising power has challenged a ruling one, war has often been the result. But there are notable exceptions. A war between the US and China today is no more inevitable than was war between the rising US and the declining United Kingdom a century ago. And in today's context, there are four compelling reasons to believe that war between the US and China can be avoided, according to this article in ASPI's The Strategist. One of the reasons is that China and the US are deeply intertwined economically. Despite Trump's trade war, Sino-American bilateral trade in 2020 was around US$650 billion, and China was America's largest trade partner. The two countries' supply-chain linkages are vast, and China holds more than US$1 trillion in US Treasuries, most of which it can't easily unload, lest it reduce their value and incur massive losses.
Illicit Fentanyl from China: An Evolving Global Operation The U.S.-China Commission's issue brief examines the evolution of China's role in global illicit fentanyl trade. China placed all forms of fentanyl and its analogues on a regulatory schedule in 2019, but the U.S. Drug Enforcement Administration (DEA) assesses China remains the primary country of origin for illicit fentanyl and fentanyl-related substances trafficked in the United States. While Mexican drug cartels have always been a critical node for smuggling illicit fentanyl into the United States, this brief finds that the links between Chinese and Mexican actors in the fentanyl trade has grown in complexity, including the development of sophisticated money laundering operations. Finally, the brief concludes that while cooperation between the United States and China remains limited, there are opportunities for the United States to work with other countries on counter-narcotic enforcement. The key findings of the report are:
China remains the primary country of origin for illicit fentanyl and fentanyl-related substances trafficked into the United States: In 2019, China fulfilled a pledge to the United States and placed all forms of fentanyl and its analogues on a regulatory schedule. Nevertheless, illicit fentanyl from China remains widely available in the United States. Chinese traffickers are using various strategies to circumvent new regulations, including focusing on chemical precursors, relocating some manufacturing to India, rerouting precursor shipments through third countries, and leveraging marketing schemes to avoid detection. China's weak supervision and regulation of its chemical and pharmaceutical industry also enable evasion and circumvention.
Since China's government scheduled fentanyl, the amount of finished fentanyl shipped directly from China to the United States has declined, while the amount shipped from Mexico has increased:

The U.S. Drug Enforcement Administration (DEA) assesses Chinese traffickers have shifted from primarily manufacturing finished fentanyl to primarily exporting precursors to Mexican cartels, who manufacture illicit fentanyl and deliver the final product. U.S. law enforcement has seen a growing trend of Chinese nationals, in both Mexico and the United States, working with Mexican cartels. As Chinese suppliers coordinate more with international partners, the DEA is concerned that fentanyl production is becoming increasingly global and more difficult to track and control.

Chinese brokers are laundering Mexican drug money through China's financial system:

Chinese money launderers are using financial technology, mobile banking apps, and social media to evade authorities.

Cooperation between the United States and China remains limited:

U.S. law enforcement agencies have established working groups, conducted high-level meetings, and shared information with their Chinese counterparts, which has led to the dismantling of a few illicit fentanyl networks. At the same time, U.S. authorities are reporting that cooperation remains limited on the ground. The Chinese government has cooperated less with U.S. authorities on criminal and money laundering investigations, conducting joint operations, and U.S. requests for inspections and law enforcement assistance.
Please visit NIDA (the National Institute on Drug Abuse) for facts about Fentanyl.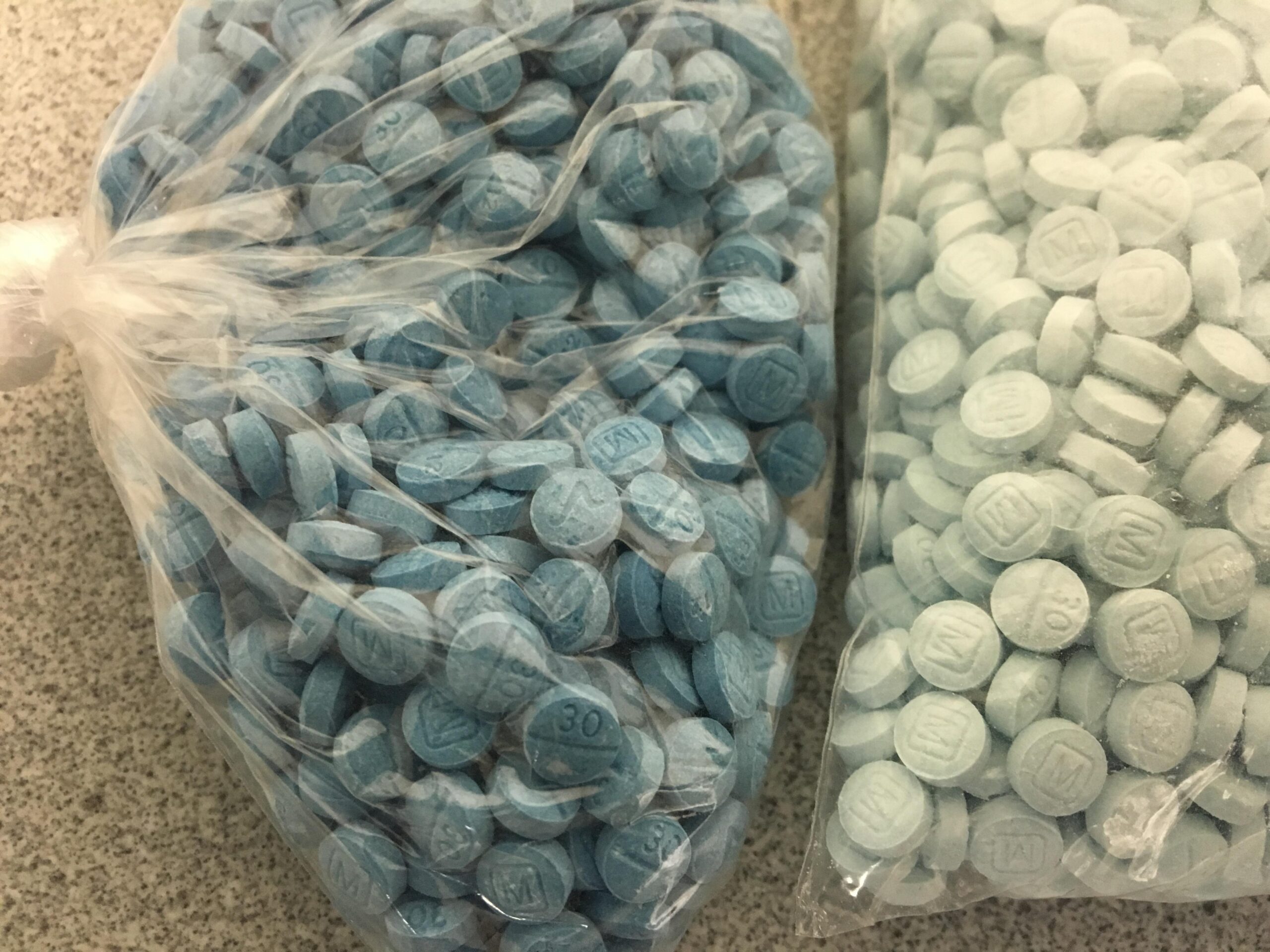 Photo by DEA
Survey of Chinese Espionage in the United States Since 2000 This survey lists 160 publicly reported instances of Chinese espionage directed at the United States since 2000. It does not include espionage against other countries, against U.S. firms or persons located in China, nor more than 50 additional cases involving attempts to smuggle munitions or controlled technologies from the U.S. to China. CSIS also did not include the more than 1200 cases of intellectual property theft litigation brought by U.S. companies against Chinese entities in either the U.S. or Chinese legal systems.
For those cases where CSIS could identify actor and intent, they found:
42% of actors were Chinese military or government employees.
32% were private Chinese citizens.
26% were non-Chinese actors (usually U.S. persons recruited by Chinese officials)
34% of incidents sought to acquire military technology.
51% of incidents sought to acquire commercial technologies.
16% of incidents sought to acquire information on U.S. civilian agencies or politicians.
41% of incidents involved cyber espionage, usually by State-affiliated actors.
The most recent cases are:
January 2021: Chinese national Cheng Bo, aka Jo Cheng, was indicted for conspiring to illegally export U.S. power amplifiers to China between 2012 and 2015.
January 2021: MIT professor Gang Chen, a naturalized U.S. citizen born in China, was charged with wire fraud for failing to disclose connections to various entities in the PRC. It is alleged that Chen received, and did not disclose, approximately $29 million in foreign funding since 2013, including $19 million from the PRC's Southern University of Science and Technology. According to the indictment, Chen is accused of attempting to defraud "DOE by means of materially false and fraudulent pretenses…" but the Homeland Security Agent in his affidavit indicated that he did not include all facts about the investigation, only those required to establish probable cause.
April 2021: Mingqing Xiao, mathematics professor at Southern Illinois University – Carbondale, was charged with wire fraud and making a false statement. Xiao obtained $151,099 in NSF grant money without disclosing his loyalties to, and the support he received from, the Chinese government and a Chinese University.
April 2021: Chinese national Suren Qin pleaded guilty to illegally exporting $100,000 of U.S. goods to PLA-affiliated Northwester Polytechnical University in China. Qin primarily sent underwater and marine technologies to the PRC through their company LinkOcean Technologies, LTD.
July 2021: The U.S., NATO, and allies accused the PRC of using contract hackers to conduct an ongoing global cyberespionage campaign that includes ransomware attacks, cyber extortion, crypto-jacking, and rank theft. Accompanying this accusation were charges against four MSS hackers for engaging in a multi-year campaign to steal trade secrets, business information, IP, and Ebola vaccine research. Finally, the U.S. government announced they are attributing a March 2021 exploitation of zero-day vulnerabilities in Microsoft Exchange Server to MSS hackers.
Issuance of Iran General License M-1 The Department of the Treasury's Office of Foreign Assets Control (OFAC) is issuing Iranian Transactions and Sanctions Regulations 31 CFR Part 560 GENERAL LICENSE M-1 "Authorizing the Exportation of Certain Graduate Level Educational Services and Software". In addition, OFAC is updating related Frequently Asked Question 853 (Iran Sanctions / "853. Can U.S. academic institutions provide online learning services to Iranian students who are not physically present in the United States because of the Coronavirus Disease 2019 (COVID-19) pandemic? Can U.S. technology companies provide software and services to assist Iranian students in accessing online coursework?")
Sovereignty for sale: the FCDO's role in protecting strategic British assets House of Commons Foreign Affairs Committee published the third report of Session 2021–22, together with formal minutes relating to the report. Summary: Foreign investment is an essential contributor to the UK economy. However, acquisitions by foreign entities can serve as the first step towards moving strategically vital companies, assets and intellectual property abroad. This transfer of assets threatens to make us reliant on others for assets and services that are critical to our capacity for independent action and global influence, as well as undermining the UK economy and our national security. Our sovereignty should not be for sale. The UK National Security and Investment (NSI) Act 2021 is intended to protect UK businesses and critical security interests. It is crucial that the Government gets the new investment screening regime right from the beginning—both to ensure that UK national security is protected and that we remain firmly open to valuable foreign investment.1 The FCDO's global footprint has the reach to collect the important information required when considering the national security implications of foreign investments and ensuring a balance of perspectives within the newly-established Investment Security Unit (ISU). But the question remains: does it have the capability? This isn't simply a question of tasking but of bringing together many of the skills that now sit in the Department for International Trade. Properly directed, the FCDO also has an important role to play in facilitating coordination with like-minded countries on matters of investment screening. Given the significant geopolitical implications of foreign investment decisions, it is key that the FCDO contributes meaningfully to the ISU and the consequent outcomes of the review process for investments. These decisions are, by necessity, based on judgments which must balance many aspects of the UK national interest, including the wider public good. We are concerned that the lack of robust Parliamentary scrutiny of the ISU provided for in the NSI Act leads Parliament to look at only the business aspect of the decision, potentially neglecting the Global Britain strategy. Now, more than ever, foreign investment is an important geopolitical issue with clear implications for the UK's foreign relations; yet this appears to have been overlooked in the arrangements for scrutiny. Following our close scrutiny of the NSI Act as it progressed through Parliament, we intend to continue to monitor its effectiveness. While we welcome the NSI Act as a vital step towards securing our sovereignty and protecting our businesses, failure to implement it effectively would have catastrophic effects for our global influence and security.
From Plan to Action Strategies can be eloquent and inspiring. How successful they are rests in addressing gritty details outside of the spotlight. An effective and realistic national technology strategy requires vision, process, an executable framework, and a commitment to addressing bureaucratic, legal, and regulatory hurdles to implementation. Alongside a comprehensive national technology strategy, the United States needs a blueprint for how to operationalize such a strategy. In this new CNAS report, the authors offer concrete and pragmatic measures that U.S. policymakers should take to operationalize a national technology strategy. The report builds upon two previous publications in CNAS' U.S. National Technology Strategy project. The first report in this initiative ("Taking the Helm") makes the case for a national technology strategy and lays out what a modern-day strategy should be. The second report ("Trust the Process"), focuses on how the U.S. government should structure itself organizationally and bureaucratically to execute such a strategy. The White House and Congress can take numerous concrete steps to improve the U.S. government's ability to execute strategic technology policies. The authors present four categories of key recommendations that can have profound impact on America's ability to secure its long-term competitiveness:
Bolster the Department of Commerce

Mitigate Supply Chain and Technology Transfer Risk

Streamline Technology Policy Coordination and Implementation

Increase Capacity to Pursue International Technology Partnerships
The authors conclude: "Crafting sound strategy is difficult. Executing a strategy well is more challenging still . . . Once a vision is articulated, a framework crafted, and processes identified, the focus must be on actions required to operationalize the national technology strategy. How and whether those actions are implemented will have outsized influence over the strategy's ultimate success."
Ending Human Trafficking in the Twenty-First Century The authors of the new CFR report argue that human trafficking bolsters abusive regimes and criminal groups, weakens global supply chains, fuels corruption, and undermines good governance. They urge the United States to increase investment in anti-trafficking measures. The 2021 Trafficking in Persons Report, from the Office to Monitor and Combat Trafficking in Persons of the U.S. Department of State, is here.
Syria and the West: the Efficacy of Economic Sanctions The U.S. and European Union have constructed an expansive and complex array of sanctions against Syria's regime over the last 30 years, and particularly in the past decade. While such measures have been punitive in nature, the West has sought to utilize them since 2011 as a source of pressure and diplomatic leverage amidst the long-standing deadlock facing negotiations over the country's future. Despite the best intentions, sanctions have not yielded any meaningful change in Syria diplomacy and as a result, they have become a source of intense political and analytical debate – for some, they are still of value and for others, they are only a source of humanitarian suffering, even if unintentional. The Middle East Institute's new study (A Comprehensive Review of the Effectiveness of U.S. & EU Sanctions on Syria) is here.
Building Resilient Medical Supply Chains Through Trade Agreements With the outbreak of the COVID-19 pandemic, policymakers have become increasingly concerned about the pharmaceutical supply chain—and ensuring the American public can access vital products. Yet even under the tremendous pressure of the pandemic, the supply chain proved itself to be remarkably resilient. That said, there are ways to enhance that resiliency —without resorting to rank protectionism—in the face of legitimate concerns about certain foreign trade practices, including China's. R Street released a new white paper which does exactly this: surveys the performance of supply chains in recent years and offers concrete policy recommendations.
Chinese FDI in Europe – 2020 Update This report, from Rhodium Group and MERICS, summarizes China's investment footprint in the EU-27 and the United Kingdom (UK) in 2020, analyzing the fallout from the pandemic as well as policy developments in Europe and China. Below are the main findings:
China's global outbound investment hit a 13-year low in 2020: Concerns that the Covid-19 global pandemic slump might trigger another round of Chinese distressed asset-buying proved unfounded. Instead, China's global outbound M&A activity dropped to a 13-year low, as completed merger and acquisition (M&A) transactions totaled just EUR 25 billion, down 45 percent from 2019.

China's FDI in Europe continued to fall, to a 10-year low: Shrinking M&A activity meant the EU-27 and the United Kingdom saw a 45 percent decline in completed Chinese foreign direct investment (FDI) last year, down to EUR 6.5 billion from EUR 11.7 billion in 2019, taking investment in Europe to a 10-year low. However, greenfield Chinese investment reached its highest level since 2016 at nearly EUR 1.3 billion.

The "Big-3" reclaimed their top spot, Poland emerged as a key recipient: More than half of total Chinese investment in Europe went to the "Big Three" economies – Germany, the UK and France. However, the UK saw Chinese investment plummet by 77 percent. Poland rose to become the second most popular destination, though inflows of EUR 815 million were largely concentrated on one acquisition.
The Liberty to Spy Many, if not most, international legal scholars share the ominous contention that espionage, as a legal field, is devoid of meaning. For them, any attempt to extrapolate the lex lata corpus of the International Law of Intelligence (ILI), let alone its lex scripta, would inevitably prove to be a failed attempt, as there is simply nothing to extrapolate. The notion that international law is moot as to the question of if, when, and how intelligence is to be collected, analyzed, and promulgated, has been repeated so many times that it has become the prevailing orthodoxy. This paper, written by Asaf Lubin (Associate Professor of Law, Indiana University Maurer School of Law), offers a new and innovative legal framework for articulating the law and practice of interstate peacetime espionage operations, relying on a body of moral philosophy and intelligence ethics thus far ignored by legal thinkers. This framework diagnoses the legality of covert intelligence at three distinct temporal stages: before, during, and after. In doing so it follows the traditional paradigms of international law and the use of force, which themselves are grounded in the history of Just War Theory. Adopting the Jus Ad, Jus In, Jus Post model is appropriate, given the symbiosis between espionage and fundamental U.N. Charter principles. This paper focuses on the first of these three paradigms, the Jus Ad Explorationem ("JAE"), a sovereign's prerogative to engage in peacetime espionage and the right's core limitations. Examining a plethora of international legal sources, the paper exemplifies the myriad ways by which peacetime intelligence gathering has been already recognized as a necessary pre-requisite for the functioning of our global legal order. The paper then discusses the nature of the JAE. It argues that the right to spy is best understood as a privilege in Hohfeldian terms. It shows how understanding interstate intelligence operations as a weaker "liberty right" that imposes no obligations on third parties to tolerate such behavior helps capture the essence of the customary norms that form part of the practice. Recognizing the liberty right to spy opens the door for the doctrine of "abuse of rights" to play a role in constraining the practice. By identifying the only two legitimate justifications for peacetime espionage—advancing the national security interests of States and promoting an increase in international stability and cooperation—we are able to delimit what may constitute abusive spying, defined as exploiting one's right to spy not for the purposes for which the right was intended. The paper concludes by introducing four categories of unlawful espionage: (1) spying as a means to advance personal interests; (2) spying as a means to commit internationally wrongful acts; (3) spying as a means to advance corporate interests; and (4) spying as a means to exploit post-colonial relations.
Mind the Gap: Priorities for Transatlantic China Policy The Aspen Strategy Group, Munich Security Conference and Mercator Institute for China Studies are pleased to share this special report of the Distinguished Reflection Group on Transatlantic China Policy. The report advocates a "pragmatic approach" for the U.S. and Europe towards China "identifying joint action where possible and…'managing differences' where necessary."
Building Resilient Supply Chains, Revitalizing American Manufacturing and Fostering Broad-Based Growth On June 8, 2021, the White House released its 250-page "Building Resilient Supply Chains, Revitalizing American Manufacturing, and Fostering Broad-Based Growth" report and an accompanying fact sheet entitled: "Fact Sheet: Biden-Harris Administration Announces Supply Chain Disruptions Task Force to Address Short-Term Supply Chain Discontinuities". The Report and Fact Sheet highlight vulnerabilities in critical U.S. supply chains and propose a "whole-of government" approach to addressing these vulnerabilities.
Wilbur Ross reported at least $53 million in side income while at Commerce According to Citizens for Responsibility and Ethics in Washington (CREW), former Trump Commerce Secretary Wilbur Ross reported making a minimum of $53 to $127 million in outside income while in office. MBFC rates CREW left-center biased based on story selection that leans slightly left and High for factual reporting due to thorough sourcing and very accurate news reporting.
Recognizing 'geoeconomic risk': Rethinking corporate risk management for the era of great-power competition As economic policy has become a key strategic means in great-power rivalry, states are attempting to control the economic networks that connect the world. Companies are faced with a growing threat of becoming used as pawns in the geoeconomic competition creating new business risks. The latest FIIA Briefing Paper analyses the risks that companies face in the era of great-power competition. In the paper, the authors introduce a novel concept of 'geoeconomic risk' stemming from three geoeconomic drivers. In the era of global supply chains, the geoeconomic disruptions in global politics and the rivalry between the United States and China are a concern for more than just the parties directly targeted. According to the authors, emerging risks call for better definition and an appropriate universal typology. "More data and a better understanding of the root causes, agents, means and implications of geoeconomic risk are required", the authors state.
Supply Chains and the Global Data Collection Ecosystem Most of the 27 companies tracked by ASPI's Mapping China's Technology Giants project are heavily involved in the collection and processing of vast quantities of personal and organizational data, according ASPI's report. Their global business operations depend on the flow of vast amounts of data, often governed by the data privacy laws of multiple jurisdictions. The Chinese party-state is ensuring that it can derive strategic value and benefit from these companies' global operations. ASPI assesses interactions between the People's Republic of China's political agenda-setting, efforts to shape international technical standards, technical capabilities, and use of data as a strategic resource. ASPI argues this 'Data Ecosystem' will have major implications for the effectiveness of data protection laws and notions of digital supply-chain security.
Data governance and trade: The Asia-Pacific leads the way Nations in the fast-growing Asia-Pacific region have increasingly adopted rules for data governance and cross-border data flows as elements of their trade agreements. While basic foundational principles of many nations are increasingly clear, substantial gaps remain, as well as opportunities for new approaches to cross-border data in all its diverse forms. This article, published by the Hinrich Foundation, was originally published by the National Bureau of Asian Research.
2021 Kearney Global Services Location Index The largest sectors of the global economy—from agriculture to manufacturing to healthcare—are investing enormous sums in digital services of all kinds. The nations that have enjoyed the most success with a lower-cost business model may continue to attract a high share of the services from increased investments in these sectors. However, the expectations may be shifting. Kerney's digital-resonance ranking (Figure 6 in their report) was created to capture the essence of this shift: an increasing emphasis on deep and varied digital skills within the workforce; a proven capability to nurture and support digital outputs and related business activities of all kinds, from start-up incubations to the expansion plans of Fortune 50 tech giants; a legal framework that protects intellectual property and enables entrepreneurship. Kerney expects that such considerations will become even more important in the years to come. The nations that have led their rankings in years past continue to do so now. Whether they will do what it takes to stay there will depend on whether they can broaden their appeal by embracing the expectations of an increasingly dynamic digital-services marketplace.
EU explores chipmaker alliance in search of 'strategic autonomy' The European Union is considering creating a semiconductor alliance including STMicroelectronics, NXP, Infineon and ASML to cut dependence on foreign chipmakers amid a global supply chain crunch, four EU officials said.
Trade of dual-use items: new EU rules adopted The EU has upgraded its legislation on the export controls applicable to sensitive dual-use goods and technologies such as cyber-surveillance tools. On the 10th of May 2021 the Council adopted a regulation modernizing the EU system for the control of exports, brokering, technical assistance, transit and transfer of dual-use items. These are goods, software and technology that can be used for both civilian and military applications. The new regulation strengthens controls on a wider range of emerging dual-use technologies, and the coordination between member states and the Commission in support of the effective enforcement of controls throughout the EU. By introducing due diligence obligations for producers, the new rules also give companies an important role in addressing the risks to international security sometimes posed by dual-use items. Finally, the dual-use regulation paves the way for better coordination between the EU and partner countries in enhancing international security through more convergent approaches to export controls at global level. Next steps: After the European Parliament and the Council sign the adopted regulation, it will be published in the EU Official Journal and enter into force 90 days later.
Value chains: Clear skies over Asia's new foreign investment landscape Despite disruptions caused by the US-China tech war and the Covid-19 pandemic, some aspects of international trade held up strikingly well in 2020. Investment in Asia have braved the storm, and global value chains have proved resilient. One cloud on the horizon is the absence of the US from any Asia-Pacific agreements, and the risk of growing US protectionism. This article is part of the Hinrich Foundation sponsored Vol.13 No.2 April-June 2021 issue of the East Asia Forum Quarterly.
Trade fantasies: Can Asia reinvent global trade? Can Asia reinvent global trade? No, concludes the author in his essay for the East Forum Quarterly, co-edited by the Hinrich Foundation. That's because the international trade regime is bereft of any leadership from either East or West, argues the Chair of the Middle East Institute at the National University of Singapore. A change in narrative, the veteran diplomat adds, would require better handling of domestic politics, the primary source of pressure in global trade.
The EU's new trade strategy can lead to conflict spirals and setbacks in foreign relations The European Union's new trade strategy will bring about significant changes in the structures as well as the objectives of the bloc's trade policy. These changes are a way for the union to respond to growing pressure stemming from the rise of China and the intensifying power competition between the US and China. The new strategy will further strengthen the shift in which other policies are more closely tied to trade-related decision-making. In the latest FIIA Comment, the authors note that instrumentalizing trade policy to promote the values and interests of the EU is crucial as global issues become increasingly complex. Meanwhile, conflicts with China can be expected, and the strategy might cause setbacks in transatlantic relations. However, neither external nor internal challenges should lead to the stagnation of the EU's ability to take action or to the failure of strategically important agreements.
NSCAI's Final Report (2021) The mandate of the National Security Commission on Artificial Intelligence's (NSCAI) is to make recommendations to the President and Congress to "advance the development of artificial intelligence, machine learning, and associated technologies to comprehensively address the national security and defense needs of the United States." This Final Report presents the NSCAI's strategy for winning the artificial intelligence era. The 16 chapters in the Main Report provide topline conclusions and recommendations. The accompanying Blueprints for Action outline more detailed steps that the U.S. Government should take to implement the recommendations.
European AI Policy Conference – Trends in Leadership, Strategy, and Innovation The Center for Data Innovation hosted the "European AI Policy Conference: Trends in Leadership, Strategy, and Innovation" as an online event on December 1, 2020. This report of April 9, 2021 provides an overview of some of the highlights from the conference, including summaries of each panel discussion and highlights from various keynote speeches.
Security at the frontier: UK-Japan perspectives on cyberspace, outer space, the Arctic and electronic warfare Increasing global connectivity has brought with it a new range of security threats that were unfathomable just decades ago. Global reliance on the internet and on virtual networks has revealed a range of new cyber vulnerabilities and threats, including to critical infrastructure and the Internet of Things (IoT). Cyber technology has brought with it a new security focus on outer space, which has become key to the functioning of national and international infrastructure on the ground. Furthermore, technologies using the electromagnetic spectrum, which are increasingly integral to military operations, create new challenges and adversarial threats including the prospect of electronic warfare. These challenges have expanded geographically too, as countries explore new physical frontiers, like the Arctic, as regions of strategic interest. This Chatham House* conference report, comprising four expert essays and a meeting summary, draws upon Chatham House's December 2020 conference 'Security at the Frontier', to examine the latest developments in cyberspace, outer space, the Arctic and electronic warfare, and considers how best the UK and Japan might respond to these challenges. *Chatham House, the Royal Institute of International Affairs, is a world-leading policy institute based in London.
Northern expedition: China's Arctic activities and ambitions This Brookings report explores China's internal discourse on the Arctic as well as its activities and ambitions across the region. It finds that China sometimes speaks with two voices on the Arctic: an external one aimed at foreign audiences and a more cynical internal one emphasizing competition and Beijing's Arctic ambitions. In examining China's political, military, scientific, and economic activity (as well as its coercion of Arctic states) the report also demonstrates the seriousness of China's aspirations to become a "polar great power." China has sent high-level figures to the region 33 times in the past two decades, engaged or joined most major Arctic institutions, sought a half dozen scientific facilities in Arctic states, pursued a range of plausibly dual-use economic projects, expanded its icebreaker fleet, and even sent its naval vessels into the region.
The eight Arctic sovereign states (Canada, Denmark, Finland, Iceland, Norway, Russia, Sweden, and the United States) exercise great influence over the Arctic and its strategically valuable geography. China aspires to be among them. The report advances several primary findings.
Addressing Cross Border E-commerce Challenges with Emerging Technologies The Borders, Trade, and Immigration Institute (BTI), a Department of Homeland Security (DHS) Science and Technology Directorate (S&T) Center of Excellence (COE) led by the University of Houston, recently released a report on the challenges posed by emerging technologies to cross-border e-commerce. This independent study was conducted to help Customs and Border Protection (CBP) and its stakeholders understand how to leverage these new technologies, which provide economic advantages, better risk assessment capabilities and expand CBP's data-sharing efforts.
Advancements in technology have fostered a steadily-increasing competitive e-commerce marketplace, which has changed the way global trade is conducted. With the rise in e-commerce, there is an increased risk of trade violation, and the potential for the release of harmful or unsafe goods. According to the report lack of pre-arrival data such as seller information, product identifiers or product classification can lead to delayed processing times and can potentially compromise import safety and security. Adopting emergent technological advancements can be a crucial strategy to effectively overcome the data gaps that are present with the rise in e-commerce.
BTI developed a variety of options to mitigate the data sharing gaps, including establishing new and effective authorized economic operator (AEO) programs specifically tailored to the cross-border e-commerce marketplace and require data sharing regardless of data laws. Current AEO doctrine is not applicable to e-commerce. Additionally, the team found that providing AEO certification to compliant stakeholders and developing a new federated data platform and information and communications technology infrastructure can both increase the probability of CBP gaining accurate data as well as increase economic efficiency for customers, importers and other relevant stakeholders.
US Export Control of Emerging Technologies The conclusion of this JIIA report is that the essence of export control is to control the flow of items across national borders from the viewpoint of foreign policy or national security. According to the BIS's fiscal 2020 annual report, the BIS has imposed export controls on 37 emerging technologies. As noted above, as international interdependence expands and deepens, a balance is being sought to protect technologies while maintaining an open innovation ecosystem. In response, the US's approach to export control of emerging technologies has been to place emphasis on international agreements, to target only a small number of items essential to its national security, but it does not hesitate to impose unilateral controls on technologies deemed to pose an imminent security threat. While this US approach is the result of pursuing a balance to ensure technology protection in an open world, it is not far from the US's traditional export control approach. However, if the power politics factor becomes dominant in future international circumstances, such as intensifying competition between great powers, there is a possibility that the motivation to shape international interdependence more in line with security logic will increase. This could lead to a new phase in US emerging technology export controls.
*After completing this report, the BIS announced its fifth round of emerging technology export controls on March 29, 2021. The measures entailed domestic implementation of the remainder of the 2019 WA Plenary Meeting decisions that were not covered by the fourth round of emerging technology export controls in October 2020. JIIA, the Japan Institute of International Affairs, founded in 1959, is a private, nonpartisan policy think tank focused on foreign affairs and security issues, and their research reports are compiled by participants in research groups set up at the Japan Institute of International Affairs, and are designed to disseminate, in a timely fashion, the content of presentations made at research group meetings or analyses of current affairs. The reports represent their authors' views.
Common Code / An Alliance Framework for Democratic Technology Policy The 21st century will be defined by competition—a contest of economic power rooted in technological advances. How countries decide to compete will shape the lives of billions of people. Technology-leading countries will determine how to harness new technologies to combat disease, feed humanity, counter climate change, gain wealth, explore the universe, gain influence over others, secure their interests, and protect their independence and freedom. The leaders in adopting emerging technologies such as AI, quantum computing, biotechnology, and next-generation telecommunications, and those who shape their use, will garner economic, military, and political strength for decades. The world's liberal democracies stand at a crossroads. Political power and economic might is diffusing. The integrity and efficacy of postwar institutions are increasingly challenged. Fresh thinking and new approaches are needed to tackle the challenges ahead to ensure that the future of technology is a beneficial one. No one country can achieve this on its own. The requisite knowledge and capabilities are too dispersed. Broad-based, proactive, and long-term multilateral cooperation among like-minded countries is needed to maximize effectiveness across a range of areas, including research and development (R&D), supply chain diversity and security, standards-setting, multilateral export controls, and countering the illiberal use of advanced technology. To achieve the necessary level of coordination and collaboration, the world's tech-leading democracies should spearhead the creation of a new multilateral architecture for technology policy—a technology alliance.
Technological leadership by the world's major liberal-democratic nations will be essential to safeguarding democratic institutions, norms, and values, and will contribute to global peace and prosperity. A unified approach by like-minded nations also is needed to counteract growing investments in and deployments of emerging technologies by authoritarian, revisionist powers. Many have made the case for such a grouping, most notably the United Kingdom's recent call for a "Democracy 10" to tackle 5G and other technology issues. Similarly, former U.S. government officials have advocated for the creation of a "Tech 10." Despite this interest in a new coordination mechanism for multilateral technology policy, the work needed to create it has been elusive. This document lays out what that alliance framework should look like, the opening chapter of a new, multilateral techno-democratic statecraft strategy for the 21st century. It answers the key questions needed to move from concept to an actionable blueprint necessary to tackle the 21st century technology competition.
Securing the Subsea Network: A Primer for Policymakers The United States' position as the world's leading hub in subsea networks can no longer be taken for granted. More of the world is coming online, and China is emerging rapidly as a leading subsea cable provider and owner. This guide for policymakers describes subsea cables' essential functions, planning processes, and common threats; explains the U.S. economic and strategic interests at stake; and offers recommendations for protecting U.S. centrality in subsea networks.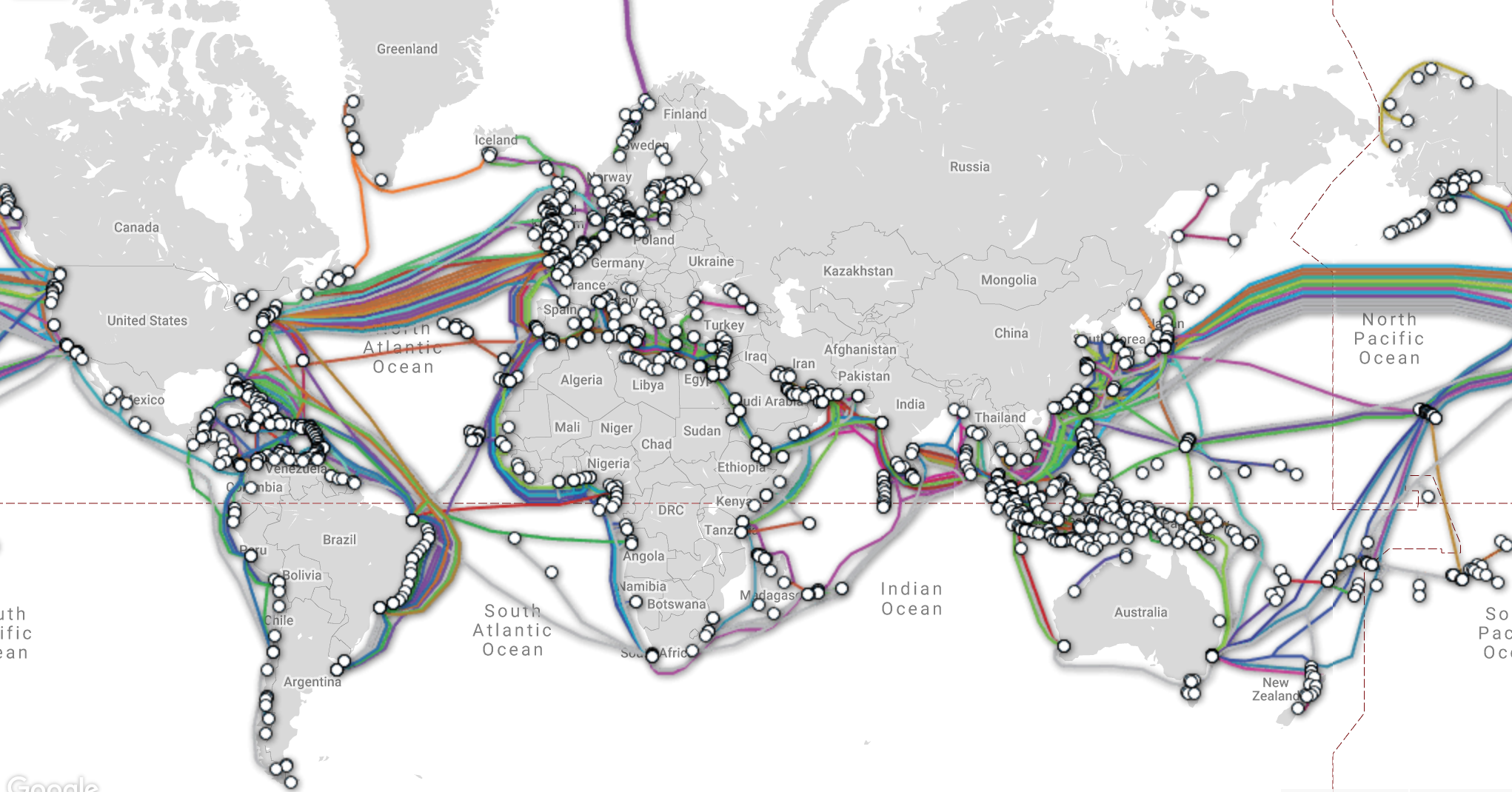 Source: APNIC (Asia Pacific Network Information Centre) is an open, membership-based, not-for-profit organization providing Internet addressing services to the Asia Pacific.
Indo-Pacific strategies, perceptions and partnerships As the Indo-Pacific's strategic importance increases, countries around the world are developing new policies to strengthen their reach in the region. While there is a long history of international partnerships in the Indo-Pacific, many recent forays in the region are in response to China's economic, political and military expansion there. This Chatham House paper is based on field research, roundtables and face-to-face interviews in seven countries (including China) chosen to provide a variety of perspectives and insights on the Indo-Pacific, particularly regarding policy strategies and objectives. The research uncovered shared internal divisions within the sample countries in how they perceive and engage with China. In a sense, against the backdrop of the COVID-19 pandemic, some of these divisions have since been resolved with countries generally more cautious towards China. Regardless of intentions, a broad understanding of the different actors in the region is crucial for countries seeking to form strong partnerships.
Innovation in Biotechnology: Ethical and Regulatory Challenges This ORF brief (the Observer Research Foundation is an independent think tank based in Delhi, India) analyses the regulatory, security and ethical challenges facing states and the international community regarding emerging technologies in biotechnology, focusing on the CRISPR/Cas9 gene editing system and artificial gene synthesis. It highlights the inadequacy of current mechanisms such as export control regimes to regulate these emerging technologies because of a fundamental shift in the nature of challenges posed and an altered global landscape. The brief also underlines the need for an inclusive mechanism to facilitate discussions on the ethical issues, and suggests possible solutions to the manifold dilemma.
Reimagining U.S. Strategy in the Middle East U.S. policy toward the Middle East has relied heavily on military instruments of power and has focused on regional threats—particularly the Iranian threat—with the goal of keeping partners on "our side." These long-standing policies have largely fallen short of meeting core U.S. interests and adapting to new regional realities and strategic imperatives. RAND researchers offer an alternative framework, suggesting that the U.S. strategic priority must center on reducing regional conflict and the drivers of conflict. This revised strategic approach puts a greater focus on addressing conflict and socioeconomic challenges that are creating unsustainable pressures on the region's states and immense suffering among its people. Researchers analyze how the tools of U.S. policy—political, security, economic, diplomatic, and informational instruments—would need to adjust to more effectively address such challenges in ways that are mindful of limited resources at home. Researchers also examine how the United States deals with both partners and adversaries in and outside the region and consider how to better leverage policies to the benefit of U.S. interests and the region. The researchers recommend specific actions organized into the following three pillars: (1) shifting resources from the current heavy reliance on military tools to a more balanced approach that prioritizes economic investments, governance, diplomacy, and programs focused on people; (2) favoring a long-term time horizon to reduce regional conflict and support growth and development, even at the cost of short-term risks; and (3) working multilaterally with global and regional partners to address key challenges.
The research report (this research was conducted within the RAND Center for Middle East Public Policy, a center within International Programs at the RAND Corporation) offers many recommendations.
Trust the Process – National Technology Strategy Development, Implementation, and Monitoring and Evaluation The United States is navigating a new paradigm of competition, one that centers not merely on traditional measures of military might, but on technology innovation and its contributions to comprehensive national power. Technology and innovation are critical enablers of American military, political, and economic power. To succeed in great-power competition, the United States should adopt a national technology strategy. This report does not offer the content of a strategy—that is outlined in another report in this series, "Taking the Helm: A National Technology Strategy to Meet the China Challenge", but it offers a framework for the bureaucratic connective tissue necessary to bring a strategy to life. To effectively execute a national technology strategy, the U.S. government will need to create new processes to develop, implement, and monitor and evaluate the strategy. It will also need to optimize existing processes in new ways, as bureaucratic foundations in this space have so far been uncoordinated, under resourced, and undervalued. Institutions such as the National Security Council (NSC), National Economic Council (NEC), and Office of Science and Technology Policy (OSTP) are, in their current structure and partitions, not fully equipped to meet the challenge of creating and executing a coherent response to this challenge. To support a strategy, this report offers key ingredients for designing processes but does not prescribe detailed action plans; the best design is not the one that is most "right" but the one that leadership will use. It does offer sample tactics for policy interventions, using the promote-protect-partner-plan framework proposed in the CNAS report "Taking the Helm" as a foundation.
This CNAS report divides recommendations into stages of strategy development, implementation, and monitoring and evaluation. Themes that cut across these stages include ensuring executive attention, facilitating buy-in among internal and external stakeholders, exercising convening powers, inventorying and coordinating policy tools, acquiring talent and expertise, building pipelines for tailored information and analysis, and establishing a means for reviewing and revising the process and strategy. Overall, designing transparency, clarity, and accountability into the process will create one that leadership can both trust and verify.
Critical Infrastructure and Security of Supply Chains: Recap NATO, its allies, and the private sector are all facing the consequences of the increasingly complex and global nature of critical infrastructure, according to this report, part of the "NATO 2030: NATO-Private Sector Dialogues" with GLOBSEC (a think-tank based in Bratislava, Slovak Republic). The evolving parameters of this landscape and the tensions this uncertainty raises among NATO allies and companies requires developing a coordinated transatlantic approach. Adequately responding to these challenges will require more extensive and innovative collaboration between the Alliance and the private sector. The sixth of the NATO-Private Sector Dialogues with GLOBSEC brought relevant stakeholders together to exchange views and insights about how the private sector can contribute to decision making on the new challenges in critical civil infrastructure, emerging critical infrastructure, critical dimensions of NATO's military advantage, and the emerging challenges of supply chain security.
Beyond trade war in Washington: The United States and our less global future The main argument of this Briefing Paper is that not only has US governmental policy on trade shifted, but also that the environment in which it is developed has altered radically – not least due to US policy itself. This means that, one, rules-based trading will need new champions and, two, others must coax the United States to come along when they can find shared reasons for doing so. The paper looks at both the worlds that the US chose to mould and the ones that it rejected: the US-MCA and the TPP. It also asks how Europeans might orient themselves in the direction of the United States, examines what trade without deals may mean and, finally, situates current policy in the longer trajectory of the US role on trade.
A few of the key points of Briefing Paper 304 of the Finnish Institute of International Affairs (FIIA) are:
The grand trajectory of the United States has shifted from leader to vocal sceptic of trade integration. Joe Biden is changing the tone but not the substance. The new administration is raising some barriers to entry into the US market.

Despite the headlines, the US public attitude towards trade is increasingly positive. However, it is more difficult to translate that sentiment into deals. To make matters worse, Europeans are pushing for digital taxes that much of Washington sees as tariffs.

With the president's Trade Promotion Authority set to expire in the summer – and Congress showing little initiative to formulate objectives for a new TPA – Washington does not appear prepared to engage in major trade agreements any time soon. Going forward, when the US sees the need for a deal, it is likely to be associated with a broader strategic project.

The rules-based trading will need new champions; others must coax the United States to come along when they can find shared reasons for doing so.
DOC Eases Encryption Export Controls The Department of Commerce's Bureau of Industry and Security (BIS) issued a final rule on March 29, 2021, implementing certain changes in the Export Administration Regulations (EAR) agreed upon in December 2019 by governments participating in the Wassenaar Arrangement* on Export Controls for Conventional Arms and Dual-Use Goods and Technologies (Wassenaar Arrangement), a multilateral export control regime. In addition to these clarifications and modifications, the rule eases BIS's encryption controls, including eliminating certain reporting requirements for mass market products. These encryption-related changes follow the U.S. government's trend of slowly and steadily loosening controls on encryption products and reducing the regulatory burden for encryption exporters.
*Background The Wassenaar Arrangement (or WA) on Export Controls for Conventional Arms and Dual-Use Goods and Technologies is a group of 42 like-minded states committed to promoting responsibility and transparency in the global arms trade and preventing destabilizing accumulations of arms. As a Participating State of the WA (Participating State), the United States has committed to controlling for export all items on the WA control lists. The lists were first established in 1996 and have been revised annually thereafter. Proposals for changes to the WA control lists that achieve consensus are approved by Participating States at annual plenary meetings. Participating States are charged with implementing the list changes as soon as possible after approval. The United States' implementation of WA control list changes ensures that U.S. companies have a level playing field with their competitors in other WA Participating States.
Strange bedfellows on Xinjiang: The CCP, fringe media and US social media platforms This new report from ASPI's International Cyber Policy Centre explores how the Chinese Communist Party (CCP), fringe media and pro-CCP online actors seek, sometimes in unison, to shape and influence international perceptions of the Chinese Government's human rights abuses in Xinjiang, including through the amplification of disinformation. US-based social media networks, including Twitter, Facebook and YouTube, along with Chinese-owned TikTok (owned by Chinese company ByteDance), are center stage for this global effort. The Chinese Government continues to deny human rights abuses in Xinjiang despite a proliferation of credible evidence, including media reporting, independent research, testimonies and open-source data, that has revealed abuses including forced labor, mass detention, surveillance, sterilization, cultural erasure and alleged genocide in the region. To distract from such human rights abuses, covert and overt online information campaigns have been deployed to portray positive narratives about the CCP's domestic policies in the region, while also injecting disinformation into the global public discourse regarding Xinjiang.
China's New Silk Road: A superhighway for illegal trade? When Chinese President Xi Jinping described the Belt and Road Initiative (BRI) as the 'project of the century', he might have sounded overly ambitious. The reality is that it is hard to find a project that can rival the scale and reach of Beijing's New Silk Road.
Countless articles have been written and discussions have been had on what is deemed to be a game changer in terms of connectivity among regions, volume of trade, and investments. But with its land and maritime economic corridors, roads, ports, railways, special economic zones, industrial parks, mines and pipelines, telecommunications networks and urban development projects, the BRI has also attracted the attention of criminal entrepreneurs at the national and transnational level.
Countries participating in the BRI, and especially those featuring developing and emerging economies, are faced with a common dilemma linked to development projects. The likes of Myanmar, Vietnam, Mozambique and Tanzania, to mention only but a few, need to balance welcoming BRI investments to build infrastructure and increase prosperity with finding ways to shield themselves from the activities of criminals eager to exploit and infiltrate new infrastructural projects and put their hands on the extra cash injected into local economies. Yet, criminal involvement is a little studied aspect of the BRI, both in policy and research circles. This is problematic: failing to acknowledge that development and trade create vulnerabilities in contexts where governance and regulatory capacity is weak, crime levels are high and illicit markets are well established opens up the risk of systematic criminal exploitation.
To help fill that gap, the upcoming report of the Global Initiative against Transnational Organized Crime (GI-TOC) 'China's New Silk Road: A superhighway for illegal trade?', the first mapping of the convergence between BRI infrastructure and criminal flows, takes a close look at existing and potential criminal vulnerabilities in South East Asia as well as central and eastern Africa and identifies areas where BRI projects coincide with trafficking routes for narcotics, illicit environmental commodities and people.
One of the BRI's key economic networks, the China–Indochina corridor, overlaps with both existing economic routes and established trafficking routes and transit hubs. The key paths of the BRI correspond to and elongate transnational trafficking routes, with illicit goods blending in with the larger volume of trade. In areas where the BRI routes do not overlap with established trafficking routes, new transport infrastructure will link the Chinese market with new trading partners, amplifying the opportunities for illicit trade.
Increased connectivity provided by the BRI may afford organized crime networks new opportunities at a time when illicit trade is already expanding dramatically worldwide and criminal networks are seeking ever more favorable pathways for illicit trade. When BRI corridors, routes and trade hubs are studied in parallel with illicit trafficking routes and hotspots, it is impossible to miss the overlaps and convergences. Places such as China's Yunnan province and its capital city, Kunming; the special economic zone and port in Sihanoukville, Cambodia; and Kenya's maritime and railway hub in Mombasa are among the recurrent locations that are both BRI nodes and magnets for trafficking of various types of illicit commodities, as well as for financial crime and other criminal activities. One of the New Silk Road's objectives is to encourage stability through economic development – a target directly undermined by the emergence and expansion of illicit markets and economies. As BRI projects progress, the ever-evolving picture of criminal infiltration must be closely monitored.
Genomic Surveillance – Inside China's DNA dragnet This ASPI report provides the first comprehensive analysis of the Chinese Government's forensic DNA database and the close collaboration between Chinese and multinational companies and the Chinese police in the database's construction. It draws on more than 700 open-source documents, including government bid tenders and procurement orders, public security bureaus' Weibo and Weixin (WeChat) posts, domestic news coverage, social media posts, and corporate documents and promotional material. This report provides new evidence of how Xinjiang's well-documented biosurveillance program is being rolled out across China, further deepening the Chinese Government's control over society while violating the human and civil liberties of millions of the country's citizens. According to this report of the Australian Strategic Policy Institute, governments and international organizations should consider tougher export controls on equipment and IP related to DNA Collection, storage and analysis being sold in Chinese markets.
Executive Order on America's Supply Chains On February 24, 2021, President Biden signed an Executive Order (EO) instituting a formal, whole-of-government strategy to develop more resilient and secure supply chains across the United States. The EO calls for a comprehensive review of domestic production, research and development capabilities, and the formulation of strategies to strengthen critical sectors. The intended outcome is to protect U.S. industries from "[p]andemics and other biological threats, cyber-attacks, climate shocks and extreme weather events, terrorist attacks, geopolitical and economic competition, and other conditions [that] can reduce critical manufacturing capacity and the availability and integrity of critical goods, products, and services."
Towards Outreach 2.0 / Emerging Technologies and Effective Outreach Practices Drawing upon existing best practices, risk assessments, surveys, interviews, and stakeholder feedback, STRI's new report aims to empower governments with tools, in the form of good practices, with which to conduct outreach to emerging technology sectors that could be targeted by non-State actors for malicious purposes. The report authors have identified an advanced outreach model, Outreach 2.0, that can be used by countries to enhance compliance with United Nations Security Council resolution 1540. Outreach 2.0 consists of a more customized, targeted, creative, real-time, and collaborative communication strategy between regulators and technology holders that builds trust, support, knowledge-sharing, and inclusion.
Climate Change and Security in the Arctic A report by the Center for Climate and Security (CCS), an Institute of the Council on Strategic Risks (CSR), together with the Norwegian Institute of International Affairs (NUPI), assesses the growing security risks posed by a warming climate in one of the most rapidly changing regions on Earth: the Arctic. The report concludes that the risks posed by uncurbed warming include the potential for new conflicts, the breakdown of multilateral cooperation, and rising great power tensions. The analysis looks at two future warming scenarios (curbed and uncurbed) to project security threats alongside potential environmental changes deemed likely in the High North by 2030.
The analysis identifies a number of key Arctic climate security risks across both warming scenarios, but notes that the risks are more severe and more likely in an "uncurbed" warming scenario. In a "curbed" scenario in which the world takes rapid action to curb climate change, including by transforming energy use, decarbonizing the global economy, and building international institutions to manage climate risks, the Arctic is likely to see fewer opportunities for severe security risks. The report recommends integrating this climate risk analysis into Arctic planning strategies into the coming years, and avoiding the uncurbed warming scenario. Specifically, the analysis highlights five key findings:
A warmer and increasingly navigable Arctic will lead to more commercial, civilian, and military activity, rendering the region more prone to accidents and misunderstandings between major players.

Increased commercial activity significantly expands the likelihood of states like Russia and China using civilian and commercial actors as vehicles for strategic positioning, dual-use data collection, and for gray zone operations which may escalate to direct confrontation.

The institutions that have helped depoliticize and produce stability in the Arctic for several decades may not have sufficient mandates and authorities, or be resilient enough to withstand new demands resulting from climate change.

To manage a more complex operating environment in the Arctic, with ever more state and non-state actors, governments will need an integrated toolbox that includes legal, economic, diplomatic, and military instruments. Robust mechanisms for cooperation and communication with civilian and commercial actors will be particularly useful.

States are likely to place higher demands on their military forces in the Arctic, particularly as regards to monitoring, assertions of sovereignty, search and rescue, and other Coast Guard duties given higher levels of overall activity in the region. New climatic realities may also reduce the constraints for force projection in the region. At the same time, over-reliance on military approaches in the region could risk escalating conflicts.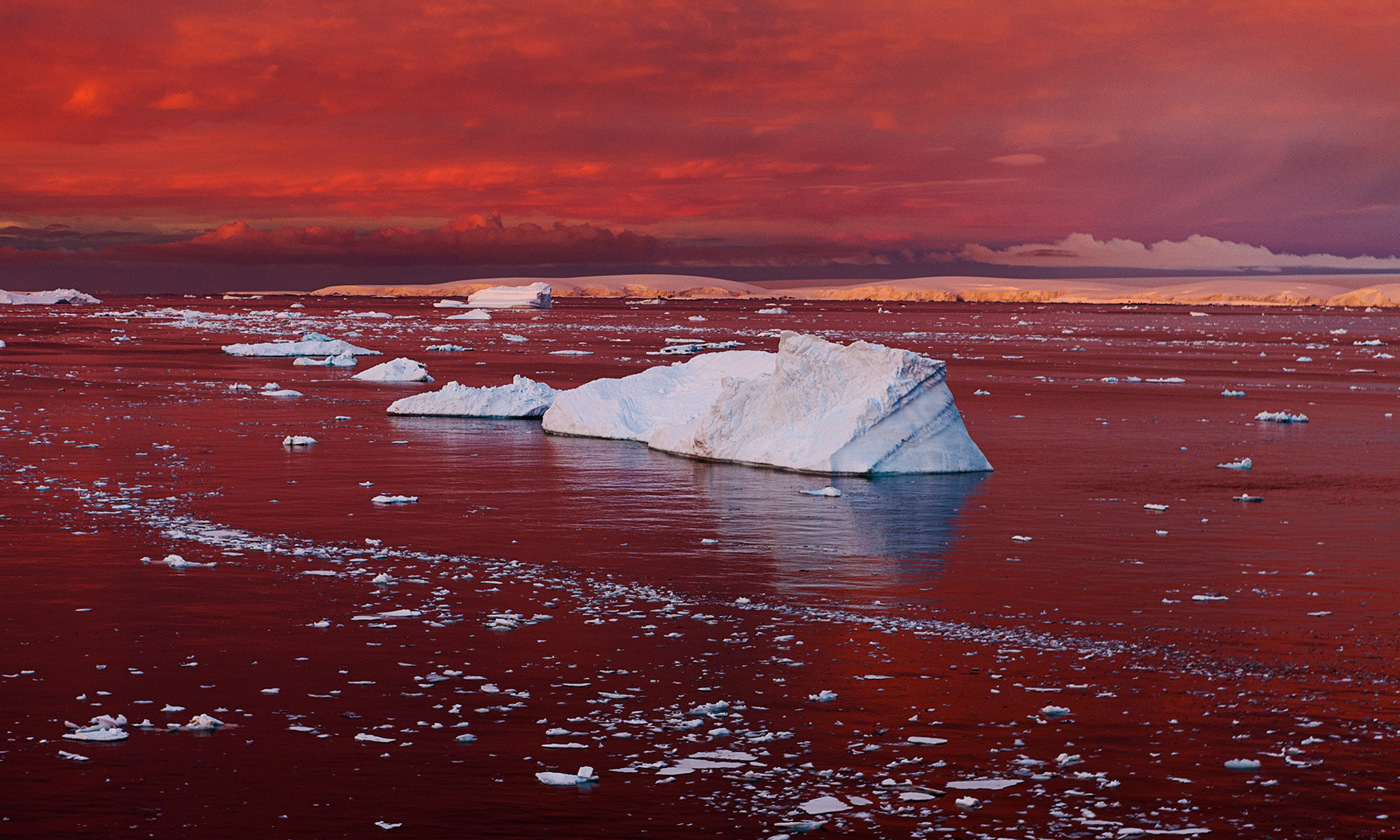 Camille Seaman
To build resilience to the above threats, the report recommends that allied Arctic nations begin to advance the elaboration of a "Military Code of Conduct for Arctic Forces," or other form of renewed dialogue among regional security actors, to address joint security risks. Highlighting the findings of the report, its authors stated:
"The Arctic is a critical region where the consequences of climate change could quickly multiply into a host of other severe security risks: dangerous conditions, potential for accidents, gray zone warfare, and even great power conflict. We need to increase the capacity of institutions in the region to moderate growing tensions, reduce the risks of increasing climate and political instability, and reign in global emissions to prevent further escalation.

"It's clear from this analysis that while relations in the Arctic are already quite tense, further climate change will only make the security situation more dire. On the other hand, global cooperation towards global net zero commitments and addressing climate security risks through new institutions could have immense benefit for ensuring peace and security in the region and between major powers."

"The difference between a low or high emissions scenario will be the difference between a changed world to which states can adapt or a world in which states are continuously scrambling to keep up with escalating and destabilizing change, and potentially losing legitimacy in the process. Climate change– in the Arctic and elsewhere– poses unprecedented risk but also unprecedented opportunity for international collaboration on a shared security concern."

"Climate changes introduce a broader range of risks in the Arctic, which add to the military risks that are already there. Existing institutional frameworks, and policy responses need to be expanded and adapted to this new reality."
Cargo Theft Report 2021 Throughout 2020, global supply chains faced one of the largest threats to security, continuity, and resiliency with the COVID-19 pandemic, which continues to cause disruptions, threaten supply chains, and have massive residual impacts globally. Many of the concerns BSI and TT Club monitored throughout 2020 set the tone for continued risk to supply chain security in 2021. Several emerging challenges and persistent risks are likely to play a large role in the upcoming year. This report seeks to highlight the cargo security threats that plagued supply chains in 2020 and provide organizations with mitigation techniques to combat these threats and some of the emerging risks we anticipate for 2021.
The COVID-19 pandemic created atypical challenges in 2020 adding new complicated threats to pre-existing supply chain risks; with lockdowns, diminished supplies, and transportation restrictions, cargo theft trends changed to focus on new highly-valued targets and locations. Beyond these trends in cargo theft seen globally, several other problems present a cross-over risk for cargo losses such as corruption within the supply chain, smuggling of drugs and persons, and disruptions to business continuity that created opportunities for cargo crime to thrive, which can, at a minimum, delay the progress of shipments through the supply chain and, at a maximum result, in a total loss of goods due to the breach of shipment integrity.
In 2020, BSI and TT Club analyzed and identified several critical trends among recorded cargo theft incidents. These trends included both the overwhelming targeting of cargo trucks for theft compared to all other modalities, despite an uptick in facility thefts in several regions, as well as the food and beverage industry suffering from the most theft incidents. As we look to 2021, organizations should remain vigilant of the security risks that created a landscape for cargo crime last year. As well as new threats surrounding the distribution of the COVID-19 vaccine, bottlenecks at ports and warehouses due to the continual rise in e-commerce and storage constraints, and the emerging after-effects of the COVID-19 outbreak will increase the opportunities for cargo crime to occur.
BIS Annual Report 2020 The US Bureau of Industry and Security (BIS) has issued its annual report to Congress for the Fiscal Year 2020, which outlines all the actions taken by BIS over the year. 279 entities were added to its Entity List, and as of the end of 2020, there were a total of over 1,500 active entries on the Entity List across 78 countries. 37,895 export licence applications were processed (a 10% increase from 2019), of which 86% were approved, and the average licence application processing time was 23 days. BIS also completed 937 end-use checks in 37 countries over the year.
The European economic and financial system: fostering openness, strength and resilience
The European Commission has published a Communication setting out its new strategy for "The European economic and financial system: fostering openness, strength and resilience". It sets out wide ranging ideas which suggest far more active involvement by the Commission in EU sanctions than before.