CHINA 2022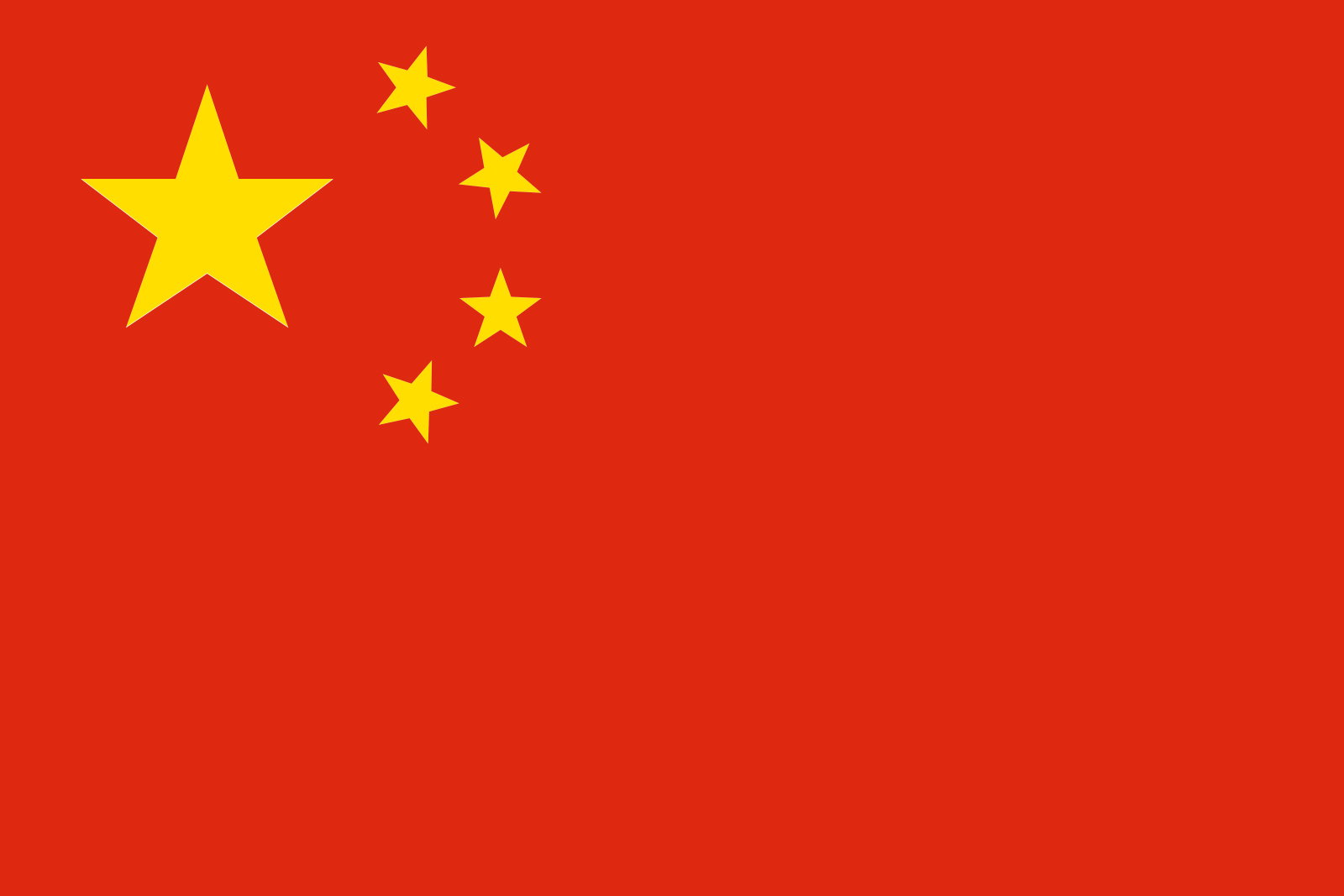 The U.S.-China Economic and Security Review Commission The U.S.-China Economic and Security Review Commission (USCC) was created by the United States Congress in October 2000 with the legislative mandate to monitor, investigate, and submit to Congress an annual report on the national security implications of the bilateral trade and economic relationship between the United States and the People's Republic of China, and to provide recommendations, where appropriate, to Congress for legislative and administrative action.
USCC's most recent Trade Bulletin: January 2022
USCC 2021 Annual Report to Congress Topics this year include the CCP's ambitions and challenges at its centennial, China's influence in Latin America and the Caribbean, the CCP's economic and technological ambitions, the Chinese government's evolving control of the corporate sector, U.S.-China financial connectivity and risks to U.S. national security, China'nuclear forces, Chinese military capabilities and decision-making for a war over Taiwan, Hong Kong's government embracing authoritarianism, and a review of economics, trade, security, political, and foreign affairs developments in 2021. The U.S.-China Economic and Security Review Commission (USCC) was created by the United States Congress in October 2000 with the legislative mandate to monitor, investigate, and submit to Congress an annual report on the national security implications of the bilateral trade and economic relationship between the United States and the People's Republic of China, and to provide recommendations, where appropriate, to Congress for legislative and administrative action.
The introduction of the Sanctions Targeting Aggressors of Neighboring Democracies (STAND) with Taiwan Act of 2022 U.S. Senator Dan Sullivan (R-Alaska), a member of the Senate Armed Services Committee (SASC), introduced the Sanctions Targeting Aggressors of Neighboring Democracies (STAND) with Taiwan Act of 2022, which would impose crippling, comprehensive economic and financial sanctions on China in the event that the People's Liberation Army (PLA) or its proxies initiate a military invasion of the island democracy of Taiwan. The suite of sanctions includes the targeting of Chinese Communist Party (CCP) members and Chinese financial institutions and industrial sectors, as well as prohibiting U.S. financial institutions—including investment companies, private equity firms, venture capital firms, or hedge funds—from making any investments in a Chinese entity that benefits or is affiliated with the CCP. The bill would also prohibit the importation of certain goods mined, produced, or manufactured wholly, or in part, in the People's Republic of China. Congressman Mike Gallagher (R-Wisc.) will be introducing companion legislation in the House of Representatives. 
Sen. Sullivan spoke about the STAND with Taiwan Act in a speech on the Senate floor on January 20, 2022.
China hires western TikTokers to polish its image during 2022 Winter Olympics An army of western social media influencers, each with hundreds of thousands of followers on TikTok, Instagram or Twitch, is set to spread positive stories about China throughout next month's Winter Olympics. Concerned about the international backlash against the Beijing Games amid a wave of diplomatic boycotts, the government has hired western PR professionals to spread an alternative narrative through social media. In November, as Joe Biden contemplated a diplomatic boycott, Vipinder Jaswal, a US-based Newsweek contributor and former Fox News and HSBC executive, signed a $300,000 contract with China's consulate general in New York to "strategize and execute" an influencer campaign promoting the Beijing Winter Olympics and Paralympics in the US.

The contract, which has been registered with the US Department of Justice, lays out a detailed public relations strategy. According to the agreement, between 22 November and 13 March, when the Winter Paralympics end, each influencer will be asked to produce three to five "deliverables", meaning content that is crafted to fit the targeted audience. Jaswal claims his company has received up to 50 pitches from influencers ranging from former Olympians to entrepreneurs.
The contract states that 70% of the content will be culture-related, including Beijing's history, cultural relics, modem life of people and new trends. Another 20% will highlight "cooperation and any good things in China-US relations", including high-level bilateral changes and positive outcomes. Jaswal, who was born in the UK, received $210,000 shortly after the contract was sealed with Chinese diplomats, he told the Observer. He promised Beijing that his influencers would bring an estimated 3 million impressions on social media platforms frequently used by young Americans. He said he was well aware of the controversies that surround China's policies in Xinjiang and Hong Kong, but "what we are trying to do is to simply highlight the integrity and dignity of the Olympics", he said. "Boycotts don't help mutual understanding … I don't support boycotts. They are ineffective, irrelevant and inconsequential." More in The Guardian of January 22, 2022, and The Business Insider of January 23, 2022.
What Role Should Criminal Justice Play in Foreign Relations? What is the function of criminal justice in foreign relations? Consider the federal criminal case against Venezuelan President Nicolás Maduro. In March 2020, the U.S. Department of Justice publicly unveiled federal international drug trafficking charges against Maduro, just a month after President Trump had met with Juan Guaidó, the head of the Venezuelan National Assembly. The case played an ambiguous role in broader U.S.-Venezuela foreign policy. Some commentators believed that indictments were an integral part of the Trump administration's "maximum pressure" campaign to cabin Maduro, a campaign that included sanctions and political recognition of Guaidó as Venezuelan president. At the same time, the criminal investigation clearly began during the Obama administration and thus potentially represented the natural culmination of years of prosecutorial efforts. How much control did the White House have over the case? How much should it have had? And how normatively desirable in U.S. foreign relations are such foreign affairs prosecutions — cross-border criminal cases that involve extraterritorial statutory authority, institutional capacity and multilateral cooperation — compared to, say, diplomacy or sanctions against the Venezuelan regime? 
In a new article, "The Criminalization of Foreign Relations," the author takes up such questions, arguing that the United States best harnesses extraterritorial law enforcement policy when engaging criminal justice's distinctiveness and expressivism. Regarding distinctiveness, compare criminal prosecutions against the six other major six foreign policy modalities: diplomacy, bilateral and multilateral agreements, trade, economic sanctions, military force, and the use of foreign aid. More in the article "What Role Should Criminal Justice Play in Foreign Relations?", published in Lawfare. 
When the Chips are Down: Gaming the Global Semiconductor Competition Essential to the day-to-day functioning of modern society, semiconductors are increasingly at the center of a high-stakes competition between the U.S. and China. Taiwan—already a flashpoint in this competition—accounts for 92 percent of the world's most advanced chip manufacturing capacity. Control over Taiwanese semiconductor facilities and human capital would give China roughly half of global chip fabrication capacity and almost all state-of-the-art manufacturing capacity.A virtual strategy game conducted by the Center for a New American Security, and detailed in a newly published report, has produced critical insights into the nature of U.S.-China strategic competition and global competition for semiconductors. Designed and conducted by the CNAS Gaming Lab, the exercise examined how China could influence Taiwan's semiconductor industry and policy options that the United States and Taiwan could take to counter China's predatory actions. The game featured three teams—the United States, China, and Taiwan—and envisioned a scenario in which a disruption created a global shortage in leading-edge chips. The report's key findings include:
Taiwan seeks to remain the dominant global semiconductor manufacturer to maintain its "Silicon Shield," which links Taiwan's national survival and security to its technological preeminence in microelectronics.

China is likely to use multifaceted gray zone tactics involving economic, political, informational, and military coercion to gain control over Taiwan's semiconductor industry and complicate U.S., Taiwan, and multilateral responses.

A misalignment of interests between the United States and Taiwan on how to secure semiconductor supply chains hinders policy coordination and creates opportunities ripe for exploitation by China.

Unilateral actions by Taiwan or the United States are insufficient to stop China's coercion of Taiwan, which will have significant impact on global semiconductor supply chains.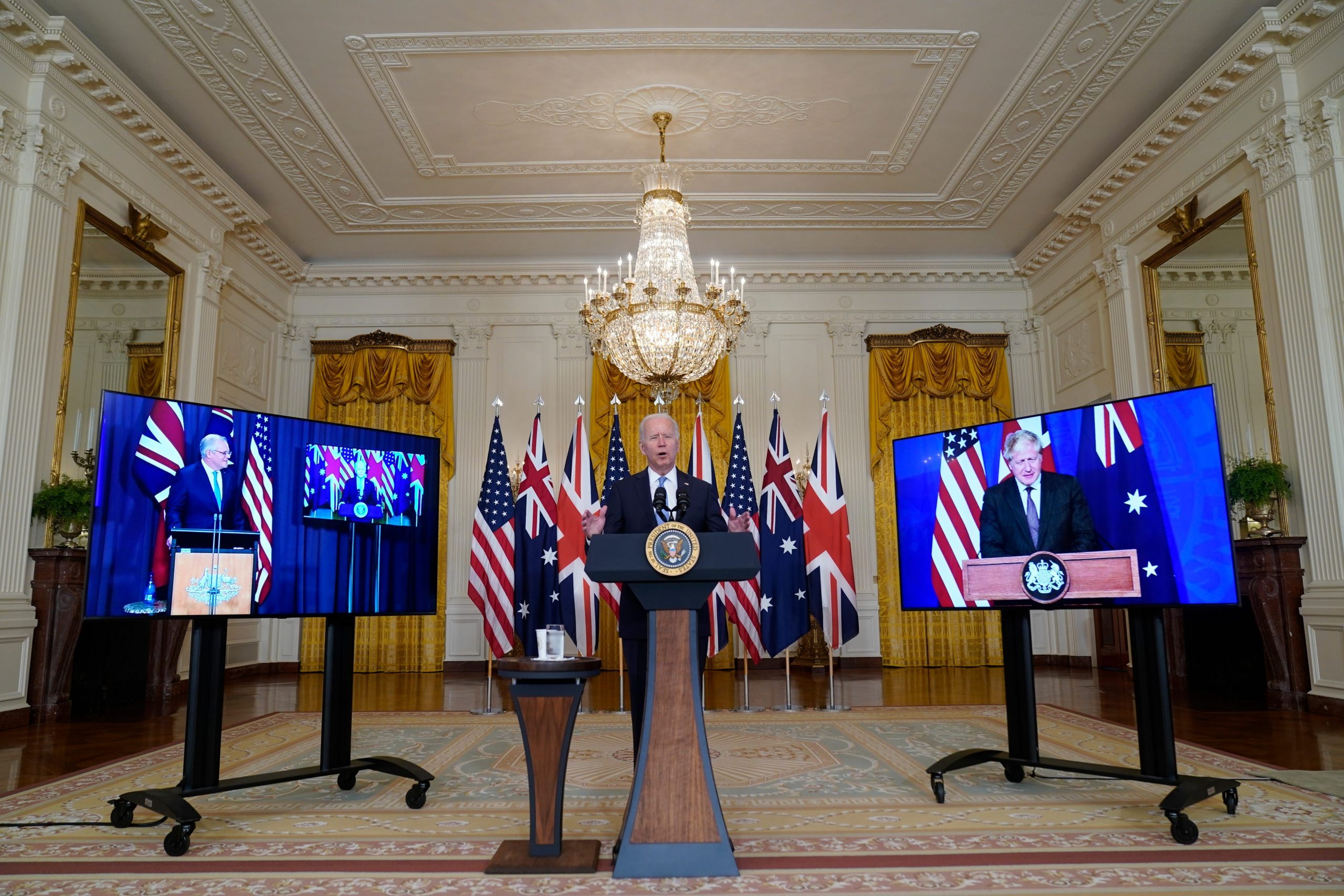 President Joe Biden, Australian Prime Minister Scott Morrison, and British Prime Minister Boris Johnson announcing the AUKUS security initiative, at the White House, September 15, 2021. Andrew Harnik/AP
The report also recommends five actions the White House and Congress should take to protect critical semiconductor supply chains and better position the United States to counter Chinese coercive measures, including strengthening interagency planning to address China's gray zone tactics, focusing on areas of shared cooperation with Taiwan, and bolstering bilateral and multilateral dialogues with stakeholders in the semiconductor industry.
Conclusion: China will not wait for the United States to get its innovation and supply chain resilience house in order, nor is Beijing likely to come knocking on Washington's front door. Gray zone tactics, or coercive actions marked by strategic ambiguity, render China a complex competitor. Strategic competition with Beijing requires enhanced cross-industry, bilateral, and multilateral dialogue and cooperation between the world's leading techno-democ- racies. Greater prioritization of intellectual property, talent cultivation and retention, and adequately funded R&D is needed to maintain a competitive edge and counter Chinese coercion, especially with regards to the global semiconductor industry. Modern life depends on supply chain resilience and access to chips at every level, from transportation to digital communications to life-sustaining medical equipment and beyond. Failure to stabilize and protect supply chains and chip access related to Taiwan will have devastating impacts on everyday life in the United States and abroad, far beyond the inconvenience of holiday shipping delays. Trillions of dollars in economic activity hang in the balance. The key insights drawn from The Chips Are Down game further illuminate the gravity of the U.S.-China competition and global competition for semiconductors, clarifying the web of elements and distinctions that are vital to safeguarding semiconductor supply chains, minimizing associated risks, and assuming a proactive posture in the fight for technology leadership.
UK Intelligence Agency Targets China's United Front The intelligence services of the British government harnessed the power of the media to try to protect the state from Chinese interference. In an almost unprecedented move, MI5 – the agency focused on counterintelligence within the U.K. – chose to call out an alleged Chinese spy, whom it said has been making payments to politicians. The warning about Christine Ching Kui Lee, a solicitor who runs a law firm in London, was accompanied by her photograph, which ensured that her face appeared prominently across websites and social media, even though she was not arrested nor charged with any crime. Excited journalists jumped in to add new twists to the story. The next day the papers were filled with a great deal of comment and analysis – alongside plenty of hearsay and speculation. A key allegation is that Lee donated 420,000 British pounds ($572,000) to a senior Labor member of parliament, Barry Gardiner, who employed her son, Daniel Wilkes, as a member of his parliamentary staff.
MI5 warned that anyone contacted by Lee "should be mindful of her affiliation with the Chinese state and remit to advance the CCP's agenda in UK politics."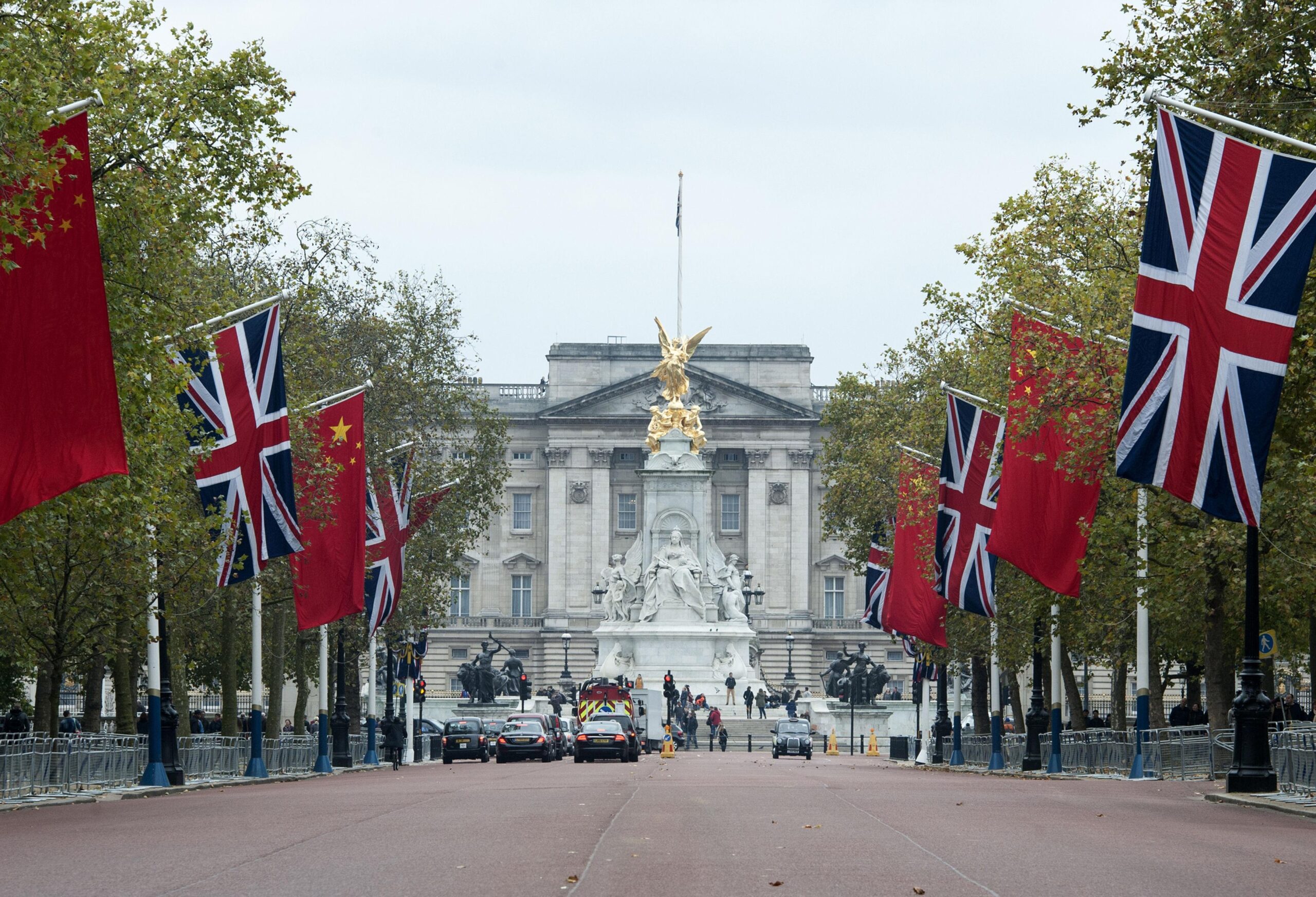 In this October 16, 2015 file photo, China flags are fixed on poles beside Union flags along The Mall towards Buckingham Palace in London in preparation for a state visit by President Xi Jinping. Credit: AP Photo/Frank Augstein
The warning was issued in the form of an alert which was sent by MI5 to the speaker of the House of Commons, Lindsay Hoyle, who chose to forward it to all MPs – ensuring immediate press attention. In his memo, Hoyle said: "I am writing now to draw your attention to the attached Interference Alert issued by the Security Service, MI5, about the activities of an individual, Christine Lee, who has been engaged in political inference activity on behalf of the Chinese Communist Party, engaging with members of parliament and associated political entities, including the former APPG (All Party Parliament Group) Chinese In Britain." Hoyle said Lee's donations were made in a covert way in order to mask the origins of the payments. "This is clearly unacceptable behaviour and steps are being taken to ensure it ceases," he added. The Chinese embassy in London said in a statement that China did not interfere in the internal affairs of other countries. In Beijing, foreign ministry spokesman Wang Wenbin said China has "no need" to engage in "so-called interference activities." "Perhaps, some people, after seeing too many James Bond movies, are imagining links where there is none. It is deeply irresponsible to make unfounded sensational remarks based on subjective conjecture," Wang said. Gardiner – the MP at the center of the scandal – said he was "angry and distressed" that he was targeted and insisted the donations were used to fund research and did not benefit him personally.
However, some journalists uncovered examples of Gardiner's pro-Chinese position on sensitive issues, including his support for Chinese investment in Britain's nuclear power industry. The Times newspaper also revealed that Christine Lee spoke up publicly in favor of the Chinese Communist Party's clampdown on the pro-democracy demonstrations in Hong Kong. The newspaper added that she was involved in a fundraising event for the British Conservative Party, which is led by beleaguered Prime Minister Boris Johnson. "This case underlines the fact that China poses a serious and insidious threat to our democracy and we must ask our politicians, academics and journalists to be vigilant of CCP effort to buy influence and other forms of infiltration," Steve Tsang, the director of the SOAS China Institute at the University of London, told The Diplomat. Tsang added, "China's efforts to influence Western democracies have focused on cultivating members of parliament, especially where a new arrival or a leading figure in an opposition party looks as though may be on track to become a minister of state at a later stage." Similar efforts by the Chinese government to gain influence have been uncovered in Australia. "While all the facts are still out, this case has echoes of similar episodes in Australia: donations to political parties and politicians from Chinese citizens and CCP-associated Australian citizens with the intention of generating pro-China statements and policy positions," noted Dr. Bates Gill, professor of security studies at Macquarie University in Sydney.
"However, Australia and the UK are not alone in this. The United Front Work Department is actively cultivating politicians and opinion-shapers around the world," said Gill, who is also a senior associate fellow with the Royal United Services Institute in London. In the United States, intelligence agencies have been taking an increasingly high-profile position on China. In 2018, the U.S. Justice Department unveiled its"China Initiative", meant to counter thefts of trade secrets and other forms of economic espionage conducted by – or for the benefit of – the Chinese government. FBI Director Christopher Wray said that the bureau was opening a new China-related counterintelligence case about every 10 hours. More in this article in The Diplomat of January 22, 2022.

UK Parliament / House of Commons: The Uyghur Tribunal The Uyghur Tribunal is an unofficial body that examined claims of human rights abuses and crimes against humanity reportedly committed against the Uyghur people by China in its Xinjiang province. The Tribunal has no legal powers. Its hearings were held at Church House in London. The Tribunal was chaired by Sir Geoffrey Nice QC, a barrister who has served as a part-time judge and worked at the International Criminal Tribunal for the Former Yugoslavia between 1998 and 2006 and led the prosecution of Slobodan Milošević, former President of Serbia. Members of what the Tribunal styled as a jury, included several academics specializing in fields like medicine, law and anthropology, and board members of charitable organizations. The Tribunal started its work in September 2020, and published a judgment in December 2021. The Tribunals judgment found evidence that China had detained "hundreds of thousands of Uyghurs – with some estimates well in excess of a million […] without any, or any remotely sufficient, reason and subjected [them] to acts of unconscionable cruelty, depravity and inhumanity". The judgment stated that torture of Uyghurs "attributable to the PRC [Peoples' Republic of China] is established beyond reasonable doubt". It also said that crimes against humanity attributable to the PRC "is established beyond reasonable doubt" by acts of: "deportation or forcible transfer; imprisonment or other severe deprivation of physical liberty; torture; rape and other sexual violence; enforced sterilisation; persecution; enforced disappearance; and other inhumane acts". On the subject of genocide, the Tribunal's judgment emphasised the difficulty of assessing what legal standards should apply, and how such standards interact with public understanding of the phrase. However, they conclude that: "On the basis of evidence heard in public, the Tribunal is satisfied beyond reasonable doubt that the PRC, by the imposition of measures to prevent births intended to destroy a significant part of the Uyghurs in Xinjiang as such, has committed genocide". The evidence the Tribunal reported of birth-prevention measures included enforced abortions, the removal of wombs against women's will, the killing of babies immediately after birth and mass enforced sterilisation through the insertion of IUD devices that were only removable by surgical means.
The judgment reported evidence of reduced birth-rates particularly in indigenous Uyghur counties: "Across the 29 counties with indigenous-majority populations for which we have 2019 or 2020 data, the birth-rate has fallen by 58.5% from the 2011-15 baseline average […] In those counties that are over 90% indigenous, the birth-rate fell at an even greater rate, showing a 66.3% decrease in 2019-20". The Tribunal found however, that "there is no evidence of organized mass killings".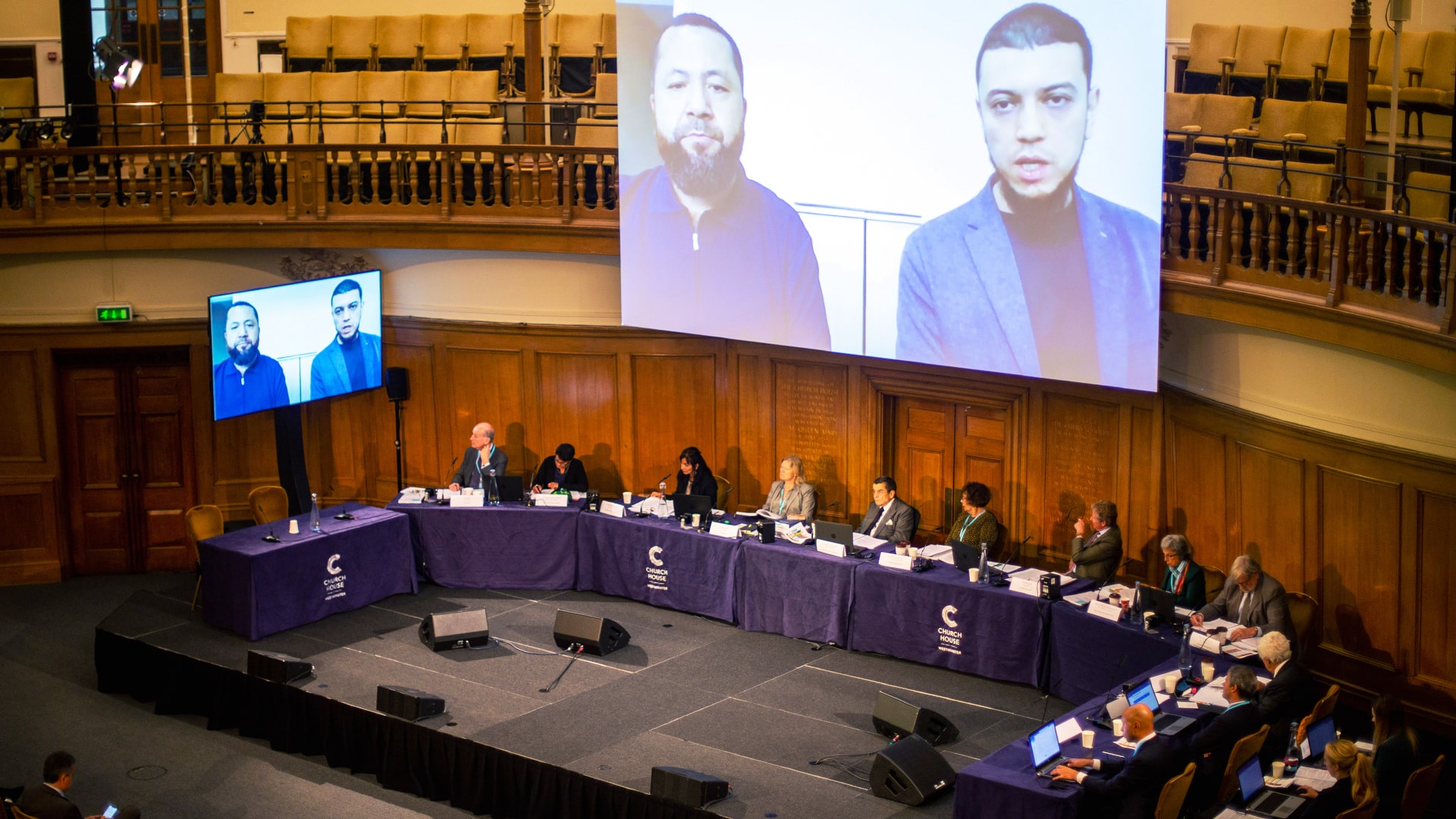 Lily Vetch / Uyghur Tribunal 
Chinese Government response: In March 2021, the Chinese state imposed sanctions on nine UK citizens, including five MPs and Sir Geoffrey Nice, and several UK-based organisations, including the Uyghur Tribunal. In September 2021, in a press conference the Chinese Ambassador to the UK, Zheng Zeguang, described the Tribunal as "nothing but a farce carried out by a small number anti-China elements". Mr Zheng further dismissed the evidence presented to the Tribunal and the witnesses, saying: "Its so-called "evidence" is nothing but sheer lies and disinformation. Its so-called "experts" are rumour mongers who have long engaged in slandering China. And the so-called "witnesses" the organizers have put together are merely actors who have been making up the so-called "persecution" that never happened at all." The Ambassador dismissed claims of genocide as "absurd", stating that in "the past 40 years, the population of Uygurs in Xinjiang has increased from 5.55 million to 11.6 million". He said that "Xinjiang-related issues have nothing to do with human rights, ethnic groups or religions, but everything to do with fighting terrorism, separatism and extremism", that the "Vocational Education and Training Centres in Xinjiang are absolutely not "concentration camps", but preventative and de-radicalisation measures". Adding that "in nature, they are no different from the Desistance and Disengagement Programme (DDP) of the UK or the de-radicalisation centres in France". On 10 December, the day the Tribunal published its findings, a spokesperson for China's UK Embassy said the Tribunal was "nothing but a political tool used by a few anti-China and separatist elements to deceive and mislead the public", describing it conclusions as "mere clumsy shows staged by anti-China elements for their self-entertainment"; adding "anyone with conscience and reason will not be deceived or fooled".
The Research Briefing, published on the 18th of January, 2022, is here.
Slovenia considers closer ties with Taiwan Slovenia and Taiwan are working on "exchanging representatives," Prime Minister Janez Janša has announced, criticising China's response to Taiwan's decision to open a diplomatic representative office in Vilnius. The comments come as the EU is still struggling to find a unified message on China's coercive trade measures against Lithuania, which faces mounting direct and indirect pressure in terms of trade. The exchange of representatives would not occur at the level of embassies but "at the same level that many EU countries already have," Janša told Indian broadcaster Doordarshan in a recent interview. Janša said Slovenia would support any sovereign decision of the Taiwanese people: "If they want to join China … without any pressure, military intervention, blackmailing or strategic cheating as it is happening in Hong Kong currently, we will support it." "But if the Taiwanese people want to live independently, we also have to support this position," he added. Slovenia's prime minister also criticised China for its response on the Taiwanese representative office matter.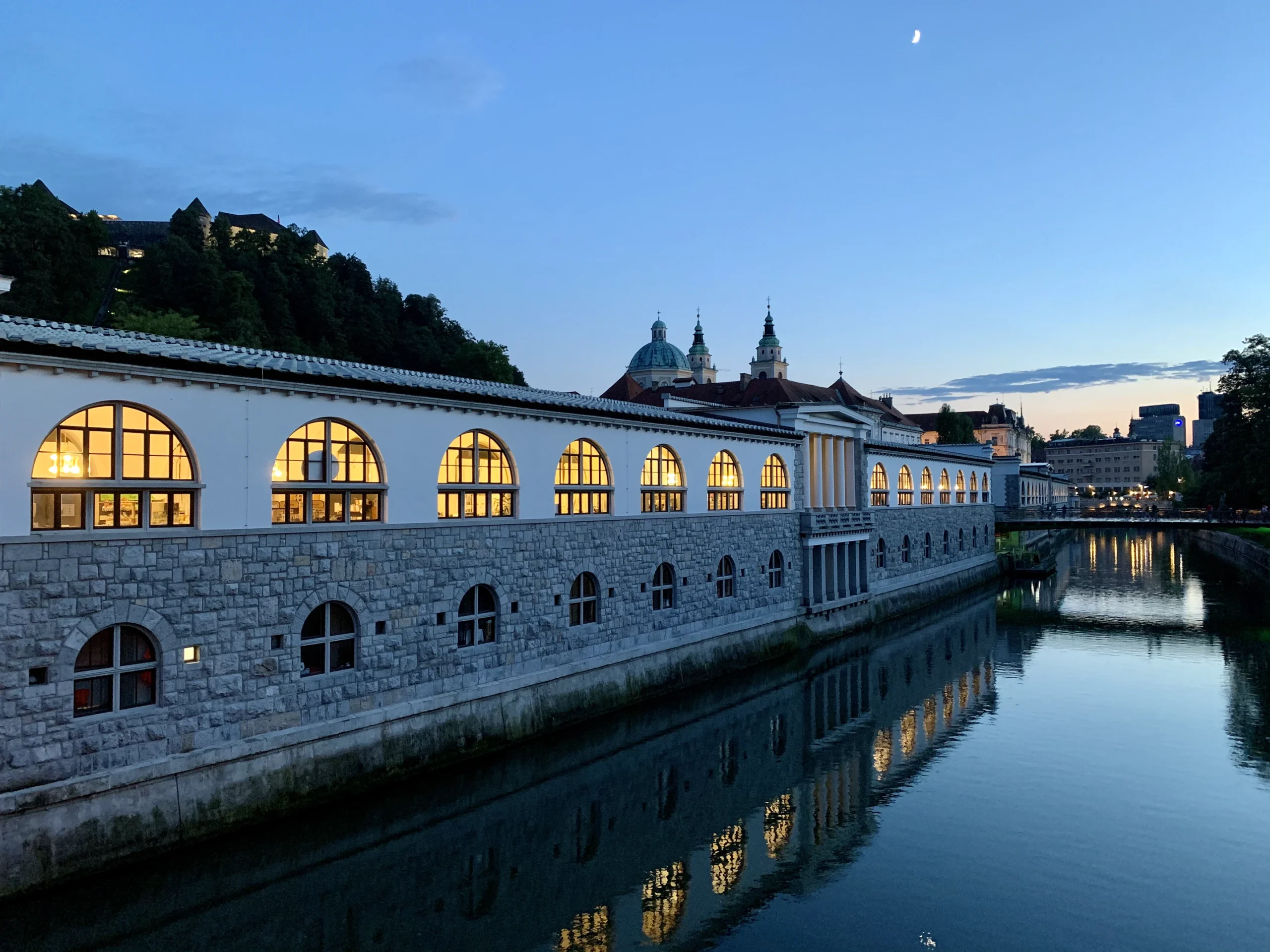 Ljubljana, Slovenia
China: An Economic And Political Outlook For 2022 In recent years, Xi Jinping has taken China to the "left" politically and economically, but to the "right" with his deeply nationalist narratives at home and a more assertive foreign and security policy abroad. More recently, this has contributed to a slowdown in the Chinese economy and an increase in the level of political and policy reaction against Xi's anti-market measures. Now, with last month's Central Economic Work Conference, the Communist Party appears to have acknowledged a number of Xi's measures have indeed gone too far, especially as Xi himself seeks to maximize economic stability ahead of his bid for another term in office at the 20th Party Congress this November. But whether these corrective measures will be enough to restore economic growth in the short term given the Chinese private sector is now "once bitten, twice shy" is another question altogether.
In the Policy Paper "China: An Economic and Political Outlook for 2022", the Asia Society and Asia Society Policy Institute tackle these questions and provide an analysis of how China's economic challenges are likely to shape its politics and policies in the year ahead.
Biden Signs Memo on Cybersecurity President Biden signed a national security memorandum on Jan. 19 to bolster the cybersecurity of the National Security, Department of Defense and Intelligence Community systems. The memo directs national security agencies to adopt the same cybersecurity standards that earlier executive order 14028 imposed upon certain federal civilian agencies. The memo further authorizes the National Security Agency to issue binding operational directives requiring agencies to both identify their national security systems and take action to protect or mitigate against cyber threats targeting those systems. And the memo also requires agencies to "secure cross domain solutions–tools that transfer data between classified and unclassified systems." You can read the memo here.
U.S. Drops Case Against MIT Professor Accused of Hiding China Ties Gang Chen was one of around two dozen academics charged since 2019 with allegedly lying about their affiliations. January 20, 2022 statement from U.S. Attorney Rachael S. Rollins on the dismissal of the Gang Chen case:
"Today's dismissal of the criminal charges against Gang Chen is a result of our continued investigation into this matter. Through that effort, we recently obtained additional information pertaining to the materiality of Professor Chen's alleged omissions in the context of the grant review process at issue in this case. After a careful assessment of this new information in the context of all the evidence, our office has concluded that we can no longer meet our burden of proof at trial. As prosecutors, we have an obligation in every matter we pursue to continually examine the facts while being open to receiving and uncovering new information. We understand that our charging decisions deeply impact people's lives. As United States Attorney, I will always encourage the prosecutors in our office to engage in this type of rigorous and continued review at every stage of a proceeding. Today's dismissal is a result of that process and is in the interests of justice." The professor and researcher at Massachusetts Institute of Technology (MIT) was indicted on January 19, 2021 by a federal grand jury in connection with failing to disclose contracts, appointments and awards from various entities in the People's Republic of China (PRC) to the U.S. Department of Energy. Gang Chen, 56, was indicted on two counts of wire fraud, one count of failing to file a foreign bank account report (FBAR) and one count of making a false statement in a tax return. Chen was charged by criminal complaint and arrested on Jan. 14, 2021. According to charging documents, Chen is a naturalized U.S. citizen who was born in China. He is a professor and researcher at MIT where he serves as Director of the MIT Pappalardo Micro/Nano Engineering Laboratory and Director of the Solid-State Solar Thermal Energy Conversion Center (S3TEC). Since approximately 2013, Chen's research at MIT has been funded by nearly $19 million in grants awarded by various U.S. federal agencies.
Cross-country Exposure: Analysis of the MY2022 Olympics app The 2022 Winter Olympic Games in Beijing have generated significant controversy. As early as February 2021, over 180 human rights groups had called for governments to boycott the Olympics, arguing that holding the Games in Beijing will legitimize a regime currently engaging in genocide against Uyghur people in China. Some governments including Canada, the United Kingdom, and the United States have pledged to diplomatically boycott the Games, meaning that these countries will allow athletes to compete at the Games but will not send government delegates to attend the event.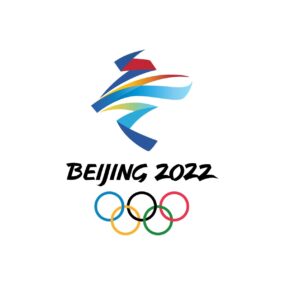 The International Olympic Committee (IOC), the organization responsible for organizing the Games, has been criticized for failing to uphold human rights. In December 2021, the United States House of Representatives voted unanimously to condemn the IOC and stated that the IOC had violated their own human rights commitments by cooperating with the Chinese government. Following professional tennis player Peng Shuai's 2021 sexual assault accusation against Chinese Communist Party leader Zhang Gaoli and her subsequent disappearance, Human Rights Watch stated that "the IOC has vaulted itself from silence about Beijing's abysmal human rights record to active collaboration with Chinese authorities in undermining freedom of speech and disregarding alleged sexual assault." According to IOC documents, Zhang Gaoli headed the steering committeee charged with securing and organizing the 2022 Games.
Internet platforms operating in China are legally required to control content communicated over their platforms or face penalties. Vague definitions of prohibited content are often called "pocket crimes" referring to authorities being able to deem any action as an offense. Such crimes are utilized by the Chinese government to restrict political and religious expression over the Internet. Chat and other real-time communications platforms operating in China typically perform automated censorship using a blocklist of keywords whose presence in a message will trigger its censorship. Previous work has found little consistency in what content different Chinese Internet platforms censor. However, Internet platforms are known to receive censorship directives from various government offices or officials.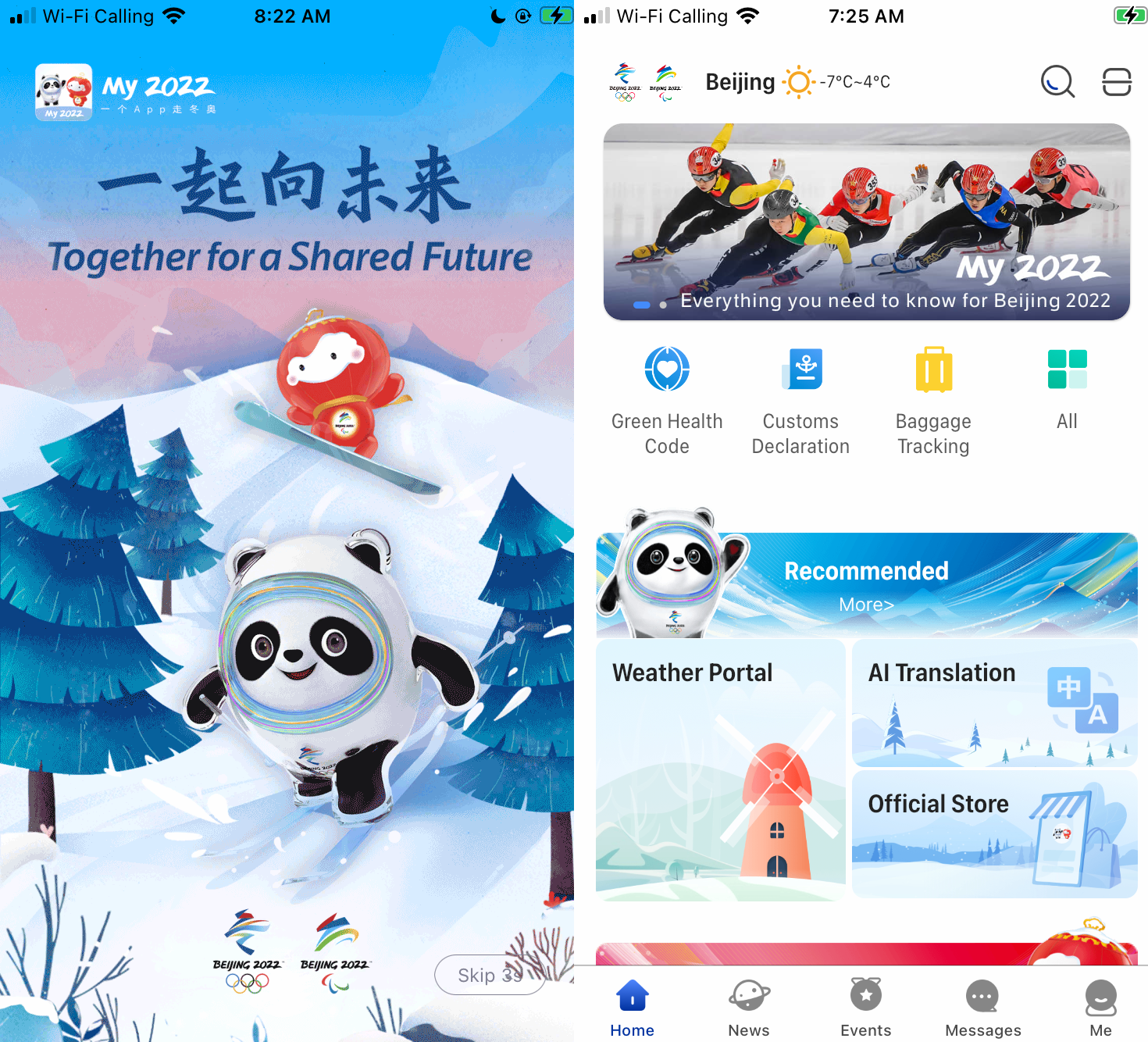 MY2022's splash screen and basic UI
In this Citizen Lab report the authors analyze MY2022 (冬奥通), an app required to be installed by all attendees to the 2022 Olympic Games, including audience members, members of the press, and competing athletes. The app is multi-purpose, implementing a wide range of functionality including real-time chat, voice audio chat, file transfers, as well as news and weather updates about the Olympic Games. The app can also be used to submit required health customs information for those visiting China from abroad, which includes submitting passport details, demographic information, as well as travel and medical histories. The Citizen Lab is an interdisciplinary laboratory based at the Munk School of Global Affairs & Public Policy, University of Toronto, focusing on research, development, and high-level strategic policy and legal engagement at the intersection of information and communication technologies, human rights, and global security.
Key Findings
MY2022, an app mandated for use by all attendees of the 2022 Olympic Games in Beijing, has a simple but devastating flaw where encryption protecting users' voice audio and file transfers can be trivially sidestepped. Health customs forms which transmit passport details, demographic information, and medical and travel history are also vulnerable. Server responses can also be spoofed, allowing an attacker to display fake instructions to users.

MY2022 is fairly straightforward about the types of data it collects from users in its public-facing documents. However, as the app collects a range of highly sensitive medical information, it is unclear with whom or which organization(s) it shares this information.

MY2022 includes features that allow users to report "politically sensitive" content. The app also includes a censorship keyword list, which, while presently inactive, targets a variety of political topics including domestic issues such as Xinjiang and Tibet as well as references to Chinese government agencies.

While the vendor did not respond to our security disclosure, we find that the app's security deficits may not only violate Google's Unwanted Software Policy and Apple's App Store guidelines but also China's own laws and national standards pertaining to privacy protection, providing potential avenues for future redress.
US delays intelligence center targeting foreign influence As Russia was working to subvert U.S. elections and sow discord among Americans, Congress directed the creation of an intelligence center, the Foreign Malign Influence Center, to lead efforts to stop interference by foreign adversaries. But two years later, that center still is not close to opening, according to this article in AP News. Experts and intelligence officials broadly agree the proposed Foreign Malign Influence Center is a good idea. The U.S. has lacked a cohesive strategy to fight influence operations, they say, with not enough coordination among national security agencies. Adversaries that tried to interfere in the last two presidential elections continue to bombard Americans with disinformation and conspiracy theories at a time of peril for democracy in the U.S. and around the world. But the intelligence community and Congress remain divided over the center's mission, budget and size, according to current and former officials. While separate efforts to counter interference continue, a person identified this year as a potential director has since been assigned elsewhere and the center likely will not open anytime soon.
The term "foreign malign influence" means any hostile effort undertaken by, at the direction of, or on behalf of or with the substantial support of, the government of a covered foreign country with the objective of influencing, through overt or covert means— (A) the political, military, economic, or other policies or activities of the United States Government or State or local governments, including any election within the United States; or (B) the public opinion within the United States.
The term "covered foreign country" means the following: (A) The Russian Federation. (B) The Islamic Republic of Iran. (C) The Democratic People's Republic of Korea. (D) The People's Republic of China. (E) Any other foreign country that the Director of the Center determines appropriate for purposes of this section.
MI5 warns MPs and peers of 'Chinese agent' trying to influence parliamentarians on behalf of Beijing An interference alert from the security service informed the House of Commons speaker that lawyer Christine Ching Kui Lee (Christine Lee runs a law firm -Christine Lee & Co-, with offices in London and Birmingham),  "established links" for the Chinese Communist Party with current and aspiring MPs.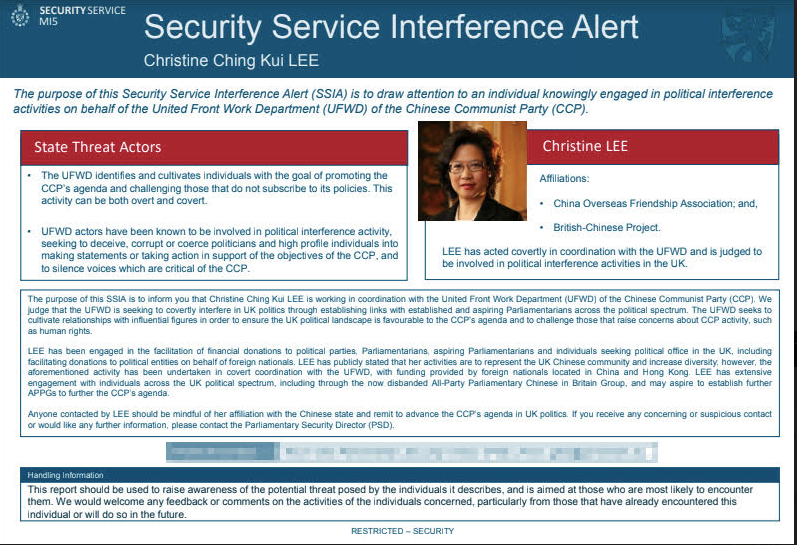 MI5 said that activity "had been undertaken in covert coordination with the United Front Work Department [a department of the CCP geared towards coopting politicians and public groups to support and promote the Chinese Communist Party's foreign policy goals], with funding provided by foreign nationals located in China and Hong Kong". BBC (January 14, 2022) The Guardian (January 13, 2022).
China Research Group Chair Tom Tugendhat in The Times (subscription needed): "The ability to access parliament, to attend functions and to pick up gossip is worth something to the Ministry of State Security that oversees foreign activity for Beijing…. we must do what we can to protect ourselves from outside influence."
University of Exeter Postdoctoral Research Fellow Martin Thorley unpacks Lee's links to the Chinese party-state and her involvement in British politics in this Twitter thread: "1/20 The news about "Chinese agent" Christine Lee broke today. I've been following her case for some time & in fact she featured in my PhD thesis on UK-China hidden relations. She's appeared in stories by @thetimes & @GuidoFawkes before. Yet there's still a lot more to this case."
Lee's involved in British politics has been on the security services' radar for some time. The fact that Lee had made headway in infiltrating the office of a British elected representative shows that new laws to counter state threats, soon to arrive in Parliament, are long overdue. Security minister Darren Hinds' assurances of a review to examine the ties Lee forged with establishment may shed more light on the ways in which hostile countries are trying to interfere with British politics and wider society. This very public warning from MI5 also demonstrates a willingness on the part of security services to publicly address concerns about CCP malign activity on British shores. It's important that we are able to have an honest, open debate about the nature of the Beijing regime in order to counter actions that harm our interests.
China uses "United Front" work to co-opt and neutralize sources of potential opposition to the policies and authority of its ruling Chinese Communist Party (CCP). The CCP's United Front Work Department (UFWD)—the agency responsible for coordinating these kinds of influence operations—mostly focuses on the management of potential opposition groups inside China, but it also has an important foreign influence mission. To carry out its influence activities abroad, the UFWD directs "overseas Chinese work," which seeks to co-opt ethnic Chinese individuals and communities living outside China, while a number of other key affiliated organizations guided by China's broader United Front strategy conduct influence operations targeting foreign actors and states. Some of these entities have clear connections to the CCP's United Front strategy, while others' linkage is less explicit. Today, United Front-related organizations are playing an increasingly important role in China's broader foreign policy under Chinese President and General Secretary of the CCP Xi Jinping. It is precisely the nature of United Front work to seek influence through connections that are difficult to publicly prove and to gain influence that is interwoven with sensitive issues such as ethnic, political, and national identity, making those who seek to identify the negative effects of such influence vulnerable to accusations of prejudice. Because of the complexities of this issue, it is crucial for the U.S. government to better understand Beijing's United Front strategy, its goals, and the actors responsible for achieving them if it is to formulate an effective and comprehensive response. See also this USCC report. The U.S.-China Economic and Security Review Commission was created by the United States Congress in October 2000 with the legislative mandate to monitor, investigate, and submit to Congress an annual report on the national security implications of the bilateral trade and economic relationship between the United States and the People's Republic of China, and to provide recommendations, where appropriate, to Congress for legislative and administrative action.
Former head of MI5: ministers failed to act on warnings before Commons spy alert over Christine Lee. Lord Evans of Weardale, now chairman of the committee on standards in public life, said more had to be done to identify the "true source" of donations and called for tighter rules on the flow of money via lobbying groups or shell companies, according to The Sunday Times of January 16, 2022.
See also "China Dialogues" as well as this article ("Christine Lee and Foreign Interference: what the UK can learn from Taiwan") from a MPhil/PhD student at LSE's Department of International Relations and a researcher at LSE IDEAS. Her research at the London School of Economics and Political Science focuses on China's foreign policy and strategy toward Taiwan, cross-Strait relations, as well as Taiwan in digital IR. 
Taiwan Requires Immediate Unprecedented Cyber Action The prospect of a Chinese invasion of Taiwan echoes some of the most disastrous 20th century instances of great power expansion—reminiscent, perhaps, of Nazi Germany's Anschluss or even its subsequent invasion of Poland. Given that the latter ignited World War II, America's strategic community has been rightly fixated on the vast military and political contingencies of a Chinese invasion that would remake Asia. But Taiwan is not just the geopolitical fulcrum of the Indo-Pacific; it is also the nexus of a rapidly evolving Sino-American technological competition. And if 20th century great power competition is any guide, tech races are just as important to long-term competition as territorial military contests. The U.S. needs to act now to secure the technological dimensions of a looming Taiwan crisis, or risk losing far more than the island. 
In the domain of Sino-American tech rivalry, Taiwan is unique in two aspects: First, the Taiwan Semiconductor Manufacturing Corporation (TSMC) remains the world's tightest bottleneck in the global high-tech ecosystem, with exclusive capabilities to construct the most valuable, sophisticated computer chips in existence. Second, military conflagration in Taiwan would represent a hitherto-unknown level of cyber-intensive military conflict, the seeds of which likely have already been planted. Both of these realities demand unprecedented cooperation between the United States and Taiwan—cooperation that requires significant trust and openness in Taipei and significant counter-espionage and national security assistance from Washington. It's hard to overstate the importance of TSMC's microscopic transistors: The company's chips are the foundation of enormous sectors of national economic growth for both the U.S. and China. They are also the backbone of the massively consequential tech race between the two countries in security-essential sectors like artificial intelligence, quantum computing and advanced military capabilities.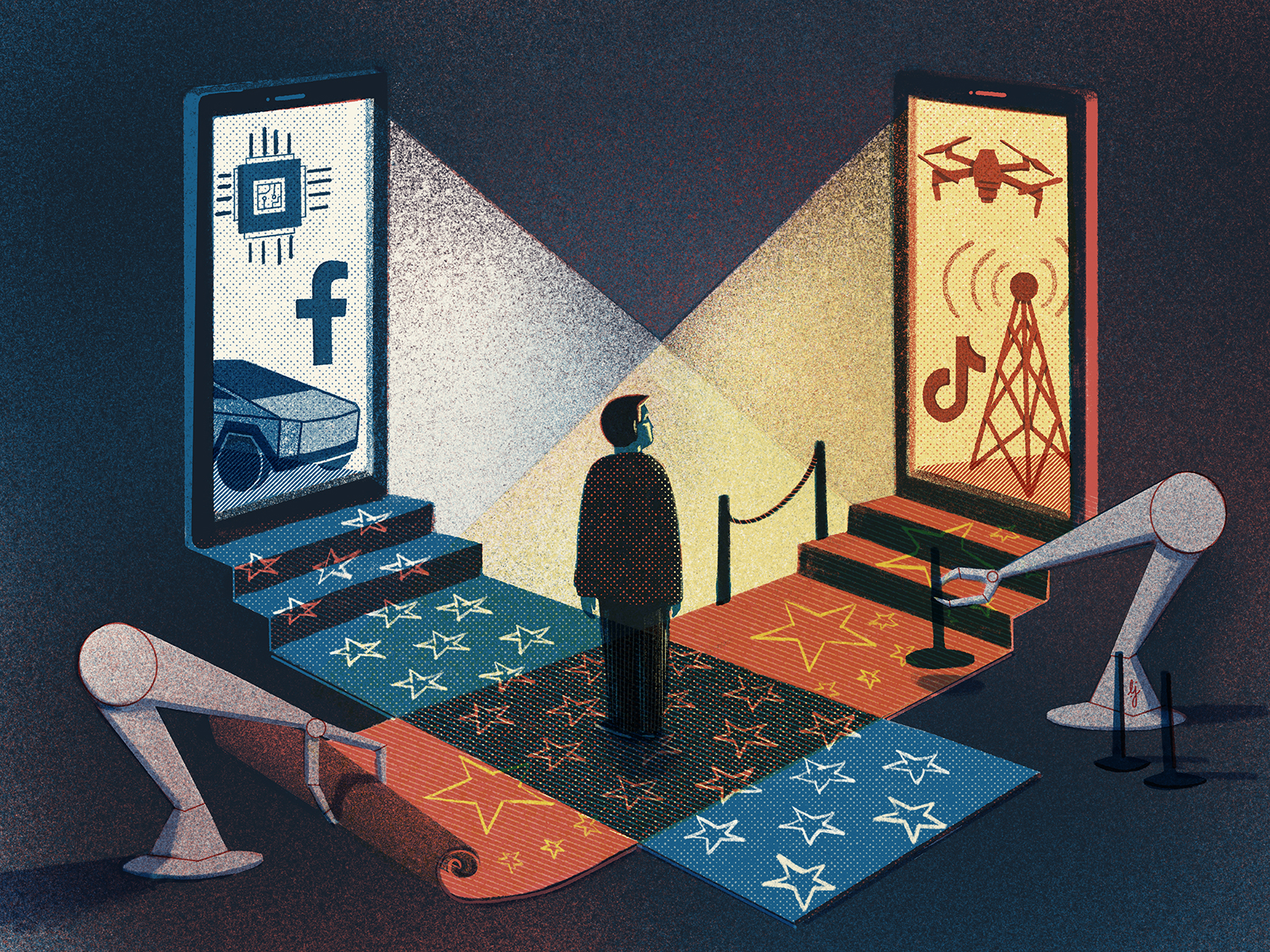 Luisa Jung for The Washington Post
TSMC is estimated to have cornered as much as 90 percent market share of the world's most advanced processors, and controls a majority of the global market for made-to-order chips. To stretch the historical analogy, it is as though a coterie of the world's most accomplished nuclear physicists lived in a country that the Nazis aimed to annex in the 1930s, or like a collection of world-leading rocket scientists were on the verge of being absorbed into the Soviet bloc at the height of the Cold War.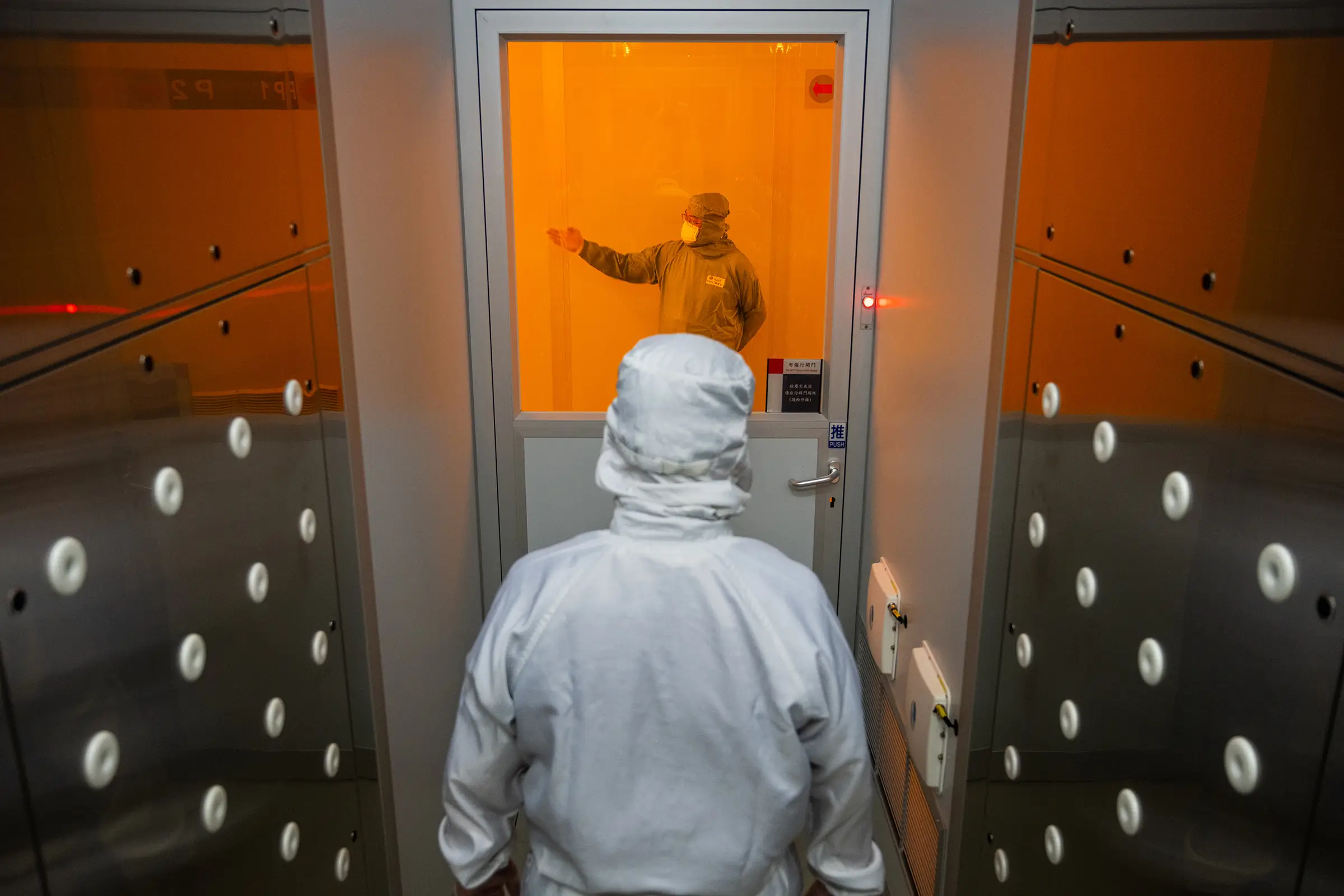 A worker enters a "clean room" at chipmaker TSMC's headquarters in Hsinchu, Taiwan, on Sept. 10 / Billy H.C. Kwok for TIME
It's no coincidence that the world's most precious technological capabilities are nestled in the world's hottest geopolitical fault line. Taiwan's government has long cultivated a "silicon shield" over the island in hopes that unique dominance in a crucial—but delicate—industry would deter China from rash actions against the island. In terms of imports, China spends more on semiconductors than on anything else—including oil — and in 2020, China's semiconductor trade deficit stood at a whopping $233 billion. By intertwining Beijing's long-term economic and strategic interests with Taiwanese semiconductors, the thought went, the PRC would be unlikely to invade the island because it would invite devastating supply-chain disruptions.
But that calculus may be changing. Stricter export controls on American-designed chips have stymied China's access to advanced semiconductors from TSMC and elsewhere. The U.S. sanctions that cut off vital TSMC chips to Huawei, crippling many of the company's prospects, seem ominous to many Chinese strategists. If Beijing's decision-makers come to believe that something like Huawei's fate awaits the PRC more broadly, Taiwan's "silicon shield" will crack: Beijing would have nothing to lose, technologically speaking, from an invasion. If China could seize and leverage the personnel and facilities of TSMC effectively—or at least ensure they don't continue accelerating U.S. technologies—it could have everything to gain. 
Chinese efforts aside from an invasion have failed. Despite President Xi Jinping's forceful statements on the immense value of semiconductor technologies for China's security, little progress has been made in the mainland. China has already tried to recruit TSMC leaders to its own chip industry with limited success. Chinese hackers have been waging a chronic war on the company and have already stolen disturbingly large troves of information. But despite these efforts and the vast sums of money that China and other governments around the world are pouring into semiconductor alternatives, TSMC's dominance in many of the most complex and competitive chip production techniques seems to only be growing growing. If China cannot buy, poach or steal TSMC's talent, its next best option may be to conquer it—which is convenient enough, for a dictator who seems determined to reunify Taiwan with the PRC. 
Ultra-sophisticated chips are a prerequisite for vast sectors of economic growth and are the key to a massively consequential tech race between the U.S. and China.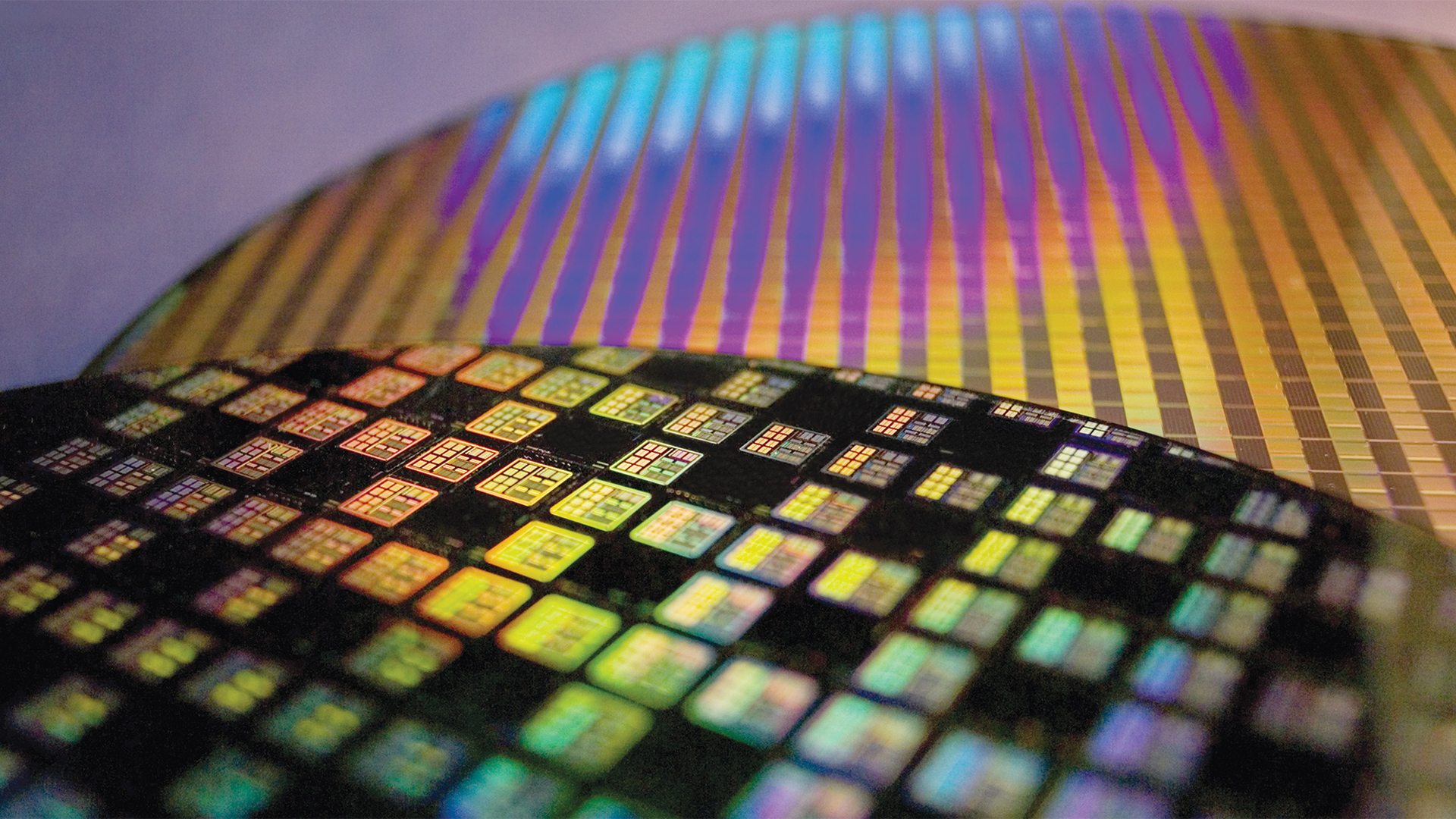 Image credit: TSMC
Given those factors, the U.S. cannot afford to gamble on the fate of the world's most advanced chipmakers. In light of the shifting incentives of Beijing, any American contingency plan for a Chinese invasion that does not coordinate with Taipei now on quickly securing the TSMC "brain trust" and their families in the event of a crisis is woefully incomplete. In the event of a successful Chinese invasion, and with proper planning, TSMC engineers and scientists have the potential to fulfill a similar role to that of the German Jewish refugees who were so central to the success of the Manhattan Project in the 1940s—if the U.S. can ensure their safety. On the other hand, their loss could set back global technological development by years, or supercharge China's edge in advanced technologies. 
Relatedly, U.S. counter-espionage efforts also need to focus on protecting the full design and production chain of advanced semiconductors around the world. Attempts to try to diversify TSMC's geographic presence with new fabrication facilities (or "fabs") in Arizona, Japan and possibly Germany are not without risks. Nor are the efforts to expand the capacity of alternative companies to compete with Taiwan's dominance in the sector. Diversified expertise will ultimately mean more targets for one of the PRC's most urgent intelligence objectives. Protecting such vital intellectual property will require similar procedures and approaches to those used in the construction of America's most sensitive sites—like military bases, intelligence agency facilities and nuclear weapons depots. Outfitting new fabs with such precautions will be costly, but not nearly as costly as a major breach of techniques, designs or data to the PRC. The article written for Lawfare by a senior fellow at the American Enterprise Institute and a research associate at the American Enterprise Institute, is here.
Settlement Agreement between the U.S. Department of the Treasury's Office of Foreign Assets Control and Sojitz (Hong Kong) Limited The U.S. Department of the Treasury's Office of Foreign Assets Control (OFAC) announced a settlement on January 11, 2022, with Sojitz (Hong Kong) Limited ("Sojitz HK"), a Hong Kong, China-based company that engages in offshore trading and cross-border trade financing.  Sojitz HK agreed to remit $5,228,298 to settle its potential civil liability for apparent violations of the Iranian Transactions and Sanctions Regulations (ITSR).  The apparent violations occurred when Sojitz HK made U.S. dollar payments through U.S. financial institutions for Iranian-origin high density polyethylene resin (HDPE) from its bank in Hong Kong to the HDPE supplier's banks in Thailand.  In doing so, Sojitz HK caused the U.S. financial institutions that processed the funds to engage in and facilitate prohibited financial transactions related to goods of Iranian origin.  The settlement amount reflects OFAC's determination that Sojitz HK's apparent violations were non-egregious and voluntarily self-disclosed, and accounts for Sojitz HK's remedial response and cooperation with OFAC. For more information, please visit this web notice.
Sanctions by the Numbers: 2021 Year in Review The first year of President Joe Biden's administration witnessed major developments in U.S. sanctions strategy, including a general review of all sanctions programs under the auspices of the U.S. Department of the Treasury. Most notably, the Treasury has revised and expanded its sanctioning authorities to align with the broader foreign policy objectives of the Biden administration and to respond to global developments. This CNAS edition of Sanctions by the Numbers provides a snapshot of overall sanctioning trends, an overview of the most heavily used country-specific and thematic sanctions programs, and the global distribution of sanctions designations during the first year of the Biden administration.
China-related Sanctions (Excerpt)
In addition to the 70 designations pursuant to the country-specific sanctions program on China (CMIC), the Treasury imposed 30 designations on China-related targets under various other sanctions programs. To address continued human right abuses in Xinjiang against the Muslim Uyghurs, the Treasury—along with Canada, the EU, and UK—sanctioned two Chinese government officials, Wang Junzheng and Chen Mingguo, pursuant to human rights–related authorities. OFAC also imposed seven Hong Kong–related designations pursuant to Executive Order 13936, which addresses the oppressive actions of the Chinese government and Hong Kong authorities against democratic protests linked to Beijing's Hong Kong National Security Law. The remaining sanctions on China and Hong Kong–related targets are pursuant to GLOMAG, SDGT, ISFR, DPRK3, and ILLICIT-DRUGS-EO for providing designated terrorist groups, such as the IRGC-QF and Hezbollah, with financial assistance and money laundering services.
Semiconductor manufacturing: What China really wants This summer, Her Majesty's (HM) Government launched a national security review of the People's Republic of China's (PRC) purchase of the Newport Wafer Fab (NWF), a semiconductor factory in South Wales. A final decision on the acquisition by state-backed electronics company Wingtech through its Dutch subsidiary Nexperia is expected in January 2022. At almost the same time as HM Government announced that Sir Stephen Lovegrove, the National Security Adviser, would review the purchase, a report rom the White House called the circuits that firms like NWF manufacture the 'DNA' of the high-tech economy, which underpin 'state-of-the-art military systems'. Gina Raimondo, President Biden's Commerce Secretary, has asked allies to help slow the PRC's innovation rate in the sector.Chinese strategy is quite simple: rapidly increasing its control of semiconductor supply chains. This has deep national security implications. Yet, claims that democratic countries' positions in the industry have been 'stolen' by East Asian competitors are often based on a misunderstanding of a vast sector that includes many different activities. The industry is extremely complex, but firms broadly fit into particular niches: first, the big intellectual property-holders are the design firms; next, foundries (or 'fabs') produce integrated circuits (ICs), usually manufacturing for the design firms; packaging and assembly companies generally package these circuits in simpler cases, as components for products like smartphones. Separately, manufacturing-equipment companies make the kit that all these firms use for manufacture and design. The trend is strongly towards specialisation, with a few integrated device manufacturers (IDMs) like Intel and Samsung that design, make and package. But the biggest value-add is in the design firms: packaging trails a distant third.
So where is the PRC? This is surprisingly straightforward. Design is now dominated by one German and three American firms; Taiwan dominates fabs, followed by South Korea (Taiwan Semiconductor Manufacturing Company (TSMC) is now well ahead of any competitor technologically, and with Samsung has 81% of the world market, hence the claims that East Asia has devoured the semiconductor industry); and the bulk of manufacturing equipment comes from the United States (US), the Netherlands, and Japan. The PRC's position in all these fields is negligible. The 'assembly, testing, and packaging' segment is Taiwanese-dominated, but now also features some major Chinese Players such as Tianshui Huatian, JCET Group, and Tongfu Microelectronics. This sector, less capital- and skill-intensive than the others, was the first to become dominated by East Asian firms. The PRC now hopes that the sector will provide a foot in the door. Yet, the American market share of around 50% of the industry as a whole is ten times the PRC's. The PRC has almost nothing in the highly profitable fab-less design field and lacks Taiwan's ability to make leading-edge 3-nanometre (nm) chips. 92% of manufacturing capacity for 10nm or under is Taiwanese. So what's the problem? This is the beginning of the first, two-part article based on a recent report on this area ('The acquisition of Newport Wafer Fab by China's Wingtech'), written by the Director, Defence and Security for Democracy, at Civitas. In February 2021 he published this report ('Inadvertently Arming China? The Chinese military complex and its potential exploitation of scientific research at UK universities').
Revealed: Huawei's Oxbridge Millions British universities have received twice as much funding from Huawei as previous estimates suggest, according to new figures obtained byThe Spectator. Freedom of Information requests sent by Steerpike show that a further £28.7 million has been received from the Chinese tech giant by nine leading UK universities, on top of the sums identified in a landmark report by the China Research Group in June 2021. By far the biggest recipient of donations and research grants is Cambridge University which has taken £25.7 million from Huawei alone since 2016. Huawei has been banned from participating in Britain's 5G network from 2027 amid security concerns. Last year MPs on the Commons Defence Select Committee claimed in a report that Huawei is 'strongly linked to the Chinese state and the Chinese Communist Party despite its statements to the contrary', citing its ownership model and the subsidies it has received. The Chinese telecoms giant has repeatedly denied that it is controlled or linked to the Chinese regime.
Cambridge's links to the company have come under increasing scrutiny in the past two years. In February 2020, constituent college Jesus published a report about telecommunications reforms which praised Huawei and carried a foreword from Stephen Toope, university Vice-Chancellor. Five months later the Timesreported that the company paid £150,000 for the report alongside £200,000 for its Dialogue Centre from a branch of the Chinese State Council.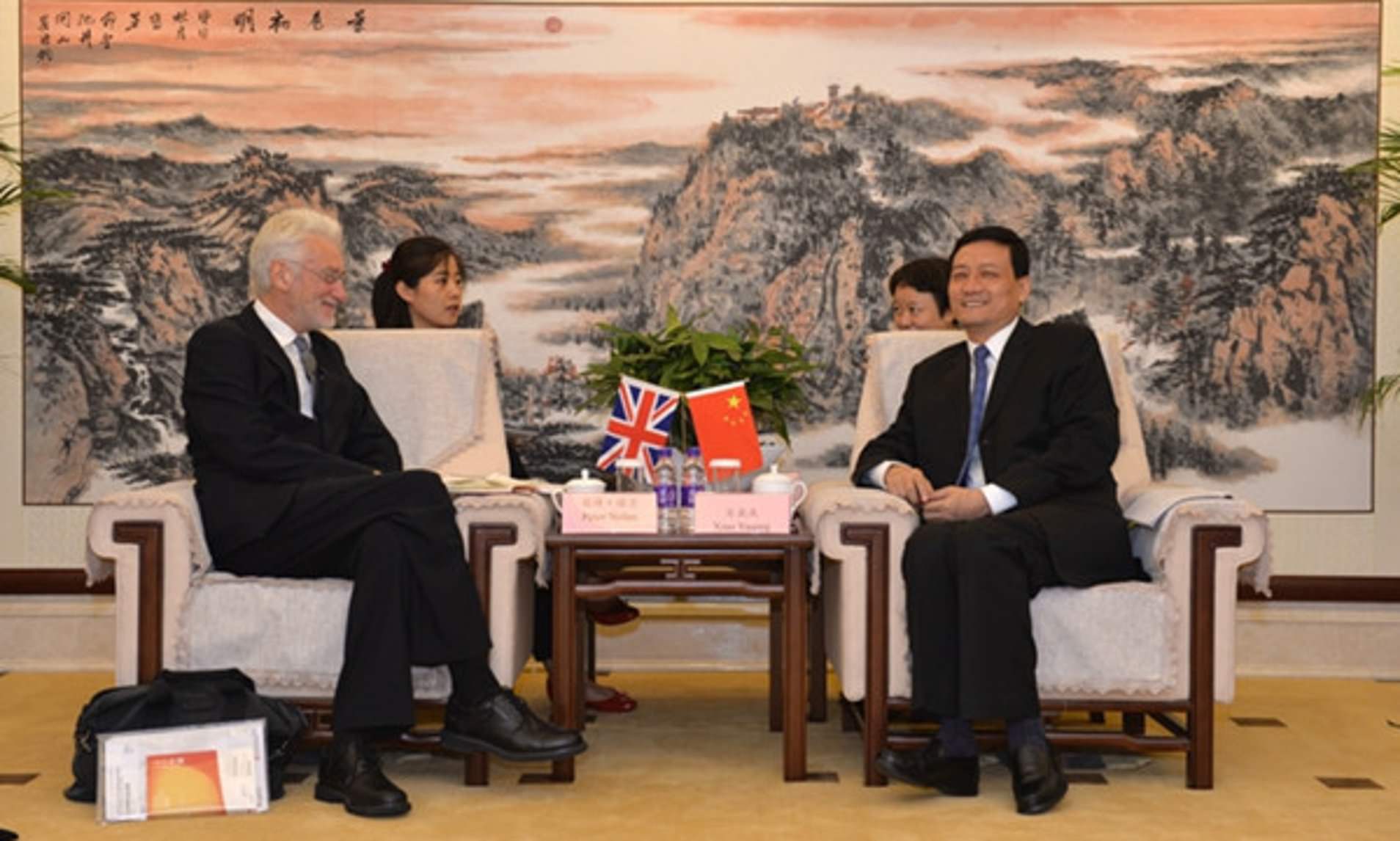 Professor Peter Nolan, 71, director of the China Centre and a fellow at Jesus, meets with Chairman Xiao Yaqingm, head of Beijing's State-owned Assets Supervision and Administration Commission, in Beijing in September 2018 / Source: Daily Mail
In September 2021 Huawei was accused of 'infiltrating' a separate University of Cambridge research centre after most of its academics were found to have ties to it. Now Mr S has discovered that Cambridge has taken 31 research grants over the past five years, worth a total of £18.3 million or an average of £592,000 each. The largest sum was £2.9 million in February 2018; some £5.7 million has been granted since February last year. Cambridge also took £7.4 million in donations from Huawei over three different financial years since 2016. While the university refused to release annual figures, it disclosed that donations totalled between £50,000 to £99,000 in 2016/17, £5.5 million to £9.9 million in 2018/19 and £1 million to £4.9 million in 2020/21. The overall total of £25.7 million accepted by Cambridge is all the more notable in light of Oxford's 2018 announcement that the university would no longer accept funding from Huawei. A similar Freedom of Information request by Steerpike found that Oxford received between £500,000 to £2.49 million in philanthropic support and grants from Huawei since 2016; exact figures were not provided by the university. Separately, the same request revealed that between £2 million to £4 million was also separately received by Oxford in donations from the China Scholarship Council, an arm of the Chinese Ministry of Education.
In June, a report by the China Research Group of hawkish Tory MPs found that twenty leading UK universities have collectively accepted more than £40 million in funding from Huawei and state-owned Chinese companies in recent years. On top of at least £26.2 million identified by Mr S gifted by Huawei to Oxford and Cambridge in donations and grants, a further £2.5 million has been given to seven other leading universities across the country from the same company since 2016. Among those include the Royal College of Art which received £104,000 from Huawei in April 2017 and Queen Mary University London which has received £825,000 since October 2018 for its electronic engineering and computer science school from four branches of the Huawei empire: Huawei Device, Huawei Technologies and both its Irish and Swedish offshoots. More in this article.
China's Digital Currency and Authoritarianism China is the first major economy to develop and implement a central bank digital currency (CBDC). Its CBDC has many names: Digital Currency/Electronic Payment (DCEP), the digital yuan or renminbi, and electronic Chinese yuan (eCNY). A new video explainer from CNAS explores how Beijing's CBDC efforts will have critical ramifications for the Chinese Communist Party's digital authoritarianism. As China is in a national blitz to digitize its entire economy, it is strengthening its hand for domestic social control while also influencing financial technology innovation in the global financial system.
To find out more about the ground truths of China's CBDC, you can read the January 2021 CNAS report("China's Digital Currency: Adding Financial Data to Digital Authoritarianism").
CSET at Three When CSET was officially founded in January 2019, they were a small team with a handful of ambitious goals: 1) to use evidence-driven analysis to answer pivotal questions about emerging technologies and their security implications, 2) to produce relevant and timely work that influences policy outcomes, and 3) to prepare the members of their team for policymaking careers of their own. They've come a long way since then. Their research has made its way to the White House, the Pentagon, multiple congressional offices and committees, and many other policymaking bodies. They've expanded to a full-time staff of more than 50 people and seen many CSET alumni move into important policy positions at all levels of government. To mark their third birthday, this January 2022 progress reportprovides a detailed overview of CSET's major accomplishments — their research, their impact, and their distinguished alumni — and highlights the areas where CSET researchers are conducting groundbreaking, data-driven analysis. On page 21 you'll find that a CSET Research Analyst spoke with The Washington Post last December about U.S. investments in Chinese companies with military ties, based on the report "Harnessed Lightning" that he wrote with a CSET Senior Software Engineer and a CSET Translation Manager. "It's clear there are large gaps in the U.S. export control system that allow the Chinese military to access equipment, information and capital originating in the United States," the Research Analyst said. "But plugging these gaps is easier said than done."
Potato Chips, Computer Chips: Yes, There Is a Difference With the rise of China, the United States needs more than a competitiveness strategy; it needs a policy specifically tailored to boost production and innovation capacity in strategically important industries—especially technologically sophisticated ones with dual-use capabilities. The founder and president of the Information Technology and Innovation Foundation (ITIF), and author of the report, writes that some industries, such as semiconductor microprocessors (computer chips) can experience very rapid growth and reductions in cost, spark the development of related industries, and increase the productivity of other sectors of the economy. In essence, spillover effects from computer chips make potato chip manufacturers more efficient. ITIF, founded in 2006, is an independent, nonprofit, nonpartisan research think tank.
Key Takeaways:

In a fiercely competitive global economy, it is no longer assured that the United States will have needed domestic production and innovation capabilities, nor will it necessarily be able to securely buy them at will from other nations. 

U.S. economic and national security now depend on bolstering capacity in strategically important industries and technologies. A generic competitiveness policy will not suffice. 

Policymakers cannot ensure the "right boats" are lifted without a strategic-industry policy that identifies key industries and technologies, continually monitors U.S. and foreign capabilities, and implements policies to bolster targeted sectors.

Strategic-industry policy should not entail favoring U.S. firms over allied nations' firms that produce or do research in America. Nor does it mean picking industries in which the U.S. lacks capabilities or picking specific firms as "winners."

It does entail identifying industries in which the U.S. must have adequate capabilities to be secure. It means analyzing the strengths and weaknesses of each industry and implementing the correct policy interventions to spur competitive advantage.

It is time to end the stale argument about free markets versus industrial policy. We need both: market-based policy for most of the economy, and strategic industrial policy for select sectors.
Former U.S. Navy Sailor Sentenced to 2.5 Years for Selling Export-Controlled Military Equipment to China According to a DOJ News Release Summary, published on December 21, 2021, Ye Sang "Ivy" Wang, a former U.S. Navy sailor who was a Logistics Specialist First Class assigned to the Naval Special Warfare Command, was sentenced to 30 months in custody and ordered to pay a $20,000 fine for conspiring with her husband and co-defendant, Shaohua "Eric" Wang, to illegally export sensitive military equipment to China for profit.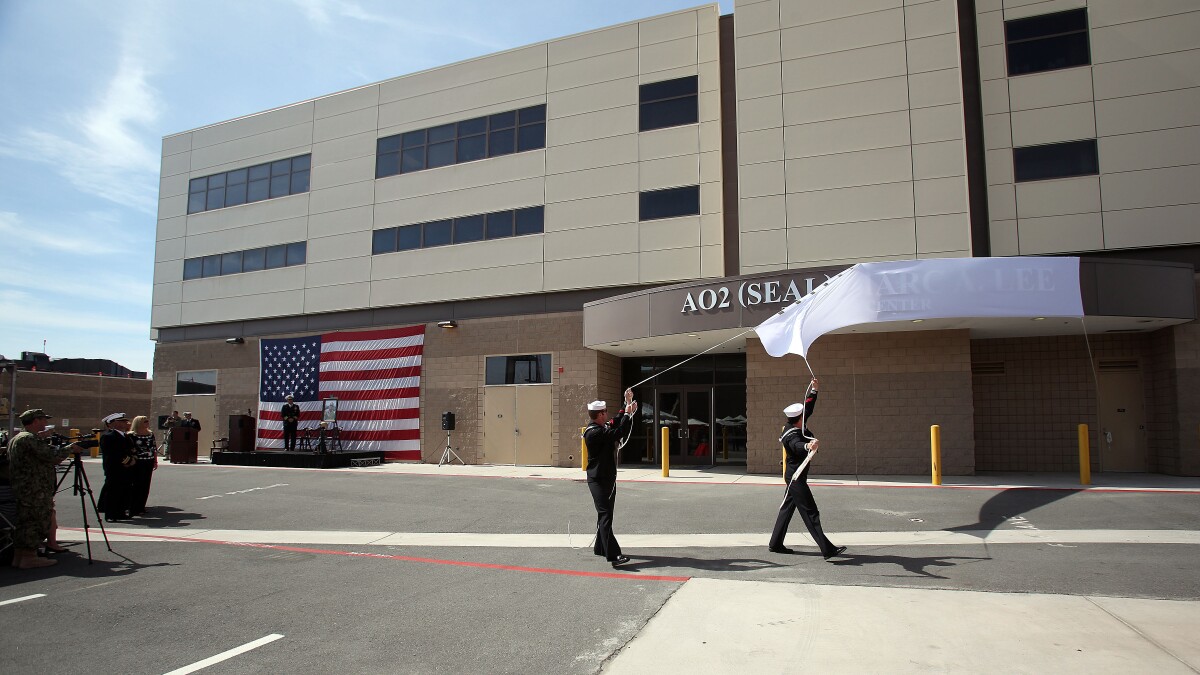 Naval Special Warfare Group 1 Training Detachment Building at Naval Amphibious Base Coronado. John Gastaldo/U-T San Diego/Zuma Press
Eric Wang pleaded guilty on September 26, 2019, admitting that he illegally sold export-controlled U.S. military equipment to China through his on-line business and that he enlisted his wife to use her Navy position to purchase the equipment for resale. Eric Wang also admitted that he maintained a warehouse in China to house the military equipment, travelled back and forth frequently, and had connections to buyers in China. On February 3, 2020, U.S. District Court Judge Cynthia Bashant sentenced Eric Wang to 46 months for his role in this scheme. According to Ivy Wang's plea agreement and the government's sentencing memorandum, she purchased military equipment for Naval Special Warfare units as part of her duties as a logistics specialist from 2015 to 2019. In March 2018, she used her military email and mailing address to order a device for identifying United States military personnel in the field. This item was subject to U.S. Department of Commerce export controls, and not advertised for sale to civilians. She was deployed in Iraq at the time the device arrived on base in San Diego. She advised her command that the package containing this device was something she had obtained for her husband for a camping trip. In reality, she bought the device on behalf of her husband for him to resell it to China for profit.
Months later, in October 2018, upon returning from deployment to Iraq, Ivy Wang told the interviewing agents that she knew her husband was shipping military equipment to China illegally. Despite being interviewed by law enforcement agents, Ivy Wang took the device from her Navy command, brought it home and gave it to her husband. The device had been secretly disabled by law enforcement. Upon receipt, Eric Wang messaged a customer that he was in receipt of the item, but advised he could not ship the item to China, because "they are still investigating me… My friend is a SEAL who also got involved. They are investigating him as well." Ivy Wang told NCIS and HSI agents during her October 2018 interview that her husband sent her an Excel spreadsheet of military equipment items for her to purchase and that she knew those items were going to buyers in China. Eric Wang told her that he could not buy export-controlled military equipment using his personal email address, so he asked her to do it for him, using her position in the U.S. Navy and her military email address. She grew so annoyed at his repeated requests that, after purchasing equipment for him through March 2018, she gave him her password to her military email address and told him to buy the export-controlled military equipment posing as her after she deployed. "This defendant used her position of trust to put the Navy and the nation at risk, and the sentence imposed today holds her accountable for her actions," said Acting U.S. Attorney Randy Grossman, who praised the prosecution team, NCIS, HSI and Department of Commerce for their excellent work on this case. "Ms. Wang betrayed her oath to the U.S. Navy and ultimately threatened the operational readiness and safety of our nation's military by attempting to acquire and illegally export sensitive military equipment to China," said Special Agent in Charge Joshua Flowers of the NCIS Southwest Field Office. "NCIS and our partners remain committed to protecting our nation's critical technologies and infrastructure." "This individual abused her position of trust to obtain military-grade equipment, which foreign adversaries could have used against American service members and allies," said Chad Plantz, Special Agent in Charge of U.S. Immigration and Customs Enforcement (ICE) Homeland Security Investigations (HSI) San Diego. "Fortunately, HSI and our partners were able to prevent this equipment from falling into the wrong hands, but this case serves as a stark reminder of why it's important for organizations – particularly those involved in national defense – to educate their workforces on how to properly identify and report insider threats." More details are here.
Xi's Way Or The Highway: How and Why China Brings Global Businesses To Heel The sight of one of the most powerful and influential men in global finance issuing a groveling apology to the Chinese Communist Party (CCP) must surely rank as one of the most excruciating acts of the year. In November, Jamie Dimon, the Chief Executive Officer of JP Morgan, one of the largest investment banks in the world, humorously remarked that JP Morgan is likely to outlive the CCP. This off the cuff comment provoked fury from Beijing, pressuring Dimon to retract his statement. This particular incident reflects a much wider and sometimes sinister pattern of questionable business practices in China. China's ruler, Xi Jingping, has made no secret of his plans to take China into the geopolitical stratosphere. Schemes such as the Belt and Road Initiative, a global infrastructure investment scheme into which China has poured $200 billion, are part of China's effort to develop its economic hegemony. Central to this vision is Xi's core economic ideal: 'socialism with Chinese characteristics'. This deceivingly vague message has had significant implications for how China behaves as a player in the global economy. The phrase has been used by the CCP since China emerged from the period of extreme turbulence and isolation under Chairman Mao. However, under Xi, it has come to represent a distinct brand of political-economic ideology. At its core, the ideology stresses that although private enterprise has a key place within China's economy, essentially no one is above the rule of the CCP, meaning total compliance with their authority is essential for permission to participate in commercial activity. It is within  this context that Dimon's rapid apology should be seen. Compliance with the CCP's authority does not just mean abiding  by the rules. Compliance in this case means not doing anything that undermines the legitimacy of the CCP and its decisions. Dimon's retraction is only the latest in a series of efforts by the CCP to browbeat global businesses operating in China into conformity. The most striking example of this relates to the supply of cotton from the Xinjiang region in China to many of the world's premier retailers such as Nike and H&M.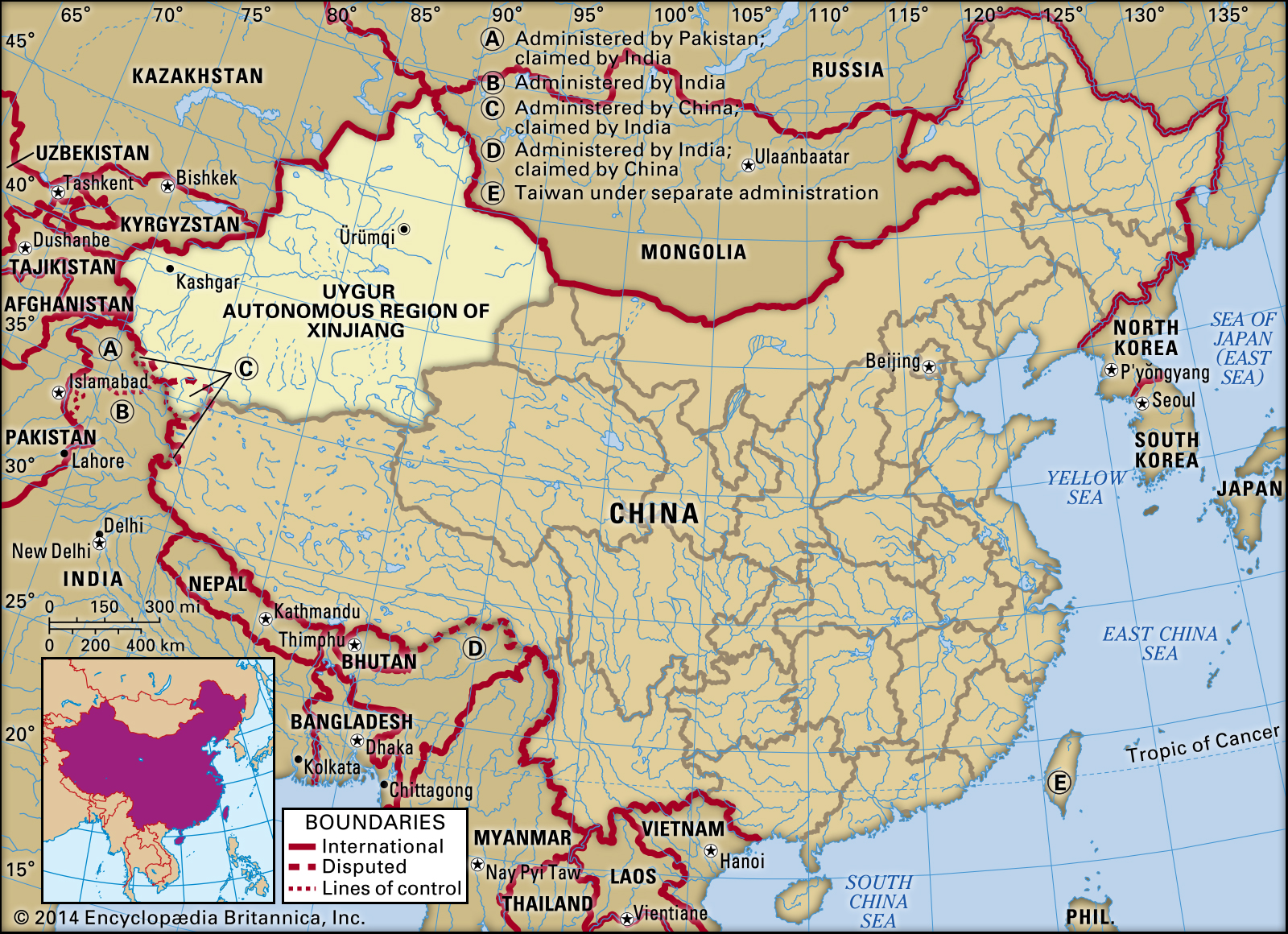 Many fashion retailers use vast quantities of cotton produced from Xinjiang to make its products. However, this region has recently become the focus of intense international scrutiny. Home to the ethnic Uighur Muslim minority, the region which produces 80% of China's raw cotton has witnessed some of the most terrifying state-sponsored repression of the century. The Muslim minority have been  subjected to appalling measures such as mass sterilisations and- crucially for businesses- forced labour in the cotton fields. Many fashion retailers, including Nike and H&M, are members of the international non-profit Better Cotton Initiative (BCI), which seeks to promote sustainable and ethical supply chains in the industry. The BCI has been vocal in drawing attention to Xinjiang and retailers have subsequently raised question marks about their supply. In spite of their good intentions, these protests are hastily silenced by the CCP, which has equated such remarks with attacks on China itself. It is therefore  hardly surprising that a consumer boycott was rapidly organised across Chinese social media platforms, against retailers like H&M. This neatly sums up the risks that global businesses face in operating in China. The political conditions on the ground in China make it impossible for companies to continue to operate in the same style as they do in the West. Many firms' dependence on Chinese exports and the spending power of Chinese consumers means that to operate in China profitably, principle must be put aside. The first article in a new series dedicated to business in China, published in Nouse (University of York) is here. Founded in 1964, Nouse is the oldest society on campus.
China's Tech Crackdown: A Year-in-Review Over the past year, Beijing clipped the wings of its once high-flying technology giants in a dramatic clash between public and private power. Casualties included some of China's top tech companies, including internet conglomerates Tencent and Alibaba, food delivery app Meituan, ride-hailing app DiDi, as well as companies in online gaming, private tutoring and cryptocurrency. Despite the chilling effects on innovation and economic growth, regulators appear poised to continue enforcement actions in 2022, furthering Xi Jinping's bid for "common prosperity." Prior to this year, China's anti-monopoly and technology regulators were regarded as relatively toothless in reining in China's powerful tech titans. The shifting fortunes of Jack Ma, Alibaba's rags-to-riches founder, demonstrates how much of that narrative has changed. In 2015, Ma pressured a regulator to publicly recant a critical report against Alibaba. In late 2020, after Ma spoke out in a conference against China's state-owned banks, regulators hauled Ma in for questioning, halted the initial public offering of Alibaba subsidiary Ant Group and left his public reputation in tatters. 
Bringing Ma to heel turned out to be the opening salvo in a year marked by high-profile actions against major tech companies. In the antitrust arena, the newly empowered State Administration for Market Regulation (SAMR) took aggressive steps to rein in anticompetitive behavior, levying a record $2.8 billion fine on Alibaba and a $530 million fine on Meituan. China also made major legislative and administrative moves, proposing amendments to the Antitrust Law to increase penalties for antitrust violations, and launching a new anti-monopoly bureau under SAMR to enforce it. Regulators also took major actions in the data privacy space. In the past year, the National People's Congress passed the Data Security Law and the Personal Information Protection Law, regarded as China's version of the EU's General Data Protection Regulation. The Cyberspace Administration of China (CAC) cracked down on data privacy violations, disrupting Didi's planned initial public offering (IPO) in New York for failing to comply with a cybersecurity review for sensitive data. Commentators have both praised China's push for privacy and noted its inherent contradictions. The Financial Times called China a "surprise leader in Asia on data privacy rules." Others have pointed out that while these laws shield Chinese citizens from domestic commercial and foreign government surveillance, it does little regarding domestic government surveillance. As Kendra Schaefer of Trivium China noted: "We often think about the PIPL in terms of its applications to Alibaba or Tencent but we forget that China's state agencies are the country's largest data processors." Commentators have attributed various ideological and political motivations to the regulatory spree. Many of these crackdowns fall under the umbrella of "common prosperity," Xi's push to close the wealth gap in part by encouraging high-income individuals and businesses to "give back more to society." Some point to the political calendar: With the 20th Party Congress scheduled for autumn 2022, these moves may be part of Xi's efforts to consolidate his power ahead of his anticipated re-election. 
Still others point to the regulatory competition angle. CAC's enforcement actions against Didi could be explained not as a coordinated campaign from central authorities, but rather disjoint actions from independent regulatory agencies competing for primacy. As Kaiser Kuo described it: "Hey, we can't let those guys at [the National Radio and Television Administration] get all the glory. We [Ministry of Culture] guys have to do something too, right?" 
The crackdown has come with a significant economic burden, one that Xi seems willing to bear despite a lagging economy. China's economy has slowed to lows not seen since the 1990s. The Economist estimates that the crackdown wiped more than $1 trillion off the collective market capitalization of China's largest internet groups. China's video-game license freeze alone has led to over 14,000 gaming-related firms shutting down.  Xi may find these losses bearable because the economic burden is borne primarily by the consumer technology sector rather than what he views as strategically critical sectors, like semiconductors and aeronautics. Companies in the "hard tech" sectors like Huawei and Semiconductor Manufacturing International Corporation have largely escaped regulatory scrutiny. As Jude Blanchette of the Center for Strategic and International Studies puts it, "Xi doesn't care whether people can have their meals delivered 14% faster or if it is 7% easier to hail a car." For all these reasons, regulators are likely to continue pursuing enforcement actions against Chinese technology companies into the foreseeable future. In August 2021, China's State Council and Communist Party Central Committee passed a five-year plan promising to tackle monopolies, review regulations related to the digital economy and address "foreign-related rule of law." The plan, in addition to statements from the SAMR's agency head promising strengthened antitrust enforcement in 2022, points to another difficult year for China's tech giants. The arcticle was published in Lawfare on January 7, 2022.
GFWatch: A Longitudinal Measurement Platform Built to Monitor China's DNS Censorship at Scale China's sophisticated filtering system, known as the Great Firewall (GFW), is the region's biggest impediment to the freedom of information. The GFW is built by the Chinese government and is continuously developed to serve their political interests. This report introduces the design of GFWatch, a large-scale longitudinal measurement platform that informs the public about how GFW censorship changes over time and its negative impact on the free flow of information. GFWatch is a measurement platform capable of testing hundreds of millions of domains daily, enabling the continuous monitoring of the Great Firewall's DNS filtering behavior. The newly censored domains discovered by GFWatch provide a useful insight into China's information control policies. This project is a result of an academic collaboration between researchers from Stony Brook University, University of Massachusetts – Amherst, University of California – Berkeley, and the Citizen Lab at the University of Toronto.

Key findings:
We developed GFWatch, a large-scale, longitudinal measurement platform capable of testing hundreds of millions of domains daily, enabling continuous monitoring of the GFW's DNS filtering behavior.

From April to December 2020, GFWatch tested a total of 534M distinct domains (averaging 411M domains per day) and detected more than 300K censored domains. To the best of our knowledge, this is the largest number of domains tested and censored domains discovered in existing literature.

We designed a probing method to reverse-engineer the actual blocklist used by the GFW's DNS filter and identified 41K domains that appear to be overblocked despite matching regular expressions used by the GFW.

Through our measurements, we discovered more than 3.6K unique forged IPv4 and IPv6 addresses. All IPv6 addresses are bogus and belong to the same subnet of the predefined Teredo prefix, 2001::/32, whereas the vast majority of IPv4 addresses belong to U.S. companies, including Facebook, Dropbox, and Twitter.

Using data from GFWatch, we also assessed the impact of GFW's DNS censorship on the global DNS system. We found 77K censored domains whose forged DNS resource records have polluted many popular public DNS resolvers, including Google, Cloudflare, and OpenDNS.

Finally, we propose strategies to detect poisoned responses that can sanitize polluted DNS records from the cache of public DNS resolvers, and assist in the development of circumvention tools to bypass the GFW's DNS censorship.

For data exploration, we built an interactive dashboard that can be used to search for censored domains and fake IP addresses injected by the GFW that GFWatch has discovered.
Chinese National Pleads Guilty to Economic Espionage Conspiracy Xiang Haitao, 44, a Chinese national formerly residing in Chesterfield, Missouri, pleaded guilty today to conspiracy to commit economic espionage. According to court documents, Xiang conspired to steal a trade secret from Monsanto, an international company based in St. Louis, for the purpose of benefitting a foreign government, namely the People's Republic of China. "Despite Xiang's agreements to protect Monsanto's intellectual property and repeated training on his obligations to do so, Xiang has now admitted that he stole a trade secret from Monsanto, transferred it to a memory card and attempted to take it to the People's Republic of China for the benefit of Chinese government," said Assistant Attorney General Matthew G. Olsen of the Justice Department's National Security Division. "With his guilty plea, Xiang is now being held accountable for this unlawful conduct." "Mr. Xiang used his insider status at a major international company to steal valuable trade secrets for use in his native China," said U.S. Attorney Sayler Fleming for the Eastern District of Missouri. "We cannot allow U.S. citizens or foreign nationals to hand sensitive business information over to competitors in other countries, and we will continue our vigorous criminal enforcement of economic espionage and trade secret laws. These crimes present a danger to the U.S. economy and jeopardize our nation's leadership in innovation and our national security." Justice News (DOJ) Press Release Number: 22-14 of January 6, 2022.
Lithuania Is the 'Canary' of World Order Lithuania, a Baltic state of 2.8 million with an outsize role in promoting human rights and democracy, is in the crosshairs of Russia and China. Neither Russian President Vladimir Putin nor Chinese leader Xi Jinping has been shy about going after Lithuania. But their recent moves have broader significance, namely testing American and European commitments to allies.
Mr. Putin is raising the temperature on Lithuania by absorbing neighboring Belarus into his security sphere and militarizing Kaliningrad, Russia's territorial exclave on the Baltic Sea. Mr. Xi is waging a campaign of political and economic retaliation. The integration of the Baltic states into the North Atlantic Treaty Organization and the European Union in 2004 was a crowning achievement of post-Cold War politics. Lithuania helped lead Europe's response to the depredations of the dictatorial regime of Alexander Lukashenko in Belarus by sheltering opposition leaders and staking out hawkish positions. This is the latest way in which Vilnius has irritated Mr. Putin, who would like to reclaim Russia's near abroad as a sphere of influence. In Mr. Putin's fanciful telling, Lithuania is a major source of Russia's historical insecurity. That places it high on the list of neighboring states he would like to control. Lithuania drew China's fury this year for its decision to leave the 17+1 format—the Beijing-designed framework for dealing with Europe—and by allowing the government of Taiwan to open an office for its representation in Vilnius. Beijing declared an import ban on products with goods made in Lithuania—a move damaging to European companies with factories or supply-chain sources in Lithuania. Continental, a Germany-based automotive supplier, is the latest multinational under Chinese pressure to close operations in Lithuania. Read the full article, written by two Hudson Senior Fellows in the Wall Street Journal (subscription needed).
Key Takeaways:
Lithuania's Importance to NATO Lithuania, a Baltic state of 2.8 million with an outsize role in promoting human rights and democracy, is in the crosshairs of Russia and China. Neither Putin nor Xi have been shy about going after Lithuania. But their recent moves have broader significance, namely testing American and European commitments to allies. Mr. Putin is raising the temperature on Lithuania by absorbing neighboring Belarus into his security sphere and militarizing Kaliningrad, Russia's territorial exclave on the Baltic Sea. Mr. Xi is waging a campaign of political and economic retaliation.
China's Economic Pressure Campaign Against Lithuania Lithuania drew China's fury this year for its decision to leave the 17+1 format—the Beijing-designed framework for dealing with Europe—and by allowing the government of Taiwan to open an office for its representation in Vilnius. Beijing declared an import ban on products with goods made in Lithuania—a move damaging to European companies with factories or supply-chain sources in Lithuania. 
Lithuania Needs US Support Against Gray-Zone Aggression If Xi and Putin successfully detach Vilnius from NATO and the EU, there would be immediate ramifications in Asia, where China wants to push the U.S. out and establish regional hegemony. Most military strategists identify Taiwan as China's best first target for confrontation—and thus the essential test of U.S. resolve. But an indirect opening move in the "gray zone" of conflict aimed at Lithuania might have advantages. If the U.S. and Europe fail to back Lithuania fully, America's allies and partners in Asia will doubt U.S. commitment. Rather than working closely with Washington, they might become more friendly with China. 
Lithuania
Significant Cyber Incidents (CSIS) Below is a summary of incidents from the Center for Strategic and International Studies over the last year. For the full list, click here.
December 2021. 1) Hackers targeted multiple Southeast Asian governments over the past 9 months using custom malware linked to Chinese state-sponsored groups. Many of the nations targeted are currently engaged in disputes with China over territorial claims in the South China Sea. A Bloomberg investigation publicly linked an intrusion into Australia's telecommunications systems in 2012 to malicious code embedded in a software update from Huawei. 2) Cybersecurity firms found government-linked hackers from China, Iran, and North Korea attempting to use the Log4j vulnerability to gain access to computer networks. Following the announcement of Log4j, researchers already found over 600,000 attempts to exploit the vulnerability.
November 2021. 1) Chinese officials claim a foreign intelligence agency hacked into several airlines in China and stole passenger information. The officials stated the hacks are connected due to the use of a custom trojan in all the attacks. 2) After CISA publicly shared details on a vulnerability, Chinese hackers targeted nine companies and 370 servers between September and October using the same vulnerability.
October 2021. A Chinese-linked hacking group gained access to calling records and text messages from telecommunication carriers across the globe, according to a report from CrowdStrike. The report outlines the group began its cyberattacks in 2016 and infiltrated at least 13 telecommunications networks. 
September 2021. 1) Chinese state-linked hackers targeted Afghan telecom provider Roshan and stole gigabytes of data from their corporate mail server over the past year. 2) The Lithuanian Defense Ministry found hidden features in popular 5G smartphone models manufactured in China, according to its state-run cybersecurity body. The module embedded in the phones detects and censors 449 keywords or groups of keywords that are counter to the message of the Chinese government. 3) The Norwegian Government stated a series of cyberattacks against private and state IT infrastructure came from bad actors sponsored by and operating from China. Their investigation of the hacks claims the actors attempted to capture classified information relating to Norway's national defense and security intelligence.   
August 2021. 1) Hacks initially attributed to Iran in 2019 and 2020 were found to be conducted by Chinese operatives. The cyberattack broke into computers across Israel's government and tech companies. 2) Various Chinese cyber-espionage groups are responsible for the hacks of at least five major Southeast Asian telecommunication providers beginning in 2017. The attacks were carried out by three different hacking groups and are seemingly unlinked despite all groups having a connection to Chinese espionage efforts. 
July 2021. 1) A widespread APT operation was discovered against users in Southeast Asia, believed to be spearheaded by Chinese entities. Researchers found a total of 100 victims in Myanmar and 1,400 in the Philippines, including many government entities.  2) The United States, the European Union, NATO and other world powers released joint statements condemning the Chinese government for a series of malicious cyber activities. They attributed responsibility to China for the Microsoft Exchange hack from early 2021 and the compromise of more than 100,000 servers worldwide. 3) The FBI and the U.S. Cybersecurity and Infrastructure Security Agency (CISA) released a statement exposing a spearfishing campaign by Chinese state-sponsored hackers between 2011 and 2013. The campaign targeted oil and natural gas pipeline companies in the United States. 4) Norway attributed a March 2021 cyberattack on parliament's e-mail system to China. 
June 2021. 1) A Chinese-speaking hacking group spearheaded an ongoing espionage effort against the Afghan government through phishing emails. Hackers posed as the Office of the President of Afghanistan and targeted the Afghan National Security Council. 2) Chinese actors targeted organizations, including Verizon and the Metropolitan Water District of Southern California using a platform used by numerous government agencies and companies for secure remote access to their networks. 3) Hackers linked to Russia's Foreign Intelligence Service installed malicious software on a Microsoft system that allowed hackers to gain access to accounts and contact information. The majority of the customers targeted were U.S. based, working for IT companies or the government.
May 2021. A Chinese hacking group compromised a Russian defense contractor involved in designing nuclear submarines for the Russian navy. 
April 2021. 1) Hackers linked to the Chinese military conducted an espionage campaign targeting military and government organizations in Southeast Asia beginning in 2019. 2) Two state-backed hacking groups—one of which works on behalf of the Chinese government—exploited vulnerabilities in a VPN service to target organizations across the U.S. and Europe with a particular focus on U.S. defense contractors. 3) New York City's Metropolitan Transportation Authority (MTA) was hacked by Chinese-backed actors but were unable to gain access to user data or information systems. 4) Chinese hackers launched a months-long cyber espionage campaign during the second half of 2020 targeting government agencies in Vietnam with the intent of gathering political intelligence.
March 2021. 1) A group of Chinese hackers used Facebook to send malicious links to Uyghur activists, journalists, and dissidents located abroad. 2) The Indian Computer Emergency Response Team found evidence of Chinese hackers conducting a cyber espionage campaign against the Indian transportation sector. 3) Chinese government hackers targeted Microsoft's enterprise email software to steal data from over 30,000 organizations around the world, including government agencies, legislative bodies, law firms, defense contractors, infectious disease researchers, and policy think tanks. 4) Suspected Chinese hackers targeted electricity grid operators in India in an apparent attempt to lay the groundwork for possible future attacks.  
February 2021. Hackers associated with the Chinese military conducted a surveillance campaign against Tibetans both in China and abroad. 
January 2021. Hackers linked to the Chinese government were responsible for ransomware attacks against five major gaming and gambling countries, demanding over $100 million in ransom.
A 'Bright' Path Forward or a Grim Dead End? The Political Impact of the Belt and Road Initiative in Kazakhstan This FPRI report assesses the political impact of the Belt and Road Initiative (BRI) in Kazakhstan. Specifically, it examines whether and how the People's Republic of China can pursue a strategy of economic statecraft to further its foreign policy and political interests in Kazakhstan. Despite Kazakhstan's importance for the success of the BRI's overland trade corridors, the report argues that important financial, foreign policy, and political constraints limit Beijing's potential to influence Nur-Sultan. Beijing's concerns over upsetting its relationship with the Russian Federation and the fact that the value of bilateral trade, investment, and Kazakhstani indebtedness to China have decreased in recent years suggest that Beijing is less willing to, capable of, or interested in using the BRI to influence Kazakhstan.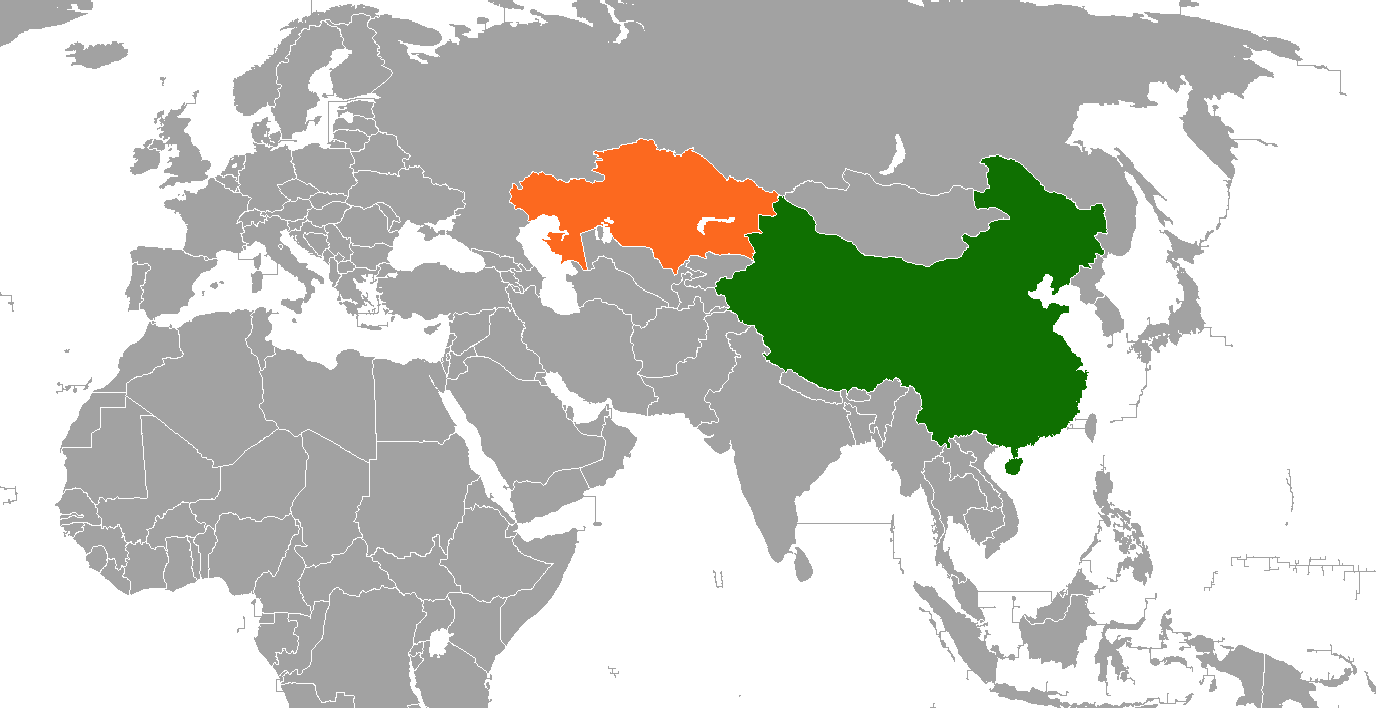 Kazakhstan and China
The perceived closeness in this bilateral relationship has less to do with the influence of the BRI and more to do with the alignment of both countries' geopolitical interests before the initiative's creation. The report does not suggest that Chinese influence has decreased, but rather shows how Kazakhstan has been able to maintain a degree of political autonomy. Nur-Sultan has played a proactive role in forming its relationship with Beijing through its pursuit of former President Nursultan Nazarbayev's "multi-vector" foreign policy strategy. In diversifying Kazakhstan's diplomatic, economic, and political ties with Russia, China, the European Union, and the United States, Nur-Sultan has been able to avoid complete dependence on one country. Furthermore, Kazakhstan has been able to shape the size and scope of Chinese economic activity by guiding the initiative's investments and projects to further the government's domestic development agenda, Nurly Zhol (translated as "Bright Path"). However, issues related to corruption and deepening ties between Chinese and Kazakhstani elites through the BRI have likely strengthened Kazakhstan's authoritarian political structure.  FPRI, the Foreign Policy Research Institute, is dedicated to producing the highest quality scholarship and nonpartisan policy analysis focused on crucial foreign policy and national security challenges facing the United States.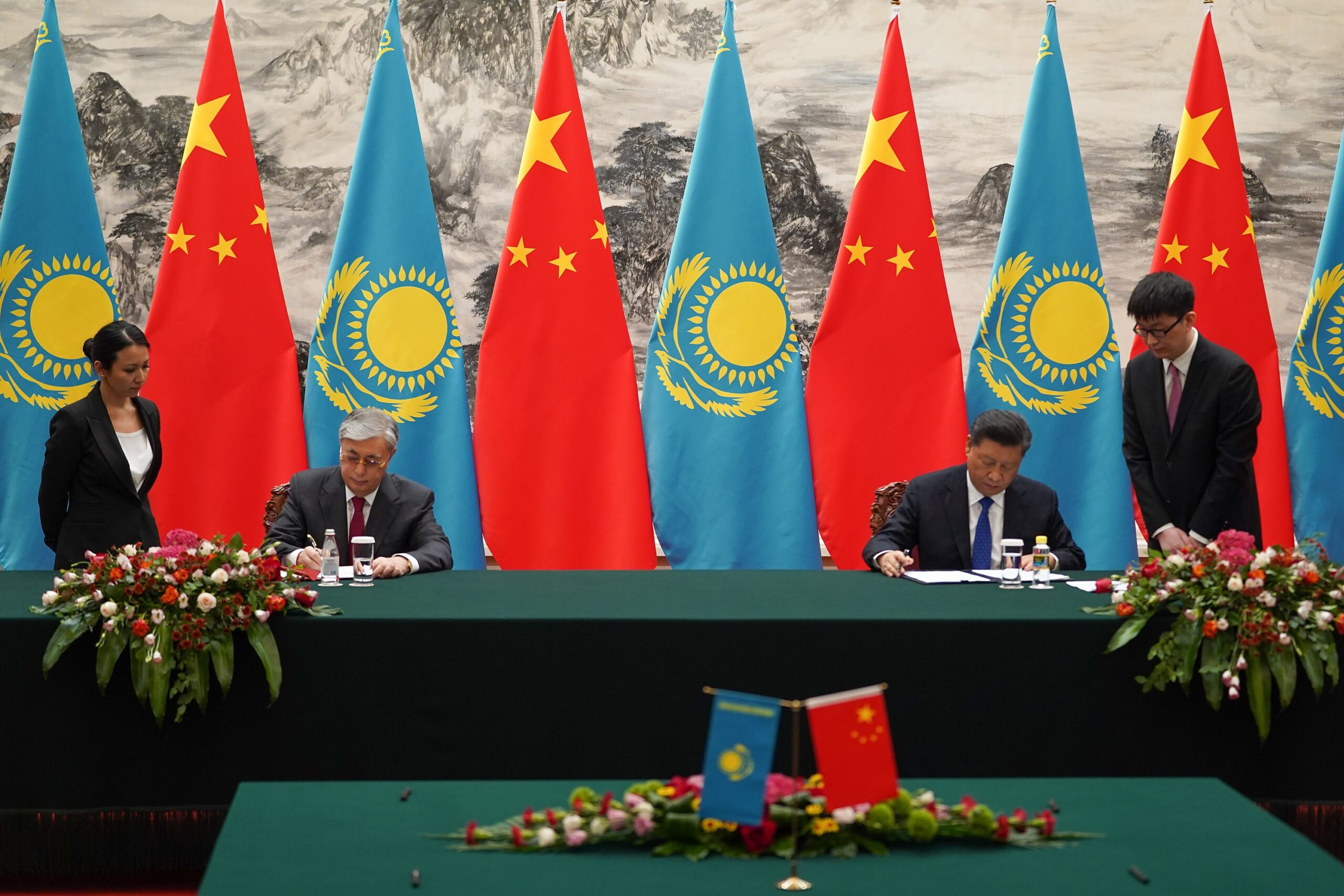 Kazakh President Kassym-Zhomart Tokayev and China's President Xi Jinping sign documents in the Great Hall of the People in Beijing, China, September 11, 2019. EAP-EFE/ Andrea Verdelli
Kazakhstan's Systems Malfunctions It may be a cliché, but Kazakhstan's ongoing dramatic crisis recalls one of Lenin's most famous quotes, "There are decades where nothing happens; and there are weeks where decades happen." Kazakhstan has for many years seen neither political change nor steady economic growth, with a regime dominated by kleptocratic elite far more interested in investing in Western luxury property than reshaping the nation from which the wealth to fund the purchases was looted. Almost out of the blue, however, Kazakhstan is facing a whole series of unprecedented crises that have exploded over the last several days: extraordinary demonstrations that have turned violent, defections from the police, a potential power struggle between its two presidents, a reported exodus of business elites, and Russian intervention.
Protests began after the New Year in the resource-rich western part of the country. This part of Kazakhstan has a history of otherwise rare dissent due to underinvestment comparative to the wealth that the region generates and a lack of effective representation in national politics. The protests were sparked by liquefied petroleum gas (LPG) fuel price liberalization, which saw drivers' costs double at the start of the year. The unrest quickly spread to major cities, including the commercial capital of Almaty. On January 5, President Kassym-Jomart Tokayev announced new caps on fuel prices, appealed for calm, and ordered a reshuffle of the government and the powerful security services. Nevertheless, the situation escalated with protesters raiding Almaty Airport, city hall, and presidential residence.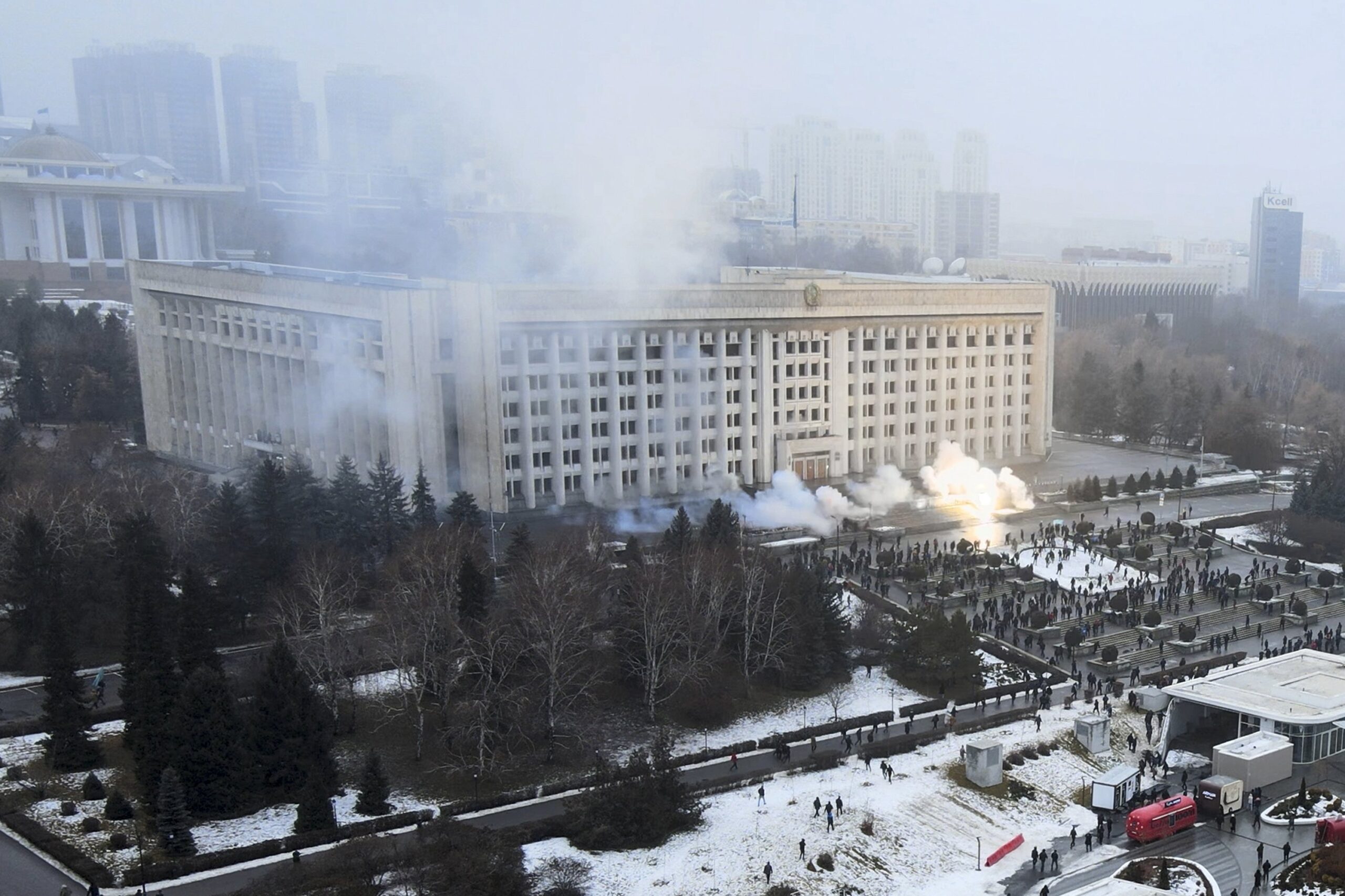 Smoke rises from the city hall building during a protest in Almaty, Kazakhstan, Jan. 5, 2022. AP Photo
Other cities saw dramatic protests as well—in nearby Taldykorgan, a statue of long-time strongman Nursultan Nazarbayev, the country's true powerbroker, was pulled down. Symbolically, his likeness was revealed to be hollow. An eerie digital silence cast a pall of deep concern for many subsequent hours, with local voices largely silenced to foreign observers. The government—only recently touting itself as the center of a new financial hub and luring bitcoin miners with cheap energy—shut down the internet entirely. The blackout means death tolls and estimates of destruction are all still speculative, even as the government has announced the death of at least a dozen police officers and the jailing of hundreds.
By January 6, revolutionary change was afoot. Videos shared on social media evidenced widespread looting and blatant disregard for Tokayev's curfew surfaced, even apolitical instiutions such as Almaty's airport were targeted. Even more shocking was that Tokayev invited forces from the Russian-led Collective Security Treaty Organization (CSTO)—who have already responded, with reports of Russian troops already in Almaty. The quick action of the CSTO in Kazakhstan is in stark contrast to the bloc's non-response to Armenia's pleas for protection from Azerbaijan in the 2020 Nagorno-Karabakh conflict. As Bruce Pannier has detailed for RFE/RL, the CSTO has, in fact, refused all other previous calls for intervention in other post-Soviet conflicts but rapidly agreed to do so in Kazakhstan, despite the fact no foreign power is involved in the demonstrations. Conspiracies already abound.
Tokayev also unexpectedly said that he removed Nazarbayev—to whom he owed his presidential promotion—from his role as head of the security council. The handover had been running smoothly, with Nazarbayev granting the chairmanship of their Nur Otan party to his favored mandarin last month. After all, changing the drapes of the presidential palace by installing Tokayev had done nothing to shift the balance of power away from Nazarbayev's clique in business and the security forces. Nazarbayev also formally retained the title of "Elbasy," often translated as "Leader of the Nation." Amid all this, Nazarbayev has not been heard from publicly, a shocking silence for the former Communist Party boss-turned-nationalist-turned-kleptocrat whose cunning and chameleon politics meant that he has had a role in regional and international politics from the late Soviet era to the present. Nazarbayev had famous tête-à-têtes with Mikhail Gorbachev, Barack Obama, and Xi Jinping. These ranged from discussing attempts to preserve the Soviet Union to launching the Belt and Road Initiative, in which Kazakhstan plays a key overland route. It has been a leading destination for Chinese investment under the program, which symbolically Xi first announced in the China Daily to the world in the Kazakh capital in 2013.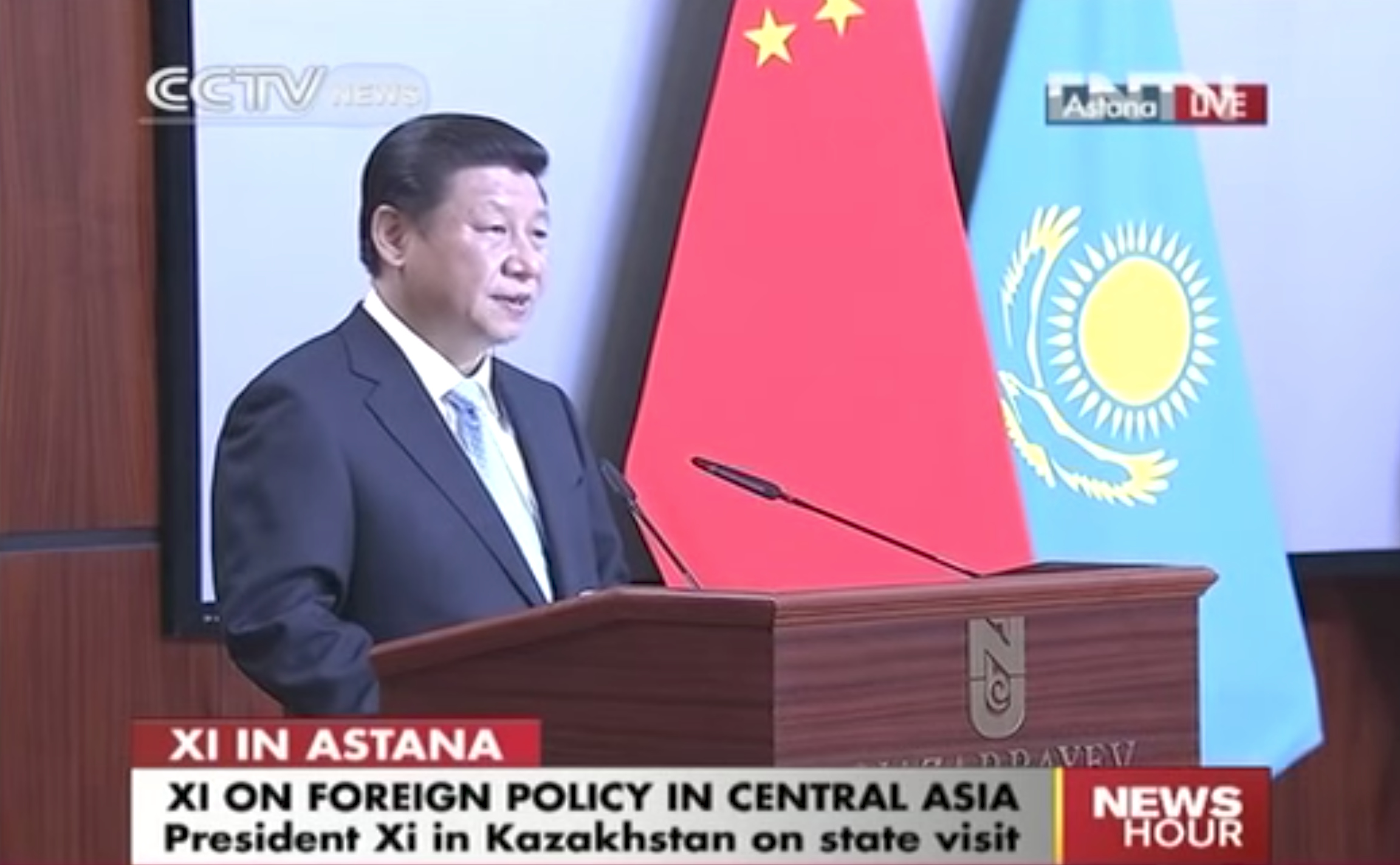 President Xi Jinping gives a speech at Nazarbayev University in Astana, Kazakhstan in 2013. CCTV (China Central Television)
The blood spilt on January 5 has already sparked some invocations of Almaty's December 1986 Jeltoqsan massacre, the bloody suppression of Kazakh demonstrators that some have argued was the first paroxysm of centrifugal sentiment that would ultimately tear the Soviet superpower apart. Tokayev does not have his own powerbase if he indeed is seeking to use the event to finally replace Nazarbayev in more than name. It also appears that the protesters would unlikely accept a figure so associated with the previous regime—although there is more uncertainty than clarity. Nazarbayev had in my travels to the country always struck me as genuinely popular, even fairly recently, though the 2019 Potemkin transition, combined with Tokayev's ignominious-if-expected inaugural act  of renaming of Astana as Nursultan grated across wide swathes of society. While Kazakhstan's future remains unclear, it is important to already consider what further fallout these events and the resulting uncertainty may bring for policymakers and businesses near and far.
The crisis in Kazakhstan risks upsetting the balance of power in Eurasia. Major instability even in the short term would be perceived by the Kremlin as a threat to its own position, already deeply disturbed by the sight of street protests resulting in some political change. A more democratic government emerging would pose a challenge not only to Moscow but also to Central Asia's other strongmen, while a more Moscow-friendly regime emerging from the chaos could choke off the potential for further expansion of Chinese influence. The full FPRI article, written by a Central Asia Fellow in the Eurasia Program at the Foreign Policy Research Institute, is here. See also "An Inside Look At China And Kazakhstan's 'Absurd' Cross-Border Free Trade Zone", a July 26, 2016 article published in Forbes.
The hacker-for-hire industry is now too big to fail The spotlight is on the "hackers for hire" industry as never before, after a series of public scandals engulfed the billion-dollar Israeli company NSO Group, which sells hacking tools to governments. Last month, Facebook reported that seven hacker-for-hire firms from around the world had targeted around 50,000 people on the company's platforms. The fact the investigation didn't even mention NSO Group shows how vast the industry and its targeting are. While NSO Group's future is uncertain, governments are more likely than ever to buy cyber capabilities from the industry it helped define. Business is booming for "hackers for hire" firms. In the last decade, the industry has grown from a novelty into a key instrument of power for nations around the world. While the industry's earliest customers were a small set of countries eager to project power around the world through the internet, the situation is far more complex today. Billions of dollars are at play, but there's very little transparency and even less accountability. The result is a growing crowd of countries willing to spend large sums to develop sophisticated hacking operations. Read the full story, written cybersecurity senior editor for MIT Technology Review, here
Taiwan to Set Up $200 Million Fund to Invest in Lithuania Amid Dispute With China Taiwan said it would create a $200 million fund to invest in Lithuanian industries and boost bilateral trade as it tries to fend off diplomatic pressure on the Baltic state from China. The Lithuanian government, meanwhile, ordered the state-owned railway company not to sign a contract with a China-owned Spanish bridge builder, citing "national security interests," the prime minister's spokesperson told the Baltic News Service.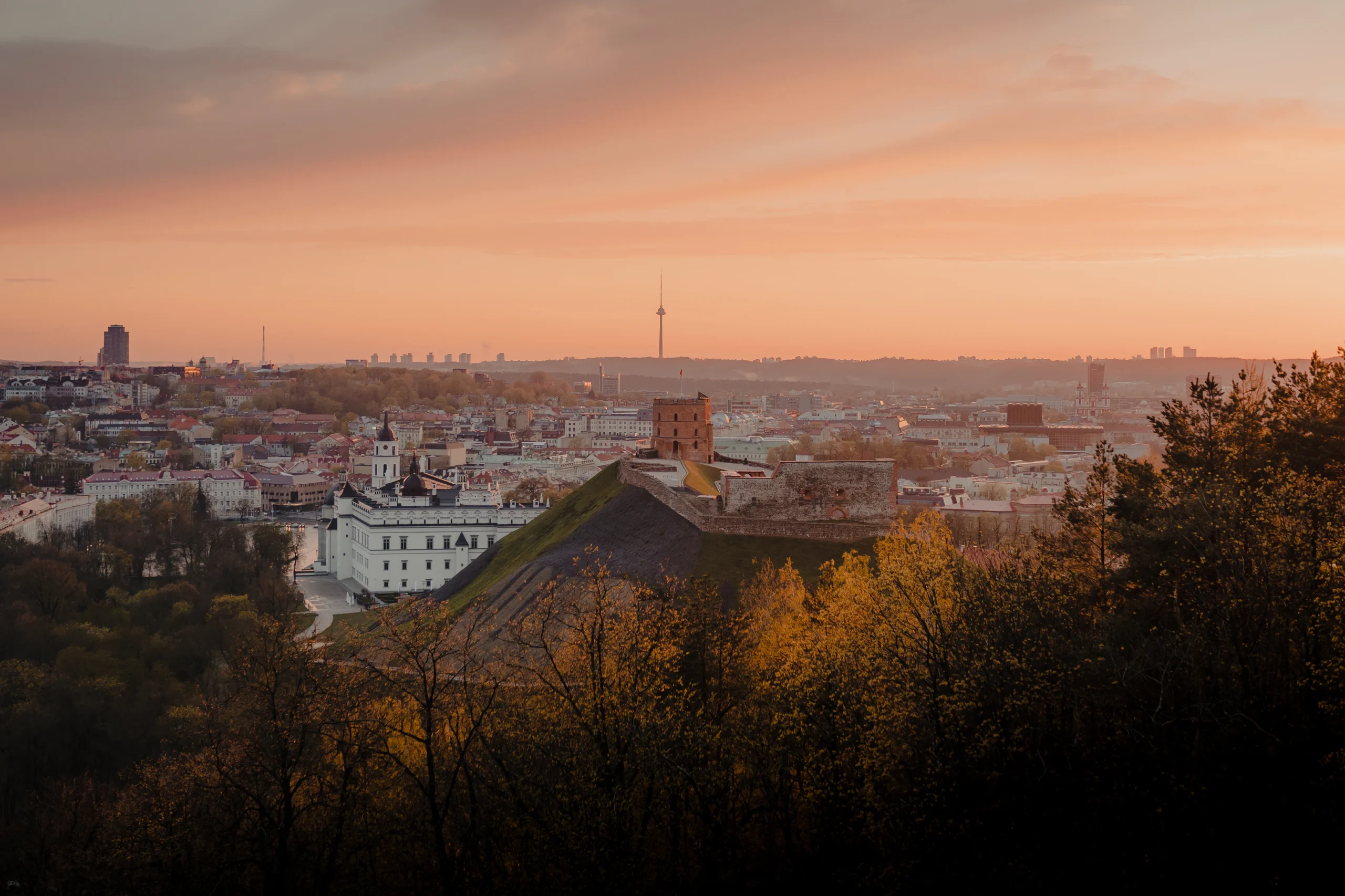 Vilnius, Lithuania
Lithuania is under pressure from China, which claims democratically ruled Taiwan as its own territory, to reverse a decision last year to allow the island to open a de facto embassy in Vilnius under its own name. Taiwanese representations in other countries, except the unrecognized Somaliland, are named after Taiwan's capital, Taipei. China has recalled its ambassador to Lithuania and downgraded diplomatic ties and is pressuring companies like German car parts giant Continental to stop using Lithuanian-made components. It has also blocked Lithuanian cargos from entering China. U.S. Secretary of State Antony Blinken referred to China's pressure on Vilnius in a joint news conference with German Foreign Minister Annalena Baerbock after a meeting in Washington and vowed to work with Berlin and others against such "intimidation." Blinken said Germany and the United States agree on the importance of trans-Atlantic coordination on China "because it poses a significant challenge to our shared values, to the laws, rules and agreements that foster stability, prosperity and freedom worldwide." "We have immediate concern about the government of China's attempts to bully Lithuania … China is pushing European and American companies to stop building products with components made in Lithuania, or risk losing access to the Chinese market, all because Lithuania chose to expand their cooperation with Taiwan."
Lithuania's export-based economy is home to hundreds of companies that make products such as furniture, lasers, food and clothing for multinationals that sell to China. More in this article in Voice of America (VOA). Voice of America (VOA) is the largest U.S. international broadcaster, providing news and information in more than 40 languages to an estimated weekly audience of more than 311 million people. Since its creation in 1942, Voice of America has been committed to providing comprehensive coverage of the news and telling audiences the truth. Through World War II, the Cold War, the fight against global terrorism, and the struggle for freedom around the globe today, VOA exemplifies the principles of a free press. VOA is part of the U.S. Agency for Global Media (USAGM), the government agency that oversees all non-military, U.S. international broadcasting, and the MBFC rates Voice of America Least Biased based on balanced story selection and minimal use of loaded words. They also rate them High for factual reporting due to proper sourcing and a clean fact check record.
The Top 10 Global Risks of 2022 According to this article in Time, a domestic focus for both the U.S. and Chinese governments lowers the odds of a big international conflict in 2022, but it leaves less potential leadership and coordination to respond to emerging crises. That's bad news in a year that will be dominated by the COVID-19 pandemic, climate change, and a number of regional geopolitical crises.
1. No zero COVID
2. Technopolar world (The world's biggest tech firms decide much of what we see and hear. They determine our economic opportunities and shape our opinions on important subjects. E.U., U.S., and Chinese policymakers will all tighten tech regulation this year, but they won't limit their ability to invest in the digital sphere where they, not governments, remain the primary architects, actors, and enforcers. Tech giants can't yet (and don't want to) effectively govern the digital space or the tools they're creating. Disinformation will further undermine public faith in democracy, particularly in the U.S. As tech firms and governments fail to agree on how to protect data privacy, cyber-security, and the safe and ethical use of artificial intelligence, U.S.-China (and, to a lesser degree, U.S.-Europe) tensions on these issues will grow.)
3. U.S. midterms 
4. China at home (An increasingly burdensome "zero-COVID policy" (see Risk #1) and President Xi Jinping's reform plans will unsettle markets and companies in 2022. Xi's vision of technological self-sufficiency, economic security, and social harmony—to make China strong—will collide with intensifying pushback from the West, an exhausted growth model, an overleveraged and unbalanced economy, and a rapidly aging population—and at a time when COVID-19 variants continue to circulate.)
5. Russia 
6. Iran 
7. Two steps greener, one step back 
8. Empty lands
9. Corporates losing the culture wars 
10. Turkey 
Trends in AI Research for the Visual Surveillance of Populations Since 2014, computer vision models have dramatically improved their performance on benchmarks for image classification, image generation, facial recognition, and other tasks. As these examples show, computer vision researchers aim to solve a wide variety of problems. Yet previous bibliometric studies have examined international output of computer vision research as a whole, without distinguishing among these many research tasks. In principle, analyses of academic research can inform us about the global growth of research and the interests and incentives of each nation's researchers. But only a small segment of computer vision research may relate to any particular area of interest. In this CSET brief, we focus on "visual surveillance research," the development of algorithms such as facial recognition that could be used to surveil individuals or groups. These algorithms are often applied for benign, commercial uses, such as tagging individuals in social media photos. But progress in computer vision could also empower some governments to use surveillance technology for repressive purposes.
Using a dataset of English-language papers published between 2015 and 2019, CSET applied natural language processing methods to identify the computer vision papers in this corpus and the research tasks they described. CSET found:
Papers relevant to visual surveillance accounted for less than 10 percent of all computer vision research

Researchers with Chinese institutional affiliations were responsible for more than one third of publications in both computer vision and visual surveillance research

China produces a disproportionate share of research on three "emerging" surveillance tasks—those where worldwide publication counts grew at over 30 percent annually
These conclusions derive from English-language research publications only. Further work could extend our task-extraction methodology to non-English publications, which would improve our estimates of international research output and would likely increase non-Anglophone countries' estimated share of global surveillance research. Future projects could also augment our bibliometric approach by including more direct indicators of nations' capabilities and interests in deploying surveillance technology, such as patent data, private research and development, camera deployment, and relevant government policies. CSET, the Center for Security and Emerging Technology, is a policy research organization within Georgetown University's Walsh School of Foreign Service. CSET produces data-driven research at the intersection of security and technology, providing nonpartisan analysis to the policy community. CSET is currently focusing on the effects of progress in artificial intelligence (AI), advanced computing and biotechnology.
Concerns about China's human rights record loom over the Winter Olympics in Beijing With just one month before the start of the Winter Olympics in Beijing, concerns about China's human rights record loom over the Games. Activists and leaders have raised questions about China's suppression of civil liberties in Xinjiang, Hong Kong and Tibet, but the International Olympic Committee has remained tight-lipped. Instead, the I.O.C. has consistently deflected calls to exert more pressure on China — a lucrative market and an important partner for the Olympics. For months, rights activists have asked the Olympic committee to make sure that Beijing 2022 merchandise had not been made under duress by Uyghurs in Xinjiang. So far, the I.O.C. has been reluctant to do so, according to correspondence reviewed by The Times between the I.O.C. and an anti-forced-labor coalition.
In years past, the I.O.C. had been willing to prod Russia about unpaid wages and Japanese officials about conditions for construction workers. The committee defended its approach in China.
The IOC's Principles are here, and the IOC statement on the December 6, 2021 announcement by the US government is here.

Germany and China It has been interesting to watch the defenders of close relations between Germany and China mobilize over the past months to try to head off a more critical approach from the new government in Berlin. It started with a handful of discreet post-election meetings between Angela Merkel and senior European decision-makers, including her successor Olaf Scholz, in which the outgoing chancellor conveyed her concerns about a tougher line. It continued in late November with a below-the-radar visit from a group of Chinese officials with deep ties to Germany. Led by former ambassador Shi Mingde, they spent over a week in Berlin, Munich, and Stuttgart meeting with Germany's political and corporate elite—including people close to Scholz. Their message: let's work together to ensure that the special relationship between Berlin and Beijing does not go off the rails.

Volkswagen's CEO Herbert Diess took to LinkedIn shortly before Christmas to warn that any push by Germany or Europe to decouple from China (a push that, by the way, does not exist) would be "very damaging." "We need more cooperation and presence in China, not less!", and "China is and will be the technology driver", he wrote.
Siemens CEO Roland Busch added his voice last week, telling the Süddeutsche Zeitung that China deserved respect and that banning the import of products from the Xinjiang region would endanger Germany's green transition. ("Siemens-Chef Roland Busch erklärt warum eine Konfrontation mit China für ihn der falsche Weg ist".)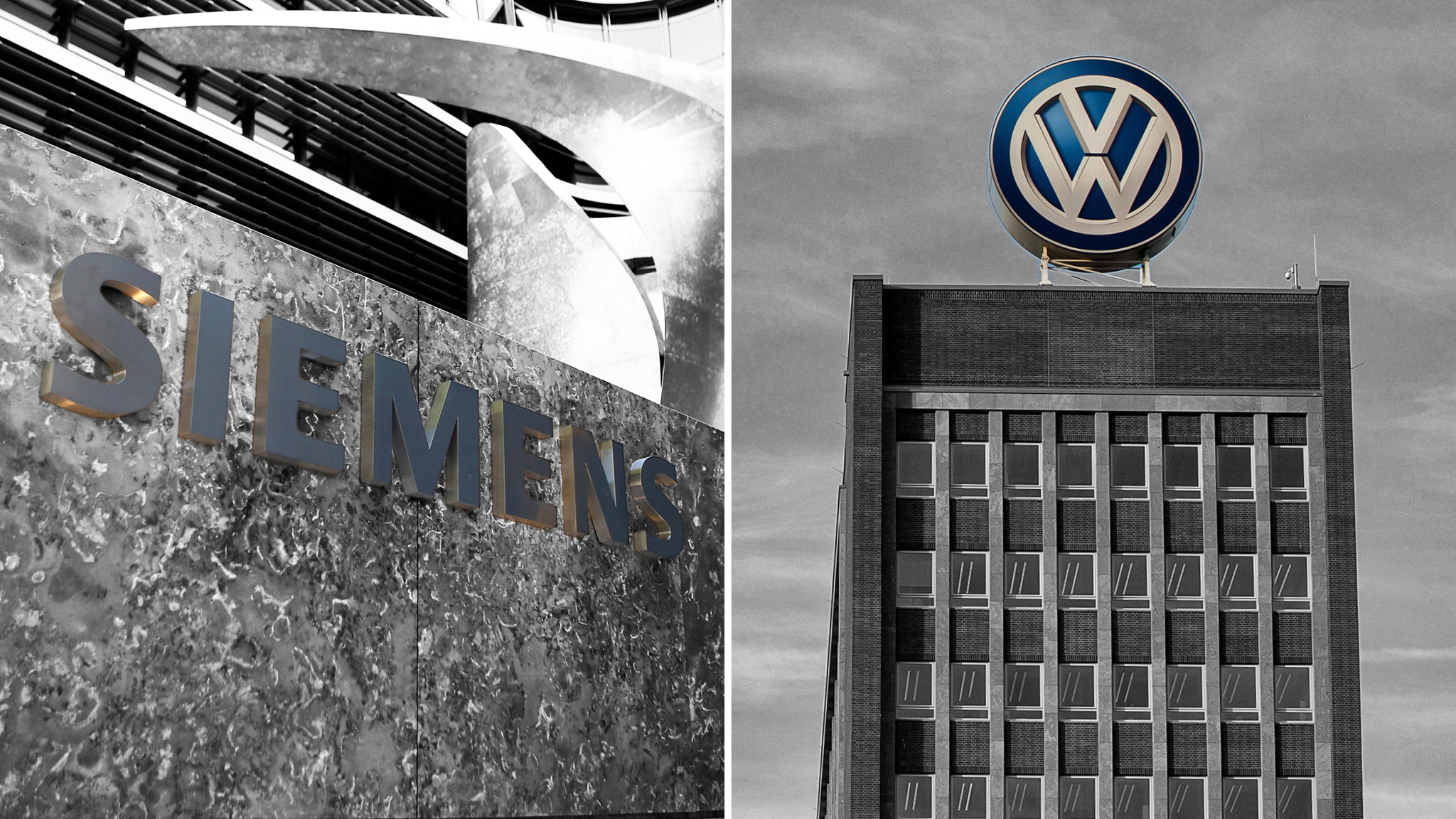 FT montage / AP / Bloomberg
What to make of all this? First, it is clear that new Foreign Minister Annalena Baerbock, who has promised a tougher approach to China, has unsettled a lot of important people. Although she has been measured in her statements since assuming her new post—making clear, for instance, that Germany cannot decouple from China—she has become the target of a campaign that is portraying her approach as naïve and dangerous. Baerbock has allies in Berlin and other capitals, most notably in Washington, but she will need to keep her nerve in the face of resistance from powerful interests in German industry and politics. Her ministry will be taking the lead in writing the new China strategy that was promised in the government's coalition treaty. If this process forces a real debate between the different China camps in Berlin, then it will be constructive. Second, one month into the new government, one has to ask whether Scholz may himself be a member of the aforementioned resistance. No one who watched his political rise in recent years expected him to shake up German policy toward China once he landed in the Chancellery. As finance minister under Merkel and as the lead candidate for the Social Democrats (SPD) in the elections, he stood out mainly for his refusal to take clear positions on the big geopolitical questions involving Beijing. Scholz came into office promising continuity in foreign policy—a Merkel approach with SPD characteristics. Still, the signals he has sent on China in his first weeks running Germany's new coalition government have been surprisingly soft in tone and content. In a very short time, Scholz has managed to undercut the main messages on China policy that were set out in its governing blueprint. 
As EU officials in Brussels try to make sense of the conflicting signals being sent by the new government in Berlin, they are preparing to re-engage with Beijing themselves. An EU-China summit that had been tentatively scheduled to take place on January 14 has now been pushed back until late March, a Senior Visiting Fellow, Asia Program at the German Marshall Fund of the United States, was told. The Chinese side requested the delay in order to prepare a summit with "real deliverables," according to one EU official. But if there is one clear message as 2022 begins, it is that China would prefer to sidestep Brussels and focus its diplomatic energy on the more malleable EU member states. One sign of this: Beijing's ambassador to the EU, Zhang Ming, left his post last month and a replacement has still not been named. Why engage with EU officials who have become ever more strident in their criticism of China's behavior when capitals like Berlin and Paris are striking more dulcet tones? Only the member states can put an end to this damaging dynamic but it is unclear whether they want to.
In Washington, officials are watching on nervously. The same Senior Visiting Fellow, Asia Program at the German Marshall Fund of the United States was told that senior members of the National Security Council had recently conveyed the message to German officials that they would see a return of bare-knuckles US unilateralism if they did not send clear signals about their readiness to work with Washington on China by the US midterm elections in November. Scholz has said all the right things about the transatlantic relationship since becoming chancellor, highlighting the importance of German-US ties in his first speech to the Bundestag and in his new year's address. But expressing in his first call with Xi his desire to deepen the "bilateral partnership" and economic relationship with China sent a different message. As a German diplomat told me, "Scholz does not want to align with Washington on China. He is going to try to wiggle his way through, kick the can, and plead for time." Sounds familiar? "Watching China in Europe" is a monthly update from GMF Asia Program. The German Marshall Fund of the United States (GMF) is a non-partisan policy organization committed to the idea that the United States and Europe are stronger together. GMF works on issues critical to transatlantic interests in the 21st century, including the future of democracy, security and geopolitics, alliances and the rise of China, and technology and innovation.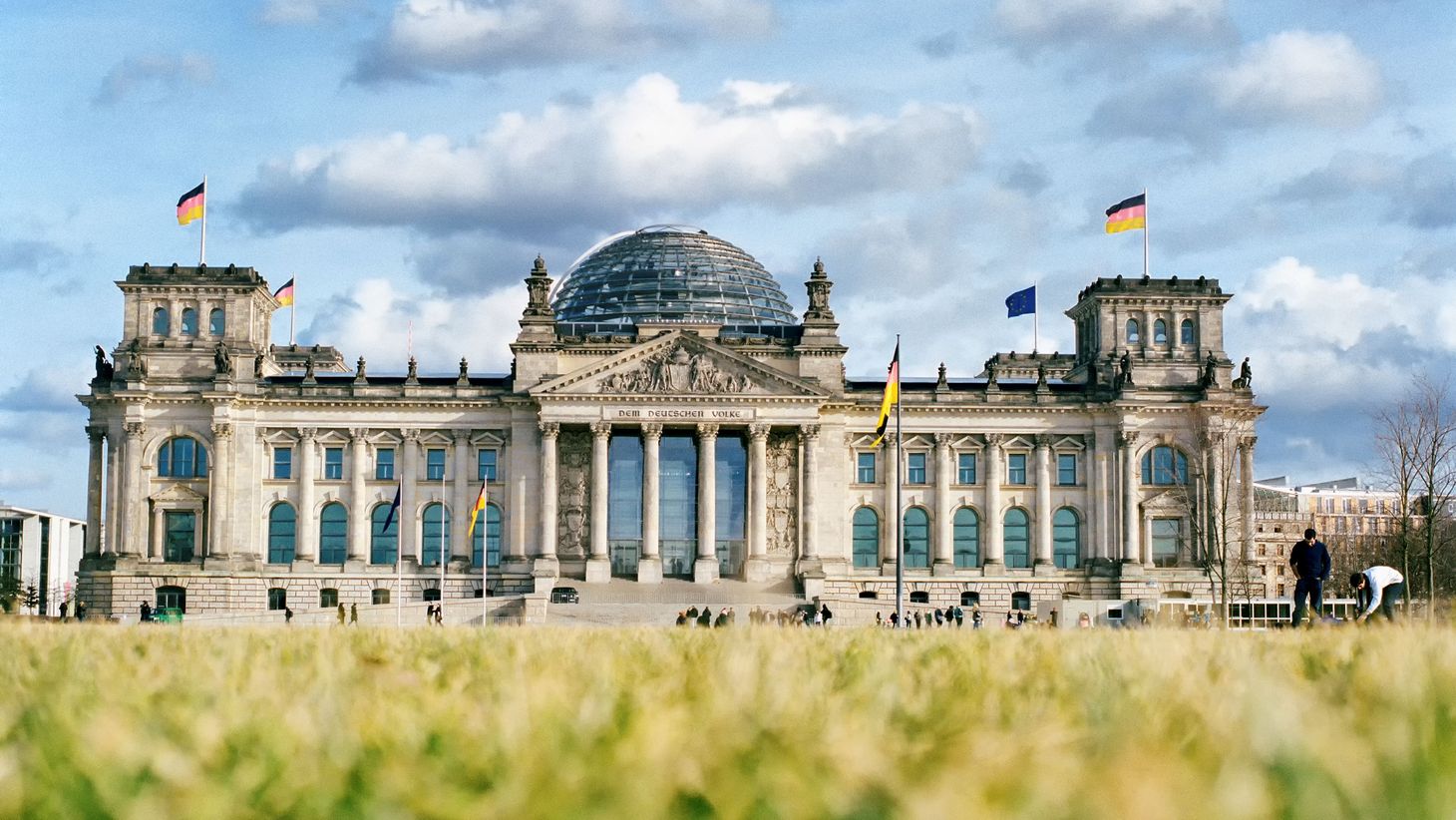 The Reichstag is a historic building in Berlin in which houses the Bundestag, the lower house of Germany's parliament.
'All-out assault' on Hong Kong's press continues ahead of Beijing Olympics As China prepares to host the 2022 Winter Olympics in Beijing, Chinese authorities continue to imprison journalists without consequence and crack down on the independent press in Hong Kong. Last month, Hong Kong authorities filed new charges against media entrepreneur and CPJ 2021 Gwen Ifill Press Freedom Awardee Jimmy Lai, along with six former staff at Lai's media company Next Digital and his newspaper, Apple Daily. The following day, police raided the nonprofit newsroom Stand News and arrested six people affiliated with the outlet on suspicion of sedition, leading the site to announce that it would cease operations immediately.
Learn more from the Committee to Protect Journalists about some of the journalists under threat in China and Hong Kong in this month's One Free Press list.
The Creepy TikTok Algorithm Does Know You TikTok, known in China as Douyin (抖音 / Dǒuyīn), is a video-focused social networking service owned by Chinese company ByteDance.
The uncanny, addictive AI has turned math into a mystical force—and flattened humanity into a series of codes. It's a truth universally acknowledged that "the algorithm" knows you better than you know yourself. A computer can supposedly predict whether you'll quit your job or break up with your partner. With 1,000 words of your writing, it can determine your age within four years. And no algorithm seems closer to omniscience than TikTok's, which is reportedly helping users discover their sexuality and unpack their childhood trauma. Whereas Facebook asks you to set up a profile, and hand over a treasure trove of personal information in the process, TikTok simply notices—or seems to. The results can feel magical, writes Jess Joho in Mashable, as if TikTok is "reading your soul like some sort of divine digital oracle, prying open layers of your being never before known to your own conscious mind."
As ever, there's a dark side. Most users will be sucked into WitchTok and gardening how-to's, but others will end up in an infinite scroll about ADHD, Tourette's syndrome, or autism (#mentalhealth, for example, has garnered almost 21 billion views—a fraction of #dance, which has 341 billion views, but nonetheless a significant showing). This information can be extremely liberating, especially for conditions usually shrouded in stigma. But some are concerned about the deference given to the platform's pseudo-psychiatric content. "Once [the algorithm] puts you on a side, it keeps you there," says psychology professor Inna Kanevsky, better known on TikTok as the debunking @dr_inna, "and it starts seeming like you're diagnosed." That's a potentially life-altering takeaway proffered up by a for-profit algorithm and content creators of varying reliability. The Wired article "The Creepy TikTok Algorithm Doesn't Know You" is here.
Dangerous Liaisons At least three areas of Israeli-Chinese cooperation concern Washington. First, China and Israel have developed strong ties in the military sector; nowadays Israel is one of the world's main suppliers to the People's Liberation Army. This relationship reflects China's sense of Israel's long-term advanced military capabilities, developed through repeated clashes with the Arab world since 1948. Because of Chinese technological improvements, there is a double track to this cooperation. Israel does not just export arms to China but has agreed to buy military drones manufactured by China's DJI Technology, which is known in the United States for its domestic-use drones but was blacklisted by Trump on account of internal security concerns. Second, Israel and China have pursued mutual interests in technological fields like artificial intelligence, communications networks, and software. Chinese companies that operate in these security-sensitive fields are eager to benefit from transfers of know-how by Israel, the "start-up nation." The increasing Chinese investment in Israeli high-tech companies has so alarmed Washington that in late 2020, U.S. Assistant Secretary of State for Near East Affairs David Schenker publicly declared that this type of technology transfer could threaten both America's and Israel's internal security. Third, Israel has allowed China to build and run a new terminal in the port of Haifa, thus strengthening Beijing's influence in the Mediterranean and increasing concerns about China's Belt and Road initiative.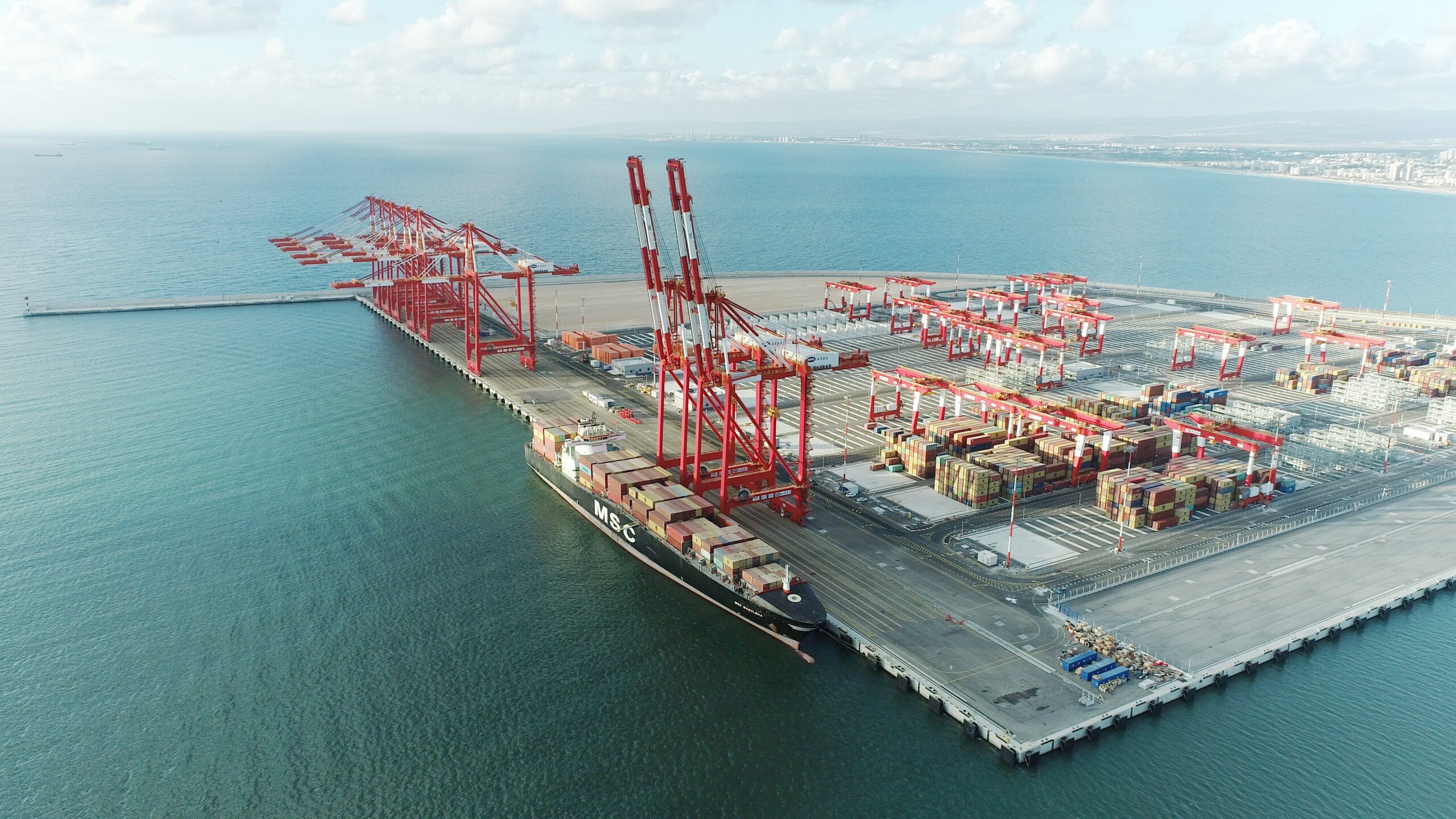 The new port in Haifa, constructed by Shanghai International Port Group. (via Twitter)
Beijing's interest in a partnership with Israel appears to be based on not only economic factors in a narrow sense but a wider penetration strategy in areas of the world that, until a few decades ago, were under almost exclusive American influence. All these concerns, though, should be considered in light of larger trends that have emerged in Asia and the Middle East. President Biden, in his first months in office, followed the Obama policy of gradual withdrawal from the Middle East-Near Asia region while deploying more resources to counter China in the Pacific. China, for its part, reacted with an increasing presence in the Middle East. Beijing has strengthened not only its Israel ties but its political and economic relationships with Saudi Arabia, Iran, and Egypt. This geopolitical "chess match" has affected the area's precarious equilibrium; every move in one direction can generate a dangerous opposing consequence. Israel is now in the uncomfortable position of being closely monitored by both the United States and China. For example, American officials have strongly recommended that Israeli's national security advisor, Eyal Hulata, establish a new committee to evaluate foreign investments, replacing the Finance Ministry's existing committee, whose jurisdiction does not include some areas targeted by Chinese interests. Subsequently, the Israeli government has been deciding on the winner of the billion-dollar procurement contract for building the green and purple lines of the Tel Aviv Light Rail. Many Chinese companies that are already blacklisted for their alleged ties with China's Ministry of Defense have been part of the groups competing for the contract. Israel is in a dangerous situation. Formally excluding China from the competition could severely undermine Israeli-Chinese ties, while dealing with China could strain the new relationship between President Biden and Prime Minister Naftali Bennett. American Purpose, January 14, 2022.