CHINA 2021
The U.S.-China Economic and Security Review Commission The U.S.-China Economic and Security Review Commission was created by the United States Congress in October 2000 with the legislative mandate to monitor, investigate, and submit to Congress an annual report on the national security implications of the bilateral trade and economic relationship between the United States and the People's Republic of China, and to provide recommendations, where appropriate, to Congress for legislative and administrative action.
Please find below their most recent Trade Bulletins:
January 2021
February 2021
March 2021
April 2021
May 2021
June 2021
July 2021
August 2021
September 2021
Succeeding Xi Jinping Does Xi Jinping's China face a looming succession crisis? Some analysts argue that it does because Xi's elimination of the term limit on his leadership position and the concentration of power therein would precipitate such a crisis. Others are more skeptical, pointing out that the political significance of Xi's moves is exaggerated. The ultimate benchmark of any succession crisis is whether the military gets involved. Consequently, examining the possible role of the People's Liberation Army in China's leadership succession may help us to understand whether a crisis is looming. Since the Communist Party came to power in 1949, two critical instances stand out in China when the military became heavily involved in domestic politics, including in leadership successions. The People's Liberation Army played a crucial role in the Cultural Revolution (1966 to 1976) under Mao Zedong. It also massively intervened to quell the popular rebellion in 1989 under Deng Xiaoping. Certain institutional conditions incentivized the involvement of the military in domestic politics in those instances. The first was the "symbiotic" relations between the Communist Party and the army. Top leaders such as Mao and Deng possessed extensive and entrenched personal networks or factions within the People's Liberation Army, and they counted on them for support in political crises. The second condition was the civilian governance failures that caused severe political divisions among the ruling civilian elite. The ensuing political crises drove the top leaders to mobilize the military to intervene. China is not now facing a succession crisis because the military is unlikely to intervene in deciding who replaces Xi whenever he leaves office. More effective civilian governance in China since Deng has disincentivized the military from intervening in elite politics. Moreover, senior party leaders no longer enjoy the deep personal networks within the People's Liberation Army that would allow them to use the army for their own domestic political purposes. Xi's successor will likely come from the ranks of the Politburo Standing Committee Members, and will be approved by the Chinese Communist Party Central Committee through voting. Simply put, it will be a big deal when Xi leaves office, but it won't be a crisis. More in this War on the Rocks article.
Getting Smart About Smart Cities This CNAS policy brief examines some of the systemic vulnerabilities that facilitate misuse of smart city technology by governments and provides snapshots of cities across the Indo-Pacific that have managed these vulnerabilities to successfully implement smart technology within the precepts of a liberal digital order. It then offers guiding principles for policymakers in Washington to further facilitate the growth of responsible smart city development in the Indo-Pacific. More smart cities are coming, and those that are already here will continue to grow more technologically advanced. What that means for the state of Indo-Pacific digital governance in five, 10, and 50 years depends on the foundation laid by policymakers today while the concept of smart cities is still new.
China Pathfinder China Pathfinder is a new initiative from the Atlantic Council's GeoEconomics Center and Rhodium Group that seeks to measure China's system relative to advanced market economies. The goal is to shed light on whether China's economic system is converging with, or diverging from, leading open market economies. In their inaugural report they examine six elements of the market economy model: financial system development; market competition; modern innovation system; trade openness; direct investment openness; and portfolio investment openness. With the launch of this annual scorecard, and subsequent quarterly updates, China Pathfinder aims to put recent developments like the crackdown on private technology companies, Beijing's "dual circulation" strategy, and the debate over "common prosperity" into a broader framework to help policymakers and businesses assess China's economic trajectory.
Justice Department IG Releases Audit of FISA Procedures On Sept. 30, 2021, the Department of Justice's inspector general released an internal audit of the FBI's procedures around the Foreign Intelligence Surveillance Act (FISA) application process. The FBI's "Woods Procedures" are one element of the FISA application process in which FBI personnel must "document support for all factual assertions contained in [the applications]." Of an initial sample of 29 FISA applications, the audit found more than 400 instances of non-compliance with Woods Procedures. An additional review of more than 7,000 FISA applications authorized between January 2015 and March 2020 found at least 179 instances in which the required Woods file was missing in whole or in part. The report contains 10 recommendations to the FBI and National Security Division of the Justice Department to better execute the Woods Procedures and ensure accurate submissions of FISA applications. You can read the audit here. See also "The FBI's FISA Mess", an article written by the executive editor of Lawfare (and deputy general counsel of the Lawfare Institute), together with the editor in chief of Lawfare (and a Senior Fellow in Governance Studies at the Brookings Institution). 
CSET Legislation Tracker The CSET Legislation Tracker serves as a resource to identify and monitor federal legislation related to emerging technology and national security. In addition to widely covered bills, members of Congress have introduced proposals to secure the U.S. research enterprise, bolster domestic semiconductor production capacity, promote technology alliances with like-minded partners and improve STEM workforce development. This tracker catalogues legislation on topics within CSET's key areas of inquiry and relevant to U.S. science and technology leadership. Each piece of legislation is represented as a card. Each card includes the bill's title, sponsor, number of cosponsors and committee of jurisdiction. The panel on the right displays the CSET research topic within which the bill falls and the bill's current status. At the top of the tracker, users will find pinned cards highlighting specific bills that we deem significant based on widespread media coverage or notable movement through the legislative process.
The Security Implications of Chinese Infrastructure Investment in Europe Even before the Belt and Road Initiative (BRI) provided additional clarity about China's strategic intent, Europe had experienced major influxes of Chinese finance, used to snap up everything from fading brands to large-scale infrastructure assets. The EU and many European states have already expedited their plans to strengthen or launch investment-screening processes. Yet Europe is still in the early stages of determining the right balance of security, openness, and economic resilience when it comes to China's economic presence. Many investment-screening mechanisms are new or untested. Debates over how far strategic infrastructure should be viewed through a military security prism continue apace in NATO. China's "dual circulation" plans for its domestic economy, which signal a more radical approach to self-sufficiency for itself and dependency for others, are still in their embryonic phase, as is European thinking about how to adjust policy in light of it. Through the analysis of three emblematic case studies, this GMF* report takes stock of the situation and highlights commonalities in Beijing's approach to infrastructure investment in Europe.
The first case is Germany and its neighbors. Germany remains the economic locus for much of the wider region, and is the dominant actor for the European economy as a whole, which gives outsized weight to national and sub-national choices in the country about how to deal with Chinese economic actors. While specific industrial sectors continue to deepen their commercial ties, concern from important sections of industry about the systemic impact of Chinese economic and political practices has arguably had the single greatest impact on the changing nature of the European debate on China.
The second case is Italy and the wider Mediterranean region. Southern Europe was the locus of the biggest wave of Chinese investments in sensitive sectors during the eurozone crisis. Many saw Italy's willingness to sign up to the BRI in 2019 as simply a repeat of the Greek and Portuguese experience earlier. Yet, the picture has proved vastly more complex. Membership of BRI, far from resulting in a deepening of Sino-Italian relations saw a diplomatic backlash produced by the BRI memorandum of understanding and the end of the populist coalition government, formed by the Five Star Movement and the League, that signed it.
The third chapter moves to the Nordic countries. The crux of the recent story there too is the change in approach from some of Europe's most open and technologically advanced states, which have shifted from seeing China through the prism of globalization's benefits to revisiting the permeability of their systems in light of the risks that it poses.
The coming phase of Chinese infrastructure investment in Europe will not resemble the previous ones. Beijing is well aware of the changed political climate in many countries, of the heightened sensitivities around these investments, of the greater attention from the United States, and of the new scrutiny mechanisms that are in place.
Nonetheless, European analysis and responses to China has often been characterized by a "rearview mirror" approach. In drawing lessons from the case studies, the main question to address is how to ensure that the substance of the security concerns relating to Chinese investment is addressed rather than just the specific forms it has taken in the past. * the German Marshall Fund of the United States (GMF), founded in 1972 and based in Washington, DC, is a non-partisan American public policy think tank and grantmaking institution dedicated to promoting cooperation and understanding between North America and Europe.
The Neglected Agency at the Center of Biden's China Strategy U.S. Trade Representative Katherine Tai called out China's "lack of adherence to global trading norms" and vowed that the United States would respond by developing trade policies that protect U.S. markets against unfair economic practices and benefit American workers. The speech is one of the clearest examples thus far of the Biden administration's intent to compete with China by countering its anti-competitive economic methods, which have flouted free-market rules, distorted the global market and involved wholesale theft of American technology and know-how. Tai made it clear that economic tools like tariffs and export controls are central to the administration's approach. Yet the government agency most critical to these efforts still lacks the resources and authorities it needs to accomplish its mission. The authors (a senior fellow and director of the technology and national security program at the Center for a New American Security (CNAS) and a research associate with the CNAS technology and national security program) are talking about the Department of Commerce. As America's national security becomes intertwined with its economic strength and technological leadership, Commerce has an increasingly central role in protecting U.S. technology advantages, addressing supply chain vulnerabilities and ensuring long-term economic competitiveness. The Commerce Department's role and responsibilities have grown in size and complexity, while its capabilities and resources have not. This shift reflects the nature of the competition with China (and one of the reasons the analogy to a "new Cold War" is flawed): Economic security and advantages in non-military technology have outsize importance compared to traditional military strength. That's still crucial, of course, but much of the day-to-day contest happens in the arena of commerce. Just as other departments, like Treasury and Homeland Security, have been revamped and restructured as their relevance to national security grew, the Biden administration needs to reform the Commerce Department's resources, structure and authorities if its China strategy is to succeed. Read the full article from POLITICO.
'Some are just psychopaths': Chinese detective in exile reveals extent of torture against Uyghurs In a three-hour interview with CNN, conducted in Europe where he is now in exile, Jiang (the ex-detective turned whistleblower asked to be identified only as Jiang, to protect his family members who remain in China), revealed rare details on what he described as a systematic campaign of torture against ethnic Uyghurs in the region's detention camp system, claims China has denied for years.  CNN cannot independently confirm Jiang's claims, but multiple details of his recollections echo the experiences of two Uyghur victims CNN interviewed for this report. More than 50 former inmates of the camp system also provided testimony to Amnesty International for a 160-page report released in June, "'Like We Were Enemies in a War': China's Mass Internment, Torture, and Persecution of Muslims in Xinjiang."
The covid tech that is intimately tied to China's surveillance state Sometime in mid-2019, a police contractor in the Chinese city of Kuitun tapped a college student from the University of Washington on the shoulder as she walked through a crowd. The student, Vera Zhou, didn't notice at first because she was listening to music through her earbuds. When she turned around and saw the black uniform, the blood drained from her face. The police officer took her to a nearby People's Convenience Police Station—one of more than 7,700 such surveillance hubs that now dot the region. On a monitor, she saw her face surrounded by a yellow square. On other screens she saw pedestrians, their faces surrounded by green squares. Beside the video still of her face, her personal data appeared in a black text box. It said that she was Hui, a member of a Chinese Muslim group that makes up around 1 million of the population of 15 million Muslims in Northwest China. The alarm had gone off because she had walked beyond the parameters of the policing grid of her neighborhood confinement. As a former detainee in a re-education camp, she was not officially permitted to travel to other areas of town without explicit permission. The yellow square around her face on the screen indicated that she had once again been deemed a "pre-criminal" by the digital enclosure system that held Muslims in place. She ended up jailed for months with other Muslim women, all deemed guilty of cyber "pre-crimes" such as having WhatsApp on their phone.
In the fall of 2019, Vera returned to Seattle. Just a few months later, across town, Amazon—the world's wealthiest technology company—received a shipment of 1,500 heat-mapping camera systems from the Chinese surveillance company Dahua, the very same company that provides the "smart camp" systems that Vera Zhou experienced in Xinjiang. Read an edited excerpt from In The Camps: China's High-Tech Penal Colony, by Darren Byler (Columbia Global Reports, 2021) and published in MIT Technology Review on October 11, 2021. Darren Byler is an assistant professor of international studies at Simon Fraser University, focused on the technology and politics of urban life in China.
As China stumbles, the West must ask: what if its rise is not inevitable Today, China's Evergrande – the world's most indebted property developer with $300bn of liabilities – is on the verge of a default as Beijing tightens rules on leverage and the country's long real estate boom tilts towards bust. As the China expert George Magnus wrote on newstatesman.com, the firm's unravelling could send a shock through the financial system of a country that has "never experienced a meaningful decline in property prices". The crackdown on technology giants such as Alibaba and Tencent, also part of Xi's war on excess, has wiped more than $1trn combined off tech firms' stock prices and spooked investors. China's marriage of market economics and political Leninism appears to be faltering. Rolling power cuts in recent weeks have prompted coal production to be ramped up, demonstrating the awesome scale of the challenge of decarbonizing the Chinese economy. Combined with new outbreaks of the Delta Covid variant leading to local lockdowns, the energy crisis is slowing the economy. Manufacturing activity contracted in September. Then there is that other long-term threat to Chinese prosperity: its rapidly ageing population. A census published in May showed China's birth rate had dropped to 1.3 children per woman (compared with 1.6 in the US), while a new study by medical journal the Lancet projects that China's population will halve by 2100. These challenges all suggest that China has not managed to reconcile prosperity and authoritarianism as smoothly as the bullish accounts of its ascent suggest. Unfashionably bearish books that have warned about China's future – Magnus's Red Flags and Carl Minzer's End of an Era – are now looking strikingly prescient. More in the New Statesman article, published on October 6, 2021.
The Belt and Road Initiative and the Internationalization of China's Scientific Power: The Case of Italy What are the elements and the impact of the inclusion of scientific cooperation within the 2019 Memorandum of Understanding (MoU) in support of the Belt and Road Initiative between Italy and China? Like many other developed countries, Italy has played a role in contributing to China's growth as a science and technology (S&T) power. Most S&T bilateral collaborations are decade-long and predate the MoU, suggesting that the importance of the latter is largely symbolic. Nonetheless, the MoU of March 2019 has reinforced the process of centralization of S&T collaborations as well as a public debate that has grown to include matters regarding 5G technology and public procurement involving Chinese technology. This IAI paper is also part of the Istituto Affari Internazionali's project "When Italy Embraces the BRI".
The West has handed China the world on a platter Only Covid and the energy crisis have awoken our policymakers to the threats posed by Beijing's belligerence, according to this article in The Telegraph.
Joint Statements (UN and Belarus) on Xinjiang and Hong Kong "Research Reports" are compiled by participants in research groups set up at the Japan Institute of International Affairs, and are designed to disseminate, in a timely fashion, the content of presentations made at research group meetings or analyses of current affairs. The author (an Associate Professor at Hosei University) of this research report represents the authors' views.  On June 22, 2021, the United Nations Human Rights Council issued a joint statement of concern about the human rights situations in Xinjiang, Hong Kong and Tibet. The statement was signed by 44 countries, including Western countries, Japan and others that recognize the Republic of China (Taiwan), and was read out by the Canadian ambassador. In response, the representative of Belarus issued a statement in defense of China on the same day, and the number of countries that signed that statement reached 69, mainly from Africa and the Middle East. According to China's Ministry of Foreign Affairs, more than 90 countries in addition to those that officially signed support China. This means that there are more than twice as many countries that support China as those that express concern.
(Alphabetical order by country name)
| | | |
| --- | --- | --- |
| | Statement in Defense of China | Statement of Concern |
| 1 | Algeria | Albania |
| 2 | Antigua and Barbuda | Australia |
| 3 | Bahrain | Austria |
| 4 | Bangladesh | Belgium |
| 5 | Belarus  | Belize |
| 6 | Benin | Bosnia and Herzegovina |
| 7 | Bolivia | Bulgaria |
| 8 | Burkina Faso | Canada |
| 9 | Burundi  | Croatia |
| 10 | Cambodia | Czech Republic |
| 11 | Cameroon | Denmark |
| 12 | Central African Republic | Estonia |
| 13 | China | Finland |
| 14 | Comoros | France |
| 15 | Congo | Germany |
| 16 | Cuba | Haiti |
| 17 | Djibouti | Honduras |
| 18 | Dominica | Iceland |
| 19 | North Korea | Ireland |
| 20 | Djibouti | Israel |
| 21 | Egypt | Italy |
| 22 | Equatorial Guinea | Japan |
| 23 | Eritrea | Latvia |
| 24 | Ethiopia | Liechtenstein |
| 25 | Gabon | Lithuania |
| 26 | Gambia | Luxembourg |
| 27 | Grenada | Marshall Islands |
| 28 | Guinea | Monaco |
| 29 | Guinea-Bissau       | Netherlands |
| 30 | Iran | New Zealand |
| 31 | Iraq | Norway |
| 32 | Kiribati | Palau |
| 33 | Kyrgyzstan | Poland |
| 34 | Laos | Portugal |
| 35 | Lebanon | Romania |
| 36 | Libya | San Marino |
| 37 | Mali | Slovakia |
| 38 | Mauritania | Slovenia |
| 39 | Morocco | Spain |
| 40 | Mozambique | Sweden |
| 41 | Myanmar | Switzerland |
| 42 | Nepal | UK |
| 43 | Nicaragua | Ukraine |
| 44 | Niger | United States of America |
| 45 | Nigeria | |
| 46 | Pakistan | |
| 47 | State of Palestine  | |
| 48 | Papua New Guinea  | |
| 49 | Russia | |
| 50 | Sao Tome and Principe | |
| 51 | Saudi Arabia  | |
| 52 | Serbia | |
| 53 | Sierra Leone | |
| 54 | Solomon Islands  | |
| 55 | Somalia | |
| 56 | South Sudan | |
| 57 | Sri Lanka | |
| 58 | Sudan | |
| 59 | Suriname | |
| 60 | Syria | |
| 61 | Tajikistan | |
| 62 | Togo | |
| 63 | Tonga | |
| 64 | Tunesia | |
| 65 | United Arab Emirates | |
| 66 | Venezuela | |
| 67 | Yemen | |
| 68 | Zambia | |
| 69 | Zimbabwe | |
One Belt One Voice: Chinese Media in Italy Chinese media are the voice of the Chinese Communist Party at home and abroad. It is no surprise therefore that collaborations between Chinese and foreign media have been attracting more international attention. One issue that has not been yet explored is the nature and implications of the inclusion of two important Italian media actors such as Rai (the state-run broadcasting company) and Ansa (Italy's main press agency) in the Memorandum of Understanding signed by Italy in support of the Belt and Road Initiative in 2019. These deals fit in a broader picture of an Italian media environment that is being increasingly targeted by Chinese media. However, the impact that such an effort has had on the Italian public opinion has been very limited so far and the Italian media landscape keeps offering free and varied information. This IAI* paper is part of the Istituto Affari Internazionali's project "When Italy Embraces the BRI". The Istituto Affari Internazionali is a private, independent non-profit think tank, founded in 1965, and based in Rome, Italy.
Escalation in the Taiwan Strait: What to Expect from Europe? Over the last few years, tensions in the Taiwan Strait have led to great concerns over Chinese territorial claims in the region. The potential for an escalation is high – with significant implications for Europe. At the same time, the Biden administration is pursuing a tough stance on China and expects Europe to join a transatlantic approach. Against this backdrop, Körber-Stiftung, in cooperation with the Chatham House Asia-Pacific Programme, brought together a high-level group of senior experts, politicians, and officials from France, Germany, Italy and the UK to address a fictional scenario of a political security crisis in the Taiwan Strait. The recently published Körber Policy Game scenario report summarises the results of these discussions and offers policy recommendations. Körber-Stiftung's report is here.
How China took Western tech firms hostage In a recent scene straight out of a spy thriller, a powerful man, speaking under obvious duress, pleaded with the leaders of his country to comply with the demands of the organization that had him in its grip. Although it recalled the 1970s scenes of Italian Prime Minister Aldo Moro pleading from Red Brigade captivity and Hanns Martin Schleyer, the president of the German employer federation, after being kidnapped by the Baader-Meinhof Gang, in this case it was actually Börje Ekholm, the CEO of the Swedish firm Ericsson, and his captivity was not physical. Under pressure from Beijing over Ericsson's home government's banning of some Chinese telecoms technologies, he feared for the future of his business. His is not an unusual case. In today's global trade competition, companies are becoming easy prey for hostile governments. Their home governments and citizens should back them up. Ekholm's tale, which emerged in Swedish media over the holidays, was a painful one. Earlier, he had sent text messages to the country's trade minister, Anna Hallberg, bewailing Sweden's decision earlier in 2020 to ban Huawei and the smaller Chinese firm ZTE from its 5G telecommunications network. The ban hadn't been Hallberg's doing; the decision was made by an independent government agency, the Post and Telecom Authority. Ekholm, however, was looking to send a message through her to that bureau. "At the moment Sweden is a really bad country for Ericsson," he told the minister, implying that Stockholm had let his firm—synonymous with Sweden in much the same way as Ikea, Saab, and the now Chinese-owned Volvo are—down. Unfortunately, Ekholm forgot about Sweden's transparency laws, which mean all communication sent to the government is public. Journalists found his text messages and published them, to widespread outrage that Ekholm would do Huawei's bidding.
Indeed, why on earth would the CEO of Ericsson, one of Huawei's two top competitors, beg his government to reverse a decision that clearly favors his firm? Although his texts made news, Ekholm had even said much the same in newspaper interviews (including one with the Financial Times): Sweden should reverse its Huawei ban. The reason, of course, is that Ericsson sells products in China, too. In 2019, for example, China's top three telecommunications operators—China Mobile, China Unicom, and China Telecom—signed agreements with Ericsson to use its tech. The same year, the Swedish firm opened a smart factory in China, where part of its manufacturing takes place, and much of Ericsson's sales growth that year came from Chinese markets. More in AEI's article.
Unclassified Summary of Assessment on COVID-19 Origins During a closed-door intelligence briefing, Republican lawmakers sought to expose what they believe is bias against the Wuhan lab leak theory among experts consulted by President Biden's administration in its investigation* into the origins of Covid-19, sources have said. Frustrations boiled over at the briefing, according to sources. *On August 27, 2021, the Office of the Director of National Intelligence released an unclassified summary of the Intelligence Community assessment on COVID-19 origins. According to the summary, China's cooperation most likely would be needed to reach a conclusive assessment of the origins of COVID-19. Beijing, however, continues to hinder the global investigation, resist sharing information and blame other countries, including the United States. These actions reflect, in part, China's government's own uncertainty about where an investigation could lead as well as its frustration the international community is using the issue to exert political pressure on China.
Banking on the Belt and Road: Insights from a new global dataset of 13,427 Chinese development projects China has provided record amounts of international development finance and established itself as a financier of first resort for many low- and middle-income countries (LMICs) over the last two decades; however, its grant-giving and lending activities remain shrouded in secrecy. Thirty-five percent of infrastructure projects financed through China's Belt and Road Initiative (BRI) struggle with corruption, labor violations, environmental pollution, and public opposition, according to a Policy Report by AidData. The report introduces a uniquely comprehensive and granular dataset of international development finance from China. It captures 13,427 projects worth $843 billion across 165 countries in every major world region over an 18-year period. AidData is a research lab at William & Mary's Global Research Institute.
Winning the Geo-Tech Battle and Building the Quad Alliance in the Indo-Pacific Under Xi Jinping, the People's Republic of China (PRC) has established as its paramount geopolitical objective the replacement of the free and open, rules-based order in Asia with an alternative world order, one that is to be dominated by the interests and values of the Chinese Communist Party (CCP). This decision presents a danger to the entire world, not just to any one state or group of states. For, as US Secretary of State Antony Blinken said at the March 2021 US-PRC meeting in Alaska, the alternative to a rules-based order "is a world in which might makes right and winners take all, and that would be a far more violent and unstable world for all of us." In furtherance of its objectives, the PRC is in the midst of a large military build-up, but there is much more. For today's CCP, political power grows not only from the "barrel of the gun," as Mao Zedong once put it, but also from cutting-edge technologies. Thus, while Beijing pours billions into artificial intelligence and surveillance tech to impose its new "digital totalitarianism" inside the PRC, from Hong Kong to Xinjiang, it is also using its growing technological prowess to press its larger geopolitical agenda in the Indo-Pacific and beyond. It is weaponizing technology and connectivity, along with trade, finance, and other policy instruments to try to rule the key technologies and industries of the future, as well as to improve its strategic positioning and acquire political power over other countries—for instance, through its bid to dominate other nations' most sensitive data networks, or via the export of its suite of "social stability" technologies, i.e., the "techno-tyrant's toolkit."
In all this, the CCP's intent is to entrench its power and Leninist norms and practices to the extent it can do so beyond the PRC's borders, and to make other nations, or at the least their ruling elites, beholden to it. So in addition to the PRC's militarily destabilizing activities in the West Pacific and incursions into India's Himalayas, there is also a "geo-technological front." If Xi's CCP succeeds at enmeshing other countries in its expanding "PRC sphere of technological influence," it could unlock and be able to exploit decisive military, economic, diplomatic, and ideological advantages. The PRC's many-faceted assault on international order requires a similarly comprehensive and sustained response. Many democratic nations, therefore, have been acting to reimagine and deepen cooperation with one another, including in the geo-tech arena. However, the CCP is aware that the world's democracies are of many minds about how to respond to it, and the party has always relied on poor coordination among the democracies to advance its aims. Far greater coordinated planning and action—an "alliance of democracies," as President Biden has called for—will be needed to safeguard and promote democratic leadership over the key technologies and industries of tomorrow, and the ends to which they will be put. In the meantime, the main locus of PRC's strategic gambits is in Asia, and there, a powerful grouping of Indo-Pacific democracies has emerged to balance against and counter the PRC's bid for primacy.  This Hudson policy memo examines seven areas of cooperation between members of the Quad alliance that would strengthen a technological environment anchored by democratic values:
Foster a robust democracy-led tech ecosystem in the Indo-Pacific

Create commercially competitive alternatives toPRC 5G

Establish a Quad free and secure digital trade agreement

Coordinate policies to restrictPRC economic involvement in geo-tech and manufacturing competition

AddressPRC freeriding and the illegitimate use of innovation on the "global democratic commons"

Establish a Quad innovation fund

Focus on environmental technology
China's foreign policy at the centennial of the Communist Party: Prestige above all  Communist Party of China (CPC) is celebrating its 100th anniversary. In recent years, China's foreign policy led by the CPC has been marked by the scrapping of the "one country, two systems" principle in Hong Kong society and the rise of the Chinese representatives abroad who have adopted an aggressive style of presenting their views. This "prestige-driven" foreign policy has proved harmful to the country's external relations. Currently, China considers the US the biggest obstacle when it comes to boosting its prestige. The latest FIIA Briefing Paper analyses the CPC's historical narrative and its impact on China's current foreign policy priorities. According to the author, the fate of the Soviet Union and its leading Party has loomed over the heads of the CPC leaders for almost three decades. The author claims that there might be an easing in Chinese politics once the Party has successfully organized the centennial celebrations and the 20th National Congress in 2022.
CFIUS, Team Telecom and China In the past few years, two federal government interagency committees—the Committee on Foreign Investment in the United States (CFIUS) and Team Telecom—have begun to play an important role in the government's effort to counter potential threats from Chinese companies' involvement in the United States. Both committees review certain foreign companies' American investments. CFIUS has jurisdiction over a broad swathe of foreign investment in the U.S., and Team Telecom's jurisdiction covers certain licenses for foreign telecommunications companies to operate. Both committees have become more assertive—often retroactively ordering divestiture or revocation against Chinese companies, sometimes years after an investment was completed or a license granted. And notably, both committees seem to be broadly maintaining a similar posture under President Biden as under President Trump. This post reviews both committees' origins and activities. The Committee on Foreign Investment in the United States is an interagency committee, headed by the treasury secretary, tasked with reviewing foreign in-bound investments for national security risks. If CFIUS deems a foreign investment a national security threat, it can force the investor to pursue measures to mitigate the risks or recommend that the president prohibit the transaction or order divestiture of a past investment. CFIUS orders or presidential orders on CFIUS's recommendation are subject only to limited judicial review and the government does not have to produce extensive justifications for its national security recommendations or divestment orders. CFIUS never publicizes its reviews and publishes few details about its internal deliberations or reasoning for specific cases. CFIUS, historically, intervened rarely and focused primarily on investments critical to national security. CFIUS's few public actions, along with media reports on CFIUS activity over the past five years, yields several trends that are particular to CFIUS, beyond those trends shared with Team Telecom and enumerated above. CFIUS has been particularly aggressive toward in-bound Chinese investment in the semiconductor industry (a long-standing concern) and to investments giving Chinese firms access to Americans' personal data (a new concern). Moreover, while CFIUS under the Biden administration seems on track to continue Trump-era CFIUS's aggressive focus on China and technology, Biden's emerging effort to multilateralize foreign investment screening via intelligence sharing partnerships with allies and coordinated reviews suggests a potential break with Trump. More in this Lawfare article.
China's hunt for dissidents has gone global For years, China has purported to be a new type of great power: one that rises peacefully and respects the rights of other states rather than chasing the foreign domination of empires past. "China will never seek hegemony, expansion or a sphere of influence," President Xi Jinping said in April. Yet many of Beijing's policies have a distinctly imperial feel. A case in point is a wide-ranging effort to give Chinese law enforcement global reach, and thereby hound the regime's enemies wherever they may go. The programs in question are known as Operation Fox Hunt and Operation Skynet. As ProPublica has reported, their stated purpose is to track down white-collar criminals who have sought refuge abroad. Yet in many cases, the real targets are dissidents or political foes of Xi. Networks of Chinese agents have fanned out across countries around the world, usually without the knowledge of local authorities, to surveil and apprehend wanted individuals, according to the U.S. Justice Department and press reports. They often rely on heavy doses of coercion, reportedly using family members who still live in China — and are thus at the mercy of the Chinese Communist Party — as leverage to bring those individuals home. Chinese officials say that these programs have nabbed more than 8,000 fugitives since 2014. And China's "fox hunters" are not simply stalking their prey in small, underdeveloped countries with weak law-enforcement capabilities. One unsuccessful operation, involving 19 agents and local accomplices, targeted a Chinese citizen living outside of New York City, according to U.S. authorities. It was not, apparently, an isolated incident. Director Christopher Wray of the Federal Bureau of Investigation has said that "hundreds of the Fox Hunt victims that they target live right here in the United States, and many are American citizens or green card holders." More in AEI's recent op-ed.
The UK and China: Next Steps 18 months on from the creation of the China Research Group (CRG), this paper takes stock of three key questions 1) What has changed in the past 18 months? 2) What issues are likely to define our future relationship with China? and 3) What should the UK do now? It looks ahead to the next year, identifying six broad directions in which the CRG believes that the UK should seek to develop stronger domestic policies and international alliances:
Develop and publish a UK-China strategy which sets out a clear framework for engagement, and adapt existing government structures to reflect China's status as the 'most significant geopolitical factor' of the coming decade

Invest in improving the UK's understanding of China – its people, culture, language, and history to build a better foundation for a sustainable long-term relationship

Improve oversight mechanisms for foreign interference in government, critical national infrastructure, and higher education

Take steps to reconcile our domestic and international resilience strategies and re-evaluate supply chain dependence and Chinese involvement in critical and digital infrastructure

Emphasize our commitment to human rights and the people of Hong Kong enshrined in the Joint Declaration

Work with allies to coordinate action and policies, strengthen democratic alliances and reduce strategic dependence
Al-Shabaab and Chinese Trade Practices in Mozambique  In 2020, eight Mozambican public officials and one Chinese national named Zhao were arrested for illegally harvesting and exporting timber from Cabo Delgado — Mozambique's northernmost province — to China. According to local reports, five of the Mozambicans are awaiting trial while Zhao and three Mozambicans have been released, and the seized wood was returned to Zhao personally. Chinese manufacturing firms' appetite for commodities drives people like Zhao to seek their fortunes in vulnerable communities around the world. Frequently, local elites find it in their interest to enable these firms' engagement in illegal business practices. During a fieldwork visit to the region in July, for instance, local officials in Cabo Delgado's district of Montepuez described how Chinese timber traders flouted local laws with impunity. This type of sentiment can be found not just across the rest of Mozambique, but across Africa and around the world.  Illegal Chinese business practices in Cabo Delgado are making the province less safe. Cabo Delgado is home to an Islamist insurgency known as al-Shabaab (or Ahlu-Sunnah Wa-Jama, not to be confused with the al-Shabaab in Somalia) that has killed at least 3,000 people since October 2017. The illegal timber trade is exacerbating the conflict because it provides a valuable source of income to the insurgency, and it fuels discontent in the surrounding areas that the insurgency can feed off – namely labor abuses, lost livelihoods from deforestation, and increased vulnerability to severe weather. Cabo Delgado is an acute and instructive example of the nexus among insecurity, corruption, and corporate malfeasance that may arise again unless Chinese officials take greater action. Illicit trade and corruption have long bedeviled Mozambique. Its timber reserves were first plundered during the Portuguese colonial period, but illegal trade in endangered species, narcotics, and gemstones has flourished since independence up to the present day. For decades, Cabo Delgado has acted as a hub for illicit trade between Asia and Africa. More in this War on the Rocks article.
Testimony of the National Cyber Director / U.S. Senate Committee on Homeland Security and Governmental Affairs During the Testimony on September 23, 2021, the National Cyber Director remarked that "cyberspace is attractive to our adversaries and frustrating to our allies because of how difficult it is for any one country or entity to have the benefit of a complete picture of actions and actors across the shared spaces of cyberspace. Cyberspace allows a global reach and efficiency of scale unrivaled in any other domain, meaning that our geopolitical competitors can have global reach and strategic effect and criminals and extremists can have wield an unprecedented level of impact and coercion. Malign actors big and small often believe they can evade consequence for acts and crimes that in most other realms would provoke swift and severe responses."
Global Organized Crime Index 2021 The Global Organized Crime Index is the result of a two-year endeavor to evaluate levels of crime and resilience in all 193 UN member states. Through this data, it is hoped that the Index will help inform a truly global response to the pervasive threat of transnational organized crime. Organized crime is a scourge that afflicts countries in every corner of the globe, from tiny island states to large economic superpowers, and is an underlying driver of many major geopolitical challenges including conflict, political instability and forced migration. Because of its clandestine nature, however, often little is known about how organized crime operates in each country. To address this knowledge gap, the GI-TOC has developed the Global Organized Crime Index, a unique, data-driven analytical tool that evaluates 193 UN member states according to two metrics: according to their criminality on a score from 1 to 10 (lowest to highest organized crime levels), which in turn is based on their criminal markets score and criminal actors score; and according to their resilience to organized crime, from 1 to 10 (lowest to highest resilience levels). The results of the first edition of the Global Organized Crime Index, outlined in the flagship report and the interactive Index website, paint a worrying picture of the reach, scale and impact of organized crime in 2020. Perhaps the starkest finding of the Index is that the majority of people worldwide live in countries with high levels of organized crime. The Index also shines a light on the ubiquity of some of the most insidious forms of exploitation that are perpetrated by criminal actors the world over, including individuals and networks operating from within the state apparatus. The Index also illustrates the widespread shortcomings in global levels of resilience to organized crime, from weaknesses in criminal justice systems to rampant corruption and violent crackdowns on the freedom of the press and civil society. As a snapshot of 2020, the Index also highlights the adaptability of organized crime to the pandemic. In the face of lockdowns and travel restrictions, criminals not only retooled their regular business, but also exploited new opportunities presented by the global health crisis. Individuals, communities and businesses struggling to stay afloat also became increasingly vulnerable to organized criminal behavior, either as victims or as perpetrators, albeit more often than not due to the absence of any viable alternatives. Addressing the pervasiveness and entrenched nature of organized crime revealed by the Index will require a coordinated global response, but as yet this remains lacking. By providing a consolidated hub of data and baseline evidence of the phenomenon in countries across the world, the Index aims to be a catalyst for further debate on transnational organized crime. Ultimately, the Index strives to inform policymakers and regional bodies so they can prioritize interventions based on a multifaceted assessment of vulnerabilities and enhance national, regional and global cooperation in countering organized crime.
The Authoritarian Interference Tracker  The Authoritarian Interference Tracker* catalogues the Russian and Chinese governments' activities to undermine democracy in more than 40 transatlantic countries since 2000 using five tools: information manipulation, cyber operations, malign finance, civil society subversion, and economic coercion. The Tracker shines a light on the tactics and trends that define the Russian and Chinese governments' interference efforts, and highlights the interconnectivity between different parts of the asymmetric toolkit.  See below for definitions of these tools and an explanation of the methodology for including cases in the Tracker. Efforts by the Russian and Chinese governments to undermine democracy are not restricted to the transatlantic community. For example, China is particularly active in interfering in democracies in the Asia-Pacific region. Forthcoming iterations of the Tracker will expand to regions beyond North America and Europe, as well as add instances of authoritarian interference by other regimes that adopt similar tactics to undermine democracies. *The Alliance for Securing Democracy (ASD), a nonpartisan initiative housed at the German Marshall Fund of the United States, develops comprehensive strategies to deter, defend against, and raise the costs on autocratic efforts to undermine and interfere in democratic institutions. ASD has staff in Washington, D.C., and Brussels, bringing together experts on disinformation, malign finance, emerging technologies, elections integrity, economic coercion, and cybersecurity, as well as Russia, China, and the Middle East, to collaborate across traditional stovepipes and develop cross-cutting frameworks. The Authoritarian Interference Tracker is one of the tools created by the ASD.
Overcoming the Tragedy of TPP  In common parlance today, the word "tragedy" is used to describe any ill fortune that befalls a person or group: a destructive earthquake, a fatal shooting, the death of a family member from disease. But to the ancient Greeks, tragedy involved an element of human error ("hamartia'), not just external circumstance. On this measure, the saga of the United States and the Trans-Pacific Partnership (TPP) would have given Sophocles enough material for an epic to rival Oedipus Rex. From the start, TPP was marked by tragic irony—with China always in a supporting role. The George W. Bush administration notified Congress of its intent to negotiate a high-standard trade agreement with Asia-Pacific partners on September 22, 2008—one week into a global financial crisis that would severely undermine U.S. economic leadership and embolden Beijing. While quick to embrace TPP and successful in concluding an agreement among the parties, President Barack Obama fatally delayed pushing for trade promotion authority from Congress in 2014—choosing instead to name the chairman of the relevant Senate committee, Max Baucus, as his ambassador to China. And in one of his first, catastrophic acts as president, Donald Trump withdrew the United States from the unratified TPP—not understanding that it was one of the most powerful tools he had to compete with his nemesis, China. And now the People's Republic of China has applied to join TPP's successor agreement, the Comprehensive and Progressive Agreement for Trans-Pacific Partnership (CPTPP). Tragic irony, indeed. More in this CSIS Commentary.
China's hunt for dissidents has gone global For years, China has purported to be a new type of great power: one that rises peacefully and respects the rights of other states rather than chasing the foreign domination of empires past. "China will never seek hegemony, expansion or a sphere of influence," President Xi Jinping said in April. Yet many of Beijing's policies have a distinctly imperial feel. A case in point is a wide-ranging effort to give Chinese law enforcement global reach, and thereby hound the regime's enemies wherever they may go. The programs in question are known as Operation Fox Hunt and Operation Skynet. As ProPublica has reported, their stated purpose is to track down white-collar criminals who have sought refuge abroad. Yet in many cases, the real targets are dissidents or political foes of Xi. Networks of Chinese agents have fanned out across countries around the world, usually without the knowledge of local authorities, to surveil and apprehend wanted individuals, according to the U.S. Justice Department and press reports. They often rely on heavy doses of coercion, reportedly using family members who still live in China — and are thus at the mercy of the Chinese Communist Party — as leverage to bring those individuals home. Chinese officials say that these programs have nabbed more than 8,000 fugitives since 2014. And China's "fox hunters" are not simply stalking their prey in small, underdeveloped countries with weak law-enforcement capabilities. One unsuccessful operation, involving 19 agents and local accomplices, targeted a Chinese citizen living outside of New York City, according to U.S. authorities. It was not, apparently, an isolated incident. Director Christopher Wray of the Federal Bureau of Investigation has said that "hundreds of the Fox Hunt victims that they target live right here in the United States, and many are American citizens or green card holders." More in AEI's recent op-ed.
National Artificial Intelligence Strategy (UK) The U.K. government on Wednesday released its 10-year plan to make the country a global "artificial intelligence superpower", seeking to rival the likes of the U.S. and China. The so-called "National Artificial Intelligence Strategy" is designed to boost the use of AI among the nation's businesses, attract international investment into British AI companies and develop the next generation of homegrown tech talent. 
Deepening Not Departure: Xi Jinping's Governance of China's State-owned Economy To what extent has governance of China's state-owned economy changed under Xi Jinping? Against the background of momentous shifts in the political arena since 2012, some observe a decisive departure in Xi's approach to managing state-owned enterprises (SOEs): towards tight centralized control by the Chinese Communist Party and away from gradual marketization. Analyzing the main aims and methods of SOE governance over the last two decades, we find that SOE policy under Xi exhibits a deepening of pre-existing trends rather than a departure. First, the essential vision of SOE functions articulated under Xi is strikingly consistent with that of his predecessors. Second, his administration's approach to governing SOEs is not novel; it relies on established mechanisms of bureaucratic design, the cadre management system, Party organizations and campaigns. While Xi has amplified Party-centered tools of command and control, this appears to be an incremental rather than a radical shift in approach. More in The China Quarterly, published online by Cambridge University Press on September 23, 2021.
"Guidelines for Building a Powerful Country with Intellectual Property Rights (2021-2035)" On September 22, 2021, the Central Committee of the Communist Party of China and the State Council issued the "Guidelines for Building a Powerful Country with Intellectual Property Rights (2021-2035)". The Guidelines set numerical development goals for intellectual property as well as other goals such as "deep participation in global intellectual property governance." By 2025, remarkable achievements shall have been made in the building of a powerful intellectual property nation, the protection of intellectual property shall be more stringent, social satisfaction shall have reached and remained at a relatively high level, the market value of intellectual property shall have been further highlighted, brand competitiveness shall have been significantly improved, the added value of patent-intensive industries shall have accounted for 13% of GDP, the added value of copyright industries shall have accounted for 7.5% of GDP, the total annual import and export amount of intellectual property use fees shall have reached 350 billion yuan, and the number of high-value invention patents per 10,000 people will reach 12. Note that the Guidelines do not define what are patent-intensive or copyright-intensive industries are, nor what are "high-value patents." Numerical goals for 2035 were not released. More information can be found in Volume XI, Number 267 of the National Law Review. 
Taiwan submits bid to join CPTPP trade pact Taiwan announced Thursday that it has submitted an application to join the Comprehensive and Progressive Agreement for Trans-Pacific Partnership (CPTPP), the cabinet said late Wednesday, in a move expected to trigger opposition from China. Taiwanese authorities have submitted the application to New Zealand, which acts as the depositary for the Pacific rim trade pact, and sought the support of all existing members. Details on the application will be announced Thursday. The move comes less than a week after China last Thursday applied for membership in the CPTPP, which sets rules for tariff-free trade and investment and data flows. The timing suggests a rush by Taipei in response to Beijing's bid. In order to join the CPTPP, Taiwan will need approval from all 11 of its existing members, which include Japan and Australia. The island already has bilateral free trade agreement with New Zealand and Singapore, another CPTPP member. Securing membership in the CPTPP has been a goal for Taiwanese President Tsai Ing-wen, who has not sought to join the Regional Comprehensive Economic Partnership, a China-led regional trade pact that also includes Southeast Asia, Japan, South Korea, Australia and New Zealand. Taiwan's bid is likely to be followed by diplomatic wrangling as Taipei and Beijing each seek to influence existing CPTPP members. More in this recent NikkeiAsia article.
Scoop: U.S. government buying risky Chinese drones Federal law enforcement agencies are purchasing surveillance drones from a Chinese company the Pentagon has deemed a potential national security threat, Axios has learned. Efforts to purge military and law enforcement agencies of potentially compromised Chinese technology have stalled amid bureaucratic red tape, and experts worry the federal government is needlessly exposing itself to snooping by malicious foreign actors. The U.S. Secret Service is the latest to purchase surveillance drones from the Shenzhen-based company DJI, which dominates the commercial drone market in the U.S. and abroad. The Secret Service bought eight DJI drones on July 26, according to procurement records. That was three days after the Defense Department released a statement saying DJI products "pose potential threats to national security." The FBI bought 19 DJI drones a few days earlier, records show. DJI makes an array of consumer products that are tremendously popular, including the Phantom and Mavic drone series, as well as the Osmo image-stabilization handle. While the products are used for personal and commercial purposes, they also require the user to download proprietary DJI software, and to fly using mapping databases that have the potential to be monitored remotely. Security concerns surrounding these products are longstanding, but DJI insists all such concerns are unfounded and based on misunderstanding or misrepresentation of its technology. 
Assessment of cybersecurity of mobile devices supporting 5G technology sold in Lithuania / Analysis of products made by Huawei, Xiaomi and OnePlus To ensure the use of secure software and hardware in the country, Lithuania's National Cyber Security Centre (NCSC) under the Ministry of National Defense carried out a cyber security assessment of mobile devices supporting 5G technology sold in Lithuania by Chinese manufacturers. This analysis presents the results of the assessment of smartphones manufactured by Huawei, Xiaomi and OnePlus. Huawei, Xiaomi and OnePlus are Chinese IT and consumer electronics manufacturers with an international presence and a strong presence in the European market. In 2020, these manufacturers introduced to the Lithuanian market smartphones supporting fifth-generation (5G) mobile technology. The security assessment was carried out for widely available Huawei P40 5G, Xiaomi Mi 10T 5G and OnePlus 8T 5G mobile devices. Despite these brands being well-known, in the 2017-2021 period the corporations faced security challenges for the equipment being developed; according to the CVE database (Common Vulnerabilities and Exposures), 9 vulnerabilities related to the risk of personal data leaking were identified for Xiaomi's production (8 of these vulnerabilities could be realized by remote means), 144 vulnerabilities were identified for Huawei's products during this period (28 vulnerabilities were identified in 2020; 23 in the first half of 2021), most of which were related to disruption of device functionality, and one vulnerability was identified in 2020 allowing an attacker to use third-party software to send SMS text from a mobile device when the mobile device was locked. Various sources assess that these manufacturers have a leading position in the mobile device market, and their wide assortment of products, their development of new technologies and their noticeable growth in Lithuania undoubtedly make them an appropriate object for cyber security research.
The US and China Are Decoupling, and Other Countries Are Following Several major countries are investing more than ever in technology and supply chain independence. And yet the global technology industry will continue to be codependent for the foreseeable future, as many barriers to self-reliance will take years to break down. These two opposing dynamics have forced technology executives into a high-wire balancing act: How can they step toward the decoupled era while simultaneously keeping the other foot stable in today's codependent reality? And how long will they be required to maintain this balancing act? The US and China pushed the world in this direction, according to Bain, and the decoupling of their economies and technology ecosystems has been gaining momentum for several years. Consider this: Technology-related foreign direct investment between the two countries dropped by 96% from 2016 to 2020. Now, the US and China are upping their bids for technology and supply chain independence with massive domestic investments. In June, the US Senate approved the $250 billion US Innovation and Competition Act, which would provide $52 billion for domestic semiconductor research and manufacturing, a 30% funding boost for the National Science Foundation, and $29 billion to fund a new applied sciences directorate. Meanwhile, China's annual spending on R&D climbed to more than $350 billion in 2020, and the country is spending $1.4 trillion over the next few years in infrastructure technologies such as artificial intelligence (AI), semiconductors, and 5G networks. The two nations' recent moves signal that decoupling will be a defining feature of the technology landscape for years to come, even with one of its most prominent contributors—former US President Donald Trump—no longer in office.  More in Bain's 2021 Technology Report.
The Art of Cyberwarfare: Chinese APTs attack Russia Much has been made about the emerging relationship between China and Russia, two countries that the National Defense Strategy recognizes as near-peer competitors to the United States. They're already collaborating on research, both are run by autocratic regimes, and neither has much affinity for the United States. But the marriage may not be as steady as Russia, especially, would like others to believe. A new report out of Russia accuses the Chinese government of hacking Russian state targets. 
Full Membership in the Shanghai Cooperation Organization (SCO): A Win-Win Game?
                                                                                                    Source: Pxfuel 
Iran's bid to become a full member of the Shanghai Cooperation Organization (SCO) dates to one year after it received observer status in 2005. All along, however, the most important legal obstacle to its accession has been a series of United Nations Security Council resolutions that identify the Islamic Republic of Iran as a threat to world peace and security. Nevertheless, Iran's regional neighbors recognized that the country could be an important element of the so-called "North-South" multimodal transit corridor that will more closely connect eastern and western Eurasia, and which can become a leading symbol of cooperation among all the members of the SCO. Iranian participation in both would, thus, ease, if not wholly overcome, the years of extensive effort by Western countries, led by the United States, to isolate the Islamic Republic using various means of economic, political and security pressure. More in this Publication (Eurasia Daily Monitor Volume: 18 Issue: 143).
America's China Strategy Is Working Executives at the fashion brand Eileen Fisher are no strangers to China—or to its enormous benefits and dangerous pitfalls: The American outfitter began manufacturing its clothing there about a quarter century ago, but last year, it realized that working in China could no longer be business as usual. The catalyst was Beijing's repression of China Uyghurs in the far-west province of Xinjiang. A series of reports exposed horrific abuses of the Muslim minority group, including mass detentions, torture, and forced labor in factories and fields. "There are some issues that that's it, you draw the line, and forced labor is one of those," Amy Hall, Eileen Fisher's social-consciousness strategic adviser, told me. What Hall and her colleagues did next highlights a generally unrecognized factor that is reshaping China's role in the global economy: its human-rights record. Starting in early 2020, Eileen Fisher launched its most rigorous investigation ever into its Chinese supply chain. Like many brands, it tended to deal directly with only a handful of factories, primarily those stitching and knitting the shirts, sweaters, and other shelf-ready clothes Eileen Fisher sells. Behind those stretched a pyramid of other factories—yarn spinners, fabric weavers, dye houses, and so on—with which Eileen Fisher had minimal contact. The company had been monitoring its direct suppliers for any abuses, but this time it inspected every stop on the chain—24 firms in all—not just for signs of forced labor but for any connection to Xinjiang. None of its suppliers, Eileen Fisher decided, could use any products from Xinjiang or have operations there. The brand enlisted specialized researchers to dissect financial records and other public documents, searching for shareholdings or other linkages to the region. More in this article in The Atlantic.
A Limited Partnership – Russia-China Relations in the Mediterranean In the last several years, Russia and China have increased their presence and influence in the Mediterranean, creating opportunities for growing cooperation at odds with U.S. interests and objectives in the region. A new CNAS report explores how the United States and its allies should approach the two distinct challenges of Russia-China cooperation in the Mediterranean: Russia a security one and China an economic one. 
Crucial Collaboration: The Case for Closer Australia-UK Defense and Security Ties in Light of a Rising China China's rise is perhaps the single most significant geopolitical question of the next decade – indeed, the next century. The sheer scale of its economy and military, combined with an increasingly authoritarian regime under Xi Jinping, means that the Indo-Pacific lies at the heart of the China challenge. Growing militarization and Chinese aggression are destabilizing the region, whilst Beijing's willingness to use economic coercion in an attempt to bend governments to its will has highlighted the need for trade diversification. This paper argues that the now is the time to broaden and deepen the Australia-UK relationship as the post-Brexit UK tilts to the Indo Pacific. It outlines ways to collaborate on defense, intelligence and security and to tackle grey-zone interference, through both working together and with other like-minded partners. On the economic front, CIS* Policy Paper 42 notes that the recently-agreed Australia-UK Free Trade Agreement should herald a new trend towards export diversification to counter China's trade coercion. Both nations should also collaborate on setting international standards for emerging digital technologies that embed liberal norms, whilst working to deliver on the promises of the G7 B3W framework as a compelling alternative to the Belt and Road in the South Pacific. *The Centre for Independent Studies is Australia's indispensable voice providing independent research and policy solutions enabling the pursuit of happiness, and the opportunity to live a prosperous life with less government interference.
Advancing U.S. Goals in the U.S.-EU Trade and Technology Council As the Biden administration works with its EU counterparts through the new U.S.-EU Trade and Technology Council (TTC), it should hold firm in defending the superior U.S. innovation system. To that end, U.S. negotiators must first clarify their positions on at least four strategic questions, according to this ITIF new report (the Information Technology and Innovation Foundation is an independent, nonprofit, nonpartisan research and educational institute). Key takeaways:
The EU's precautionary approach to digital technologies is antithetical to U.S. economic and national security interests because it limits innovation and growth, which the United States urgently needs.

It is critical for U.S. negotiators to vigorously defend U.S. economic interests in the TTC. They should not gloss over real differences in privacy rules, AI regulation, antitrust regulation, digital taxation, content moderation, and others.

When it comes to areas of regulation that affect cross-border trade, the United States and EU should work together more closely to ensure their respective approaches are interoperable.

It would be ideal if the EU were to unequivocally join the United States to limit Chinese innovation mercantilism and digital authoritarianism, but if the EU takes even limited measures toward that goal, it would be a success.

Both sides need to commit to a successful relationship. But U.S. negotiators should not define success as emulating the EU or increasing cooperation for its own sake; they should increase cooperation while advancing key U.S. national interests.
'Just Get Me a Box': Inside the Brutal Realities of Supply Chain Hell It's mid-August, and her phone won't stop pinging. Her faucets, sinks, and toilets are waylaid near Shanghai, snagged in Vancouver, and buried under a pile of shipping containers in a rail yard outside Chicago. As U.S. transportation manager for Gerber Plumbing Fixtures LLC, a unit of Taiwan's Globe Union Industrial Corp., that's based in Woodridge, Ill., she is trying to overcome the biggest shock wave to unsettle global trade since the dawn of container shipping almost seven decades ago. The pandemic has thrown the vital but usually humdrum world of logistics into a tailspin, spurring shortages of everything: masks and vaccine vials, semiconductors, plastic polymers, bicycles, and even baseball bobbleheads. For the logistics manager it's complicated, the shipment of about 10,000 20-foot containers of bathroom equipment she brings into the U.S. each year from China and Mexico, but it has also revealed a bigger, structural challenge. The system underpinning globalization—production on one side of the planet, connected to consumers on the other by trucks, ships, planes, cranes, and forklifts—is too rigid to absorb today's rolling tremors from Covid-19, or to recover quickly from the jolts to consumer demand or the labor force. It's avoided a complete collapse only through a combination of human ingenuity, painfully long hours, and, as Thomas describes a recent success, strategy, mixed with a stroke of luck. More in the Bloomberg Businessweek article of September 16, 2021.
China's New Direction: Challenges and Opportunities for US Policy This new report from the Task Force on U.S.-China Policy, a group of China specialists from around the U.S., convened by Asia Society's Center on U.S.-China Relations, is divided into eight sections. Each includes a thumbnail analysis of the evolving trends inside China, and recommendations for how the Biden Administration might incorporate such understandings into the next phase of its China strategy. Below are some of the most significant insights identified by Task Force members:
POLITICS China's effective control of the pandemic and nationalistic rallying of popular opinion against Western powers' blaming of China for its outbreak have strengthened Xi's position in the Party and his popularity among the public. We can expect rules and norms to be finessed to extend Xi's tenure for a third term at the 20th Party Congress next year. Xi's dictatorial system creates pressures for officials to show loyalty and distorts information feedback loops, two kinds of policymaking dynamics that lead to domestic and international overreaching.
SOCIETY The CCP has tightened supervision over universities, curtailed press freedom and placed civil society groups under strict control. Still, there is great dynamism and diversity in China's economic and social life. That said, Chinese people rarely make explicit political demands, and their support for the Chinese Communist Party appears to have grown in recent years alongside targeted retribution by the Party against certain groups.
HUMAN RIGHTS The CCP has intensified its crackdown not just on opposition and dissent, but also on perceived disloyalty, disaffection, policy disagreements and ideological nonconformity. Repression and social control have reached their highest levels in the post-Tiananmen period, especially in China's peripheral regions such as Xinjiang and Tibet. In Hong Kong, Beijing has crushed autonomous political activity, academic and journalistic freedoms. All this reflects a surprising sense of siege on the part of the Chinese government, despite the popular support it receives inside China.
ECONOMY China is using large-scale state intervention to increase national economic power and technological independence. The state is mobilizing significant financial support for favored sectors and companies, distorting capital allocation and corroding fair competition and market-determined outcomes in China and the rest of the world. Still, China is expected to remain open to foreign investment and financial institutions so long as that serves the government's goals.
TECHNOLOGY China's technology drive is massive in scale, led by the state but also enabled by an increasingly state-influenced private sector. Chinese policymakers have doubled down on their commitment to become technologically independent, especially in strategically essential sectors like semiconductors. In fact, Beijing has done more to "decouple" its supply chain from dependence on the U.S., than the other way around.
MILITARY China has developed a robust capability to fight effectively within the first island chain that runs north to south from Japan and Taiwan to the Philippines. These expanding capabilities are aimed at deterring and defeating U.S. military intervention in East Asia, especially in defense of Taiwan.
DIPLOMACY China has abandoned its Deng Xiaoping-era low-profile, risk-averse diplomacy. China's current forceful foreign policy aims to protect its interests, ensure access to global markets, capital and technologies, and demand international respect for China's achievements. Economic instruments are its preferred tool of statecraft, with active efforts directed toward shaping the global order regarding human rights, internet governance, technology standards and development finance. China's leaders seek respect and even admiration for their Party-centered political system, though they stop short of evangelizing or trying to export a complete model of governance.
CLIMATE CHANGE U.S.-China cooperation, coordination and healthy competition will be essential if the world is to achieve the 2015 Paris Climate Agreement objectives, and if China is to achieve its 2060 carbon neutrality goals. China's leaders have focused on developing clean technologies and created financial incentives for climate action within China. Yet, the government has been reluctant to aggressively curtail coal use at home and to reduce support for fossil- fuel energy projects abroad if it means acting against the interests of state-owned enterprises.
Direction of EU-Russia Political Relation On September 16, 2021, the EU Parliament adopted a resolution on the "Direction of EU-Russia Political Relations", which calls for a new EU strategy to promote democracy in Russia and changes to the EU sanctions on Russia. China is mentioned twice: 1) "the EU must strengthen its cooperation with the US and other like-minded partners and establish an alliance to defend democracy globally and propose a democracy defense toolkit, which should include joint actions on sanctions, policies to counter illicit financial flows, rules on the conditionality of economic and financial assistance, international investigations, and an ambitious agenda to support freedom and democracy, human rights activists and defenders of democracy; in addition, the EU's agenda should counterbalance the efforts of Russia and China to weaken democracy worldwide and destabilize the European order;", and 2) "Whereas it is deplorable that the Russian authorities are willingly or unwillingly locking their country into dependency on China, which can only weaken the Russian Federation and the entire European continent and, in particular, enable the Chinese authorities to expand their presence and influence in Central Asia and Siberia." European Parliament recommendation of 16 September 2021 to the Council, the Commission and the Vice-President of the Commission / High Representative of the Union for Foreign Affairs and Security Policy on the direction of EU-Russia political relations (2021/2042(INI)).
What Do Overseas Visits Reveal about China's Foreign Policy Priorities? It's notable that Xi Jinping hasn't left China since the start of the coronavirus pandemic (according to Bloomberg News on September 9, 2021, Xi Jinping hasn't set foot outside China for 600 days) as opposed to his previous regular program of foreign travel. Concerns over COVID-19 clearly play a part in this change, but it may also represent domestic political worries: foreign trips traditionally present opportunities for moving against temporarily absent leaders.
Headline or Trend Line? Evaluating Chinese-Russian Collaboration in AI Chinese and Russian government officials are keen to publicize their countries' strategic partnership in emerging technologies, particularly artificial intelligence. This CSET report evaluates the scope of cooperation between China and Russia as well as relative trends over time in two key metrics of AI development: research publications and investment. The findings expose gaps between aspirations and reality, bringing greater accuracy and nuance to current assessments of Sino-Russian tech cooperation.
China is Fast Outpacing U.S. STEM PhD Growth Since the mid-2000s, China has consistently graduated more STEM PhDs than the United States, a key indicator of a country's future competitiveness in STEM (science, technology, engineering and math) fields. This CSET paper explores the data on STEM PhD graduation rates and projects their growth over the next five years, during which the gap between China and the United States is expected to increase significantly.
Building Resilient Medical Supply Chains Through Trade Agreements With the outbreak of the COVID-19 pandemic, policymakers have become increasingly concerned about the pharmaceutical supply chain—and ensuring the American public can access vital products. Yet even under the tremendous pressure of the pandemic, the supply chain proved itself to be remarkably resilient. That said, there are ways to enhance that resiliency —without resorting to rank protectionism—in the face of legitimate concerns about certain foreign trade practices, including China's. R Street released a new white paper which does exactly this: surveys the performance of supply chains in recent years and offers concrete policy recommendations.
China's "Big Tech Crackdown": A Guide and Guideline The Chinese government is tightening its control over Chinese technology companies in dramatic ways: There will be a sea change in 2021: Capital flows between the U.S. and China will in some cases reverse, and the incentives that have driven the Chinese economy for the last two decades have changed. You'll find the Guide here and here an interactive timeline of all of Beijing's major regulatory actions and other developments contributing to what has become known as the "Big Tech crackdown".
In the driver's seat: China's electric vehicle makers target Europe China will become a major automotive export hub with localized supply chains – and Europe is the main market, finds a new MERICS report. The report's main findings and recommendations are:
China will become a major automotive export hub. Fueled by technological change, huge production capacity and government support China has the necessary requirements to export vehicles on a large scale.
Europe is the main market for Chinese electric vehicle (EV) exporters. Europe has the second highest demand for EVs after China. Buyers benefit from high subsidies and a comparatively well-developed charging network. China's automakers have government support to master European safety ratings. 
China's government directs and pressures Chinese and China-based foreign carmakers to export. The government has relegated its ambition to primarily promote national champions in favor of absorbing global value chains. The government is also setting targets and providing information about overseas regulations to help Chinese EV makers overseas advance. 
Chinese manufacturers are moving up the value chain. Chinese car makers have leapfrogged established carmakers and can now produce desirable, safe and technologically advanced EVs. A few Chinese brands have a shot to rank among the world's most successful carmakers. 
Chinese companies' overseas investments and partnerships make them global competitors. Automotive competition is going to increase globally, and consequently Chinese battery manufacturers and carmakers are expanding their global footprint. Exports are only the tip of the iceberg as companies pursue different strategies to leverage international brands and access overseas markets. 
Government subsidies for China-based manufacturers could distort global markets. That China has become the leading EV market is the result of substantial government support. But Chinese exports are also directly supported by central and local governments sponsorship of new production plants, R&D centers and overseas acquisitions.
Rare Earth Myth China dominates the mining and refinement of rare earths, which are needed for almost all of the electronic devices that power our 21st-century lives. But contrary to popular perception, China neither can nor wants to weaponize the global supply, according to this article in SupChina.
The Missing Context in America's Competition with China "What does winning this competition with China look like? Answering that question means articulating a strategic vision for the United States, a vision with a timeline of decades. That objective, and the actions American society will need to take to achieve it, will have outsized influence over US foreign, domestic, and economic policies for generations. President Joe Biden and Congress are taking important initial steps, such as addressing supply chain vulnerabilities, boosting R&D funding, and engaging with allies. Leaders from civil society and industry are producing untold recommendations ranging from tax incentives to new government agencies to moonshot technology development efforts. Missing, though, is the overarching context in which these actions should take place. The US government needs to articulate a national technology strategy for an era of sustained competition with a highly capable contender. A national technology strategy includes how the US invents, innovates, and deploys technologies — such as biotech, quantum computing, microelectronics, energy storage, etc. — to compete economically while securing its national interests. More in this article, published by Inkstick.
The Huawei Moment For the first time, a Chinese company—Huawei—is set to lead the global transition from one key national security infrastructure technology to the next. How did Washington, at the beginning of the twenty-first century, fail to protect U.S. firms in this strategic technology and allow a geopolitical competitor to take a leadership position in a national security relevant critical infrastructure such as telecommunications? This CSET policy brief highlights the characteristics of 5G development that China leveraged, exploited, and supported to take the lead in this key technology. The Huawei case study is in some ways the canary in the coal mine for emerging technologies and an illustration of what can happen to U.S. competitiveness when China's companies do not have to base decisions on market forces.
Addressing China's Oppression of Uyghurs NSI on the Hill tackles China's ongoing human rights abuses against its Uyghur population, as well as other religious and ethnic minorities.  Congress can expand its ongoing efforts to counter after the Chinese government, promote human rights, and bring an end to the China Communist Party's restrictive tactics of oppression in Xinjiang, which mirror Chinese behavior elsewhere. Read the full report here. Key Recommendations:
Sanctions: Creating new options through more aggressive use of existing sanctions authorities, including making permanent and mandatory certain human rights sanctions, including those currently imposed by Executive Order (E.O.) 13818;
New Financial Tools: Implementing additional capital raising restrictions on Chinese or foreign companies with ties to Xinjiang forced labor;
Domestic Policy Options: Publishing Congressional reports that highlight American corporate involvement not just in Xinjiang but in China more broadly;
Trade Options: Increasing funding for export control compliance and creating special China enforcement programs, as well as strengthening enforcement measures related to forced labor goods; and
Diplomatic Options: Limiting or setting conditions for U.S. participation in the 2022 Winter Olympics in Beijing.
Paper on Trustworthy Artificial Intelligence This paper, co-authored by a PRC state think tank describes the importance and difficulty of improving the "trustworthiness" of AI systems. The authors recommend increased use of methods such as federated learning and differential privacy to strengthen AI systems' capability to withstand cyberattacks. The white paper's policy recommendations include drafting more Chinese legislation related to trustworthy AI, developing commercial AI insurance policies, and taking a cautious approach to research on artificial general intelligence (AGI). This is the CSET translation of this significant foreign language document on AI.
 Fiscal Year 2022 Intelligence Authorization Act approved In July, 2021, the Senate Intelligence Committee unanimously approved its FY 2022 Intelligence Authorization Act. Timing for full Senate consideration of the bill has not yet been announced. The unclassified portions of the bill include several provisions related to AI and emerging technology:
Sec. 336 requires the Director of National Intelligence to report to Congress on trends in technologies of strategic importance to the United States and areas in which competitors are poised to match or surpass the United States. 
Sec. 340 requires the DNI to develop a plan for establishing a modern digital ecosystem for the development, testing, fielding and updating of AI systems.
Sec. 343 requires the DNI to report to Congress on the potential to strengthen all-source intelligence integration on foreign cyber threats, with a particular focus on cyber supply chain risks. 
Sec. 352 requires the DNI to submit to Congress a plan to increase cooperation with the intelligence agencies of key democratic partners regarding technological competition with China. 
Sec. 601 requires the president to report to Congress annually with a technology strategy to maintain U.S. leadership in critical and emerging technologies relevant to U.S. national security.
China's new Data Security Law On September 1, 2021, China's new Data Security Law went into effect. Passed by the NPC in June, the law applies to all companies — both domestic and international — with a presence in China. Some experts have raised concerns that one aspect of the law, a provision that requires companies and researchers within China to disclose information about software vulnerabilities to the Chinese government, could pose a serious cybersecurity risk to non-Chinese entities, including the U.S. government. 
New Advisories – the updated Xinjian Supply Chain Business Advisory and the new Hong Kong Business Advisory The U.S. Department of State and several other agencies involved in implementing and enforcing U.S. national security and trade policy published two business advisories in July 2021 that collectively signal increased legal risks for multinational companies with supply chains, operations, or investments in the People's Republic of China. The new advisories – the updated Xinjiang Supply Chain Business Advisory (The U.S. Department of State, the U.S. Department of the Treasury, the U.S. Department of Commerce, the U.S. Department of Homeland Security, the Office of the U.S. Trade Representative, and the U.S. Department of Labor are updating this advisory, originally published in July 2020) and the new Hong Kong Business Advisory – are the strongest showing to date that the U.S. government views (1) alleged state-sponsored human rights abuses in China's Xinjiang Uyghur Autonomous Region (Xinjiang) and (2) the Chinese government's imposition of the National Security Law on the Hong Kong Special Administrative Region (Hong Kong) as creating new and heightened risks for businesses and persons with operations or investments linked to these regions. We will summarize the key features of these advisories and provide our takeaways for affected U.S. businesses.
Chinese Views of U.S. Decline The idea of an America in decline has become a major subject of discussion among many PRC observers.  A seeming preponderance of Chinese authoritative, semi-authoritative, and non-authoritative Chinese elites believe that the distribution of global power is shifting
in a direction that favors China over the West/the United States. However, what is less clear is how those many Chinese who see the U.S. as being in decline view the specific origins, nature, and extent of that decline and its implications for China. Chinese public statements on the decline offer no conclusive evidence supporting the claim that Beijing is basing its policies on the sure conviction that the U.S. is in an irreversible, structural decline benefiting China and that Beijing is therefore committed to a policy of taking advantage of this decline. A more nuanced understanding of Chinese discourse on U.S. decline and its implications for the United States is in order. Please see the article in the China Leadership Monitor, Fall 2021 Issue 69.
The UK and China's security and trade relationship: A strategic void HOUSE OF LORDS / International Relations and Defence Committee / 1st Report of Session 2021–22
New beginnings: Rethinking business and trade in an era of strategic clarity and rolling disruption The Australian Strategic Policy Institute is delighted to share the new report 'New beginnings: Rethinking business and trade in an era of strategic clarity and rolling disruption'. This report considers the relationship between our business and trade positioning in the context of the impacts of Covid-19, natural disasters and the actions of coercive trading partners. Global economic integration has enabled the spread of ideas, products, people and investment at never-before-seen speed. International free trade has been a goal of policy-makers and academics for generations, allowing and fostering innovation and growth. The mechanism shuddered in 2008 when the movement of money faltered; the disruption brought about by Covid-19 has seen a much more multi-dimensional failure of the systems which we share and move. The unstoppable conveyor belt of our global supply chain has ground to a halt. This time, what will we learn? The report examines the vulnerabilities in Australia's national security, resilience and sovereignty in relation to supply chains and the intersection of the corporate sector and government highlighting recent paradigm shifts in geopolitics, whereby economic and trade priorities are increasingly relevant to the national security discussion. A key insight from the research is that there are plenty of opportunities for Australia to expand its investment horizons. Growth industries that deserve attention include data and technology, biotechnology, renewable energy, clean steel, agritech, critical minerals and rare earths. In each of these industries, Australia can leverage a strategic advantage to establish and maintain reliable, high-value supply chains. The profound economic shock of the pandemic provides the perfect time to assess our relationships with our trading partners, our industries and internally, between our governments and the corporate world. Click here to read the report.
Where Next on UK-China Engagement? A major new report from the British Foreign Policy Group warns the UK still has a long way to go before it can effectively and constructively engage with China, and secure the nation against the challenges China poses now and into the future. The report recognizes the UK Government has made important progress in implementing new safeguards and in building a more robust strategy on human rights and global norms. But it argues the UK's 'reset' on China remains a work in progress, and there is still much to be done to strengthen the UK's position so we can pursue China engagement from a more confident position. Significant, structural change to policy-making processes will be required to effectively balance security and openness, as pursuing a 'balanced' relationship will involve regular points of tension. We must build systems capable of accommodating these in a principled and consistent fashion. In light of the ongoing scrutiny that will be required towards different points of engagement, the report proposes a "triad" model for making decisions about actions towards China – categorising choices around the nature, sphere and stakes of such decisions, to ensure the Government can consider their implications in the round.
10 key arguments in the report:
The UK must deepen and enhance institutional knowledge about China.

Economic engagement continues to present opportunities, but we must be realistic about the nature of our negotiating position.

China's attendance at COP is a key measure of success for the UK, but we must accept it realizes its scope of leverage on climate action.

We must pursue a robust line on human rights with China, and ensure we uphold these standards at home and in our other partnerships.

Even when the UK experiences geopolitical disputes or areas of tension with China, they must not be conflated with the Chinese people.

The UK Government must ensure that the decision to temporarily reduce our foreign aid spending does not create a vacuum for China to seize upon.

We must strengthen the process of securing our critical national infrastructure, and future-proof our definition of what will become valuable to us.

Britain must lean into its special capabilities in designing the governance frameworks of the future, which will address many areas of growing importance to China.

While the UK-China bilateral relationship will remain unique, we must also build and maintain the foundations of a collective approach to China amongst liberal allies.

China provides a striking example of the urgent need to integrate our domestic and international resilience agendas.
Fentanyl from China: An Evolving Global Operation U.S.-China Commission released a new staff issue brief entitled, "Illicit Fentanyl from China: An Evolving Global Operation". 4 Key Findings:
China remains the primary country of origin for illicit fentanyl and fentanyl-related substances trafficked into the United States: In 2019, China fulfilled a pledge to the United States and placed all forms of fentanyl and its analogues on a regulatory schedule. Nevertheless, illicit fentanyl from China remains widely available in the United States. Chinese traffickers are using various strategies to circumvent new regulations, including focusing on chemical precursors, relocating some manufacturing to India, rerouting precursor shipments through third countries, and leveraging marketing schemes to avoid detection. China's weak supervision and regulation of its chemical and pharmaceutical industry also enable evasion and circumvention.
Since China's government scheduled fentanyl, the amount of finished fentanyl shipped directly from China to the United States has declined, while the amount shipped from Mexico has increased: The U.S. Drug Enforcement Administration (DEA) assesses Chinese traffickers have shifted from primarily manufacturing finished fentanyl to primarily exporting precursors to Mexican cartels, who manufacture illicit fentanyl and deliver the final product. U.S. law enforcement has seen a growing trend of Chinese nationals, in both Mexico and the United States, working with Mexican cartels. As Chinese suppliers coordinate more with international partners, the DEA is concerned that fentanyl production is becoming increasingly global and more difficult to track and control.
Chinese brokers are laundering Mexican drug money through China's financial system: Chinese money launderers are using financial technology, mobile banking apps, and social media to evade authorities.
Cooperation between the United States and China remains limited: U.S. law enforcement agencies have established working groups, conducted high-level meetings, and shared information with their Chinese counterparts, which has led to the dismantling of a few illicit fentanyl networks. At the same time, U.S. authorities are reporting that cooperation remains limited on the ground. The Chinese government has cooperated less with U.S. authorities on criminal and money laundering investigations, conducting joint operations, and U.S. requests for inspections and law enforcement assistance.

Robotics Patent Landscape Using trends in robotics patent families published from China as a measure of robotics advancement, the report finds that China is well on its way to emerge as a world leader in robotics. Since 2011, China has dramatically grown its robotics sector as part of its mission to achieve technological leadership. To support this national strategic endeavor, the Chinese government has encouraged growth through incentives and, in some cases, subsidies. Patents in robotics have surged, particularly at Chinese universities; by contrast, private companies comprise the bulk of robotics patent filers around the world. China has also seen a corresponding growth in robotics purchasing and active robotics stock. This CSET report offers a high-level analysis supported by intriguing data findings on the current state of China's robotics patents. 
The Export Edition: what does China need from the West? Amid all the discussion of reshoring and fears of dependency on Chinese-made technologies and products, it's easy to overlook just how much China relies on the West. And, spoiler alert, it's not a fan of said vulnerabilities, according to R Street. Chief among those weaknesses is China's ability to produce advanced semiconductors or microchips, which lags several years behind that of the United States. The United States has already exploited that shortcoming—particularly during the Trump administration, which cut off chip sales to Chinese champion Huawei. China is working hard to close that gap. But the process is far from straightforward, given the complexity and cost of designing and manufacturing chips; the chokehold that the West has on the incredibly sophisticated tools it takes to make cutting-edge chips; and seemingly settled the nature of the semiconductor market. The long and short of this is that we will continue to see some serious bickering between China and the West, and within the West, over who gets to invest in—and own—the companies that make semiconductor chips and manufacturing equipment. For more: R Street's Policy Director recently spoke at the Internet Governance Forum on how to foster interoperability, strengthen our supply chains and close our own gaps. And here's a piece from our friends at the Foundation for Defense of Democracies making the case that the United States needs to act now to maintain its advanced chipmaking dominance.
Ending Human Trafficking in the Twenty-First Century The authors of the new CFR report argue that human trafficking bolsters abusive regimes and criminal groups, weakens global supply chains, fuels corruption, and undermines good governance. They urge the United States to increase investment in anti-trafficking measures. 
China's Cyber AI Talent Pipeline To what extent does China's cultivation of talent in cybersecurity and AI matter in terms of competitiveness with other countries? Right now, it seems to have an edge: China's 11 World-Class Cybersecurity Schools offer more classes on artificial intelligence and machine learning than do the 20 U.S. universities certified as Centers of Academic Excellence in Cyber Operations. This policy brief recommends tracking 13 research grants from the National Science Foundation that attempt to integrate AI into cybersecurity curricula. Read the CSET Policy Brief. 
Rethinking Research Security In an opinion piece for Lawfare, the authors argue that the U.S. Department of Justices' China Initiative is counterproductive to U.S. innovation and offer recommendations to improve research security. See original article.
China's National Cybersecurity Center – A Base for Military-Civil Fusion in the Cyber Domain China's National Cybersecurity Center (NCC) resides on a 40 km2 plot in Wuhan. As one indication of its significance, the Chinese Communist Party's highest-ranking members have an oversight committee for the facility. Over the next decade, the NCC will provide the talent, innovation, and indigenization of cyber capabilities that China's Ministry of State Security, Ministry of Public Security, and People's Liberation Army Strategic Support Force hacking teams lack. Though still under construction, the NCC's first class of graduates will cross the stage in June 2022. More in this CSET report.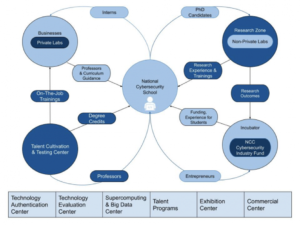 Source: CSET
Data Visualization
China wants to be a "cyber powerhouse". At the heart of this mission is the sprawling 40 km2 campus of the National Cybersecurity Center. Formally called the National Cybersecurity Talent and Innovation Base the NCC is being built in Wuhan. The campus, which China began constructing in 2017 and is still building, includes seven centers for research, talent cultivation, and entrepreneurship; two government-focused laboratories; and a National Cyber security School. Visit China's National Cybersecurity Center Map.
Sovereignty for sale: the FCDO's role in protecting strategic British assets The House of Commons Foreign Affairs Committee published the third report of Session 2021–22, together with formal minutes relating to the report. Summary: Foreign investment is an essential contributor to the UK economy. However, acquisitions by foreign entities can serve as the first step towards moving strategically vital companies, assets and intellectual property abroad. This transfer of assets threatens to make us reliant on others for assets and services that are critical to our capacity for independent action and global influence, as well as undermining the UK economy and our national security. Our sovereignty should not be for sale. The UK National Security and Investment (NSI) Act 2021 is intended to protect UK businesses and critical security interests. It is crucial that the Government gets the new investment screening regime right from the beginning—both to ensure that UK national security is protected and that we remain firmly open to valuable foreign investment.1 The FCDO's global footprint has the reach to collect the important information required when considering the national security implications of foreign investments and ensuring a balance of perspectives within the newly-established Investment Security Unit (ISU). But the question remains: does it have the capability? This isn't simply a question of tasking but of bringing together many of the skills that now sit in the Department for International Trade. Properly directed, the FCDO also has an important role to play in facilitating coordination with like-minded countries on matters of investment screening. Given the significant geopolitical implications of foreign investment decisions, it is key that the FCDO contributes meaningfully to the ISU and the consequent outcomes of the review process for investments. These decisions are, by necessity, based on judgments which must balance many aspects of the UK national interest, including the wider public good. We are concerned that the lack of robust Parliamentary scrutiny of the ISU provided for in the NSI Act leads Parliament to look at only the business aspect of the decision, potentially neglecting the Global Britain strategy. Now, more than ever, foreign investment is an important geopolitical issue with clear implications for the UK's foreign relations; yet this appears to have been overlooked in the arrangements for scrutiny. Following our close scrutiny of the NSI Act as it progressed through Parliament, we intend to continue to monitor its effectiveness. While we welcome the NSI Act as a vital step towards securing our sovereignty and protecting our businesses, failure to implement it effectively would have catastrophic effects for our global influence and security. 
CFIUS Annual Report 2021 The Committee on Foreign Investment in the United States (CFIUS or the Committee) released a public version of its annual report to Congress for the calendar year 2020. The report covers transactions filed with the Committee in 2020 and describes the CFIUS process following the full implementation of its new authority under the Foreign Investment Risk Review Modernization Act (FIRRMA). 
Eyeing Chinese investment, Turkey kicks off Canal Istanbul project The 45-km canal was characterized as "crazy" by its biggest booster when the idea first surfaced a decade ago. But on Saturday, Turkish President Recep Tayyip Erdogan attended the groundbreaking ceremony of a bridge that marks the first move to build his pet "Canal Istanbul" project connecting the Black Sea to the Sea of Marmara, a massive endeavor that he hopes will win foreign support, including China's. "We are opening a new page today in Turkey's development history," Erdogan said at the ceremony. "We see this as a project to save the future of Istanbul." But the plan to build a canal parallel to Istanbul's Bosporus is expected to cost $15 billion and has further divided the already highly fractured country. The project also poses geopolitical issues, with speculation rife that China or Erdogan's regional ally Qatar could play a role in funding it. More in NikkeiAsia's article of June 28, 2021.
Information Defense: Policy Measures Taken Against Foreign Information Manipulation Most publications on foreign information manipulation focus on the offense, i.e., on the threat. They expose operations or analyze the strategies and tactics of the attackers. Understanding the threat is indeed a priority, but one should not lose sight of its raison d'être: to prevent and/or counter the attack. For the liberal democracies that are the most vulnerable targets of such operations, the main question is how to respond. That is why the author of this Atlantic Council report focuses on the defense. It is not intended to be comprehensive: it cannot cover all responses from all actors in all regions. It therefore focuses on information defense mostly from a governmental perspective, even though private sector efforts will also be mentioned, and mostly from a transatlantic perspective, even though a couple of other examples will also be mentioned. With these limits, this report offers a broad yet concise overview of policy measures taken against foreign information manipulation.           
From Plan to Action Strategies can be eloquent and inspiring. How successful they are rests in addressing gritty details outside of the spotlight. An effective and realistic national technology strategy requires vision, process, an executable framework, and a commitment to addressing bureaucratic, legal, and regulatory hurdles to implementation. Alongside a comprehensive national technology strategy, the United States needs a blueprint for how to operationalize such a strategy. In this new CNAS report, the authors offer concrete and pragmatic measures that U.S. policymakers should take to operationalize a national technology strategy. The report builds upon two previous publications in CNAS' U.S. National Technology Strategy project. The first report in this initiative ("Taking the Helm") makes the case for a national technology strategy and lays out what a modern-day strategy should be. The second report ("Trust the Process"), focuses on how the U.S. government should structure itself organizationally and bureaucratically to execute such a strategy. The White House and Congress can take numerous concrete steps to improve the U.S. government's ability to execute strategic technology policies. The authors present four categories of key recommendations that can have profound impact on America's ability to secure its long-term competitiveness:
• Bolster the Department of Commerce
• Mitigate Supply Chain and Technology Transfer Risk
• Streamline Technology Policy Coordination and Implementation
• Increase Capacity to Pursue International Technology Partnerships
The authors conclude: "Crafting sound strategy is difficult. Executing a strategy well is more challenging still . . . Once a vision is articulated, a framework crafted, and processes identified, the focus must be on actions required to operationalize the national technology strategy. How and whether those actions are implemented will have outsized influence over the strategy's ultimate success." 
China Assuming New Dominance in Turkmenistan Turkmenistan's longstanding neutrality has kept it out of Russian regional security arrangements like the Shanghai Cooperation Organization (SCO) and the Collective Security Treaty Organization (CSTO), which has constrained the level of influence Moscow could have in this notoriously insular Central Asian republic. But now, China is on the way to becoming the dominant outside power in Turkmenistan, according to this new article in Jamestown's Eurasia Daily Monitor. The reasons for this rise in Beijing's sway are manifold. First has been China's already heavy involvement in Turkmenistan's natural gas sector and transit routes through that country between China and Europe. But other factors include the rapidly growing Taliban threat to the Central Asian region; the readiness of Ashgabat to support China on Xinjiang because, unlike other Central Asian countries, it lacks a diaspora being victimized there; and Beijing's increasingly obvious interest in expanding its economic involvement in the region into security cooperation. In doing so, Beijing has stolen a march on Moscow and positioned itself to compete with Turkey and other outside powers there in ways that it was never able to before.
Survey of Chinese Espionage in the United States Since 2000 This survey lists 160 publicly reported instances of Chinese espionage directed at the United States since 2000. It does not include espionage against other countries, against U.S. firms or persons located in China, nor more than 50 additional cases involving attempts to smuggle munitions or controlled technologies from the U.S. to China. CSIS also did not include the more than 1200 cases of intellectual property theft litigation brought by U.S. companies against Chinese entities in either the U.S. or Chinese legal systems.
For those cases where CSIS could identify actor and intent, they found: 
42% of actors were Chinese military or government employees. 
32% were private Chinese citizens. 
26% were non-Chinese actors (usually U.S. persons recruited by Chinese officials) 
34% of incidents sought to acquire military technology. 
51% of incidents sought to acquire commercial technologies.
16% of incidents sought to acquire information on U.S. civilian agencies or politicians. 
41% of incidents involved cyber espionage, usually by State-affiliated actors. 
The most recent cases are:
January 2021: Chinese national Cheng Bo, aka Jo Cheng, was indicted for conspiring to illegally export U.S. power amplifiers to China between 2012 and 2015.
January 2021: MIT professor Gang Chen, a naturalized U.S. citizen born in China, was charged with wire fraud for failing to disclose connections to various entities in the PRC. It is alleged that Chen received, and did not disclose, approximately $29 million in foreign funding since 2013, including $19 million from the PRC's Southern University of Science and Technology. According to the indictment, Chen is accused of attempting to defraud "DOE by means of materially false and fraudulent pretenses…" but the Homeland Security Agent in his affidavit indicated that he did not include all facts about the investigation, only those required to establish probable cause.
April 2021: Mingqing Xiao, mathematics professor at Southern Illinois University – Carbondale, was charged with wire fraud and making a false statement. Xiao obtained $151,099 in NSF grant money without disclosing his loyalties to, and the support he received from, the Chinese government and a Chinese University.
April 2021: Chinese national Suren Qin pleaded guilty to illegally exporting $100,000 of U.S. goods to PLA-affiliated Northwester Polytechnical University in China. Qin primarily sent underwater and marine technologies to the PRC through their company LinkOcean Technologies, LTD.
July 2021: The U.S., NATO, and allies accused the PRC of using contract hackers to conduct an ongoing global cyberespionage campaign that includes ransomware attacks, cyber extortion, crypto-jacking, and rank theft. Accompanying this accusation were charges against four MSS hackers for engaging in a multi-year campaign to steal trade secrets, business information, IP, and Ebola vaccine research. Finally, the U.S. government announced they are attributing a March 2021 exploitation of zero-day vulnerabilities in Microsoft Exchange Server to MSS hackers.
Influence for hire – The Asia-Pacific's online shadow economy Governments around the world are currently grappling with how to deal with disinformation-for-hire operations and cyber-enabled foreign interference. ASPI's report sheds new light on how the 'influence for hire' ecosystem operates across the Asia-Pacific region. The report authors explore the business models that support and sustain the marketplace for influence and the services that influence operators offer. This is a policy problem spanning government, industry, media and civil society, and solutions must incorporate all of those domains. The report makes a series of recommendations including stronger collaboration between governments and industry, greater social media platform accountability, regional capacity building and stronger political commitment to not using networks of inauthentic, fake or repurposed social media accounts to manipulate political discourse. The report also argues for an Asia–Pacific centre of excellence in democratic resilience. Such a centre could provide a vehicle for public–private multilateral partnerships designed to maintain the health of the region's online public sphere.
Can China blunt the impact of new US economic sanctions Successive US administrations have embraced economic sanctions, especially financial sanctions, to punish bad actors in Iran, North Korea, Russia, and other hostile countries. Often, US officials leverage the economic pressure on their targets by forcing individuals and companies outside the United States to stop transacting with those on the US sanctions list or face severe penalties. European governments have instituted blocking regulations to prohibit compliance with such extraterritorial US sanctions against their nationals, but with limited success. Most companies forsake business in countries targeted by US sanctions rather than risk losing access to the US market. China is now adopting new blocking rules to nullify the effect of foreign sanctions or other measures "unjustifiably applied" against Chinese nationals. The new rules allow Chinese government officials to issue orders prohibiting Chinese companies from complying with foreign sanctions, essentially forcing them to choose between access to the Chinese market and access to the US market, with penalties possible in either direction. For decades weak foreign pushback allowed unilateral sanctions to remain a relatively powerful tool of US economic statecraft, but the Chinese blocking rules signal a major change to the status quo. The authors argue that multinational firms operating abroad are increasingly at risk of being caught firmly between US sanctions, including export controls, and Chinese countermeasures. These pressures add to growing US-China trade frictions already pushing the restructuring of global supply chains. Please read PIIE's new Policy Brief.
Significant Cyber Incidents CSIS' timeline records significant cyberb incidents since 2006. The Center for Strategic and International Studies' focus: cyber-attacks on government agencies, defense and high-tech companies, and economic crimes with losses of more than a million dollars.
During the first seven months of 2021 there were 92 significant incidents; the most recent incidents are:
July 2021. A data leak impacted Northern Ireland's COVIDCert online vaccination certification service, causing their Department of Health to temporarily suspend the portal. 
July 2021. Estonia stated a Tallinn-based hacker downloaded 286,438 ID photos from government database, exposing a vulnerability in a platform managed by their Information System Authority (RIA). 
July 2021. A widespread APT operation was discovered against users in Southeast Asia, believed to be spearheaded by Chinese entities. Researchers found a total of 100 victims in Myanmar and 1,400 in the Philippines, including many government entities. 
July 2021. The Japan 2020 Olympics was subject to data breach exposing the personal credentials of volunteers and ticket holders. The information included usernames, passwords, addresses, and bank account numbers. 
July 2021. The United States, the European Union, NATO and other world powers released joint statements condemning the Chinese government for a series of malicious cyber activities. They attributed responsibility to China for the Microsoft Exchange hack from early 2021 and the compromise of more than 100,000 servers worldwide.
July 2021. Transnet Port Terminals (TPT), South Africa's state-run ports operator and freight rail monopoly, had its rail services disrupted after a hack by unknown actors. Transnet reportedly declared it an act "force majeure." 
July 2021. Several countries used Pegasus, surveillance software created by NSO Group that targets iPhone and Android operating systems, on devices belonging to activists, politicians, and journalists. 
July 2021. The FBI and the U.S. Cybersecurity and Infrastructure Security Agency (CISA) released a statement exposing a spearfishing campaign by Chinese state-sponsored hackers between 2011 and 2013. The campaign targeted oil and natural gas pipeline companies in the United States. 
July 2021. Iran used Facebook accounts to pose as recruiters, journalists, and NGO affiliates, targeting U.S. military personnel. The hackers sent malware-infected files or tricked targets into submitting sensitive credentials to phishing sites. 
July 2021. The Russian defense ministry claimed it was hit with a DDoS attack that caused its website to shut down, stating the attack came from outside the Russian Federation. 
July 2021. Norway attributed a March 2021 cyberattack on parliament's e-mail system to China. 
July 2021. Iran's transport and urbanization ministry was the victim of a cyber attack that impacted display boards at stations throughout the country. The attack caused delays and cancellations of hundreds of trains across Iran. 
July 2021. Russian hackers exploited a vulnerability in Kaseya's virtual systems/server administrator (VSA) software allowing them to deploy a ransomware attack on the network. The hack affected around 1,500 small and midsized businesses, with attackers asking for $70 million in payment. 
July 2021. The Ukranian Ministry of Defense claimed its naval forces' website was targeted by Russian hackers who published fake reports about the international Sea Breeze-2021 military drills. 
June 2021. Russia claimed that Vladimir Putin's annual phone-in session was targeted by DDoS attacks. 
June 2021. A Chinese-speaking hacking group spearheaded an ongoing espionage effort against the Afghan government through phishing emails. Hackers posed as the Office of the President of Afghanistan and targeted the Afghan National Security Council. 
June 2021. The Iranian government launched a widescale disinformation campaign, targeting WhatsApp groups, Telegram channels and messaging apps used by Israeli activists. The campaign aimed to advance political unrest and distrust in Israel. 
June 2021. Chinese actors targeted organizations, including Verizon and the Metropolitan Water District of Southern California using a platform used by numerous government agencies and companies for secure remote access to their networks. 
June 2021. Hackers linked to Russia's Foreign Intelligence Service installed malicious software on a Microsoft system that allowed hackers to gain access to accounts and contact information. The majority of the customers targeted were U.S. based, working for IT companies or the government. 
June 2021. The U.S. and British governments announced the Russian GRU attempted a series of brute force access against hundreds of government and private sector targets worldwide from 2019 to 2021, targeting organizations using Microsoft Office 365® cloud services.
June 2021. United States Naval Institute (USNI) claimed the tracking data of two NATO ships, the U.K. Royal Navy's HMS Defender and the Royal Netherlands Navy's HNLMS Evertsen, was falsified off the coast of a Russian controlled naval base in the Black Sea. The faked data positioned the two warships at the entrance of a major Russian naval base. 
June 2021. A cyberattack reportedly from Russia compromised the email inboxes of more than 30 prominent Polish officials, ministers and deputies of political parties, and some journalists. 
June 2021. Sol Oriens, a small government contractor that works for the Department of Energy on nuclear weapons issues, was attacked by the Russia-linked hacking group REvil. 
June 2021. A spreadsheet was leaked containing classified personal details of the 1,182 United Kingdom's Special Forces soldiers on WhatsApp. 
June 2021. A ransomware attack targeted iConstituent, a newsletter service used by U.S. lawmakers to contact constituents. 
June 2021. Hackers working on behalf of Russian intelligence services are believed to have hacked Netherlands police internal network in 2017. The attack occurred during the country's investigation of the Malaysia Airlines Flight 17 (MH17) that was shot down in 2014. 
Illegal Hidden Dahua and Hikvision Sales, Sellers and 'Manufacturers' Blame Each Other Secretly-relabelled Hikvision and Dahua (Hikua) products are being sold to various Federal and military agencies, violating the NDAA ban. Sellers and relabelers blame each other, with sellers saying that it is the fault of their suppliers, including Anixter, and manufacturers saying it's the fault of sellers despite these relabelers typically hiding their activities. This joint investigation with The Intercept – who published their own report "U.S. Military bought cameras in violation of America's own China sanctions" – demonstrates the risks of allowing US companies to secretly relabel products that are outlawed for US federal use. The result is a breakdown of accountability in the supply chains that keep federal assets safe, while threatening the safety of US networks. IPVM and The Intercept found illegal GSA listings and federal sales of Amcrest, Bosch, Honeywell, Interlogix, Lorex, LTS, and Speco. More in IPVM's detailed report. 
Xinjiang Supply Chain Business Advisory On July 13, the U.S. Departments of State, Commerce, Homeland Security, Labor, and the Treasury, and the Office of the U.S. Trade Representative, issued an updated advisory on the risks for businesses with potential exposure in their supply chain to entities engaged in human rights abuses in the Xinjiang Uyghur Autonomous Region (Xinjiang). This advisory outlines risks that businesses and individuals should consider when assessing business partnerships with, investing in, sourcing from, or providing other support to companies operating in Xinjiang, linked to Xinjiang, or with laborers from Xinjiang.
China is killing its tech golden goose According to an article published in ASPI's the Strategist, and presented in partnership with Project Syndicate, US politicians from both congressional parties are worried that China is overtaking America as the global leader in science and technology. In a rare display of bipartisanship, the normally gridlocked Senate passed a bill in early June to spend close to US$250 billion in the next decade to promote cutting-edge research. But lawmakers may be fretting unnecessarily, because the Chinese government seems to be doing everything possible to lose its tech race with America. The latest example of China's penchant for self-harm is the sudden and arbitrary regulatory action taken by the CAC* against Didi Chuxing, a ride-hailing company that recently raised US$ 4.4 billion in an IPO on the New York Stock Exchange. On 2 July, just two days after Didi's successful offering, which valued the firm at more than US$70 billion, the CAC, a department of the ruling Chinese Communist Party masquerading as a state agency, announced a data-security review of the company. Two days later, the CAC abruptly ordered the removal of Didi from app stores, a move that wiped out nearly a quarter of the firm's market value.
*(the Cyberspace Administration of China, established in May 2011, was a subordinate office under State Council Information Office (SCIO). Since April 2014, the CAC has been operating under the direct supervision of the Office of the Central Leading Group for Cyberspace Affairs (which has been elevated to the Office of the Central Cyberspace Affairs Commission after China's 2018 government institutional reform. The CAC, an enforcement agency in charge of cyberspace security and internet content regulation, major functions are directing, coordinating and supervising online content management and handling administrative approval of businesses related to online news reporting. The CAC is also known as the State Internet Information Office (SIIO).
The rising risk of China's intellectual-property theft The most important dimension of U.S.–China relations is technology, which is vital to economic, military, and even ideological competition. In the economic competition, the main American challenge is not, as is sometimes implied, inadequate innovation. The U.S. is the world's wealthiest country by tens of trillions of dollars. The number of U.S. patents granted to Americans set a record in 2019 and nearly matched it in 2020. That more than tripled the number of patent granted to second-place Japanese filers in our market. The main challenge is not even Chinese innovation. Beijing's preference for large firms and state funding at the expense of genuine competition ensures it will struggle in key areas, from aircraft development to shale. The main challenge is China's acquisition of intellectual property (IP) and use of regulatory and financial subsidies to develop products from that IP to drive the U.S. out of global markets.
Pending legislation may, if passed, increase these risks. The United States Innovation and Competition Act (USICA) has passed the Senate, while the National Science Foundation for the Future Act has passed the House. Each spends at least $100 billion over five years on U.S. research and development, but the Senate included many more provisions attempting to limit Chinese access than the House has to date. Without stronger safeguards than even the Senate currently includes, China will be able to capture the technology developed by additional U.S. research, subsidize its deployment, and actually bring harm to American companies and workers rather than the benefits Congress imagines. That the People's Republic of China (PRC) will continue seeking to acquire American research is not seriously debatable. The U.S. Department of Justice reports that 80 percent of its economic-espionage cases involve the PRC. There are multiple documented cases of Chinese trade-secret theft for almost every year this century, from Datang's receipt of information stolen from now-defunct Lucent in 2001 to China State Nuclear Technology's receipt of information stolen from Westinghouse in 2010 to X-Motors' receipt of information stolen from Apple in 2019. In the area of capturing personal data, Chinese hackers attacked the Office of Personnel Management starting in late 2013 and Equifax in 2017, among other incidents. More in AEI's recent article "The rising risk of China's intellectual-property theft".
UNC215: Spotlight on a Chinese Espionage Campaign in Israel When hackers broke into Israeli computers in 2019 and 2020, evidence initially suggested they were from Iran. But on closer inspection, analysts concluded it was conducted by Chinese operatives posing as a team from Tehran, according to new research from American cybersecurity firm FireEye. Many of their tactics were blunt, such as using the word "Iran" in file paths. But they also wrote in Farsi, and deployed tools normally associated with Iranians. The attackers also took pains to protect their true identities by minimizing the evidence they left behind, and hiding the infrastructure they used to break into Israeli machines. Ultimately, they failed. The hackers made several mistakes that blew their cover and linked them back to their previous work. For example, they used similar files, infrastructure, and tactics across multiple operations in the Middle East. The attack was not particularly sophisticated or successful, but it shows how important attribution—and misattribution—can be in cyber-espionage campaigns.
Long Shadows: How the Global Economy Supports Oppression in Xinjiang In Xinjiang, China, millions of Uyghurs and other ethnic minority peoples face mass detention, forced labor, and constant surveillance from the Chinese government. Thanks to witness testimony and widespread reporting, the world has not stayed silent. Countries such as the United States have placed sanctions, trade restrictions, and other measures on perpetrating entities in China, while the private sector has sought to prevent their supply chains from buying goods produced by forced labor. However, these measures are falling short. The author of this new report, a Senior Analyst at C4ADS, reveals how perpetrators of mass detention and forced labor in Xinjiang connect to and profit from global commerce through trade, foreign subsidiaries, and financial markets. As a test case, C4ADS examines the Xinjiang Production and Construction Corps (XPCC). A key perpetrator of forced labor and mass detention in Xinjiang, the XPCC is sanctioned by the United States and partially sanctioned by the European Union. Despite this, corporate, trade and financial data shows that it still maintains significant access to global trade and financial markets. In fact, XPCC goods at high risk of having been produced by forced labor, including cotton and tomatoes, still appear to be flowing from Xinjiang into the rest of the world and contaminating the supply chains of some of the world's biggest brands. While this unsettling analysis points out how the global regime against human rights violations in Xinjiang is falling short, the author provides recommendations for how public and private stakeholders can better fight against forced labor and its perpetrating networks.  
Mass resignations at scientific journal over ethically fraught China genetics paper Eight members of the editorial board of a scientific journal have resigned after it published a slew of controversial papers that critics fear could be used for DNA profiling and persecution of ethnic minorities in China. The journal, Molecular Genetics & Genomic Medicine, is the latest to be caught up in controversy involving ethically fraught research. Emails obtained by The Intercept show that the journal's editor-in-chief has been slow to respond to queries about the papers, which involve research on Tibetans and Uyghurs, among other ethnic groups, and were first brought to her attention in March. The journal is published by Wiley, a multinational company based in New Jersey that is one of the world's premier scientific publishers. Studies involving DNA profiling, facial recognition, and organ transplantation have sparked controversy at other journals, but this is the first time that so many members of a journal's editorial board — eight of 25 — have resigned in response to such issues. More in this article.
U.S. Military bought cameras in violation of America's own China sanctions Numerous Federal agencies, including several branches of the military, buy video surveillance equipment that can't legally be used in U.S. government systems and that is made by Chinese companies sanctioned on national security grounds, records and products reviewed by The Intercept indicate. The agencies purchased blacklisted hardware through a network of American resellers that claimed the camera systems were in compliance with the sanctions. Those claims in numerous cases had little apparent basis, according to a joint investigation with IPVM, a video surveillance industry research publication. The security sanctions originated in the 2019 iteration of Congress's annual defense policy and funding bill, known as the National Defense Authorization Act. They barred Dahua and Hikvision, two of China's leading manufacturers of security cameras, from selling their products to the federal government, citing concerns that such sales could let the Chinese government remotely spy on federal facilities. But public purchase records show that since the sanctions were put in place, the Air Force, Army, Navy, Veterans Affairs, and the Office of the Secretary of Defense all purchased camera systems containing or consisting of hardware that IPVM determined was in fact originally manufactured by Dahua or Hikvision and sold under another brand. IPVM visually compared both hardware and software of the camera systems and, in some cases, physical disassembled cameras. Listings posted to GSA Advantage, a marketplace for federal vendors to sell their wares to the government online, show that rebranded Dahua and Hikvision cameras are still freely available for purchase under different brand names. More in this detailed report. 
Digest of United States Practice in International Law 2020 The Office of the Legal Adviser publishes the Annual Digest of United States Practice in International Law to provide the public with a historical record of the views and practice of the Government of the United States in public and private international law. The complete 2020 Digest is available at the bottom of this page. The 2020 Digest provides a historical record of key legal developments in 2020. Chapter 16 discusses selected developments during 2020 relating to sanctions, export controls, and certain other restrictions relating to travel or U.S. government assistance. It does not cover developments in many of the United States' longstanding financial sanctions regimes, which are discussed in detail. It also does not comprehensively cover developments relating to the export control programs administered by the Commerce Department or the defense trade control programs administered by the State Department. Details on the State Department's defense trade control programs are available here.
The Office of the Legal Adviser furnishes advice on all legal issues, domestic and international, arising in the course of the Department's work. This includes assisting Department principals and policy officers in formulating and implementing the foreign policies of the United States, and promoting the development of international law and its institutions as a fundamental element of those policies. The Office is organized to provide direct legal support to the Department of State's various bureaus, including both regional and geographic offices (those which focus on specific areas of the world) and functional offices (those which deal with specific subject matters such as economics and business, international environmental and scientific issues, or internal management).
China Isn't Trying to Dominate the Middle East – But U.S. Retrenchment Might Allow It

China's Foreign Minister Wang Yi and Iran's Foreign Minister Mohammad Javad Zarif in
Tehran, Iran, March 2021 Majid Asgaripour / WANA News Agency / Reuters
The last few years have witnessed a paradigm shift in U.S. foreign policy. The Middle East is no longer Washington's top priority. Washington has significantly reduced the number of U.S. troops in Iraq, and U.S. President Joe Biden has pledged to focus on only a small number of objectives in the region. As this retrenchment has proceeded, analysts, columnists, and elected leaders have warned that China is poised to take the United States' place in a part of the world where Washington has long been dominant. In the Middle East as elsewhere, the argument goes, the United States must counter China's military power, economic clout, and ideology at every turn, lest Beijing replace Washington as the preeminent global superpower.
Even as the United States pulls back from the Middle East, some in the U.S. foreign policy community believe that the region will be among the places where a so-called great-power competition between Washington and Beijing will play out. These analysts cite China's investment in the area, its bilateral trade deals with regional powers, its military base in Djibouti, and Beijing's increasingly close ties to Iran as evidence of new and dangerous threats to U.S. security. In line with this view, the scholars Michael Doran and Peter Rough have argued that China's "ruthless" drive for advancement in the region contributes to a broader risk of the United States losing control of the international system at large.
Such claims rest on thin evidence, however. American conceptions about China's role in the Middle East are often shaped more by Washington's own experience there—defined by military alliances and armed interventions—than by actual Chinese behavior. In reality, Beijing's growing presence is motivated less by a desire for hegemony than it is by economic concerns and domestic politics. Its dependence on fossil fuels, coupled with a desire to insulate itself from regional opprobrium regarding its treatment of Uyghur Muslims, drives much of its outreach.
China's strategy is far from settled, and a global economic calamity or a geopolitical meltdown could move the Chinese Communist Party to reconsider its current approach. But the fact remains that Beijing has maintained relations with countries beset by both internal and external conflict over the last two decades—including Afghanistan, Myanmar, and Sudan—and it will likely continue to demonstrate a high tolerance for violence and volatility in the Middle East. China may yet wind up the dominant power in the region, but if that happens, it will owe less to any grand strategic designs on Beijing's part than to Washington's slow but steady detachment from the Middle East. Source: Foreign Affairs, August 9, 2021.
Danger Almost Deferred? Chinese Corrosive Capital in Bulgaria and Romania A new paper provides a captivating insight into the financial presence of China in two countries of the Eastern Balkans – Bulgaria and Romania, and Chinese tactics of using corrosive capital to influence political decision making. Overall, the influx of Chinese corrosive capital in Bulgaria and Romania and the accompanying deterioration of governance standards in those two countries have arguably been lesser in scale than in the case of Central Europe and the Western Balkans, where China typically focuses its financial offensive. Since 1989, Bulgaria and Romania have shared a similar European integration trajectory—both became members of NATO and the European Union (EU) in 2004 and 2007, respectively. Nevertheless, the two countries' attitude toward Russia, as a historically established power in the Balkans, and China, as a newcomer, has frequently diverged. Bucharest's circumspection with regard to Moscow's influence activities has recently been paralleled in a determined political push aimed at limiting the negative repercussions of Beijing's economic initiatives. Zooming in on Bulgaria and Romania cases shows that exposure to Chinese corrosive capital is limited and still largely kept under control. Yet, in the future, an entry point for malign Chinese activities can be facilitated by persistent problems of democratic governance gaps and oligopolistic economic structures. Hence, to address corrosive capital's current and future challenges, a comprehensive strategy is needed to improve the business environment, tackle state capture, and empower civil society. The publication is supported by the Center for International Private Enterprise (CIPE). CIPE is not responsible for the content of this publication, or for any use that may be made of it. The views expressed herein are those of the author(s) alone. These views do not necessarily reflect those of CIPE.
The US and China are not destined for war Throughout history, when a rising power has challenged a ruling one, war has often been the result. But there are notable exceptions. A war between the US and China today is no more inevitable than was war between the rising US and the declining United Kingdom a century ago. And in today's context, there are four compelling reasons to believe that war between the US and China can be avoided, according to this article in ASPI's The Strategist. One of the reasons is that China and the US are deeply intertwined economically. Despite Trump's trade war, Sino-American bilateral trade in 2020 was around US$650 billion, and China was America's largest trade partner.  The two countries' supply-chain linkages are vast, and China holds more than US$1 trillion in US Treasuries, most of which it can't easily unload, lest it reduce their value and incur massive losses.
Lithuania: Taiwan's new best friend in Europe Lithuania's decision to allow Taiwan to open a new representative office under its own name in Vilnius was met with a strong reprisal from China, acc. Beijing, perceiving Lithuania's courageous move as a way of engagement in official interactions with the Taiwan authorities and thus as a violation of the One China policy, proceeded with a withdrawal of its ambassador from the Baltic state and demanded similar steps to be undertaken by the Lithuanian government.  Since the EU stated it does not regard the opening of a Taiwanese representative office in its member states to be a breach of the One China policy, Beijing worries that the dispute with Lithuania could cause a domino effect and attempts to discourage other states from following Vilnius's example. Meanwhile, the Lithuanian Ministry of Foreign Affairs said in a statement that Beijing's demands would not affect the government's intention to expand mutually beneficial relations with Taiwan. Similarly, the Lithuanian President stressed his country's determination to defend democratic principles and values and not to back down in its disputes with authoritarian governments. Lithuania's decision to further foster its ties with the self-ruled island comes soon after its drop out of the China-led 17+1 initiative. It also complements Lithuania's increasing sympathy for Taiwan and support for its participation in international organizations like the WHO that can be associated with its own historical experience as a part of the Soviet Union and currently as a neighboring state of the Belarusian oppressive non-democratic regime allied with Russia. However, it is not the only CEE state which pursues deepening of relations with Taiwan. Over the summer, Lithuania along with Czechia and Slovakia donated to Taiwan tens of thousands of COVID-19 vaccine doses. Moreover, in early August, Slovakia and Taiwan signed an Arrangement on Judicial Cooperation in Criminal Matters.
Also noteworthy is the article "Chinese Media Watch: How "crazy, tiny" Lithuania enraged Beijing", also published by the Central European Institute of Asian Studies (CEIAS), an independent think tank with branches in the cities of Bratislava (Slovakia), Olomouc (Czech Republic), and Vienna (Austria).
Mind the Gap: Priorities for Transatlantic China Policy The Aspen Strategy Group, Munich Security Conference and Mercator Institute for China Studies are pleased to share this special report of the Distinguished Reflection Group on Transatlantic China Policy. The report advocates a "pragmatic approach" for the U.S. and Europe towards China "identifying joint action where possible and…'managing differences' where necessary." 
The Taiwan Temptation – Why Beijing Might Resort to Force

Dan Bejar
For more than 70 years, China and Taiwan have avoided coming to blows. The two entities have been separated since 1949, when the Chinese Civil War, which had begun in 1927, ended with the Communists' victory and the Nationalists' retreat to Taiwan. Ever since, the strait separating Taiwan from mainland China—81 miles wide at its narrowest—has been the site of habitual crises and everlasting tensions, but never outright war. For the past decade and a half, cross-strait relations have been relatively stable. In the hopes of persuading the Taiwanese people of the benefits to be gained through a long-overdue unification, China largely pursued its long-standing policy of "peaceful reunification," enhancing its economic, cultural, and social ties with the island. To help the people of Taiwan see the light, Beijing sought to isolate Taipei internationally, offering economic inducements to the island's allies if they agreed to abandon Taipei for Beijing. It also used its growing economic leverage to weaken Taipei's position in international organizations and to ensure that countries, corporations, universities, and individuals—everyone, everywhere, really—adhered to its understanding of the "one China" policy. As sharp as these tactics were, they stopped well short of military action. And although Chinese officials always maintained that they had a right to use force, that option seemed off the table. In recent months, however, there have been disturbing signals that Beijing is reconsidering its peaceful approach and contemplating armed unification. Chinese President Xi Jinping has made clear his ambition to resolve the Taiwan issue, grown markedly more aggressive on issues of sovereignty, and ordered the Chinese military to increase its activity near the island. He has also fanned the flames of Chinese nationalism and allowed discussion of a forceful takeover of Taiwan to creep into the mainstream of the Chinese Communist Party (CCP). The palpable shift in Beijing's thinking has been made possible by a decades-long military modernization effort, accelerated by Xi, aimed at allowing China to force Taiwan back into the fold. Chinese forces plan to prevail even if the United States, which has armed Taiwan but left open the question of whether it would defend it against an attack, intervenes militarily. Whereas Chinese leaders used to view a military campaign to take the island as a fantasy, now they consider it a real possibility.
The article can be found in the July/August 2021 edition of Foreign Affairs.

China's microchip ambitions: Semiconductors advance the next phase of techno-nationalism Comprising the 'brains' for everything, from AI to machine learning and the internet of things (IoT), semiconductors represent the world's most essential and coveted technology. China's tensions with the US and its allies is accelerating strategic decoupling, reshoring, and ringfencing throughout the critical technology landscape. This study is Part 3 of a Hinrich Foundation series, that began with the comprehensive primer Semiconductors at the heart of a US-China tech-war in January 2020. This paper will focus on the actions China has taken to catch up to US tech firepower. As with Part 1 and Part 2, this report also revisits the concept of 'techno-nationalism' – the neo-mercantilist mindset that links a nation-state's technology prowess with its national security, economic prosperity, and socio-political stability. The four themes of previous reports – strategic decoupling, tech alliances, innovation mercantilism, and the In-China-For-China strategy question – are also visited in this report. Export controls and restricted entity lists continue to be weaponized in semiconductor supply chains. Tech alliances continue to affect reshoring and diversification of global value chains.
Passage of Bipartisan Safeguarding American Innovation Act Senators Rob Portman (R-OH), Ranking Member of the Senate Homeland Security and Governmental Affairs Committee, Tom Carper (D-DE), and Marco Rubio (R-FL), applauded the Senate passage of the Safeguarding American Innovation Act as a part of the U.S. Innovation and Competition Act. The U.S. Innovation and Competition Act invests more than $100 billion of taxpayer funds to solidify the United States' leadership in scientific and technological innovation critical to national security and economic competitiveness. The bipartisan Safeguarding American Innovation Act, which passed the Senate Homeland Security and Governmental Affairs Committee earlier this month, will protect the more than $100 billion investment American research and IP from global competitors, like China. Senators Maggie Hassan (D-NH), James Risch (R-ID), Joe Manchin (D-WV), Thom Tillis (R-NC), Chris Coons (D-DE), Josh Hawley (R-MO), Jeanne Shaheen (D-NH), John Barrasso (R-WY), Catherine Cortez-Masto (D-NV), Rick Scott (R-FL), Mitt Romney (R-UT), Chuck Grassley (R-IA), Ron Johnson (R-WI), James Lankford (R-OK), and Marsha Blackburn (R-TN) are cosponsors of the legislation. Portman and Carper, as Chairman and Ranking Member of the Permanent Subcommittee on Investigations (PSI), led a year-long investigation into this issue culminating in a bipartisan report and hearing that detailed how American taxpayers have been unwittingly funding the rise of China's military and economy over the last two decades while federal agencies have done little to stop it. Starting in the late 1990s through its "talent recruitment programs," China began recruiting U.S.-based scientists and researchers to transfer U.S. taxpayer-funded IP for China's military and economic gain. This legislation will ensure that the federal government is taking decisive action to safeguard American innovation. This legislation also addresses the findings of PSI's February 2019 report, which highlighted the Department of Education's lack of enforcement of foreign gift reporting at U.S. colleges and universities, which the department admitted was "historically lax." This bill gives the department increased authority to enforce foreign gift reporting rules and lowers the reporting threshold to increase transparency and prevent foreign interference on U.S. campuses.
The section by section can be found here.
The Liberty to Spy Many, if not most, international legal scholars share the ominous contention that espionage, as a legal field, is devoid of meaning. For them, any attempt to extrapolate the lex lata corpus of the International Law of Intelligence (ILI), let alone its lex scripta, would inevitably prove to be a failed attempt, as there is simply nothing to extrapolate. The notion that international law is moot as to the question of if, when, and how intelligence is to be collected, analyzed, and promulgated, has been repeated so many times that it has become the prevailing orthodoxy. This paper, written by Asaf Lubin (Associate Professor of Law, Indiana University Maurer School of Law), offers a new and innovative legal framework for articulating the law and practice of interstate peacetime espionage operations, relying on a body of moral philosophy and intelligence ethics thus far ignored by legal thinkers. This framework diagnoses the legality of covert intelligence at three distinct temporal stages: before, during, and after. In doing so it follows the traditional paradigms of international law and the use of force, which themselves are grounded in the history of Just War Theory. Adopting the Jus Ad, Jus In, Jus Post model is appropriate, given the symbiosis between espionage and fundamental U.N. Charter principles. This paper focuses on the first of these three paradigms, the Jus Ad Explorationem ("JAE"), a sovereign's prerogative to engage in peacetime espionage and the right's core limitations. Examining a plethora of international legal sources, the paper exemplifies the myriad ways by which peacetime intelligence gathering has been already recognized as a necessary pre-requisite for the functioning of our global legal order. The paper then discusses the nature of the JAE. It argues that the right to spy is best understood as a privilege in Hohfeldian terms. It shows how understanding interstate intelligence operations as a weaker "liberty right" that imposes no obligations on third parties to tolerate such behavior helps capture the essence of the customary norms that form part of the practice. Recognizing the liberty right to spy opens the door for the doctrine of "abuse of rights" to play a role in constraining the practice. By identifying the only two legitimate justifications for peacetime espionage—advancing the national security interests of States and promoting an increase in international stability and cooperation—we are able to delimit what may constitute abusive spying, defined as exploiting one's right to spy not for the purposes for which the right was intended. The paper concludes by introducing four categories of unlawful espionage: (1) spying as a means to advance personal interests; (2) spying as a means to commit internationally wrongful acts; (3) spying as a means to advance corporate interests; and (4) spying as a means to exploit post-colonial relations. Keywords: China, Russia, Iran, surveillance, intelligence, espionage, national security, international trade, and international law.
Executive Order on Protecting Americans' Sensitive Data from Foreign Adversaries On June 9, 2021, the Biden Administration issued an executive order (EO) entitled "Executive Order on Protecting Americans' Sensitive Data from Foreign Adversaries." This EO revoked three prior Trump Administration EOs aimed at addressing risks to U.S. national security stemming from Americans' use of TikTok, WeChat, and other mobile applications (apps) and software developed or controlled by the following Chinese entities: Alipay, CamScanner, QQ Wallet, SHAREit, Tencent QQ, VMate, and WPS Office and their subsidiaries. 
Duterte's China Policy Has Been A Busttt

Philippine President Rodrigo Duterte and Chinese President Xi Jinping walk to a meeting
at the Great Hall of People in Beijing on April 25, 2019. Kenzaburo Fukuhara/Reuters
Philippine Foreign Minister Teodoro Locsin Jr. was peeved at Beijing. It was early May, and hundreds of Chinese vessels had for an extended period been intruding into the Philippines' exclusive economic zone in the South China Sea, where the Chinese government has made expansive maritime territorial claims. After lodging numerous complaints through formal diplomatic channels to no avail, Locsin took to Twitter and unleashed an expletive-filled tirade.
It was not only officials and diplomats in the Philippines who were angry at Beijing's willingness to raise tensions in disputed waters. In a poll conducted by the ISEAS-Yusof Ishak Institute in Singapore earlier this year—even before the latest Chinese incursions into Philippine waters—roughly 87 percent of Filipino respondents said that they considered China's encroachments into other countries' exclusive economic zones and continental shelves to be the "top concern" in the South China Sea. The same number, 87 percent, said that if forced to align with either the United States or China, they would choose the U.S.—the highest share of any country in Southeast Asia. But even as Filipinos of all stripes vent their anger at Beijing, they should be equally furious with their own leader. His policy toward China has failed to either protect the Philippines' national security or to boost its economy.
The author of this article is senior fellow for Southeast Asia at CFR (the Council on Foreign Relations).
For more on Duterte's failed China policy, see the author's new World Politics Review article here.
China's Mass Internment, Torture and Persecution of Muslims in Xinjiang Since 2017, the government of China has carried out massive and systematic abuses against Muslims living in the Xinjiang Uyghur Autonomous Region (Xinjiang). The human suffering has been immense. Huge numbers of men and women from predominantly Muslim ethnic groups have been arbitrarily detained and sent to internment camps or prison. The internment camp system is part of a larger campaign of subjugation and forced assimilation of ethnic minorities in Xinjiang. From late 2019 to mid 2021, Amnesty International has been investigating these abuses. On 10 June 2021 Amnesty published a report based on new first-hand testimonies gathered from former detainees of the internment camps and other people who were present in Xinjiang after 2017, as well as from an analysis of satellite imagery and data. The report provides the most comprehensive account ever of life inside the internment camps. The evidence Amnesty International has gathered provides a factual basis for the conclusion that the Chinese government has committed at least the following crimes against humanity: imprisonment, torture, and persecution. The government's abuses are ongoing. Large numbers of people are still arbitrarily detained in Xinjiang. Moreover, the government has devoted tremendous resources to concealing the truth about its actions. It prevents millions of people living in Xinjiang from communicating freely about the situation and denies journalists and investigators meaningful access to the region. People living abroad are often unable to obtain information about family members in Xinjiang who are missing and presumed to be detained.
Note: Media Bias Fact Check rates Amnesty International left-center biased based on political advocacy that favors liberal policy. They also rate them High for factual reporting due to proper sourcing and a reasonable fact check record.
Recognizing 'geoeconomic risk': Rethinking corporate risk management for the era of great-power competition As economic policy has become a key strategic means in great-power rivalry, states are attempting to control the economic networks that connect the world. Companies are faced with a growing threat of becoming used as pawns in the geoeconomic competition creating new business risks. The latest FIIA Briefing Paper analyses the risks that companies face in the era of great-power competition. In the paper, the authors introduce a novel concept of 'geoeconomic risk' stemming from three geoeconomic drivers. In the era of global supply chains, the geoeconomic disruptions in global politics and the rivalry between the United States and China are a concern for more than just the parties directly targeted. According to the authors, emerging risks call for better definition and an appropriate universal typology. "More data and a better understanding of the root causes, agents, means and implications of geoeconomic risk are required", the authors state.
China's New Anti-Foreign Sanctions Law Sends A Chill Through The Business Community Over the last three years, the U.S. and the European Union have imposed a series of sanctions on Chinese officials and companies. Now China has created a new legal tool to hit back, according to a June 11, 2021 article, written by NPR's Beijing correspondent. Organizations with a foot in both the United States and China may face a tough choice going forward: By complying with American sanctions on China, they face the possibility of tough sanctions in China as a penalty for doing so. On Thursday, Beijing passed a sweeping law designed to counter U.S. and EU sanctions on Chinese officials and major Chinese companies. Those involved in designing or implementing the U.S. and EU sanctions could find themselves or their family members denied visas to China. Their property in China may be seized, and any commercial transaction they attempt with a Chinese institution can be blocked. "The law signals that when you have no standing or power to boss people around, then your law in the U.S. will get you nowhere in China," says Wei Jianguo, a former commerce vice minister. "This law is like the ringing of a gong. It is a warning to the U.S.: You should be worried. China will not endure this treatment as easily as it once did."
MBFC rates NPR (National Public Radio) left-center biased based on story selection that leans slightly left and Very High for factual reporting due to thorough sourcing and very accurate news reporting.
MBFC rates the Chinese Global Times Questionable based on the promotion of Pro-Chinese Government propaganda. They also rate them Mixed for factual reporting due to bias by omission as well as failed fact checks.

Techno-nationalism via semiconductors: Can chip   return to America? China's increasingly competitive relationship with the US and its allies is accelerating strategic decoupling, reshoring, and ringfencing throughout the landscape for semiconductors, the 'brains' essential for almost every industry of the future. Today, microchip manufacturing is disproportionately concentrated in Asia, especially in Taiwan. Perhaps not for long, according to a new Hinrich Foundation report. Read the report, a follow up to last year's primer on semiconductors, to learn the actions taken by the United States to revitalize its semiconductor industry, once the global leader.
Can China keep rising?  "The East is rising," Chinese leaders took to declaring around the time U.S. President Joe Biden entered office, "and the West is declining." The second part of that declaration may draw eye rolls or angry objections in Washington and allied capitals. But the first has become a point of near consensus: a self-assured China, bolstered by years of dazzling economic performance and the forceful leadership of Xi Jinping, has claimed its place as a world power and accepted that long-term competition with the United States is all but inevitable as a result.
But past performance does not guarantee future results. On closer examination, the obstacles to China's continued success look daunting—as Xi himself is well aware, which accounts for both the urgency and the audacity of his agenda, argues the Freeman Chair in China Studies at the Center for Strategic and International Studies (CSIS) in the July/August 2021 issue of Foreign Affairs.
"Ambition and execution are not the same thing," he writes, "and Xi has now placed China on a risky trajectory, one that threatens the achievements his predecessors secured in the post-Mao era." A similar dynamic is at play in the economic realm. The founding partner of Rhodium Group and leader of the firm's work on Asia notes that Beijing's recent policy record is one not of world-beating mastery but of failed attempts at sorely needed reform followed by panicked retreats to central control. Meanwhile, China's official efforts to overcome "its own Gilded Age" have been hamstrung by Xi's simultaneous suppression of the very forces that could tame inequality and corruption in the country, an Associate Professor of Political Science at the University of Michigan and the author of "China's Gilded Age: the Paradox of Economic Boom and Vast Corruption" reveals in the July/August 2021 issue of Foreign Affairs.

Dan Bejar
Other risks loom beyond China's borders. Two of the country's most important scholars convey how the world today looks from Beijing. One other author argues in the same July/August 2021 issue that, amid such distrust, "for the first time in three decades, it is time to take seriously the possibility that China could soon use force" against Taiwan.
This year, Beijing is marking the 100th anniversary of the Chinese Communist Party with ample "nationalist bravado" and "an avalanche of official party histories portraying China as a monolithic powerhouse". Yet, in tracing the course of China and the party over the past century, such triumphalism obscures a more complicated and varied past. Perhaps more important, it masks uncertainty about China's future.
The July/August 2021 issue of Foreign Affairs is devoted to China. 
Chinese FDI in Europe – 2020 Update This report, from Rhodium Group and MERICS, summarizes China's investment footprint in the EU-27 and the United Kingdom (UK) in 2020, analyzing the fallout from the pandemic as well as policy developments in Europe and China. Below are the main findings:
China's global outbound investment hit a 13-year low in 2020: Concerns that the Covid-19 global pandemic slump might trigger another round of Chinese distressed asset-buying proved unfounded. Instead, China's global outbound M&A activity dropped to a 13-year low, as completed merger and acquisition (M&A) transactions totaled just EUR 25 billion, down 45 percent from 2019.
China's FDI in Europe continued to fall, to a 10-year low: Shrinking M&A activity meant the EU-27 and the United Kingdom saw a 45 percent decline in completed Chinese foreign direct investment (FDI) last year, down to EUR 6.5 billion from EUR 11.7 billion in 2019, taking investment in Europe to a 10-year low. However, greenfield Chinese investment reached its highest level since 2016 at nearly EUR 1.3 billion.
The "Big-3" reclaimed their top spot, Poland emerged as a key recipient: More than half of total Chinese investment in Europe went to the "Big Three" economies – Germany, the UK and France. However, the UK saw Chinese investment plummet by 77 percent. Poland rose to become the second most popular destination, though inflows of EUR 815 million were largely concentrated on one acquisition.
Supply Chains and the Global Data Collection Ecosystem Most of the 27 companies tracked by ASPI's Mapping China's Technology Giants project are heavily involved in the collection and processing of vast quantities of personal and organizational data, according ASPI's report. Their global business operations depend on the flow of vast amounts of data, often governed by the data privacy laws of multiple jurisdictions. The Chinese party-state is ensuring that it can derive strategic value and benefit from these companies' global operations. ASPI assesses interactions between the People's Republic of China's political agenda-setting, efforts to shape international technical standards, technical capabilities, and use of data as a strategic resource. ASPI argues this 'Data Ecosystem' will have major implications for the effectiveness of data protection laws and notions of digital supply-chain security. 
Reining in China's Technology Giants Since the launch of ASPI ICPC's Mapping China's Technology Giants project in April 2019, the Chinese technology companies ASPI canvassed have gone through a tumultuous period. While most were buoyed by the global Covid-19 pandemic, which stimulated demand for technology services around the world, many were buffeted by an unprecedented onslaught of sanctions from abroad, before being engulfed in a regulatory storm at home. This report describes the effects of the Covid-19 pandemic, the growing China–US strategic and technological competition, and a changing Chinese domestic regulatory environment on the 27 Chinese Technology Giants ASPI covers on their map.
Pandas: China's most popular diplomats Giant pandas are the most popular attractions at zoos worldwide, but which countries get these highly prized vulnerable species from the People's Republic of China (PRC)? The answer is surprisingly complex and depends on the host country's econ­omy size and trade relationship with the PRC. The PRC's deployment of giant pandas is a deliberate part of its soft-power diplomacy that complements its broader bilateral relationships. A giant panda loan often coincides with major diplomatic events and trade deals. However, panda diplomacy is still a limited tool, and it cannot sustain positive relations between China and panda host countries in the lon­ger term.
This AEI report aims to help policymakers and the public understand how countries are selected to host giant pandas. It begins with an overview of the his­tory of panda diplomacy. It then examines the rela­tionship between panda diplomacy and a country's gross domestic product and trade volume with the PRC. Finally, the report looks at case studies of coun­tries that received giant pandas and examines how the panda loans affected their recent relationship with General Secretary Xi Jinping's government.
Key Points
While China's relationship with the world is experiencing heightened tensions, giant pandas remain a prominent tool for Beijing to reach international audiences. Panda diplomacy is deliberate, extensive, and popular.

Host countries of giant pandas are selected in part because of their economic relationship with the People's Republic of China (PRC). A country's trade volume with the PRC is the best predictor for the number of pandas China has gifted or loaned, even when controlling for economic size. 

Panda diplomacy provides a momentary injection of goodwill and often coincides with major diplomatic events and trade deals. However, panda diplomacy is still a limited tool, and it cannot sustain positive relations between China and panda host countries in the longer term.
What if …? Economic consequences for Australia of a US–China conflict over Taiwan The possibility of a military conflict between China and the US over Taiwan is receiving greater attention from both military strategists and political leaders, but there has been little focus on the likely economic consequences. A new ASPI report examines the implications for the Australian economy should its trade with China be severed in the event of a conflict. It shows there would be widespread loss of employment, along with consumer and business shortages that could only be managed with rationing. 
US has something to learn from China about securing rare earths The Biden administration's 100-day review of supply-chain vulnerabilities has produced fresh insights into the United States' dependence on China for supplies of rare earths and other critical materials but falls far short of a strategy to achieve any change. The review, led by the Department of Defense, expresses confidence that military needs for critical minerals could be met in a crisis by diverting supplies from civilian use, but says this would result in 'very large essential civilian shortfalls' that would be more than 10 times the peacetime needs of defence. 'Even though the US Armed Forces have vital requirements for strategic and critical materials, the essential civilian sector would likely bear the preponderance of harm from a disruption event,' the report says. The review of critical minerals supplies is included in a four-part study also covering semi-conductors, pharmaceutical ingredients and large-scale batteries, which President Joe Biden ordered shortly after assuming office and released last week. More in this article in ASPI's The Strategist.
China's Public Diplomacy Operations Executive Summary (of Working Paper 2021.1. Oxford, UK: Programme on Democracy and Technology, Oxford University, 2021): As part of the strategy to "tell China's story well", the People's Republic of China (PRC) has significantly expanded its public diplomacy efforts. The PRC makes use of both state-controlled media outlets and over 270 diplomatic accounts on social media platforms such as Twitter and Facebook to amplify the PRC's perspective on global affairs and current events. To understand the structure and function of the PRC's public diplomacy operations, we analyze every tweet and Facebook post produced by PRC diplomats and ten of the largest state- controlled media outlets between June 2020 and February 2021.
PRC diplomats and state-backed media agencies are highly active on Twitter. Altogether, PRC diplomats tweeted 201,382 times, averaging 778 times a day for a nine-month period. Their posts were liked nearly seven million times, commented on one million times, and retweeted 1.3 million times. On Facebook, diplomats produced 34,041 posts over this period.

The PRC's state-controlled media outlets managed 176 accounts on Twitter and Facebook. These accounts produced content in English and a variety of other international languages. These accounts posted seven hundred thousand times, were liked 355 million times, and received over 27 million comments and re-shares in the study period.

Despite high levels of activity by PRC diplomats on social media, PRC diplomat user accounts are rarely labeled accurately. Many social networking firms have introduced transparency labelling for foreign government officials and state-controlled media organizations. Yet, we find that these labels are used inconsistently. For example, on Twitter only 14% of PRC diplomat Twitter accounts are labeled as government affiliated.

The social media accounts of PRC diplomats and state- backed media agencies receive lots of engagement from other users, but a substantial proportion of this engagement is generated by rapid-fire "super-spreader" accounts. These user accounts rapidly engage with PRC content with just seconds between retweets. We find that nearly half of all PRC account retweets originate from the top 1% of the super-spreaders.

On Twitter, a considerable share of the engagement with PRC accounts on Twitter come from user accounts that the company eventually suspends for platform violations. We find more than one in ten of the retweets of PRC diplomats between June 2020 and January 2021 were from accounts that were later suspended by Twitter. Many of these accounts were active for months before being disabled.
They called it a conspiracy theory. But Alina Chan tweeted life into the idea that the virus came from a lab. Alina Chan started asking questions in March 2020. She was chatting with friends on Facebook about the virus then spreading out of China. She thought it was strange that people were saying it had come out of a food market. If that was so, why hadn't anyone found any infected animals? She wondered why no one was admitting another possibility, which to her seemed very obvious: the outbreak might have been due to a lab accident. Many scientists quietly believed that a lab leak was possible—if only because the world center of research on bat viruses similar to SARS-CoV-2, the Wuhan Institute of Virology, happens to be eight miles from where the outbreak's early cases were seen. But there wasn't any real evidence, and it didn't pay to "take on the big guys," as one accomplished virologist told me.
But Chan's view is now widely held. That's due partly to her Twitter account. Throughout 2020, she relentlessly stoked scientific argument and doubts, sometimes adding a unicorn GIF to highlight research she found implausible. Read this absolutely compelling story in MIT Technology Review.
Lofty principles, conflicting incentives: AI ethics and governance in China The key findings of this MERICS China Monitor (providing an analysis of China's emerging AI ethics and governance landscape) are:
The threats are the same today – except in an even larger number of sectors that are now relying on semiconductors for their product. Rather than being driven entirely from the top, China's AI ethics and governance landscape is shaped by multiple actors and their varied approaches, ranging from central and local governments to private companies, academia and the public. China's regulatory approach to AI will emerge from the complex interactions of these stakeholders and their diverse interests.

Despite notable advances in tackling ethics issues in specific AI sectors and application areas, a large gap remains between defining broad ethical principles and norms to guide AI development and putting these into practice through standards, laws and government or corporate regulation.

This gap is not unique to China, but particularly pronounced in the Chinese context since AI is seen as a core means for fully achieving the governance vision of the Chinese Communist Party, which prioritizes state control and political security over individual rights. Genuine concern for AI ethics coexists with Beijing's use of AI for mass surveillance and ethnic profiling.

Given China's rapid AI advancements, its expanding presence in global standards bodies and Chinese tech companies' growing global reach, it will be critical for the EU to engage with Chinese actors. However, European policymakers must take the government's rhetoric on AI ethics with great caution and push back against China's use (and export) of AI for surveillance and other applications that threaten human rights and fundamental freedoms.
How YouTube's rules are used to silence human rights activists MIT Technology Review reports that for over a week now, one corner of YouTube used by Kazakh dissidents and close observers of human rights in Xinjiang has been intermittently available. On June 15, the YouTube channel of "Atajurt Kazakh Human Rights" was "terminated for violating YouTube's community guidelines." A few days later, the channel was reinstated without explanation. Then, several days after that, 12 of the channel's earliest videos disappeared from its public feed. The channel publishes video testimonies from family members of people imprisoned in China's internment camps in Xinjiang. To ensure the credibility of these statements, people show proof of identity. For years, these videos have not been a problem, at least not from YouTube's perspective. That changed last week. YouTube claimed it took videos down over concerns the people identified in them might be harassed. Then it took down some more videos, claiming they were in violation of its violent criminal organizations policy. What's going on? Read the full story.
To deter the PRC… This new ASPI report outlines the implications, concepts, dilemmas and coercive theory when considering deterring Chinese military actions. This report is the first in a series of publications, workshops and events as part of a joint project between the Australian Strategic Policy Institute and the United States China Aerospace Studies Institute (CASI) which seeks to better understand the nature of deterrence, particularly from the viewpoint of the Chinese Communist Party and its People's Liberation Party (PLA). Over the coming months, ASPI and CASI will examine the concept of deterrence, how democratic countries and the PRC approach deterrence, what liberal democracies are doing to deter China and what China is doing to deter them, and assess the impacts of those efforts. The series will culminate in an in-person conference that will put forward policy options for Australia, the US and our allies and partners. These publications will draw heavily from original PRC and PLA documents, as well as interviews and personal experiences, to help understand the framework that the PRC uses when it thinks about what we call here 'deterrence'.
Fact Sheet: New U.S. Government Actions on Forced Labor in Xinjiang On Thursday, June 24, the White House announced new actions to combat the use of forced labor in the production of silica-based products, including but not limited to solar-grade polysilicon in the Xinjiang province of the People's Republic of China (PRC). These actions are an important step toward addressing the serious problem of forced labor in the PRC's supply chain and globally. 
Hsinchu: Taiwan's city at the centre of China's conundrum Centres of power such as Beijing, Washington and Taipei have generated most of the headlines as the Taiwan challenge gets ever hotter. But, while these cities clearly have plenty of input into how events develop, it is a much less known centre of influence that may hold the key to the future of relations across the Taiwan Strait.
Hsinchu, on the north-west coast of Taiwan, may in fact be the most significant hot spot as this volatile contest cuts deeper into the international political landscape. Taiwan's seventh largest city, Hsinchu is the headquarters of the Taiwan Semiconductor Manufacturing Company. And however the United States and China might posture or rattle sabres with two of the world's biggest militaries, it is this company in this unheralded corner of the island that may hold the key to how the narrative plays out. More in this article in The Interpreter (Lowy Institute) of June 29, 2021.
Whitehall and Hikvision The video of the former UK Secretary of State for Health, backing into his wood-paneled office, closing the door behind him and kissing an aide, has been viewed online more than 1.5 million times in two days. Yet while Secretary of State for Health has resigned, questions remain about whether the secret camera had been placed there without his knowledge. It has also emerged that the Department of Health and Social Care building in London is fitted with cameras made by the Chinese tech giant Hikvision, which produces surveillance equipment under contracts worth $290 million with the authorities in China's Xinjiang region, and has been linked to the mass oppression of Uyghur and other Muslim minorities. Reports from the region have shown Hikvision cameras installed in "re-education camps", where as many as a million Uyghurs are imprisoned. More details in this .coda article.
America's Critical Strategic Vulnerability: Rare Earth Elements The People's Republic of China's (PRC) dominance over global critical mineral supply chains presents one of the largest strategic vulnerabilities to the United States and her allies since the Arab oil embargo-triggered energy security crisis of the 1970s. The embargo, which coincided with dwindling U.S. reserves and a devaluation of the dollar, brought devastating impacts: high inflation coupled with economic stagnation (stagflation), and a quadrupling of oil prices. Today, the PRC holds a similar power to hobble the economic prosperity and military-industrial capabilities of adversaries around the globe. Rare earth elements (REEs) and critical minerals are crucial for production in high-tech manufacturing. In 2018, the U.S. Department of Interior identified 35 critical minerals crucial for national and economic security, including 17 REEs from atomic numbers 57-71 such as cerium and promethium as well as chemically similar elements scandium and Yttrium. Though these elements are considered "rare," there are misconceptions regarding their availability. REEs are, despite the name, commonly found in the Earth's crust. However, extracting economically mineable concentrations is difficult, thus their relatively low supply. FPRI's essay builds on past issues of Orbis and previous entries in Revisiting Orbis on rare earths and technological vulnerabilities. This piece also serves to announce the new Africa program at FPRI and the Summer 2021 Issue of Orbis, which will have a special focus on the role and relevance of Africa to U.S. foreign policy.
Ending Human Trafficking in the Twenty-First Century "Human trafficking is more than a violation of human rights: it is also a threat to national security, economic growth, and sustainable development," warns a new Council Special Report, Ending Human Trafficking in the Twenty-First Century. However, the United States "lacks sufficient authorities and coordination across the federal government to address human trafficking adequately, instead treating this issue as ancillary to broader foreign policy concerns." "Critics who challenge the allocation of political and financial capital to combat human trafficking underestimate trafficking's role in bolstering abusive regimes and criminal, terrorist, and armed groups; weakening global supply chains; fueling corruption; and undermining good governance," write Council on Foreign Relations (CFR) Senior Fellows. Trafficking generates $150 billion in illicit profits, and "an estimated twenty-five million people worldwide are victims—a number only growing in the face of vulnerabilities fueled by the COVID-19 pandemic." Despite efforts by multilateral institutions and governments around the world, the authors explain that "anti-trafficking efforts are undermined by insufficient authorities, weak enforcement, limited investment, and inadequate data."  
Techno-nationalism via semiconductors: Can chip manufacturing return to America? China's increasingly competitive relationship with the US and its allies is accelerating strategic decoupling, reshoring, and ringfencing throughout the landscape for semiconductors, the 'brains' essential for almost every industry of the future. Today, microchip manufacturing is disproportionately concentrated in Asia, especially in Taiwan. Perhaps not for long, according to a new Hinrich Foundation report. Read the report, a follow up to last year's primer on semiconductors, to learn the actions taken by the United States to revitalize its semiconductor industry, once the global leader.
Re-Thinking Assumptions for a 21st Century Middle East American policy in the Middle East is based on outdated assumptions. According to FPRI's recent report, there are at least four novel elements in or impacting the Middle East that require an adjustment in strategy: 1) North American oil independence, 2) the rise of China, 3) diminishing conventional threats to Israel, and 4) the rise of sub-state actors (in addition to widely recognized terror and insurgent groups, other actors, such as financial firms, technology firms, and private military firms, interact with power that rivals that of weak states). These new factors—alone and in concert—make legacy strategies at least suboptimal, if not unsuitable. Today's Middle East exhibits very different characteristics than that of the Middle East of the past century. An acceptable and suitable strategy must incorporate these new data points.
Reining in China's Technology Giants Since the launch of ASPI ICPC's Mapping China's Technology Giants project in April 2019, the Chinese technology companies ASPI canvassed have gone through a tumultuous period. While most were buoyed by the global Covid-19 pandemic, which stimulated demand for technology services around the world, many were buffeted by an unprecedented onslaught of sanctions from abroad, before being engulfed in a regulatory storm at home. This report describes the effects of the Covid-19 pandemic, the growing China–US strategic and technological competition, and a changing Chinese domestic regulatory environment on the 27 Chinese Technology Giants ASPI covers on their map.
What if …? Economic consequences for Australia of a US–China conflict over Taiwan The possibility of a military conflict between China and the US over Taiwan is receiving greater attention from both military strategists and political leaders, but there has been little focus on the likely economic consequences. A new ASPI report examines the implications for the Australian economy should its trade with China be severed in the event of a conflict. It shows there would be widespread loss of employment, along with consumer and business shortages that could only be managed with rationing.
The global chip shortage is creating a new problem: More fake components Industry analysts believe that the global chip shortage is creating the perfect environment for counterfeit semiconductors to enter the market.

Image: Sefa Ozel / Getty Images
Industry experts are looking at the growing global chip shortage with a degree of anxiety. Demand is surpassing supply and it is only a question of time before the market is flooded with semiconductors that just about pass for authentic, but in reality, are illegal products that could pose huge safety risks. Since the start of the COVID-19 crisis, in effect, electronic device makers have come under the pressure of unprecedented demand from consumers.  With companies and individuals alike rushing to purchase PCs, smartphones, tablets and gaming consoles, manufacturers have suddenly found themselves needing vast amounts of semiconductors – the tiny components that constitute the "brain" of most electronics, and which are produced in most cases by third-party companies called foundries. But foundries are currently unable to produce chips fast enough to cope with the surge in demand. This has led to global shortages that have now trickled down to most industries that depend on electronic components, ranging from basic home appliances like microwaves and refrigerators to the automotive sector. With demand looking unlikely to calm down, analyst firm Gartner estimates that the semiconductor shortage will last well into 2022. For some companies, this will mean finding an alternative way of stocking up on chips or shutting down production lines. In other words, the current times are opening up a golden opportunity for electronic component counterfeiters and fraudsters to step in and it would not be the first time that disruptions to the electronic components supply chain triggered a wave of counterfeit products. In 2011, for example, an earthquake and tsunami hit Japan, which is one of the key producers of electrolytic capacitors that are used to power some medical devices. Manufacturers came under pressure and started purchasing from third-party distributors. Before long, counterfeit products had made their way into the supply chain. In 2012 it was discovered that more than one million counterfeit electronic parts had been sourced from China were used in equipment designed for the Air Force, the Navy and for Special Operations.
The threats are the same today – except in an even larger number of sectors that are now relying on semiconductors for their products. For businesses looking to purchase semiconductors in the next months, therefore, a heavy dose of auditing, cross-checking and investigating will be required to avoid buying into the most tempting offers. Lead times won't be shortening any time soon – and as counterfeiters jump on the opportunity, vigilance will be key to avoid falling prey to malicious sellers. Read the full article from ZDNET.
Note: The specialists at GTAC have a strong international focus developed from years of hands-on work in Europe, MENA and Asia, and in early 2021 we entered a new market: the Americas. Throughout these regions we are supported by a reliable network of local investigative specialists. Brand owners with anti-counterfeiting programs use us as their eyes and ears in the marketplace, as their liaison with local (trustworthy) attorneys, and, if needed, as their liaison with local law enforcement. Please contact us if you require our most recent issue of our Capability Statement.
Why the United States Needs a National Advanced Industry and Technology Agency With the rise of China and other economic competitors, the United States requires a national advanced technology strategy. While there are many steps Congress and the Biden administration should take—steps the Information Technology and Innovation Foundation (ITIF) has detailed in numerous reports—the most important is the creation of a dedicated national technology agency, according to ITIF. Well over 50 nations have already established such bodies. This new agency, ideally at least as large as the National Science Foundation (NSF), would lead a number of core tasks, including analyzing U.S. industry strengths, weaknesses, opportunities, and threats and responding with well-resourced solutions, including support for domestic research and development (R&D) and production partnerships and investment in advanced research facilities. Read the full report here.
The Making of a G7 Summit Leaders from the Group of Seven (G7) and four guest countries meet for a summit in the UK on June 11-13. Though the agenda will be expansive, considerable attention will be focused on an industrial giant that is not in the room: China. G7 leaders have an opportunity to reset the narrative on growth prospects for the democratic world and show they are capable of collective action on areas of shared concern involving China. This note from the Rhodium Group looks back at the early drivers of the G7 and what we might see this time.
The Non-SDN Communist Chinese Military Companies List (NS-CCMC) The NS-CCMC, formerly the China E.O.13959, screening list from the U.S. Treasury is now part of the Consolidated Screening List (CSL). This publication by the Department of the Treasury's Office of Foreign Assets Control (OFAC) is designed as a reference tool that identifies persons subject to certain sanctions that have been imposed under statutory or other authorities, including certain sanctions described in Executive Order 13959, "Addressing the Threat from Securities Investments that Finance Communist Chinese Military Companies," as amended by Executive Order 13974. 
Executive Order on Addressing the Threat From Securities Investments That Finance Certain Companies of the People's Republic of China On June 3, 2021, President Biden issued Executive Order 14032 modifies the Trump-era investment ban on "Communist Chinese Military Companies" (CCMC). The new "Chinese Military-Industrial Complex Companies" (CMIC) sanctions program retains the basic parameters of the previous CCMC sanctions program by restricting U.S. persons from engaging in certain kinds of transactions in the publicly traded securities (and derivatives) of designated Chinese entities—while providing greater specificity on the restrictions actually imposed and broadening the scope of the listing criteria to reflect stated foreign policy priorities of the Biden administration.
China's Foreign Technology Wish List At the core of China's modernization strategy is a drive to acquire foreign technology know-how through both illicit and legal means. What's been less clear until now is exactly which foreign tech projects China's government and Communist Party hope to acquire, and who is responsible for doing so. In their latest issue brief, CSET researchers analyze more than 600 reports filed by Chinese science and technology diplomats in 37 countries. The reports reflect Beijing's assessments of which foreign technologies Chinese businesses should access to advance the country's quest to become an economic
ODNI Releases Annual Intelligence Community Transparency Report Consistent with the Foreign Intelligence Surveillance Act of 1978 (FISA), as amended (codified in 50 U.S.C. § 1873(b)), and the Intelligence Community's (IC) Principles of Intelligence Transparency, released the eighth annual Statistical Transparency Report Regarding Use of National Security Surveillance Authorities. This report provides the public not only statistics, but also contextual information, regarding the scope of the government's use of FISA authorities, National Security Letters, and other national security authorities.  In conjunction with other publicly released material, this report adds insight into the rigorous and multi-layered oversight framework governing the IC that safeguards the privacy and civil liberties of United States (U.S.) person and non-U.S. person information acquired pursuant to these national security authorities. 
Who Is Winning the AI Race: China, the EU, or the United States? The nations that lead in the development and use of artificial intelligence (AI) will shape the future of the technology and significantly improve their economic competitiveness, while those that fall behind risk losing competitiveness in key industries. This report (written by  a research analyst at the Center for Data Innovation and the director of the Center for Data Innovation and vice president of the ITIF, a nonprofit, nonpartisan think tank) examines the progress China, the European Union, and the United States have made in AI relative to each other in recent years and provides an update on a report released on their comparative rankings from 2019. It finds that the United States still holds a substantial overall lead, but that China has continued to reduce the gap in some important areas. In addition, the EU continues to fall behind. Absent significant policy changes in both the EU and United States—particularly the EU changing its regulatory system to be more innovation-friendly, and the United States developing and funding a more proactive national AI strategy—it is likely that the EU will remain behind both the United States and China, and that China will eventually close the gap with the United States. 
Remarks by President Biden in Address to a Joint Session of Congress On April 28, 2021, President Biden delivered his first address to a joint session of Congress.  Below you'll find some sections of his speech that are particularly relevant to readers interested in China.
"America is moving — moving forward — but we can't stop now.  We're in competition with China and other countries to win the 21st Century.  We're at a great inflection point in history. Decades ago, we used to invest 2 percent of our gross domestic product in America — 2 percent of our gross domestic product — in research and development. Today, Mr. Secretary, that's less than 1 percent.  China and other countries are closing in fast.  We have to develop and dominate the products and technologies of the future: advanced batteries, biotechnology, computer chips, clean energy. The investments I propose tonight also advance a foreign policy, in my view, that benefits the middle class. That means making sure that every nation plays by the same rules in the global economy, including China. In my discussions with President Xi, I told him we welcome the competition. We're not looking for conflict. But I made absolutely clear that we'll defend America's interests across the board. America will stand up to unfair trade practices that undercut workers and American industries like subsidies from state to state-owned operations and enterprises and the theft of American technology and intellectual property. I also told President Xi that we'll maintain a strong relationship in the Indo-Pacific, just as we do for NATO and Europe. Not to start a conflict, but to prevent one. I told him what I said to many world leaders, that America will not back away from our commitments, our commitments to human rights and our fundamental freedom and our alliances. I pointed out to him, no responsible American president could remain silent when basic human rights are being so blatantly violated. An American president has to represent the essence of what our country stands for". The full text of Biden's remarks can be found here.
Germany's Indo-Pacific frigate may send unclear message An insightful analysis by Chatham House  into how Germany's changing plans for its Indo-Pacific frigate could end up undermining its original ambitions to uphold international law.
Two-Way Street – US-China Investment Trends – 2021 Update The US-China Investment Project tracks and analyzes investment flows between the world's two largest economies. This report, by Rhodium Group for the National Committee on U.S.-China Relations, summarizes key developments in 2020, an unusually volatile year due to the COVID-19 pandemic, and analyzes the outlook for 2021 as the world slowly emerges from this period of crisis and a new US administration settles in.
The key findings of the report are:
Foreign direct investment (FDI) between the US and China fell to $15.9 billion in 2020 amid pandemic related disruptions and rising tensions in the US-China relationship. This was the lowest level for two-way flows since 2009.

Completed Chinese FDI in the United States reached $7.2 billion in 2020, a slight increase from $6.3 billion in 2019. This was driven by a handful of large acquisitions, including Tencent's purchase of a share in Universal Music Group and Harbin Pharmaceutical Group's acquisition of GNC Holdings. M&A transaction volumes remained low, and acquisitions were mostly confined to consumer-oriented sectors. Greenfield investments did not see a meaningful uptick.

US FDI in China dropped to $8.7 billion in 2020, a fall of roughly a third from the previous year, and the lowest level since 2004. Greenfield investment was disrupted by the pandemic in the first half of the year but picked up strongly in the second half as China's economy stabilized and COVID-19 related restrictions eased. Compared to previous years, US investors launched fewer significant greenfield projects. The slowdown in acquisitions was more acute, with only a handful of medium-sized takeovers in consumer products and financial services.
Montenegro's Loan and the EU According to the 16th issue of the #CEEasia newsletter, Montenegro asked the EU for help with repayment of a $1 billion loan it received from the Export-Import Bank of China in 2014. The loan was set to finance a segment of the Bar-Boljare motorway which links the Adriatic Sea to the country's border with Serbia. Although the EU expressed its intention to help with financing of the remaining part of the motorway, it refrained from helping with the bailout. This leads to a real possibility of China taking control of some of the country's assets as a collateral. The loan for the project, which is widely seen as an example of the BRI-associated 'debt trap', was acquired under the previous government led by the long-reigning Democratic Party of Socialists. The loan was taken despite the EU's feasibility studies warning against it. But following the recent ruling party change, the new government decided to take a more critical stance towards China, arguably due to the mounting criticism by civil society of the project's lack of transparency, environmental degradation and negative implications for the country's EU accession prospects.
The argument that the EU wants to refrain from helping Montenegro as a deterrence for other countries to follow suit, seems unsubstantiated. Several members of the European Parliament and policy analysts therefore argue in favor of help to Montenegro, seeing it as a geopolitical opportunity to not only counter Chinese influence but also improve the EU's image in a region increasingly dominated by anti-EU populist politicians, who are keen on sacrificing long-term developments of their respective countries for short-term profits the dubious BRI projects offer. Further reading in CHOICE, South China Morning Post, and The Diplomat.
The Penn Project on The Future of U.S.-China Relations The Penn Project on the Future of US-China Relations is pleased to announce the publication of updated policy papers, on the occasion of the completion of the first 100 days of the new Biden administration and with a view ahead.  All of the policy papers were originally published in Fall 2020 and most of the papers have been updated as of April 30, 2021. The papers (regarding National Security, Trade, Academic Freedom and Human Rights) can be found on the Project website here, and updated papers are so marked in the respective paper headings ("updated Spring 2021").
Why the United States Needs to Support Near-Term Quantum Computing Applications Quantum computing leverages principles from quantum mechanics, a branch of physics concerned primarily with the unique behaviors of subatomic particles such as electrons and photons, to enable new, extremely powerful computing architectures. Quantum computers use quantum bits (qubits), which operate according to the quantum laws of "superposition" and "entanglement," that enable them to do things traditional computers cannot. Because quantum computing is still early in its development phase, many assume that practical applications are still years away. In reality, as this report (written by a policy analyst at the Center for Data Innovation; the Center is a part of the nonprofit, nonpartisan Information Technology and Innovation Foundation – ITIF – an independent, nonprofit, nonpartisan think tank) documents, organizations are already using quantum computers today in real-world applications. As other nations, such as China, rapidly scale up their investments to develop and use quantum computing, U.S. policymakers should ensure the United States remains a leader. In particular, investing in near-term quantum computing applications would bolster the development of longer-term use cases of the technology, thereby helping to cement U.S. economic competitiveness and protect national security.
Does China Really Dominate Global Innovation? The Impact of China's Subsidized Patent Application System Over the past two decades, China's economy has grown impressively, while its patented innovations have grown at an even higher rate. But this patent application trend should not simply be accepted at face value. The Chinese government has subsidized patent applications as part of its overall domestic industrial policy agenda, which underlies China's claim to have "won" the global innovation race, especially in next-generation technologies like 5G or AI. This new Hudson policy memo (founded in 1961, Hudson Institute challenges conventional thinking and helps manage strategic transitions to the future through interdisciplinary studies in defense, international relations, economics, health care, technology, culture, and law) shows that high rates of patenting do not necessarily mean dominance, or even leadership, among the world's innovation economies. China's recent announcement that it plans to end subsidies for patent applications by 2025 perhaps acknowledges that its policy is no longer necessary or desirable. In any case, uncritical reports of China's innovation dominance, overall or in prominent high-tech sectors, should be viewed skeptically, especially by policymakers.
Suez Closure Brightens the Future of China's New Silk Road On March 23, the 240,000-ton, 1,312 feet long (399 meters) Panama-flagged MV container ship Ever Given, drawing 47 ft 7 in (14.5 meters) and carrying 20,000 containers from China's Yantian International Container Terminal in Shenzhen, Guangdong Province bound for Rotterdam, accidentally grounded its bow on the Suez Canal's eastern bank while transiting northwards from the Red Sea. It completely blocked the passage in both directions for six days, stranding hundreds of waiting vessels and paralyzing the global shipping industry. While the Suez blockage underlined the potential vulnerability of global maritime transport, it also highlighted the value of China's multi-vector transport export approach, first outlined in its 2013 "One Belt, One Road" (now renamed the Belt and Road Initiative) strategy, and particularly its reliance on a burgeoning Eurasian rail network (i.e., the Belt). Details are here in Jamestown's China Brief.
Russia in the Middle East: National Security Challenges for the United States and Israel in the Biden Era As U.S.-Russian tensions continue to escalate, Russia's role in the Middle East is of urgent concern both to Israel and the United States. Potential flashpoints include Syria and Iran, new spheres of Russian engagement from Afghanistan to North Africa, and sensitive cybersecurity issues. Russia is also moving in tandem with China to push back against U.S. dominance, including in the Middle East. Leading experts from Israel and the United States address these challenges in a new report published by the Kennan Institute (The Kennan Institute is the premier U.S. center for advanced research on Russia and Eurasia and the oldest and largest regional program at the Woodrow Wilson International Center for Scholars and the Interdisciplinary Center Herzliya (IDC Herzliya is one of Israel's leading academic institutes).
The Eagle and the Dragon in Africa: Comparing Data on Chinese and American Influence Pundits and past U.S. policymakers may have gotten it wrong: With its investments in Africa, ranging from infrastructure to student exchanges, China is not canceling the influence of the United States on the continent. What China has done through its investments has been to increase its influence in Africa significantly, to the point that it moderately exceeds that of the United States. But new research (published in War on the Rocks, a platform for analysis, commentary, debate and multimedia content on foreign policy and national security issues through a realist lens) authored by an adjunct research staff member in the Africa Program at the Institute for Defense Analyses, a research staff member in the Intelligence Analysis Division at the Institute for Defense Analyses and a research associate in the Joint Advanced Warfighting Division at the Institute for Defense Analyses, indicates that, with careful attention to priorities and targeted programmatic investments, the United States can remain a formidable force on the continent. This observation could be crucial to informing a new U.S. policy toward Africa that, while taking China into account, is focused on the countries of the continent.
China in spotlight as EU considers carbon tax The EU's consideration of a carbon border tax is prompting the question: how will such a tax impact China and the multinationals manufacturing and exporting from the world's largest emitter of greenhouse gas? One of Hinrich Foundation's research fellows explains that higher operating costs may accelerate the offshoring of production outside of China by companies already concerned about reported human rights violations in Xinjiang province. Paterson also suggests that border carbon taxes that behave similarly to countervailing duties could become more common.
Chinese Companies Listed on Major U.S. Stock Exchanges (Update) The U.S.-China Economic and Security Review Commission released a semi-annual update to its list of Chinese companies listed on the NASDAQ, New York Stock Exchange, and NYSE American, the three largest U.S. stock exchanges. As of May 5, 2021, there were 248 Chinese companies listed on these U.S. exchanges with a total market capitalization of $2.1 trillion. On October 2, 2020, when this table was last updated, there were 217 companies with a total market capitalization of $2.2 trillion. There are eight national-level Chinese state-owned enterprises (SOEs) listed on the three major U.S. exchanges. Read the updated list here.
2020 Report on International Religious Freedom The annual Report to Congress on International Religious Freedom – the International Religious Freedom Report – describes the status of religious freedom in every country. The report covers government policies violating religious belief and practices of groups, religious denominations and individuals, and U.S. policies to promote religious freedom around the world. The U.S. Department of State submits the reports in accordance with the International Religious Freedom Act of 1998. The Department of State submits this annual report to the Congress in compliance with section 102(b) of the International Religious Freedom Act of 1998 (P.L. 105-292), as amended.  This report covers the period between January 1 and December 31, 2020. U.S. embassies prepare the initial drafts of country chapters based on information from government officials, religious groups, nongovernmental organizations, journalists, human rights monitors, academics, media, and others.  The Office of International Religious Freedom, based in Washington, collaborates in collecting and analyzing additional information, drawing on its consultations with foreign government officials, domestic and foreign religious groups, domestic and foreign nongovernmental organizations, multilateral and other international and regional organizations, journalists, academic experts, community leaders, and other relevant U.S. government institutions.
The State Department's guiding principle is to ensure that all relevant information is presented as objectively, thoroughly, and fairly as possible.  Motivations and accuracy of sources vary, however, and the Department of State is not in a position to verify independently all information contained in the reports.  To the extent possible, the reports use multiple sources to increase comprehensiveness and reduce potential for bias.  The views of any particular source are not necessarily those of the United States government.  The report is designed to spotlight examples of government and societal action that typify and illuminate issues reported in each country.  Specific inclusions or omissions should not be interpreted as a signal that a particular case is of greater or lesser importance to the U.S. government, or that a case is the only available example.  Rather, the goal is to shed light on the nature, scope, and severity of actions impacting religious freedom through illustrative examples.
The EU's new trade strategy can lead to conflict spirals and setbacks in foreign relations The European Union's new trade strategy will bring about significant changes in the structures as well as the objectives of the bloc's trade policy. These changes are a way for the union to respond to growing pressure stemming from the rise of China and the intensifying power competition between the US and China. The new strategy will further strengthen the shift in which other policies are more closely tied to trade-related decision-making. In the latest FIIA Comment, the authors note that instrumentalizing trade policy to promote the values and interests of the EU is crucial as global issues become increasingly complex. Meanwhile, conflicts with China can be expected, and the strategy might cause setbacks in transatlantic relations. However, neither external nor internal challenges should lead to the stagnation of the EU's ability to take action or to the failure of strategically important agreements.
The Prize: Why Taiwan and its Place in the Global Semiconductor Supply Chain Matter to the United States Taiwan has always played a vital role in strategic thinking on the defense of Japan and of the U.S.'s position in the western Pacific. As part of the "first island chain" that circles the Chinese coast, Taiwan would be geopolitically priceless to Beijing if under its control. Such a situation would reverse today's assumptions about the security of Japan and other American allies in Asia, as well as accelerating China's ascent toward global power. International markets are also waking up to Taiwan's position in the global semiconductor supply chain, which is critical for the manufacture of almost all technological products, including military systems. If disabled by war or isolated under Beijing's control, the loss of Taiwan as a manufacturer of advanced computer chips would rock the world.
Even so, a comprehensive poll of elites in Southeast Asia shows a reluctance to support Taiwan in the event of outright confrontation with China. That includes not only a possible over-the-beach Chinese invasion of Taiwan, but also operations consisting of "all means short of war" meant to intimidate Taiwan into negotiating an accommodation with Beijing.
For Beijing, Taiwan exists as a constant existential threat and a rival to the legitimacy of the Chinese Communist Party's (CCP) rule over a single China. CCP General Secretary and Chinese President Xi Jinping, appears to be unwilling to leave the Taiwan issue to be resolved by future generations, and has stated his aim to "resolv[ing] the Taiwan question" to broader goals of "national rejuvenation" by the centenary of China's founding in 2049. While time seems to be running out for Taiwan, the clock is also ticking for the CCP: it faces near-term demographic problems and growing competition in the Indo-Pacific with the United States and other countries. Preserving Taiwan's freedoms and the security of East Asia is in the hands of Washington, which must convince reluctant allies that collective action is necessary to prevent a hostile takeover of Taiwan and the geopolitical and economic hardships that would follow. Click here to read the full Jamestown report (the Jamestown Foundation is a Washington, DC-based conservative defense policy think tank).
Significant Cyber Incidents This CSIS* timeline, with a focus on cyber attacks on government agencies, defense and high tech companies, or economic crimes with losses of more than a million dollars, records significant cyber incidents since 2003. This list is a work in progress that CSIS will update as new incidents come to light. * The Center for Strategic and International Studies (CSIS) is a bipartisan, nonprofit policy research organization dedicated to advancing practical ideas to address the world's greatest challenges.
How the Chinese Communist Party 'positions' the United Kingdom This paper, authored by a former British diplomat with several years of experience working in China, outlines Beijing's discursive goals and operations to frame and reposition the UK as an international actor. It identifies the intersection between the CCP's worldview and how it views Britain, how it wants Britons and foreign powers to view the UK, and how it projects its narratives domestically (in Britain) and overseas. The paper also looks at how Chinese positioning operations become internalized and adopted in our own discourses about Britain's international role. What the Council on Geostrategy defines as 'discursive statecraft' is clearly a challenge for our generation. The thinking in this paper will help us understand how it is practiced by the CCP.
G7, London The first in-person G7 meeting for two years took place in London and a lengthy 90-page communiqué was published on the 5th of May 2021. The Foreign and Development Ministers of the Group of Seven (G7), and the High Representative of the European Union declared:
China
We encourage China, as a major power and economy with advanced technological capability, to participate constructively in the rules-based international system. It is in all of our interests, including China's, to take action that addresses global challenges including climate change and biodiversity loss, to promote economic recovery from COVID-19 and to support the fight against the current pandemic and prevent future ones. We look for opportunities to work with China to promote regional and global peace, security and prosperity.

In line with its obligations under international and national law, we call on China to respect human rights and fundamental freedoms. We continue to be deeply concerned about human rights violations and abuses in Xinjiang and in Tibet, especially the targeting of Uyghurs, members of other ethnic and religious minority groups, and the existence of a large-scale network of "political re-education" camps, and reports of forced labour systems and forced sterilisation. We agree the importance of tackling instances of forced labour through our own available domestic means, including through raising awareness and providing advice and support for our business communities. We strongly support independent and unfettered access to Xinjiang to investigate the situation on the ground. We continue to call therefore for such access for the UN High Commissioner for Human Rights.

We recall our statement of 12 March and remain gravely concerned by China's decision fundamentally to erode democratic elements of the electoral system in Hong Kong. We call on China to act in accordance with its international commitments and its legal obligations, including those enshrined in the Sino-British Joint Declaration and the Basic Law, and to respect Hong Kong's high degree of autonomy and rights and freedoms. We call on China and the Hong Kong authorities to end the targeting of those who defend rights and freedoms and democratic values, to uphold the independence of the judicial system and to ensure cases are not transferred to the mainland.

As nations that support open societies and free and fair trade conducted within a system of transparent and predictable international rules and standards, we are united in our concern regarding practices that undermine such free and fair economic systems, including on trade, investment and development finance. We will work collectively to foster global economic resilience in the face of arbitrary, coercive economic policies and practices. We urge China to assume and fulfil obligations and responsibilities commensurate with its global economic role.

We encourage China to uphold its commitments to act responsibly in cyber space, including refraining from conducting or supporting cyber-enabled intellectual property theft.

To strengthen global cooperation on issues of concern to all we believe it is vital to ensure inclusive processes in international organisations. We support Taiwan's meaningful participation in World Health Organisation forums and the World Health Assembly. The international community should be able to benefit from the experience of all partners, including Taiwan's successful contribution to the tackling of the COVID-19 pandemic.
However, Beijing to Britain has the most comprehensive overview of the discussions that took place on China.
China's Artificial Intelligence Industry Alliance As part of its strategy to achieve global leadership in AI, the Chinese government brings together local governments, academic institutions, and companies to establish collaboration platforms. This CSET data brief examines the role of China's Artificial Intelligence Industry Alliance in advancing its AI strategy, and the key players in the Chinese AI industry.
Endeca Information Discovery Chicago police used Oracle software to surveil protesters and mine their social media accounts for "negative" content. In recent years, the company has peddled that same software to law enforcement agencies in China. When presenting the software to Beijing, the company touted its use for predictive policing, reports The Intercept. Please note: MBFC rates The Intercept progressive "left biased" based on story selection that routinely favors the left. They also rate them "mostly factual" in reporting, rather than "high" due to previous fabricated work and censorship of writers.
Senator Schumer's China competitiveness bill, Senate Bill 1260. On Thursday, May 27, 2021, the U.S. Senate passed, 91 to 4, Amendment 1562 (the Trade Act of 2021) to Senator Schumer's China competitiveness bill, Senate Bill 1260. The amendment, sponsored by Senator Mike Crapo (R-IN), includes a number of provisions that stand to benefit importers, including importers affected by Section 301 duties on Chinese-origin goods.
ODNI Unseals 2020 FISC Decision Granting Government Surveillance Powers On April 26, the Office of the Director of National Intelligence (ODNI) released a redacted Nov. 18, 2020 ruling issued by the Foreign Intelligence Surveillance Court (FISC). The decision, written by Judge James E. Boasberg, grants the U.S. government's request for approval to continue collecting information on non-U.S. persons in order to acquire foreign intelligence information. Under Section 702 of the Foreign Intelligence Surveillance Act (FISA), the government must seek reauthorization of the certifications and procedures it uses to target foreign nationals to collect intelligence each year. The FISC reviews these requests annually to ensure that the U.S. government's collection program is in compliance with FISA and the Constitution.
Home Advantage: How China's Protected Market Threatens Europe's Economic Power This paper, a joint project from Rhodium Group and the European Council on Foreign Relations, introduces and describes the advantages Chinese firms derive from the combination of a large and protected home market in strategic sectors. It seeks to contribute to European policymakers' thinking about how China's market distortions affect EU firms and consumers. It does so, firstly, by providing a short overview of the key features of China's protected home market advantage. It then points to how this advantage plays out in three industries in China. Finally, it lays out the ways that the EU might respond to this challenge. The paper aims to raise awareness of the issue as European decision-makers consider one of the major challenges of our time – how to manage Europe's economic engagement with China in the twenty-first century.
Security at the frontier: UK-Japan perspectives on cyberspace, outer space, the Arctic and electron Increasing global connectivity has brought with it a new range of security threats that were unfathomable just decades ago. Global reliance on the internet and on virtual networks has revealed a range of new cyber vulnerabilities and threats, including to critical infrastructure and the Internet of Things (IoT). Cyber technology has brought with it a new security focus on outer space, which has become key to the functioning of national and international infrastructure on the ground. Furthermore, technologies using the electromagnetic spectrum, which are increasingly integral to military operations, create new challenges and adversarial threats including the prospect of electronic warfare. These challenges have expanded geographically too, as countries explore new physical frontiers, like the Arctic, as regions of strategic interest. This Chatham House* conference report, comprising four expert essays and a meeting summary, draws upon Chatham House's December 2020 conference 'Security at the Frontier', to examine the latest developments in cyberspace, outer space, the Arctic and electronic warfare, and considers how best the UK and Japan might respond to these challenges. *Chatham House, the Royal Institute of International Affairs, is a world-leading policy institute based in London.
EU-China investment agreement: the EU's balancing act between values and economic interests The ratification process for the EU's new investment agreement with China is expected to be very difficult, according to FIIA (the Finnish Institute of International Affairs is a research institute whose mission is to produce high quality, topical information on international relations and the EU) in a recent "Comment" (a short text commenting on a topical issue and using language that is accessible to broad audiences). Although the aim is to improve EU-China relations, the process of getting the agreement approved in the EU will end up causing further tensions with China as the EU tries to strike a balance between promoting its values and economic interests.
A North American Method to the 5G Madness: Conclusions from the 5G Beyond Borders Workshop On October 15th, 2020, the Wilson Center, in partnership with The Centre for International Governance Innovation (CIGI) and the Tecnológico de Monterrey (ITESM), hosted a trilateral workshop to assess the state of play for 5G in North America as part of a larger project exploring how the US, Mexico, and Canada can work together—beyond geographic boundaries—to maximize the benefits of 5G and related technology through informed policy solutions. Throughout the workshop, three major policy action items were identified for effective North American cooperation to reduce risk, bolster economic gain, and ensure efficient 5G deployment across the continent.  You'll find the items, and much more, in the report.
A Different Kind of Army: The Militarization of China's Internet Trolls In this piece with The Jamestown Foundation, a CSET Research Analyst shines light on the Chinese Communist Party's use of internet trolls to control China's online public image.
Chinese Companies Listed on Major U.S. Stock Exchanges – Last updated: October 2, 2020 This table includes Chinese companies listed on the NASDAQ, New York Stock Exchange, and NYSE American, the three largest U.S. exchanges. As of October 2, 2020, there were 217 Chinese companies listed on these U.S. exchanges with a total market capitalization of $2.2 trillion. Companies are arranged by the size of their market cap. There are 13 national- level Chinese state-owned enterprises (SOEs) listed on the three major U.S. exchanges. This list of Chinese companies was compiled using information from the New York Stock Exchange, NASDAQ, commercial investment databases, and the Public Company Accounting Oversight Board (PCAOB). NASDAQ information is current as of February 25, 2019; NASDAQ no longer publicly provides a centralized listing identifying foreign-headquartered companies. Investment in Chinese companies may entail several risks associated with the legal, regulatory and financial environment in mainland China, including: lack of transparency, Variable Interest Entities (VIEs) have no legal standing in China, and national security risk. Source: The U.S.-China Economic and Security Review Commission.
NSCAI's Final Report (2021) The mandate of the National Security Commission on Artificial Intelligence's (NSCAI) is to make recommendations to the President and Congress to "advance the development of artificial intelligence, machine learning, and associated technologies to comprehensively address the national security and defense needs of the United States." This Final Report presents the NSCAI's strategy for winning the artificial intelligence era. The 16 chapters in the Main Report provide topline conclusions and recommendations. The accompanying Blueprints for Action outline more detailed steps that the U.S. Government should take to implement the recommendations.
Positive Visions, Powerful Partnerships – The Keys to Competing with China in a Post-Pandemic Indo-Pacific The United States was losing ground to China in the Indo-Pacific when the COVID-19 crisis began. China's growing economic might, military modernization, and aggressive diplomatic efforts were already eroding America's competitive advantage and shifting the regional balance of power. A year after the virus first spread, it is possible to identify where the pandemic is affecting diplomatic, economic, and defense trends in ways that could accelerate declines for the United States, but also might create opportunities to reverse or mitigate some of them. Restoring U.S. alliances and partnerships in the Indo-Pacific is critical to competing effectively against China, and President Joe Biden has made this a top foreign policy priority. In particular, his administration is making the Quadrilateral Security Dialogue—a strategic forum commonly known as the Quad, which comprises the United States, Japan, Australia, and India—a core component of its approach to the Indo-Pacific. Chinese post-outbreak behavior has driven increased cooperation among these four countries in the diplomatic, economic, and defense domains to address shared challenges from China. Seizing the opportunities this cooperation creates is critical for the United States. While expanding U.S. cooperation with Quad countries, the United States cannot neglect Southeast Asia, where competition with China for influence is fiercest. Southeast Asia is at the heart of U.S. and Japanese efforts to promote a free and open Indo-Pacific, and is a region where Australia has played a traditional leadership role. Competing effectively with China requires offering Southeast Asian countries a positive alternative vision to the one Beijing promotes. Whether the United States and its fellow Quad democracies can help Southeast Asian countries recover from the COVID-19 crisis will be a key litmus test of their ability to deliver on such an agenda.
This CNAS report (the Center for a New American Security is an independent and non-partisan research and policy institution) offers recommendations for the United States to take unilaterally and in close cooperation—bilaterally, trilaterally, and through the Quad—with Japan, Australia, and India to address challenges and seize opportunities created by the COVID-19 crisis along three lines of effort: diplomatic, economic, and defense.
A New World Order, According to Beijing After seven decades of liberal order and three decades of American unipolarity, it may be difficult to imagine that the current rules-based international system, supported by liberal norms and values and organized around a set of multilateral institutions, could eventually give way to something radically different. But in Beijing, political and intellectual elites have engaged in intense discussions about building a new world order. This latest brief in the China Awareness Series of the International Centre for Defence and Security (ICDS, the leading think-tank in Estonia specializing in foreign policy, security and defence issues), casts light on this discussion and outlines the emerging contours of vision and strategy pursued by China in building a new world order.
Previously published in this series:
European AI Policy Conference – Trends in Leadership, Strategy, and Innovation The Center for Data Innovation hosted the "European AI Policy Conference: Trends in Leadership, Strategy, and Innovation" as an online event on December 1, 2020. This report of April 9, 2021 provides an overview of some of the highlights from the conference, including summaries of each panel discussion and highlights from various keynote speeches.
Earmarks and Directives in the Foreign Operations Appropriation While not actual "earmarks," both "hard" and "soft" directives have a significant impact on the U.S. government's ability to program, implement, and evaluate foreign assistance. There are as many reasons for the application of these directives as there are sectors where they are applied; however, the outcome is the same: an inability to flexibly adapt assistance to changing contexts. The increase in directives has squeezed funding in other areas such as democracy building and economic reforms, consequently reducing the U.S. government's ability to pivot quickly with non-humanitarian economic assistance funding to address a crisis or take advantage of an opportunity for development. By studying the composition of these directives, this CSIS paper serves as a starting point for Congress and the executive branch to engage in meaningful strategic reform and implementation of foreign assistance operations.
2021 Annual Threat Assessment of the U.S. Intelligence Community This annual report of worldwide threats to the national security of the United States responds to Section 617 of the FY21 Intelligence Authorization Act (P.L. 116-260). This report reflects the collective insights of the Intelligence Community (IC), which is committed every day to providing the nuanced, independent, and unvarnished intelligence that policymakers, warfighters, and domestic law enforcement personnel need to protect American lives and America's interests anywhere in the world. This assessment focuses on the most direct, serious threats to the United States during the next year. The order of the topics presented in this assessment does not necessarily indicate their relative importance or the magnitude of the threats in the view of the IC. All require a robust intelligence response, including those where a near-term focus may help head off greater threats in the future, such as climate change and environmental degradation. As required by the law, this report will be provided to the congressional intelligence committees as well as the committees on the Armed Services of the House of Representatives and the Senate. Information available as of 9 April 2021 was used in the preparation of this assessment. 
Nowhere to Hide: Data, Cyberspace, and the Dangers of the Digital World For as long as software has been relied upon, officials and researchers alike have been sounding alarm bells about the vulnerability of all our data—sometimes comically, but nonetheless gravely. Here, for example, is how one Congressional report described the issue of data security: "If architects built buildings the way programmers build programs, then the first woodpecker to appear would destroy civilization." This was in 1989. Here's how the head of the Central Intelligence Agency described a variation of the same problem: "We are staking our future on a resource that we have not yet learned to protect." This was in 1998. Examples of these types of warnings are not hard to find—not because such prognostications require such foresight, but because it is not all that hard to be right about the risks of digital technologies. Their dangers are plentiful, and we use them more and more. Yet layered underneath all our profound privacy and security vulnerabilities, there are also three much less obvious effects of these trends, which form the basis of this essay: Privacy is dead. So is trust. And you're not who you think you are. The author of the white paper, a visiting fellow at Yale Law School's Information Society Project,  overviewed each trend, and made a handful of concrete suggestions about what we can and should do to address each development—as lawyers, as policymakers, and as citizens around the world. The sky may seem like it is falling in cyberspace, the author will argue, and with good reason, but it need not fall as fast nor land as hard. Click here to read the white paper, part of the Digital Future Whitepaper Series, launched in 2020, a venue for leading global thinkers to question the impact of digital technologies on law and society.
Another African Victory in Huawei's 5G Saga Safaricom, Kenya's top mobile network operator, announced in March that it is resuming its 5G rollout with Huawei's help. Resume is the word of choice because, back in January, Safaricom halted the initial deployment of its 5G network. It's speculated that the hesitation hinged on security concerns lodged amid the US-China tech war. Kenya's ICT Minister, Joe Mucheru, claimed the nation was not at a place to pick sides for a private entity in a battle that was "more about politics than technology" (his words, not ours). The verdict is still out on that one. With a 35% stake in Safaricom's ownership, it makes sense that Kenya's government would have a say. Kenya may have been laying low and hedging its bets, but its ultimate return to the Huawei fold was, in many ways, likely inevitable. The controversial Chinese telecom giant was already slated to build a massive data center in Kenya's Konza Technopolis, a long-hyped smart city project two hours from Nairobi. Secondly, as the only provider on the market, Huawei was always going to lay on Kenya's path to the next-gen tech. As usual in this region, material conditions on the ground will continue to outweigh political considerations in the battle for the continent's tech infrastructure path. Read the full article from The China Africa Project (CAP), a fully-independent multimedia organization. 
Grooming Autocrats – China is exporting more than infrastructure to Africa U.S.-China great-power competition in Africa is well under way. In recent years, China has significantly advanced its strategic economic, political, and military interests across the continent. Beijing has used its wide-ranging Belt and Road Initiative and other means of economic engagement to expand influence and market access globally, including in sub-Saharan Africa. This is not news. Less reported is that China is increasing its influence over governments and elites across Africa, impairing budding democratic practices along the way. Chinese government-linked entities are exploiting and exacerbating "governance gaps" in vulnerable countries, using corruption and a lack of transparency to conclude deals that undermine political accountability and ensure China's long-term influence. Beijing is also co-opting journalists and using targeted propaganda and investments in the media sector to shape the information environment to its advantage in places across Africa. America's increasing focus on rivalry with China ensures that U.S. Africa policy will continue to be viewed, at least in part, through a China lens. It is critical, however, that the new Biden Administration avoid approaches that have led to failures in the past, including adopting an overly "securitized" approach to the continent and making generalizations about "debt-trap diplomacy" while overlooking Beijing's efforts to undermine governance and co-opt African elites. Read the full article from American Purpose.
Global Trends, a More Contested World The National Intelligence Council released its quadrennial "Global Trends" report on the 8th of April, 2021.
Strategic Competition Act of 2021 The Senate Foreign Relations Committee announced a bipartisan agreement on a new comprehensive China legislation for the Senate Foreign Relations Committee to take up in the coming days. Entitled the Strategic Competition Act of 2021, the new legislation represents the first major proposal to bring Democrats and Republicans together in laying out a strategic approach towards Beijing – and assuring that the United States is positioned to compete with China across all dimensions of national and international power for decades to come.  A copy of the Strategic Competition Act of 2021 can be found here.
China's Economic Rise under Xi Jinping (China Research Group Event on April 15, 2021) China may become the world's largest economy by 2028. Where does Xi see China in 10 years? What problems will China encounter along the way? And what does China's economic rise mean for the rest of the world? The event's transcript is here. The China Research Group (CRG) was set up by UK MPs in 2020 to promote fresh thinking about the future of their relations with China. They run regular event seminars, connecting with experts from the UK and all over the world. CRG's podcasts ("Talks on China") are here.
Common Code / An Alliance Framework for Democratic Technology Policy The 21st century will be defined by competition—a contest of economic power rooted in technological advances. How countries decide to compete will shape the lives of billions of people. Technology-leading countries will determine how to harness new technologies to combat disease, feed humanity, counter climate change, gain wealth, explore the universe, gain influence over others, secure their interests, and protect their independence and freedom. The leaders in adopting emerging technologies such as AI, quantum computing, biotechnology, and next-generation telecommunications, and those who shape their use, will garner economic, military, and political strength for decades. The world's liberal democracies stand at a crossroads. Political power and economic might is diffusing. The integrity and efficacy of postwar institutions are increasingly challenged. Fresh thinking and new approaches are needed to tackle the challenges ahead to ensure that the future of technology is a beneficial one. No one country can achieve this on its own. The requisite knowledge and capabilities are too dispersed. Broad-based, proactive, and long-term multilateral cooperation among like-minded countries is needed to maximize effectiveness across a range of areas, including research and development (R&D), supply chain diversity and security, standards-setting, multilateral export controls, and countering the illiberal use of advanced technology. To achieve the necessary level of coordination and collaboration, the world's tech-leading democracies should spearhead the creation of a new multilateral architecture for technology policy—a technology alliance.
Technological leadership by the world's major liberal-democratic nations will be essential to safeguarding democratic institutions, norms, and values, and will contribute to global peace and prosperity. A unified approach by like-minded nations also is needed to counteract growing investments in and deployments of emerging technologies by authoritarian, revisionist powers. Many have made the case for such a grouping, most notably the United Kingdom's recent call for a "Democracy 10" to tackle 5G and other technology issues. Similarly, former U.S. government officials have advocated for the creation of a "Tech 10." Despite this interest in a new coordination mechanism for multilateral technology policy, the work needed to create it has been elusive. This CNAS document lays out what that alliance framework should look like, the opening chapter of a new, multilateral techno-democratic statecraft strategy for the 21st century. It answers the key questions needed to move from concept to an actionable blueprint necessary to tackle the 21st century technology competition.
Quantum Hegemony? China's Ambitions and the Challenge to U.S. Innovation Leadership China is positioning itself as a powerhouse in quantum science, according to this new CNAS report. Within the past several years, Chinese researchers have achieved a track record of consistent advances in basic research and in the development of quantum technologies, including quantum cryptography, communications, and computing, as well as reports of progress in quantum radar, sensing, imaging, metrology, and navigation. Their breakthroughs demonstrate the successes of a long-term research agenda that has dedicated extensive funding to this domain while actively cultivating top talent. China's rise as a powerhouse in quantum science was displayed to the world with the August 2016 launch of the world's first quantum satellite, Micius (or Mozi, 墨子). Since then, China's launch of new national "megaprojects" in quantum communications and computing reflect the continued prioritization of these technologies. 
Outcompeting Beijing: A Roadmap for Meeting China's Commercial Challenges The U.S.-China economic relationship is the most important commercial relationship in the world right now. From the proliferation of tariffs, export controls and investment restrictions, the Biden administration inherited from the Trump administration an increasingly fraught relationship with China. A robust debate among policymakers and analysts is underway about whether a productive bilateral trade and investment relationship will be possible in the coming years and what the contours of such relationship ought to look like. In this new paper, the R Street Institute,  a nonprofit, nonpartisan, public policy research organization based in Washington, DC, surveys the U.S.-China economic relationship as it exists and finds fault with some of Beijing's commercial practices; explains why the Trump administration's aggressive tariffs failed to induce change in China while proving costly to American consumers; and provides policymakers with a slew of concrete international and domestic policy responses that will help Washington improve its competitiveness vis-a-vis China.
Coercive Labor and Forced Displacement in Xinjiang's Cross-Regional Labor Transfer Program In this special Jamestown Foundation report, the author provides new evidence from Chinese sources, notably previously untranslated documents such as the "Nankai Report", that Xinjiang's labor transfers to other regions or provinces in China meet the forced labor definition of the International Labor Organization (ILO). The report develops a process-focused evaluation model for evaluating coercion at each stage of the labor transfer program.
The Nankai Report, along with other Chinese academic sources, indicates that labor transfers are not just serving economic purposes, but are implemented with the intention to forcibly displace ethnic minority populations from their heartlands, intentionally reducing their population density, and tearing apart homogeneous communities.
Based on the new findings presented in this report, several experts in international criminal law agree that there are "credible grounds for concluding" that Xinjiang's labor transfer scheme meets the criteria for Crimes Against Humanity of Forcible Transfer and Persecution as defined under the Rome Statute of the International Criminal Court (ICC).
Indo-Pacific strategies, perceptions and partnerships As the Indo-Pacific's strategic importance increases, countries around the world are developing new policies to strengthen their reach in the region. While there is a long history of international partnerships in the Indo-Pacific, many recent forays in the region are in response to China's economic, political and military expansion there. This Chatham House paper is based on field research, roundtables and face-to-face interviews in seven countries (including China) chosen to provide a variety of perspectives and insights on the Indo-Pacific, particularly regarding policy strategies and objectives. The research uncovered shared internal divisions within the sample countries in how they perceive and engage with China. In a sense, against the backdrop of the COVID-19 pandemic, some of these divisions have since been resolved with countries generally more cautious towards China. Regardless of intentions, a broad understanding of the different actors in the region is crucial for countries seeking to form strong partnerships and to establish a successful Indo-Pacific strategy.
Winning the Geo-Tech Battle and Building the Quad Alliance in the Indo Pacifi In addition to the PRC's militarily destabilizing activities in the West Pacific and incursions into India's Himalayas, there is also a "geo-technological front." If Xi's CCP succeeds at enmeshing other countries in its expanding "PRC sphere of technological influence," it could unlock and be able to exploit decisive military, economic, diplomatic, and ideological advantages. The PRC's many-faceted assault on international order requires a similarly comprehensive and sustained response. Many democratic nations, therefore, have been acting to reimagine and deepen cooperation with one another, including in the geo-tech arena. However, the CCP is aware that the world's democracies are of many minds about how to respond to it, and the party has always relied on poor coordination among the democracies to advance its aims. Far greater coordinated planning and action—an "alliance of democracies," as President Biden has called for—will be needed to safeguard and promote democratic leadership over the key technologies and industries of tomorrow, and the ends to which they will be put. In the meantime, the main locus of PRC's strategic gambits is in Asia, and there, a powerful grouping of Indo-Pacific democracies has emerged to balance against and counter the PRC's bid for primacy.
This policy memo of the Hudson Institute examines seven areas of cooperation between members of the Quad alliance that would strengthen a technological environment anchored by democratic values:
Foster a robust democracy-led tech ecosystem in the Indo-Pacific

Create commercially competitive alternatives to PRC5G

Establish a Quad free and secure digital trade agreement

Coordinate policies to restrict PRCeconomic involvement in geo-tech and manufacturing competition

Address PRCfreeriding and the illegitimate use of innovation on the "global democratic commons"

Establish a Quad innovation fund

Focus on environmental technology
Secrecy and Abuse Claims Haunt China's Solar Factories in Xinjiang In the wilderness of the Gobi Desert sit two factories that churn out vast quantities of polysilicon, the raw material in billions of solar panels all over the world. It's a four-hour drive from Ürümqi the capital of the Xinjiang region at the center of China's crackdown on Uyghurs and other Muslim minorities.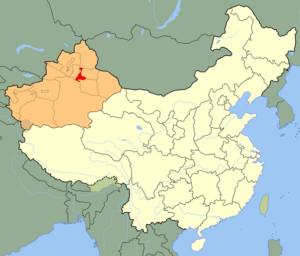 Ürümqi City jurisdiction (red) in Xinjiang (orange)
Ürümqi City jurisdiction in Xinjiang  The only structures that rise up among miles of rolling snow-covered fields are the chimneys of coal-fired power plants, belching white smoke. Almost no one outside China knows what goes on inside these factories, or two others elsewhere in Xinjiang that together produce nearly half the world's polysilicon supply, according to this Bloomberg report (three photographs from the report below) and a Bloomberg video. Unable to determine the working conditions in these Xinjiang factories, some governments and companies have decided it's safer to steer clear of the region altogether. At least 175 companies have signed a nonbinding pledge by a U.S. trade association to avoid forced labor. The same organization has urged members to move supply chains out of Xinjiang.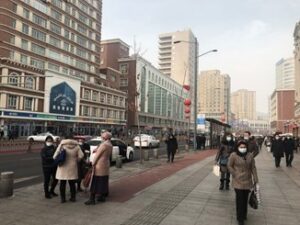 Residents stop for a chat nearby the Xinjiang International Grand Bazaar in downtown
Urumqi. Photographer CM/Bloomberg
         Shoppers walk past the Xinjiang International Grand Bazaar in Urumqi, capital of
China's Xinjiang province. Photographer JM/Bloomberg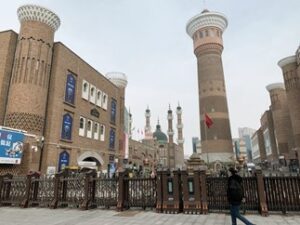 The barricaded square in front of the Erdaoqiao Mosque. All visitors must pass a security checkpoint.
Photographer JM/Bloomberg
China's Relationship with ASEAN: An Explainer Arguably the most significant global phenomenon of the past four decades has been the economic and strategic rise of China. Today analysts are confronting questions of whether China will replace the United States as the world's biggest power, if it will do so peacefully or through confrontation and conflict, how it will subvert the existing system of global rules and institutions, and whether a new form of bipolarity would emerge to accommodate both the US and China. This ORF paper (the Observer Research Foundation is an independent think tank based in Delhi, India) outlines China's relationship with the ASEAN (Association of Southeast Asian Nations), amidst the growing significance of the Indo-Pacific region in the world's geostrategic affairs.
When it comes to Hong Kong and China, taking a stand is not so easy When the Chinese government-imposed sanctions last month (March 2021) on London-based Essex Court Chambers and some of its barristers who had written a legal opinion about allegations of human rights abuses in China's Xinjiang region, taking a stand is not so easy. However, legal trade bodies such as the Bar Council issued statements criticizing China's move, which they viewed as an attack on the U.K. legal industry. But law firms and most other chambers remained silent.
The sanctions against the barristers were part of China's retaliation for coordinated sanctions imposed by the U.K., the U.S., Canada and the EU. And those other chambers, as well as large global law firms, no doubt chose silence because they feared retaliation might be directed against them, causing a loss of business — a sign that China's threat is indeed effective.
China as a 'cyber great power': Beijing's two voices in telecommunications External Chinese government and commercial messaging on information technology (IT) speaks in one voice. Domestically, one hears a different, second voice. The former stresses free markets, openness, collaboration, and interdependence, themes that suggest Huawei and other Chinese companies ought to be treated like other global private sector actors and welcomed into foreign networks. Meanwhile, domestic Chinese government, commercial, and academic discourse emphasizes the limits of free markets and the dangers of reliance on foreign technologies — and, accordingly, the need for industrial policy and government control to protect technologies, companies, and networks. Domestic Chinese discourse also indicates that commercial communication networks, including telecommunications systems, might be used to project power and influence offensively; that international technical standards offer a means with which to cement such power and influence; and — above all — that IT architectures are a domain of zero-sum competition.
This Brookings report is motivated by China's growing influence in telecommunications and the growing controversy accompanying that influence. However, China's telecommunications resources, ambitions, and strategic framing are intertwined with those around IT more broadly. For that reason, this report reviews Chinese government, commercial, and academic discussion of both IT generally and telecommunications specifically. This report also contextualizes its analysis in terms of Beijing's program to become a "cyber great power," also translated as "network great power," the blueprint for China' ambitions to leapfrog legacy industrial leaders and define the architecture of the digital revolution. A new technological landscape is taking shape. China works to define that landscape. More than ever, it is imperative that China's ambitions be documented. The report advances several primary findings .
Reimagining U.S. Strategy in the Middle East U.S. policy toward the Middle East has relied heavily on military instruments of power and has focused on regional threats—particularly the Iranian threat—with the goal of keeping partners on "our side." These long-standing policies have largely fallen short of meeting core U.S. interests and adapting to new regional realities and strategic imperatives. RAND researchers offer an alternative framework, suggesting that the U.S. strategic priority must center on reducing regional conflict and the drivers of conflict. This revised strategic approach puts a greater focus on addressing conflict and socioeconomic challenges that are creating unsustainable pressures on the region's states and immense suffering among its people. Researchers analyze how the tools of U.S. policy—political, security, economic, diplomatic, and informational instruments—would need to adjust to more effectively address such challenges in ways that are mindful of limited resources at home. Researchers also examine how the United States deals with both partners and adversaries in and outside the region and consider how to better leverage policies to the benefit of U.S. interests and the region. The researchers recommend specific actions organized into the following three pillars: (1) shifting resources from the current heavy reliance on military tools to a more balanced approach that prioritizes economic investments, governance, diplomacy, and programs focused on people; (2) favoring a long-term time horizon to reduce regional conflict and support growth and development, even at the cost of short-term risks; and (3) working multilaterally with global and regional partners to address key challenges.
The research report (this research was conducted within the RAND Center for Middle East Public Policy, a center within International Programs at the RAND Corporation) offers various recommendations.
Northern expedition: China's Arctic activities and ambitions This Brookings report explores China's internal discourse on the Arctic as well as its activities and ambitions across the region. It finds that China sometimes speaks with two voices on the Arctic: an external one aimed at foreign audiences and a more cynical internal one emphasizing competition and Beijing's Arctic ambitions. In examining China's political, military, scientific, and economic activity (as well as its coercion of Arctic states) the report also demonstrates the seriousness of China's aspirations to become a "polar great power." China has sent high-level figures to the region 33 times in the past two decades, engaged or joined most major Arctic institutions, sought a half dozen scientific facilities in Arctic states, pursued a range of plausibly dual-use economic projects, expanded its icebreaker fleet, and even sent its naval vessels into the region.
The eight Arctic sovereign states (Canada, Denmark, Finland, Iceland, Norway, Russia, Sweden, and the United States) exercise great influence over the Arctic and its strategically valuable geography. China aspires to be among them. The report advances several primary findings.
A Dark Spot for the Solar Energy Industry: Forced Labor in Xinjiang In February 2021, the CSIS Scholl Chair wrote about the moral conflict between pursuing climate change mitigation objectives and adhering to the rules-based trading system. Environmentalists are calling on the government to subsidize green technology, make exceptions to intellectual property (IP) disputes to facilitate clean energy industry growth and job creation, and use trade agreements to raise global pollution. In cases like these, the Biden administration and Congress often must weigh the benefits and consequences of advancing climate priorities versus defending the global rules-based trading system. Among policymakers, however, there is no moral dilemma when it comes to the question of combatting China's forced labor practices. There is bipartisan support for legislative and executive action to sanction China and curb imports of products with forced labor in their supply chains. However, there is a practical conundrum. The U.S.—and global—solar panel manufacturing industry is dependent on a supply of cheap critical components that are made in Xinjiang, the region of China where the Chinese government has detained and oppressed the Uighur population, including through forced labor. In this situation, the Biden administration and Congress must navigate carefully to align measures against China's human rights abuses with domestic support for the U.S. solar industry and consumer market.
For answers to questions like "What is happening in Xinjiang?" or "To what extent is the solar industry dependent on imports from Xinjiang?", please read the CSIS article A Dark Spot for the Solar Energy Industry: Forced Labor in Xinjiang. There's key demographic information missing in recent releases of provincial data from Xinjiang. Despite China expelling and harassing journalists, blocking access to sensitive areas, and closing archives, local governments still upload documents online, creating valuable windows into the system's workings.
Trust the Process – National Technology Strategy Development, Implementation, and Monitoring and Evaluation The United States is navigating a new paradigm of competition, one that centers not merely on traditional measures of military might, but on technology innovation and its contributions to comprehensive national power. Technology and innovation are critical enablers of American military, political, and economic power. To succeed in great-power competition, the United States should adopt a national technology strategy. This report does not offer the content of a strategy—that is outlined in another report in this series, "Taking the Helm: A National Technology Strategy to Meet the China Challenge", but it offers a framework for the bureaucratic connective tissue necessary to bring a strategy to life. To effectively execute a national technology strategy, the U.S. government will need to create new processes to develop, implement, and monitor and evaluate the strategy. It will also need to optimize existing processes in new ways, as bureaucratic foundations in this space have so far been uncoordinated, under resourced, and undervalued. Institutions such as the National Security Council (NSC), National Economic Council (NEC), and Office of Science and Technology Policy (OSTP) are, in their current structure and partitions, not fully equipped to meet the challenge of creating and executing a coherent response to this challenge. To support a strategy, this report offers key ingredients for designing processes but does not prescribe detailed action plans; the best design is not the one that is most "right" but the one that leadership will use. It does offer sample tactics for policy interventions, using the promote-protect-partner-plan framework proposed in the CNAS report "Taking the Helm" as a foundation.
This CNAS report divides recommendations into stages of strategy development, implementation, and monitoring and evaluation. Themes that cut across these stages include ensuring executive attention, facilitating buy-in among internal and external stakeholders, exercising convening powers, inventorying and coordinating policy tools, acquiring talent and expertise, building pipelines for tailored information and analysis, and establishing a means for reviewing and revising the process and strategy. Overall, designing transparency, clarity, and accountability into the process will create one that leadership can both trust and verify. The authors conclude: "The United States cannot afford just to dream; it must apply itself. It can apply itself by implementing processes—and filling the current institutional gap—to design, implement, and monitor and evaluate a national technology strategy. This strategy will cut across disciplines and agencies, and it will require new ways of using policy interventions. The United States has, in recent years, found a rare moment of bipartisan agreement that facing threats from abroad will require a shoring up of technological, innovation, and economic elements of power. It can do so, but only if it implements a process it can trust to perform."
West-backed color revolution a 'top threat' to China's national, political security According to Media Bias/Fact Check or MBFC a questionable source exhibits one or more of the following: extreme bias, consistent promotion of propaganda/conspiracies, poor or no sourcing of credible information, a complete lack of transparency and/or is fake news. Fake News is the deliberate attempt to publish hoaxes and/or disinformation for the purpose of profit or influence. Questionable sources may be very untrustworthy and should be fact checked on a per article basis.
The Global Times, launched in April 2009 is a questionable source based in Beijing, China, but we want our readers to know that they published this article with the same title on April 16, 2021. The first time China's annual National Security Education Day was held, in 2016, posters (see below) warning of threats posed by seductive foreign boyfriends went up throughout the Beijing subway system. This year, the also questionable People's Daily (an official newspaper of the Central Committee of the Chinese Comunist Party)  issued an infographic (also below) for spotting a spy, and there is serious conviction inside the Chinese party-state that the West is fomenting a "color revolution".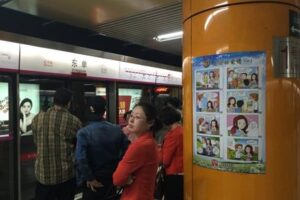 On a platform in the Dongdan subway station in Beijing, commuters ignore a poster for China's first National Security Education Day, warning Chinese to beware of foreign spies.
Photographer DDT/The New York Times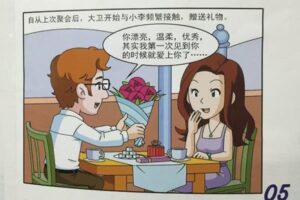 Frame 5 of "Dangerous Love" recounts how the foreigner meets frequently with Ms. Li, giving her presents, and saying:
"You're pretty, gentle, elegant. In fact, the first time I met you I fell in love with you!"
Photographer DDT/The New York Times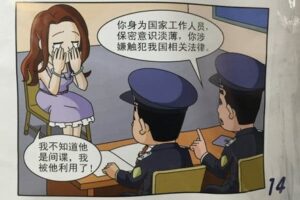 In Frame 14, Ms. Li is told: "You're a state employee but your security knowledge is very superficial.
You have violated the relevant laws." She responds: "I didn't know he was a spy. I was used by him!"
Photographer DDT/The New York Times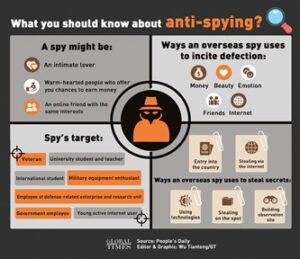 April 15, 2021, marks the 6th National Security Education Day of China. Anti-spying is still the main topic of the day. Who could be a spy
around you? How can you become a spy's target? Check out this graphic to find out the answers.
Infographic: WT/Global Times
S. 1169, the Strategic Competition Act of 2021 On April 21, 2021, U.S. Senator Bob Menendez (D-N.J.), Chairman of the Senate Foreign Relations Committee, delivered the following opening remarks at the business meeting to consider S. 1169, the Strategic Competition Act of 2021. The legislation represents the first major proposal to bring Democrats and Republicans together in laying out a strategic approach toward Beijing – and assuring that the United States is positioned to compete with China across all dimensions of national and international power for decades to come. Now, for the first time, certain gifts made to, and contracts made with, U.S. institutions of higher education involving foreign persons, not just Chinese parties, would be subject to review by CFIUS and possible prohibition or mitigation, and a subset of such gifts or contracts related to the research, development or production of critical technologies would require institutions of higher education to make mandatory filings with CFIUS. This expansion could have significant consequences for higher education, including added compliance burdens and complications for research and fundraising efforts.  Please click here to watch Chairman Menendez's full opening remarks.
The Committee on Foreign Investment in the United States (CFIUS) is an interagency committee authorized to review certain transactions involving foreign investment in the United States and certain real estate transactions by foreign persons, in order to determine the effect of such transactions on the national security of the United States. 
A Testimony to Special Committee on Canada-China Relations On March 22, 2021, a Citizen Lab senior research associate appeared before the Special Committee on Canada-China Relations to testify about issues of national security, governance, and trust with regards to Chinese companies and their technical products and services. He provided oral comments to the committee which were, substantially, a truncated version of the brief he submitted. His oral comments, in French, are available for viewing here and in this post, in English, is the actual brief which was submitted.
Boao Forum for Asia Annual Conference 2021 China's leader Xi Jinping spoke at the annual Boao Forum on April 20, 2021, where he called out American talks of decoupling and spoke proudly of being a roadblock to American hegemony in Asia. In attendance were American CEOs Tim Cook and Elon Musk, who listened in at what is essentially the Davos event of mainland China. Shi Yinhong, director of the Center on American Studies at Renmin University in Beijing, told the Financial Times that there was no doubt that the U.S. was the target of Xi's remarks. "In the eyes of China, the U.S. is still hegemonic," he said.
The Boao Forum for Asia Annual Conference 2021 (now celebrating its 20th anniversary and themed "A World in Change: Join Hands to Strengthen Global Governance and Advance Belt and Road Cooperation") was held in Boao, south China's Hainan Province, and was attended by more than 2,600 guests from over 60 countries and regions.
China's Expanding External Economic Cooperation and Its "Norm" China's economic growth has been remarkable in recent years, and its expanding political and economic influence has become a global issue. In particular, China's rapidly increasing external economic cooperation (aid and investment) with developing countries is having significant impacts on their economic development, politics and society. The Belt and Road Initiative (BRI) launched by President Xi Jinping in 2013 and anounced in 2017 as an official policy of the Chinese government have had significant economic impacts on Southeast and South Asian countries. On the other hand, issues arising from related projects and increasing debt burdens have been discussed internationally as a "debt trap". There have been several reports in recent years questioning the risk of borrowing large amounts of money from China for projects related to China's BRI and facing future repayment difficulties. In the United States, there has been growing criticism of China's rapid expansion of economic cooperation as "predatory". As for individual projects led by China, there have been a number of cases in which projects had to be reconsidered in the face of opposition from residents because of land expropriation or environmental problems. One of the problems with China's economic cooperation is that most of it is provided in the form of loans tied to the participation of Chinese companies. In addition, some of China's loans and projects have been reconsidered in response to political changes in recipient countries such as Myanmar, Malaysia, and Sri Lanka.
How does China respond to the challenges it faces in host countries as it expands its aid and investment? As mentioned in this JIIA research report (the Japan Institute of International Affairs, founded in 1959, is a private, nonpartisan policy think tank focused on foreign affairs and security issues, and their research reports are compiled by participants in research groups set up at the Japan Institute of International Affairs, and are designed to disseminate, in a timely fashion, the content of presentations made at research group meetings or analyses of current affairs. The reports represent their authors' views) there may be signs of changes in China's aid and investment policies and attitudes that constitute a transformation of the "norm" of economic cooperation.
JIIA's "Research Reports" are compiled by participants in research groups set up at the Japan Institute of International Affairs, and are designed to disseminate, in a timely fashion, the content of presentations made at research group meetings or analyses of current affairs. The "Research Reports" represent their authors' views.
The Combating Chinese Purloining (CCP) of Trade Secrets Act  U.S. Senator Lindsey Graham (R-South Carolina) has introduced The Combating Chinese Purloining (CCP) of Trade Secrets Act.  The legislation seeks to protect American businesses and government institutions from attacks designed to steal sensitive information. "The United States is under relentless attack by foreign cybercriminals and state actors who seek to harm our economic interests and national security," said Graham.  "My legislation is designed to deter behavior, much of it from China, that results in the loss of trade secrets, intellectual property, and sensitive government research."
The Militarization of Cyberspace? Cyber-Related Provisions in the National Defense Authorization Act With Congress struggling to pass stand-alone cybersecurity legislation, the National Defense Authorization Act (NDAA) is now the primary vehicle to pass all matters of cybersecurity legislation. Because the annual defense bill typically requires provisions to have a tie to national security, other cyber issues, like those pertaining to criminal justice, tend to be excluded. As a result, the authorities and resources awarded to Department of Defense (DoD) cyber mission far outpace those provided to civilian agencies responsible for partnering with state, local, private, and international partners. With ransomware and cyber incidents at an all-time high, Congress should either include a new title in future Defense bills to bolster US cyber enforcement and civilian agencies' capabilities or pass a cyber-omnibus bill to fix policy gaps and provide commensurate funds to federal and local agencies to combat malicious cyber activity. In Third Way's paper (Third Way is a national think tank that champions modern center-left ideas) Third Way analyzed the last five NDAAs (2017-2021) to chronicle Washington's reliance on the NDAA to shepherd through a wide swath of cybersecurity legislation.
Australia Cancels Victoria's Belt and Road Initiative Memoranda of Understanding Australia's relationship with China has little improved. On April 21, 2021, Australian Foreign Minister Marise Payne cancelled Victoria's Belt and Road Initiative MoUs with China. Following review and consideration of arrangements, she advises that the following will be cancelled:
Memorandum of Understanding between the Government of Victoria and the National Development and Reform Commission of the People's Republic of China on Cooperation within the Framework of the Silk Road Economic Belt and the 21st Century Maritime Silk Road Initiative, signed 8 October 2018.

Framework Agreement between the Government of Victoria and the National Development and Reform Commission of the People's Republic of China on Jointly Promoting the Framework of the Silk Road Economic Belt and the 21st Century Maritime Silk Road, signed on 23 October 2019.
The arrangements are inconsistent with Australia's foreign policy or adverse to their foreign relations in line with the relevant test in Australia's Foreign Relations (State and Territory Arrangements) Act 2020. Beijing has threatened retaliation. According to this article in Global Times (the Global Times, a questionable source based in Beijing, China), Wang Wenbin, a spokesperson from China's Foreign Ministry, said that "China is not responsible for the current difficulties facing China-Australia relations. It is the Australian side that torn up the cooperation agreement between China and Australia, sabotaging normal exchanges and cooperation between the two countries". Wang noted that the Australia has described China as an "authoritarian" country, and had taken the lead in prohibiting Chinese enterprises from participating in Australia's 5G network rollout on groundless reasons and repeatedly blocking Chinese enterprises to invest in Australia under the guise of its "national security". "Australia is sick, however it is asking others to take medicine, which will not solve the problem at all," Wang said.
It is impossible to access the website of China's embassy in Australia when using a strong VPN, but, according to other sources, the embassy said Canberra's decision was "bound to bring further damage to bilateral relations" as it voiced "strong displeasure and resolute opposition" to the move.
New EU Strategy for Cooperation in the Indo-Pacific The EU released its EU Strategy for cooperation in the Indo-Pacific on April 16, 2021. The Indo-Pacific – spanning from the east coast of Africa to the Pacific Island States – is a region where the EU has long enjoyed a broad and comprehensive relationship with their partners. The new Strategy recommits the EU politically to the region with the aim of contributing to its stability, security, prosperity and sustainable development, based on the promotion of democracy, rule of law, human rights and international law.
The Council approved conclusions on an EU strategy for cooperation in the Indo-Pacific, setting out the EU's intention to reinforce its strategic focus, presence and actions in this region of prime strategic importance for EU interests. The aim is to contribute to regional stability, security, prosperity and sustainable development, at a time of rising challenges and tensions in the region. The renewed EU commitment to the Indo-Pacific, a region spanning from the east coast of Africa to the Pacific island states, will have a long-term focus and will be based on upholding democracy, human rights, the rule of law and respect for international law. Current dynamics in the Indo-Pacific have given rise to intense geopolitical competition adding to increasing tensions on trade and supply chains as well as in technological, political and security areas. Human rights are also being challenged. These developments increasingly threaten the stability and security of the region and beyond, directly impacting on the EU's interests.
Consequently, the EU's approach and engagement will look to foster a rules-based international order, a level playing field, as well as an open and fair environment for trade and investment, reciprocity, the strengthening of resilience, tackling climate change and supporting connectivity with the EU. Free and open maritime supply routes in full compliance with international law remain crucial. The EU will look to work together with its partners in the Indo-Pacific on these issues of common interest.  The EU will continue to develop partnerships in the areas of security and defense, including to address maritime security, malicious cyber activities, disinformation, emerging technologies, terrorism, and organized crime. The EU and its regional partners will also work together in order to mitigate the economic and human effects of the COVID-19 pandemic and work towards ensuring an inclusive and sustainable socio-economic recovery. The Council tasked the High Representative and the Commission with putting forward a Joint Communication on cooperation in the Indo-Pacific by September 2021. The conclusions were adopted by the Council by written procedure. Click here to read the factsheet.
Director's 221 Vincent Briscoe Lecture The full transcript of Director GCHQ (Government Communications Headquarters) Jeremy Fleming's speech for the 2021 Vincent Briscoe Lecture for the Institute for Security, Science and Technology at Imperial College London is now available. The speech considered the impact fundamental changes in the tech environment have had on the economy and society in the UK, and the way in which the global pandemic has accelerated those trends at home but also enabled adversaries in new ways.  It examined the challenges surrounding geopolitical competition in technology, and the need to reform the international approach to cyber and technology for the 21st century.  The speech is also available to be watched on YouTube.
The 5G conversation is dead R Street (R Street Institute is a nonprofit, nonpartisan, public policy research organization, based in New York, NY) posted an interesting blog on April 15, 2021, written by its Director Cybersecurity and Emerging Threats. According to the first paragraph: "When it comes to discussing information and communication technology (ICT), the international conversation seems to be stuck on 5G. Each month sees a barrage of headlines along the lines of "5 things 5G will do that you didn't expect", "5G is here. Does it matter for your smart home?", and "What CIOs need to know about 5G". And when it comes to ICT policy, the focus centers on calls for government strategies for 5G cybersecurity. Yes, thanks to 5G your smart thermostat can be used to hack into your home network and spy on you. All technological change has the power to reinvent the way we live and work. But 5G, to the big players, is already past. We need to look ahead. We need to talk about 6G." And this is the last paragraph: "The United States jumped into the 5G fight too late, conceding critical battlegrounds to China, allowing a revisionist power overtake our standing on the world stage. But, while the 5G battle may be lost, the 6G battle is ahead. To paraphrase Franklin Roosevelt: there are a lot of ways to move forward, but there is only one way to stand still. Let's try a new direction and reject the policy of standing still."
China's Chip Industry: Running Faster But Still Falling Behind According to this note of Rhodium Group, a leading independent research provider, Beijing is determined to develop a leading edge semiconductor ecosystem. China's recent Five Year Plan shows that the funding taps for Chinese firms pursuing chip-related projects will stay open for the foreseeable future, channeling hundreds of billions of dollars in their direction. Western competitors, however, are also poised to benefit from greater capital investments and government support. The latest evidence of this was the White House Chips Summit. This renewed commitment will move the goalposts for Chinese chip firms and the Chinese government more broadly. While Chinese manufacturing firms can be expected to continue to advance in certain segments of the industry, we may look back on 2021 as the high-water mark of China's competitiveness relative to western industry leaders in leading edge chip fabrication technologies.  China is unlikely to wriggle free of its chip chokepoints anytime soon. In this note, Rhodium Group addresses the challenges China faces—both technical and commercial—in its drive for semiconductor self-sufficiency, and explore how Beijing's policies and the chip shortage have reshaped industry dynamics and the geopolitics of semiconductors.
How the Chinese Communist Party 'positions' the United Kingdom The United Kingdom's (UK) Integrated Review identified the People's Republic of China as a 'systemic competitor'. As a revisionist autocracy, the Chinese government often actively engages in political operations close to political warfare. According to the Chair of the Defence Select Committee, House of Commons, this Council on Geostrategy paper, by a former British diplomat with several years of experience working in China, outlines Beijing's discursive goals and operations to frame and reposition the UK as an international actor. It identifies the intersection between the CCP's worldview and how it views Britain, how it wants Britons and foreign powers to view the UK, and how it projects its narratives domestically (in Britain) and overseas. What the Council on Geostrategy defines as 'discursive statecraft' is clearly a challenge for our generation. The thinking in this paper will help us understand how it is practiced by the CCP. Founded in 2021, the Council on Geostrategy is an independent non-profit organization situated in the heart of Westminster.
The Belt and Road Initiative How might the UK respond? According to this paper of the China Research Group (CRG), One Belt One Road (OBOR), also known as the Belt and Road Initiative (BRI), is both a foreign investment program and a political campaign to build a regional and global order with Chinese characteristics. Within OBOR's loose, informal framework, foreign leaders make symbolic gestures to welcome China's rise. In return, they get investments and political favors that match their usefulness and submissiveness to China. The Trump administration called OBOR "predatory," but it failed to grasp that OBOR offers an attractive value proposition to partner countries. China has paused most overseas lending during the pandemic. But, as U.S.–China relations sour, OBOR is likely to revive. Over the next decade, it could evolve and consolidate into a Chinese-led geopolitical and technological bloc. Washington will eventually pressure the UK to take sides against OBOR. The UK must therefore review its hierarchy of national interests and consider how they may diverge from the United States'. This report corrects some common myths about OBOR, analyzes how OBOR touches UK national interests, and considers three strategic options: "Contain and Undermine," "Hedge," and "Join and Balance." Each strategic option entails risks and painful trade-offs. It does not make a recommendation; that is for the British people to decide. 
China and Russia: closing the maritime system? The author of this article in the Council on Geostrategy's "Britain's World" (an online magazine about geopolitics from a British perspective) is an Associate Professor at the Daniel K. Inouye Asia-Pacific Centre for Security Studies and a James Cook Associate Fellow in Indo-Pacific Geopolitics at the Council on Geostrategy. The Council on Geostrategy is a new think tank, based in London. The author wrote the article in a personal capacity.
Joint Statements on Xinjiang The text of the following statement was released on March 22, 2021 by the foreign ministers of Canada, and the United Kingdom, and the United States Secretary of State:

"We, the Foreign Ministers of Canada and the United Kingdom, and the United States Secretary of State, are united in our deep and ongoing concern regarding China's human rights violations and abuses in Xinjiang. The evidence, including from the Chinese Government's own documents, satellite imagery, and eyewitness testimony is overwhelming. China's extensive program of repression includes severe restrictions on religious freedoms, the use of forced labor, mass detention in internment camps, forced sterilizations, and the concerted destruction of Uyghur heritage. Today, we have taken coordinated action on measures, in parallel to measures by the European Union, that send a clear message about the human rights violations and abuses in Xinjiang. We are united in calling for China to end its repressive practices against Uyghur Muslims and members of other ethnic and religious minority groups in Xinjiang, and to release those arbitrarily detained. We underline the importance of transparency and accountability and call on China to grant the international community, including independent investigators from the United Nations, journalists, and foreign diplomats, unhindered access to Xinjiang. We will continue to stand together to shine a spotlight on China's human rights violations. We stand united and call for justice for those suffering in Xinjiang."
The European Council of the European Union decided on March 22, 2021 to impose restrictive measures on eleven individuals and four entities responsible for serious human rights violations and abuses in various countries around the world. Together with the listing of four Russian individuals earlier this month, these 15 designations are part of the first broader package of listings under the EU Global Human Rights Sanctions Regime. The sanctions signal the EU's strong determination to stand up for human rights and to take tangible action against those responsible for violations and abuses. The violations targeted today include the large-scale arbitrary detentions of, in particular, Uyghurs in Xinjiang in China, repression in the Democratic People's Republic of Korea, extrajudicial killings and enforced disappearances in Libya, torture and repression against LGBTI persons and political opponents in Chechnya in Russia, and torture, extrajudicial, summary or arbitrary executions and killings in South Sudan and Eritrea. Under the EU Global Human Rights Sanctions Regime established on 7 December 2020, the listed individuals and entities are subject to an asset freeze in the EU. In addition, listed individuals are subject to a travel ban to the EU. Moreover, persons and entities in the EU are prohibited from making funds available, either directly or indirectly, to those listed.
And on March 22, 2021, the U.S. Department of the Treasury's Office of Foreign Assets Control (OFAC) announced new sanctions on two officials from the government of the People's Republic of China (PRC) in connection with human rights abuses against ethnic minorities in the Xinjiang Uyghur Autonomous Region (Xinjiang). Beijing immediately hit back against EU sanctions imposed today over its abuses against the Muslim minority in Xinjiang and slapped retaliatory measures on a host of EU officials, potentially including 27 ambassadors as well as and other political targets. The most prominent entity on China's hit-list is the European Council's Political and Security Committee. The Chinese statement did not immediately specify whether the new sanctions directly targeted the 27 ambassadors who make up the PSC. Neither the EU Council nor the Chinese mission to the EU could immediately clarify this. Five members of the European Parliament are on the list, including the prominent head of the Parliament's China delegation Reinhard Bütikofer, as well as as Michael Gahler, Raphaël Glucksmann, Ilhan Kyuchyuk and Miriam Lexmann. The subcommittee on Human Rights of the European Parliament is also sanctioned. Foreign Ministry Spokesperson Announces Sanctions on Relevant EU Entities and Personnel:

"The European Union (EU) imposed unilateral sanctions on relevant Chinese individuals and entity on March 22, citing the so-called human rights issues in Xinjiang. This move, based on nothing but lies and disinformation, disregards and distorts facts, grossly interferes in China's internal affairs, flagrantly breaches international law and basic norms governing international relations, and severely undermines China-EU relations. China firmly opposes and strongly condemns this. The Chinese government is firmly determined to safeguard national sovereignty, security and development interests. The Chinese side decides to sanction the following ten individuals and four entities on the EU side that severely harm China's sovereignty and interests and maliciously spread lies and disinformation: Reinhard Butikofer, Michael Gahler, Raphaël Glucksmann, Ilhan Kyuchyuk and Miriam Lexmann of the European Parliament, Sjoerd Wiemer Sjoerdsma of the Dutch Parliament, Samuel Cogolati of the Belgian Federal Parliament, Dovile Sakaliene of the Seimas of the Republic of Lithuania, German scholar Adrian Zenz, Swedish scholar Björn Jerdén, Political and Security Committee of the Council of the European Union, Subcommittee on Human Rights of the European Parliament, the Mercator Institute for China Studies in Germany, and the Alliance of Democracies Foundation in Denmark. The individuals concerned and their families are prohibited from entering the mainland, Hong Kong and Macao of China. They and companies and institutions associated with them are also restricted from doing business with China. The Chinese side urges the EU side to reflect on itself, face squarely the severity of its mistake and redress it. It must stop lecturing others on human rights and interfering in their internal affairs. It must end the hypocritical practice of double standards and stop going further down the wrong path. Otherwise, China will resolutely make further reactions."

On top of this, China slapped sanctions on UK entities on March 26, 2021, saying that Britain's sanctions on Chinese individuals over alleged human rights abuses in Xinjiang were based on "lies and disinformation." The Ministry of Foreign Affairs imposed sanctions on four U.K. entities* and nine individuals that will be prohibited from doing business with China. Their assets in the country will also be frozen, the ministry said. That's a step further than previous Chinese sanctions on foreign entities (above) and those on American politicians in January were focused on prohibiting travel to China and doing business. The new sanctions on the U.K. primarily target individuals involved with human rights, particularly those of the Uyghur Muslims in Xinjiang.
*One of the four UK entities is law firm Essex Court Chambers. Four ECC barristers conclude in an Opinion that the available evidence credibly establishes that crimes against humanity and the crime of genocide have been committed.
"Power comes out of the barrel of the Gun" (枪杆子里面出政权) The civilized world is faced with the economic imperialism under the grandiose name "One Belt One Road" ( 一带一路 (Yīdài yīlù) scheme, to authenticate the age-old theory, that China is the center of the civilized world (文明世界的中心) while the rest of the world are just a little better than barbarians, as according to the age-old Chinese philosophy. One common denominator for the Chinese is that they sincerely believe in the dictum of Chairman Mao Zedong that "Power comes out of the barrel of the Gun" (枪杆子里面出政权), and the Chinese may soon have the biggest guns in the world (…).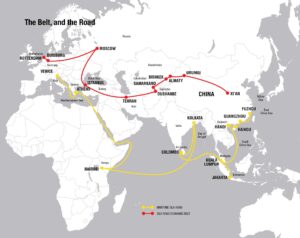 BRI Participants (list)
Snakes, rats and drug addicts used to dwell here How narratives about foreign direct investments contribute to the state capture: find out in a recent publication of the Belgrade Centre for Security Policy (BCSP), an independent research center based in Belgrade, Serbia.
Due to the way they are contracted and implemented, foreign direct investments represent one of the key mechanisms for capturing the state. Hiding behind the stories of a better future and new jobs, the government is breaking down the system of legal regulations and statutory procedures, promoting private interest to the detriment of the public one, and using foreign investments as propaganda ammunition to legitimize unlimited power. The results of such policy are a number of negative consequences for the state and the citizens, such as the increase of public debt, dramatic violation of workers' rights and alarming problems with environmental pollution. In order to mask the negative consequences and legitimize the policy of attracting foreign investors based on the above-described pattern, a complex narrative has been developed presenting foreign investments as a successful, and the only possible, model for state development. This meta-narrative about progress, which media are building up every day, is based on four basic component narratives: on the economic revival, on the efficiency of personal rule, on transparent contracts and on the opponents of Serbia's development who 'unfoundedly' criticize the government's economic success. In the analysis of the narrative the author focuses on the statements of officials made since 2012, which is when the regime led by the Serbian Progressive Party came to power. Many of the described mechanisms, such as non-transparent, harmful contracts and unjustifiably high subsidies, also existed during the previous government. However, the capture of the state, carried out – among other things – with the help of foreign direct investments, has reached completely new dimensions under the current regime, while the narratives that accompany it have been significantly 'improved'.
Strange bedfellows on Xinjiang: The CCP, fringe media and US social media platforms This new report from ASPI's International Cyber Policy Centre explores how the Chinese Communist Party (CCP), fringe media and pro-CCP online actors seek, sometimes in unison, to shape and influence international perceptions of the Chinese Government's human rights abuses in Xinjiang, including through the amplification of disinformation. US-based social media networks, including Twitter, Facebook and YouTube, along with Chinese-owned TikTok (owned by Chinese company ByteDance), are center stage for this global effort. The Chinese Government continues to deny human rights abuses in Xinjiang despite a proliferation of credible evidence, including media reporting, independent research, testimonies and open-source data, that has revealed abuses including forced labor, mass detention, surveillance, sterilization, cultural erasure and alleged genocide in the region. To distract from such human rights abuses, covert and overt online information campaigns have been deployed to portray positive narratives about the CCP's domestic policies in the region, while also injecting disinformation into the global public discourse regarding Xinjiang.
China's New Silk Road: A superhighway for illegal trade? When Chinese President Xi Jinping described the Belt and Road Initiative (BRI) as the 'project of the century', he might have sounded overly ambitious. The reality is that it is hard to find a project that can rival the scale and reach of Beijing's New Silk Road.
Countless articles have been written and discussions have been had on what is deemed to be a game changer in terms of connectivity among regions, volume of trade, and investments. But with its land and maritime economic corridors, roads, ports, railways, special economic zones, industrial parks, mines and pipelines, telecommunications networks and urban development projects, the BRI has also attracted the attention of criminal entrepreneurs at the national and transnational level. Countries participating in the BRI, and especially those featuring developing and emerging economies, are faced with a common dilemma linked to development projects. The likes of Myanmar, Vietnam, Mozambique and Tanzania, to mention only but a few, need to balance welcoming BRI investments to build infrastructure and increase prosperity with finding ways to shield themselves from the activities of criminals eager to exploit and infiltrate new infrastructural projects and put their hands on the extra cash injected into local economies. Yet, criminal involvement is a little studied aspect of the BRI, both in policy and research circles. This is problematic: failing to acknowledge that development and trade create vulnerabilities in contexts where governance and regulatory capacity is weak, crime levels are high and illicit markets are well established opens up the risk of systematic criminal exploitation.
To help fill that gap, the upcoming report of the Global Initiative against Transnational Organized Crime (GI-TOC) 'China's New Silk Road: A superhighway for illegal trade?', the first mapping of the convergence between BRI infrastructure and criminal flows, takes a close look at existing and potential criminal vulnerabilities in South East Asia as well as central and eastern Africa and identifies areas where BRI projects coincide with trafficking routes for narcotics, illicit environmental commodities and people. One of the BRI's key economic networks, the China–Indochina corridor, overlaps with both existing economic routes and established trafficking routes and transit hubs. The key paths of the BRI correspond to and elongate transnational trafficking routes, with illicit goods blending in with the larger volume of trade. In areas where the BRI routes do not overlap with established trafficking routes, new transport infrastructure will link the Chinese market with new trading partners, amplifying the opportunities for illicit trade.
Increased connectivity provided by the BRI may afford organized crime networks new opportunities at a time when illicit trade is already expanding dramatically worldwide and criminal networks are seeking ever more favorable pathways for illicit trade. When BRI corridors, routes and trade hubs are studied in parallel with illicit trafficking routes and hotspots, it is impossible to miss the overlaps and convergences. Places such as China's Yunnan province and its capital city, Kunming; the special economic zone and port in Sihanoukville, Cambodia; and Kenya's maritime and railway hub in Mombasa are among the recurrent locations that are both BRI nodes and magnets for trafficking of various types of illicit commodities, as well as for financial crime and other criminal activities. One of the New Silk Road's objectives is to encourage stability through economic development – a target directly undermined by the emergence and expansion of illicit markets and economies. As BRI projects progress, the ever-evolving picture of criminal infiltration must be closely monitored.
The EU-China investment agreement is a balancing act between EU's values and economic interests The EU and China surprised many by reaching an agreement in principle on a new investment deal (the Comprehensive Agreement on Investment, CAI) that had been in the making for seven years. The agreement has, however, still to survive the EU's notoriously long and tedious ratification process. The odds of the CAI being ratified have been weak from the beginning due to the EU member states' growing negative sentiments towards China. The CAI already faced its first obstacle in March 2021 when the EU imposed sanctions on China for human rights violations. China reacted by imposing countersanctions, which immediately increased calls in the EU to reject the investment agreement. The EU-China investment agreement is addressed in the newest Comment, written by FIIA (the Finnish Institute of International Affairs, a research institute based in Helsinki, Finland). The author argues that the CAI could cause further tensions between China and the EU, although its aim has been to improve the relations.
The Party Speaks for You: Foreign interference and the CCP's United Front System In recent years, groups and individuals linked to the CCP's United Front have attracted an unprecedented level of scrutiny for their links to political interference, economic espionage and influence on university campuses. Confucius Institutes, which are overseen with heavy involvement from the United Front Work Department (UFWD), have generated controversy for more than a decade for their effects on academic freedom and influence on universities. Numerous Chinese students and scholars associations, which are united front groups for Chinese international students, have been involved in suppressing academic freedom and mobilizing students for nationalistic activities. This paper of the Australian Strategic Policy Institute (ASPI) dissects the CCP's united front system and its role in foreign interference. It describes the broad range of agencies and goals of the united front system, rather than focusing only on the UFWD.
China–EU Connectivity in an Era of Geopolitical Competition The long-standing relationship between China and the European Union (EU) is being subsumed into a broader geopolitical competition between major power centers. Alongside cooperation, elements of competition and rivalry have been sharpened by a re-evaluation of the bilateral relationship by EU actors. Areas of cooperation have included Chinese involvement in the EU's internal connectivity projects—specifically in transport and digital networks. This publication of the Stockholm International Peace Research Institute (SIPRI) examines this cooperation and assesses its prospects. Enhancing connectivity within and around the EU to facilitate trade and commercial relations was relatively uncontroversial even if initiatives were never fully aligned. But the space for common projects has been narrowed by political divergence and new sensitivities in the EU regarding the security implications of Chinese investments. China understands that the EU's scrutiny of its investments and restrictions on its involvement in connectivity projects are affected by EU–US relations. Despite these tensions, the report shows that constructive ways forward in this globally significant relationship are still possible, both within and beyond the connectivity domains.
China's Belt and Road: Implications for the United States The Belt and Road Initiative (BRI), Chinese President Xi Jinping's signature foreign policy undertaking and the world's largest infrastructure program, poses a significant challenge to U.S. economic, political, climate change, security, and global health interests. Since BRI's launch in 2013, Chinese banks and companies have financed and built everything from power plants, railways, highways, and ports to telecommunications infrastructure, fiber-optic cables, and smart cities around the world. If implemented sustainably and responsibly, BRI has the potential to meet long-standing developing country needs and spur global economic growth. To date, however, the risks for both the United States and recipient countries raised by BRI's implementation considerably outweigh its benefits. BRI was initially designed to connect China's modern coastal cities to its underdeveloped interior and to its Southeast, Central, and South Asian neighbors, cementing China's position at the center of a more connected world. The initiative has since outgrown its original regional corridors, expanding to all corners of the globe. Its scope now includes a Digital Silk Road intended to improve recipients' telecommunications networks, artificial intelligence capabilities, cloud computing, e-commerce and mobile payment systems, surveillance technology, and other high-tech areas, along with a Health Silk Road designed to operationalize China's vision of global health governance. Hundreds of projects around the world now fall under the BRI umbrella. CFR's updated Independent Task Force Report No. 79 can be found here.
China's Progress in Semiconductor Manufacturing Equipment/Accelerants and Policy Implication China has a chip problem, according to the Policy Brief published in March 2021 by the Center for Security and Emerging Technology (CSET), a policy research organization within Georgetown University's Walsh School of Foreign Service. It depends entirely on the United States and U.S. allies for access to advanced commercial semiconductors, which underpin all modern technologies, from smartphones to fighter jets to artificial intelligence. China's current chip dependence allows the United States and its allies to control the export of advanced chips to Chinese state and private actors whose activities threaten human rights and international security. Chip dependence is also expensive: China currently depends on imports for most of the chips it consumes. China has therefore prioritized indigenizing advanced semiconductor manufacturing equipment (SME), which chip factories require to make leading-edge chips. But indigenizing advanced SME will be hard since Chinese firms have serious weaknesses in almost all SME sub-sectors, especially photolithography, metrology, and inspection. Meanwhile, the top global SME firms—based in the United States, Japan, and the Netherlands—enjoy wide moats of intellectual property and world-class teams of engineers, making it exceptionally difficult for newcomers to the SME industry to catch up to the leading edge. But for a country with China's resources and political will, catching up in SME is not impossible.
U.S. Secretary of Commerce Gina Raimondo Statement on Actions Taken Under ICTS Supply Chain Executive Order The Department of Commerce served subpoenas on multiple Chinese companies that provide information and communications technology and services (ICTS) in the United States. The subpoenas were issued to support requirements for the review of transactions pursuant to Executive Order 13873. The actions taken today are an important step in investigating whether the transactions involving these companies meet the criteria set forth in the Executive Order. U.S. Secretary of Commerce Gina M. Raimondo released the following statement on March 17, 2021:
"The Biden-Harris Administration has been clear that the unrestricted use of untrusted ICTS poses a national security risk. Beijing has engaged in conduct that blunts our technological edge and threatens our alliances. In issuing subpoenas today, we are taking an important step in collecting information that will allow us to make a determination for possible action that best protects the security of American companies, American workers, and U.S. national security. We hope to work cooperatively with these companies and conclude a thorough review. Trusted information and communications technology and services are essential to our national and economic security and remain a top priority for the Biden-Harris administration. The Administration is firmly committed to taking a whole-of-government approach to ensure that untrusted companies cannot misappropriate and misuse data and ensuring that U.S. technology does not support China's or other actors' malign activities."
TikTok vs Douyin: A Security and Privacy Analysis In a recently released study by The Citizen Lab, a cybersecurity research group at the University of Toronto, researchers found no evidence that TikTok's computer code poses a national security threat to the U.S., reports the Wall Street Journal.
However, according to the study, "the source code of Douyin and TikTok is vast, and so are the differences between them. Given time constraints, we could not examine every source code component and test the apps in every circumstance, which means our methods could not find every security issue, privacy violation, and censorship event. However, our methodology should lead us to find overt issues in these areas if they existed. This research only focuses on TikTok and Douyin's Android versions and does not analyze iOS versions of the apps."
And regarding previous work on security and privacy issues with TikTok:
1) "in December 2019, Matthias Eberl, a German journalist, conducted a technical analysis on TikTok's app and website. They found that TikTok's data collection using third-party trackers was in apparent conflict with the GDPR (General Data Protection Regulation). Ebrel discovered the TikTok website identifies users using "canvas fingerprinting," a fingerprinting technique in which the website asks the browser to draw a hidden image, and using that unique image to identify the browser version, operating system, and other information regarding the execution environment."
2) "In September 2020, the Australian Strategic Policy Institute (ASPI) published a report on TikTok and WeChat's censorship, privacy concerns, and data collection titled TikTok and WeChat: Curating and controlling global information flows. ASPI summarized from previous research multiple themes that were censored by TikTok, and also uncovered new ones. Those themes included world leaders, politics, protests, LGBTIQ+ issues, and Xinjiang. ASPI's approaches included code inspection and posting content with censored hashtags. Our approach was to track the availability of posts with sensitive hashtags. The evidence we found was inconclusive as to whether TikTok employed any censorship of user posts. However, though inconclusive, our evidence does not contradict ASPI's findings.
"ASPI's research speculated that the TikTok Android app could collect keystroke data and suggested it may be obscured by the app's custom encryption. However, the researchers were not able to decrypt the encryption algorithm and could not confirm if the collection was taking place. Assuming the "custom encryption" they mentioned is what we found and called "ttEncrypt", we can confirm that keystrokes were not encrypted and sent using ttEncrypt. We did not conduct further research into whether TikTok collected keystroke data.
3) "An investigative report by The Intercept published in March 2020, revealed through leaked Chinese policy documents that TikTok moderators were instructed to suppress content posted by users deemed too "ugly", "poor" or "disabled" for the platform. The documents also show instructions to moderators to block livestreams with political content that harmed "national honor" or national security. A TikTok spokesperson claimed these were old documents and these policies were "either no longer in use, or in some cases appear to never have been in place"."
The U.S. Shouldn't Be Afraid of China Although a rethink of U.S. policy is warranted, given China's dramatic advances and growing assertiveness, Washington should develop its response from a position of confidence. This article, written by a Senior Fellow at the CATO Institute, specializing in foreign policy and civil liberties, appeared on Foreign Policy on March 8, 2021.
The Domestic Security Grey Zone: Navigating the Space Between Foreign Influence and Foreign Interference Australia has been a global first mover in updating its legislation, policy and bureaucratic structure to manage foreign influence risk in the 21st century. Australia's response has focused on criminalising, disrupting and deterring the most pernicious form of foreign influence – foreign interference. However, a 'grey zone' is emerging between acceptable foreign influence activities and unlawful foreign interference. This paper (of the National Security College at Australia National University) asks: how should Australia address foreign influence that falls short of interference, but is nonetheless inconsistent with Australian values, interests or sovereignty?
Proposal of the Central Committee of the Chinese Communist Party on Drawing Up the 14th Five-Year Plan for National and Social Development and Long-Range Objectives for 2030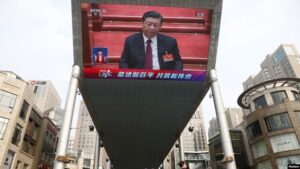 A giant outdoor screen shows Chinese President Xi Jinping attending the closing session of the
National People's Congress in Beijing on March 11.
China's annual legislative sessions — the Chinese People's Political Consultative Conference and the gathering of the National People's Congress — convened earlier this month, bringing with them important implications for AI and the semiconductor industry. Headlining the sessions was China's 14th Five Year Plan, which was released earlier this month and approved last week. The plan (a draft of which CSET, a policy research organization within Georgetown University's Walsh School of Foreign Service, translated in December) lists AI, quantum computing and integrated circuits among the areas critical to China's national security. On March 5, Chinese Premier Li Keqiang announced a target of 7& annual growth in R&D spending over the next five years, higher than China's GDP growth target and its budget increase for the military – 6% and 8% respectively – but a significant scaling-back from the years of double-digit growth China had maintained. The China Development Bank, meanwhile, announced its intention to offer $60 billion in loans for firms working in strategic technologies, plus plans to invest an additional $30 billion in microchip development. Some observers noted that this year's proposals hinted at the failure of the 13th Five Year Plan's "Made in China 2025" campaign, which had set ambitious targets for domestic semiconductor manufacturing. With the country still producing only 16% of its chips domestically, modest increases in R&D spending and investment are unlikely to springboard China to its 70% target by 2025.
Global Britain in a Competitive Age, the Integrated Review of Security, Defence, Development and Foreign Policy This is a new (March 2021) U.K. Government 114-page report on British defense and foreign policy, presented to Parliament by the Prime Minister by Command of Her Majesty.
Information Bedlam: Russian and Chinese Information Operations During Covid-19 The covid-19 public health crisis involves more than a fight against the coronavirus. It has prompted an information war in which the United States and its allies are losing ground to adversaries, particularly Russia and China. While the pandemic enables disruption of the information environment, it also presents a research opportunity. Based on a literature review through January 2021, evaluated at an expert seminar, this CEPA policy brief provides a baseline analysis of changing tactics, narratives, and distribution strategies in Russian and Chinese information operations (IOs) relating to the covid-19 pandemic.
Key findings:
• China copied Russia's tactics, spreading disinformation globally for the first time, particularly on the virus's origins. But it lacks Russia's skillset;
• The Chinese Communist Party (CCP) turned to destructive and conspiratorial narratives in an attempt to blunt criticism of its initial failure to contain covid-19;
• China's previous approach built economic ties and influence with political elites, whereas Russia's lies and disruption targeted broader public opinion;
• Russia's approach evolved little; it recycled previous narratives, spreading a broad range of covid-19 disinformation;
• Evidence supports the theory that Russia seeks to strengthen itself in relative terms by weakening the West, while China seeks to strengthen itself in absolute terms;
• Collaboration agreements between state media and circular amplification of narratives during the pandemic do not (yet) amount to evidence of strategic Sino-Russian coordination; and
• Covid-19 disinformation has not only hampered public health provision, it makes societies more vulnerable to future IOs.
The Weak Links in China's Drive for Semiconductors In this paper, Institut Montaigne (a nonprofit, independent think tank based in Paris, France) argues that semiconductors are weak links to China's innovation-driven development strategy. China provides massive support to its semiconductor sector to reach self-reliance and reduce its vulnerability on foreign imports. However, the international environment and the domestic obstacles faced by the country make its plans for near self-reliance excessively ambitious. But if there is anything we can learn from Chinese history when it comes to reforms and opening, it's that we can still expect more progress as a result of strong policy guidance and determination. But if strict controls are maintained on some chokepoint technologies, China will find it extremely difficult to upgrade its industry to the level of the global leaders for IC design and foundry. With that vision in mind, Institut Montaigne draws recommendations for the European semiconductor industry. Europe will remain at the intersection of two forces. On the one hand, the US' restrictive approach to technology transfers. On the other hand, China's mix of industrial policies and unwavering drive to obtain foreign technologies. The ongoing tech war has exposed the vulnerabilities of the semiconductor supply chain. Europe needs to work to reduce possible future threats to its access to technology and anticipate geopolitical risks that might affect its strategic resilience.
How Six Advanced Persistent Threat-Connected Chinese Universities are Advancing AI Research Six Chinese universities have relationships with Advanced Persistent Threat (APT) hacking teams. Their activities range from recruitment to running cyber operations. These partnerships, themselves a case study in military-civil fusion, allow state-sponsored hackers to quickly move research from the lab to the field. This report, published in March 2021 by the Center for Security and Emerging Technology (CSET), a policy research organization within Georgetown University's Walsh School of Foreign Service, examines these universities' relationships with known APTs and analyzes the schools' Artificial intelligence (AI)/machine learning (ML) research that may translate to future operational capabilities.
Institution's
Name in English

Institution's Name in Mandarin

Affiliated APTs

Cybersecurity Courses Include AI/ML?

Individual Professors Researching AI/ML and Cybersecurity?

US Government BIS Entity List

Hainan University

海南大学

APT40

Unknown

Yes

No

Southeast University

东南大学

Deep Panda

Yes

Yes

No

Shanghai Jiao Tong University

上海交通大学

APT1

Yes

Yes

No

Xidian University

西安电子科技 大学

APT3

Yes

Yes

No

Zhejiang University

浙江大学

APT1

Yes

Yes

No

Harbin Institute of Technology

哈尔滨工业大 学

APT1

Unknown

Yes

Yes
China's STI Operations Monitoring Foreign Science and Technology Through Open Sources Open source intelligence (OSINT) and science and technology intelligence (STI) are realized differently in the United States and China, China putting greater value on both, according to the report published in January 2021 by the Center for Security and Emerging Technology (CSET), a policy research organization within Georgetown University's Walsh School of Foreign Service. In the United States' understanding, OSINT "enables" classified reporting, while in China it is the intelligence of first resort. This contrast extends to STI which has a lower priority in the U.S. system, whereas China and its top leaders personally lavish great attention on STI and rely on it for national decisions. Establishing a "National S&T Analysis Center" within the U.S. government could help to address these challenges.
Data Visualization: Chinese State Council Budget Tracker It's widely understood that Beijing invests significant resources in shoring up its science and technology prowess, but the extent and flows of the Chinese government's public investments in S&T are not as well known. This project tracks publicly available information about the budgets of more than two-dozen high-level Chinese government entities, including those that support science, technology, and talent recruitment.
Securing the Subsea Network The United States' position as the world's leading hub in subsea networks can no longer be taken for granted. More of the world is coming online, and China is emerging rapidly as a leading subsea cable provider and owner. This guide of the Center for Strategic & International Studies (CSIS) for policymakers describes subsea cables' essential functions, planning processes, and common threats; explains the U.S. economic and strategic interests at stake; and offers recommendations for protecting U.S. centrality in subsea networks.
FBI Private Industry Notification: "Malicious actors almost certainly will leverage synthetic content for cyber and foreign influence operations" On Mar. 10, the FBI's Cyber Division released a Private Industry Notification (PIN) warning that "Malicious actors almost certainly will leverage synthetic content for cyber and foreign influence operations in the next 12-18 months." The PIN explains that manipulated images or video—often referred to as "deepfakes"—can be investigated by the FBI when the synthetic content is malicious and "attributed to foreign actors or is otherwise associated with criminal activities." The report specifically highlights content generated with artificial intelligence or machine learning techniques. It alleges that Russian, Chinese and Chinese-language actors have already used these emerging technologies to create real-looking profile images of nonexistent people in an effort to make their messages appear more authentic to online users. As technology continues to advance, the PIN asserts, the public is increasingly likely to encounter fraudulent, synthesized content online.
The PIN warns that "cyber actors may use synthetic content to create highly believable spear phishing messages or engage in sophisticated social engineering attacks," citing a November 2020 Europol research report It further provides guidance for identifying the use of deepfakes in influence operations, using a photo from thispersondoesnotexist.com to illustrate different indications of deepfake technology. And it offers general guidance for combatting disinformation campaigns in a digital landscape littered with synthetic content.
The PIN was coordinated with the Department of Homeland Security's Cybersecurity & Infrastructure Security Agency (CISA).
Understanding Chinese Government Guidance Funds China's government is deploying massive amounts of capital in an effort to "catch up with and surpass" the United States in advanced technology. As part of this effort, the Chinese government has invested financially and politically in government guidance funds [政府引导基金], public-private investment funds that aim to both produce financial returns and further the government's industrial policy goals. As of the first quarter of 2020, Chinese officials had set up 1,741 guidance funds, with a registered target size of 11 trillion RMB (1.55 trillion USD). However, these funds had only raised a total of 4.76 trillion RMB (672 billion USD) from private and public sources.
While guidance funds' ambitions are clear, their long-term prospects for success are not. Drawing exclusively on Chinese- language sources, this analysis published in March 2021 by the Center for Security and Emerging Technology (CSET), a policy research organization within Georgetown University's Walsh School of Foreign Service, examines how guidance funds raise and deploy capital, manage their investments, and interact with other public and private actors. We find that many guidance funds are poorly conceived and implemented, and that the mechanism as a whole is often inefficient. Nonetheless, these funds have many advantages over traditional industrial policy mechanisms, and they are unquestionably helping mobilize money and other resources for new businesses and emerging technologies. The guidance fund model is no silver bullet, but it should not be casually dismissed. 
Global Networks 2030 U.S.-China technology competition is set to intensify in third markets as developing countries decide which communications systems to adopt. China is already advancing its own vision—the Digital Silk Road—and positioning itself to benefit commercially and strategically as populations grow and more of the world comes online. This report of the Center for Strategic & International Studies (CSIS) identifies key economic trends, emerging technologies, and strategic options for defending global networks through 2030.
A New 25-Year Strategic Partnership Between Iran and China Iranian state media and diplomats trumpeted the signing of a new 25-year strategic partnership between Iran and China, under which Iran will supply China with crude oil in exchange for Chinese investment. Regime-linked media emphasized that this was a dire development for U.S. global power.
In January 2016, just as sanctions were eased, Chinese President Xi Jinping visited Tehran and proposed a long-term comprehensive, strategic partnership program that would involve Chinese investment in Iranian infrastructure and assured supplies of Iranian oil and gas at concessional rates. Reluctant to be tied into too close a Chinese embrace, Iran kept the negotiations going for years. The partnership, first proposed by China's leader, Xi Jinping, during a visit to Iran in 2016, was approved by President Hassan Rouhani's cabinet in June, Iran's foreign minister, Mohammad Javad Zarif, said.
Facebook Taking Action Against Hackers in China On March 24, 2021, Facebook shared actions they took against a group of hackers, in China known in the security industry as Earth Empusa or Evil Eye, to disrupt their ability to use their infrastructure to abuse Facebook's platform, distribute malware and hack people's accounts across the internet. They targeted activists, journalists and dissidents predominantly among Uyghurs from Xinjiang in China primarily living abroad in Turkey, Kazakhstan, the United States, Syria, Australia, Canada and other countries. This group used various cyber espionage tactics to identify its targets and infect their devices with malware to enable surveillance.
Huawei in Central and Eastern Europe: Trends and Forecast A new report from a team of regional experts across Czechia, Hungary, Latvia, Lithuania, Poland, Romania, and Slovakia, which was published by China Observers in Central and Eastern Europe (CHOICE), a multinational consortium of experts providing informed analysis on the rising influence of the People's Republic of China in Central and Eastern Europe (CEE), summarizes the ongoing debates on Huawei's involvement in each of their respective nations, thus formulating a mosaic of the region at-large.
Primarily, the paper serves to provide an up-to-date overview of the ongoing debates about Huawei's role in 5G rollouts while addressing the major underlying issues of security of these networks in selected Central and Eastern European countries. The paper not only assesses the role of the existing presence of the Chinese telecoms company and an increasingly active US diplomacy in the region that often draws press coverage but further examines the intra-EU debates that color the complicated position of CEE nations in particular.
Crucially, the research determines trends to watch in the seven CEE countries, weighs the probability of future shifts in the local debates on Huawei, and assesses whether the debates are primarily driven by the governments and their agencies, by external actors, or by domestic telecom firms.
Degrees of Separation: A Targeted Approach to U.S.-China Decoupling The CSIS Economics Program launched Degrees of Separation to establish clearer objectives for U.S. engagement with China and to assess whether disengagement from specific economic activities can help in meeting such objectives. This interim report reviews the evolution of the U.S.-China relationship since President Nixon's visit to China in February 1972. It takes stock of the current bilateral economic relationship, with particular focus on trade, investment, and innovation linkages. The report identifies six distinct areas that motivated U.S.-China engagement from 1972 through the end of the Trump administration: (1) geostrategy; (2) economics; (3) human rights and civil society; (4) global rules and norms; (5) global public goods; and (6) technology and innovation. While specific objectives in each area continue to evolve, these six areas remain relevant to guiding bilateral engagement today.
A subsequent report, delivered later this year, will present a framework for assessing specific economic activities as candidates for targeted decoupling, along with case studies designed to test the framework.
The defender's dilemma: Defining, identifying, and deterring gray-zone aggression The key points of this new AEI report are:
• Gray-zone aggression takes place in the gray zone between war and peace and is used to weaken another country using means short of war.
• Using it is advantageous to the attacker, as it involves far smaller risks and expenses than armed aggression does, and to date results in scant punishment.
• Russia and China are today's main practitioners of gray-zone aggression against the West, each using a different combination of means of aggression.
• Because gray-zone aggression exploits open societies' vulnerabilities, any country can use the opportunity and can create new means of aggression.
• As it does not involve the sustained use of force and targets civil society, defense and deterrence must include all parts of society.
Senate Intelligence Committee's Open Hearing: Nomination of the new Director of the CIA  Biden's pick to serve as the CIA director, Ambassador William Burns, received bipartisan support from lawmakers on the Senate Intelligence Committee during his confirmation hearing on February 24, 2021. Burns told the Senate committee that he viewed countering China's "adversarial, predatory" leadership as key to US national security, stating that his four priorities if confirmed would be "people, partnerships, China and technology." "Out-competing China will be key to our national security in the days ahead," said Burns, adding that for the CIA this will "will mean intensified focus and urgency, continually strengthening its already impressive cadre of China specialists, expanding its language skills, aligning personnel and resource allocation for the long haul and employing a whole of agency approach to the operational and analytical challenges of this crucial threat."
The Avoidable War: The Decade of Living Dangerously The year 2020 was a devastating one, but also a year of great change and transformation as the world adapted with difficulty to meet challenges largely unprecedented in living memory, and the trends of global power appeared to shift dramatically. And it was a revelatory year — one that pulled the lid off the true extent and meaning of our globalized, interconnected world, revealed dysfunction present in our institutions of national and international governance, and unmasked the real level of structural resentment, rivalry, and risk present in the world's most critical great power relationship — that between the United States and China.
2020 may well go down in history as a great global inflection point. It is thus worth looking back to examine what happened and why and to reflect on where we may be headed in the decade ahead. The Avoidable War: The Decade of Living Dangerously, the third volume of ASPI's annual Avoidable War series, does precisely that. It contains selected essays, articles, and speeches and it concludes with a discussion of the growing challenges the world will face as the escalating contest between the United States and China enters a decisive phase in the 2020s.
Leaping across the ocean: The port operators behind China's naval expansion The People's Republic of China (PRC) has become increasingly willing to project military power overseas while coercing and co-opting countries into accepting the objectives of the Chinese Communist Party (CCP). Beijing's greater willingness to flex its muscles, both politically and militarily, is supported by its overseas investments in critical infrastructure, which provide the People's Liberation Army (PLA) with the logistical enablers needed to project military power beyond the 'first island chain' in the Western Pacific. 'Controlling the seas in the region, leaping across the ocean for force projection' (区域控海,跨洋投送) is the term Chinese naval commentators use when referring to the PLA Navy's bid to project power across the world.
Australia should build its research and analytical capacity to better understand the nexus between the CCP and SOEs. That due diligence, building on open-source research conducted for this report, will better illuminate the PRC's global expansion, potential grey-zone operations and the companies and individuals involved.
This report of the Australian Strategic Policy Institute (ASPI) establishes an understanding of the nexus between the CCP and SOEs and argues for Australia to increase its analytical capacity and knowledge.
Survey: Europeans' views of China in the age of COVID-19 In September and October 2020, the Sinophone Borderlands project at Palacký University Olomouc conducted a wide-scale survey of public opinion on China in 13 European countries. The polled countries include: Czechia, France, Germany, Hungary, Italy, Latvia, Poland, Russia, Serbia, Slovakia, Spain, Sweden, and the United Kingdom. A primary outcome of the analysis is a comparative report where opinions about China, its position on the global stage vis-a-vis other powers, and its actions during the COVID-19 pandemic are compared among the 13 polled countries.
This will be followed up by country-level reports, which look deeper into the data and take into account domestic pollical situation as well. The country-level reports will be gradually released and posted on this site. The reports were prepared in cooperation with partners from other European think-tanks and universities.
A World Safe for the Party: China's Authoritarian Influence and the Democratic Response A new report from the International Republican Institute's (IRI) Building Resiliency for Interconnected Democracies in Global Environments (BRIDGE) initiative, A World Safe for the Party: China's Authoritarian Influence and the Democratic Response, analyzes influence tactics the Chinese Communist Party (CCP) has leveraged to protect its global interests and export its authoritarian model worldwide.
CCP Inc: The New Challenge of Chinese State Capitalism Under Chinese leader Xi Jinping, China's political and economic system has undergone a fundamental transformation, further distinguishing China's unique brand of state capitalism from market economies, and adding additional strain on the rules, regulations, and institutions that underpin the global economic order. Through the generous support of the Smith Richardson Foundation, this multi-year initiative explores the strengths and weaknesses of China's evolving state capitalist system through a series of reports, podcasts, and analysis.
The Freeman Chair introduced the concept of CCP Inc. in a recent analysis, From "China Inc" to "CCP Inc.": A New Paradigm for Chinese State Capitalism, which provides historical context behind the evolution of China's state capitalist system and the extensive power that the Chinese Communist Party (CCP) has gained over the public and private sector under Xi Jinping.
A recent commentary, Confronting the Challenge of Chinese State Capitalism,unpacks the challenges posed by China's increasingly powerful state capitalist system and provides recommendations on actions the United States could take in response.
A Roadmap for U.S.-Europe Cooperation on China How can the United States and Europe most effectively combine efforts to meet the many challenges posed by China's rise? The authors of the new Paul Tsai China Center paper (the Paul Tsai China Center is the primary home for activities related to China at Yale Law School) provide concrete and practical recommendations for achieving this crucial goal in the areas of trade and investment, technology, human rights, climate change, pandemic plans, and reform of international institutions.
Developing effective trans-Atlantic collaboration on China requires a realistic understanding of how European leaders think about and approach China. Toward that end, a primary focus of the authors' work over the past year has been intensive interactions with a broad cross-section of current European officials and experts who work on China policy. European officials generally share President Biden's view that leverage with China will be much enhanced if like-minded allies and partners work collaboratively to address common challenges and opportunities. Nonetheless, they have also been very candid in expressing their views about likely convergences and divergences between the U.S. and Europe concerning policies toward China. The recommendations in this paper take account of these important realities.
Three North Korean Military Hackers Indicted in Wide-Ranging Scheme to Commit Cyberattacks and Financial Crimes Across the Globe On Feb. 17, the Department of Justice released a newly unsealed indictment that charges three North Korean cyber operatives in connection with an alleged scheme to steal currency and commit cyberattacks on banks and businesses around the world. The indictment alleges that the men—Jon Chang Hyok, Kim Il and Park Jin Hyok—worked with other conspirators on behalf of Pyongyang's military intelligence agency in North Korea. It also alleges that the trio sometimes traveled to and worked from other countries, including China and Russia.
The Justice Department alleges that defendants worked for North Korean military intelligence to engage in criminal hacking, often under the banner of cybercrime groups known as Lazarus Group and APT38. The indictment alleges a broad campaign of criminal cyber activity. It describes "a wide-ranging criminal conspiracy to conduct a series of destructive cyberattacks, to steal and extort more than $1.3 billion of money and cryptocurrency from financial institutions and companies, to create and deploy multiple malicious cryptocurrency applications, and to develop and fraudulently market a blockchain platform." The attacks targeted the entertainment industry, banks, U.S. federal agencies and hundreds of other companies. The indictment was filed on Dec. 8 in the U.S. District Court for the Central District of California. The three defendants remain at large.
China, unquarantined The key points of this new report of the American Enterprise Institute (AEI) are:
• For decades, the United States has pursued a bipartisan strategy to engage China and enmesh it in the free world's great webs of commerce, communications, travel, education, research, and culture.
• While policymakers accurately assessed the upside for America from "engaging" China, they overlooked a whole dimension of downside—namely, dangers from integrating an unreformed Chinese Communist Party (CCP) into the US-led liberal world order.
• The CCP remains fundamentally hostile to that liberal order, and thanks to engagement-abetted "globalization," Beijing now can exploit domestic vulnerabilities in the US and other free societies, even as it corrupts institutions of liberal global governance.
• The coronavirus pandemic underscores the catastrophic consequences of setting the CCP loose in the liberal international order—but many other unfamiliar new threats also lie in store, as detailed in this report.
USCC 2020 Annual Report to Congress Topics this year include China's view of strategic competition with the United States; China's promotion of alternative global norms and standards; China's strategic aims in Africa; vulnerabilities in China's financial system and risks for the United States; U.S.-China links in healthcare and biotechnology; China's growing power projection and expeditionary capabilities; Taiwan; Hong Kong; and a review of economics, trade, security, political, and foreign affairs developments in 2020.
Report PDFs
Annual Report to Congress
Executive Summary
Recommendations to Congress
Chinese Technology Platforms Operating In The United States The Trump administration took various steps to effectively ban TikTok, WeChat, and other Chinese-owned apps from operating in the United States, at least in their current forms. The primary justification for doing so was national security. Yet the presence of these apps and related internet platforms presents a range of risks not traditionally associated with national security, including data privacy, freedom of speech, and economic competitiveness, and potential responses raise multiple considerations.
This joint report of the National Security, Technology, and Law Working Group at the Hoover Institution at Stanford University and the Tech, Law & Security Program at American University Washington College of Law offers a framework for both assessing and responding to the challenges of Chinese-owned platforms operating in the United States.
Understanding US-China Decoupling: Macro Trends and Industry Impacts Conceived in 2019, this study by Rhodium Group (RHG) for the U.S. Chamber of Commerce seeks to illuminate the costs of decoupling for the United States. The analysis has been complicated over the past year by a shifting landscape. Tensions between the U.S. and China have grown in the aftermath of the COVID-19 outbreak, triggering a broader debate about supply chains, reshoring, and resilience. In truth, because of the many variables at play, it is beyond the capacity of economics to deliver a precise answer regarding the costs of decoupling. Nonetheless, this study offers what RHG believes is a valuable perspective on the magnitude and range of economic effects that the Biden administration should consider as it weighs its policy agenda with China. The study highlights the potential costs of decoupling from two perspectives: the aggregate costs to the U.S. economy and the industry-level costs in four areas important to the national interest.
China's Digital Silk Road: integration into national IT infrastructure and wider implications for Western defence industries According to this new Research Paper of the International Institute for Strategic Studies (IISS), new security-related concerns regarding China's Digital Silk Road include potential risks to national critical infrastructures, intelligence sharing and defence integration. However, the implication of China's global digital investments for the United States and other Western defence industries is an understudied subject. What are the main challenges that defence companies need to consider when doing business in countries with different levels of Chinese digital investment, and can security risks be mitigated?
Protect, Constrain, Contest In this new report by LSE IDEAS, the foreign policy think tank at London School of Economics, academics and China watchers set out the important policies needed to put Western relationships with China on a firmer and more manageable footing. The report details concerns about China's selective adherence to international trade rules, the use of investment in foreign companies to gain access to and control of advanced technologies and its abuse of economic power through unilateral punitive tariffs and other coercive methods. (This has been amply demonstrated through its recent interactions with Australia, for example, in which the Chinese government used tariffs and other economic weapons on key Australian exports like beef, barley, and wine to punish the nation for its investigation of China's role in the spread of COVID-19. Similar coercive measures have been pursued against Sweden, Germany, and other nations. Nor is it just China that uses economic power in such a fashion: Russia regularly uses its control over the flow of oil and natural gas -and more recently vaccines – to neighbouring countries like Ukraine to further its geopolitical goals.)
The authors also argue more needs to be done to protect and control access to Western technologies and reduce dependency on certain Chinese innovations (such as Huawei's 5G), as well as ensuring such dependency does not recur in the future, for example with advancements in Artificial Intelligence. The report notes the West still outperforms China in most areas of advanced technology. However, it needs to build upon institutions (eg: legal and trade organisations) that underlie and contribute to technological success; prioritise technological innovation in the long-term; strengthen labour forces; and learn from China's industrial policy, for example in long-term finance and planning.
Economic defence alliances may help deter economic warfare The world is entering a period of rapid evolution in economic statecraft driven by the rise of China, economic devastation from COVID-19 and geopolitical flux within the US, EU, UK, and other nations. Such evolution is driving new offensive approaches and in turn this must drive the development of defensive measures by democratic states. There is widespread recognition that the current national security competition with China is as much economic as military. Chinese economic threats range across a spectrum from traditional economic competition, such as Made in China 2025, to geopolitical power plays like the Belt and Road Initiative (BRI) to outright systematic theft of intellectual property. China is also using its economic power to achieve geopolitical ends through the threat and execution of unilateral, punitive tariffs and other coercive methods. This has been amply demonstrated through its recent interactions with Australia, for example, in which the Chinese government used tariffs and other economic weapons on key Australian exports like beef, barley, and wine to punish the nation for its investigation of China's role in the spread of COVID-19. Similar coercive measures have been pursued against Sweden, Germany, and other nations.
Nor is it just China that uses economic power in such a fashion. Russia regularly uses its control over the flow of oil and natural gas -and more recently vaccines – to neighbouring countries like Ukraine to further its geopolitical goals.
Read the full article from LSE Business Review (London School of Economics).
National Strategy to Secure 5G Implementation Plan Fifth generation wireless technology, or 5G, will be a primary driver of our Nation's prosperity and security in the 21st century. The National Strategy to Secure 5G details how the United States will lead global development, deployment, and management of secure and reliable 5G infrastructure. The work to enhance the security of 5G networks will require a range of efforts from across the U.S. government, working in close collaboration with our international and industry partners. The U.S. government is committed to fostering innovation and realizing the technological promise of 5G, while continuing to safeguard our economy and national security and ensuring continued access to 5G networks.
In accordance with the Secure 5G and Beyond Act of 2020, the Executive Branch has developed a comprehensive implementation plan associated with the National Strategy to Secure 5G, posted below. This implementation plan will be managed under the leadership of the National Security Council and the National Economic Council, supported by NTIA, and with contributions from and coordination among a wide range of departments and agencies. The implementation plan took into account the substantive comments in response to NTIA'sRequest for Comments received from companies, industry associations, and think tanks representing a range of interests and aspects of the telecommunications ecosystem.
The National Strategy to Secure 5G Implementation Plan Appendices can be found here.
Huawei in Greece: How Snowden shaped EU's Approach to Huawei According to this first part of a new three-part series from Technode, a China-based media source, Greece remains hesitant in the face of the US' campaign against Huawei, seeing the Chinese company as a reliable partner and no riskier than the US given a sequence of revelations about NSA spying in the country.
Protecting Democracy in an Age of Disinformation: Lessons from Taiwan Taiwan has long defended itself from political meddling, including disinformation, by the People's Republic of China (PRC). Attempts to influence Taiwan's domestic politics have increased in both intensity and severity following the election of Tsai Ing-wen in 2016, with Beijing continuing to target the basic underpinnings of Taiwan's democratic system. The disinformation campaigns carried out by the Chinese Communist Party (CCP) are often obscured by the secrecy and opacity of the CCP's "united front" approach, which makes it difficult to accurately diagnose and right-size the problem of disinformation, complicating efforts to craft effective solutions.
While CCP disinformation campaigns pose a clearly identifiable threat to the United States and Taiwan, they are only one part of a larger disinformation problem facing democracies in this era of instant and omnipresent communication technologies. Indeed, the experience of both Taiwan and the United States suggest that rival political parties are incentivized to exaggerate and weaponize charges of "foreign interference" against each other—charges which often are more damaging to underlying trust levels in a democracy than the original foreign disinformation attacks themselves. Read this CSIS report here.
Asymmetric Competition: A Strategy for China & Technology A new set of proposals by a group of influential D.C. insiders and tech industry practitioners calling for a degree of "bifurcation" in the U.S. and Chinese tech sectors is circulating in the Biden administration. The idea of "decoupling" certain sectors of the U.S. and Chinese economies felt radical three years ago, but now the strategy has growing bipartisan and even industry support.
An informal working group, formed last summer with 15 participants writing in their private capacities, authored the report. "America's technological leadership is fundamental to its security, prosperity, and democratic way of life. But this vital advantage is now at risk, with China surging to overtake the United States in critical areas," the authors write. The report "advances policies that position the United States to out-compete China without inviting escalatory cycles of confrontation, retaliation, or unintended conflict."
Securing the ICTS Supply Chain (15 CFR Part 7) On January 19, 2021, the US Department of Commerce issued a long-awaited interim final rule ("Interim Final Rule"), which would enable the Department of Commerce to prohibit or otherwise restrict transactions involving the Information and Communication Technology and Services ("ICTS") supply chain, including both hardware and software, that have a nexus to certain designated "foreign adversaries," including China, Russia, and Iran, for purposes of protecting national security. The Interim Final Rule is scheduled to go into effect on March 22, 2021.
China's Digital Currency China has made greater progress toward developing a national digital currency than any other major advanced economy. This development has critical ramifications for the Chinese Communist Party's (CCP) rising digital authoritarianism, as Beijing seeks to influence the evolution of financial technology in the global banking system.
In this new CNAS report, the authors argue that Beijing's efforts to develop a central bank digital currency will play a key role in driving the CCP's digital authoritarianism. The report examines how the People's Bank of China's digital currency project could strengthen the CCP's domestic control over citizens, undermine global standards around financial data privacy, and erode long standing international norms. The authors make recommendations for how Washington and the private sector can address the national security and financial stability implications of Beijing's efforts.
China's Technological Rise This brief written for ICDS (the International Centre for Defence and Security think tank in Tallinn, Estonia) explains how China under the Chinese Communist Party (CCP) is poised to become the world's first technology enabled totalitarian superpower. No country will be untouched by this development, including Estonia, where a Chinese state-owned technology company Nuctech specialising in "security solutions" monitors cargo crossing the NATO border with Russia using a radiation-based technology originally copied from Europe.
A clear understanding of the Chinese political system shows why there is fundamental cause for concern in all this, and why Chinese technology should not be viewed as politically neutral.
NSA: Cybersecurity Year in Review (2020) While not all-inclusive, this Year in Review outlines key milestones and mission outcomes achieved during NSA Cybersecurity's first year.
The China Dashboard-winter 2021 The China Dashboard: Tracking China's Economic Reform Program, a joint project of the Asia Society Policy Institute and the Rhodium Group, delivers a series of data visualizations tracking China's progress toward its self-defined reform objectives in 10 essential economic policy clusters. The outlook for China's economic reforms is a critical factor in the global economy, for major economies and businesses alike. Since 1978, China has made great strides in economic reform, generating both growth opportunities and also disruptions at home and abroad. However this process is far from complete, and the challenges remaining are complex and require increasing regulatory sophistication. This reality, and shortcomings in Chinese data, create uncertainty about the reform outlook, including its pace and direction. For businesses and policymakers in China and abroad, better consensus built on a shared foundation of data is needed to prevent miscalculations and foster confidence.

Smart partnerships amid great power competition This report of the Atlantic Council captures key takeaways from roundtable conversations, identifies the challenges and opportunities that different regions of the world face when dealing with emerging technologies, and evaluates China's role as a global citizen. In times of economic decoupling and rising geopolitical bipolarity, it highlights opportunities for smart partnerships, describes how data and AI applications can be harnessed for good, and develops scenarios on where an AI-powered world might be headed. Given the experimental nature of emerging technologies, it will come as no surprise that the emphasis is thereby put on the need for regulatory cooperation, even as we recognize that AI development has become a new playing field for great power competition.
China's coming global investment recovery: How far will it go? The key points of AEI's new report are:
• COVID-19 had the expected impact on China's documented lobal investment and construction in 2020, forcing deep declines. A powerful recovery will materialize at some point this year and likely continue into 2022.
• For investment and construction to intensify beyond this recovery requires policy change in Beijing—opening more sectors at home for reciprocity, letting private Chinese firms lead again, and encouraging greenfield investment. These seem unlikely.
• If so, the Belt and Road will become increasingly important within China's global footprint. Belt and Road activity is not increasing, but it is holding up better than investment in rich countries.
• American concern with this investment was due to technology loss. But current technology loss is primarily through exports and outbound US capital flow, both of which require immediate policy attention.
How Huawei controls its employees in Europe Former employees accuse Huawei of discrimination. How massively the company interferes in their private lives and how it keeps its staff in line is revealed by internal documents and covert audio recordings that netzpolitik.org and the media partners of The Signals Network have analyzed.
Navigating the Deepening Russia-China Partnership Increased cooperation between Russia and China threatens to erode U.S. military advantages, strain an already stressed U.S. defense budget, and undermine America's ability to uphold its commitment to maintaining a free and open Indo-Pacific. Moscow and Beijing's growing alignment also poses serious risks for liberal democracies as Russia and China popularize authoritarian governance, water down human rights norms, and export their illiberal models of technology use.
In this new CNAS report the authors provide an in-depth examination of the deepening ties between Russia and China, the United States' two most consequential adversaries. The authors assess the potential for further cooperation between Moscow and Beijing while also describing the state of the Russia-China relationship in defense, democracy and human rights, technology and cybersecurity, and economics.
This report highlights the risks that alignment between Moscow and Beijing create for U.S. interests, underscores the ways that Russia is amplifying the challenge China poses to the United States, and offers recommendations for how Washington can navigate their deepening partnership. The United States should not disregard the risks of deepening Russia-China relations, but Washington also should not seek to counter cooperation between Moscow and Beijing in every dimension or region of their partnership.
To effectively answer the challenges posed by growing ties between Russia and China, the authors conclude that "policymakers, equipped with a concrete understanding of how Russia-China relations are likely to evolve and where their cooperation will be most damaging to U.S. interests, must act quickly to navigate and disrupt the challenge posed by the countries' emerging entente."
Bureau of Cyberspace Security and Emerging Technologies A new office at the State Department has been approved – the Bureau of Cyberspace Security and Emerging Technologies (CSET) – which will help lead diplomatic efforts. "The need to reorganize and resource America's cyberspace and emerging technology security diplomacy through the creation of CSET is critical, as the challenges to U.S. national security presented by China, Russia, Iran, North Korea, and other cyber and emerging technology competitors and adversaries have only increased since the Department notified Congress in June 2019 of its intent to create CSET," a State Department spokesperson said in a statement.
The Asia Society Policy Institute Notes for the Biden Administration This ASPI publication is designed to offer creative and practical ideas for how the United States might re-engage in the Asia Pacific, particularly in the critical first six months of the new administration. The administration will immediately face a range of challenges and opportunities in this important region, including on climate change, public health, and the global economy. The publication provides a diverse package of 20 actionable proposals to address specific risks or objectives in reconnecting with the Asia Pacific. These notes carefully reflect the views, perspectives, and expectations of the region itself – a hallmark of ASPI's approach
Huawei in Central and Eastern Europe: Trends and Forecast This briefing paper summarizes ongoing debates on Huawei's involvement in the build-up of 5G networks in seven Central and Eastern European countries: the Czech Republic , Hungary, Latvia, Lithuania, Poland, Romania and Slovakia. The paper resulted from discussions among China Observers in Central and Eastern Europe (CHOICE), a unique collaborative research platform bringing together China analysts from the region of Central and Eastern Europe.